Massive preparations, trepidation and soul-searching: who knew it would take all this to prepare a tiny four-day jaunt down to Provence? I've spent less time planning a trip to Borneo... 
The last thing I wanted was to jeopardize my own health or that of others, so health was a major factor.
And for the past year, I hadn't ventured more than 20km from my village in Eastern France. Did I still even know how to travel?
What with lockdowns, curfews and general anxiety, staying put had so far seemed the best option.

Until it wasn't.
Comes a time when cabin fever explodes (my last 'breakout' was to the Loire Valley castles in February 2020). I write about France for a living and by now I had exhausted every possible corner of my own neighbourhood. I needed new horizons.
The government also played its part by encouraging – or allowing, depending on your interpretation – citizens to travel within the country.
And so, like an explorer setting out to uncharted territory, I began plotting my very careful escape.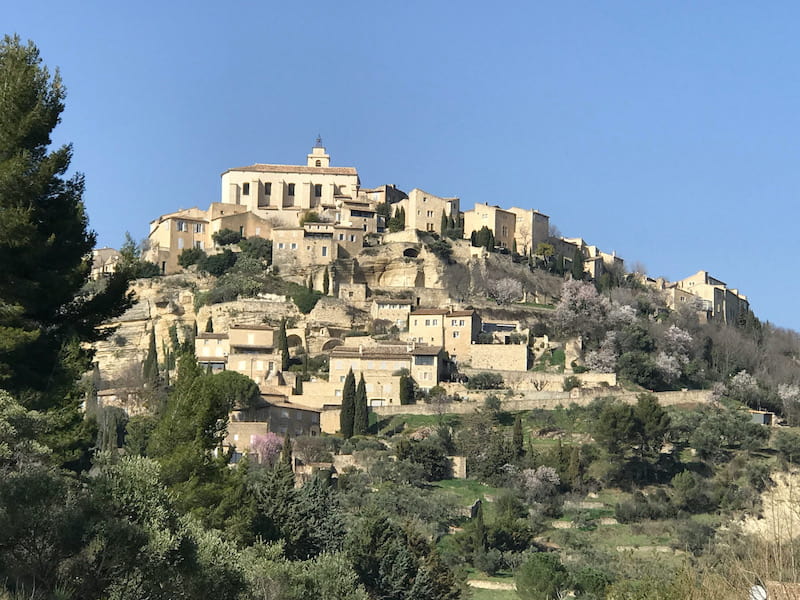 A peek at how I'd be spending my days away... one of the many extraordinary villages of the Luberon: Gordes
why write about this road trip to provence?
Many of you who follow my daily La Minute Française on YouTube or Instagram have asked about our virus situation and what it's like here, now. This is my attempt to explain our daily life.
This article is for those of you who:
are already in France and contemplating your first trip
want a first-hand account of what it's like
aren't in France but are, well, curious
At the time of writing (March 2021), some parts of the country were in weekend lockdown but all of us faced a 6pm-6am curfew, during which we had to remain home. This seriously limited where we could go and what we could do, so meticulous planning had to replace my usual "jump into the car and see where it takes me" approach to travel.
Planning a trip within france during covid
I chose this area of Provence, the Luberon, because it's not too far from home, between 4-6 hours' drive. This I could handle.
And I hoped to avoid the crowds. I concluded that because this was the "winter" holiday period, most families would be up in the mountains, playing in the snow (but not skiing since all the lifts have been closed). The last thing a mother would want is to drag tired kids around hilltop French villages with no access to restaurants, cafés or, a determining factor, rest rooms. 

I decided to drive rather than take public transport, for two reasons. First, Covid: avoiding crowded trainloads of strangers from scattered parts of the country seemed wise. And second, driving is really the only way to visit the Luberon. Granted, I'd occasionally have to pop out of my car to fill up with gas but then, I do that when I'm home too.
I also chose to drive down on a Sunday and return on a Friday, the two least busy traffic days on the road, according to the website that tracks these things (it's called Bison Futé, or 'wise bison').
Deciding where to stay was a bit trickier. I visualized crowded hotel lobbies with long check-in lines so I sought a place with its own private entrance, where human contact was at a minimum. How ironic, when one of the reasons many of us travel is to meet people from different places or cultures... (Here's where I ended up, in case you're curious.)
I raided my local supermarket before going because I know where everything is:  I'd decided to make my own food as often as possible, especially breakfast (here's what a traditional French breakfast looks like) and sandwiches for lunch. There are take-out places, but they were a bit complicated (more on that in a minute).
what it's like to travel in france during covid
Getting there (and back, because it was no different)
I hit the road in high spirits, thrilled about my journey.
What I didn't expect was that much of my trip would center around one single issue: finding bathrooms. 
As the song says, you don't know what you've got till it's gone...
On the motorway, you can stop at a gas station (yes, most bathrooms are still open). But I took secondary roads, my rusty, rickety 22-year-old car not quite trustworthy at 130km an hour. No, my bathroom stops were more prosaic: fields, forests, the occasional bush or, once, behind a windmill.
As one lady standing in line at a rural bakery told me, "When nature calls, call back."

The destination
Because of the curfew, I needed to plan more carefully than I normally would. None of this "I'll stop when I'm ready" stuff – I had to reach my final destination before 6pm or risk being fined €135.
I chose to stay near the village of Gordes, relatively central to the other villages I wanted to visit. Normally when I travel, I roam all day and return at night to my accommodations. In this case, I wanted to make sure I had a nearby central base because... bathrooms.

Food was slightly problematic, but only slightly (and probably because I'm French, which means I take meals terribly seriously). I mean, how many ham and cheese sandwiches can one eat before murdering every taste bud?
There were, in fact, plenty of alternatives: quiches or sandwiches bought in bakeries (I did have the worst chicken sandwich of my life in one of these), takeaway pizza, or gourmet take-out.
This last option was the more complicated one because you had to know which restaurants offered the service (tourist offices often have lists), get online or phone them to order, and show up during the correct time slot. I tried this once and failed miserably, losing myself in one-way streets of an unfamiliar town and racing home empty-handed to beat the curfew.
Oh yes, there was another option, and to my shame I admit I resorted to these: fast food chains.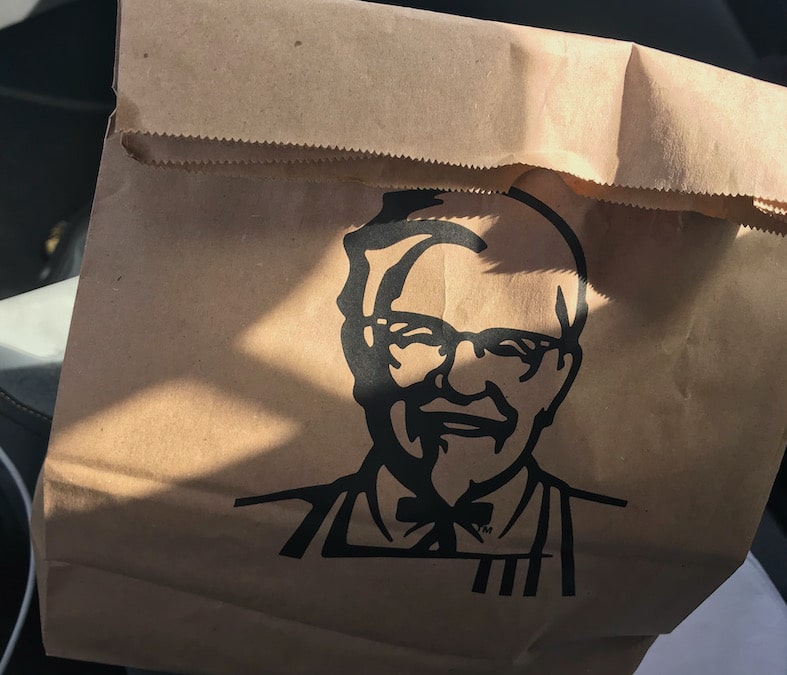 The stark evidence...
Not once, but twice...

But I know better for next time. I'm not usually the picnicking type so packing four days of snacking was not my forte: I just grabbed things that wouldn't leak (or not too much) and that were easy to carry.
For my next trip, I fully intend to become versed in the art of carry-along gourmet food, and I'll plan my food pick-up reservations well ahead of time, GPS in hand.
The ambience
The villages of the Luberon are physically stunning, but a bit forlorn, their lovely squares lined with graceful cafés − all of which were boarded up, curtains pulled shut, chairs stacked one on top of the other.
One of many villages where things were closed... partly because of the virus, but also because this was, after all, winter. Still, there's a lot more activity in 'normal' times
A bit like being teleported into another dimension (not that I've experienced this personally), everything looks the same, but different.

Eating places are closed.
The streets are full of humans, but they're (almost) all wearing masks.
People give one another a wide berth – the usual crowds, yes, but not the usual jostling.
Shops, most of which are open, stand nearly empty, as though we don't dare enter.
And the few outdoor distractions are crowded beyond belief, since our other options – eating places, of course, but also museums, cinemas, theaters – are not available.
On my Sunday drive down South, I dropped by the delightful town of Isle-sur-la-Sorgue, well known for its antique shops and flea markets. It didn't seem any different from previous visits I remembered... plenty of antiques along the river, impossible parking, crowded stalls. But along the street, where hundreds of people should have been sitting at outdoor tables, they were standing up, in small clusters,  slurping ice cream, one of the few foodstuffs available.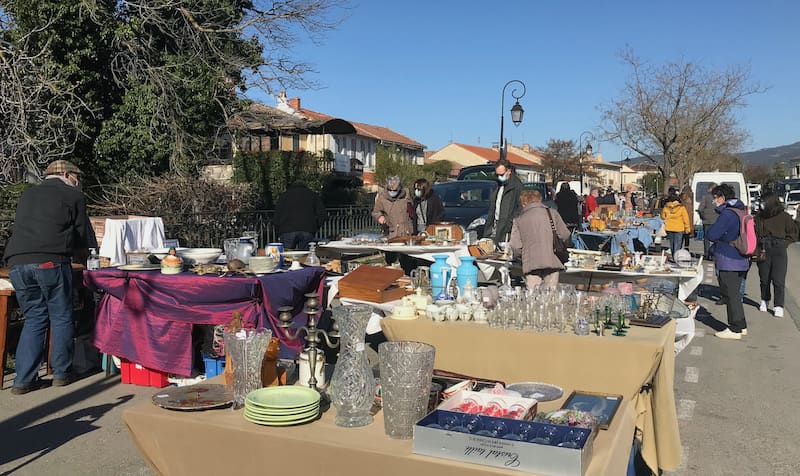 A winter Sunday in Isle-sur-la-Sorgue, famed for its weekend flea market and many antique stores
To recap, here's what I found open: bakeries, some restaurants providing take-away, pizza trucks or stands, ice cream parlours, most shops, supermarkets, gas stations, many (though not all) tourist offices, banks.
And here's what's closed: museums, theaters, cinemas, gyms, organized outdoor activities, major shopping malls.
The weather
Normally I don't think much about the weather, unlike my British friends for whom weather can be a defining moment...
But during Covid, it takes on an entirely new importance.
When it's beautiful out, you can sit on a wall and munch your sandwich, watching the leaves sway in the breeze or the dust swirl around the cobblestones. Consider it a form of meditation.
And while not all outdoor attractions are open, remember that yes, you can plan a holiday around natural sites and make it an 'outdoor' trip. 
The ochre cliffs of the Colorado Provençal near Rustrel - a perfect way to see the natural beauty of Provence and stay out of the way of the virus
But when it's miserable − cold, for example, or windy with heavy rain, as it was the Monday after I arrived − then the constraints hit home.

No sitting alone in a warm café reading a book and whiling away a few wet hours; no popping into a restaurant for a meal or a cinema for a film or a museum for some culture. 
There's always the infamous "going for a drive", but the wind was blowing heavily and my little car threatened to take off like a Piper Cub.
I then decided to take some "artistic" photographs of rainy reflections, but within seconds I felt I'd gone through the pre-spin cycle in my washing machine and had to scurry back to the safety of my windswept car.
And home to my lodgings.
the verdict: was it worth it?
Absolutely YES, vehemently and without an iota of doubt.

If only to retain some atomic particle of mental sanity, seeing different streets and buildings (and masked faces) was a welcome experience.
From the safety standpoint, I didn't feel any less safe than at home. I stayed away from crowds, and the closest I came to another human being was at a shop counter (or the five seconds it took to grab a photo at the flea market).
The cherry blossoms were out, the sun high in the bright blue sky (except that one day) and I felt as though I was on vacation. There might have been plenty of things I couldn't do, but I was here, surrounded by beauty, feeling like one of the luckiest women on earth.