Pages on this site may contain affiliate links, which bring in a small commission at no cost to you.
13 April 2022 – Remember the first COVID-19 lockdown?
Each evening, people would appear on their balconies to "drink to the health" of the many health workers risking their lives to save ours. We would wave back and forth and in some neighbourhoods, friendships were forged over fifth-floor railings and habits adopted that would endure well after the masks came off.
Those without balconies would take to their computers or phones and raise a toast through their screens – a sort of apero Zoom.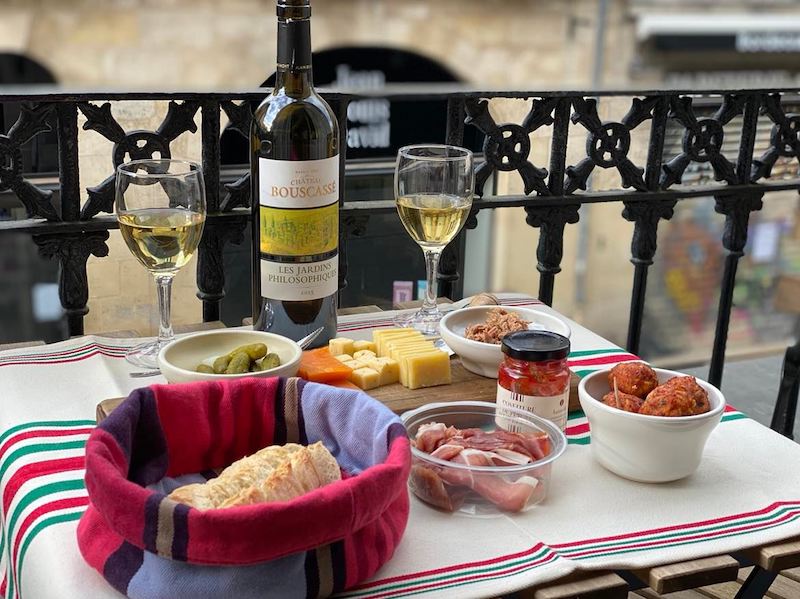 This is what a typical balcony apéro looked like in Bordeaux during Covid, as experienced by Luxe Adventure Traveler - at 8pm, everyone would clap in support of health workers
WHAT IS AN APERITIF: AN APERO DEFINITION OR TWO
apéritif (or aperitif):

a pre-dinner drink OR the time before dinner when you get together for that drink (also known as "apéro time")
apéritif: yes, same word, but if you're sitting down in a restaurant, an apéritif is what you drink while you're waiting for your first course to arrive
apéro (or apero): a nickname for apéritif – they're one and the same
Yes, France can be confusing... Bottom line, the aperitif meaning is something you eat and drink before your meal.
What is apero in France?
Ah, the grand question! We all 'sort of' know what it is – drinks before dinner, right?
Yes, but... not quite.
It's not about drinking at all, but about socializing, sharing a moment with peers or friends and, mostly, getting ready for dinner, whether that meal is eaten out in a restaurant or if you're headed home.
These days, apero time can also take place before lunch.
You might have your apero drink in a number of places: in a bar, a café, at a friend's house, at your house, or in a restaurant before your meal. It could also be in a public area, like a park or the beach or, as I've seen before, on Fridays on commuter trains as people end their week of work!
Apéro food is usually finger food, especially if served at home: no one really has time to prepare anything after they've rushed home from work, and spending your time over a stove while your friends are waiting does not make for a convivial moment.
Remember, this is a casual event, a time to relax, not a time to fuss, although nothing says you cannot have a sophisticated apéro for a special occasion.
So, as you've probably figured out by now, a French aperitif is simply what you want it to be.
The apero as tradition
French aperitifs are traditional events, and can involve friends, colleagues, or family. They are a regular event enjoyed by a majority of French people, once a week or more.
An apero can also be unplanned, gelling around mealtime.
Someone will say" Shall we go for an apéro before dinner?"
The answer will usually be Yes.
Aperitif pronunciation: ah-pay-ree-TEEF
Apero pronunciation: ah-pay-ROH 
Aperitif synonym: akin to cocktail, appetizer, pre-dinner drinks, finger food, hors d'oeuvres
What is apero time? (Or, what is aperitif time in France?)
Aperitif drinks, by their nature, are pre-dinner (or at least pre-meal), so that's when you can expect it to happen.
There isn't really a fixed time but it ranges from after work to before supper, lasting around an hour or so sometime between 5:30 pm or so until 9 pm, depending on when you eat.
Be careful how much you eat, though, because apero hour is meant to precede supper, not replace it – unless, of course, it turns into a full meal. If that happens, it becomes an "apero dinatoire", or dinner aperitif (of which more below). If this is the case, then, like dinner, there's no time limit.
You'll notice this if you're out and about in France. Cafés are often crowded in mid-afternoon, around tea-time, when people treat themselves to coffee and pastries (or ice cream in summer).
Then there's a lull, when workers haven't poured out of their offices yet and housewives (yes, they're still mostly women) head home to greet schoolchildren and begin supper preparations.
Then, all of a sudden, everything fills up again: it's apéro time!
While most apéros take place before dinner, in the evening, they do occasionally occur before lunch. This is rare on working days but on weekends, it is becoming increasingly common to meet friends or family for an apéritif before lunch, often after having shopped at the market, for example.
French apéritif drinks in France
Since the idea is to open up your appetite, not get drunk, French pre-dinner drinks most drinks served for the apero will likely be of low alcohol content. Here are some of the favourite apéro drinks in France:
Pastis or Pernod, a French aniseed flavoured aperitif
Kir, or Kir Royal (sometimes spelled Kir Royale in English), a mixture of crème de cassis (blackberry) and white wine; replace the wine with champagne or sparkling wine and it becomes a Kir Royal
Specialized apéritif drinks, like Dubonnet, Vermouth, Byrrh, Suze (made from gential root), Pineau des Charentes, Picon in the northeast, or any number of drinks typical of a region or known throughout France – often with a marked taste for bitter aperitifs.
Red wine: now this is a bit of a bone of contention – many people serve or drink red wine for their apéro, but others wouldn't dream of it, preferring to save it for the meal that will inevitably follow. It's a personal choice. 
Champagne, on the other hand, is considered perfectly acceptable as an apéritif, or white wine served chilled (but not over ice cubes!), as are flavoured wines in those regions where fruit is common, for example cider in apple-producing regions. 
Among the favourite aperitif wines are lighter white wines and champagne, followed by sweeter wines, rosé, while the heavier reds are often kept for the meal.
Your French apéritif

could

include stronger liquor, like brandy, whisky, fortified wines or sweet wines like Port, or mixed drinks like cocktails or sangria. Still, this is more the exception than the rule.



Mostly, though, the apéritif is readying you for dinner, not a hangover.
Non-alcoholic apero drinks
The easy way out is to serve non-alcoholic versions of what others are drinking – beer and wine, for example.
You can also opt for the most common French drinks: juices, soft drinks and water.
But all that can become monotonous, so here are a few fun options: San Pellegrino Bitter (those tiny red bottles sold in six-packs) on ice with a twist of orange, or alcohol-free aperitif cocktails like Mojitos or Diabolo menthe or grenadine with sparkling water, especially in summer. Be creative!
French aperitif food: what to eat for an apero (and how to serve apero)
Like the salted peanuts that slide your way across a bar, nibbles or aperitif snacks are essential to a peaceful and agreeable apéro. There are many things you can expect to eat, whether you're heading out to join others or receiving them at home.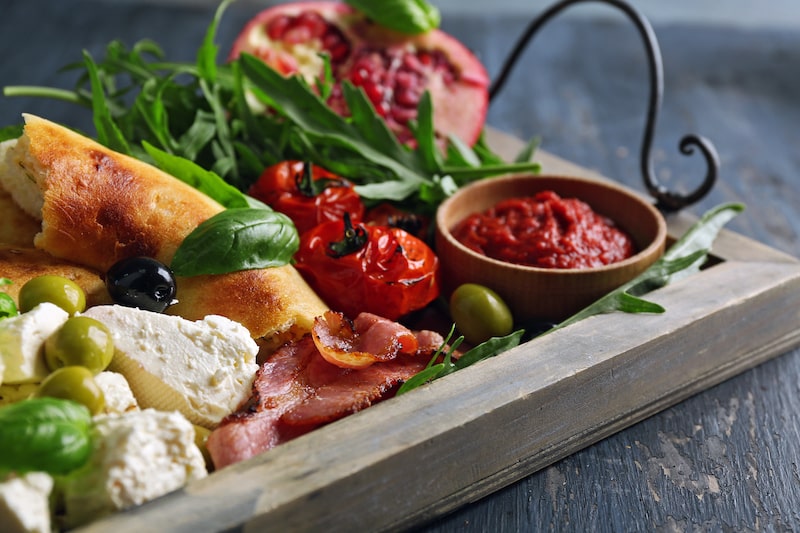 What is aperitif? A mixture of colours and foods works best for an apero menu
There are a few (unwritten and flexible) rules to follow for your French apero:
The food should not require any cooking or heating. If you've made it in advance, you should be able to eat it either cold or at room temperature.
You need variety. Four bowls of different nuts would make a poor apéritif.
It's time to be creative and experiment: apéro time is perfect for that. And if people don't like those Central Asian gizzards, no problem. They can pick at the olives instead.
It IS a good time for foreign foods or foods from another region you might not necessarily serve to your French friends, and gives them an opportunity to sample something different without being rude if they don't like it. (I'll never forget spending a half a day preparing a tray of sushi for someone's dinner party only to be greeted with horror - RAW FISH? This was in the years before you found a sushi shop on every corner, mind you, but the lesson was learned.)
This is also a good time for a bit of indulgence. Serving caviar for six at home at dinner might be a bit over the top, but a few canapés with caviar for an apéro would be, well, perfect.
Classic apéritif foods
Don't neglect the classic French apero foods. Traditional aperitif examples include charcuterie (deli meats or cold cuts) and cheese, and no one will ever snub a few nuts and chips, especially if these are a little exotic – crispy curried cashews, for example, or sweet potato or truffle-flavoured chips.
Nuts: Peanuts are a bit bar-like but you can expand your repertoire with spicy cashews, Brazil nuts, or macadamias.
Charcuterie: Try slicing a saucisson (the French version of a salami) and add some coppa or prosciutto (or jambon de Bayonne).
Vegetables: Add some slices, a few radishes, and some crunchy cornichon pickles. Cherry tomatoes are easy to eat and cheer up a table no end.
Spreads: These would go on your vegetables, or with your chips or bread. Rillettes (a kind of paté that involves chopped or shredded meat cooked in fat, usually served in a jar) are always welcome, so is paté of any sort, or hummus or, why not, some tzatziki. Just make sure they're easy to spread, since you'll all be reaching across the table. 
Cheese: A nice cheese board would be much the same as one you would have after a meal (here's an example of an Alpine cheese board, if you like mountain cheeses).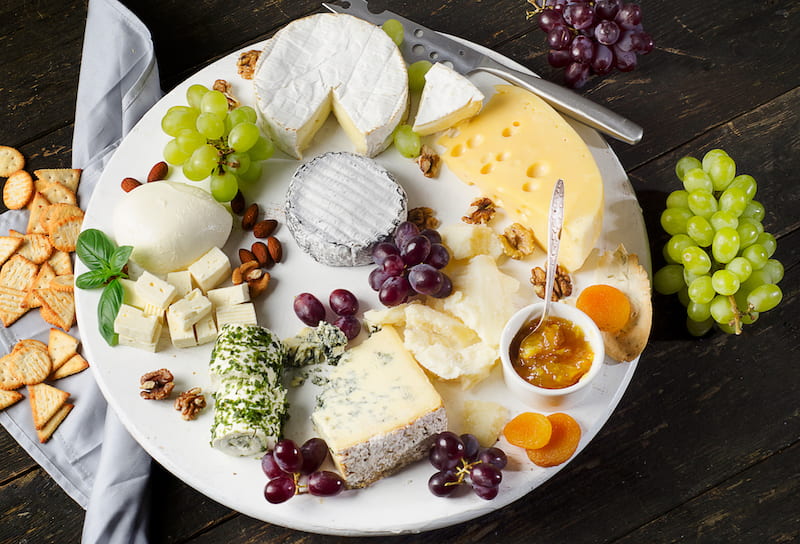 The best aperitif if you're really short on time
Regional apéritif foods
Different parts of France have different specialties, and these are not always common at the other end of the country.
For example, my friends in Bordeaux have many different cheeses that we don't easily find in Eastern France, a good tapenade (olive paste) or anchoïade (anchovy paste) may well be part of an apéro in Provence, but you might find them less often on a table in Brittany.
And in Brittany, you might find more fish or seafood.
In the Basque country, as you near Spain, you might be looking at tapas- or pintxos-style bites.
I'll add Quiche Lorraine to this list, since it's regional to Lorraine, but it is now a food eaten across France (and the rest of the world, frankly). Plus, any kind of quiche works perfectly for an apéro.
History of the French apero
The origins of the word
First things first.
The word "apéritif" comes from the latin verb "aperire", which means to open, as in opening the body's pores to allow toxins to escape.
This is because initially, an apéritif was a medical term, a kind of medicine to help people eliminate, which explains why the apéritif would, for so long, be synonymous with well-being.
But it may in fact go back further. Assyrians were said to drink palm wine before meals, and the Romans were said to have similar habits.
The sacred Roman rite of "libatio", which involved spilling a few drops of wine in offering to the gods while raising a cup, is sometimes linked to the apéritif but that link is rather thin.
What we do know is that Romans enjoyed a glass of honey before their meal, a custom that continued into the Middle Ages in certain parts of Europe, when herbal drinks with low alcohol content stimulated the appetite before meals and were also used for medicinal purposes.
The apéritif drink will made a solid appearance in Italy towards the end of the 18th century, with the arrival of a white-wine based drink that would become vermouth's ancestor.
Such renowned names as Cinzano, Martini & Rossi and Campari would be involved in developing bitter plant-based liqueurs.

Since these developments took place in the northern Italian region of Piedmont and the French region of Savoy was then part of Italy, it is believed the liqueurs made their way across the Alps. (When the region eventually became part of France in 1860, vermouth would follow.)
This was a mountainous region, after all, perfect for the development of plant- and herb-based drinks. The various herbs – gentian, absinthe – were regularly distilled and turned into medicines.
Further south, similar experiments were taking place. A certain Joseph Noilly experimented with soaking local herbs from the Pyrenees in wine.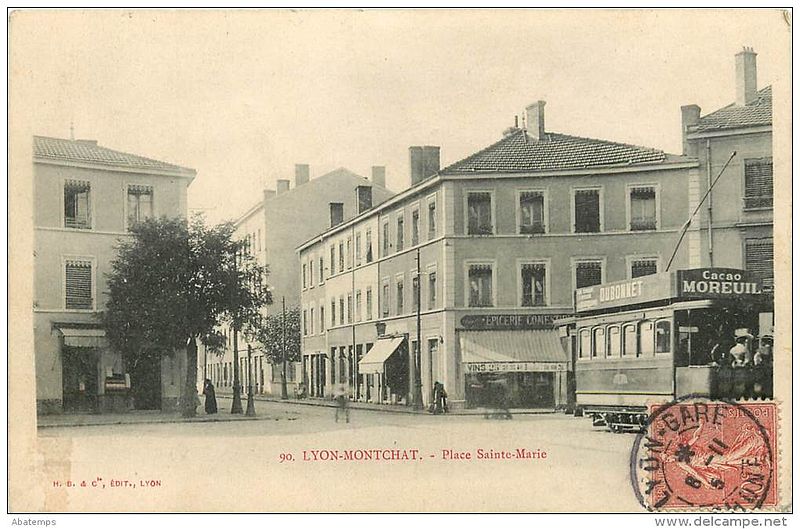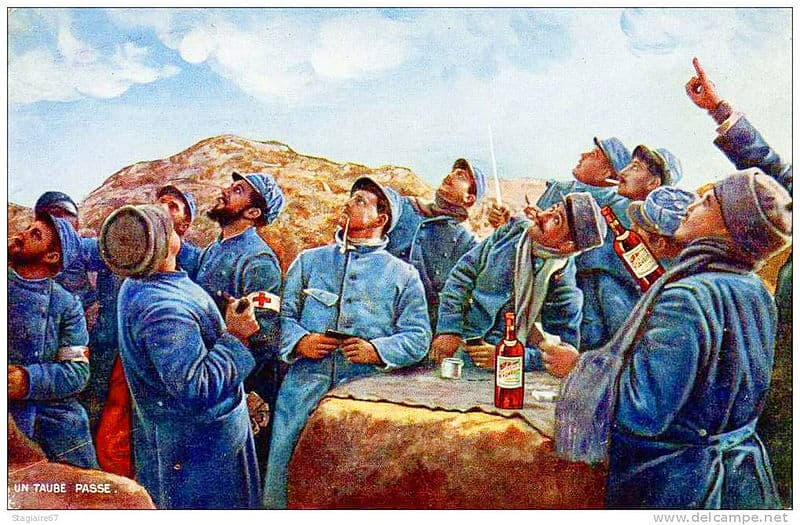 Examples of advertisements for Dubonnet in the early 1900s (top) and during World War I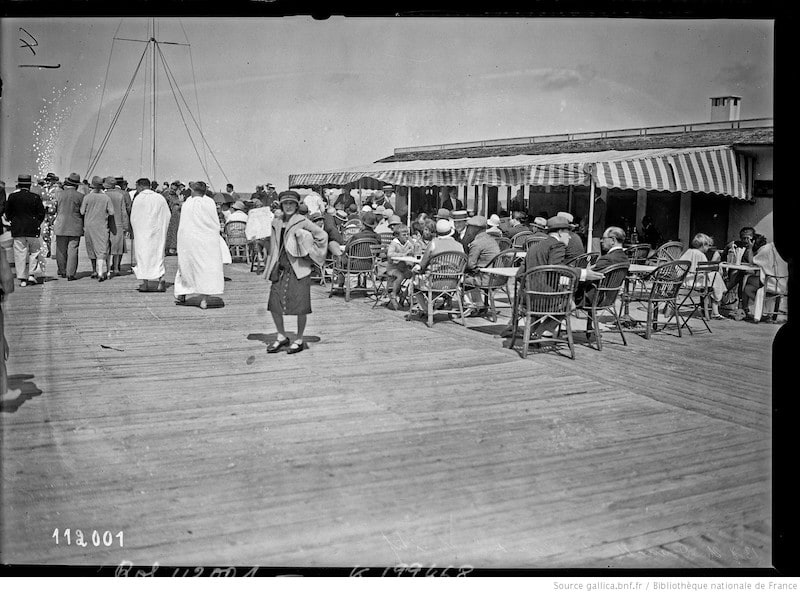 Apero time in Deauville in 1926
In 1846, Joseph Dubonnet, a Parisian wine merchant and chemist, decided to invent a wine to fight malaria, a disease all too commonly encountered by French legionnaires during the French colonial campaigns in Africa.
Dubonnet used the bark of a tree containing quinine, known to fight malaria. Because the drink tasted awful, he added herbs and essences to make it palatable. Others followed, such as Henri-Louis Pernod, whose absinthe-based drink of the same name did well among France's soldiers.
While the drink was mostly used by soldiers, Dubonnet's wife decided to serve it to her friends as an apéritif. What a success!
By the 20th century, these claims of health were coming under scrutiny, as they were for a number of products sold under the guise of medicine.
It was a time of great alcohol consumption, of the arrival on the market of such drinks as Pastis, and certain doctors feared the apéritif might be contributing to excess drinking.
But only after World War II would the apéritif become truly widespread, crossing the Atlantic and becoming a mainstay in many parts of the world, a dignified representative of the French way of life, which places family and friends at the forefront.

Selected items for your perfect apero
The aperitif dinatoire
Occasionally, apero time turns into an apero dinatoire, or dinner aperitif. This might be on purpose, because you planned it, or accidental, when your apero stretches into the dinner hours.
Although tapas bars are becoming popular, an aperitif dinatoire usually takes place in someone's home, not in a restaurant.
Here are some things to keep in mind if you happen to be hosting this event:
Start preparing well ahead of time. Just like your normal apero, this is finger food and should be served cold, there's no reason you can't start preparing it the day before. (In fact, you could even freeze a few things!) 
Speaking of finger food, remember to serve things that require no cutting. A small fork is perfectly acceptable, but steer away from food that requires a proper knife and fork. If you do need them, you're veering towards dinner, not an aperitif that went over time.
Your presentation matters, whether you use brightly coloured toothpicks or pretty glasses with a small spoon – every detail matters. And don't forget the napkins!
Other than the aperitif menu, exactly HOW will you serve your bites? On canapés? Mounted on a slice of baguette with a toothpick? Just finger food?
Remember that an apérifit dinatoire is supposed to be a meal, and that involves a starter, a main course and dessert, even if they're all bite-sized.
Aperitif in France: FAQ
What is an aperitif in France?
An aperitif is a social event during which a group gets together for a few drinks and snacks, usually before a meal. 
What time is aperitif in France?
Aperitif drinks, by their nature, are pre-dinner (or at least pre-meal),, so that's when you can expect it to happen. There isn't really a fixed time but it ranges from after work to before supper, lasting around an hour or so sometime between 5:30 pm or so until 9 pm, depending on when you eat.
What do the French drink as an aperitif?
The most popular traditional French aperitif drink is usually pastis, but these days many other drinks have become popular. Kir is a favourite (blackberry cream and white wine), as are drinks designed specifically as aperitifs – like Dubonnet or Vermouth. Wine is sometimes served, or stronger liquor, but these tend to be rarer.
What is the famous drink in France?
That would be Pastis or Pernod, a dark yellow or white aniseed-flavoured drink that is diluted with water. 
Did you enjoy this article? I'd love if you shared it!
Pin these and save for later!