When friends come to visit, this road trip is usually part of their stay, in whole or in part. I live nearby so this is my backyard, and I love sharing it!
This itinerary is close to my heart — because I live here, along the River Rhône, with Annecy my nearest town. If you come here, Annecy will have to be on your route; it has often been called "France's prettiest town" so you can't miss that...
But the region is much more than towns. This is a region of majestic Alps, fortified villages, cobblestones and cheese, a region of the outdoors. And if I sound enthusiastic, it's because I chose to live here, for all of these reasons. If I were visiting France and wanted to see some of its most powerful scenery, this is where I'd come.
So let's get started.
  NOTE: Pages on this site may contain affiliate links, which bring in a small commission at no cost to you.
COMING TO FRANCE? THESE RESOURCES CAN HELP!
🏨 Accommodation - I rent hotels through booking.com
🚘 Car rentals - I use Discovercars, Europe's best car rental website
🚊 Train tickets - I book my train and bus tickets on Trainline
🚌 Day tours - I take day tours with Viator and GetYourGuide
This Alps driving tour is for...
Anyone landing at Geneva airport.
Lovers of great scenery, road trippers, those who like meandering through medieval towns and villages, lovers of great foods (especially cheese), lovers of mountains.
This itinerary is best undertaken between Easter and October, although many tourist attractions will be closed at the beginning and end of the season, and at the height of summer, it gets crowded.

Ideally, I'd come in May-June or September-October. And if you love winter... well, nobody does it better but beware, there can be snow on the roads.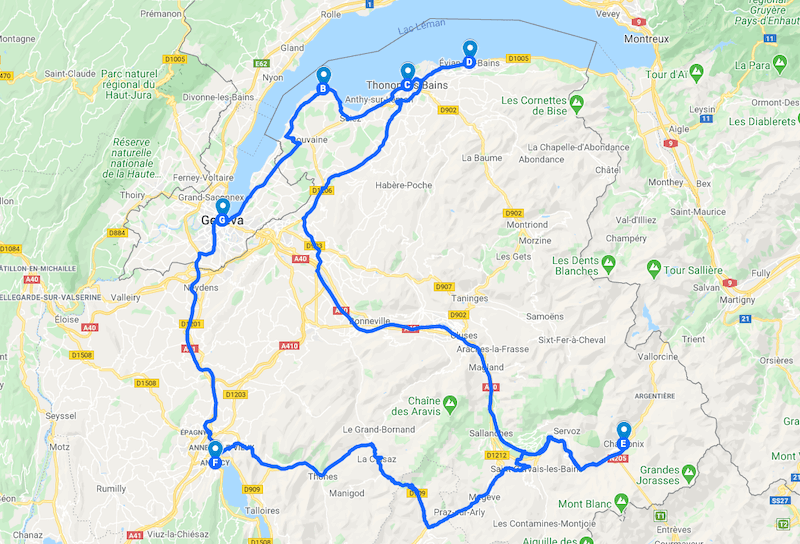 Click on map to enlarge
Suggested French Alps travel itinerary
Day 3: Drive to Chamonix and spend the day and night
Day 4: Drive to Annecy and spend the day and night
Day 5: Either spend an extra day in Annecy, or drive from Annecy to Aix-les-Bains

and then onto Geneva.
YOU NEED TO KNOW THIS BEFORE YOU RENT A CAR
If you land at Geneva airport, you need to decide where to rent your car, in Switzerland or in France. The airport is on the border and both sides have rental car offices.
French rentals are far cheaper, but you'll have extra costs: the rental cost itself (you can compare prices here), and transportation from the Swiss to the French side of the airport to get your car. You may also need a Swiss autoroute sticker if your car doesn't have one (CHF 40, a bit more in USD). You could avoid this by cutting through town to get to France rather than taking the ring road but Geneva driving can be complicated, with many signs and lanes and is best left to residents.
If your flight originated outside France, you'll arrive on the Swiss side so you'll also have to take a cab/Uber/bus from the Swiss to the French side of the airport. They are connected via the terminal but sadly you cannot cross unless you have a boarding pass and are catching a flight. If you're flying from a destination in France, no problem, you'll arrive on the French side.
If you arrive between 1 November–31 March, check that your rental car has snow tires. They are compulsory, but not everyone follows the law.
And finally, make sure you tell the car rental you plan to cross the border – there might be additional insurance costs.
Read these driving tips for France before you head off!
The Alps in France: Main stops and sights
This Alps itinerary provides a mixture — urban, village, lakeshore and mountain, so something for everyone. Just bring your walking shoes and your appetite.
Geneva, humanitarian city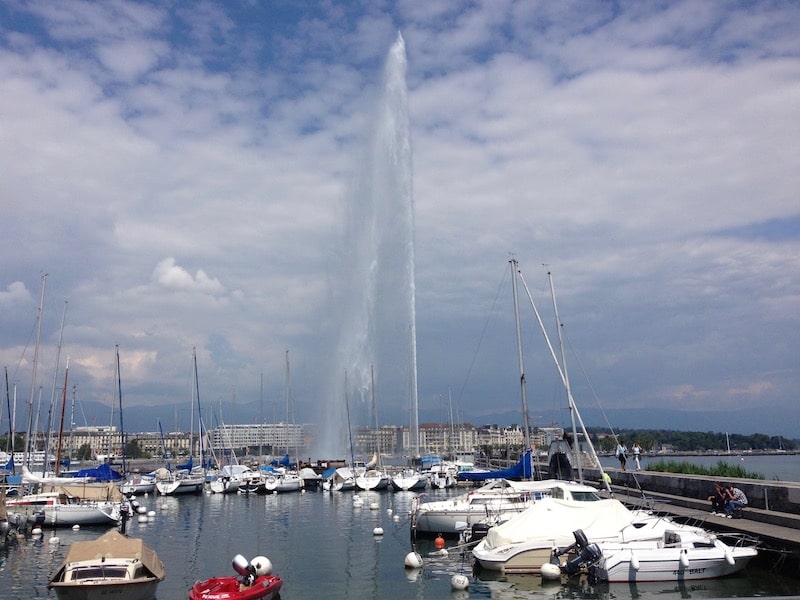 If you have time to do a bit of sightseeing in Geneva, you might want to take a selfie in front of the Flower Clock or the famous Jet d'Eau (Geneva's iconic water spout).
You could also visit the world's largest particle accelerator or take a brief tour of the International Museum of the Red Cross and Red Crescent (absolutely recommended, and it has a great cafeteria). If tours are open, the United Nations is right across the street from the museum.

For something more out of the way but still easily accessible, hop a tram to Carouge, an ancient city (now more of a neighbourhood) which has in turn belonged to Rome, Piedmont-Sardinia, France and eventually Geneva, a ray of Mediterranean sunshine in an otherwise Calvinist Geneva. 
Yvoire, charming medieval village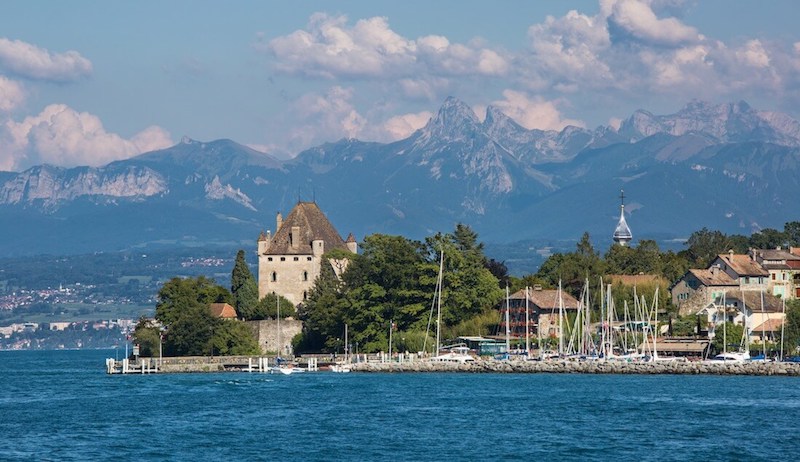 When I say charming, I mean it, because I once lived in this tiny pedestrian village for several years. Yvoire is small, and a walk through it shouldn't take more than an hour. But there's plenty to do beyond a stroll.
An amusing visit is the garden labyrinth of the Cinq-Sens, built around our five senses. Yvoire itself is lovely and can get quite crowded, especially when the ferries from Geneva arrive.
You'll find plenty to buy – some useless souvenirs, but this village also happens to be crammed with artists' shops, original works from actual artists who create throughout the winter to sell in summer.
To eat (but reserve ahead – it's popular and always full) head for the Hotel Restaurant du Port, a great place to spend the night and relax once everyone else has gone back to Geneva. Order perch fillets, their specialty, which comes in a lemon sauce so good you'll want to lick the plate. (Please don't or you may be thrown from the terrace into the lake!)
It's a pedestrian village, so no cars. There's a large parking lot at one end of the village (just follow the signs) and walk back in.
Thonon-les-Bains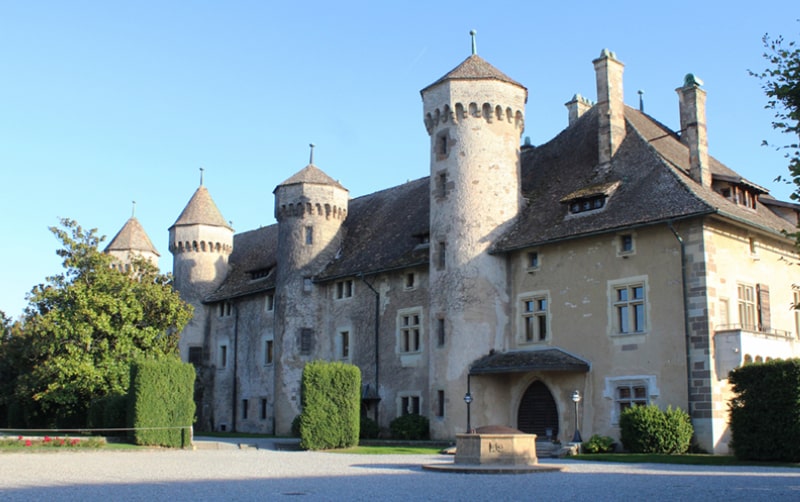 You can park in the upper town and take the Funicular down to the port, a great place to have a coffee after your drive.
For lunch, there's plenty to choose from in Thonon or you can drive to the Chateau de la Ripaille, once the home of the Dukes of Savoy (and which produces its own wine). It has a lovely restaurant but be sure to reserve.
So many people have come through here... armies of the French Revolution were quartered here, as was one of Napoleon's generals. It was eventually taken over by an industrialist who shaped it into the combination of gothic and Art Nouveau styles you have today.
Or you can push on to...

Evian-les-Bains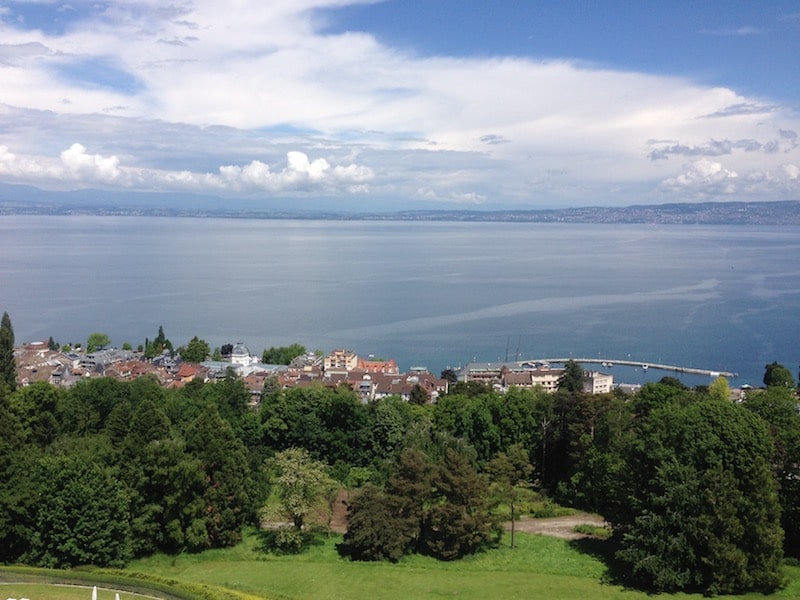 You've heard of Evian — if not the town, at least the water. But this is where it comes from and of course, it is a spa town.
Drop by the Art Nouveau Buvette Cachat to admire the building, but move on to the neo-classical Villa Lumière. If the name sounds familiar, it's because it belonged to the parents of the famous Lumière brothers, who invented the cinema. It's now the town hall but you can at least ogle the lobby.
Throughout the city, you'll get a strong sense of Evian's Belle Epoque past.
Like other spa towns, the best thing you can do here is sample the spa treatments, either in a private spa or in the municipal thermes. The ultimate luxury will be in going home to boast your spa treatments all involved Evian water, the same one as in the bottles.
Chamonix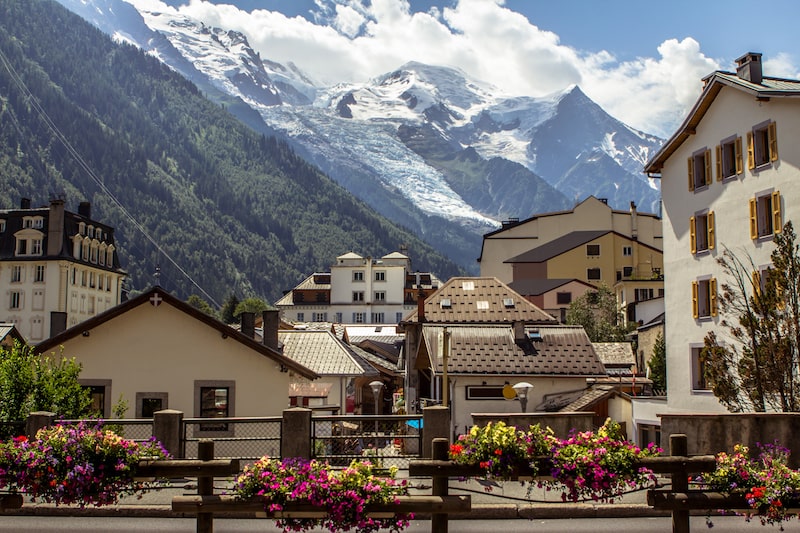 Chamonix is an irresistible stop in France's northern Alps, for many reasons. If you're a winter sports fan, you do it all here — a world-class winter resort.
But Chamonix has the unusual distinction of also being a world-class summer resort for hikers who try short day hikes or the gruelling Tour du Mont Blanc, often on a self-guided tour.
One of my favourite places in Chamonix (other than walking around town and hopping from café to café and gazing at the Mont-Blanc towering over me) is the Crystal Museum, with collections from around the world. Chamonix is a world center for crystals and hunting for them has been a long-time activity.

This is one of the most beautiful settings on the planet so ride the cable cars, walk around, and know that you are seeing something sublime.
Just one thing: if you plan on taking the famous Aiguille du Midi cable car, don't just show up, but reserve through the tourist office. 
Book your Chamonix hotel here.
Annecy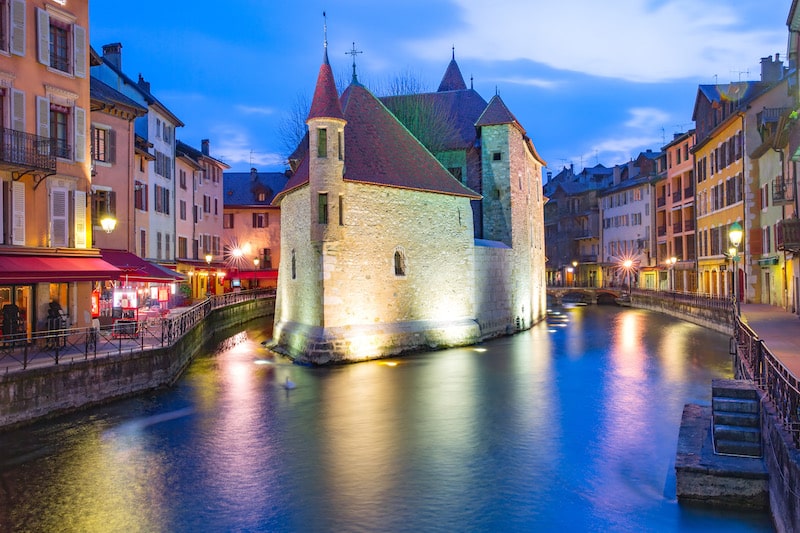 Annecy is not a town you visit for its culture (that's not to say it doesn't have any - it certainly does) but for its breathtaking natural beauty, both in the city and around its lake. It has been called France's prettiest town, and with reason.
In the city, stroll under the arcades in the old town and stop off for a great meal in one of its many renowned restaurants (or for a pastry at Rigollot, who a few years ago won the Best Pastry Chef of France competition).
Go on a market day if you can: Tuesdays are mostly food and local visitors, with Friday and Sunday enlarging to include a brocante or flea market (and a lot more tourists).
Lake Annecy is stunning. If you're on foot, just head towards the lake and begin walking in either direction. The views are spectacular wherever you go. You can actually walk all around the lake, or alternate between walking and taking the boat (the tourist office can help). You can also cycle around the lake — most of it, anyway. Check with the tourist office to see if the full circuit is now completed.
Or you could drive to the Col de la Forclaz for some adrenaline and go paragliding for a bit (or sit in a café and enjoy the sight of paragliders flying past over your head).
Aix-les-Bains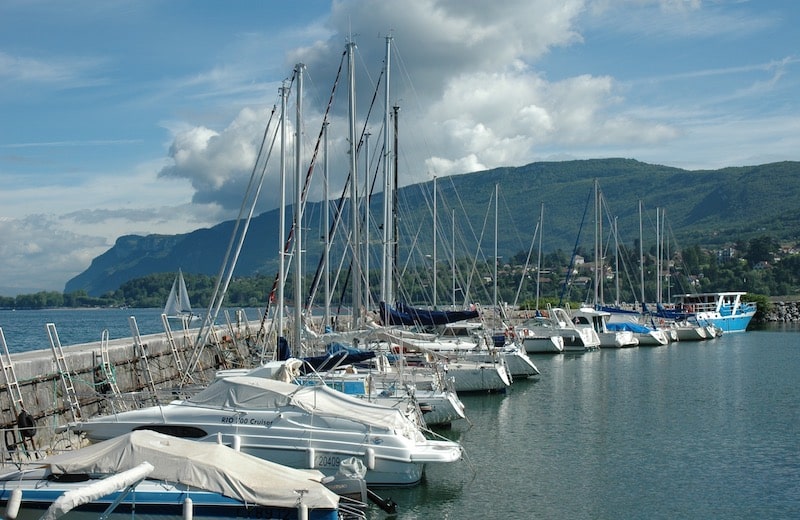 Aix-les-Bains is a lovely spa town set above the Lac du Bourget, France's deepest lake, of such beauty many French writers have extolled it in poetry and prose, from Lamartine to Alexandre Dumas.
But perhaps its most famous (albeit temporary) citizen was Britain's Queen Victoria, who loved the city so much she kept coming back, starting a trend of British visitors that continues to this day.
It's a sporty town, given its lakeside location, but most people come here for the thermal baths, which are excellent and relatively inexpensive, especially when compared to resorts in Brittany or on the Mediterranean.
It has a stellar collection of hotels for the spa-goer (here are some of the best) as well as a selection of thermal establishments.
You can also just enjoy these for half a day but book first! You'll find some info on the main site (in French only - but you can email them using Google Translate) about the half-day treatments and rates.
History and other interesting things
This entire area was once known as the Duchy of Savoy — it wasn't part of France at all. For many Savoyards, as the people of this region are called, those were the good old days and Savoy would be much better off without France.
Every so often, when you cross from one department to the next, someone will have painted a wishful line across the asphalt that will say something like Savoie libre, free Savoy. But it's wishful thinking, and it's a minority.
So the Duchy came into being in the early 15th century and in those days stretched south all the way to Nice. Over the centuries, ownership would bounce around from  France to Sardinia until in 1860, Savoy became French once and for all.
The Résistance
The Alpine region, blessed with difficult mountains and plentiful forests (not to mention the nearby borders with Italy and Switzerland) was a haven for resistance fighters during World War II, with some of the most spectacular coups staged right here.
This was also the first region freed from the Nazi stranglehold by the Resistance, and you'll find many monuments to fallen fighters along the roads as you travel.

Offbeat sights along the way
In Geneva, if it's summer you'll be spoiled for choice. Play chess with experts on a giant outdoor board in the university yard (Parc des Bastions in the Old Town) or go swimming at the beach of the Bains des Paquis right downtown, surrounded by Geneva's luxury hotels and residences.
In Yvoire, leave town. Yes, you read that right. To escape the crush of tourists, look for the Porte de Nernier (the gate closest to Geneva) and start walking towards Nernier, the village next door, what Yvoire must have looked like before it was 'discovered'. 
In Thonon-les-Bains, ride the funicular (built in 1888) for a minute or two from the port to the upper town and look across to Morges in Switzerland.
In

Evian-les-Bains, if the weather is clear, stay at the Hotel Les Cygnes or eat in their friendly and delicious restaurant in the evening to watch the amazing sunset over the Jura Mountains across the lake.
In Chamonix, if you have the time and you're in shape, take the Montenvers railway up to the station and learn all about the region's crystals. And walk back down!
In Annecy, for cheese lovers only: after your lakeside sports, try a truffle fondue at l'Etage. Once you're full, amble over to the Fromagerie Pierre Gay and head for the back, and look down: you'll be standing over a thick glass window and watching hundreds of cheeses mature below. Then off to the counter to buy some!
In Aix-les-Bains, visit the Belle Epoque Casino Grand Cercle to admire the 1880s stained glass ceilings. It's a casino so yes, you can gamble, but the décor is what this place is all about.
In summer, the region hosts antique car rallies in style, and you'll run into them as you climb up towards mountain passes. Here's one of the several groups that organize these rallies.
In winter, you can follow along the Grande Odyssée, or Great Odyssey, a week-long dogsled race that chooses a different alpine itinerary each year.
Food and drink of the Alpine region
As with most Alpine regions, the Savoie and Haute-Savoie (the two departments that make up the Savoy region) are known for their cheeses, especially such typical cheese dishes as fondue and raclette.
Other local specialties include air-dried beef and charcuteries, or cold cuts. In the mountains, preserving meats has become a high art. This is a region of excellent local sparkling waters (and yes, they do taste different from one another). 
Best time to visit the Alps: winter for snow sports and summer for hiking in the mountains. For Geneva, Annecy and Aix, late spring and early autumn are the loveliest seasons (and far less crowded than summer), with June and September topping the list.
Did you enjoy this article? I'd love if you shared it!
Pin these and save for later!