Pages on this site may contain affiliate links, which bring in a small commission at no cost to you.
Headed to Lake Geneva French side?
Make Yvoire, France your first day trip!

Between spring and fall, the delightful village of Yvoire is at its most dazzling, its hundreds of crimson geraniums cascading from every window and the stone walls partly covered by climbing greenery. Those flowers have won Yvoire many awards as a "four-flower village", which is given to villages with exceptional flower displays. 
As winter approaches, the shops close, the flowers fade, and the shutters come down. I know this because I used to live in Yvoire, right inside the old village walls. In summer, up to 10,000 tourists visit daily, but in winter, only a few hundred families remain.
If you go in summer, you'll enjoy the extraordinary views across the lake and eating al fresco in the shade of ancient stone buildings. If you go out of season, you may not have many shops and restaurants, but you'll be able to see a moody, medieval village in all its authenticity, a sight rarely seen by the tourist crowds.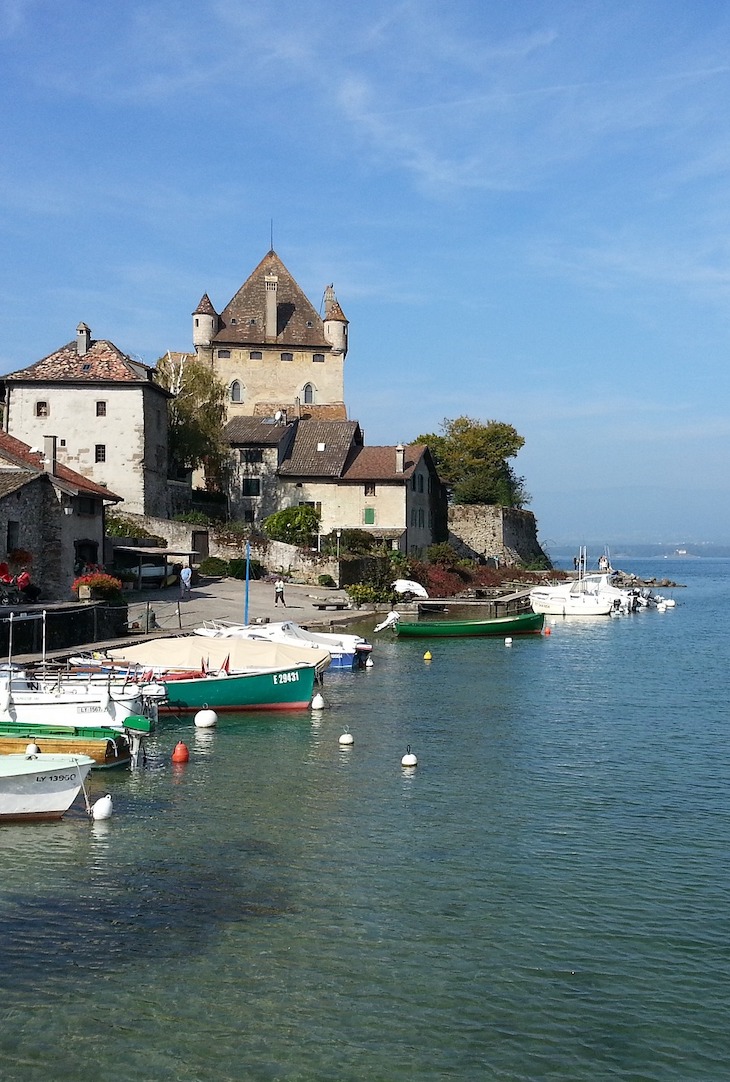 View of Yvoire from the water. Photo mariegerenoir
Yvoire is one of those drop-dead gorgeous medieval towns in France, on the shores of Lake Geneva. More formally, it is in the Haute-Savoie département, in the Auvergne-Rhone-Alpes region, one of metropolitan France's 13 regions. Actually, Yvoire is more of a village than a town, sandwiched by views of the lake and the glorious French Alps.
Most people who visit do so on a day trip from Geneva, but you can easily spend more time in this stunning village, officially one of the most beautiful villages in France.
 MY TOP-LINE RECOMMENDATIONS?
🧳 My favorite hotel in Yvoire:  Hotel du Port or Le Pré de la Cure - it's a tie!
🍽️ My favorite restaurant: Hotel du Port, for the perch fillets with lemon sauce
🛳️ Best way to visit: take the boat from the Quai du Mont-Blanc in Geneva
🏰 Top thing to do: go for a stroll and enjoy the cobblestoned streets
⛵️ A little more offbeat: take an environmentally friendly solar cruise from Yvoire
🎨 Best artists' gallery: L'Equinoxe, with exhibits by more than a dozen artists 
Looking at the history of Yvoire, we can see it was built as a defensive fortress, standing astride a strategic route from Geneva to Italy. Many of those fortifications are still standing, along with stone houses dating from the 13th century.

Eventually, once the village was no longer in need of defences, it became a peaceful fishing village, dominated by the castle which juts out into Lac Léman (that's Lake Geneva in French). Until it was "discovered" by visitors, who found it irresistible...
Top Sights and Attractions in Yvoire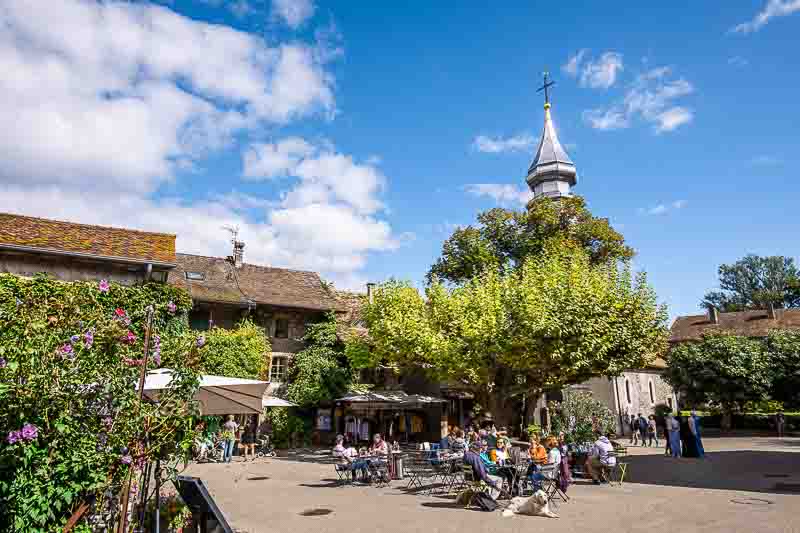 As with any medieval town in France, most of Yvoire's charm comes from its ancient stones and quaint character, making it difficult to simply enjoy the village rather than snapping away to capture every detail.
There's plenty to do in Yvoire, and strolling along its medieval ramparts may be a good place to start: it's a small village, and you can easily explore its circumference before diving into its centuries-old streets. 
The village has two main gates, the Porte de Nernier (where I used to live) and the Porte de Rovorée, built by Amédée V, the Count of Savoy (to which Yvoire at the time belonged). These gates are now officially listed as Historical Monuments, and you can still see the hinges which once held up the heavy wooden gates which guarded the town when they were shut each night.
As is usually the case for fortified old villages in France, the ramparts protected the town, helping keep potential invaders at bay.
YVOIRE PRONUNCIATION : ee-VWAHR
Here's what you can see and do when you visit.
Château d'Yvoire (Yvoire Castle)

Once you walk into town, you'll see the castle that dominates the village. It was built in the 14th century as a fortress to oversee navigation on the lake and to protect the road that led from Geneva along the lake towards Italy.
You can catch glimpses of it from all over town, but some of the best views are from the lake or the port, where you'll get a better sense of the chateau's size.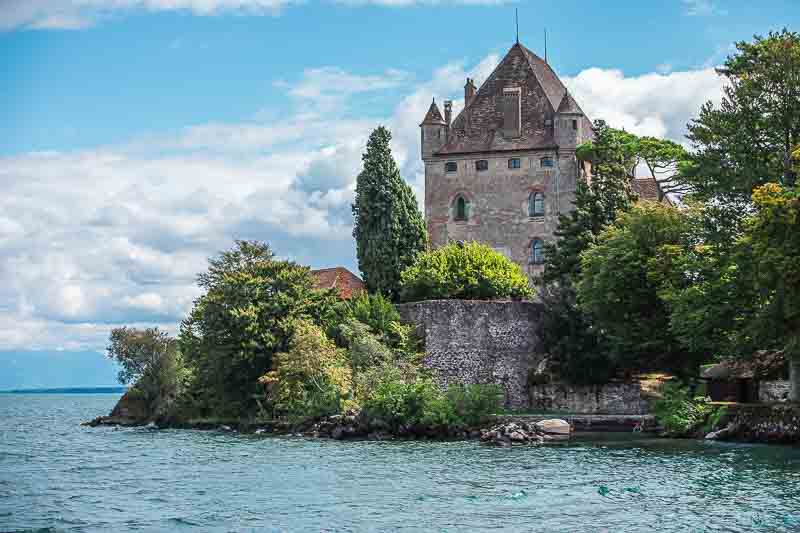 This isn't the original castle − that was destroyed by fire in 1591 and the full renovation only took place in the 20th century.

Sadly for us, the chateau is private and inhabited (by the same family since the 17th century), so it can't be visited − except for the kitchen gardens, known as the Garden of Five Senses.
Jardin des Cinq Sens (Garden of Five Senses)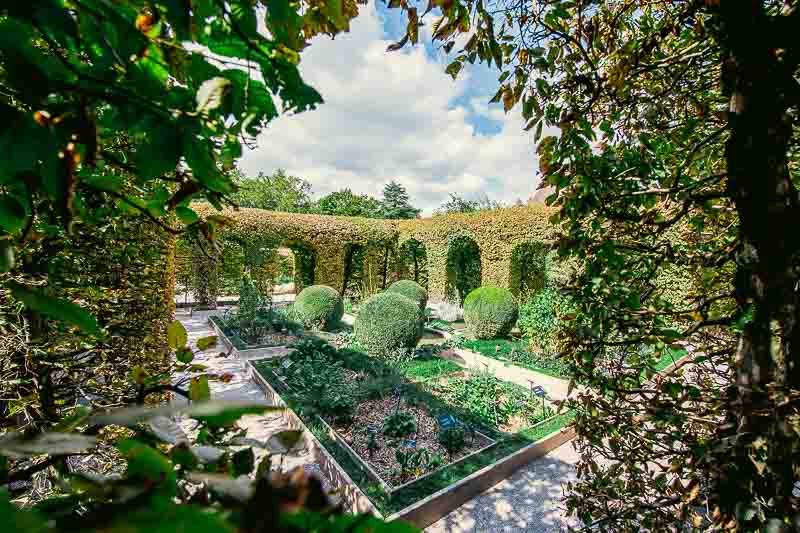 It's called "five senses" for a reason: this medieval-style labyrinth and garden was created to make every one of your senses work.
Four small gardens are each designed to stimulate a different sense: sight, taste, smell and taste. The fifth sense, hearing, awakens as you listen to the birds chirping and brook bubbling.
The garden has more than 1500 species of plant – it is small, but rich, and carries the Remarkable Gardens of France label.
Église Saint-Pancrace (Saint-Pancrace Church)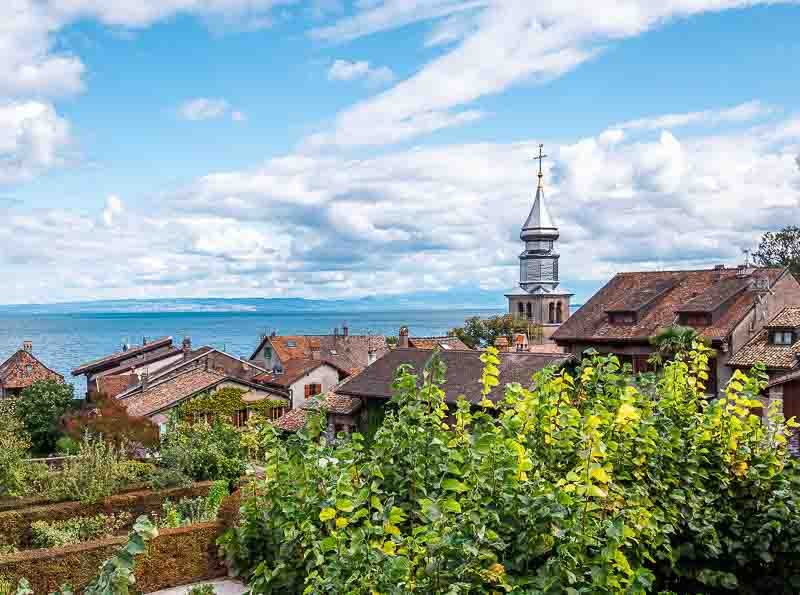 One of the more iconic sights of this French medieval town is Saint Pancrace church, named after a 14-year-old Christian martyr and patron saint of children. You won't be able to miss the stainless steel dome built to replace the original one – one of 800 destroyed during the French Revolution. 
Village streets and architecture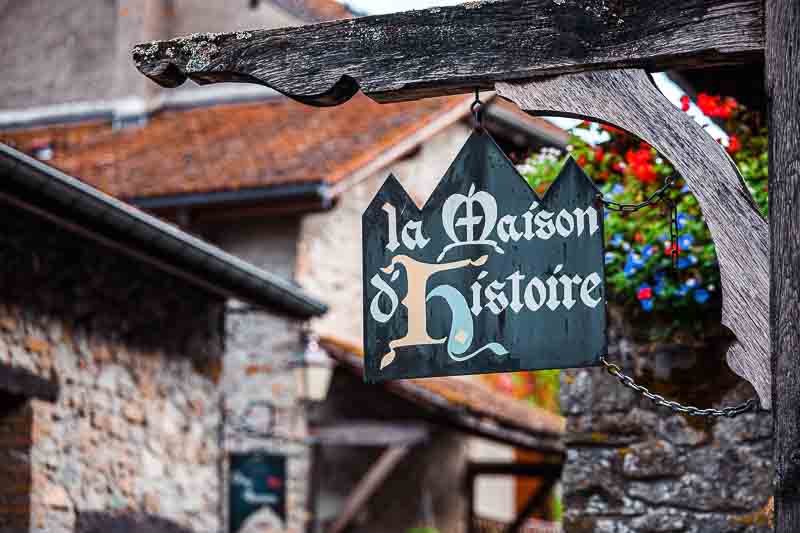 Yvoire is a village for dawdling.
It only has a handful of streets, but these are worth the wander, lined with restaurants, cafés, shops and galleries.
At first glance, you may feel that Yvoire's streets have been taken over by the tourist trade. But please look more closely.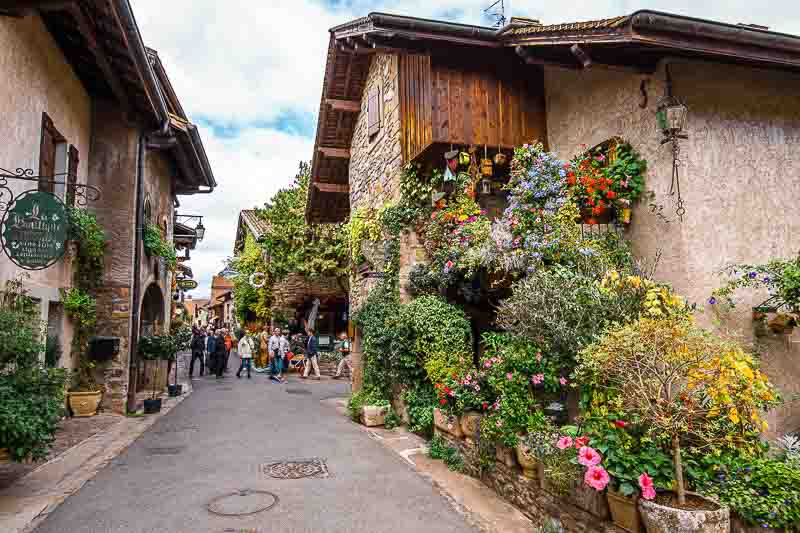 Stuck between the souvenir shops and scattered throughout the medieval streets, you'll find occasional showcases for artists exhibiting their pottery and sculpture. Keep an eye out for these local creatives and skip the souvenirs.

And anyway, you come to Yvoire for the cobblestones and the view, not for the trinkets. If you want to take something home, a perfect little piece from one of the workshops will be something to treasure.
Eating out in Yvoire
Yvoire was once a fishing village, and its lakeside location has maintained that tradition: you can still find plenty of fish from Lake Geneva here. My favorite is perch, but you can also taste other local fish – including trout, char, pike, and carp.
Eating out in Yvoire seems to be everyone's favorite pastime once the exploring is over. There are plenty of restaurants, and my top recommendation is the Restaurant du Port (it belongs to the hotel same name) for perch filets, the best in town.
Just make sure you reserve a table ahead of time because it's extremely popular.
If you can't get a table there, you will also eat well at Le Bateau Ivre or Les Jardins du Léman. 
Things to Do Around Yvoire and Lake Geneva, France
There are plenty of other Lake Geneva towns and villages you can visit from here.
You can walk west and in a few minutes you'll reach Nernier, a bit like Yvoire but without the tourists. I suspect this is a smaller version of what Yvoire must have looked like before it became popular.
On the other side of Yvoire to the east, you can walk or bike to the even closer La Chataignère, a regional cultural center set in 24 hectares of calm forest (and with a tiny pebble beach!)
By car, you can reach several other towns along the lake, like Evian-les-Bains, home of Evian water and of a well-known local spa.
A beautiful destination – some say France's prettiest town – is Annecy, just over an hour's drive from Yvoire. It's on its own lake, Lake Annecy, but it's a popular day trip in the region.
If you have several days available, this Alpine itinerary will take you to some of the most beautiful spots around. 
How to Get to Yvoire, France
There are three main ways you can get from Geneva to Yvoire (or Yvoire to Geneva):
By boat − from either Geneva or Nyon (across the lake from Yvoire) − in summer several boats cross daily - check the schedule here
By car − from Geneva, follow the lakeside towards France (in case you need to rent a car for the day, check here for the best prices). There's plenty of parking!
Where to stay: Yvoire France hotels

Hotel-Restaurant du Port − right on the port, and this Yvoire restaurant has the best perch filets in town
Le Pré de la Cure − with a swimming pool and spa, and also a great restaurant
Villa Cécile − calm and spacious, if you want large rooms and breathing space
Final thoughts about Yvoire
This delightful medieval village is a must-visit for visitors to the Greater Geneva or lake area. It's easy to reach, and you can spend as little as half a day if you don't have more time.
At the height of summer and on holidays, Yvoire is a little over-touristed, especially on weekends. If you're visiting by car, you can arrive before the first boat or stay after the last one, in which case you'll have most of the village to yourself.
Better yet, spend the night. Visit the shops in the evening, and settle in for an atmospheric dinner, basking in Yvoire history and enjoy this delightful village in France without the crowds.
—Except where noted, all photos G. Reynard © Auvergne Rhône-Alpes Tourisme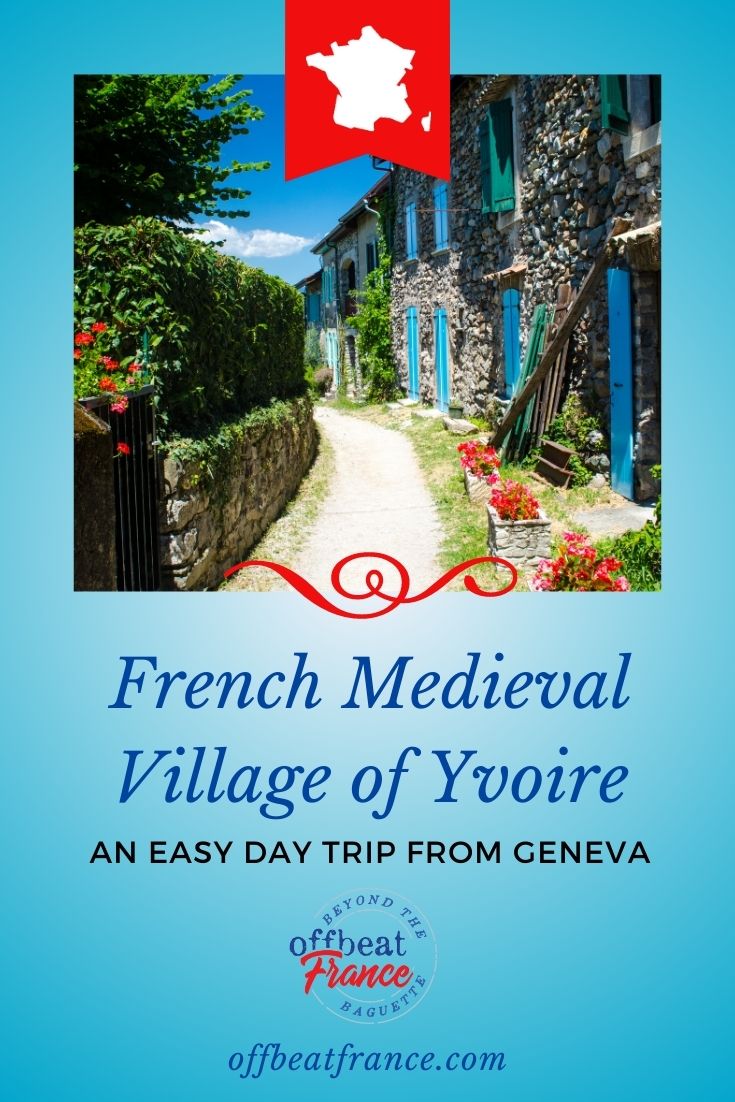 Did you enjoy this article? I'd love if you shared it!