Pages on this site may contain affiliate links, which bring in a small commission at no cost to you.
Here's where you find everything you need to know to travel France by train!
France's public transport system will get you to most places in the country, from major cities to small towns, usually through fabulous scenery and often skirting exquisite villages and the odd UNESCO World Heritage site.
There are other ways to visit France, of course, and sometimes, these have advantages over the train, but that's rare.
Let's have a look at train travel in France, and examine why it is the best way to see the country, at least in my personal opinion. I'm French and live in France, and have all the different modes of transport at my fingertips, including a car.
But still, when I travel (as I often do, to collect stories for this website), four times out of five, it is by train.
Perhaps we hanker back to those grand old days of the Orient Express, of wood-paneled coaches and crystal dining ware...
Train travel is no longer so but it remains one of the best ways to travel in France, a country on most people's bucket list, no question.
Trains go almost everywhere, are frequent, comfortable, cost effective and environmentally sound. You usually arrive as rested as when you left.
What's not to love?
When you travel France by train, you get to relax and enjoy the glorious French countryside: think soaring Alps, lush lavender fields, dramatic lakeshores and turquoise beaches...
This French railway travel guide will show you the ins and outs of train travel in France and warn you of its pitfalls because no, nothing is perfect, although rail travel does come close.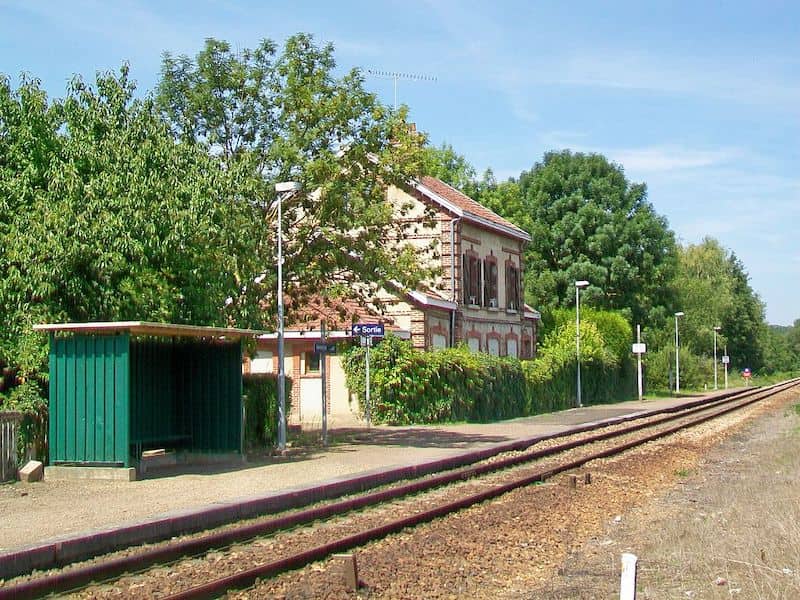 A typical rural train station in France - Source
Why is train travel the best way to see France? 
Traveling by train in France has many advantages over other forms of transportation. Here are the top reasons:
✓ Lower carbon emissions
✓ Comfort and relaxation, great scenery
✓ No limits on luggage weight or size
✓ You can get work done if there's wifi
✓ If you book ahead trains can be highly cost effective
✓ Train stations tend to be in the center of town
As with everything, there are also disadvantages to rail travel in France:
✗  Not every town and village can be reached by train
✗  Trains can be full around major holidays
✗  You may have one or more connections
✗  Some areas around stations can be a bit rough, especially at night
✗  You can be subjected to train strikes (I deal with that below)
✗  You can't really choose your seat mates
If I love train travel so much, it's because I've done it hundreds of times. I've also traveled dozens of times in other ways and I can compare from my own first-hand experience. (In other words, yes, I'm biased!)
The beauty of rail travel in France is that you can simply relax and watch the countryside go by - Source
Other ways to travel in France
Although direct trains and main lines help you travel quickly and easily, they are not always available, and sometimes, you simply have to find an alternative to the train. 
Here are a few:
Traveling around France by car
✓ No place is out of reach, even the most remote
✓ Freedom – you don't have to stick to a timetable and can come and go
✓ You can go straight to your destination without having to change trains
✗  Driving in France can be... interesting
✗  You'll have to contend with parking, which is often difficult in popular places
✗  Many cities have low emission zones that restrict driving downtown
✗  Cost can be high: gasoline, motorway tolls, parking
✗  When traffic is heavy, safety can be a concern
✗  Less relaxing than the train for the driver
✗  You could get lost and waste precious time
✗  You'll have to stay sober, even if you're visiting a renowned wine château
Bus travel in France
✓ Like trains, bus stations are usually in the center of town
✓ Buses often go where trains do not
✓ This is often the cheapest way to travel in France
✗  Buses are far less frequent than trains
✗  You'll drive along soul-less autoroutes, usually France's least lovely sceneries
✗  Not as comfortable as the train
✗  Bus stations can be in even rougher neighbourhoods than train stations
✗  Buses can be a bit worrisome if you dislike the combination of high speed and narrow roads (they aren't all like this but all it takes is one)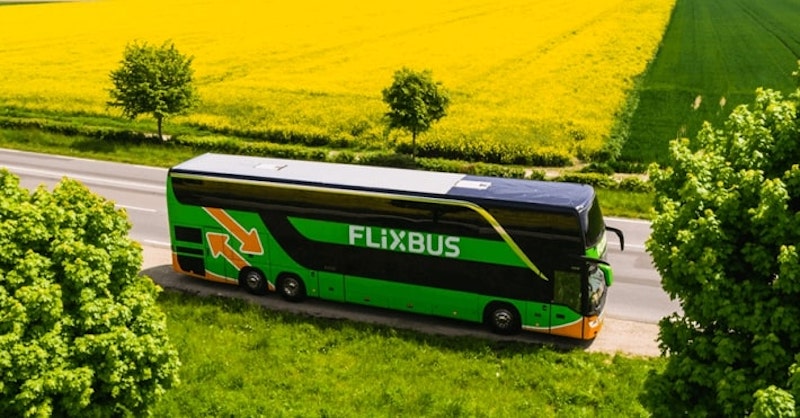 A number of bus companies ply France's roads, including Flixbus and Bla Bla Bus (Photo SNCF)
Travel by air in France
✓ Low-cost airlines can cost less than the train if you book ahead
✓ East-West transport in France is poorly served and flying may be the only way to avoid doubling your distance and traveling through central Paris
✗  Your carbon footprint may be significant
✗  Airports are often far from town, a waste of time and money in extra transport
✗  Flights to your destination may be infrequent (unless you're headed to Paris)
✗  With all the extra security, a flight can take far longer than a train ride
✗  All that waiting can also be a source of frustration
✗  You're a bit of a hostage to weather and strikes

Low-cost airlines are common in France, but they are becoming increasingly regulated as the government tries to promote train travel over air travel for environmental reasons
Rideshares in France
✓ The cheapest way to travel
✓ Allows you to meet people and socialize during your journey
✗  You have to trust someone you don't know
✗  You have no idea of whether the driver is qualified, good or sober
✗  You have no way of knowing if the vehicle is safe or has been properly revised
    You might also like these stories!
The different kinds of French trains
Until recently, most French trains were managed by the SNCF,  the national railway company, with very few exceptions for some private trains.

France is privatizing its railways so foreign trains are beginning to appear on the tracks. Most recently, the Spanish high-speed AVE train has been connecting Madrid and Barcelona with cities in France, including Paris, Marseille, Perpignan, Lyon, Toulouse and others.
The Italian Trenitalia has also started rail service between Paris, Lyon and Milan, and we can expect the number of foreign trains to increase.
TGV, Inoui, Ouigo trains and the like
The TGV (Train à Grande Vitesse, or High-Speed Trains) are long-distance trains that travel between main destinations in France at an average speed of 320kph (nearly 200mph) along specially built high-speed lines.
If you've never taken this train, it might take you a few minutes to acclimatize. The TGV whips across the French countryside passing everything in a blur of green pastures dotted with cows.
This is the queen of French trains and you should make it a point to take it at least once.
You do need to reserve your seat and buy your TGV ticket ahead of time – the earlier you buy, the cheaper the ticket. You can buy a ticket in either first or second class and if you book early and online, the price difference between the two classes might be negligible on some trips, so treat yourself...
The TGV comes in several flavors: there is a low-cost version – Ouigo, which you can book online only, and Inoui, which is a TGV brand for newer or refurbished older trains (soon, all normal TGV trains will become Inoui).
All of these are high-speed trains, and you can book your tickets through Trainline or SNCF.
I've reduced this high speed train map (France) to make it fit so cities are hard to read - but if you click the map you can download the larger original. Still, you can get a sense of the network's extent
The major failing of this rail network – and of much French transportation – is that most roads lead to or through Paris. So if you want to travel from, say, Lyon in the southeast to Bordeaux in the southwest, you cannot do it directly and will usually have to go north to Paris and back down again.
While the TGV train has a cafeteria car, I prefer to buy my lunch in town or at the station before boarding – the food is better and usually cheaper.
Perhaps the one thing I dislike about TGV trains is that seats can face either forward or backward. Sometimes you can choose, but often you cannot. So if you suffer from motion sickness (as I do) and happen to be assigned a back-facing seat, you might end up spending your entire trip standing up in the restaurant car... Trains that are double-deckers make this even worse if you're upstairs, because of the ultra-bouncy suspension.
However, it's a price I'm willing to pay to get from Lyon to Paris in under two hours and from Paris to Bordeaux in just over two. And free wifi.
Check schedules and book your TGV here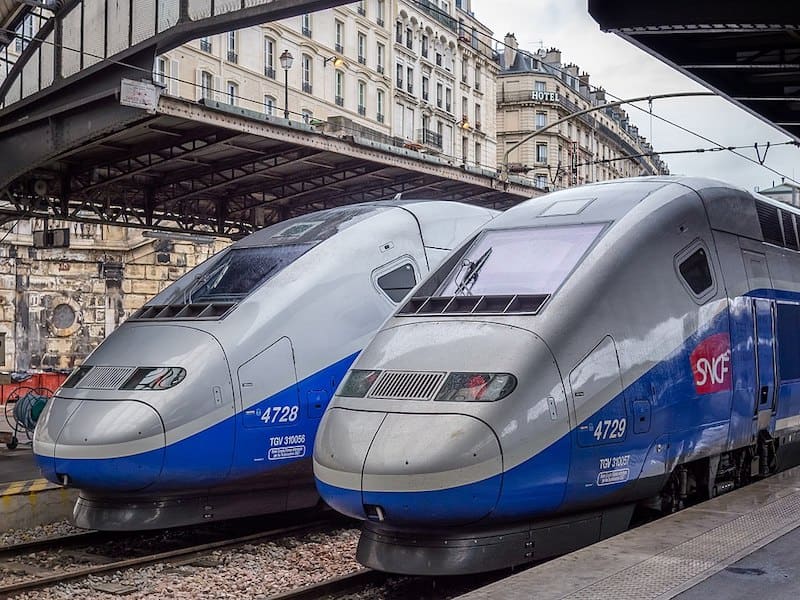 Typical TGVs, here in the Gare de l'Est in Paris - Source
Eurostar and Thalys trains
The Eurostar is a direct train from Paris Gare du Nord to London St. Pancras. At just over 2h15, this is perfect for going downtown to downtown and avoiding all those pesky ferries and airport delays. Still, the cost is high and this isn't considered a bargain at all. Just a convenience.
Thalys is the train that connects you to Europe north of Paris – you can take it from Paris to Brussels, Amsterdam, Cologne, Dusseldorf, and places in-between.
Book your Eurostar and Thalys trains here
Intercity trains
The Intercités are slower than the TGVs and link many of France's medium-sized routes, although some of these routes may also be covered by TGVs. You can decide which to take, a decision that will depend on schedules and prices.
Unlike the TGV, these trains do not require reservations. You can buy your ticket ahead of time if you don't want to bother with ticket machines or queues at the train station, but you don't have to.
(I recommend that you do, because the machine might be broken or confusing – an online ticket bought ahead of time provides me with greater peace of mind.)
Check schedules and book your Intercity here
TER
The TER trains are regional express trains, and act as local trains if you're going to smaller towns.
For example, my town, Seyssel, doesn't have any high-speed trains but I can take a TGV from Paris to Valserhône and change to a TER for a 10-minute ride.
Most often, the regional trains will wait for the TGV and Intercity if these are late. However, if your TER is late, your TGV will not wait. So if you're starting a journey on a TER and then connecting to a TGV, please give yourself ample time.
Contrary to France's faster trains, your TER ticket may be good for up to a week and you may not necessarily have to use it on the day you paid for it. Check when you're buying it.
Also, there is no seat reservation on the TER.
What are the most popular international train routes in France?
Several international trains will either get you to France or take you away from the country:
The Eurostar from France to the UK (you can also catch the Eurostar to south of France)
The TGV Lyria, the France to Switzerland train

The Thalys to Germany, Belgium and the Netherlands




Other highly popular routes include the Italy to France train or the Barcelona to Nice train
Book your international trains and your rail passes here.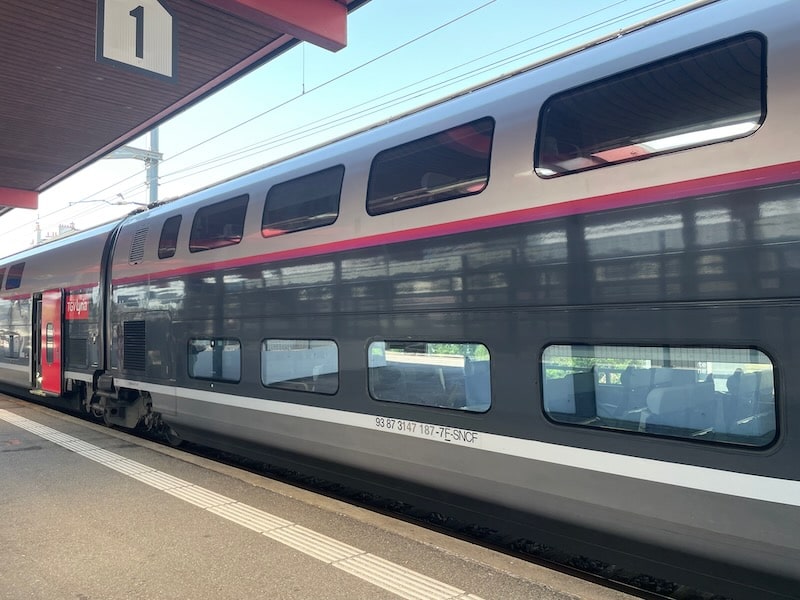 One of the many two-storied TGV Lyria trains in France
Auto train: taking your car on French railways
You can no longer do this. There used to be a car train from Paris to the south of France but that has been discontinued. Most people heading to the Côte d'Azur (the French Riviera) will choose to drive, or will take the train and rent a car at their destination.
Click here to compare car rental prices
Night train
In my youth, before the advent of fast trains, we used to have sleeper cars and a trip was as much an adventure as a distant voyage. I remember taking the night train from Paris to Geneva, where I was attending university, and have fond memories of the experiences.
With the advent of high-speed trains and low-cost airlines, night trains began to disappear in France, until perhaps one or two were left just a few years ago.
But the overnight may have been saved by President François Macron, who has committed to returning these night trains to service.
From Paris, you can now catch an overnight train to Albi, Argelès-sur-Mer, Ax-les-Thermes, Briançon, Cannes, Lourdes, Nice and Toulouse.
People are increasingly appreciating the value of slow travel, and sometimes the journey is as much fun as the destination.
Don't expect the magnificent sleeper cars of yesteryear but you can at least lie on a bunk for the duration of the trip. Not quite the romantic night trains of our imagination... but let's call it a work in progress.

How easy is it to travel around France by train with your pet?
You can absolutely travel with your pet on the France train system and it's quite straightforward.
Whatever its size, you'll have to pay €7 for your pet.
If your pet weighs more than 6kg (usually a dog), you'll have to muzzle and leash it but it will have to travel at your feet, not on the seat beside you. I'm not sure what happens if you have an 8kg cat, though...
If you want to reserve a ticket for your pet, you'll have to book it directly from the French railway company, SNCF. In some regions, however, a technical glitch won't allow you to book an online ticket for your pet and you'll have to get it at the station. 



Coco the Traveling Samoyed tests the SNCF train system - and finds it agreeable! Photo Jennifer Dombrowski at Luxe Adventure Traveler
Can't decide which train to choose?
If you're having a hard time deciding which train to take, this may help:
If speed is of the essence, then consider the TGV. Otherwise just check the schedule and take whichever train suits you.
Reservations vs no reservations: if you don't want a reservation, then forget the TGV and just show up at the train station to buy your ticket and hop on the next non-TGV train.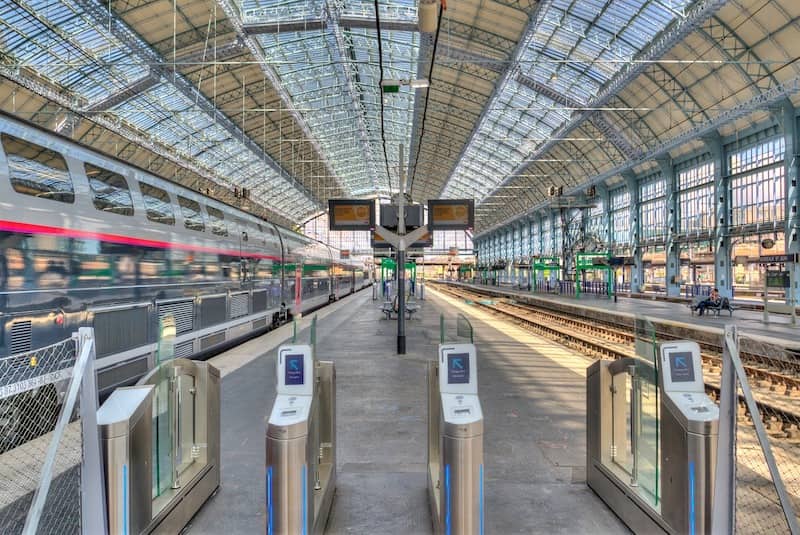 Bordeaux railway station. Photo by Rudy and Peter Skitterians via Pixabay
How do you use the train in France?
The French train system isn't overly different from other European train systems and getting around France by train is relatively simple.
But, France being France, we do have a few idiosyncrasies...
First and most important, many French cities (even smaller ones) have several train stations so make sure you know where your train trip starts or ends. This is crucial if you're connecting: Paris, for example, has seven major (and several minor) stations, some of which are at opposite ends of the city and may require several subway rides.
If the letters TGV are included in your destination's name, beware: it might be a station designed specifically for high-speed trains, and these are often outside the city center. For example, Avignon Centre is right downtown, but Avignon TGV is 5km away. Not far, mind you, but not a pleasant prospect if you're lugging suitcases behind you.
French train stations can also be works of art. Many of them are quite old (in fact, some were so beautiful they have been converted into museums, like the Musée d'Orsay, which was once the Gare d'Orsay). Some are small and picturesque, others are modern and look no different from subway stations. Just be prepared for the variety.
Most train stations have departure boards. I say most because some tiny stations have put up new, electronic boards but because there is insufficient maintenance staff, they often break down and repairs may take time.
Where there are boards, especially large mural ones, you should know that French trains all carry numbers. You may have two trains leaving at almost the same time for the same destination but since the arrival time at destination isn't listed, you might not know which to take. Use the number to tell them apart or you might spend a lot more time touring the countryside than you expected.
Always take your luggage with you wherever you go, including the bathroom. If you leave it unattended, there's every chance it will soon be surrounded by armed soldiers and sniffer dogs. Terrorism is rare in France but incidents, however scarce, have been violent and authorities are always on the lookout for anything suspicious. Like abandoned luggage. Not too long ago I had to spend more than an hour outside the Part-Dieu train station in Lyon while explosives experts blew up a backpack, probably forgotten by someone rushing to catch a train.
And finally, if you're traveled by train in France before, you'll know you are supposed to validate your tickets. It's called compostage in French, and you do it by slipping your paper ticket into one of the bright yellow machines you'll find scattered throughout the station as well as on your platform. Beware, though, these are being phased out! So you might not find them easily. If you have a paper ticket (which you bought in a machine or at the station), you MUST validate it, however hard it is to find the machine, or be fined. It's a confusing interim situation so I suggest you save yourself the trouble and buy an electronic ticket online, which does not need validation.
These machines can be confusing. They're being phased out so you can't find them everywhere - but where they exist, you must use them if you have a paper ticket
How to buy train tickets in France
There are several ways to buy your France train tickets.
Online is probably the easiest and most straightforward way of booking a train in France, because you can take your time and study all the options, and you don't have to worry about validation. If your plans are relatively clear, just head to the 

Trainline website and book your ticket. Another good option is Rail Europe.
You can buy your ticket from a travel agent, if your ticket is perhaps part of a larger trip.
You can buy it at the train station, either from the office or from the machine. Large train stations have offices that are usually open all day. Smaller stations, however, may only be open a few hours a day. If that is the case, there will be a (complicated) machine to sell you your ticket. There is an English option but you may have to click up to ten times to buy a simple ticket, and you'll need a card with a chip and a pin. A regular credit card won't work. Save yourself the hassle and use your phone, the information office, or buy your ticket before you leave home and print it out or download it.
Please be aware that you CANNOT buy TGV tickets or TER tickets on the train! If the machine is broken and the office is closed, you cannot claim you were unable to buy a ticket (I speak from experience). Get on your smartphone and buy it online before the train leaves the station otherwise you will pay a fine

.
Train passes in France
If you're planning on doing a lot of train travel in France, then a pass of some sort may well be cost effective. If, on the other hand, your journeys will be occasional and not necessarily predictable, a pass will probably cost you more than buying your tickets individually.
Here's what you should know about French rail passes.
There are two distinct but relatively similar passes: Eurail if you live outside Europe, and Interail if you live within Europe (UK included, despite Brexit). Find out more about these passes here.
Either pass allows you to travel anywhere between three and eight days during a one-month period.
You can get a pass for several European countries if you're traveling around Europe by train but you can also get a single-country pass if you're planning a trip to France only.
Whichever pass you choose, remember that if you take the TGV, you'll need a reservation, which costs extra. You cannot just hop on.
To recap, a rail pass is a good idea:
if you plan many long-distance trips
if you plan to use plenty of trains that don't require a reservation
if you want the freedom of not having to plan (except for TGVs, you can board all other trains on a whim, in any direction).
Individual train tickets are better:
when you only plan to take the train a few times
if there aren't many trains to your region, for example in the Ardèche or in the Luberon region of southern France.
Train rides from Paris
As you can see, taking the train in France is pretty straightforward. And since there's a good chance you'll be coming across Paris at some point, here are a few extra points to know.
The one most confusing element when taking the train to or from Paris is the multitude of train stations. Here's a quick breakdown of the main ones:
Bear in mind that these rules are more general than exact, so do check carefully to make sure you head for the correct station. Getting to them isn't complicated because they're all on either commuter lines or rapid subway lines.
Also bear in mind that if you're changing trains in Paris, you may have to cross town to do so. Sometimes not, but it pays to check.
And finally, if you have a paper ticket, make sure you validate it in the bright yellow machine.
The best trips by train around France
Organizing a France by train itinerary can be a fun experience. We have a very dense railway network combined with a huge variety of landscapes, so getting on the train will usually yield something stupendous.
For example, taking the train from Marseille to Nice is a delight. Not only do you avoid the dense road traffic (especially in summer), but you'll be treated to a delightful sequence of cliffs, beaches, turquoise seas, marinas, yachts, glorious flowered gardens... the journey is a vacation  in itself.
Sometimes, a banal everyday journey can be stunning. If you're traveling from Geneva, Switzerland towards Aix-les-Bains, as I have often done, you'll discover two distinct visual gems: the gorges and aqueduct over the Rhône as you speed across the Swiss-French border, and the beautiful shore of the Lac du Bourget, where the train line was built hugging the water.
Here's a wonderful list of some of the most beautiful French train journeys.
What if there's a France train strike?
Ah yes, the dreaded train strikes.
They're a fact of life but they don't have to be as problematic as they are made out to be. You are not powerless in the face of striking trains: there is plenty you can do to minimize your headaches if you travel by train in France, even if workers do decide to walk off the job during your holidays.
Find out about strikes ahead of time
France does not usually have "wildcat strikes", or strikes without warning. They are planned, announced, and efforts are made to minimize disruption.
Scour local media looking for these words: "grève + sncf + month and year". This should yield some information, which you can then translate through Google or other translation methods.
Check TheLocal.fr. Although this is a subscription newspaper, it often has free coverage for public service items.
The Trainline app often lists route disruptions.
Get information at the station
If your train is on strike, go directly to the station, at least if it is a large one. Unfortunately, small stations will often not have information counters. The information counter should be able to direct you to an alternate train or point you towards a bus.
In France, when rail services are on strike, buses are sometimes put into service on certain routes.
Rebook or get a refund
Most tickets are refundable, unless you've bought the absolute cheapest. Even then, you might be able to get something if you show up at the train station before your train is supposed to leave.
If you cannot get a refund, you might be able to rebook to a later train, because even during a strike, there is some train service, although it is often minimal.
Have a Plan B
The most important thing you can do is be flexible, whether to catch another train or to find an alternative.
I mentioned the bus, but if the SNCF hasn't put one on, you can still check regular bus services for yourself.
Check out Bla Bla Car, the ride-sharing service. It's rare you'll find something at the last minute but if you're desperate...
FAQ: Train travel in France
Train services go almost everywhere in the country, to most major cities, so yes, train travel in France is simple.
There are so many beautiful spots along the French rail network! You can ride the Mont Blanc Express between France and Switzerland, or the Train Jaune in Occitania, or why not the InterLoire between Orleans and Saumur in the Loire Valley, to name just a few.
The train is a great way to see France but there are many other ways to travel between cities, including bus and car.
Yes, you can. A number of routes cross the Italian border into France, for example from Turin, Milan or Genoa.
Yes, but only by taking the Eurostar through the Channel tunnel.
There are two main entry points across the Spanish border, one in the west, in the Basque country, and the other in the east, from Barcelona.
A few final tips on French train travel
Departure times are only displayed about 20 minutes before the train leaves. So don't fret if you've arrived early and your platform isn't listed yet.
Speaking of arriving at the station, be attentive because trains often change platforms. The announcements are made on a loudspeaker and are often incomprehensible, so keep your eyes on the departure board for changes. Train stations often have attendants roaming around so if you see a train company uniform, don't be shy and ask. Just don't forget to say "bonjour" before you launch into your question!
Bring something to eat if your train journey is more than a few hours. TGVs tend to have an onboard cafeteria but most other trains do not. Gone are the days of a uniformed steward pushing a trolley down the hall with coffee, tea and pastries...
Shop this post on Amazon
Pin these and save for later!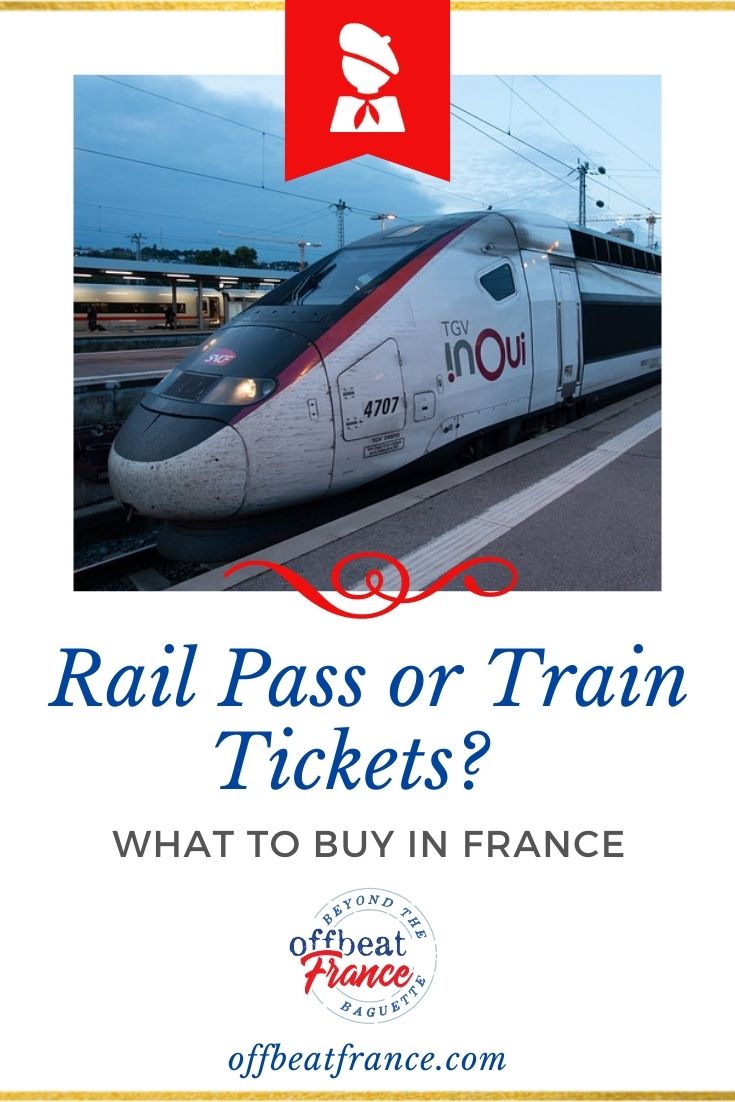 Header photo credit Florian Pépellin CC BY-SA 3.0 via Wikimedia Commons