Pages on this site may contain affiliate links, which bring in a small commission at no cost to you.
Worried about getting around Lyon? You shouldn't be. Below you can find out everything you need to know about Lyon by public transportation, what types are available, and how to use them.
Lyon's secret is out.

For long a neglected second cousin to Paris, this extraordinary city was systematically bypassed as visitors sped past, heading straight from Paris to Provence and the Riviera.
Not anymore. Long attractive to business travelers, Lyon's reputation is today mainstream and now everyone is rushing here.
Of course this doesn't surprise those of us already addicted to France's second city (or third, as it constantly battles Marseille for that #2 slot).
There is so much to do in Lyon! From the upmarket food mall named for local son Paul Bocuse to the 200 or so world-renowned murals that color its walls (and oh, have I mentioned the secret passages called traboules?), it's no wonder more and more people are putting Lyon on their France itinerary.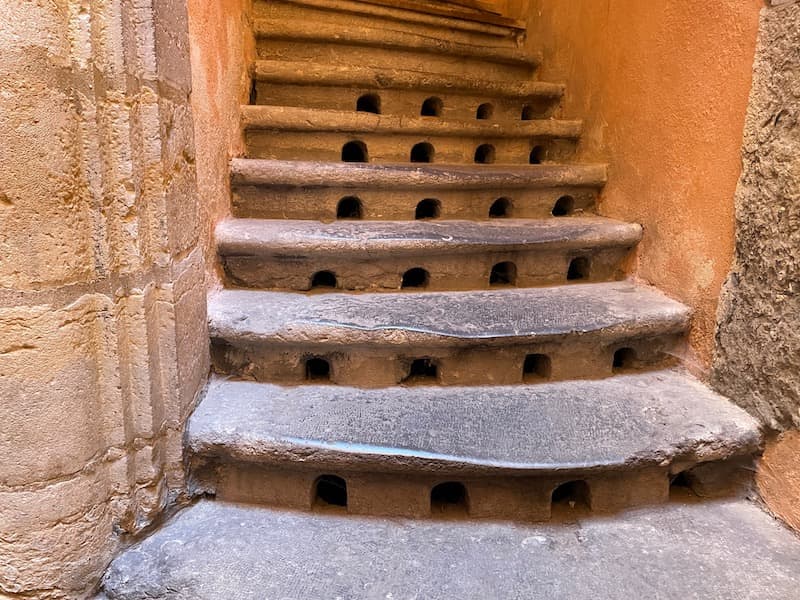 One of Lyon's many traboules
Although Lyon is one of the largest cities in France, it is relatively easy to navigate. Most tourist highlights are found near the city center, and I can't think of any Lyon attractions you can't reach via the public transit system, which is efficient and straightforward. 
Getting to Lyon
Before we get into public transport in the city, let's get here first.
If you're coming from outside France, especially if you're flying to Lyon, you'll land at Saint-Exupéry airport, where you can either rent a car or, better yet, catch the tram to Part-Dieu train station.
If you're coming from a neighboring country or from within France, then you'll probably take a TGV high-speed train (trains are my favorite way to get around France) and also end up at Lyon Part-Dieu train station. Please note that it is not the only train station, and several trains go through to Lyon Perrache station.
But yes. Part-Dieu is the one to watch out for.
Getting to the city center from Saint Exupéry airport

The easiest way to get into Lyon is by a special tram, the Rhône Express, which takes about half an hour from the airport to the Gare de la Part-Dieu. It leaves every 15 minutes but make sure you buy your ticket ahead of time because it costs more if you pay on board.

You can also take a taxi or call an Uber or Bolt at the arrivals. This is a great option if you have a lot of luggage or if there are several of you. But if you're on your own, the tram trip may be quicker, especially at rush hour and particularly if you're going to the Part-Dieu part of the city.
Tell me the easiest way to get around in Lyon?
The city has a single transport company, the TCL, or Transports en Commun Lyonnais. This is convenient because it makes local transport seamless.
One way to use the Lyonnais transport system is by buying a day card from one of the vending machines or from the TCL office outside and to the right of the main Part-Dieu entrance.
You can go one better by getting a Lyon City Card, which will save you money if you also plan to visit plenty of museums or attractions.
Getting around Lyon: the public transportation system

Lyon's public transport network is extremely varied, with everything from trams and bus lines to the local funicular that takes you from the Vieux Lyon Old Town up to the Fourvière Basilica on the hill.
But once you get here, you'll probably decide to walk everywhere.
Whatever your choice, getting around in Lyon won't be a problem − the city has made it easy to be a tourist here, and buses, trams and most metro stations are accessible for wheelchairs.
How do I buy tickets?
You can purchase the tickets for metro, bus, tram and funiculars from most metro stations or from machines at the larger bus stops. Tickets can also be bought from tourist information offices, TCL offices in the city, and any Tabac (tobacconist).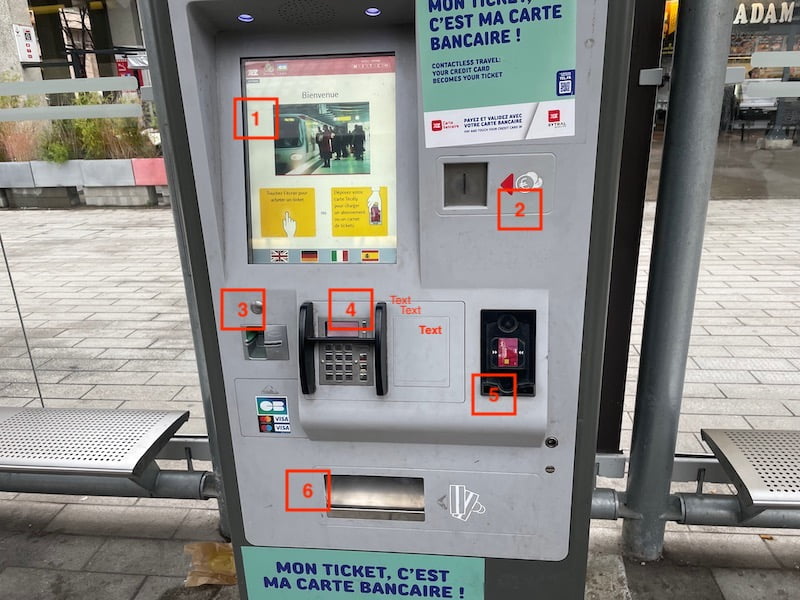 This is what your standard bus/tram ticket machine looks like:
1. Touch screen, in several languages. Just touch and follow the instructions.
2. Coin slot for cash payments. Does not take bills.
3. Credit card slot − it may only take smart cards so make sure you have cash. As of this writing (end 2022), the cost of a single ticket was €1.90 but they can change).
4. This is where you punch in the code for your credit card.
5. You can use a credit card as your ticket but again, make sure it's a compatible smart card.
6. This is where your ticket and your change are delivered.
NOTE: Until you know whether your credit or debit card is compatible with European machines, make sure you have coins. It's often difficult to get change so when you do get €1-2 coins, hang onto them.
You can also buy your TCL tickets online through the app − but only if you have an Android. The app doesn't work on iPhones.

A single ticket is valid for transfers to all modes of public transport for up to an hour (as well as for a return journey).
However, this is France so, like the train, buying your ticket is not enough: you have to validate it. In French, "composter".
To validate your ticket, slip it into the little electronic reading machines scattered throughout each bus or tram or at the entrance to the metro. And then retrieve it! Inspectors do occasionally check, and the fines can be hefty.
Not sure which bus or metro to take? Use the TCL's route finder to map your journey.
How to ride the Metro in Lyon
The Lyon metro system is simple and efficient and has four lines (although a fifth is now being built).
Metro lines are particularly convenient during rush hour, when traffic can get in the way and slow down buses and trams.
Use the metro when heading towards those parts of the city that are harder to access or where traffic converges. The metro will take you to Place Bellecour and the Vieux Lyon, or old town, as well as the city center around the Presqu'île and the silk-weavers' hill, Croix-Rousse.
You can also ride the metro between the two main train stations, Part-Dieu and Perrache.
The most delightful metros are the two lines that are actually funiculars and take you up the hill from the Old Town: one goes to the top of Fourvière Hill, to the Basilica, while the other goes to the Gallo-Roman ruins of what was once called Lugdunum, its ancient theaters, and its Gallo-Roman museum.
How to get around Lyon by bus
Lyon has 147 bus lines and nine trolleybus lines − trolleys are buses that run on electricity from overhead cables.
Bus stations are well signposted and each station has a small map showing all the stops in the direction you're going.
A typical bus stop in Lyon
Riding the tram in Lyon
Lyon has five tram lines and they run just like the bus − except on rails. Like the buses, trams are super convenient, fast, and comfortable. As I mentioned earlier, you can also ride a special (more expensive) tram all the way to the airport.
The beauty of Lyon is that it's an extremely walkable city, and if you're keen, all you need to get around is a solid pair of walking shoes.
You can also grab one of the 5000 bikes from one of the city's 428 public rental stands scattered throughout the city and neighboring municipalities.
How to get around Lyon by car
I do not advise you to use a car in Lyon, period.
There's the issue of traffic, of course. Lyonnais drivers can be a bit aggressive and the city is confusing, especially at rush hour.
Then there's the pollution control issue. When the air is bad, all but the most environmentally friendly cars are banned from the city center. If you've rented a car, chances are it will be fine – just make sure it has a Crit'Air 1 sticker (anything  higher than 1 may be too polluting for the city). If you have your own car, make sure you get a sticker before coming here.
Beyond the pollution and traffic issues, there are other good reasons to leave your car behind when you visit Lyon: PARKING.
Paid parking is expensive, street parking is rare, and parking lots are often designed for the tiniest of cars, making their use nerve-wracking.
If you have your own car, consider leaving it on the edge of the city and take public transport to get downtown − Park and Ride was designed specifically for this.
You can then use your car for day trips to places like Annecy or to some of the countryside around Lyon. Better yet, come to Lyon by train and rent a car whenever you need it. The city's car rental offices are located at the airport and in town, and you can compare prices here.
If you hate public transportation, you can grab a taxi or an Uber, especially at night, when public transport may have shut down or be less frequent.
Resources to help you get around Lyon
The TCL website provides timetables, itineraries and pricing information for tickets.
This street travel guide to Lyon was updated in 2022 and lists every possible street, attraction or venue you might need.
If you travel with a guidebook, there's sadly no good guidebook to Lyon in English (here's one in French, in case you're fluent).
Get to know Lyon even better!
Lyon, of course, is known as the gastronomical capital of France, and you can eat delicious food in every setting, from Michelin-starred restaurants to traditional local bouchons at a lower price.
Lyon, like Paris, is a wonderful café city, where you can spend hours for only a few euros to people-watch, a favorite French pastime.
As I mentioned earlier, spend a bit of time exploring two particularities of Lyon: its "secret passages", or traboules, and its glorious naive murals.
If you've never been to Lyon, you might be surprised at the number of things you can do in this city, from tasting its renowned specialties to visiting its world-class museums and historical sites.
You'll be wondering why you didn't visit sooner!
Did you enjoy this article? I'd love if you shared it!