Pages on this site may contain affiliate links, which bring in a small commission at no cost to you.
Headed for Lyon? Roman ruins high on your list? Some of the best in France are here
Whether you're fascinated by Caesar, Gaul or Antiquity in general, Lyon will quench your historical thirst: the city has some of the best-preserved Roman ruins in France.
(And as the gastronomical capital of France, it'll quench a few other things, too – but that's another story).
Lyon today is France's second largest city (although Marseille claims that spot too – very French!) but this importance is nothing new.
The view of Lyon from Fourvière Hill. The Gallo-Romans of Lugdunum would have had a similar perspective - but not the same view!
Back when it was called Lugdunum and the Romans ruled, the city was known as the "capital of the Gauls": it was the seat of the Roman province of Gallia Lugdunensis, covering a significant portion of what we now know as France.
What remains of Lyon Roman ruins is ample proof of this importance.
The city of Lugdunum was a key crossroads of the Roman Empire. Given its location at the confluence of two major rivers, the Rhône and the Saône, trade flourished and the city became a major administrative, economic and religious center.
It evolved into the largest city in Gaul, and we'll look at more of that history in a moment.
Lugdunum was a city of privilege: outside Rome, it was the only city permitted to mint gold and silver coins, the only city with a special garrison, and the city with the largest aqueduct complex not in Rome.
While much of what existed 2000 years ago has now disappeared, the remaining Roman ruins  of Lyon are quite spectacular, and hunting them down is well worth the half-day or so investment.
Visiting Roman ruins in Lyon
There should have been so much more left from the Romans, but time has done its work and what with erosion, destruction and abandon, too much has disappeared. 
Still, Lyon is fortunate – Bordeaux, for example, has lost far more of its Roman heritage. And what does remain standing in Lugdunum is quite spectacular. 
Théâtre antique de Lyon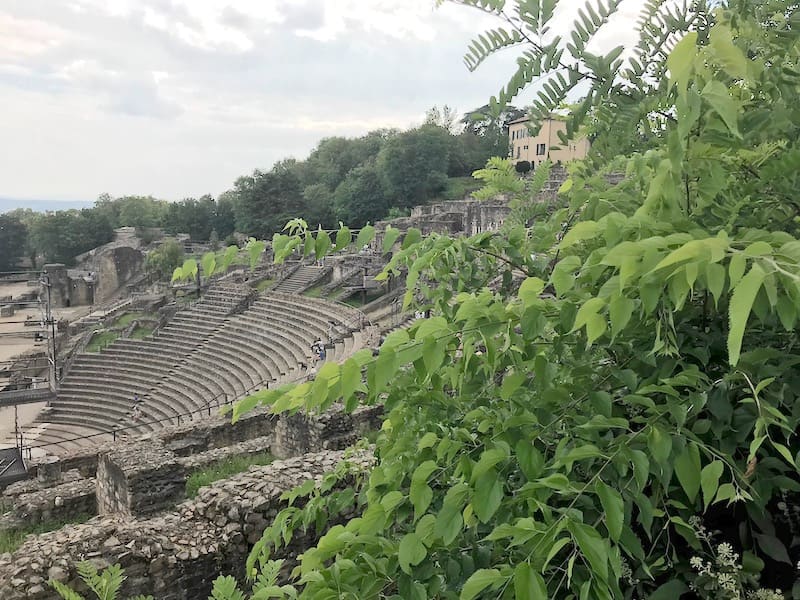 One of many views of the wonderfully preserved Roman amphitheater, Lyon (known as Lugdunum, a complex that includes a museum)
The Ancient Theater of Lyon is on Fourvière Hill, just below the Fourvière Basilica. It is the oldest Roman theater in France and one of the country's best preserved.
It was built in the 1st century CE and seated between 10,000-15,000 people (after a 2nd century expansion). The theater was a place of entertainment, filled with tragedies and comedies, and the number of people it could welcome was evidence of its importance.
After barely four centuries, it was abandoned, and eventually covered by a landslide.
It would be rediscovered in the 18th century and excavated during the 19th, so what you see today has been exposed to the elements a relatively short time.
As in Roman times, it is a venue for enjoyment, bringing back some of the venue's former glory. In summer, a month-long festival, the Nuits de Fourvière, features top entertainers, with fans crowding the stone steps under the stars.
I visited the Grand Theatre on the day of a major concert - they were setting up and tuning instruments, and the acoustics were quite wonderful!
It is no longer endangered, protected as both a National Monument of France and as a UNESCO World Heritage Site.
The Odeon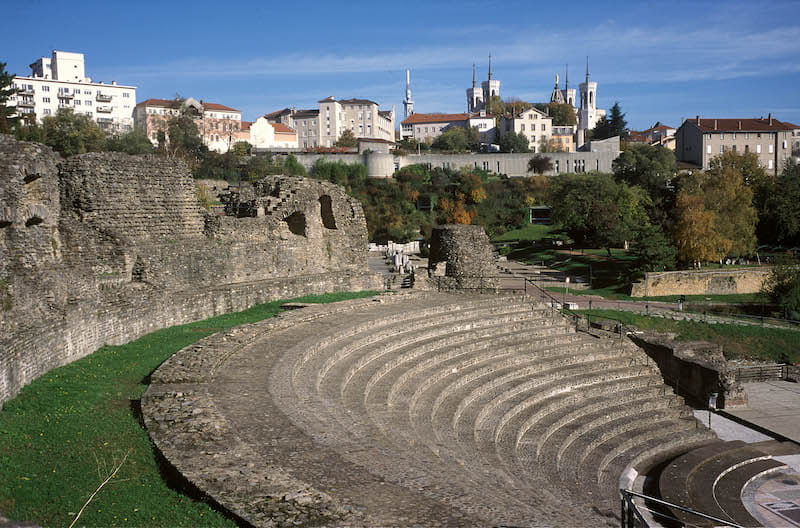 The Odeon, the so-called "small theater" of Lugdunum, where concerts were held. The larger Grand Theatre is just behind. Photo ©Metropole de Lyon - Christian Thioc
Right next to the theater – you won't really notice you've moved into a distinct space, they're that close together – is the Odeon, a smaller semi-circle mostly used for music.
Odeon means small theater, and that's what this is, able to seat around 3000 people. With the adjacent larger structure, it forms a unique duo of ruins. Like its larger partner, the Odeon too was rediscovered in the 18th century and is now protected by UNESCO.
If you want to see an Odeon close up, this is the only one open to the public in France so don't miss the chance.
Lugdunum - Museum and Roman Theaters
Formerly known as the Gallo-Roman Museum of Lyon-Fourvière, this complex is now called Lugdunum in honor of Roman Lyon.
It is part of the Theater and Odeon, although you just might miss it, depending on how you enter the grounds. 
If you're facing upward towards the amphitheaters, look to your right. You'll see some panoramic windows built into the hill: they are part of a five-storey museum built right into the rocky mountain. Near the base of the hill, you'll see a (discreet) museum sign.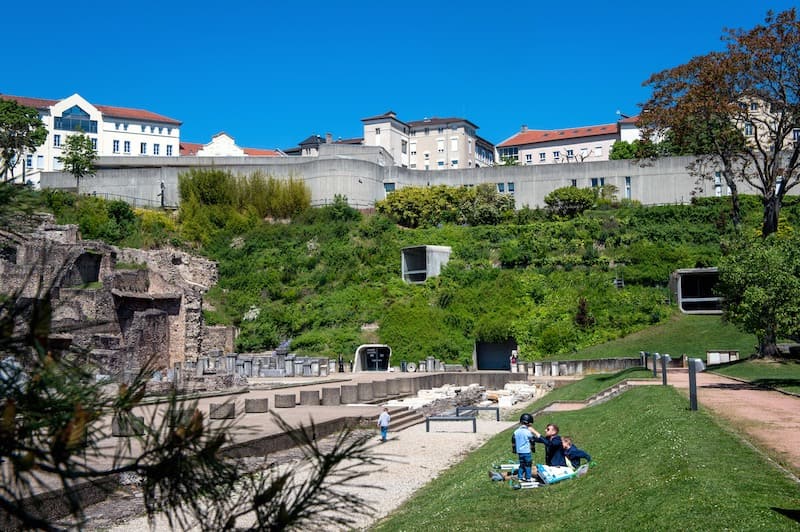 Those square windows are actually the Lugdunum Gallo-Roman Museum, set in the hills that surround the ruins. Photo ©Métropole de Lyon - Laurence Danière
This is a must-see museum for context into the ancient Roman remains you're seeing all around you: it contains one of France's richest archaeological collections, including the Claudian Table, as well as a huge collection of everyday artifacts.
The Claudian Table, also known as the Lyon Tablet, is a bronze plaque inscribed with the full speech given by Emperor Claudius to the Roman Senate in 48 CE. Speaking on behalf of Gallic leaders, who sought the same rights as Roman citizens, he was defending the integration of foreigners into the Roman Empire.
Fragments of the Claudian Table, one of the stars of the museum
Surrounded as it is by Antiquity, the museum's interior is a modern brutalist surprise, all concrete and spirals, in stark contrast to the Roman remnants it houses.
Those remnants constitute a fabulous collection. Of particular interest (to me) were the giant mosaics somehow salvaged from two millennia of dust, along with the many sculptures that are remarkably well preserved.
Forgive you for bombarding you with magnificent mosaic pictures, but they're too gorgeous not to share.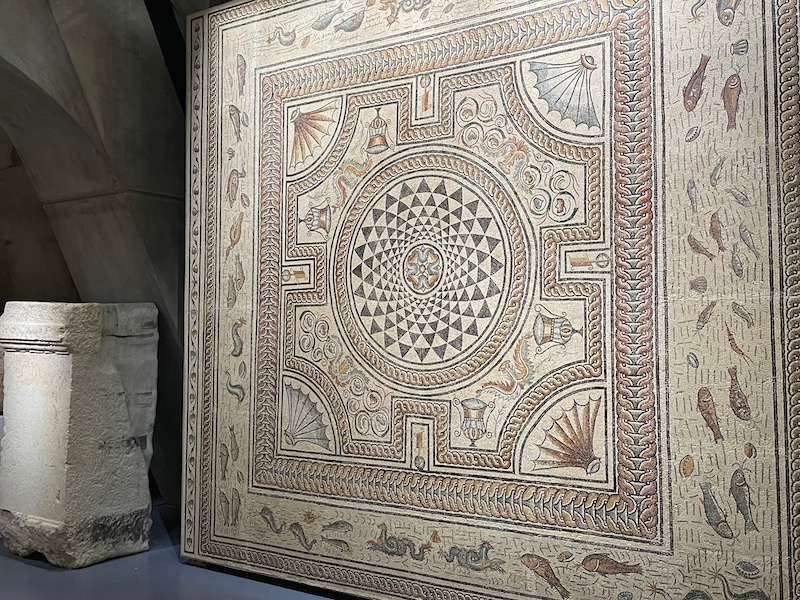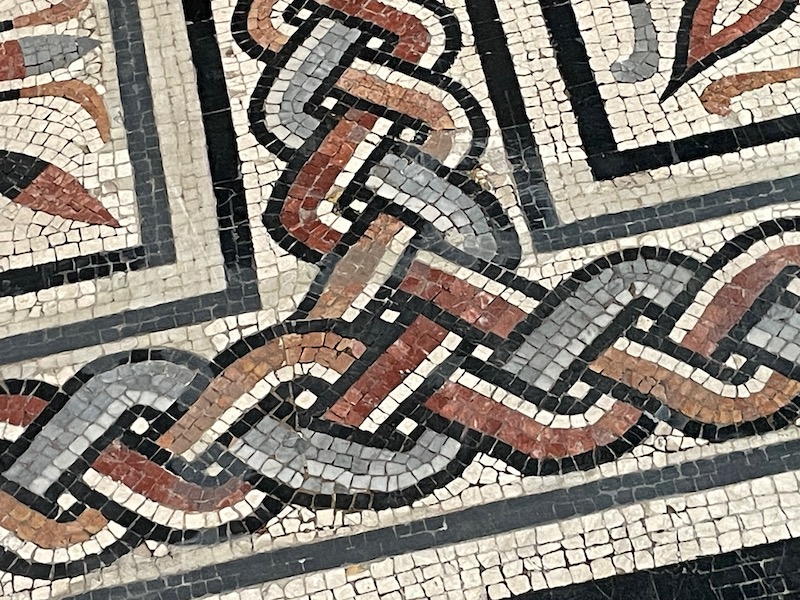 I never pass by a good mosaic and I can't think I've seen any more spectacular ones in France.
How to get to Lugdunum
The ruins are all located on Fourvière Hill, and although you can walk all the way up from the Old Town, you might prefer a ride. If so, you'll still have to walk a bit for five minutes or so – whether uphill or downhill is your choice.
If you want to walk downhill, take the Funicular from the old town to Fourvière. Turn downhill from the exit and you'll reach the top entrance of Lugdunum and its museum.
If you want to walk uphill, take the Funicular to Les Minimes, leave the exit area, turn right up the street, and you'll end up at the bottom entrance.
Remember that Lugdunum Museum is included in the Lyon City Pass.
Amphitheater of the 3 Gauls
Lyon has another major structure from Roman times: the Amphitheater of the Three Gauls, on the edge of the Croix-Rousse neighborhood, just across the River from Vieux Lyon. 
The Three Gauls is even older than the Theater and Odeon, having been built under Augustus in 12 BCE. Once a year, on 1 August, representatives of 60 Gallic tribes from the three provinces of Gaul gathered here to reaffirm their support to Rome and their loyalty to the Emperor.
It was apparently expanded in the second century CE to seat more people and be more welcoming to the citizens of the city.
Unlike its musical counterparts on Fourvière, this venue was of a  more violent nature, with gladiator fights and executions. It was also oval rather than semi-circular. Like the others, it was abandoned in the 5th century CE.
Now having said all this, I'm at a bit of a loss. I spent years visiting Lyon without seeking out this amphitheater but finally, I recently found it. What a disappointment!
This is what it SHOULD have looked like. Photo Arno, CC BY-SA 3.0, via Wikimedia Commons
THIS is what I saw.
I'm not sure what happened. A call to the tourist office didn't enlighten me, although I did find out there were occasional festivals held here – could this have been the remnants of one of these?
I questioned a few local people, who mentioned this was part of an effort to "open" places to the general population. No one seemed to know.
On one of my next visits I'll make sure to drop by again and see whether this fabulous piece of Roman architecture is still being overrun without the slightest explanation of what or why.
How to get to the 3 Gauls Amphitheater
It's a 10-minute walk from the Place des Terreaux, or less by bus but frankly it's an easy walk. Rather than explain it, here's the Google map.
The Roman baths
Sadly, unlike the Baths of Constantine in Arles, little is left of these, other than a small foundation, which you'll find at 6, rue des Farges, to your left when you come out of the Minimes Funicular station. 
The Mausoleums of Trion
These are new to me! They came up during a conversation and shock, I had never heard of it.
They are located across the Saône River from Perrache train station on the Place Eugène Wernert, which you can apparently reach by Buses 40, C20, C20E or C21. I can't confirm which is best because I haven't tried it yet myself.
Ten mausoleums were apparently unearthed (here's another clue as to location) on the corner of the Place de Trio and Avenue  Barthélemy Buyer during railway works in 1885. The five most important ones were dismantled stone by stone and rebuilt here, on the Place Place Eugène Wernert.
These monuments date back to the first century CE and are examples of funeral practices of wealthy notables who could pay for them.
Roman roads
Lugdunum was a crowded and busy city, so of course it was criss-crossed by ancient Roman roads.
They're not marked, but you can apparently catch a glimpse of them here and there in Old Lyon.
However, my eyes have darted here and there, and I have not been able to discern between what might be Roman and what is medieval. I'll be more attentive from now on.
➽ If you're spending a day or more in Lyon, consider getting a Lyon City Card. It includes public transportation and entrance to Lyon's popular attractions.
Roman ruins near Lyon
While this list so far highlights the main Roman ruins in Lyon, there are two worth seeing outside the city boundaries.
Aqueduct of the Gier
This is the longest of four aqueducts built to supply water to Lugdunum. But at 85km long, there's no single best place to explore it.
One segment with very visible arches can be seen near Chaponost, which you can get to with Buses 11 or 12, a 35-45min ride.
While you do have to leave central Lyon to see the arches, you can also see the base of two pillars (they will give you an idea of size) right near Fourvière Basilica, at rue Roger-Radisson.
It's only a few minutes, and here are the directions from Fourvière Basilica.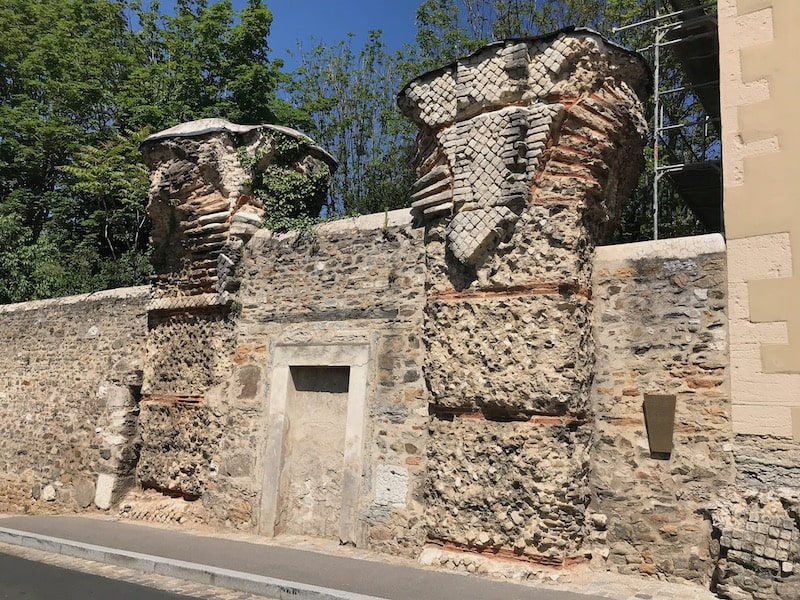 There's not much left inside Lyon of the Aqueduc du Gier, but these impressive columns are the base of a long-gone arch, and it's not far from Fourviere Basilica, on the
Vienne
The city of Vienne is a 40-minute train ride from Part-Dieu station and a perfect day trip from Lyon.
A stunning sight is the Temple of Augustus and Livia, built around 20-10 BCE, with the ancient Vienna Amphitheater not far away. A quick walk across the Rhône will take you to the Museum and site of Saint-Romain-en-Gal.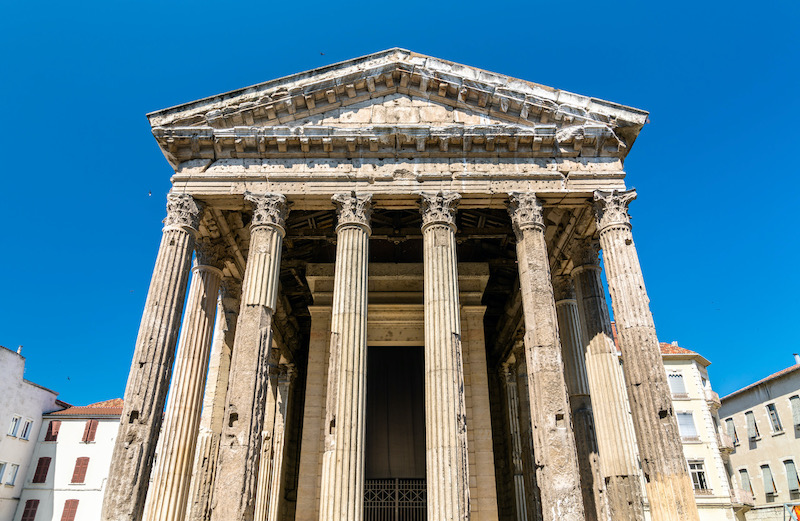 The Temple of Augustus and Livia. Stunning, isn't it?
So if you have a day to spare and you've explored all the things to do in Lyon, this should be your next stop if you're exploring Antiquity.
History of Lugdunum
Exploring Antiquity inevitably means delving into some history.
Interestingly, the history of Lugdunum was intertwined with that of Caesar (who, let us not forget, was actually beaten by the Gauls at Alésia). The Gauls' good fortune wouldn't last and by 52 BCE, Caesar, governor of Gaul, had conquered the region, turning the Roman Republic into the Roman Empire.
Rome brought its culture to Gaul, built roads, developed laws, and used the region as a trampoline for expansion into northern Europe. As for the Gauls, they didn't resist and embraced the best of Rome. Once conquered by Rome, we no longer call them Gauls, nor do we call them Romans – they are henceforth known as Gallo-Romans (with a Gallo Roman civilization).
Lugdunum's location was perfect and was built in 43 BCE on the site of an existing Gallic settlement. The two rivers meeting here allowed the city to thrive and become a major commercial, religious and military center. It would remain so until the fall of Rome.
Just as Lyon is multicultural today, so was Lugdunum. In addition to Roman, it was also a Celtic city: the Romans lived on Fourvière Hill and the Celts across the Saône River. Many languages were spoken here, and each group worshipped its own deities.
The city had a synagogue, as well as a growing number of Christians, who often had to meet in secret because of Roman persecution. This, of course, didn't stop Christianity from spreading, making Lugdunum even more cosmopolitan and tolerant.
It was a comfortable city, with plenty of public baths which served as social clubs. When the citizens of Lugdunum wanted entertainment, they could head for the Theater or Odeon or Amphitheater and witness plays, concerts – or blood sports.
It was a city with a buzz, but peaceful, a calm guaranteed by the hefty military presence.
But as we know, the Roman Empire would eventually decline, the Barbarians would pound at the gates, and business – until then conducted on the city's hills – would move below, marking the transition between Lugdunum and Lyon.
This also explains why you'll need to climb if you want to explore what's left of Rome…
Your hotels in Lyon
FAQ: Lyon Roman ruins
There are plenty of ruins, including some of France's best-preserved amphitheaters
Soon after Caesar annexed Gaul into the Roman empire, Lugdunum was founded. It proceeded to become one of the most powerful cities in Roman Gaul. So it wasn't quite a Roman city, but a Gallo-Roman one, which is the name given to Gallic people and places who adopted Roman customs.
 There is very little left of the Roman baths, only the foundations. On the other hand, several amphitheaters survive.
France's top Roman ruins are to be found in Provence − for example in Arles, Nîmes and Saint-Rémy-de-Provence.
Lyon is in the Rhône département, in the region called Auvergne-Rhône-Alpes. It is 150km southwest of Geneva, and 475km southeast of Paris.
Definitely! It is one of France's most interesting cities, with tremendous history and culture, extraordinary architecture, and delicious food (it is known as the gastronomic capital of France).
Getting to Lyon is easy: apart from Paris, it is probably the city with the most connections in France. Lyon is less than two hours by train from Paris and Geneva, so it's not worth flying. Nice and Bordeaux are farther away, but there are regular flights that each take about an hour.
Before you go...
Lyon was a cosmopolitan city under Roman rule, and it remains so now, one of the most beautiful cities in France.
A combination of strategic location, political and economic progress, cultural prominence and architectural heritage all contributed to Lyon's growth and expansion and made it into the city it is today.
Meantime, its rich Roman heritage reminds us that this is a city whose roots are deep and in which, surprisingly, many things haven't changed.
Don't miss out on this heritage when you visit Lyon, and if you only have a little time, grab a few things at the little supermarket across from the Funicular entrance at the bottom and have a picnic on the stones, dreaming about the miracle of their survival for two millennia.
Did you enjoy this article? I'd love if you shared it!