Pages on this site may contain affiliate links, which bring in a small commission.
Lyon was not always my favourite destination, far from it, so uncovering things to do in Lyon was never a major concern.
Until I fell in love with the city.
Yes, we've reconciled big time, a feeling that deepens each time I peel away one of Lyon's layers and get to know it better.

If you've never been here, this guide will show you the fabulous things to do in Lyon France. And if you're already addicted to Lyon, I should be able to point you towards one or two things you might not have discovered yet.
Top 10 things to do in Lyon France
In case you need a snapshot of the best things to see in Lyon, here's a quick list of the top 10 things to do in Lyon France:
Walk through Lyon's traboules, or secret passageways
Hunt down the city's fabulous outdoor murals
Explore Croix-Rousse hill, which used to be the silk workers' district 
Stroll around Old Lyon
Visit the classical part of the city, the Presqu'ile
Explore Lugdunum, the city's Gallo-Roman ruins and museum
Visit the Confluence and Fine Arts museums 
Take the funicular up to Fourvière Basilica
Eat in a typical Lyon "bouchon", or traditional eatery
Sample delicacies in the Halles Paul Bocuse indoor food court
All these sights and their backstories are highlighted in the sections below, by neighbourhood. Or, you can find them under these 7 Culturally Exciting Things To Do In Lyon.
➽  Get your Lyon City Card for all public transportation and entrance to museums.
Lyon: France's second city?
It's considered France's second city by some. For others, the title goes to Marseille, but no matter.
Here, Lyon reigns as the second city in France (some Lyonnais would even argue it's the first). Marseille has more people, but that could be temporary as the cities vie for supremacy. For some reason I fail to fathom, these cities sometimes carry an "s" in English, becoming Lyons and Marseilles. Once you're here, though, please drop the extra "s". 
Lyon cannot help but be compared to Paris, on a smaller scale, but packing a punch in culture, nature, lifestyle and, of course, food, since Lyon is known as the gastronomic capital of France (and hence the world!)
Lyon lies at the heart of the region of Auvergne-Rhône-Alpes, one of France's largest regions (there are 18 in all), and in these days of high-speed trains is under two hours from Paris, accessible on a day trip. The city does, however, deserve a lot more than a day.
It was once, after all, the capital of ancient Gaul, Lugdunum, at the confluence of the Saône and might Rhône rivers, for centuries the heart of river traffic and trade.
It's no wonder the city has won many accolades, from World Tourism's  Leading Emergent Destination to Lonely Planet's Top 10 "Best in Europe" to European Capital of Smart Tourism – and there will inevitably be more.
Lyon tourist attractions by neighbourhood
Lyon is officially divided into 9 arrondissements, or neighborhoods, and places are often pinpointed by which arrondissement they sit in (same as in Paris).
But for our purposes, we'll use the names of the neighborhoods, because if you're going to Old Lyon, that's what you need to know, rather than the fact that it happens to be in the 5th arrondissement
The five parts of town you're most likely to visit are Old Lyon, the Presqu'île (or peninsula), Croix-Rousse, Fourvière Hill and the Left Bank, each with its particular style and personality.
Most of the first four are protected as part of the Lyon Unesco world heritage site, confirming the city's stellar urban planning (rather than destroy to rebuild, Lyon simply expanded) and its authenticity.
The red line contains the UNESCO protected area of Lyon, while green traces the buffer zone designed to protect the site (City of Lyon)
CHOOSE YOUR LYON HOTEL BY NEIGHBORHOOD
Old Lyon, or the Vieux Lyon
This ancient labyrinth of cobblestoned streets in the Old City of Lyon is lined with restaurants and a mix of shops, some of them your typical tourist fare but a surprising number authentic little establishments selling everything from antique books to specialty groceries.
Hundreds of narrow, winding tunnels called traboules link many of these streets, "secret" passageways along which the Lyonnais hid or traveled as needed throughout the centuries. Many of them are now closed to the public, although the longest one, at 54 rue Saint-Jean, is open and worth a visit, as are several others scattered throughout the old town.
You can explore them on your own, or take a guided tour of the traboules (which I would recommend, because many of the existing traboules are off-limits to tourists, while guides know a few secrets about how to enter them). I haven't tried it myself, but you can also download an app for IOS to explore the traboules.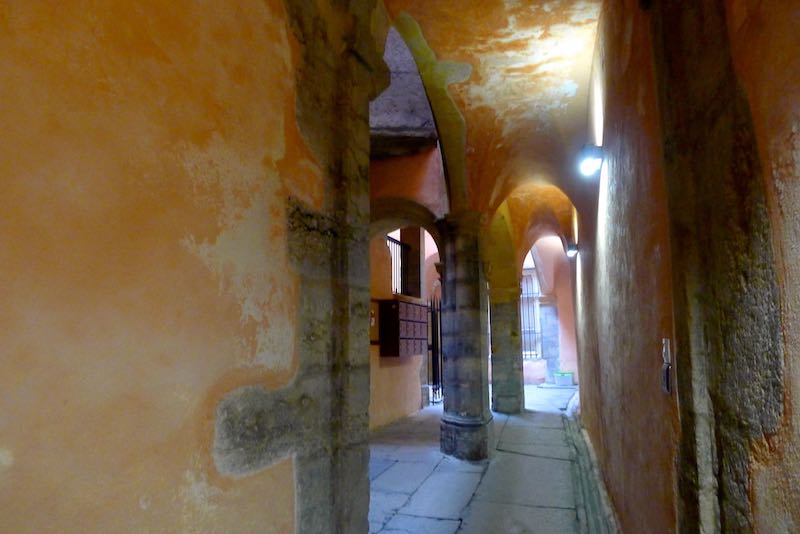 During the 19th century, the neighbourhood was a dirty den of thieves, so insalubrious it was almost destroyed until local associations lobbied successfully for its preservation – and eventual inclusion on the UNESCO World Heritage List.

The heart of this part of town is the 12th-century Cathédrale Saint-Jean, whose decorations and astronomical clock (sadly under restoration) are a highlight of this area. From here, stroll down the Rue Saint-Jean, the Old Town's main street. 
Several museums are in this part of town, including the whimsical Musée des Arts de la Marionette, or puppet museum, perfect if you visit Lyon with kids, or the small but quirky Musée des Automates, the museum of automation.
PRACTICAL INFORMATION: LYON OLD TOWN
WHERE TO EAT IN LYON OLD TOWN ➽
Daniel et Denise, an authentic bouchon, 36 rue Tramassac
WHERE TO STAY IN LYON OLD TOWN ➽
This lovely apartment right next to the Old Town
SHOPPING IN OLD TOWN LYON ➽
Brochier Soieries silk shop, 16 rue du Boeuf
La Presqu'île
The Presqu'île is that "almost island" which sits between the two rivers of Lyon, the Rhône and the Saône river. This is Lyon's proper downtown, where you'll find the shops and museums and sweeping squares.
Wander around the Place Bellecour, Europe's largest pedestrian square (and home of the Lyon Tourist Office); the Place des Terreaux and its sculptured fountain by Bartholdi (better known for his Statues of Liberty) across from City Hall; the Place des Jacobins and its delightful fountain... and many more.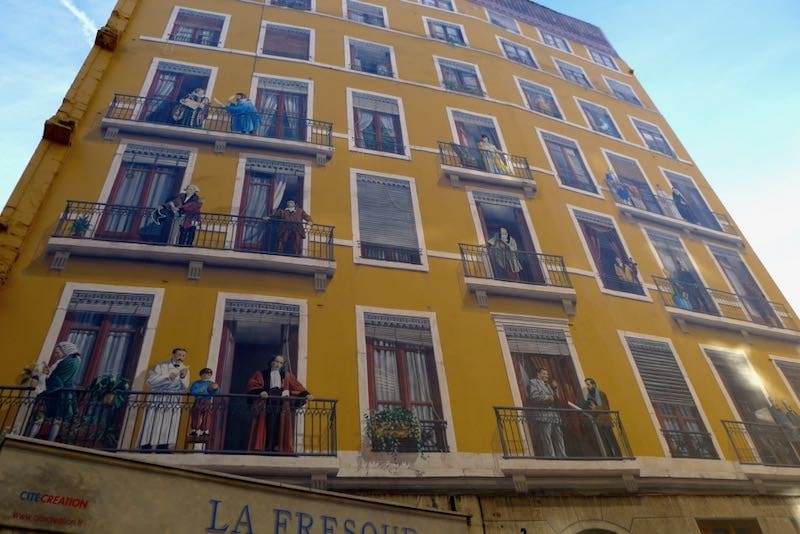 This is also the place some of Lyon's most majestic museums call home, especially the Musée des Beaux-Arts (one of France's best fine arts museums) and the very modern and stylish Musée des Confluences, where the two Lyon rivers meet at the southern tip of the Presqu'île.
It is an intriguing museum, dressed in a spectacular steel envelope appropriate for what styles itself as an institution that tells the story of humanity. 
And finally, one of the outstanding sights of this part of town is the Fresque des Lyonnais, a giant mural (one of many in Lyon) which represents 31 local VIPs – artists, creators, chefs, inventors...
PRACTICAL INFORMATION: LA PRESQU'ÎLE
WHERE TO EAT IN THE PRESQU'ÎLE ➽
The Brasserie Georges, serving the who's who passing through since 1836 (unpretentiously)
WHERE TO STAY IN IN THE PRESQU'ÎLE ➽
The elegant Bayard Bellecour is a step right into history
SHOPPING IN IN THE PRESQU'ÎLE ➽
The entire area is filled with boutiques and shops... just explore!
➽  Don't forget your Lyon City Card for transportation and entrance to museums!
Croix-Rousse
This is the hilly part of town, where the silk workers once plied their trade, and walking around is one of the fun things to do in Lyon alone.
The neighbourhood is also pierced by traboules, which – unlike the ones in the Old Town – are mostly open to the public. In fact, you can walk most of the way down Croix-Rousse hill using the traboules, a fun bit of exploration as their entranceways aren't always obvious.
There are plenty of silk-related sights here, from museums to shops to former workshops, and a major Gallo-Roman site, the Amphithéatre des Trois-Gaules.
Read all about Croix-Rousse here.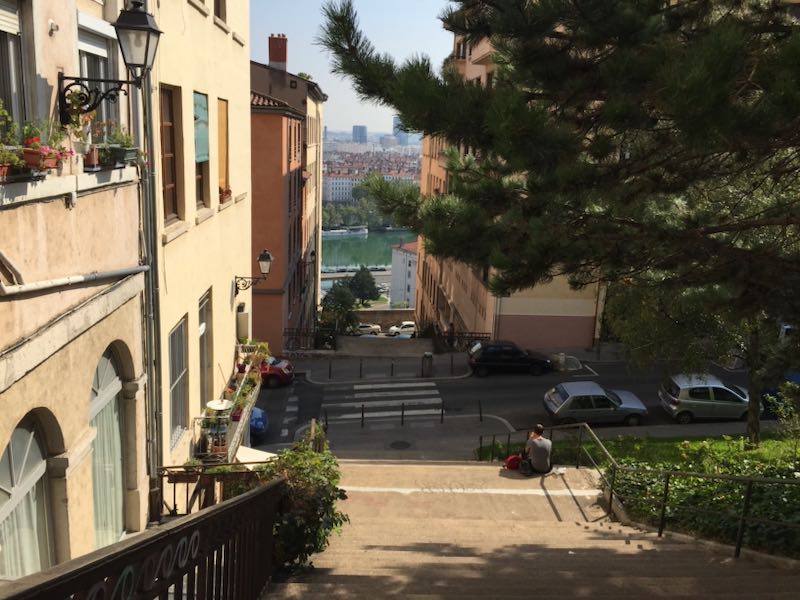 PRACTICAL INFORMATION: CROIX-ROUSSE
WHERE TO EAT IN CROIX-ROUSSE ➽
I had a lovely lunch at the Café du Gros Caillou, right at the top of the hill, 180 Bd de la Croix Rousse
WHERE TO STAY IN CROIX-ROUSSE ➽
Bright and cheerful, the Hotel de la Croix-Rousse is very close to the Metro station
SHOPPING IN OLD TOWN LYON ➽
L'Atelier de Soierie sells silks and shows how it's made
Fourvière Hill
This is the neighbourhood you visit for an immersion into history, from the Basilica Notre Dame at the top of the hill to the Roman ruins of Lugdunum below. 
The basilica has several sections, all worth seeing. I was particularly taken with the polychrome decor of the upper basilica and the stairs leading down to the crypt. Just behind the basilica is where you'll find the most panoramic view of Lyon from above. If you turn right after the basilica and wander a bit, you may end up at what looks like a "mini Eiffel tower" – it's now a telecommunications center.
Use a Lyon city map (use Google maps or buy a physical map here) to head downhill to the fabulous Roman ruins of Lugdunum and the Gallo-Roman museum inside the ruin grounds.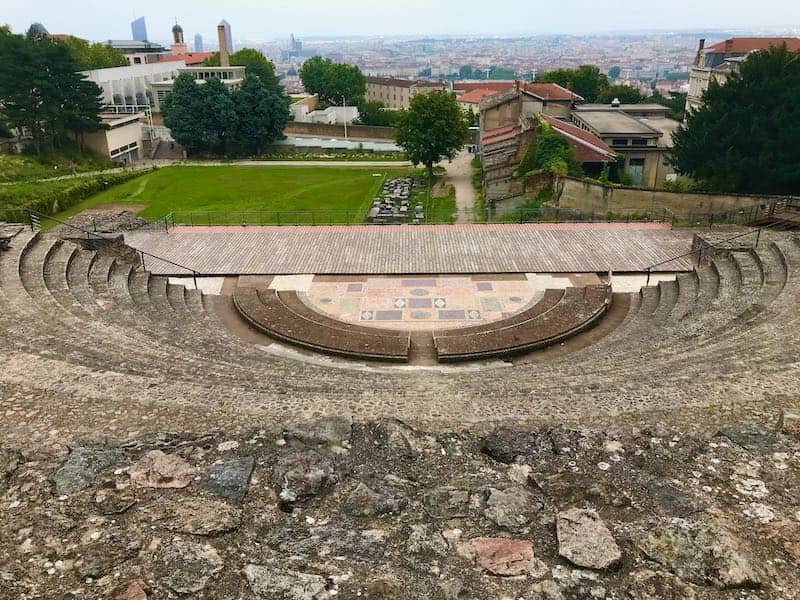 Once you're finished, if you're tired of walking, you can always hop on the funicular across the street and slightly downhill from the ruins.
You CAN use one of the several sets of stairs to walk up to the top if you're feeling athletic, but you could also take the funicular up and walk down, and still get the same views (but yes, less exercise).
PRACTICAL INFORMATION: LYON FOURVIÈRE
WHERE TO EAT IN FOURVIÈRE ➽
Le Coquemar, a simple indoor restaurant with excellent French food by a husband and wife team, 25 Montée Cardinal Decourtray
WHERE TO STAY IN FOURVIÈRE ➽
The Fourvière Hotel is near the ruins – and you'll be staying in a former convent!
RIDING THE FUNICULAR ➽
For Lugdunum, direction Saint Just and get off at Minimes
For the basilica, direction Fourvière and get off at the end
The Left Bank of Lyon, or the Rive Gauche
Yes, Lyon has its Left Bank too! It's the more modern part of town (with a few exceptions) but don't be put off by that – like the rest of Lyon, it will probably surprise you.
The highlight of this area is the Parc de la Tête d'Or, the one place that isn't very modern and dates back to 1856. It's an English-style garden with lawns, rose gardens and a Botanical Garden.
Right next to it is the Cité Internationale, a new complex that mixes entertainment and residences and actually looks appealing nice even if you're not a lover of the modern.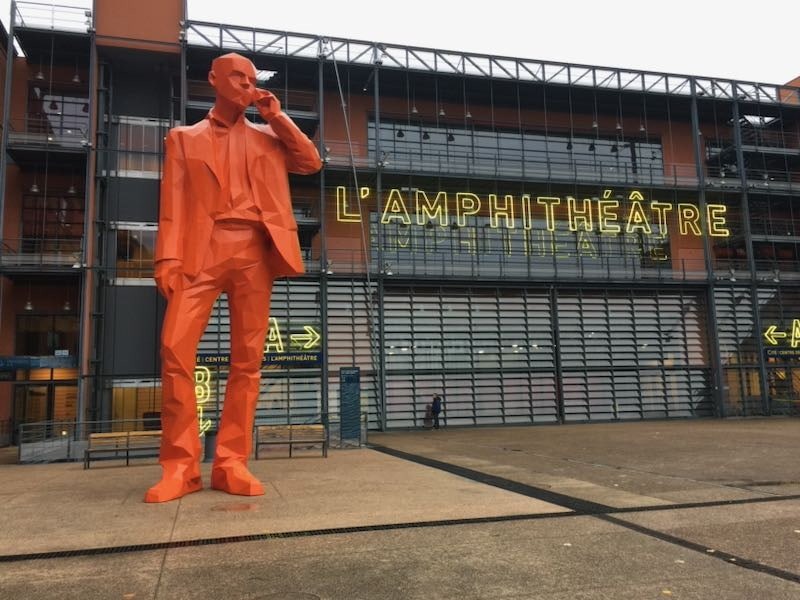 This area is stuffed full of unusual things to do in Lyon. Its museums are a delight, including the Musée d'Art Contemporain (Museum of Contemporary Art), the Institut Lumière (for visual arts fans), and the Museum of Resistance and Deportation, making sure Lyon doesn't forget its World War II history. If you love Lyon's murals, wander around the outdoor Musée Urbain Tony Garnier, monumental murals centered around residential architecture.
Last but not least, the Halles Paul Bocuse, a gastronomic indoor food market, is one of the major Lyon attractions located here in the Part-Dieu (which is where you'll probably arrive if you're coming by train). If you're a foodie, this is one of the top places to visit in Lyon − just bring your appetite.
PRACTICAL INFORMATION: LYON RIVE GAUCHE
WHERE TO EAT IN LYON RIVE GAUCHE ➽
Les Halles Lyon Paul Bocuse, for food shopping and plenty of sit-down restaurants in Lyon, 102 Cours Lafayette
WHERE TO STAY: HOTELS IN LYON RIVE GAUCHE ➽
If you're a fan of Philippe Starck, you'll love Mama Shelter!
Lyon: Gastronomic capital of the world?
I mentioned earlier that Lyon styled itself as the world's gastronomic capital. It does, and it's not being pompous. Not really.
During the first half of the 20th century, a certain Maurice Edmond Sailland – also known as the Prince of Gastronomes – was a prolific writer and recognized by the tout Paris as a culinary savant.
His pen name was Curnonsky, and he anointed Lyon the "gastronomic capital of the world". The phrase circumnavigated the globe, and it stuck.
Whether it was recognition or self-fulfilling prophecy doesn't matter, since what counts is the taste in your plate.
"It doesn't pose, it doesn't give into easy eloquence. It achieves, naturally and almost without effort, that highest degree of Art: simplicity."
—Curnonsky
It's easy to understand where this reputation comes from: the excellent natural products found in the region:
Charolais beef, considered among France's best

Bresse chicken, protected like wine and touted as the best chicken in the world

fish from the Dombes ponds (and frogs!) and from the region's rivers

almost anything to do with pork

wine from the Beaujolais (and a number of beloved local wines)

chocolate (yes, believe it or not, the region is known for its Valrhona!)
Regional food specialties of Lyon
It is no wonder that the city that birthed Chef Paul Bocuse is filled with culinary specialties. Well, he was born in Collonges-au-Mont-d'Or, just outside the city, but close enough.
Now to be honest, many of these are not run-of-the-mill dishes and may involve things you're unaccustomed to, like offal.

So don't consider this a list you must eat your way through, but rather, an educational foray into a culinary traditions that in some cases is centuries old. You don't have to like it to appreciate it, but if you appreciate it, you may like it!
Here are a few you should try if you're so inclined:
Quenelle de brochet, a mixture of light choux dough and pike, shaped into an oval or elongated form (quenelle-shaped), usually covered in Nantua sauce (cream, lobster bisque, cognac)
Saucisson de Lyon: a type of cured sausage or salami
Saucisson brioché: it's a different type of sausage, but this one is positioned inside a brioche and they're baked together (the perfect snack!)
Tablier de sapeurs: this literally means "fireman's apron" and given its name because it looks like the leather aprons once worn by firemen. In fact it is more like a block of pressed tripe, marinated in white wine, breaded and fried
Salade Lyonnaise, a bit lighter than the standard Lyonnais fare, made with lettuce leaves (each chef has their own favourites), bacon bits (thick chunks, not the bacon bits you might know that are tiny), and a poached egg
Cervelle des canuts – don't be put off by the name, which means "silk workers' brains"; it's actually fresh white cheese (fromage blanc) seasoned with herbs, like chives, and shallots (very yummy!)
Bugnes: light, diamond-shaped doughnuts sprinkled with icing sugar
Tarte aux pralines, or praline pie: pralines are a local specialty (almonds with caramelized sugar dyed deep red); mix them with cream and add to a pie shell and voilà. Sadly this is a dish you eat less as you grow older and the state of your teeth are in question...
There are many more specialties, of course, but you get the idea. To sample many of these, head for an authentic Lyon bouchon (see my recommendations above in the Old Town or choose from the official list).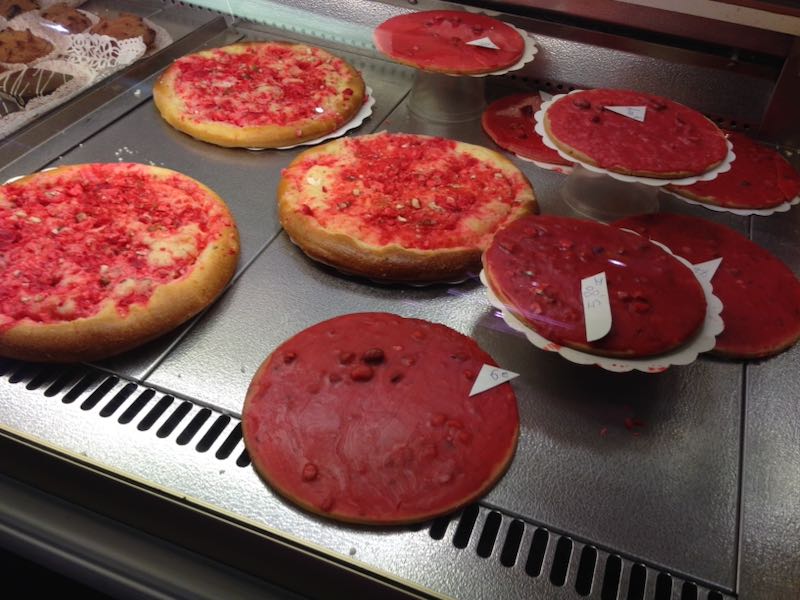 A brief history of Lyon
Lyon is nothing if not... old, with human remains found here dating more than 40,000 years.
After being inhabited by a number of pre-Roman tribes, Caesar chose the place where the Saône and Rhône rivers meet to set up his camp as he waged his battles to conquer Gaul. Not long after Caesar's death, a new settlement, Lugdunum, is proclaimed capital of Gaul, and some handsome ruins of that period still survive today in the city.
The city soon becomes wealthy from trade, a status it will maintain for several centuries but eventually lose after waves of invaders sweep across its plains and successive generations inherit ever-shrinking parcels of land (it was customary then for a ruler to divide his land into pieces among his male heirs). For a while, the mighty city will have to contend with being a second-rate provincial town.
But it won't last, and the Lyonnais region will become part of France in the 14th century, spurring new growth and wealth. This development accelerated during the 15th century when Lyon received the right to host commercial trade fairs, recovering its earlier role as a crossroads for commerce.
The arrival of the silk trade will boost Lyon's fortunes even further. Interrupted for a while by the French Revolution, silk weaving will again grab hold of Lyon once tempers have calmed.
The rest of Lyon's history runs parallel to that of much of Europe, which a few exceptions. The industrial revolution and the railway gave the city a powerful economic boost, during which all manner of culture and inventiveness flourished.
Early in World War II, Lyon became the capital of the Resistance, but activities were drastically curtailed by the Nazi occupation of the city.
Today Lyon thrives, not only due to its wealth but because it has opened up to the world, changing radically from the closed, inward-looking city it had become just a few decades ago to one welcoming visitors from around the world, as France's second most popular tourist and business destination.
Getting to Lyon
Getting to Lyon is simple, and you can do it from pretty much anywhere.
Getting to Lyon by air
The Aéroport de Lyon-Saint-Exupéry from Paris and from other French cities (if you're already in France I'd suggest taking the train or at least checking timetables and prices – it's often faster).
You can also fly here from most European capitals, as well as from North Africa, Montreal and the UAE, and the list is growing.
From the airport, the easiest way into Lyon is to catch the Rhônexpress, which will drop you off at Part-Dieu train station. Just follow the signs from the airport to the (soaring) Calatrava-designed train station. It's a half-hour ride. From Part-Dieu, you can hop the metro or a tram into downtown. If you plan on being in Lyon for a full day or more, make sure you get a Lyon City Card, for museums and public transport (including transport to and from the airport if you wish).
If you'd rather avoid the hassle of transferring in Lyon to get downtown, you'll find minivan services from the airport straight into town.
Getting to Lyon by train
The train is often the easiest way to get to Lyon, because it is so central in France, second only to Paris.
Lyon has better train links to the Eastern part of France but you can also go west from here – it is a major hub.
Check out Lyon's train possibilities here.
In Lyon, you'll end up at one of two stations, Perrache in the center of town, but most probably (especially if you're arriving by TGV, the high-speed train) at Part-Dieu railway station, a little away from the center, but an easy Metro or tram ride to downtown.
Getting to Lyon by road
Driving to Lyon is quite straightforward – it's signposted almost as often as Paris, especially in the Eastern half of the country. A number of major autoroutes converge here, like the A6 and A7.
Driving inside Lyon is a different story – and I avoid it as much as possible, from the ring road inwards.
There's the city itself, which can be confusing, with erratic signposting and garages that fit only the smallest automobiles.
And then there are the Lyonnais... In a country of challenging drivers, those in Lyon are among the most challenging (note how polite I'm being). Let me just say this: of all the "almost" accidents I've had while driving, most were in or around Lyon. Rudeness at the wheel is not an exception. Best to discover the city another way.
Here's a snapshot of what it's like to drive in France.
If you MUST drive, then consider leaving your car in a Park and Ride, which will cost you nothing more than the price of a bus or Metro ticket.
Getting around Lyon
Getting around Lyon is a breeze (as long as you're not driving!)
The city has an extensive and well-organized public transport system, the TCL, or Transports Communs Lyonnais. Here's their route finder, which I use often. I suggest you download the TCL app, available for both IOS and Android phones.
Lyon is well served, and tickets are inexpensive. The Lyon City Card includes transport along with many of the city's museums. Or, if you just want transport and aren't seeing any sights, here are the different ticket options.
Cycling in Lyon is also an option and you can rent a bike from Velo'v. Yes, there are drivers on the streets, but you can avoid a lot of them by using the smaller streets which, in Lyon, are thankfully plentiful.
Where to stay in Lyon
I've already made some suggestions by city area above, but you'll find plenty of additional hotel and vacation rental options below.
Lyon itineraries
What to do in Lyon in 1 day
What to do in Lyon for a day? You'd be surprised how much you can fit in.
Walk around and admire the murals of the Presqu'Île
Explore the traboules of the Vieux Lyon
Have lunch in a Lyon bouchon
Take the funicular up to the Basilique Notre Dame
What to do in Lyon in 2 days
Two days will give you plenty of time for Lyon sightseeing.
Day 1: Follow the one-day itinerary above
Day 2: In the morning, uncover the history of the silk workers of Croix-Rousse. Have lunch at the Food Traboule in Old Lyon to experience a variety of inspired cuisines. In the afternoon, walk off your lunch in the Parc de la Tête d'Or
What to do in Lyon in 3 days
Days 1 and 2: Follow the itineraries above
Day 3: Take in some of Lyon's spectacular museums, and explore the Roman ruins of Ancient Lugdunum.
Have an extra day? Try one of the day trips below!
Day trips from Lyon
Once you're finished with all the things to see in Lyon, you might consider a day trip. Here are a few but yes, there are many more and I could go on for pages. But  these will already give you a sense of the culture (and highly diverse topography) of the region near Lyon.
Pérouges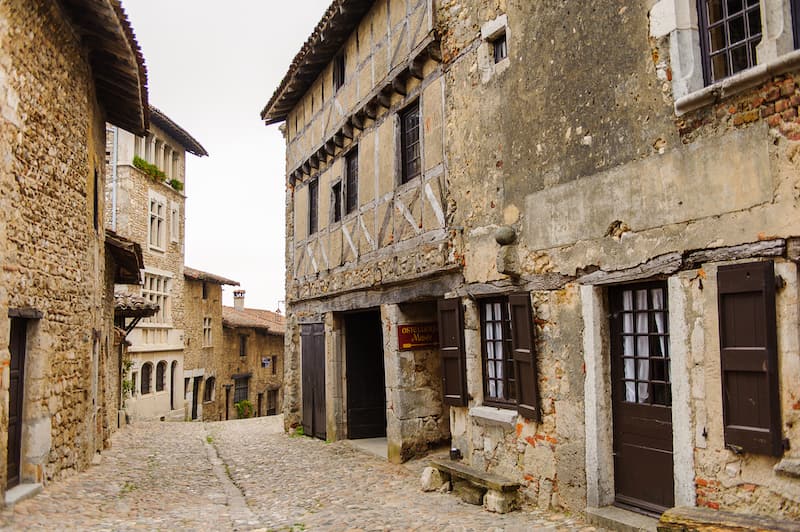 This is the place to head if you're keen on visiting an exquisite medieval village, one of the most beautiful villages in France.
In high season it can get crowded (you'll see all the tour buses in the parking lot) but here's a tip: stay overnight, and have the village almost to yourself. The Hostellerie du Vieux-Pérouges has charming, old-fashioned rooms in town and a restaurant where you just might get served in a Medieval costume.
It's easiest by car but you CAN go by train. The station is Meximieux-Pérouges, but you'll have a half-hour walk (uphill) to get to the village (it's not called a hilltop village for nothing). It's worth the hike.
Vienne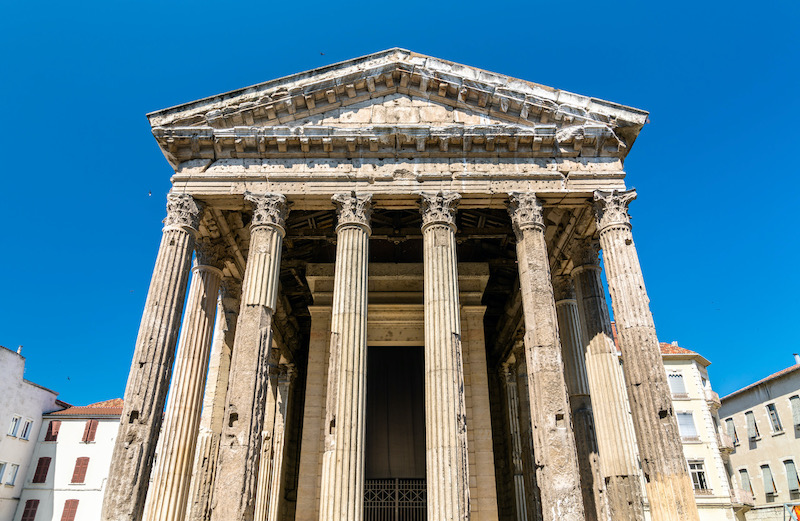 This city south of Lyon is best known for its Gallo-Roman ruins and is easy to reach, in less than half an hour by train.
Spread over several sites and museums, the town is an absolute delight for lovers of Antiquity – but also for its Medieval treasures, churches and cloisters.
You can visit the town in a day and if you choose a Saturday, you'll also get to enjoy the weekly market.
Le Bugey
This one is easy – it's MY region!
Half of it is undulating plains and gentle hillsides covered with vineyards, while the other half is wild and rugged, not surprising given it borders the Alpine départements of the Savoie and Haute-Savoie, the Jura Mountains, and Switzerland.
You'll need a car to get around, although the train does go through to Seyssel (about 1h30), a pretty little town close to the Swiss border (known for its light white wine). The ride is glorious, winding through the Gorges de l'Albarine, heaven for climbers.

Annecy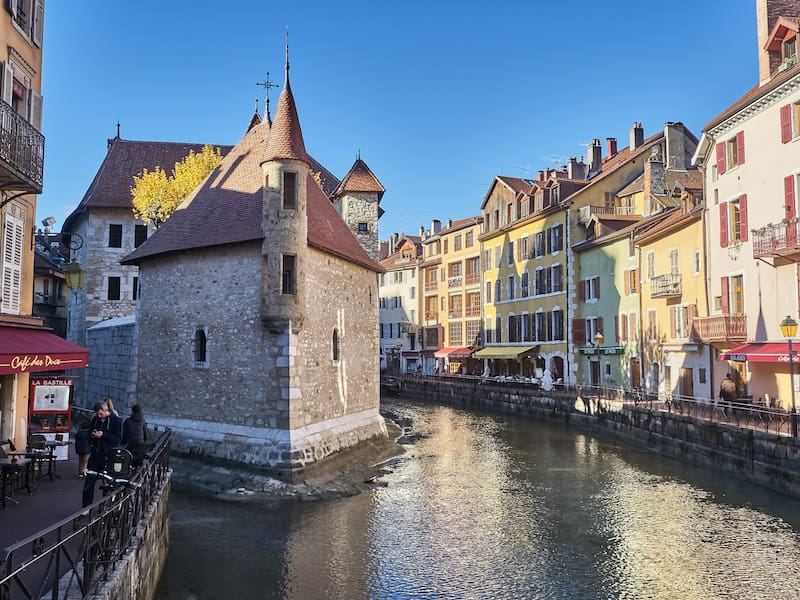 You've probably heard of Annecy, one of (if not THE) prettiest towns in France.
It's an ideal day trip from Lyon and takes about two hours by train either way, with the first train leaving Lyon around 7am and the last train leaving Annecy around 7.30pm.
You can fill your day with strolls along the lake, a visit to the market if you choose your day properly (Tuesday and Friday mornings in the Old Town under the arcades, and the flea market is on the last Saturday of the month); a tour of Annecy Castle; a walk around the Old Town; lunch at one of its delightful restaurants; a boat ride on Lake Annecy, and so much more.
This town has tons of charm, but the word has gotten out so beware weekends and high season.
The Beaujolais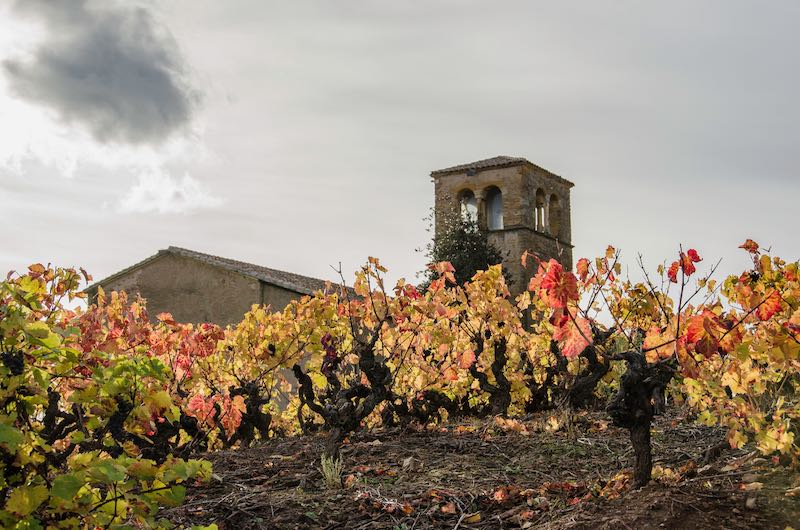 Yes, where the wine is from.
This isn't a visit you can undertake on public transportation. You'll need a car (check prices and availability here if you don't have one and want to rent for a day), or take one of several excellent tours to discover this fabulous region.
In reality the Beaujolais is more than a day trip but you can at least whet your appetite for this region by visiting for a day: a lovely village to stroll around is Oingt, one of the Pierres Dorées villages, or golden stones. You'll see why when you get there.

If you'd like to go elsewhere in the Beaujolais and stay in a chateau in the vineyards (and taste their wine), the Chateau Montmelas is my favourite.
Lyon FAQ
Visit one of the city's fabulous museums, like the Confluence or one of the specialty museums, for example the Gallo-Roman Museum.
Visit the Fourvière Basilica, explore the tiny alleys of the Old Town or visit the Parc de la Tête d'Or.
This might surprise but summer is NOT the best season to visit − it can be hot and stormy although on the other hand, hotel prices are lower. Winter can be cold and snowy BUT − December is when we have the fabulous Fête des Lumières, the brilliant lights festival where buildings are clothed in light shows, and Christmas markets.

These are the best seasons to visit Lyon:


spring, with April and May delightful
autumn, with a pleasant October and November, not too hot or cold, and not too much rain

That said, I've visited Lyon in every season and it's a fabulous city, so even in the "not best" seasons, it is absolutely worth the visit.
There are plenty of things that are free in Lyon. The traboules and murals, of course, and the riversides (especially on market days). The Parc de la Tête d'Or and its gardens and zoo, and the ruins of old Lugdunum. The Fourvière Basilica is free, but you'll have to pay a few euros to take the funicular (or be brave and walk up).
If you plan your trip for early December, you'll be able to enjoy one of the most fabulous light shows in France, the Fête des Lumières.
If you liked this, please share it on social media!