Have you heard of Lyon's secret passageways? Many are closed but some traboules of Lyon can still be visited... but quietly...
If you've ever been to Lyon, you've probably walked through a traboule at some point – possibly without even knowing.
You may have pushed open a heavy door, driven by your innate curiosity, only to be surprised as you walked along dimly lit corridors above which people so obviously lived.
But then, doesn't every city have its secrets? It's just that some are more "secret" than others...
The origins of the traboules of Lyon
In case haven't heard of them, the traboules of Lyon are secret passageways that usually run through a building, connecting one street to the next, or through courtyards, whose exits have been sealed in history, or even stairways, which look like anything but a secret passage!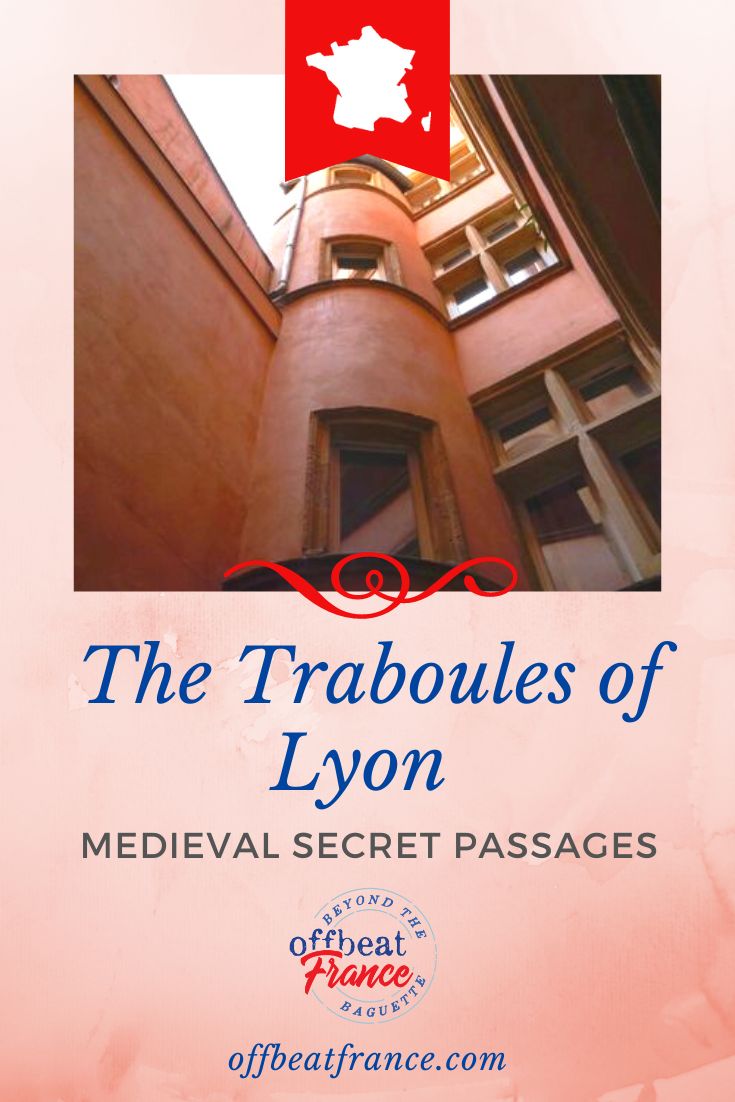 Much of Lyon's core is protected as a UNESCO World Heritage Site and contains the vast majority of traboules, which are concentrated in Old Lyon (or Vieux Lyon), the former silk-weaving center of Croix-Rousse hill, and the Renaissance neighbourhood of the Presqu'île.

This 19th-century map gives you an idea of the area we are covering here. Courtesy Bibliothèque nationale de France, GED-1883 - https://gallica.bnf.fr/
There appear to be some 400 traboules in Lyon Or 500. No one really seems to know and I've had city officials give me both figures.
There would seem to be some 200 or so in the Vieux-Lyon, around 160 in Croix-Rousse, and 130 on the Presqu'île. Sadly, though, only 40 or so are open to the public.
Some are signposted at the entrance, others don't even seem to have an entrance, and this unpredictability is part of their charm. 
The word traboule, we're told by historians, comes from the latin "trans-ambulare", or to move through, which makes sense when talking about a passageway.
For some reason the word is particular to Lyon, which is odd, considering plenty of other towns have their own passageways – Chambéry has allées, Nantes has cours, Marseille has traverses and Besançon has traiges. You'll find plenty more passages in Villefranche-sur-Saône, Mâcon, Saint-Étienne and Louhans.
And that's just the tip of the iceberg.
How to find the traboules of Lyon
Before you visit Lyon's traboules, you'll have to know where they are. You can find out in several ways:
You can download an app to your iPhone (sadly not available for Android)
You can take a guided Lyon traboules tour with an expert guide for secrets and insider knowledge
You can watch a video of the traboules (see the bottom of this story)
You can follow a Lyon traboules map right after this section (they are divided by neighbourhoods)
The maps provided in the various sections below show many of the Lyon passageways.
The light green squares are those which "in theory" can be visited, whereas the orange ones are closed to the public. I say "in theory" because they are supposed to be open, but sometimes you'll find the doors locked.
At one point, the city bought up many of the properties surrounding the "traboules lyonnaises" and made them available as low-cost housing, but with strings attached. Residents had to agree to keep the traboule open to the public between 8 am and 7 pm.
While many residents do comply with the agreement, others are fed up with the steady stream of tourists who speak loudly, eat and laugh as they walk through, disturbing the peace.
Vieux Lyon traboules
The best traboules to visit in Lyon are in the Vieux Lyon, which has the most traboules and some of the best secret passageways.
As you can see from the map below, they are grouped closely together so if you have little time, this might be your best bet for traboule hunting.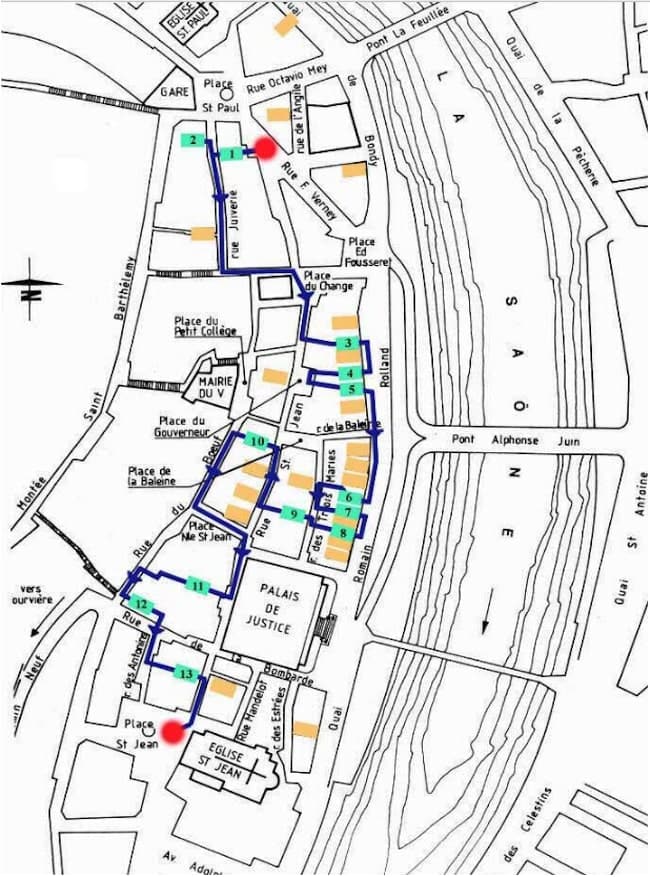 Traboules Vieux Lyon map (courtesy lyontraboules.net)
The rue St-Jean is particularly bountiful. A few parallel streets closer to the river may seem to have more, but in my experience, many of these are often closed to the public, unless you visit them with a guide.

The key to the numbers on the map can be found on this site (explanations are in French but at least you can get the addresses).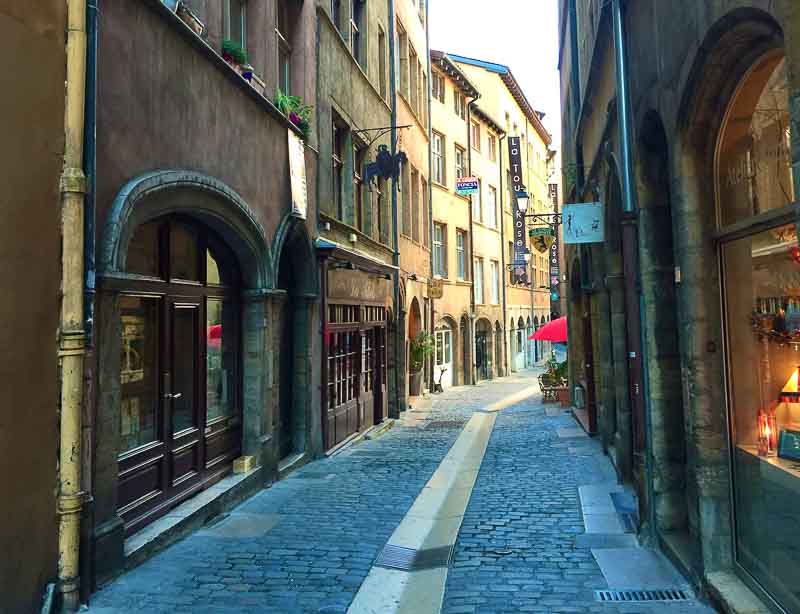 One of the streets in Lyon's Old Town
The longest traboule, 54 rue Saint-Jean
One of the most popular (and my favourite) is at 54 rue St-Jean. It also happens to be the Lyon's longest traboule.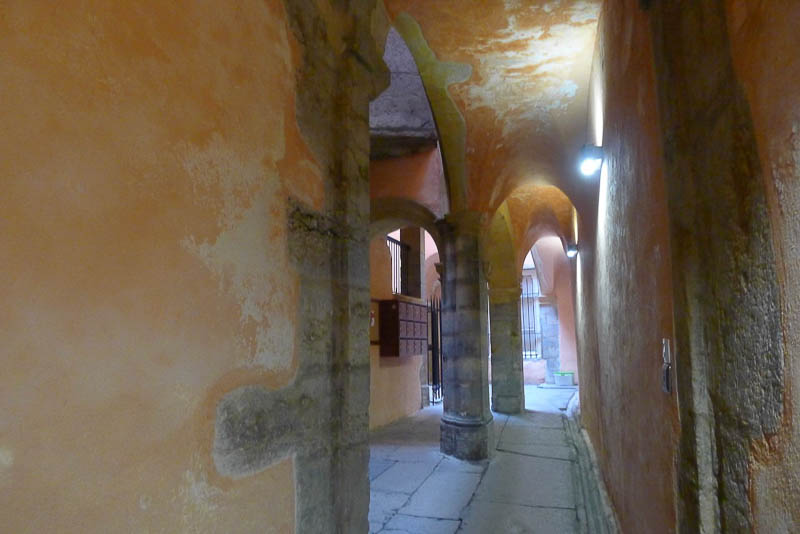 It slices through several small courtyards and opens up onto the rue du Boeuf. If you turn right upon exiting, you'll soon find yourself outside the Food Traboule. Nothing to do with Lyon secret passages but an indoor food court I happen to love.

If you've eaten your fill of traditional Lyon food in a typical bouchon, this should be your next stop. It also serves local specialties, but with a modern twist.
Upstairs, you'll find the giant, aptly named "XXL Profiterolle". Either have one before lunch or share it because it is huge!
La Maison des Avocats, 60 rue St-Jean
You'll probably find this one without looking for it: it is a pink building with several stories of pink arcades on the rue St-Jean.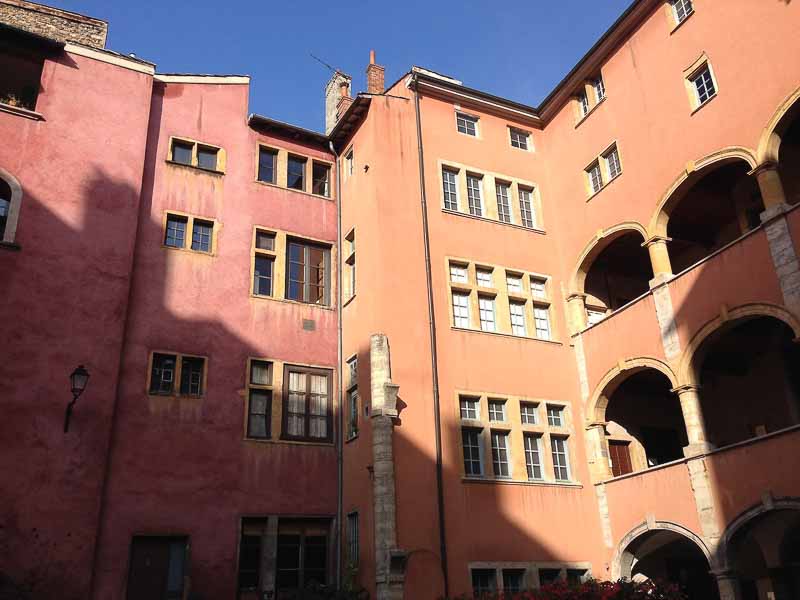 The "house of lawyers" was built in the 14th century and was known as the "Ostel de la Croys", an auberge for local legal assistants. The auberge evolved and expanded upwards with the addition of several arcaded floors.
By the 19th century it was in decline, turned into rental apartments, and eventually it was scheduled for destruction, despite its listing as a historical monument (sadly, these things happen).
But an association dedicated to restoring Old Lyon stepped in and saved it. Parts were still razed, but what was once an internal patio surrounded by arcades is now open to the street for all to see and ornamented with a small public garden.
You can't miss the serene lion sculpture facing the street, although I'm still trying to ascertain its origins.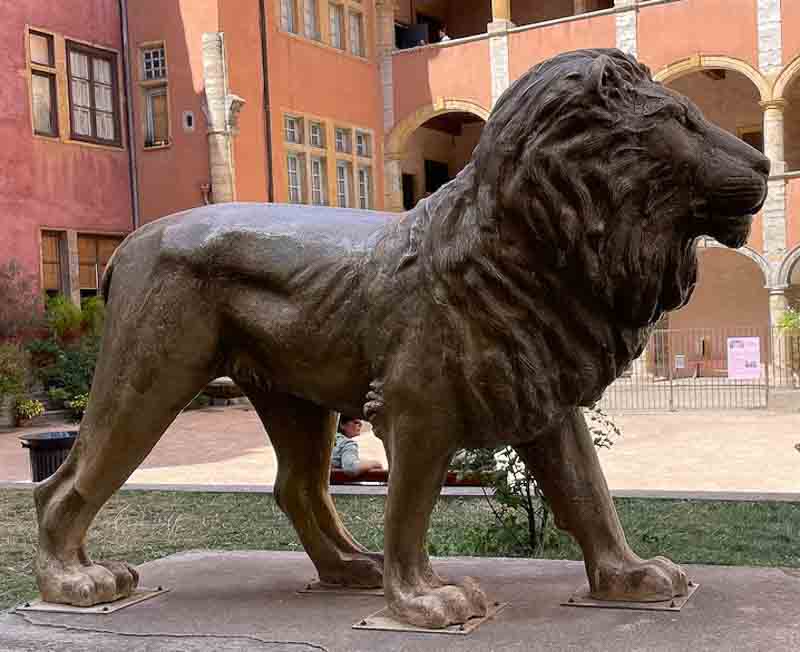 THE EMBLEM OF LYON IS A LION, BUT...
The word for lion, "lion" in French, is pronounced the same way as the city, Lyon.
So adopting the lion as the city's emblem would make sense. But that's not what happened at all.
The lion was adopted as the city's symbol nearly 1000 years ago, when it still went by the Roman name of Lugdunum. Nothing to do with our beloved feline. It was originally pictured as a white lion on a red background with its mouth open, but would evolve over the centuries, for example by including fleurs de lys.

Lions also have another connection with Lyon, as several actually lived here, offered as gifts to the city over the years. The last lion of Lyon lived in the majestic Parc de la Tête d'Or, where he died in 2021.
Today, Lyon's lions are the inanimate kind: statues in the city, the emblem of the Only Lyon tourist office, or even at the heart of the logo of the city's football club, the Olympique lyonnais.
La Tour Rose, 16 rue du Boeuf
This is another of Old Lyon's stunning internal courtyards that qualifies as a  traboule: la Tour Rose, also known as la Maison du Crible.
Just a word about the glorious pink spiral stairway that gives the tower its name: it wasn't always pink. Apparently the pink colour only surfaced in the 1970s.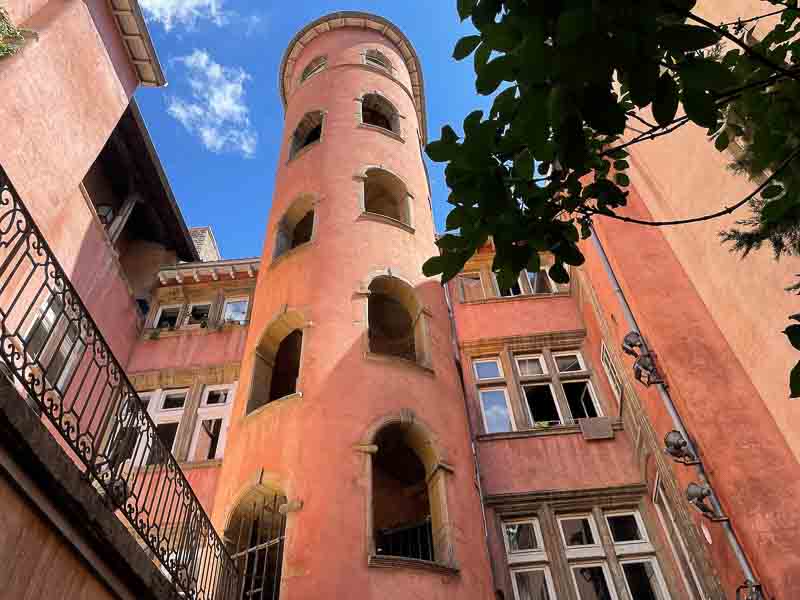 It is part of a splendid private house dating back to the Middle Ages and a once-derelict traboule which has now been restored.
The complex has been turned into a prestigious rental accommodation a which patrons rave about (you can book a suite here). To get a good view of the tower, head into the traboule and look up, or visit the upper floor of the Food Traboule and gaze through its glass ceiling.
Traboules of Croix-Rousse hill
The second largest concentration of Lyon underground tunnels is on Croix-Rousse, a low-lying hill in Lyon which was once home to the city's silk weavers.
Whether the traboules were designed to fetch water from below or transport bolts of silk without wetting them from the rain doesn't matter. The fact is that Croix-Rousse is riddled with traboules, except unlike the flat tunnels in Lyon Old Town, these take you to another level of the hill, in addition to opening up onto a different street.
(More details about the traboules Lyon plan at Croix-Rousse East and Croix-Rousse West – again, you'll get the addresses but the explanations are in French.)
Traboules West Croix-Rousse (courtesy lyontraboules.net)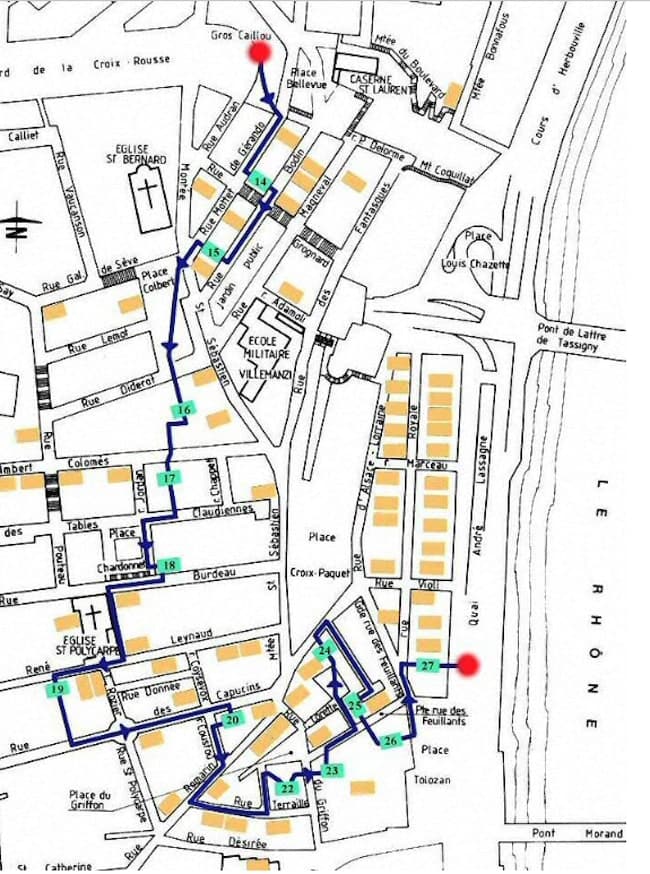 Traboules East Croix-Rousse (courtesy lyontraboules.net)
La Cour des Voraces
The Cour des Voraces (roughly translated as the Courtyard of the Voracious), is undoubtedly the most famous of the traboules Croix Rousse, although it looks nothing like the ones you've seen in the Old Town.
At first sight, this is a concrete stairway. But it does lead from one street to another, and from one level to another. In fact, it has three entrances: on Place Colbert, on Montée Saint-Sébastien and on Rue Imbert-Colomès.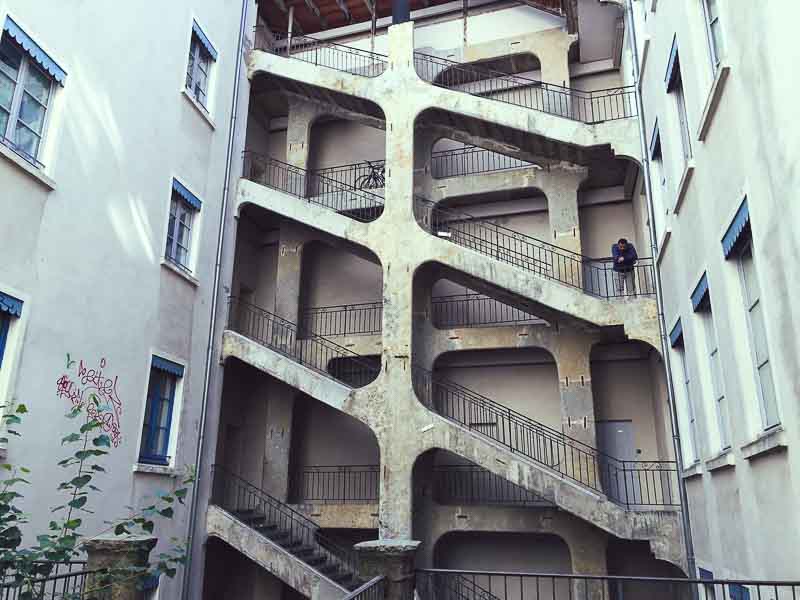 Cour des Voraces, Lyon
It also happens to be Lyon's most famous traboule: it was the site of two notorious events. The first is the fabled Revolt of the Canuts, the 19th-century rebellion by silk workers, with a plaque commemorating the event on the wall of the traboule.

The other is the Nazi occupation of Lyon during World War II, when the traboule was used to help Resistance fighters escape or communicate with one another. (Lyon was a major backdrop to World War II so if you're interested by places related to this era, book a private tour of the high points of the French Résistance in Lyon). So yes, this Lyon tunnel may not look like one, but it most certainly is a true traboule.
There are plenty of others, like the traboule that connects 5 rue Royale with 3 quai André-Lassagne. Its 17th-century stairwell was recently renovated and is protected as a historical monument. This one is actually a dual traboule, because you can follow a hallway and emerge in the Cour des Moirages, another Croix-Rousse traboule.

If you're a fan of historical stairways, then do visit the traboule that links 4 rue de Thou to 5 Petite rue des Feuillants. Interestingly, there are several traboules in Croix-Rousse with stairways at their heart.
For some reason, it is easier to get lost visiting the traboules of Croix-Rousse than in those of the Old Town – I'm not quite sure why, but they're not as well signposted and some of the entrances lack numbers, so a bit of map reading and sleuthing might be involved, but that's part of the fun!
If you'd like to get to know Croix-Rousse better:
And finally, the traboules of the Presqu'île
I have to confess I've never visited these traboules. I've been so keen to explore the ones in the Old Town and in Croix-Rousse that I've utterly neglected the Presqu'île, an otherwise gorgeous part of town.
This is the heart of the downtown district, and also the site of many of Lyon's stunning outdoor murals.
I promise to explore them on one of my monthly trips to Lyon so I'll definitely come back and report.
Traboules map Presqu'ile Centre (left) and Presqu'ile North
Traboules throughout the centuries
The traboules don't all date from the same period, nor did they serve the same purpose in each time period.
Lyon hidden passageways were first built in the 4th century
Lyon was still called Lugdunum when the first traboules began appearing.
Lyon's streets had been built parallel to the city's two rivers, but getting to one of the rivers was no easy task, since the buildings were in the way.
Residents of Croix-Rousse hill who needed water, whether for the home or for industry, had to make their way down to one of the many wells located in the Old Town. Covered passages began to appear, making it easier to head straight downhill than along small, winding streets. 
Those traboules that remain today were built far later...
They expanded in the 19th century 
Traboules continued being built during the Renaissance, especially those in the Old Town, but they experienced a rapid spurt of growth during the 19th century, as the silk trade expanded and Lyon became its European center.
An increasing number of silk workers gathered on Croix-Rousse, as many as 90,000 at one point, and the traboules evolved to serve them: they became convenient shortcuts for workers carrying their heavy silk bolts down from the workshops to the stylish businesses below (and also helped keep the silk dry).
In 1831, the Canuts, as the silk workers were called, rebelled against their poor working conditions in one of history's first industrial uprisings, and this happened right in the Cour des Voraces. The Canuts, highly familiar with the city's traboule network, used them to reach the town below and took control. Their victory was short live and the rebellions eventually suppressed with great force.
They remained important during World War II
During World War II, Lyon was a Nazi stronghold (initially a part of the Free Zone, the Nazis eventually invaded all of France in 1942) and Gestapo headquarters, but was also the center of the southeastern France Résistance.
This maze of passageways also played an important role during the war: the traboules were used to escape the Nazis or to meet other rebels unnoticed. The Germans would eventually become familiar with them but initially, they were well-kept Lyonnais secrets.
Some of them became shabby and neglected and this is why, in the 1990s, the city agreed to subsidize their restoration in exchange for public visiting privileges. In 1998 the entire historic site of the city of Lyon came under UNESCO protection, and the traboules, being part of this heritage, can now rest assured they will probably survive yet another few centuries.
Resources to visit the city of Lyon
➽  If you need to get around Lyon, the Lyon City Pass is really useful if you want to save time and money: it covers all public transportation, as well as entrance to most monuments and sites.
You won't need a car in Lyon – in fact, you're better off with one and should rely on its excellent public transportation system.
BUT - if you want to take some day trips from Lyon, you will definitely need one and can check what's available here.
If you plan to rent a car, consider visiting Lyon on foot and picking up your car at the airport. You can catch the Rhonexpress bus from the Part-Dieu train station. Check the timetables here.
Where to stay in Lyon
Traboules of Lyon: FAQ
No one knows exactly, but between 400-500. However, only about 10% of them are open to the public.
A traboule is a passageway found in Lyon, France. Usually covered and often hidden, these were once used by silk workers to keep their bolts of silk dry from the rain. They were also used to ferry water up from the river to the hills of Croix-Rousse.
Lyon is famous for its traboules, or secret passageways, but also for its 150  monumental murals, its reputation as France's capital of gastronomy, and its Roman heritage.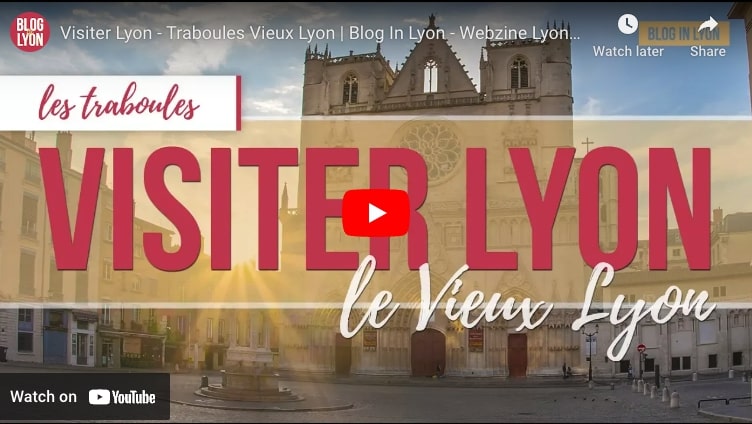 Before you go...
Want to know even more about Lyon? Here are a few stories to help you delve into the city:
Did you enjoy this article? I'd love if you shared it!