If you've ever gone on French road trips, you'll know what I mean when I say driving is one of the best ways to see France. Roads are safe and stunning, cutting through the most amazingly diverse landscapes.
France is one of those countries whose diversity is often a surprise: what on the surface may seem like a unified collection of endless pretty villages and ripe vineyards is... that, of course, but so much more.
As soon as the first buds appear and the snow tires come off, everyone spruces up their cars and begins unfolding their maps: time to start planning those fabulous French road trips!
We like to travel along the main highways to get from A to B quickly, but when it's time to discover France off the beaten path, we're quick to get away from the hustle and head into the quiet, slower countryside. 
SUMMARY
What follows is a look at some of the best road trips in France, taking you across the ages from prehistory through the Middle Ages into the Renaissance to modern times, through landscapes as different as their eras.
  NOTE: Pages on this site may contain affiliate links, which bring in a small commission at no cost to you.
The problem with with France is that it has so many wonderful regions to visit, so I've done some of the heavy lifting for you and chosen some of the best France road trips − either those I've taken myself, or that fellow travelers have enjoyed.

Use the itineraries below to revisit a much-loved area or discover a new one.
(Oh, and in case you've never driven in France, these French driving tips will either make it all seem easy or, conversely, will make you swear off "la voiture" forever. I hope it's the former.)
1. Two-day road trip: Alsace wine route
The Alsace villages that line the Alsatian wine route of northeastern France are much-loved by fans of half-timbered houses, flowered windowsills, and, in winter, fabulous Christmas markets. This is one of the best road trips in France if you're a foodie, a wine-lover, or simply in love with gorgeous villages in a land full of history.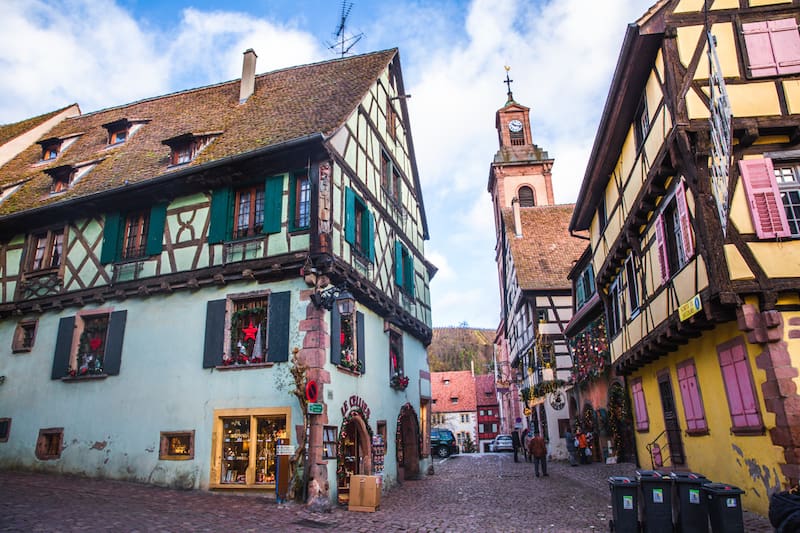 The lovely village of Riquewihr
Alsace wine route itinerary
THE ROUTE: Eguisheim > Kaysersberg > Riquewihr > Hunawihr > Ribeauvillé
DISTANCE: 10km
SUGGESTED NUMBER OF DAYS: 2 days
Top attractions on this Alsace road trip
Dolder Tower (or Belfry), Riquewihr

The 13th-century Dolder Tower "towers" above the Old Town of Riquewihr – "dolder" means "the highest" in Alsasian. At 25m, its aim was to terrorize the enemy and it also served as the entrance to the town. It is now home to an unusual museum that covers local history as well as items related to wine-growing.
Kaysersberg Castle

This ruined 13th-century fortress sits above the town of the same name. Climb up to the cylinder-shaped tower – with walls up to 4 meters thick – and you'll be rewarded with a spectacular view of Kaysersberg, the Weiss valley and the surrounding vineyards.
Winstubs

Winstubs are typical Alsatian café-restaurants that specialize in wine and serve authentic Alsatian food. They're warm and welcoming and cheerful, with a true Alsatian ambiance. Enjoy some of the local specialties – one of the best places to try an Alsatian choucroute, or sauerkraut.
Alsace wine route

While this road trip only covers part of it, the actual wine route stretches over 170 km and connects some of the Alsace's most beautiful villages. It's lined with vineyards, of course, as well as forests and is a great route to hike.
Wineries
The Alsace region is the perfect place to learn how wine is made and to go wine-tasting in one of the area's many wineries. Alsace Riesling or Gewürztraminer, anyone? 
Where to eat
This is your chance to visit an authentic winstub with regional Alsatian food: head for La Grappe d'Or in Riquewihr.
Where to stay
Hotel de la Couronne is in a building that dates back to 1550 and is located right in the heart of Riquewihr. 
Best time to drive the Alsace wine route
June-August, the summer season, is a great time to visit, with vibrant colours and good weather. 
October-November are perfect for wine, since it's the harvest season. In this particular part of France, unlike many others, you can visit wineries during the harvest season, and enjoy many of the festivals put on when they harvest the grape.
December, for the wonderful Christmas markets whose reputations go well beyond France's borders.
—Submitted by laurewanders.com

IF YOU NEED TO RENT A CAR IN FRANCE
Don't wait until the last minute, especially if you want one of the scarcer automatics.
🚗 Check availability at Discover Cars (it's what I use to compare prices).

2. The historic Loire Valley
Who hasn't dreamed of visiting the most romantic castles in the world? One of the best driving routes through France is along the Loire Valley, from château to château, in an area so exquisite it is listed as one of the UNESCO World Heritage sites.
You may be drawn here by the history, the romance, the architecture, the palatial gardens... or by the meandering rivers and peaceful plains of the Loire, filled with so much beauty you won't know where to look. (In case all the places called "Loire" confuse you, read this.)
This is the historical heart of France, but it is also known for its Loire valley wines and its delicious food. This is an absolute classic road trip in France, and it's not even far from Paris.
Cheverny, one of the many distinctive chateaux along the Loire Valley
Loire Valley road trip
THE ROUTE: Blois > Tours

DISTANCE: 66km



SUGGESTED NUMBER OF DAYS: 5 to see everything along this stretch
Top attractions along the Loire Valley
Blois
Blois is a lovely provincial town with a stunning castle, built over several centuries, with successive kings adding successive wings. You can read more about more about Blois here. As people rush off to the more popular (and crowded) chateaux, they often neglect this fascinating monument, packed with history and charm.
Azay-le-Rideau
It has been called a jewel, and it's no wonder: this lovely Renaissance château sits on a tiny island in a small body of water. When that water is still, it mirrors Azay-le-Rideau to perfection, and you have to pinch yourself to realize it's only a reflection.
Troglodytic houses
Not too far from Azay is the Valley of the Goupillières, where you'll find fascinating troglodytic dwellings and farms carved out of the local tufa, the stone used to build most of the region's castles. The farms date back to the Middle Ages and the lifestyle has been re-created.
Scattered throughout the Loire are plenty of other troglodytic dwellings, so do try to work one into your itinerary.
Chenonceau
One of the Loire Valley's most famous chateaux, both for its beauty but also because of the stories behind it, like the historical rivalry between the wife and the mistress of King Henri II.
Amboise and Clos Lucé
The town of Amboise is a delight, with its chateau standing high over the city, an impressive sight as you cross the bridge into the city.
Once you've visited the Château d'Amboise, head up the street to the Clos Lucé, a smaller manor which once hosted the final years of Leonardo da Vinci, and has reproductions of many of Leonardo's inventions, as well as of his studio.
Where to eat 
If you're going to splurge along the Loire, reserve a table at the Michelin one-star L'Évidence, in Montbazon, not far from the city of Tours. The food, of course − scrumptious, and incredibly colourful − but the warm service, which really made me feel welcome when I lunched here. A delight.
Where to stay 
L'Adresse, a boutique hotel in the heart of Tours, is an ideal base from which to explore the châteaux − Tours is an easy city to drive out of and I found it perfect, spending days in the châteaux and evenings in the city. 
Best time to visit the Loire Valley
Anytime but summer, although the dead of winter is cold in this region. I remember freezing at Chambord in February, but that also made it more realistic because this is how historical contemporaries would have experienced things. Ideally, though, you'll come in spring, when the gardens are blooming: France in June is magnificent, as it is in May. In autumn, too, the colors are intriguing and the crowds have thinned.

3. The Alabaster Coast
This route, rich in World War II history, stretches from the fishing city of Dieppe, through the villages along the coast, all the way to Etretat, the gorgeous but highly popular white cliff location, with gorgeous views from almost any angle. This coastal strip is one of Europe's Natura 2000 sites, and a stop anywhere along the way will reward you with a perfect sunset.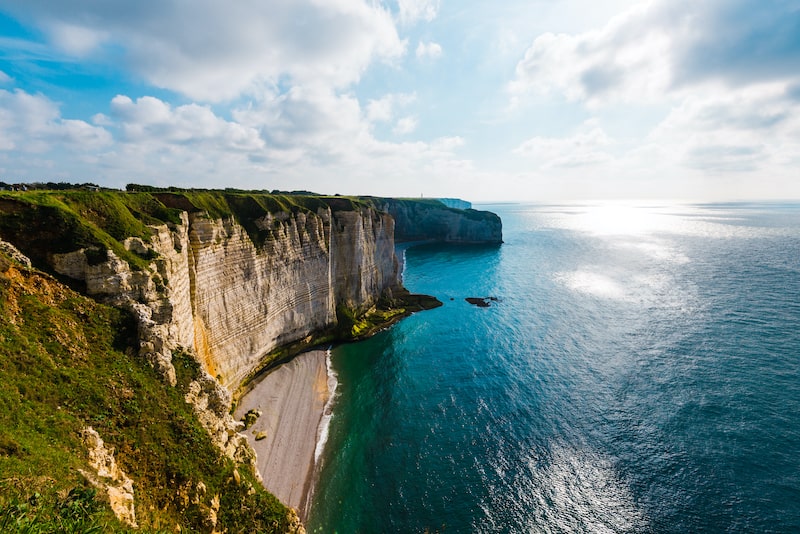 The white cliffs of Etretat on your road trip France
Alabaster Coast  route
THE ROUTE: Dieppe > Veules-les-Roses > Quiberville > Fécamp > Yport > Étretat

DISTANCE: 120 km



SUGGESTED NUMBER OF DAYS: 3 days
Top attractions along the Côte d'Albâtre
Quiberville Bunker
Near Sainte-Marguerite-sur-Mer, this is an unusual bunker (among the many that remain along this coast). It stands vertically at an angle on the beach, having been forced off the cliff above in an effort to avert an eventual accident.
Veules-les-Roses
This picturesque seaside village − half-timbered cottages and plenty of blooms − is cut by the Veules, reputedly France's smallest river. Artists and writers have all fallen in love with this village, and a stop here will show you why.
Cap Fagnet
Cap Fagnet is high enough above the sea to provide a stunning view over the Fécamp valley and along the white cliffs. A little further along, you'll come upon some World War II bunkers still standing here.
Fécamp
Heading to Fécamp, you can sample fresh fish straight from the boat in this authentic fishing village, once a crossroads of cod fishing.
Yport
Yet another gorgeous village which has attracted artists of all types, Yport is surrounded by magnificent cliffs, riddled with paths and beautiful views. The perfect place to stop for a refreshing drink at the local café.
Where to eat 
If you're looking for authentic French food with a hint of Normandy, try Le Clos Lupin in Etretat. But if the mood for pizza strikes you, Le Petit Saint Pierre in Yport makes an excellent one, and has a terrace that looks out to sea. 
Where to stay 
In Dieppe, enjoy a sea view at the four-star Mercure Dieppe La Présidence, a two-minute walk from the stony beach and ten minutes from the center of Dieppe.
Best time to visit the Alabaster Coast
The best time to enjoy this road trip is in the spring or summer, when you'll have a better guarantee of sunshine.

—Submitted by Zoe from Togetherintransit.nl


4. WWII sights along the Normandy Coast
When you think about history, it's often just a list of names and dates.
But one way to really understand something is by experiencing it in person − which is what makes this WWII-themed road trip in Normandy so popular among visitors from around the world.
Those who are fascinated by history will feel the famous battles fought here come to life.
Centre Juno Beach
Normandy road trip route
THE ROUTE: Caen > Courseulles-sur-Mer > Arromanche-les-Bains > Pointe du Hoc

DISTANCE: 74.3 km



SUGGESTED NUMBER OF DAYS: At least 5 days to explore in depth, but you could do it in 3 days if time is tight. 
Top attractions along the way
Caen Memorial Center
With a road trip start in Caen, your first stop should be the Caen Memorial Center, the perfect starting point if you want to learn about the Battle of Normandy and its impact on the war and on the people fighting it. The museum also traces the 20th-century history of the region – war, but also reconciliation.
D-Day Landing Beaches and Centre Juno Beach
The D-Day Landing Beaches tend to be the main attraction on any WWII-themed road trip. The Centre Juno Beach is an interactive and educational experience (wonderful for kids) that highlights Canada's role in World War II. Utah and Omaha Beaches are where US troops landed, whereas the British troops landed on Gold and Sword beaches.
Arromanches-les-Bains
The massive, artificial harbor on the beach at Arromanches is something to see and the Musée du Débarquement has an animated model of the site, which shows just how astounding that operation was.
From these beaches came crucial equipment that helped win World War II and a few pieces of the artificial harbour can still be seen today in their original state.
Pointe-du-Hoc
Pointe du Hoc overlooks Omaha Beach and the English Channel and was the site of one of the most demanding battles during the landings in Normandy. The scars of battle are still visible – bomb craters and massive bunkers are located throughout this historic site.
Where to eat 
Recto Verso in Arromanches-les-Bains is an excellent classic French crêperie overlooking the famous beach where the artificial harbor was installed. 

Where to stay 
The charming hotel and restaurant Ferme de la Rançonnière is perfectly located just north of Bayeux. You can easily explore all these attractions from this authentic French boutique hotel.

Best time to visit the World War II memorials
May and September and pleasant and the weather is warm. High season is from June to August, but beware the 6 June D-Day anniversary, when crowds converge on war memorial sites.
—Submitted by Casandra Karpiak of karpiakcaravan.com


5. Less-visited French road trips: Mont Saint-Michel to Bordeaux
Mont Saint-Michel is one of those iconic sights near the top of most France bucket lists. This route takes you south to Bordeaux, stopping in a number of historical large and small towns along the way, places you might not otherwise see. First, history, and then, wine.
Mont Saint-Michel at night
The route to Bordeaux
THE ROUTE: Mont Saint-Michel > Rennes > Nantes > La Rochelle > Bordeaux
DISTANCE: 650km
SUGGESTED NUMBER OF DAYS: 10-14 days to make sure you have enough time at each spot
Top attractions along the route
Mont Saint-Michel
This medieval Christian site is a UNESCO World Heritage Site, its original church dating back to the 10th century. In addition to heritage, the region is ideal for hiking and cycling.
Château des Ducs de Bretagne, Nantes
Right in the heart of Nantes, this wonderfully restored 15th-century castle is also a history museum, which among other things traces the history of the slave trade. Much of the French slave trade was concentrated in Nantes.

Saint-Pierre Cathedral, Rennes
This is where the Dukes of Burgundy came to be crowned, a building that spans centuries, from its initial Roman construction in the 4th century, its rebuilding as a Gothic church, and eventually its final classical identity.

Musée Maritime de La Rochelle
The Maritime Museum traces the maritime history of La Rochelle and hosts a fleet of frigates, some of which you can visit, along with all manner of exhibits related to the sea.
Saint Emilion
In addition to being a UNESCO World Heritage Site, the charming medieval village of Saint-Emilion is home to some world-famous wines, whose vineyards often belong to iconic French chateau properties.
Bordeaux
Your trip will end in the stunning city of Bordeaux, one of France's prettiest cities and in the heart of Bordeaux wine production. (If you don't drink wine, by the way, read this article on how to visit Bordeaux even if you don't drink wine.)
Where to eat 
The perfect stop in Saint-Émilion is the Atelier de Candale. The restaurant, set among the vineyards, is attached to the wine-producing château of the same name.
Where to stay 
In Mont Saint-Michel, the Auberge Saint Pierre is perfectly located on the main street − and staying overnight is the best way to beat the crowds.
Best time to do this route
Spring or autumn − places like Mont Saint-Michel are excessively crowded in summer. May or September would be ideal.
—Submitted by Victoria from guideyourtravel.com

6. The Basque country
Few visitors from outside France know the French Basque country well. Along the Atlantic Coast, they often stop at Bordeaux, thinking they've gone as far as they should.
Yet south of Bordeaux lies a land unlike any other in the country, so different that you may wonder you're in France at all. In fact, it is a continuation of Spain's Basque country and at times has more in common with its counterpart across the border than with France itself.
If you give the Basque country a pass, you'll be missing out on one of the most magnificent road trips through France. This is the perfect road trip if you want it all – a bit of city, some beach, some countryside...
Surfers coming in off the beach at Biarritz in the Basque country, on the perfect road trip in the countryside
The Basque Country route
Top attractions in the Basque country
Basque heritage in Bayonne
Bayonne is the capital of the Basque country and the repository of this culture in France, whether at the Musée Basque, during the week-long summer Fêtes de Bayonne, or simply by walking along the half-timbered houses of the center.
Biarritz
Whether you're here for the surfing beaches or just for a glimpse of France's legendary resort during the Belle Époque, Biarritz and its beaches will inevitably leave you with memories of dizzying sunsets.
Sare and the Little Rhune Train
This is where your country road trip starts. Barely half an hour's drive from the Atlantic coast, the Basque hinterland spreads around centuries-old villages, with their blood red and deep green timbers. Sare is a lovely example of this, and a good jumping off place for the Petit Train de la Rhune, a rack railway which climbs the sacred Rhune mountain.
Espelette
It is difficult to single out specific villages because most are stunning but Espelette is special because of its association with the renowned Espelette chilli, le "piment d'Espelette", not too spicy but much loved throughout France. This is where you can learn about its history and see how it is produced (not to mention buying some to take home).
St-Jean-Pied-de-Port
It's a pretty town with great food but what distinguishes it is that it's the jumping off point for the Camino Francés of the Camino de Santiago across Spain: this is where pilgrims cross the Pyrenees, and throughout town you'll see pilgrims' accommodations, colourful attire and signs linked to the St James Way.
Where to eat 
You're close to Spain here – so eat tapas, or their Basque equivalent,  pintxos. You'll find bars that serve them everywhere along the coast but in Biarritz, many are concentrated around the indoor market, Les Halles. Sit down, have one or two pintxos, and move on to the next bar.
Where to stay 
The family-owned Hotel Arraya in Sare is delightful, both for its gastronomic restaurant and its cosy rooms – I once sat on my balcony and watched a deer amble across the garden.
Best time to visit France's Basque country
Summer is a wonderful season, both for the beaches along the Atlantic Ocean and for the mountains, where it is cool away from the coastal heat. 
Spring (May) and autumn (September) are also lovely months, although you may encounter some rain. I visited in March one year and it rained every single day... but the rain couldn't spoil the beauty.


7. Road trip around the fabulous Dordogne
The Dordogne is one of our best-loved regions, and this France road trip will take you through highlights as well as around some of the less-visited (but equally wonderful) parts of neighbouring Lot and Lot-et-Garonne.
Foodies, oenophiles, and history buffs will all love this route. Along the way, you'll pass through idyllic rolling countryside, and discover exceptionally well-preserved medieval towns and villages, vibrant local markets, imposing fortified castles, and a wealth of history.
The food here is exquisite. Dishes often incorporate regional specialities such as duck, truffle, wild cèpe and girolle mushrooms, prunes, and walnuts.
And then, of course, there's the wine. This region is famous for producing excellent quality reds (which are fairly similar to Bordeaux in style), as well as sweet dessert wine. There are hundreds of vineyards in the area, most of which offer tastings.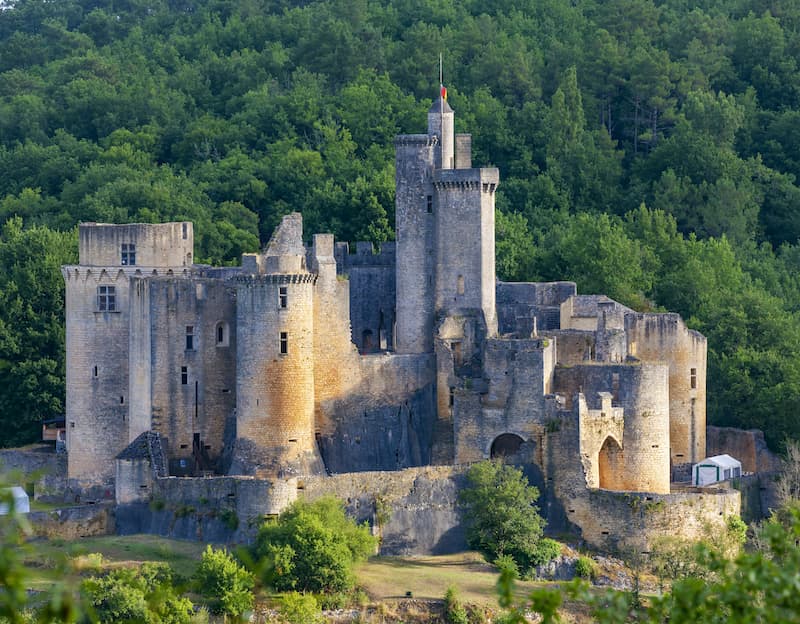 Stunning Chateau Bonaguil
Dordogne

route
THE ROUTE: Bergerac > Castillonnès > Villeréal > Monpazier > Monflanquin > Cahors > Sarlat-la-Canéda > Grottes de Lascaux > Limeuil > Bergerac
DISTANCE: 330 kilometres
SUGGESTED NUMBER OF DAYS: 7 days minimum to see the region's atmospheric medieval towns, picturesque villages, and stunning chateaux.
Top attractions around the Dordogne
Château de Monbazillac
A picture-postcard 16th-century castle, this château is surrounded on all sides by vineyards. Inside, the castle has been restored to its Renaissance-era glory, and regularly hosts art exhibitions. Monbazillac is also a world-famous producer of sweet dessert wine.
Wine tasting
The Dordogne is an ideal region for wine-tasting and in addition to the Château de Monbazillac, there are several other great places to taste (and buy) high-quality local wine, such as Château Montdoyen, La Grande Maison, and Château la Renaudie.

Monpazier
The Dordogne has no shortage of atmospheric medieval towns and villages, but Monpazier has to be one of the most exquisite.

Grottes de Lascaux (Lascaux Caves)
This complex of caves centers around remarkable 20,000-year-old paintings of the prehistoric animals who once roamed the Dordogne. France has plenty of prehistoric caves but these contain some of the best-preserved and most important pieces of prehistoric artwork in the world.

Chateau de Bonaguil
Quite simply, one of the most spectacular and imposing fortified castles in France.
Where to eat on your Dordogne road trip
L'effet Maison in Monflanquin has outstanding, high-quality food, including many local and regional specialities. They source most ingredients locally, and the presentation is exceptional. Excellent service, and fantastic all-round experience. Book in advance if possible, especially during the summer.
Where to stay in the Dordogne
Les Remparts de la Bastide in Castillonnès is a wonderful little family-owned hotel located in a beautifully renovated old house near the center of town. The rooms are tastefully decorated, very comfortable, and the hosts are extremely warm and welcoming. There's also an excellent restaurant where you can enjoy traditional home-cooked regional dishes by candlelight.
Best time to visit the Dordogne
The most popular months are July and August, although May-June and September are also beautiful, but perhaps with a slightly higher chance of rain.
—Submitted by Alex Tiffany of Just Go Exploring

8. A road trip around Corsica
Visitors who plan a road trip to France often think only of the mainland, yet the Mediterranean island of Corsica, with its picturesque villages and stunning coves (and outstanding food!) is very much a part of France too.
This scenic road trip across Corsica takes you around the entire island. It's a long drive but if you have little time and would like to get a taste of its diversity, this is a perfect trip for an introduction.
There's so much to do here, from hiking to culinary exploration to lying on the beach or snorkeling – Corsica has it all.
The drive is spectacular, with out-of-this-world views along narrow (but manageable) roads and through medieval villages. Corsica may be part of France, but was Italian until around the birth of Napoleon Bonaparte, so you'll notice the strong Italian influence.
The glorious coast of Corsica
Corsica road trip route
THE ROUTE: Bastia > Ersa > Calvi > Bonifacio > Bastia

DISTANCE: 650 km



SUGGESTED NUMBER OF DAYS: at least 5, longer is better
Top attractions along the route
Black pebble beach at Marine d'Albo
This lovely, unspoilt beach is 4km from Nonza, overlooked by a 16th century Genoese tower, wonderful for snorkeling at either end.

Chapel of Notre-Dame de la Serra, Calvi
Sitting high on a mountain overlooking the city of Calvi – this is where you'll get the best views over the city and the citadel.
Drive from Calvi to Porto
The dramatically beautiful landscape you'll encounter on this stretch of the route is definitely one of the highlights of this road trip. Breathtaking, and much more pleasant now that the narrow road has been improved.
Cliffs of Bonifacio
The cliffs of Bonifacio are best seen on a boat trip, but don't miss the (built in 1420) King of Aragon's Stairway, 189 steps carved into the cliffs that take you through some stunning views. The medieval town of Bonifacio is filled with charm and is one of the more uncrowded spots along this coast.
Santa Giulia Beach
Classified by UNESCO as one of the most beautiful in the world, Santa Giulia beach, south of the Gulf of Porto-Vecchio, has plenty of 'wow' factors, including crystal-clear waters and soft white sand.
Where to eat 
If you love to taste some fresh seafood served with local delicacies, try the charming fishing village of Porto Marina on the west coast.
Where to stay 
Hotel le Saint Jean in the northern Corsican mountains will provide you with heart-stopping views .
Best time to visit Corsica
Here are the best seasons, in order: 1) out of season is ideal, without the crowds; 2) September, with beautiful weather without the heat of summer; 3) May; 4) summer, June to August (hot and crowded but beautiful nonetheless!)
—Submitted by Corina Swan of packedagain.com 

9. Eastern French Riviera road trip
Of all France road trips, this ranks among the favourites. Everyone wants to drive along a seaside made famous by umpteen films of the mid-20th century!
This tour will take you through highlights of the eastern part of the Riviera – the luxurious glamorous part.
The starting point is the laid back yet sophisticated city of Nice, with its promenade and elegant curved bay, all the way to Monaco, which may be its own country but is intertwined with France in so many ways. It even pushes on to Menton, just before the Italian border, and into the interior. All of it delightful!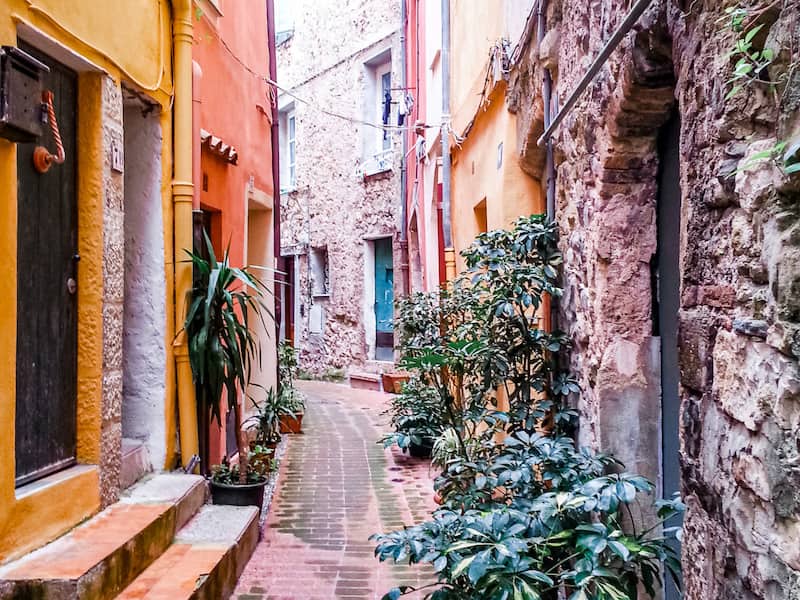 Side streets of old Menton, France
Eastern Riviera route
THE ROUTE: Nice > Menton > Monaco > Moustiers-Sainte-Marie > Nice

DISTANCE: 350 km

SUGGESTED NUMBER OF DAYS: This trip takes 5 days - 2 days for Nice, 1 day for Menton, 1 day for Monaco, and 1 day for Moustiers-Sainte-Marie. 
Top attractions along the Eastern Riviera
Promenade des Anglais in Nice
Of all the things to do in Nice, from exploring antique shops to discovering the Old Town, strolling down the 7km Promenade des Anglais is a classic that visitors have been enjoying for more than a century, making the Promenade one of the most famous streets in the world.
Place Massena in Nice
Place Massena is the heart of Nice, once a busy intersection, it now belongs to pedestrians who come to stroll, much as their Mediterranean ancestors did, in the shadow of a proud statue of Apollo. The place itself has been beautifully refreshed, its bright red buildings and yellow trim standing in contrast to its distinctive black and white checkerboard pavement tiles.
Old Town Menton
Menton is the seaside town you see on dreamy postcards, its golden and ochre and rust coloured houses edging uphill, facing the sea. You're a few minutes from the Italian border, and it feels like it. Stroll by the water, grab a gelato and head into the old town.
Les Gorge du Verdon/Lac Sainte Croix
The Gorge du Verdon is France's deepest canyon, cut by a river popular with kayakers and white-water rafters. Nearby, the delightful mountain village of Moustiers-Sainte-Marie is considered one of the most beautiful villages in France.
Monte Carlo Casino
Monaco is technically an independent country, but many of its affairs are run by France. The main city, Monte Carlo, is a highlight, with its glitz and extravagance, its port full of yachts, its luxury cars and casino, and the Palais du Prince.
Where to eat along the Riviera
Drop by the Restaurant Les Garçons in Nice, on a cute little street in Old Town. The menu changes seasonally and features dishes that are a mix of modern and traditional French cooking.
Where to stay 
The Palm Hotel in Nice is a lovely boutique hotel located in the heart of Nice, ideal for walking everywhere. There's a paying parking nearby, a luxury in parking-starved downtown Nice. For something slightly more affordable, cross the street in Monte Carlo into the French town of Beausoleil and book a hotel there.
Best time to visit the Riviera
April, early May or September-October. In February, the crowds descend for festivals in Nice and Menton, so expect traffic and high prices – the same goes for the height of the summer season.
—Submitted by Stephanie Rytting of theunknownenthusiast.com

Did you enjoy this article? I'd love if you shared it!