My choice of Annecy, Bordeaux and Lyon is incredibly subjective: I live near Lyon and Annecy, and go often to Bordeaux, so I know all three well. But France has so many stunning cities I could have chosen any other and still been right.
You can argue the fact until you're blue in the face – and you would be right.
Because France is blessed with a multitude of stunning cities, choosing just three is bound to leave out a dozen or so meritorious others.
No matter. We have to start somewhere.
I've already described most of our beautiful French cities in another article, but I wanted to choose the top three and delve into them a bit more.
SUMMARY: FRANCE'S 3 PRETTIEST CITIES
Annecy, for its arcades and mountainous lake setting
Bordeaux, for its architecture and innovation
Lyon, for its classicism and history
Please keep reading to find out why I chose these three cities.
  NOTE: Pages on this site may contain affiliate links, which bring in a small commission at no cost to you.
Annecy: they call it France's loveliest city
Visually, Annecy is one of France's most stunning cities. No one could ever deny this.
A stroll through the old town under the arcades and lunch at an outdoor café along one of the canals is proof enough. So are the overflowing flower pots positioned on every available window sill and bridge railing.
If that's not enough, the city's setting will leave you breathless: it is gently placed on the shores of a limpid blue lake, itself bordered by myriad medieval villages and castles and ringed by snow-capped mountains, which act as both shield and embrace.
And just in case you need even more, this is a city of food, whether affordable bistrot fare or, in winter, every possible type of Alpine cheese, whose aroma escapes from bubbling fondue pots to find its way along the cobblestones. In winter, just stand outside and let your sense of smell guide you.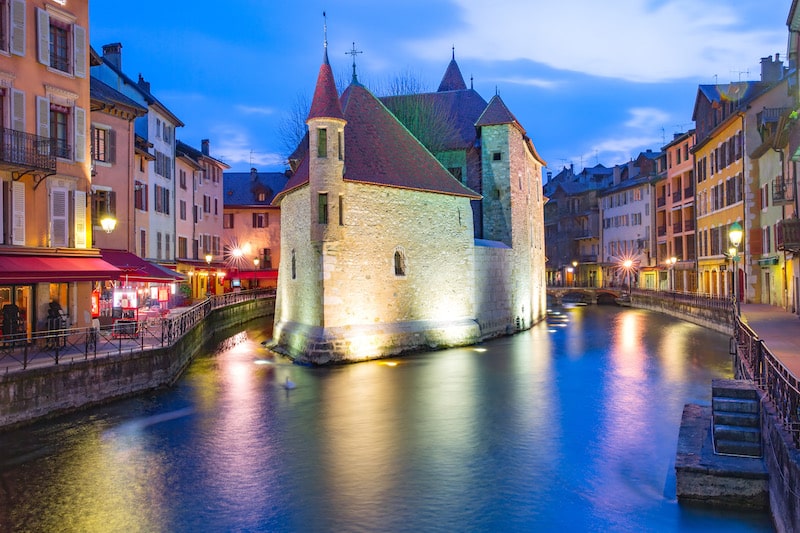 Annecy on a cold crispy day - beautiful whatever the season
Annecy: A heritage of rire and faith
People have been living in the Annecy area since at least 3000 BC and in Roman times it was known as Boutae, whose meaning or translation I have failed to find. But it wasn't until the Medieval era, around 1107, that the city proper was settled, the banks of the tiny Thiou River providing welcome transportation.
Annecy became the temporary capital of the Comté de Genève, when Geneva's count settled here and his family built the castle. Three centuries later, Annecy became the capital of Savoy, entering a period of alternating expansion and destruction.
At one point, the Bishop of Geneva fled the Protestant Reformation that was taking hold in his city. He moved his bishopric to Annecy, whose Catholic credentials flourished.
In 1860, not that long ago, Savoy became French and so it remains today, although a few diehards haven't yet accepted the annexation...
Secrets of the Château d'Annecy
Every French city has its castles and Annecy's is a 13th-century hilltop château. In its early days, it suffered a spate of fires and was finally abandoned in the 17th century, resuscitated during World War II as a barracks. It has now been restored and is one of the high historical points of a visit to this city.
You can't miss the Tour de la Reine, or Queen's Tower, a high dungeon with a thick wall protecting the southern, more vulnerable side of the castle.
And of course, there's a legend attached to it...
Annecy's castle, full of legends (by Kemper Boyd / CC BY-SA 3.0)
Before the castle was built, there was a fortress here, inhabited by King Lothario II, Charlemagne's great-grandson. The king, who had a seriously roving eye, married Princess Thibergia. Keen to put a stop to his wife's violent scenes of jealousy, Lothario hoped to rid himself of her.

But he was a pious sort so he settled on telling everyone she was insane and locked her up in the dungeon instead. Thibergia suffered from the cold and damp and might well have become insane were it not for the weekly visits of a compassionate chaplain.
One night, the kindly chaplain provided her with a ladder to escape from the dungeon and spirited her away with two of his monks to the Abbey at Talloires, a bit further along the lake.
Lothario, finding the tower guards unconscious, flung open the dungeon's door and to his horror, found it empty.
No one suspected the chaplain, and Lothario never heard from his wife again.
Today, the Abbey of Talloires has become a luxury hotel and gastronomic restaurant, with reservations required many months ahead of time. There is also a smaller, more casual brasserie you can enjoy without all the fuss but with plenty of the quality.
The pier at Talloires
Annecy's Bridge of Love
Ambling around the city towards the lake, you will at some point come upon the Pont des Amours, the Bridge of Love, which is every bit as romantic as its name implies.
The bridge may have once been a meeting place for lovers, back when there were few acceptable places for such an encounter. Or it may have got its name from the prostitution trade... No one really knows.
The one legend that does persist is that a couple who kisses on the Pont des Amours will stay together forever.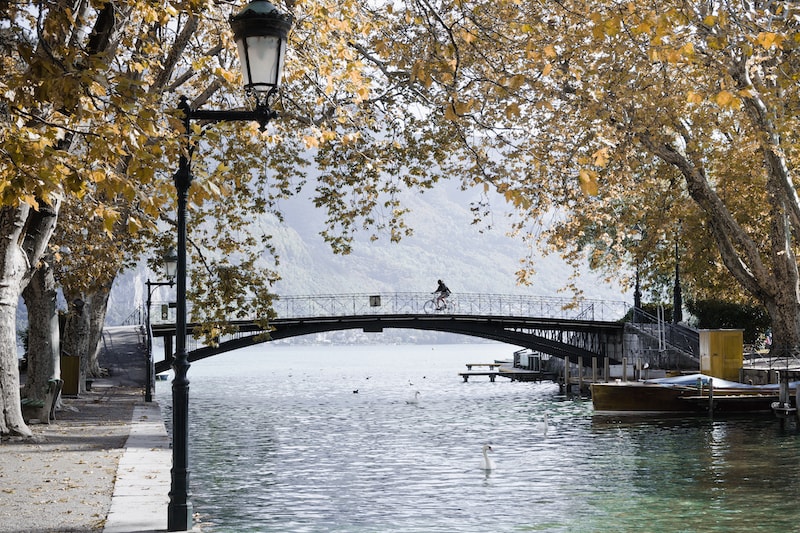 The lovely Bridge of Love, the Pont des Amours near the lake in Annecy
Boating across Lake Annecy
One of the greatest pleasures in this town is sailing to some of the small villages that dot its shores. You can either cruise across and back, or sail in the evening for a romantic meal. There's also a Navibus (the site is in French but look under 'Horaires' to see the timetable), a kind of boat-bus network that runs in summer to ferry you between villages. 
However you choose to sail across it, the lake is bound to be part of your Annecy visit.
But beware: as you skim across the lake's placid surface, you may not be aware of what lurks below.
In 1909, the lake's last paddleboat, the France, began ferrying passengers back and forth. It remained in service until the mid-1960s − bar an interruption during World War II, when it was used as a prison boat. Once retired, it was moored near downtown.
And then, one cold winter night in March 1971, the France capsized, and no one has ever understood why.

It might have been an accident, a sheet of ice forming inside the hold, its weight tearing a hole in the hull, allowing water to gush in.
Some people, however, believe it might have been sabotage, since the boat's owner had drowned while crossing over to the moored ship in his small craft the month before it sank.
Today, the remarkably well-preserved wreck lies 42m underwater and is a paradise for expert divers (beginners are banned because of the cold, the depth and the lack of visibility – and who knows, perhaps other reasons?) And while visiting Lake Annecy is a must, taking a deep dive into the darkness is not.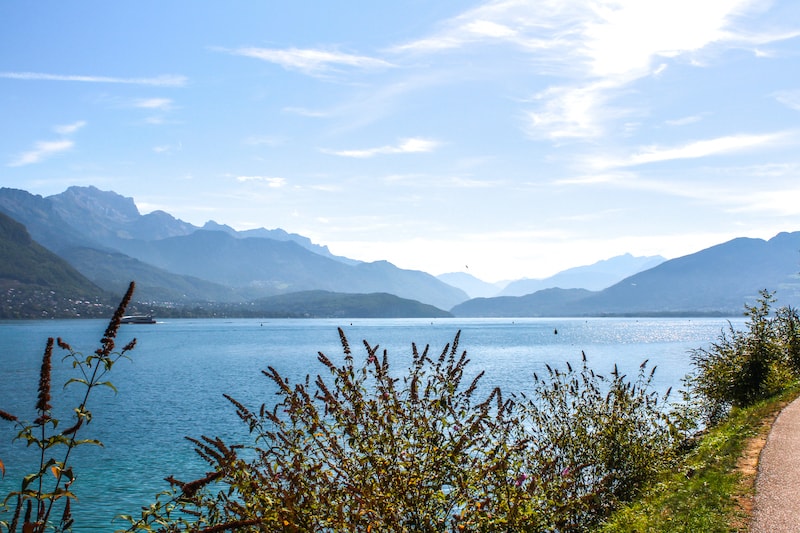 Two different views of Lake Annecy, gorgeous from every angle
The star-crossed lovers of Angon Beach
It's easy to believe in legends when it's cold outside and the fog rolls in,  but less so in the brightness of summer when tourists are splashing around the water. 
Along the lake is the small, peaceful Angon Beach, uncrowded and backed by a cliff. It is said that those who drown here are never to be found again, and it is the fault of the Lady of Angon.
Once upon a time, a Crusader stopped at a nearby château to ask for food and lodging. He fell in love with the chatelaine, Bernoline, but went off to fight the infidel. When he returned, he wedded his beloved and they lived happily every after... for two years.
One day Bernoline spotted a beautiful star in the sky and her husband, chivalrous knight that he was, went off to catch it for her. He rode for 100 days, until he met a mermaid who handed him the coveted star and told him his wife must receive it by nightfall, or die. So off he galloped, right into a terrible storm, getting lost and ending up on the wrong side of the lake.
A fisherman agreed to ferry him across but in exchange, ten years from now, he would claim the knight's very soul. The fisherman was the Devil in disguise but the knight, desperate to save his beloved, accepted.
He brought the star home to Bernoline and they lived happily for ten years but then, the Devil showed up to claim his prize. He offered Bernoline a deal: if she could recognize her husband among the people she crossed every day, the evil pact would be nullified. She accepted.
A few months later, a victorious Devil returned and claimed her husband had visited her at least a dozen times, wearing various disguises. She had failed to recognize him.

In despair, Bernoline threw herself off the Roc de Chère and from the depths of the lake, she would henceforth draw in anyone swimming here, thinking she recognized her husband.
Of course, it is only a story and shouldn't disturb your enjoyment of this lovely lake...
ROUNDUP: TOP THINGS TO DO IN ANNECY
Climb up the hill and visit the château
Stroll along the arcades and stop in a restaurant for a fondue
Rummage through antiques on the last Saturday of the month 
Sample regional specialties at the ancient food market under the arcades twice a week
Enjoy a pastry at Rigollot, named 'best pastry chef of France'
Take a boat ride across the lake or ride a bicycle along the bike path
Visit one of the nearby mountains for hiking or paragliding in summer or snow sports in winter
This map of Annecy will help you find your way
Bordeaux, from gritty to gorgeous
Like many French cities, Bordeaux has experienced a metamorphosis in recent years, from dark and gloomy tween to elegant and classical beauty.
A few short decades ago, Bordeaux was a city to be muddled through, its grimy buildings in serious need of a sandblast. It wasn't ugly (it had classical lines, graceful buildings and a harmonious layout) but it was... unkempt. Almost unloved.
Then, in the mid-1990s, Alain Juppé, a former Minister of Foreign Affairs, was elected mayor of Bordeaux and began the city's transformation. He had buildings cleaned and restored, opened up streets and squares, and inaugurated a state-of-the-art public transit network.
The result: Bordeaux now tops the lists of most liveable, or most attractive, or most beautiful cities in France. It consistently graces every list of top 10 places to visit in France and its core is protected by Unesco's World Heritage List as an outstanding architectural ensemble of the Enlightenment.
Bordeaux and its less recent past
The Romans built this city as Burdigala, and it isn't that difficult to imagine: streets would have been lined with majestic temples and arenas and the countryside would have produced wine so good it sat on the tables of Rome.
After the fall of Rome, in a twist of history, Bordeaux came under English rule (they loved the wine and promoted its trade) for three centuries after which, during the Renaissance, it became a hub of humanism, of renewed interest in Antiquity. Another notable mayor, writer Michel de Montaigne, guided the city through some of France's religious tumult and religious wars.
Bordeaux became a major port – oil and wine and metal... and slaves. Today, that grim past is reflected in a memorial in the Chartrons,  the city's former trading quarter.
The city was slowly modernized, its streets widened, grandiose squares leveled and classical buildings erected. Let's not forget that Baron Haussmann, tasked by Napoleon III with redefining Paris during the 19th century, had been based in Bordeaux as Prefect of the Gironde (the province in which Bordeaux is located). He was intimately familiar with that city's landscape and used it as inspiration for Paris.
Today, Bordeaux is the apple of every traveler's eye - but its attractions also conceal some intriguing backstories.
Bordeaux, capital of France
Yes, you read correctly. Bordeaux WAS the capital of France for a short while and not once, but at least twice (I have found a few references to a third stint but have yet to uncover the delightful details).
The first time was during the Franco-Prussian War in 1870, right after the fall of the Second Empire and Napoleon III's devastating loss at Sedan. Bordeaux briefly proclaimed itself France's capital as German troops marched on Tours (which itself had temporarily replaced Paris as the capital).
The second time Bordeaux became France's capital was during World War II, when the Nazis advanced on Paris and the government again moved to Bordeaux – and again from Tours, their initial point of retreat.
This did not, however, save the city from heavy bombing or Nazi occupation. During the war, Bordeaux became an important submarine base which today has been turned into an exhibition and concert venue. 

So no, Paris has not always been the capital of France, and Bordeaux has had several stabs, however brief, at the title.
The Miroir d'Eau, or Water Mirror
Since it was created in 2006, the Mirroir d'Eau has undeniably become one of Bordeaux's main draws. At 3450 square meters, it is the world's largest reflecting pool.
When the 'fountain' is on, it alternates between a shimmer of water and a fog effect. In summer, it is a much-loved gathering place, with water from 10 in the morning to 10 at night. In winter, it closes for maintenance so the pipes don't freeze. 
But underneath the massive fountain is... something else: a huge space that successively housed a series of underground hangars for maintenance vehicles, a bus depot, and eventually, a private parking lot.
Below ground is where all the machinery resides, including massive pumps that push water into a hundred tiny pipes under the granite. The water is then expelled into the air by 900 little injectors, causing the 'fog effect'. You'll also find a huge underground water reservoir of 700 cubic meters for the water to circulate.
Initially, the Place de la Bourse, which is what the square itself is called, was designed to showcase an equestrian statue of Louis XV, but the statue was brought down − as was royalty − by the French Revolution; Louis was replaced by a Freedom Tree, and eventually by a fountain, and then a second fountain, which is the one that stands there today, representing the daughters of Zeus.

The Pont de Pierre, also nnown as the Pont Napoléon
This is the bridge Napoleon built... sort of.
On his way to fight Spain, Napoleon and his troops were forced to cross the Garonne River on shaky wooden rowboats and barges, a precarious and not very pleasant experience. This not only delayed the war effort, but wasn't quite the grand entrance Napoleon was accustomed to making into a city.
The Garonne, which bisects Bordeaux, is a bit like the Rhône – mighty, roiling, with plenty of winds and flood. Throwing a bridge across it would be no easy task and had been contemplated even before Napoleon, only to be abandoned with a Gallic shrug and shaking of the arms.
It wasn't an easy build but finally, in 1822, the bridge was up, although Napoleon wouldn't live to see it, having died on the faraway island of Saint Helena the year before.

Locals, by the way, insist that the bridge's 17 arches reflect the 17 letters of Napoleon Bonaparte's name. Apparently not.
It would seem that the original design had 19 arches but two were eliminated for engineering reasons, not because of the Emperor's name...
The Fat Bell, aka La Grosse Cloche
The Grosse Cloche − Big Bell or Fat Bell − is one of Bordeaux's best-loved monuments.
It is one of France's oldest belfries, one of the few structures that dates back to the Middle Ages. It was even once a prison for misbehaving youth.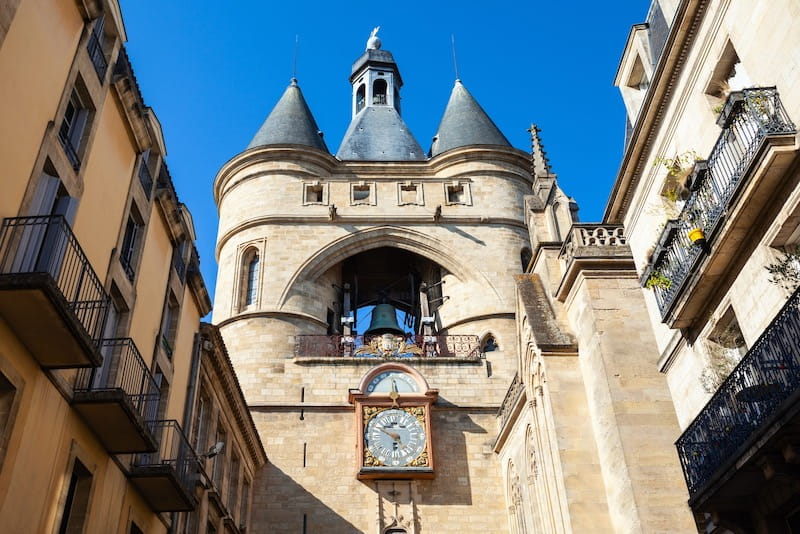 La Grosse Cloche of Bordeaux, affectionately nicknamed Armande-Louise
Long ago it was one of the main gateways into Bordeaux (and plenty of pilgrims came through on their way to St James). It was built in the 13th century over the remains of the Saint-Éloi gate.
The bell used to be much larger, with two sets of three towers and the city's first town hall.
Despite its present modest size, the bell weighs a massive 7750 kg and ringing it is no laughing matter. In the past, it warned the population of impending fires and signalled the start of the grape harvest. These days, it only rings a few times a year on special occasions, and on the first Sunday of the month (to the relief of locals whose windows and walls shake from the vibrations).
The Bordelais have always loved their bell and it is still part of their coat of arms. King Henri II once confiscated it for more than a decade as punishment when the townsfolk rose against him. But he gave it back.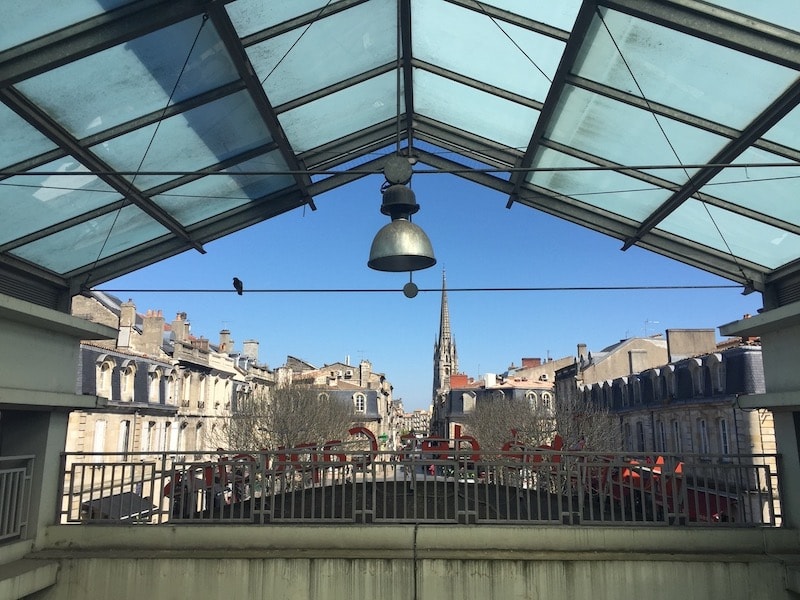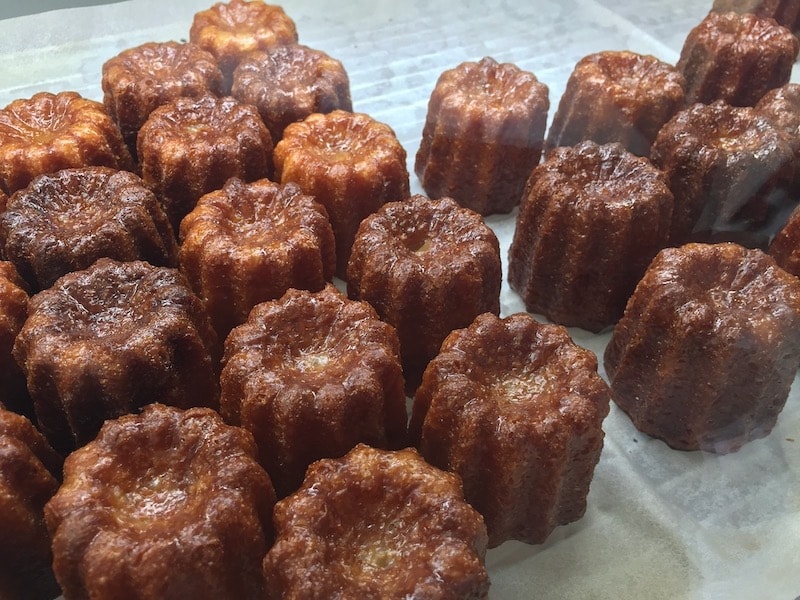 Above, the Marché des Capucins, or 'Capus', is a wonderful gathering place, whether to munch on empanadas from the stand near the entrance, pick up some Brillat-Savarin cheese stuffed with truffles, or grab a few local canelés on the run
The Grand Théâtre
This may be called the Grand Théâtre, but in fact it's an opera house.
Eighteenth-century Bordeaux had several theaters, but none was as magnificent as those of other cities and, well, Bordeaux deserved something equally grand.
The theater as you see it now, in the purest classical style, was built between 1773 and 1780, its 12 corinthian columns each topped by a different goddess or muse. (It is said that Charles Garnier may have been inspired by its stairwell for his own creation, the Paris opera house.)
Grand Théâtre of Bordeaux
The theater was almost torn down in 1833 but enjoyed a last-minute reprieve when it was converted into a banquet hall. Finally, three decades later, a decision was made to restore it to its former splendour and to undertake much-needed structural work.⠀⠀⠀
In a little curious aside, the building may have strong masonic overtones.
It was commissioned by a certain Richelieu, nephew of the cardinal of the same name – who happened to be a freemason. He hired architect Victor Louis, a fellow freemason, to build it. Funding was provided by a local freemason lodge.
Certain researchers claim the building is full of masonic symbols, which include its east-west orientation, the geometry of its façade, the cross-shaped decorative roses, the shape of its stairway, and the frieze of swastikas along the ramp and walls.
A statue of Victor Louis stands in an apparently masonic pose, his right hand on heart, with two fingers hidden.
While much of this is conjecture, what is obvious is the building's striking harmony and purity of design. As for the interior and its stunning painted cupola, we'll leave that for another time...

The Cité du Vin
Just as we call Lyon the world's gastronomic capital, we can claim Bordeaux is the wine capital of the world.
Its reputation comes from its world-famous vineyards, of course, but also from its newly (2016) minted wine museum, which uses sophisticated technology to educate visitors through its workshops, exhibitions and tastings.
The Cité du Vin in all its splendour, from above (Mamie Boude / Cité du Vin / XTU architects)
The building is famous for its design. According to Archello, the architectural website, the architects from XTU "designed a space shaped by symbols of identity: gnarled vine stock, wine swirling in a glass, eddies on the Garonne. Every detail of the architecture evokes wine's soul and liquid nature: 'seamless roundness, intangible and sensual'."
This was not a simple project to pull together – it took three years and required 9000 m3 of concrete and 574 individually unique arches to hold thousands of sheets of glass and aluminium for its soaring structure. 
Less esoterically, you could head straight for the wine shop, where more than 10,000 bottles from 70 countries are available for purchase.
To best experience both the design and the content, head to the top floor belvedere and lord it over Bordeaux with a 360° view (and some more wine).
The Palais Gallien
If you're keen on France's Roman ruins, wander over to the Palais Gallien, Bordeaux's only Gallo-Roman remains.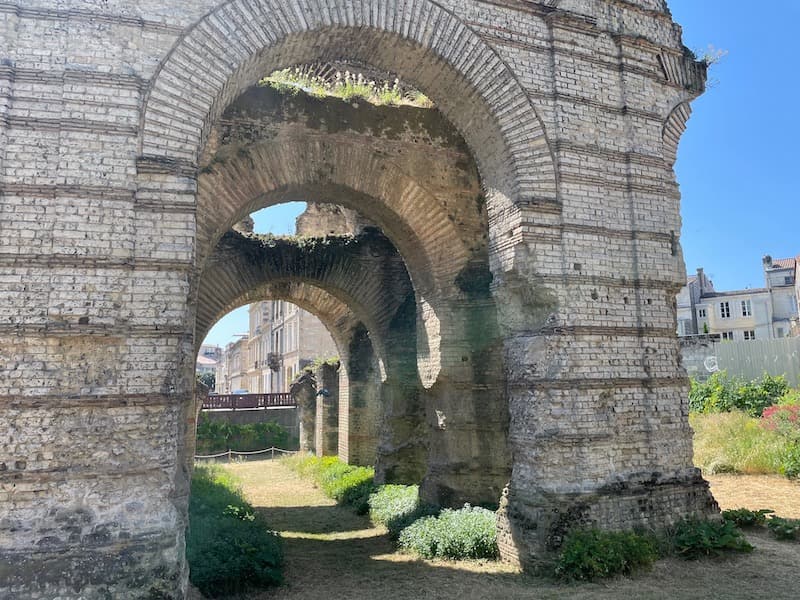 The Palais Gallien, Bordeaux's most significant Roman ruins
Not quite a palace despite its name, the setting was once a 22,000-spectator Roman amphitheater, where gladiators and wild animals fought to the death.
According to legend, during the Middle Ages, the site was inhabited by witches (and warlocks) who flew across the skies at night to take part in devil worship and other evil undertakings.
Later, during the Renaissance, rumours of a buried treasure attracted hunters, one of whom actually received permission to dig. He only found a few bits of broken pottery.
While the supernatural elements faded with time, the site maintained a dubious reputation right up until the French Revolution: this was a site of duels, a meeting place for prostitutes and the backdrop for illegal bull races.
Not far from the Palais Gallien, a monastery once stood on the "Rue Putoye" (whose name hinted clearly at prostitution). To keep its monks pure, the monastery apparently bought up all the houses on the street and renamed it a more saintly Rue Saint-Fort. True? Who knows.
 ROUNDUP: TOP THINGS TO DO IN BORDEAUX 
Visit the Cité du Vin
Splash around the Miroir d'Eau and get refreshed when it's hot outside
But first, grab your picnic at the Capucins Market
Drop by the Bassin des Lumières for a light show in a former submarine base

Explore street art in the Darwin Ecosystem
Climb the Flèche Saint-Michel for a panoramic view of the city

Stroll past the fishermen's shacks built on stilts at Bègle, along the shores of the Garonne
Go wine tasting at one of the local chateaux 
Take a drive down to the Bassin d'Arcachon for some oysters and beach time
This city guidebook for Bordeaux will help you get around
Here's what you can do in Bordeaux if you don't drink wine
Lyon, gastronomic capital of... the world
For the French, there's no arguing: the best cuisine in the world is French. And to many, Lyon has the best food in France. Extrapolate from that logic and Lyon becomes the world's foodie capital.
So inevitably, one of the main things you'll do in Lyon is EAT. (A good place to start is the Halles Paul Bocuse.)
Wonderful as the food might be, and I'll have to deal with that another day, it is impossible to see Lyon and not be swept away by its history, from the Romans to the silk workers to World War II.
Another much-loved Lyon sight: Louis XIV against the ferris wheel that graces Place Bellecour for 100 days each winter
Some 30 years ago, I visited Lyon and vowed I'd never return: people in the shops were rude and a few actually hostile. I sensed a city closed like an oyster and even less easy to pry open.
Fast forward a couple of decades and Lyon is unrecognizable: energetic, cultured, welcoming, ready to take its well-deserved place as a world-class metropolis.

Unveiling a warmer heart has finally allowed Lyon to show off its serene beauty, from its breathtaking panoramas to its architectural and cultural treasures – and its oddities, too.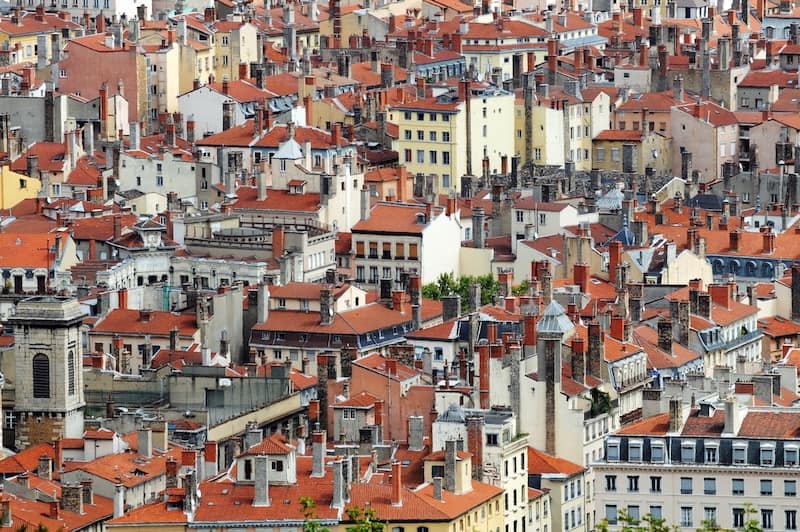 The rooftops of Lyon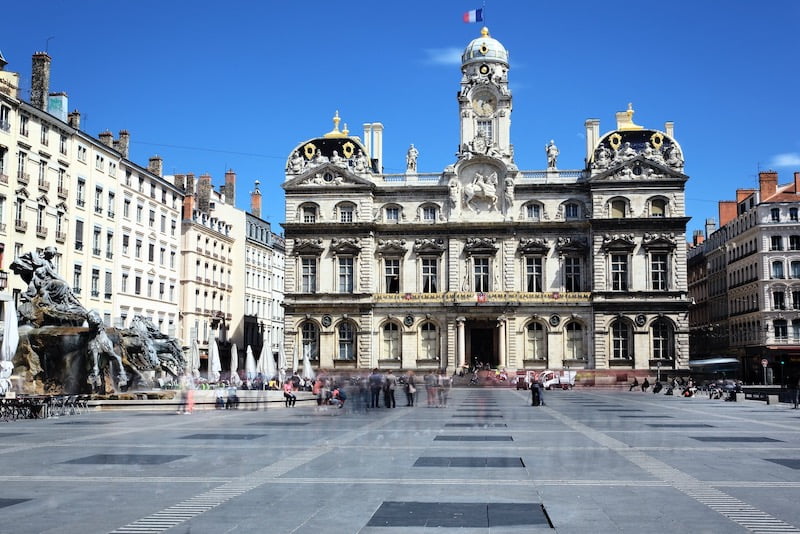 Lyon's Place des Terreaux and on the left, the famous fountain created by sculptor Frédéric Auguste Bartholdi (author of the Statue of Liberty). The fountain was originally commissioned by Bordeaux but the city, once confronted with the price tag, changed its mind, and Lyon stepped in to acquire it
The murals of Lyon
Lyon is home to some 200 massive mural paintings, many of them designed by local company CitéCréation and its artists. These murals can be gigantic, depicting entire slices of Lyonnais history, some of them so realistic you'll feel you're gazing at a snapshot of the city. They are a form of social art, designed to be accessible by all and to put Lyonnais in closer touch with their neighbourhoods.
Not only have they succeeded, but these murals are now an attraction on their own: you can spend a day doing nothing else but mural-hopping.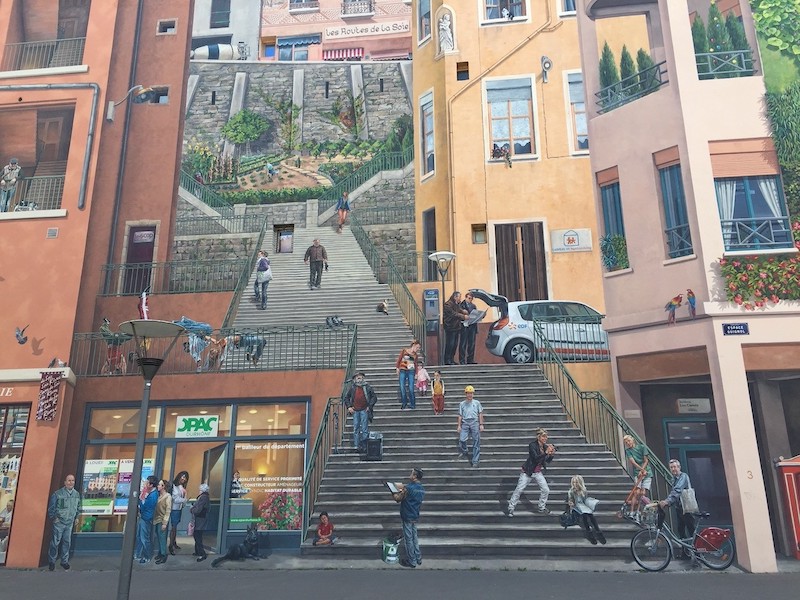 This is only a small portion of the Mur des Canuts (the entire fresco is many times this size)
Tumbling through the traboules
Lyon is also famous for the 400 or so traboules which weave their way throughout the city. These traboules were originally built to allow people living on the hills of Lyon to reach the river below with ease. In the Old City, streets are often parallel and getting from one to the next could mean huge detours. Cutting through a traboule makes eminent sense.
Later, when Lyon became the silk-weaving capital of France and workers had to trundle bolts of silk from the workshops on the Croix-Rousse hill down to the river, they used the traboules to protect their silks from the rain, scurrying down the hill yet staying mostly indoors.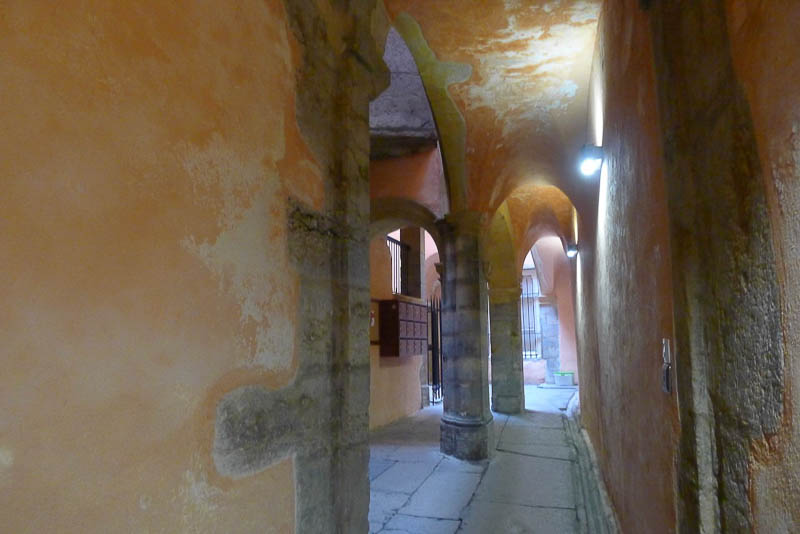 The traboules, only wide enough for one person in places, also played a role during World War II. Resistance fighters hid here from the Gestapo, and it is said the traboules were also used to leave secret messages and packages.

A few of these traboules are open to visitors but many of them are simply courtyards everyday people use to get into their homes. Even those open to visitors usually belong to a building, so being quiet is good practice. Sadly, many of the traboules are either blocked off or closed, which means we'll never get to see them all, but I've been through a good dozen, maybe more, and there's a definite medieval feeling to these dark, twisting corridors…
The Museum of Miniatures (I shrank the world!)
The Museum of Cinema and Miniatures was created in 2005 by Dan Ohlmann, a former woodworker and cabinet maker who loved Art Nouveau and started by creating a miniature replica of Maxim's restaurant in Paris. After traveling the world with his miniatures, he settled in Lyon and created this museum to house them, building more along the way.
Today, the museum's more than 100 miniatures include shops, libraries and restaurants, all painstakingly reproduced on a tiny scale that will leave you wondrous.
It actually combines two passions, the other being cinema. This is where you can explore some extraordinary special cinematic effects and see just how complicated it was to imitate life before the digital age. I won't unveil what you'll see but I guarantee you'll recognize some of the masks, costumes or props from movies past.
Confluence, museum and neighborhood
Lyon has a knack for reinventing itself. The old industrial quarter of Part-Dieu was modernized with a train station and the "incontournable" (unmissable?) Halles Paul Bocuse.
Its 21st century counterpart is what is now known as the Confluence, because this is where Lyon's two rivers, the Saône and the Rhône, meet.
This used to be a gritty neighbourhood, with wholesale markets, industrial plants, the river port and prisons. Architects from around the world pitched in to create a vibrant new neighbourhood of eye-popping design.
Also unique are the Confluence's eco-credentials: the area was developed with environmental principles in mind and is France's first fully sustainable neighbourhood, with state-of-the-art energy systems for homes and offices.
A foundational feature of this part of town is the Musée des Confluences, which I thoroughly enjoyed and which tells many stories of mankind... with a bit of a philosophical twist that seeks to provoke you into a healthy amount of thinking (I think it succeeds). It wasn't just pretty exhibits, although there are plenty of those as well. In a very French manner, it asks a lot of 'whys' and not just 'whats' and 'hows'.
The building itself, with its sweeping sheets of glass and metal, is spectacular (but you must love modern architecture!) as are the views. But it is not without controversy over cost overruns and over that favourite Gallic argument of old versus new. Of course some people hated the futuristic architecture, and others loved it. Like the much-maligned pyramid of the Louvre or the Centre Pompidou in Paris, people will undoubtedly get used to the museum and, probably, grow to love its soaring curves.
Make the effort to get yourself to this part of town and see for yourself.
The logo of the city of Lyon and the Confluences Museum behind it. The logo is designed to be open to the public, with everyone climbing it for a selfie
Fourvière on Fourvière
One of Lyon's most celebrated sights is the view you get from Fouvière Hill, right behind the basilica of the same name.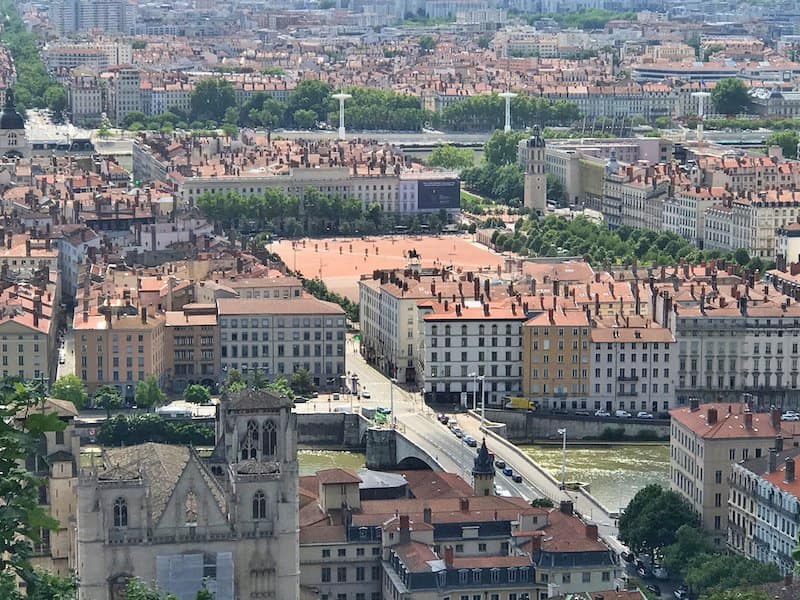 One of the best views of Lyon can be had from Fourvière, the hill on which the Basilica stands
The Basilique Notre-Dame de Fourvière is relatively new, dating back only to the end of the 19th century. It sits where an ancient forum once stood, built by Trajan on this spot. But all traces of the Forum vetus have disappeared, possibly because of a landslide sometime around the ninth century.
A chapel was then built here and rapidly attracted pilgrims, convinced prayers here had helped ward off a plague. Eventually, plans for a basilica were made, both to accommodate the growing number of pilgrims and to give thanks for having protected Lyon during the Franco-Prussian War.
You can reach it via a funicular or walk up – I take the funicular up and walk down.
You can see that to the right of the basilica is a metallic tower, similar to the Eiffel Tower but at 85 meters, much much smaller. For some reason, it is the object of many rumours.
According to one such rumour, it was built by Eiffel himself, but no, no such luck.
Another rumour says it is a republican monument designed to offset the religious construction next to it but no, not true either.
A final rumour is that it was originally designed to compete with the Eiffel Tower but that the city authorities either ran out of money or interest... and stopped short. Of all the implausible tales, this is the most implausible of all, but in France, every nook and cranny needs to tell a tale.
While the view of Lyon from up here is stunning, so is the interior of the Basilica.
Interior of Lyon Basilica Fourvière
This little corner is an eclectic mixture of byzantine, gothic, romanesque... and some would even say Moorish styles, and is not quite your standard interior of a Catholic church. (The main part of the church will look more familiar, with its colorful nave and ornate decor.)⠀⠀
That lady at the top of the stairs? The Angel of Wisdom.
And hidden behind some of the basilica's highest crosses are... FM radio station relay antennas.
 ROUNDUP: TOP THINGS TO DO IN LYON 
Wander around the old town, Vieux Lyon
Explore Croix-Rousse and its traboules, where silk workers once plied their trade
Climb up to Fourvière Basilica for the view and for the interior
Eat in a typical bouchon
Visit the ancient Roman theater ruins 
Ogle the incredible larger-than-life painted murals of Lyon
Enjoy some of the city's fantastic museums – Cofluences, Gadagne, Miniatures, Lumière
Time your visit in December for the Festival of Lights
Get around more easily with this guidebook to Lyon
Did you enjoy this article? I'd love if you shared it!