Wondering what to do in Annecy?
It's been voted the prettiest town in France, the best place to live, the most beautiful setting – all the kudos you can imagine.
I tend to agree, but then, I'm biased.
You see, I live 45 minutes from Annecy, so I often go there for shopping or a meal out. And what a lucky person I am!
Seeing Annecy is to fall in love with the town.
COMING TO FRANCE? THESE RESOURCES CAN HELP!
🏨 Accommodation - I rent hotels through booking.com
🚘 Car rentals - I use Discovercars, Europe's best car rental website
🚊 Train tickets - I book my train and bus tickets on Trainline
🚌 Day tours - I take day tours with Viator and GetYourGuide
Graceful bridges span slow-drifting canals and the tiny Thiou River, all framed by windowsills whose flowers tumble freely below. Throughout town, cobblestone streets are lined with ancient arcades, the old buildings they support silhouetted against the mountains and lake just beyond.

If you look up you'll spot high-flying paragliders drifting slowly towards the lake, skilfully landing in a nearby field.
Deciding what to do in Annecy won't be difficult: it's a small town − you can simply do it all. Or even do nothing, simply enjoying its beauty during a gentle stroll.
One of the many glorious views of Lake Annecy (Europe's cleanest lake) ©SavoieMontBlanc-Mari
If you happen to be in the Swiss city of Geneva, Annecy can be seen on a day trip or even a half-day trip if that's all the time you have.
If you have a bit more time or you're coming from elsewhere, I have some transportation options at the bottom of this article.
Annecy's turbulent history
Like in many French cities, there's something Roman around the corner.
In the case of Annecy, traces of civilization date back to 3100 BCE, with the town evolving into the medieval Annecy we know and love today.
When the château's first stone was laid in the 12th century, the city was called Annecy-the-new, to differentiate it from Annecy-le-Vieux, or Annecy-the-old, a Gallo-Roman settlement on the hill above the city and which still carries that name. This is confusing, as visitors see the name 'old' and head for what they think is Annecy Old Town, or Vieille Ville.
It's not.
Between the building of the château and the 15th century, Annecy was razed several times by fire, so what we see today is "only" five or six centuries old.
Modern, almost.
Being close to Switzerland made Annecy a refuge for Catholics fleeing the Protestant Reformation in Geneva and earning it the nickname "Rome of France". Even philosopher Jean-Jacques Rousseau called it home for a while, but for no particular religious reason.
Today, Annecy is the capital of the Haute-Savoie, having finally joined France in 1860. That may have been 150 years ago, but a hard-core nucleus of Savoy separatists still haven't accepted 'French rule' and believe the region should be a sovereign country.
In fact, the bridge in my own village of Seyssel (which spans two provinces, the Haute-Savoie and the Ain) is often bisected by a 'border' of white paint, with the words "Savoie" on one side and "France" on the other.
Annecy may be France's prettiest town, but it's still far off the tourist trail for foreigners (except the Swiss, who have always visited). It wasn't even a dot on the tourist map until the steam train arrived in the mid-19th century. What was once the 'end of France' is today a quick half-hour drive from Geneva over a scenic and dizzyingly high motorway.
6 best things to do in Annecy
Most things to see in Annecy are within walking distance, which makes things easier. Most of them are also in the Old Town, a smallish area that is easy (and delightful) to explore on foot.
Here's what I suggest, if you want to get the most out of this town.
1. Amble around the streets of old Annecy
The streets of Annecy are made for walking, and if you pick your place in the Old Town, you may feel you're back in medieval times, where little has changed in centuries.
This is by far one of the most enjoyable things to do in Annecy. If you do nothing else in this town, walking around will already fill you with wonder.
And along the way, you'll find plenty to see − the Jardins de l'Europe (Gardens of Europe), the many churches and shops, everything around you because Annecy is truly a feast for the eyes.
2. Rummage around Annecy market
It's impossible to stroll beneath Annecy's arcades and not be taken in by the romance. But it can get even better.
On Tuesdays and Fridays, a market sets up its stalls along the old town's arcades and you get the added benefit of local produce and regional specialties.
On the last Saturday of the month, a wonderful brocante, or flea market, takes places under the arcades. Prices aren't particularly low, but then, the setting is stunning.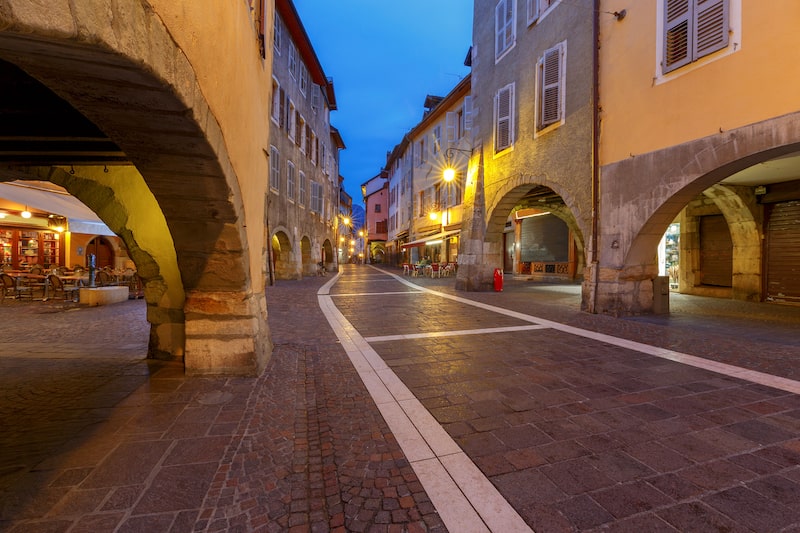 Annecy arcades at night, after the visitors have gone
3. Visit the Palais de l'Ile
The most iconic sight of Annecy is the Palais de l'Ile, an ancient 12th-century fortress whose triangular walls jut out into the Thiou River. Of course that's the part you see, but the building stretches out behind, as you might expect for a building that was once a prison and a mint (not at the same time). It was also a courthouse and the site of administrative buildings.
It had additional uses, becoming an art school for stonemasons, with a gym and lodgings. At one point, towards the end of the 19th century, authorities considered tearing it down and replacing it with municipal baths, but that idea was abandoned when some notables took offense and instead, got the building classified as a historical monument.
As for the prison, it hasn't gone away − you can still visit the old cells and chapel.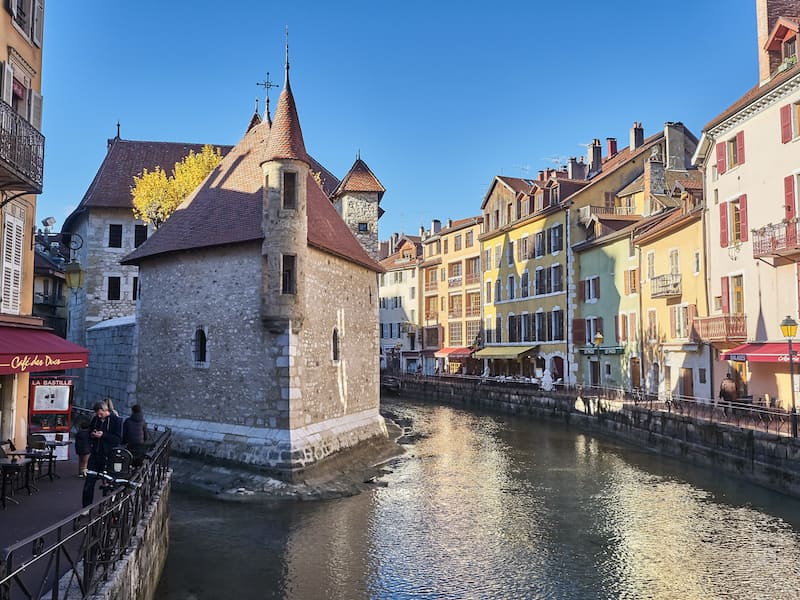 4. Stroll across the Pont des Amours
The Pont des Amours, which translates as Lovers' Bridge, is today a light, airy metal span from which you can enjoy two beautiful views: to one side, Annecy Canal and the gentle rows of boats along its edge; to the other side, a stunning panorama of Lake Annecy and the Alps beyond all the way to Mont Blanc.
Legend has it that anyone who kisses while on the bridge will stay together for life.
But there's another legend: this one traces its name back to a time when prostitutes used to work on the bridge.
No matter, it's a lovely spot and it's clear love does have something to do with it.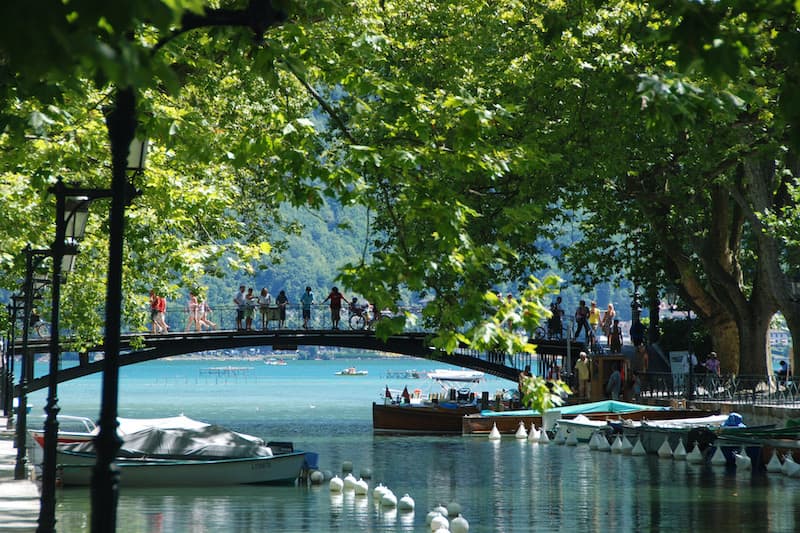 Pont des Amours in Annecy - named after love ©SavoieMontBlanc-Chabance
5. Relive history through Annecy Castle
One of the things to see in Annecy is the 12th-century fortress which sits at the top of the old town − and is well worth the climb. It's a rather severe fortress but harmonious in its proportions.
It was once the residence of the counts of Geneva and is now the Museum of Popular Alpine Art, with collections that include antique furniture, historical photographs and chalet scale models.
The castle also contains an observatory, whose exhibits display the region's natural resources.
Annecy Castle in all its glory ©SavoieMontBlanc-Chabance
6. Picnic on the Pâquier
The best way to describe Le Pâquier is as a huge lawn and garden that ends at the lake and opens up on stunning mountain views − but it started out as a giant pasture.
You'll find paths, bridges, and activities of every sort: family outings, dogs frolicking, kids learning to ride bikes, water sports and swimming... 
Grab your picnic food and head straight here with a blanket or towel, and enjoy the sun and conviviality.
Top things to do in Annecy Lake
Lakes are perfect for outdoor activities and this one is particularly wonderful for the outdoors (and a few indoor ones, too). Here are some fun Lake Annecy activities
If you have the time or if you have a car (you can rent one here), take a drive around the lake and stop everywhere you can − it's that beautiful. Most people drive counter-clockwise − but I prefer the view going the other way.
Stop in Talloires for coffee, then head up to the Col de la Forclaz and have lunch in one of the mountaintop restaurants. Walk it off by heading uphill to watch the paragliders jump off the mountain. Then continue your drive.
Driving in France is a wonderful experience once you get off the motorways − you'll have little traffic and excellent roads. But if you're a bit nervous about renting a car in France, here's everything you need to know.
We also have some driving peculiarities and you should at least be aware of them before you sit behind the steeting wheel (you'll find tips on driving in France here).
© C. Max
There are plenty of other ways to visit the lake. There's a cycling path all the way to the end of the lake, and you can return along the opposite shore (harder and hillier). Or you can simply walk, and enjoy the mountain scenery as you do.
Those of you who want active sports can go paragliding or climbing close to Annecy, or head for one of the lake's wonderful beaches. The lake is perfect for nautical activities, from taking a passenger boat to renting a pedalo, paddleboard or a sailboat.
Annecy hikes are also popular and you can have your pick of the surrounding mountains, like the Semnoz or Mounts Veyrier or Tournette.
Or if you'd like something outdoorsy but different, why not a Segway tour of Annecy?
Taking a day trip from Annecy
Following the contours of Lake Annecy is an obvious day trip during your Annecy holiday but there are plenty of others.
Day trips from Annecy if you have a car
Here are four perfect day trips from Annecy by car:
Lyon is a stunning town, with a history of silk weaving and fabulous murals (and brilliant food). I've placed this here because the road trip to Lyon is well under two hours, whereas the train or the bus are both longer, and not that frequent.
You could drive to Chamonix, that lovely town at the foot of Mont-Blanc, ideal for skiing in winter and hiking in summer.
Or, if you're heading towards Lyon, another stunning village on the list is the fortified hilltop hamlet of Perouges.
Speaking of Geneva, Switzerland is only half an hour's drive from Annecy so if you're using Annecy as your base, you can easily drive into over the border and explore for the day.
Day trips from Annecy if you're using public transportation
But what if you don't have a car? Does that limit you to the city?
Not at all.
An hour's bus or train ride from Annecy is the charming city of Aix-les-Bains, a remnant of the Belle Epoque, with buildings that haven't been retouched since Queen Victoria swung by.
Chambéry is the historical capital of Savoy and well worth a visit. It's not far from Annecy, less than an hour by train.
Once you're in Chambéry, you'll be halfway to Grenoble, a lovely city in yet another spectacular setting, which you can also reach by bus or train.
Eating in Annecy
One of the attractions of Annecy is the food scene, but you'd better like cheese...
If you're visiting in winter, you can't leave town without eating a cheese fondue or a tartiflette, a popular cheese and potato dish. Whenever I feel like either of these, I head for Le Freti or L'Etage, both equally delicious for everything Alpine cheese.
If you're in the mood for something more classical, try L'Autentic, and when you're finished with all that eating, stroll under the arcades and stop for an ice cream − there are at least half a dozen one next to the other (I usually stop at the Glacier des Alpes but others are equally good).
If you'd rather grab some food and head for a picnic at the Paquier by the lake, you can start by picking up your basic goodies at Pauvert in the Old Town, then to the cheese shop of Pierre Gay (who has achieved the elite status of Meilleur Ouvrier de France, or Best French Workmanship), and finally, for dessert, you'll want a pastry from Rigollot, voted best pastry chef in the world in 2005.
Map of Annecy, France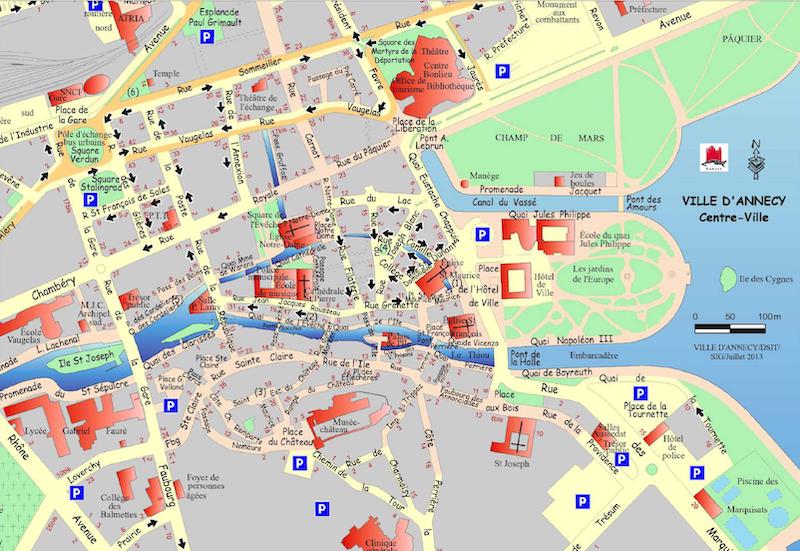 Map courtesy of AnnecyVille.fr
Things to do in Annecy in winter
While summer brings out the flower boxes and throngs of tourists, winter is also a brilliant season to visit Annecy.
If you're here close to Christmas, the city has a growing Christmas market that becomes more charming with every year.
There's also plenty of skiing around Annecy, at La Clusaz and the Grand Bornand but also a little further afield, in Chamonix.
Just as glorious in winter (Photo Ch.Molitor)
How to get to Annecy
There are airports near Annecy but that's not necessarily the best way to get here.
If you must take the plane, fly into Geneva. From the airport, you can take a bus directly to Annecy from Geneva airport.
The train is also a good option. It's a four-hour ride from Paris, and much less from nearby regional cities like Lyon or Grenoble. Check the national railway schedule here.
A third choice would be to drive. I love taking road trips in France and while you won't need a car in Annecy proper, you would need one to drive around the lake or visit the nearby mountains. You can compare car rental prices here.
Places to stay: Annecy hotels
You'll have plenty of choice in Annecy: it's a much-loved city and many people come to visit, so you'll have plenty of choice.
The top hotel in Annecy is the Imperial Palace, right on the edge of the lake. A top-notch "palace" worthy of its price point.
If you'd rather be in the heart of town, Les Loges are luxury self-catering apartments with a modern touch in a lovely traditional building.
For mid-range Annecy hotels, there's even more choice. Le Splendid sits along one of the town's canals; the Hotel du Chateau is right next to the castle − gorgeous views but an uphill walk; and you won't get a better location than the Hotel du Palais de l'Ile.
And for a bargain, try the Ibis Centre, right on the edge of the Old Town; Hotel des Alpes, cosy and clean in the Old Town; outside the center, if you're looking for a dog-friendly hotel with its own parking, try the Ace Hotel.
Annecy FAQ
Annecy in summer allows you to enjoy all the summer sports of the lake − and the throngs. In September and October, the crowds will be gone but the sun will still be high. Winter is time for skiing, and March is Carnival time. So there are plenty of choices!
If you only have one day, you can still manage to see the best tourist attractions and natural sights: you can spend the morning and early afternoon touring the lake (with lunch in-between), with the late afternoon and evening in Annecy, after the crowds have left. Two days in Annecy would be better but you can see Annecy in a day.
Pin these and save for later!
Did you enjoy this article? I'd love if you shared it!