One of my best friends lives in Southwest France and on my last visit, I took advantage to visit the region and followed this French Basque country itinerary.
Building a French Basque country itinerary can be confusing. After all, when we hear 'Basque Country', don't we usually think of Spain?
Not today. This article is about the 'other' Basque country, across the border: the French Basque country, or the Pays Basque France, without a doubt on my list of the top 10 places to visit in France.
  NOTE: Pages on this site may contain affiliate links, which bring in a small commission at no cost to you.
True, the Basque country was once a more or less single entity, occupied in turn by the Romans, Vandals, Visigoths and Arabs...
But in 1512 the Basque country was split in two along the French-Spanish border, with three provinces allotted to the French side and four to Spain. For many years, the Basques in France and in Spain would fight for their independence, but as you can see today, those efforts did not succeed.
That said, the Basques remain a proud people, many of whom cringe when you call them French or Spanish (but welcome you with open arms nonetheless).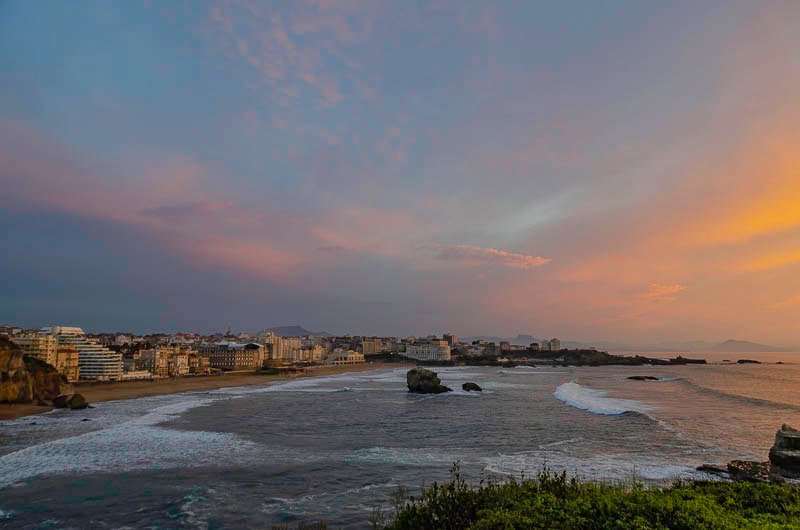 Spectacular Biarritz at sunset
To make things easy for you, I've mapped out a one-week tour of the French Basque country (along with suggestions for shorter visits) and while I'm including all the major sites, I'll also include some of the more offbeat or unusual backstories and a few Basque legends, just to give you a real feel for this region. 
The Basque country of France is also a place filled with tradition, where old arts and handicrafts are still respected and nurtured. Here are 7 Basque products that are still made by hand.
This itinerary in the Basque country France is for...
Lovers of great food, mountains, beaches, cultural diversity, seashore, Art Deco, stunning views, art galleries, unchanged rural villages, offbeat sports and legends, Basque history and ancient traditions.
While this is a one-week French road trip itinerary, you can easily stretch it to fill two weeks by spending more time in places we're rushing through or by extending your trip to Spain just over the border. You can also tour the Basque country for as little as a weekend if that's all you can manage.
The best time to tour the basque country is June and September, without the crowds and the rain. But it's not the only time.
The shoulder season brings a little more risk of rain and a few additional tourists, but the benefits outweigh the risks, at least for me.
Last time I visited was in March, so anything can happen. It was sunny the entire week, with about half an hour of rain. That's not normal, but it goes to show you can never tell!
5 perfect itineraries for your France Basque country road trip
French Basque country map
France's Basque region — or Pays Basque, as it is known in French — has three provinces: Labourd (which is the gorgeous coastal area and vicinity), Basse-Navarre and Soule, both of which are in the spectacular Pyrénées mountain range.
The itineraries below focus on Labourd, with a bit of a push into the Basse-Navarre for the longer itineraries. Going further afield would require more time.
When planning a trip to Basque country, bear in mind that if you stick to the coast, you can do it all with public transportation. If you visit the interior, you'll need a car (and should definitely brush up on your French driving etiquette).
What I propose below will already give you an in-depth taste of urban architecture, gastronomy, natural beauty and mountain life, all in a short few days, ranging from a weekend to a week.
One week in France's Basque country
Day 1: Bayonne (night in Bayonne)
Day 2: Drive to Biarritz with a quick stop in Anglet (night in Biarritz)
Day 3: Drive to St Jean-de-Luz with a side trip to Lartigue 1910, then to the Chateau d'Urtubie (spend the night)
Day 4: Visit the Basque interior: Ascain, La Rhune, Sare (spend the night)
Day 5: Visit more of the interior: Ainhoa, Espelette to Saint-Jean-Pied-de-Port (spend the night)
Day 6: Spend the day in the Vallée des Aldudes (via St Etienne de Baigorry) and return to Saint-Jean-Pied-de-Port (spend the night in the mountains or return Saint-Jean-Pied-de-Port).
Day 7: Back to Bayonne via La Bastide-Clairence 

5 days in the Basque region of France
Day 1: Bayonne (night in Bayonne)
Day 2: Drive to Biarritz with a quick stop in Anglet (night in Biarritz)
Day 3: Drive to St Jean-de-Luz with a side trip to Lartigue 1910, then to the Chateau d'Urtubie (spend the night)
Day 4: Visit the Basque interior: Ascain, La Rhune, Sare (spend the night)
Day 5: Visit more of the interior: Ainhoa, Espelette to Saint-Jean-Pied-de-Port (spend the night)

4 days in France Basque country
Day 1: Bayonne (night in Bayonne)
Day 2: Drive to Biarritz with a quick stop in Anglet (night in Biarritz)
Day 3: Drive to St Jean-de-Luz with a side trip to Lartigue 1910, then to the Chateau d'Urtubie (spend the night)
Day 4: Visit the Basque interior: Ascain, Ainhoa, La Rhune, Sare, Espelette

3 days in the French Basque region
Day 1: Biarritz with a quick stop in Anglet 
Day 2: St Jean-de-Luz and Hendaye 
Day 3: the Basque interior: Ascain, Ainhoa, La Rhune, Sare, Espelette

A weekend in Basque country of France - the French Basque coast
Day 1: Biarritz
Day 2: Saint-Jean-de-Luz
Highlights of the French Basque country
 Bayonne - for foodies and lovers of all things Basque
Bayonne is the capital of this part of the Basque country and the perfect jumping off point for both for the coast and the interior. Basically this is the gateway to the Basque lands.
You'll find plenty to do here, whether you're looking for serious church architecture (Ste Marie Cathedral) or simply want to sit in a café or walk around the Port-Neuf pedestrian area.
But there are some things you MUST do in Bayonne...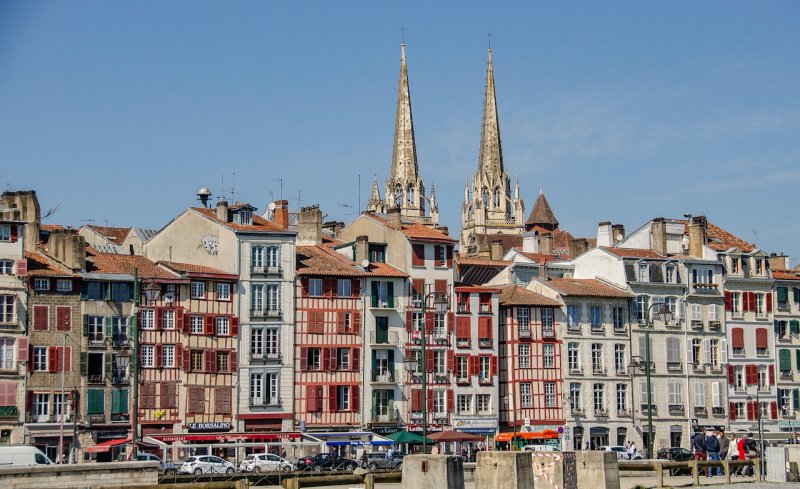 The delightful architecture of old Bayonne
Unravel the complicated history of the French Basque people
This you can do by visiting the historical Basque Museum, where you'll learn at least the basics:
that France has three of the seven Basque provinces (the other four are in Spain)

that at the height of the Basque independence movement Spaniards escaped the authorities by slipping over the border into France

that (like their Spanish counterparts) the Basque French have their own traditional language whose origins are unknown.
Understanding some of this background will set the foundations for your trip and give depth to the rest of your Basque tour.
The important stuff: Are you a chocolate lover?
I ask because you cannot come to Bayonne and ignore all of the chocolate, typical – along with Bayonne ham – of French Basque food.
Bayonne is where chocolate was first spotted in France, at a 17th-century wedding, no less, between Louis XIII and Anne of Austria (who was actually from Spain, despite her name).
It must have hit the spot because next thing you know, chocolate was being consumed at Louis XIV's court at Versailles.
Bayonne took the beverage to its heart and by the 18th century anyone who could afford it had a chocolatière, or chocolate-making machine. 

Today, this has translated into innumerable chocolate shops, my favourite being Cazenave, with a hot chocolate to die for.
But don't leave it at that: visit the Chocolate Museum (it just happens to be inside a chocolate shop and manufacturer) and if you happen to be here the first weekend in November, there's a chocolate festival!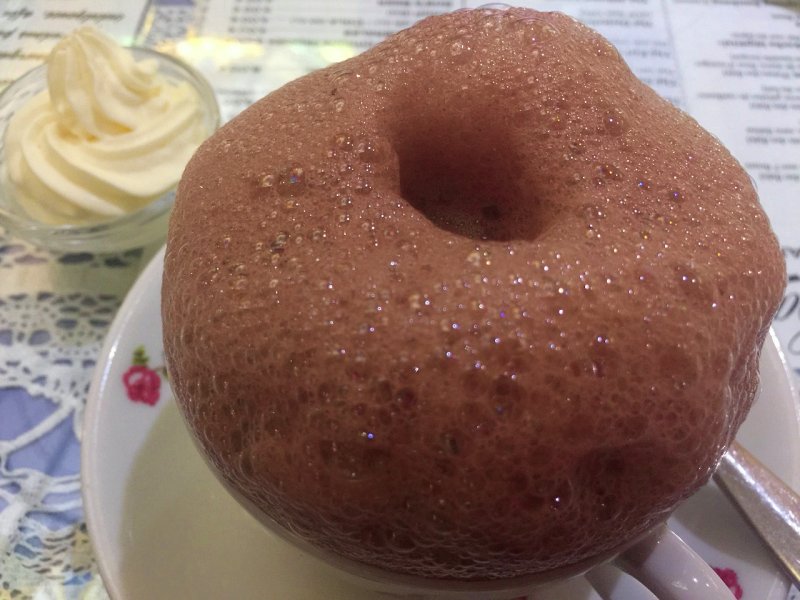 The famous hot chocolate at Cazenave in Bayonne

 Anglet - beach time (and art!)
Anglet is the perfect seaside surf town, with its 11 beaches and it's cool pine forest for respite from the summer heat.
But that's not really why I've brought you here.
The reason you are here is to visit what is possibly the best little art gallery in France. Hidden in an industrial warehouse and not particularly well signposted, Art Traffik is the brainchild of Laurent Jeanniard, a former marketing guru turned into what he calls "art trafficker".
Art-Traffik, my favourite big little art gallery in France
His vision is one of accessibility, a community gallery where everyone will feel at home (you get that the moment you walk in and are greeted like royalty, and walk past a large bar that looks like someone's living room). Art galleries can be snobbish places, where you may get "the sideways glance" if you happen to have left your Dior purse or Hermes scarf  at home.

Not here. Here, what counts is the art. 
It's affordable, it's modern, and Laurent has so many innovative ideas — a buy-back plan, for example — you just want to curl up into one of the sofas with a cup of coffee and listen. 

 Biarritz, for that sharp intake of breath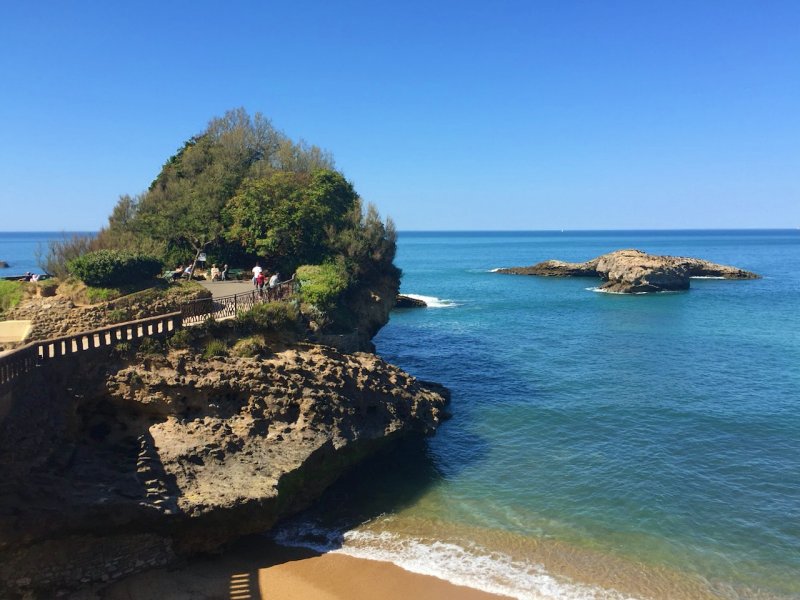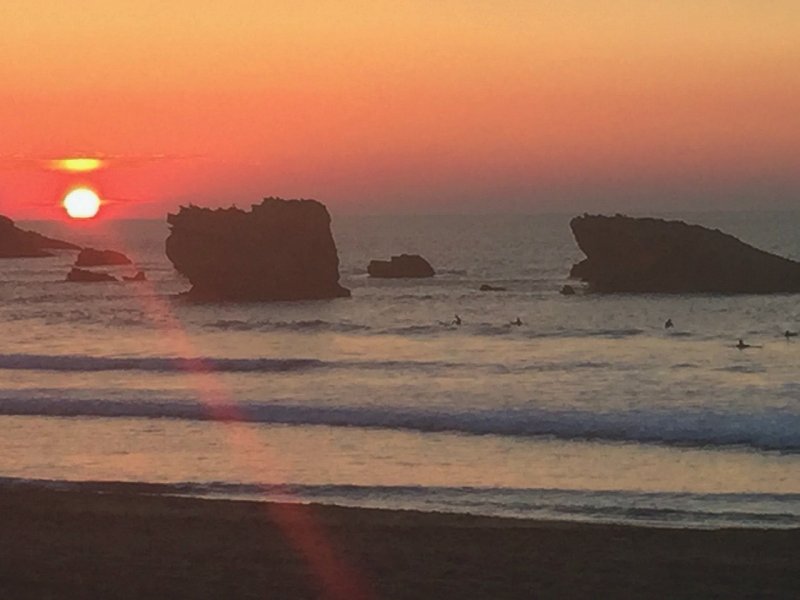 Biarritz is stunning from every angle, at every hour
Biarritz may at times compete with Bayonne for the Basque limelight, but the two cities couldn't be more different.
Biarritz happens to be Europe's surfing capital, and was put on the map by Empress Eugénie, Napoleon III's wife, who loved it here and visited each summer. Of course everyone else followed the Empress, as one does, and so the city flourished.
Today's vibe is cosmopolitan – elderly ladies with pearl necklaces rub shoulders with barefoot surfer dudes. This is precisely the charm of this town.
Nighttime at the Biarritz lighthouse
You could just walk along the waterfront and gaze at the city's beauty. Or you could look more closely at the view from the lighthouse or explore the Art Deco architecture, which towers everywhere.
The historical villas of Biarritz
What I love about Biarritz are the sumptuous villas, which you can only see from the outside, I'm afraid.
The Tourist Office has a villa tour, or you can start at what is now the Hotel du Palais, where Empress Eugénie's summer residence stood before it was destroyed by fire (the hotel was built to resemble the former villa). Just keep walking westward along the Avenue de l'Impératrice, above the main beach, the Grande Plage.
You'll eventually reach the small fishing port of Port-Vieux, which was one Biarritz's main port until the city outgrew it.
Look out to sea, a bit to the right, and you'll spot the Virgin's Rock, joined to the mainland by a bridge built by Napoleon III. His was of wood and has since been upgraded to a metal walkway, which many believe was built by the Eiffel workshops. The truth on this is still not clear.
Now turn around and look towards land, to your left.
The renowned Villa Belza, with all its histories
Welcome to the Villa Belza, a house bursting with legends and stories.
The stories date back to 1825 when Biarritz sold off the land, but it took until 1882 for someone to actually build on it: an unusual house with turrets and towers.

Villa Belza could be straight out of a fairy tale, which is maybe why witches and ghouls have long been associated with the place. Because it is so unusual, it has often been used as a movie set. Other incarnations include stints as a luxurious Russian restaurant, a cabaret, a condo... and twice, a stack of embers after fires broke out.
Still, it found a rich Parisian buyer and today, the villa is proudly renovated — and has become an expensive condominium.
You could stop your wander here and head back to town but if you keep walking, you'll end up at the Plage de la Côte des Basques, where surfing made its first appearance.
I'd time my walk (here or on any Biarritz beach) for sunset, because you'll get stunning views over the sea as the sun slowly slips away, followed by the city's lights which shimmer against the water for a fairy-like scene.
Pintxos, markets and lunch (food, food and food)
Pintxos are the Basque version of tapas. Take what would normally be a tapa, sit it on a thin diagonal slice of baguette and stick a toothpick through it, and you have a pintxo. That may be a bit simplistic, any Basque would hurry to tell you, because of course there are certain ingredients and combinations you'll only find here.
No matter. Just head for Les Halles, the city's covered market. You can buy what you need here for a beach picnic, but if you'd like to try some pintxos, stop off at one of the many restaurants that surround the square.
While the city has a strong French vibe, remember you're only a few minutes from Spain, the borders loosened not only by a common Basque culture but also by the EU. 

 Saint-Jean-de-Luz, the perfect fishing village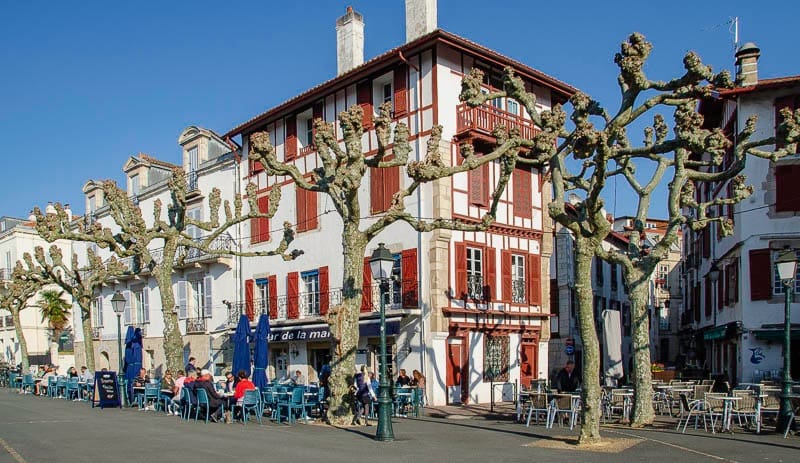 Even in winter, the center of Saint-Jean-de-Luz is graceful
Unlike the sophisticated Biarritz, Saint-Jean-de-Luz has retained the fishing village atmosphere it was clothed in centuries ago when it sent whaling boats to fish off the coast of Newfoundland. And while local fishing continues (albeit on a vastly smaller scale) that doesn't stop wealthy Parisians from rushing down here at the first hint of summer to soak up the magic. 
Just walk around and imbibe the charm of a town that combines beach, fishing village and history.  Enjoy the beach because the sea walls built by Napoleon III keep the waters calm. Wander over to Ciboure, its little neighbour on the other side of the port and if you're up to it, walk along the coast trail either towards Hendaye or Bidart, with beautiful views either way.
For your sweet tooth
You'll need to indulge in all that walking around because of the Basque sweets you'll have eaten. Trust me on this.
Head to Pariès on the rue Gambetta for the best muxu, their personal version of a macaron. It apparently resulted from an error; the pastry chef was trying to make a traditional macaron but added too much almond and not enough sugar... and because both of these were expensive and rare, he worked the dough until it rose and he could turn it into a biscuit. It looked like two mouths kissing and since muxu means kiss in Basque... There you have it.
They also make kanouga, a sweet which originated here, a sort of very more-ish fudge — be forewarned: if you buy a packet, it will be gone by the time you get down the street.
Now, if you haven't had your gateau basque yet, or basque cake, have it here because unlike most other shops, they have a chocolate version.
But I'd like to get back to the Basque macaron for a moment, because there is such a thing. It was created in 1660 by the Maison Adam (also on the rue Gambetta) in honour of Louis XIV's wedding. The recipe, by the way, hasn't changed, and what we bite into today is exactly what was served at that royal wedding.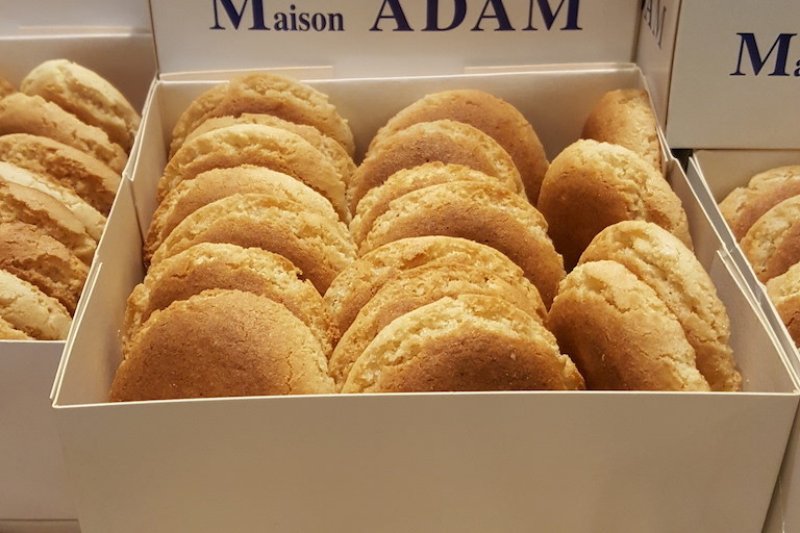 Basque 'macarons', not quite the same as those from Paris
A royal wedding
Speaking of Louis XIV, there is much in Saint-Jean-de-Luz to remind us of the Sun King.
First, right on the port, is the Maison de l'Infante, the house in which the Infanta Maria Theresa of Spain stayed before she married Louis XIV.
Then there is the House of Louis XIV, where he stayed for his marriage.
And finally, the site of the wedding itself on 9 June 1660: the church of St Jean Baptiste (within easy walking distance of both houses). Imagine charming little Saint-Jean-de-Luz, its streets crammed with dozens of festooned nobles from both sides of the family, with their horses and paraphernalia, heaving under the gifts they would surely give the newlyweds...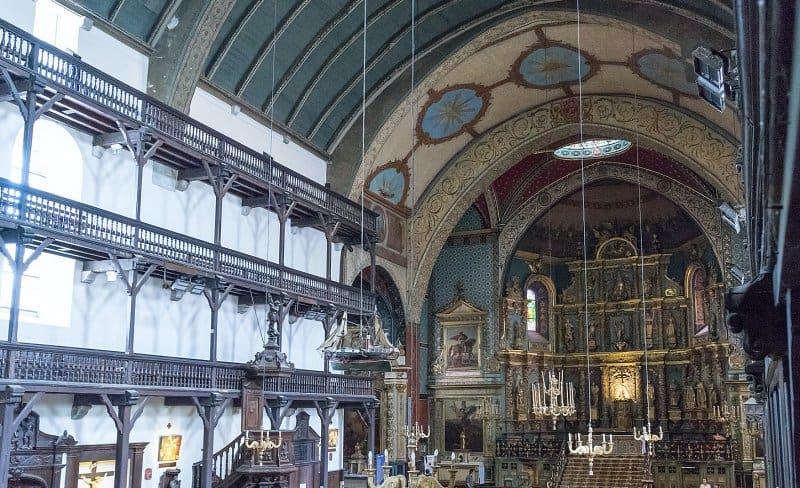 Typical of Basque churches, St Jean Baptiste has wooden balconies on both sides
Lest you get lost in the romance of it all, do not be fooled. This wasn't exactly a love match.
On the contrary, it was a most political wedding, the culmination of 30 years of war between Spain and France. The wedding would seal the peace, as was often done in those days.
An armful of traditional handmade goods
The final thing to do in Saint-Jean-de-Luz is — and this may surprise you — to go shopping. Although this isn't an activity I normally highlight, Saint-Jean-de-Luz is without a doubt the best place to buy Basque traditional products, from espadrilles to berets to linens.
You'll find the range of Basque goods on the main Rue Gambetta, yet another opportunity to walk off those macarons or gateau or chocolate.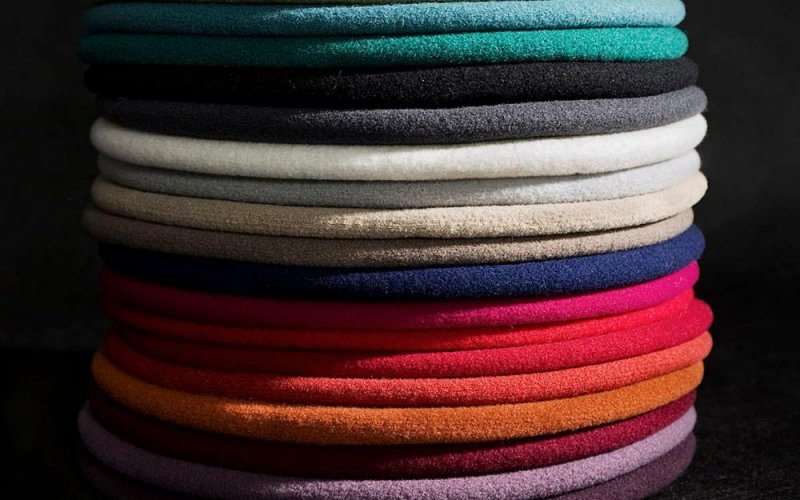 Basque berets - back in fashion and delightfully colourful, one of may traditional products still handmade in the Basque country (courtesy tourisme64.com)
Perfectly unusual accommodation near Saint-Jean-de-Luz

Only a few kilometers from Saint-Jean-de-Luz is a lovely castle that has been in the same family for more than six centuries (of course it has been somewhat improved but much remains the same).
Plenty of famous people visited. General Wellington even dropped by during the Napoleonic Wars.
And you can too. Ideally, you can give in to your deep desire to live like a king or queen and spend a night at the Chateau d'Urtubie. It just might make you feel a part of history.
But you don't have to spend the night: you can simply visit and enjoy the surroundings for a bit. 

 Sare, deep into the Basque heartland
The center of Sare, as seen from the terrace of the Hotel Arraya
While there is still plenty to visit along the coast (we can't do it all!) it's time to head into the interior. I propose you use Sare as your base: it is full of charm and within pitching distance of most other small villages you'll want to see in the region.
If you need a place to stay, I spent the night at the absolutely delightful Hotel Arraya, a family-run establishment which has been the backdrop for movies and has been in the family for generations. Don't miss dinner in their glorious gastronomic restaurant...
(By the way, if you happen to be in Sare at the height of summer, head for the Sare Caves to keep cool and to learn all about these underground grottoes.)
Sare, unsurprisingly, is pretty enough to officially make the list of the France's most beautiful villages.
Everyone plays Basque pelota
Across from the Arraya is a fronton playing field, which you'll find in pretty much any self-respecting Basque village (not to be confused with the town of Fronton north of Toulouse).
The fronton is used to play basque pelota, evolved from the jeu de paume (the ancestor of modern-day tennis). Watching a game, you'll be reminded of jai alai (I, on the other hand, was reminded of squash, the only game I know where you bounce a ball against a wall and wait for it to bounce back). 

Basque pelota is played (at high speed) against a single wall in France whereas in Spain there tend to be two walls. You might get lucky and catch a local game as you visit the Basque country but even if you don't, you're bound to see informal games after school, or on weekends, as kids play with one another or parents spar with friends. 
Tracking Sare's mysterious lintels
But there is plenty more to do in Sare  (pronounced s-ah-r), beyond eating well and indulging in spectator sports.
While you're walking around Sare, look up a bit and search for lintels above house windows and doors. A lintel is something used over traditional windows and doors to carry the weight of the walls above (I still have a few on my own 19th century house).
Sare has an enormous collection of these unusual stones, more than 80, and they depict either the dates the houses were built or the names  and sometimes profession of its inhabitants.
Look for the one embedded in the town hall, or mairie: it was presented by none other than Louis XIV. Here's a list of many of Sare's lintels. Originally, these stones were the equivalent of people's signatures, a way of tracing their ancestry.
The sacred mountain of La Rhune
La Rhune is covered in dolmens and neolithic stones and is considered sacred in Basque lore. It is also thought to be home of the sacred serpent Lehensugea, and the legend goes something like this...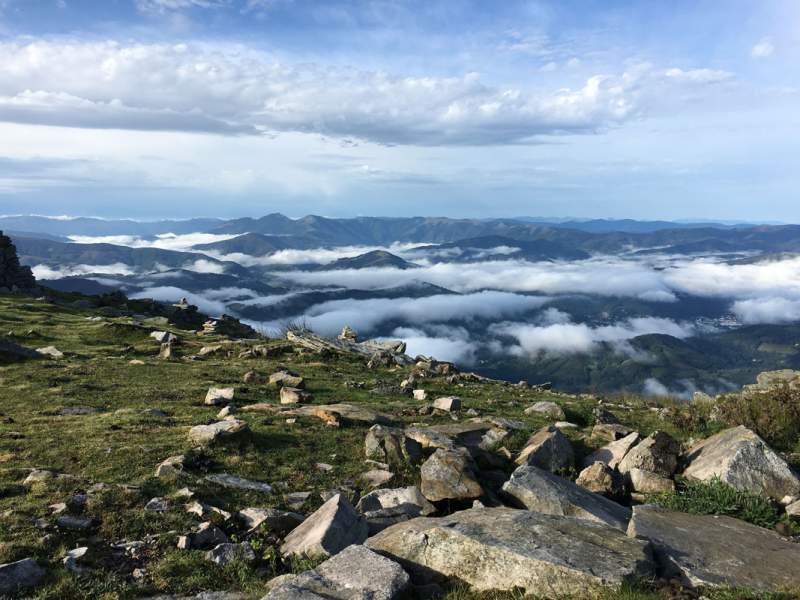 View from the top of La Rhune (courtesy rhune.com)
A shepherd falls in love with a girl but she wants to marry someone rich and powerful, so the shepherd decides to go looking for gold and silver. He drops by to see the devil, who tells him he'll have to set fire to the forest of the Rhune.

He sets the fire, releasing a seven-headed serpent who begins to spit out gold and silver. The shepherd runs to collect the metal but it is so hot it kills him... Apparently, the Rhune was for a long time devoid of any vegetation as a result of the fire.
The mountain became a popular excursion destination during Empress Eugénie's time in Biarritz. You too can either hike to the top or take the Petit Train de la Rhune, an original rack railway (one of three still operating in France) that dates back to 1924, and walk down (I consider this far more civilized than walking up).

You won't find these Basque ponies anywhere else
If the view from La Rhune isn't enough for you, then spotting some pottoks might be. The pottok is a semi-feral breed of endangered pony which has called the Basque region home for several thousand years. Today, a few thousand remain, the race diminished by crossbreeding and habitat destruction.
You might come across some pottoks while you're hiking (don't get too close — this isn't a petting zoo and they are fiercely independent) or passing by on the train.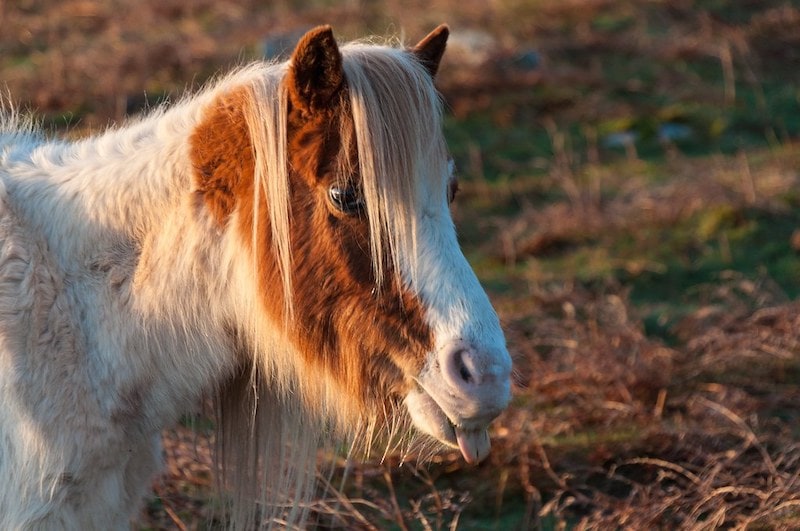 A pottok pony in the French Basque country by IBI Productions / CC BY-NC-SA 2.0
Le gâteau basque (Basque cake)
This is undoubtedly the best-known dessert in the Basque country, and you will certainly have sampled it in Saint-Jean-de-Luz or Biarritz, or both.
While you're in Sare, you could drop by the Musée du Gâteau basque and learn a bit more about it (and sample some more while you're at it). The museum showcases a private collection that traces the history of this delicacy.
The fun part is taking part in a workshop to learn how to actually make one of these (if you understand French — though they will organize English sessions if you're a group). Don't speak French? No problem. There's a shop where they sell their confectioneries. Just buy one and be done with it!
More beautiful Basque villages
If you're in the mood to drive (it's not far) you could take a little detour to two lovely Basque villages: Ainhoa (like Sare, on the list of the "most beautiful villages in France") and Ascain, both of which are within easy reach.

 Espelette, home of the hot stuff!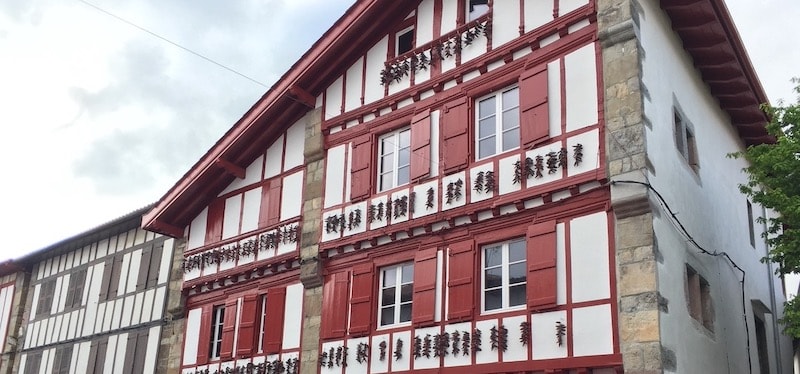 Peppers drying on houses - you'll see this throughout the village
If you live in France, you've come across the inimitable piment d'espelette, that smoky mild chilli we love to add our food. It's not strong, like Asian or Mexican chillies, but it packs enough of a punch to be wonderfully tasty.
And it all comes from the village of Espelette, a cute little place that seems dedicated to promoting this one little red vegetable — you can't miss the strings of peppers drying in the sun, hanging from every house.
So when you visit here, of course you'll be discovering the chillies, and you can do that in a variety of ways:
The name espelette is protected by law; each year a handful of imitators end up in court for illegally trying to use the name...
And an anecdote...
It was 2014 when Luo Weixiao set out on his bicycle from a small village in Sichuan, China. He was en route for another small village, Espelette, a mere 15,000 km away.
Why? He wanted to pay his respects to Father Armand David, a missionary who first identified the giant Panda in 1869 and is hugely respected in China, where he lived for 12 years.
The priest, who was born in Espelette, was an accomplished zoologist: more than 70 plants are named after him, and he has catalogued hundreds of birds and mammals. Take advantage of your visit to the chateau (I talk about it below) to drop by the small arboretum, built by the village in his honour and planted with species originating only from China.
Château des Barons d'Ezpeleta (in France, it always comes down to a castle)
Did someone say chateau? Yes, a castle, one whose remains date back to the end of the Middle Ages. At some point it was destroyed by the villagers in an uprising against their overlord — and then rebuilt by these same villagers. It was donated to the village of Espelette by the Espeleta family... in 1694.
Today it is still in use as the town hall, the local library and exhibitions spaces. One of these is dedicated to Father David, he of panda fame, one to the piment d'espelette, and one to Agnès Souret, the first-ever Miss France, who happens to be from here.

 St-Jean-Pied-de-Port: giving pilgrims a great start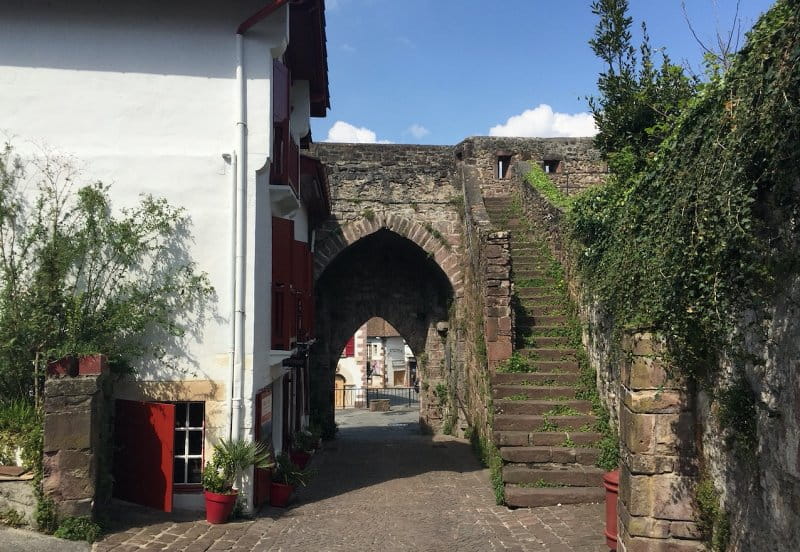 For thousands each year, this has been the jumping off point for the Camino Francés, the St James's Way to Compostela. Pilgrims emerging from three different routes across France (Europe, actually) converge here before crossing the Pyrénées into Spain.
It is fascinating to simply sit and watch them walk by. For some it is the beginning of a journey, and for others not even the half-way point. They may be exhausted or energetic but they all have a glint of anticipation in their eyes, their faces open to adventure. As they clickety-clack down the cobblestones, their walking sticks hitting the hard surface and their backs bowed by lopsided packs, they are enjoying their last bit of urban comfort before heading up into the mountains as so many have done before them.
The mood is what makes this village special. 
But not only.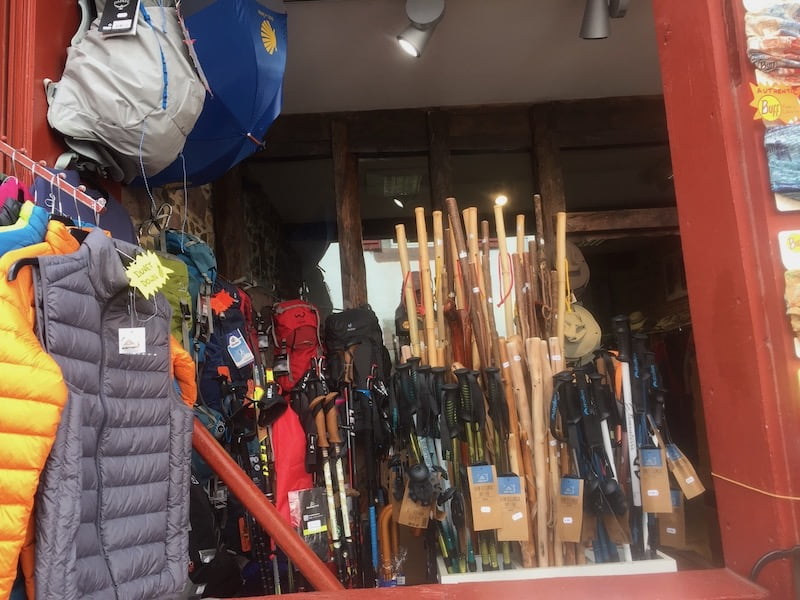 From restaurants to shops, everything here is geared to the pilgrim
This village has long been a crossroads of some importance and the buildings are evidence of this.
The Citadel, of course (see below) but also the church of Notre-Dame du Bout du Pont (Our Lady of the End of the Bridge), whose foundations date back to the 13th century and which many believe to be the greatest gothic building in France's basque country.
Given the village's location as a pilgrim's gateway, there is a... Porte Saint-Jacques, or St. James Gate, which leads pilgrims out of town towards their distant destination (the gate is protected by Unesco's World Heritage List).
Like Sare and Ainhoa, Saint-Jean-Pied-de-Port is on the list of the most beautiful villages in France.
The Citadel (where we again meet Vauban)
The citadel was built on the foundations of an old fortress of the Kings of Navarre, on Mendiguren hill, which is why it is often called the Mendiguren Citadel.
An aerial view of the Citadel of St Jean Pied de Port (Courtesy Mairie of Saint-Jean-Pied-de-Port ©Pierre Carton)
The initial building, the result of religious wars and the constant sparring between France and Spain, dates back to the early 17th century. Within a few years it would be vastly "improved" by Vauban and his team. The Marquis de Vauban, as we know, was Louis XIV's extraordinary military architect. He added the citadel's outside defenses.

It eventually became a military garrison — this is where wars with Spain were fought from — until 100 years ago (it is now a school).
The street leading up to the citadel is itself a historical record of the town, with some houses dating back to the 15th century. Look up and you'll see quite a few lintels, as we saw in Sare, on the typical Basque houses.
And then stop off in one of the village's most mysterious buildings...
La Prison des Évêques (The Bishops' Prison), though no one knows why it is called that
The building's history is murky and has caused much local ink to flow.
What was it exactly: A warehouse? A prison?
We know from local archives that in 1795 it was most certainly a prison, and that in the early 19th century it would have been used to incarcerate soldiers from the nearby garrison when they misbehaved.
Its most unusual room is underground, down a few dark steps past the prison cells. The room is deep and humid, with a single source of light contributing to its mystery. On a few stones, you can still see the carved stamps left by the stonemasons of the Middle Ages, a sort of signature of their work. Near the entrance, in case you're not convinced of its original purpose, are heavy chains cemented into the wall.

Before it was a prison, however, it was probably a warehouse, possibly for wools and cloth from Spain, on the way to the rest of Europe
But why is it called the Bishops' Prison?

This probably dates back to the Great Western Schism of the Christian church that split the papacy in two between Rome and Avignon, but no one really knows how the name came about. Perhaps some warring bishops went a little too far...

Today, of course, it is a protected historical monument and a museum, which opens into a guard room and prison cells. Up the narrow stairs is a cavernous vaulted medieval room.

 Aldudes Valley - back to food!
Pushing further into the mountains is a delightful valley beyond which lies Spain.
One thing I did notice here is that the tourists who do make it to this valley are either French, or Basque, or Spanish. So if you're looking for English-speaking facilities, you'll have to rely on your phrasebook or a translation app. On the other hand, people here are friendly and welcoming so language shouldn't be an issue... Most of the websites are in French too, but that's why you have Google Translate, right?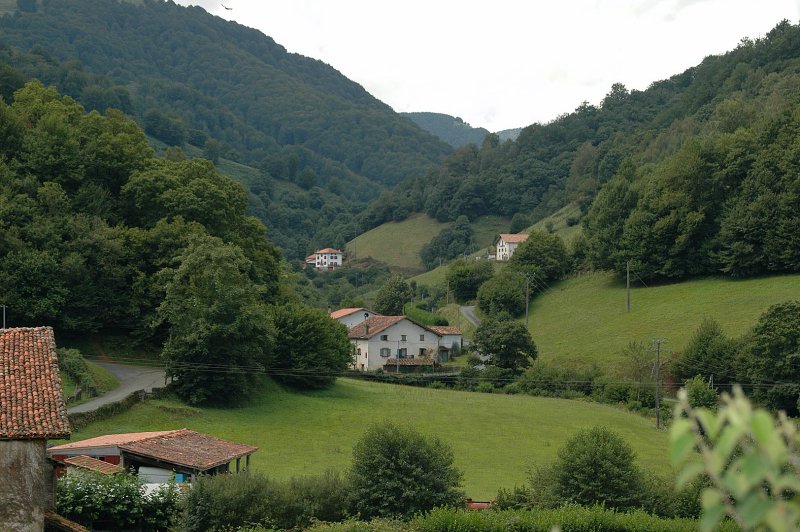 Urepel Valley, where nature still has the upper hand (Photo Harrieta171 - Own work, CC BY-SA 3.0)
A day driving around the Valley of the Aldudes will be a gentle change, as you push into higher mountains from the hilly interior you've just left. You're now in an area so rural few tourists make it this far. And I fell in love with it. 
Here's how I would visit the area: start in Saint-Jean-Pied-de-Port > Saint-Etienne de Baïgorry > Banca > Aldudes > Urepel. And then head back. You could cross the border into Spain but the road gets narrower as you advance, so unless you plan to push forward and return to France a different way, I'd stop in Urepel. In any case you'll have plenty to do, most of it food-related. 
And if you're keen on hiking in the region (well worth it), here's a list of the best Aldudes Valley hikes (in French).
Villages high up in the Aldudes Valley
Saint-Etienne de Baïgorry
This village is the gateway to the Valley of the Aldudes, a typical Basque village with a lovely main square, an interesting church, a Roman stone bridge and yes, a chateau. There are plenty of hikes that loop out from the church so if you're in a hiking mood...
Banca (or Banka)
You'll miss it if you close your eyes but the reason you're here is for the trout farm, which supplies many of France's best restaurants. Banca is also a nice place to stop for lunch (and you may be getting hungry by now, especially if you've already been hiking).
Aldudes
This village, which stretches along the Nive River, is equally tiny but you're here for a quick stop to sample Pierre Oteiza's regional products. You've probably seen his shops throughout the Basque country. Oteiza is famous for Basque kintoa pork — and for helping save it.
In the 1980s, the kintoa pig had all but disappeared until a group of local farmers and entrepreneurs, Oteiza included, made a conscious decision to save it. Today, the race is healthy and the kintoa 'appellation', or name, is protected by law. It also happens to be delicious.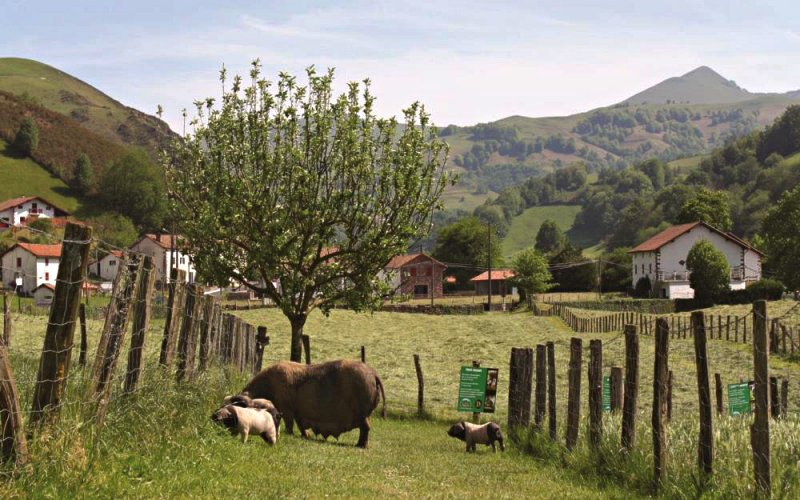 Find out all about this special breed of pig at Pierre Oteiza's farm (Courtesy tourisme64.com)
Urepel
The village is another great jumping off point for local hikes but of at least equal interest is the cheese-making factory, the Fromagerie d'Urepel, which still produces traditional raw sheep's milk cheeses, which you can taste if you visit the Fromagerie.
Wherever you go in this unique land, you'll be fascinated, delighted or both, whether for a week or for a weekend. You'll eat great food, bask in gorgeous landscape, and learn about a unique history and legends you probably didn't know about.

One thing you won't be feeling again is confusion about whether the Basque country is in Spain or France – it is in both.

Did you enjoy this article? I'd love if you shared it!