Visiting Bordeaux? Here's what you need to know!
Visiting Bordeaux is usually all about the wine – the mere mention of Bordeaux conjures up that deep red grape. But there's a lot more to this city.
There are reasons Bordeaux seems to top every list: the best, the most beautiful, the hippest of cities to visit. Playing host to some of France's greatest wines is only part of the picture.
COMING TO FRANCE? THESE RESOURCES CAN HELP!
🏨 Accommodation - I rent hotels through booking.com
🚘 Car rentals - I use Discovercars, Europe's best car rental website
🚊 Train tickets - I book my train and bus tickets on Trainline
🚌 Day tours - I take day tours with Viator and GetYourGuide
Everyone may now rave about Bordeaux, but it wasn't always like this.
Once upon a time, the city was dingy, dark, industrial. Gritty, not grand. Gloomy rather than gorgeous. Streets were clogged with traffic, warehouses lined the city's riverfront and the limestone building façades were black with dirt.
And then things changed.
For much of the 20th century, Bordeaux sat as though asleep, in decline after the two world wars. Nicknamed La Belle Endormie, or Sleeping Beauty, it got its name from the calm and serenity (some say boredom) characterizing the town.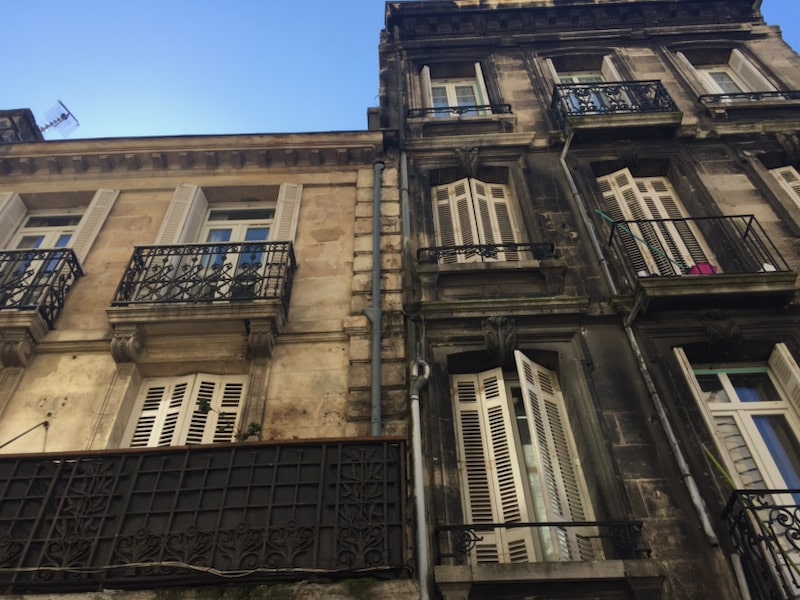 Here's a striking example of the contrast brought about by cleaning. The pale buildings have been cleaned, whereas the dark one in the middle was still langouring last time I visited
It took the arrival of a new mayor in 1995 − former Prime Minister Alain Juppé − to transform the city into what it has become today.

He scrapped controversial plans to build a subway and lined the streets with electric trams instead; he banned traffic from many streets, encouraging pedestrians to return downtown and enjoy the outdoors, now car-exhaust free; he revitalized the parks and created plenty of green spaces; and he opened up the city to the river, building new bridges, making the Garonne part of the city and creating le miroir d'eau, the water mirror − the world's largest reflecting pool.
The mirror has now become the city's emblem, the sight everyone increasingly imagines when thinking of Bordeaux.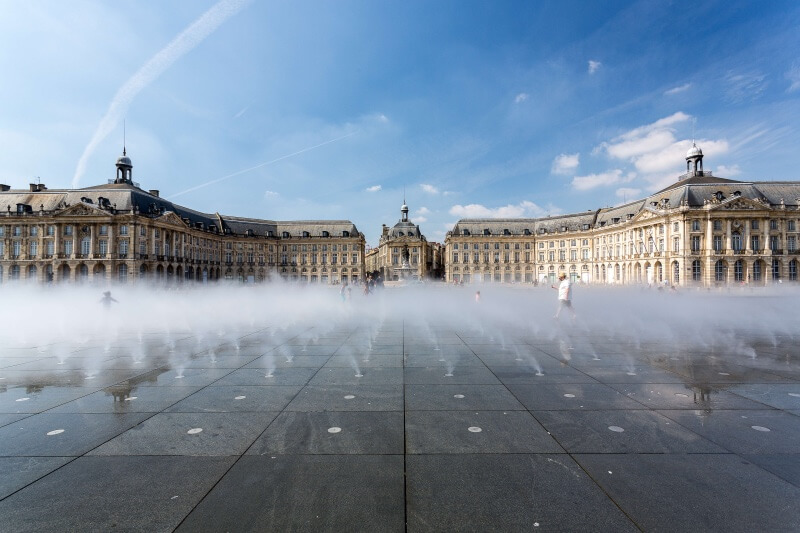 Miroir d'Eau © Steve Le Clech Photos
Many Bordeaux sights and all your public transportation are included in the Bordeaux City Pass, available for 2 or 3 days.
Visiting Bordeaux: 14 things to help you understand this city
It's not just about coming up with a list of things to do in Bordeaux – it's about why you should visit certain things, and why they are the way they are.
1. Climb the Flèche St Michel
One of the best ways to see a city is from above, and I maintain this even though I suffer from vertigo and groan and grumble each time I have to climb above a fifth floor.
In the case of Bordeaux, "from above" would mean climbing the 230-step spiral staircase of the Flèche (or arrow) St Michel, the tallest bell tower in southern France. It also happens to be on the UNESCO World Heritage List as part of the French section of the Camino, St James's Way.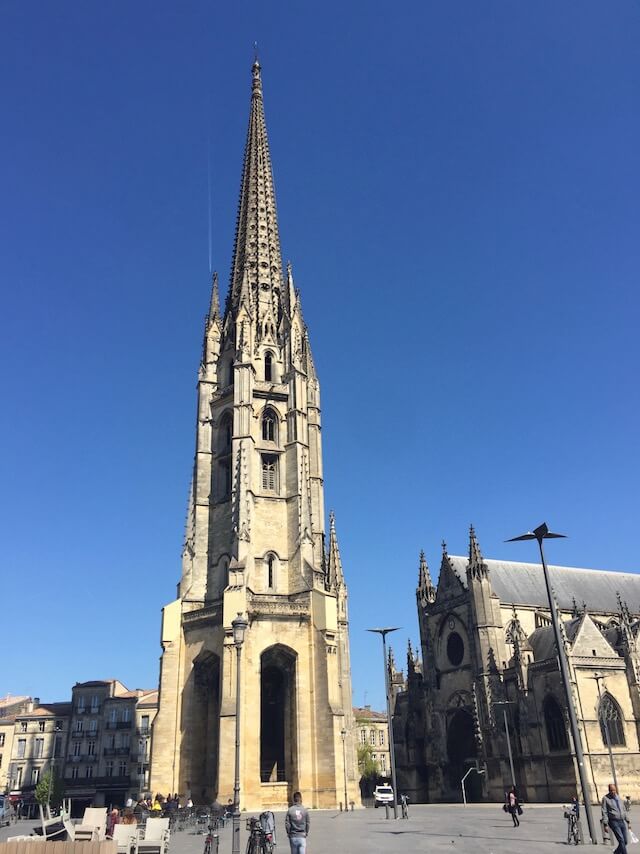 Flèche St Michel, Bordeaux ©OffbeatFrance
The view alone is worth it, but there's something else: the crypt, where a series of 74 mummies sat for two centuries, so well preserved by the clay soil that curious (and often famous) visitors came from far and wide to look at them. 
For years, the mummies were among the most popular Bordeaux attractions but in 1979, they were removed and given a proper burial in a cemetery. They were replaced by an eight-minute film and light show that may be less macabre than the original, but perhaps not as interesting.
2. Go gate hopping (or porte hopping)
Bordeaux has six gates, or portes. These gates can be found in many French cities and for centuries helped keep enemies at bay. They were the only entrances into cities otherwise surrounded by ramparts and often, you could only access them through a drawbridge.
As the 18th century rolled around, France sustained its affection for these portes and continued building them for a while, more for decoration and celebration (they were usually dedicated to someone famous) than for defense.
La Grosse Cloche, or big bell, is possibly the most photographed of the six Bordeaux gateways, and is also the oldest. Originally it was part of the city's ramparts in the 13th century.

The bell is topped by a gold leopard, a symbol of British royalty (remember, the English ruled Bordeaux for three centuries).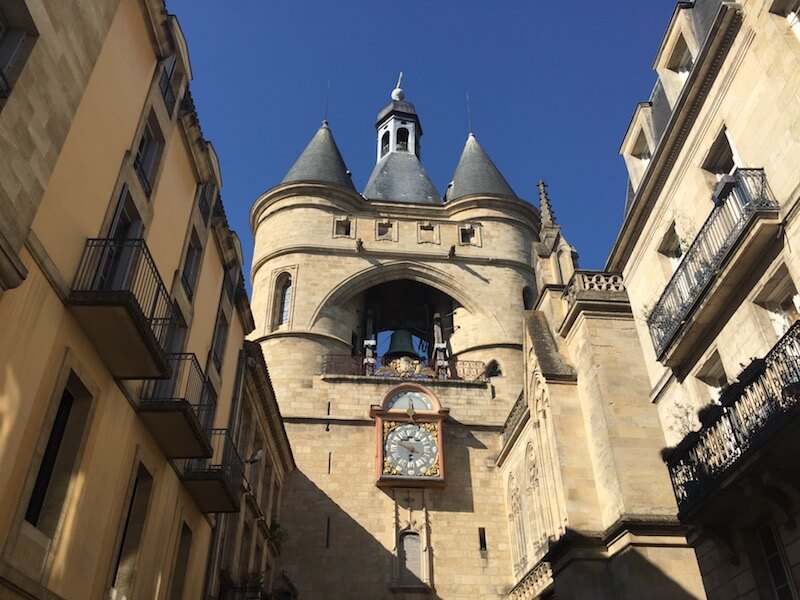 The Grosse Cloche, the oldest of Bordeaux's six gates ©OffbeatFrance
The Porte Cailhau is perhaps the most complex, one of two ancient (1494!) entrances into the city and an intriguing structure that prevaricates between the Gothic and the Renaissance styles.
You can also climb this gate for a view of the city, especially its riverfront, but at 35m your view won't be quite the same as the one from the flèche.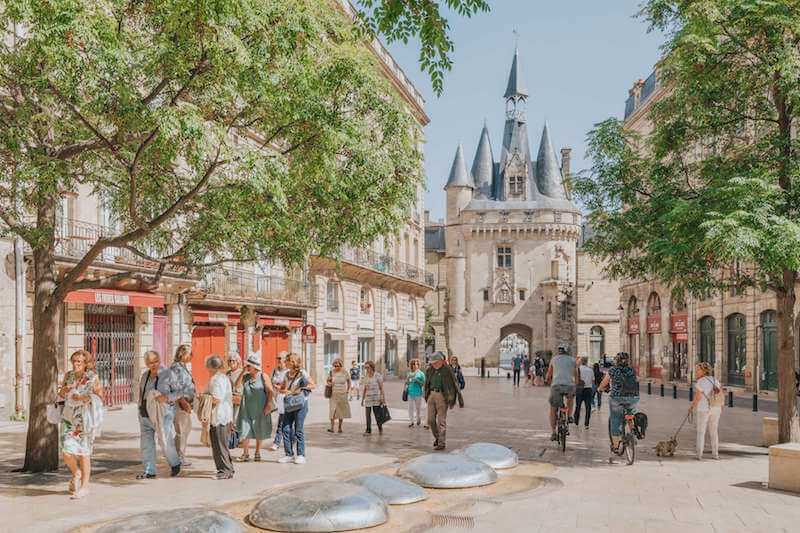 Porte Cailhau ©Nicolas Duffaure
The Porte d'Aquitaine is on the Place de la Victoire and is one of the main entryways to the Rue Ste Catherine (more about this street in a minute).
The gate is topped by a triangular pediment adorned with the Bordeaux coat of arms, with the Grosse Cloche and a leopard on one side and two sailors with a fleur de lys on the other. This gate dates back to the 18th century and is now a national monument. 

Like that of the Porte d'Aquitaine, the pediment of the Porte Dijeaux is decorated with the city's crest,  the towers of the Grosse Cloche and a leopard. Also decorating this gate is a cornucopia, a bunch of grapes and some seafaring symbols arranged into a triangular shape. 
Finally, along the riverfront, near the Pont de Pierre, is the Porte de Bourgogne, built in the mid-18th century in honor of the Duke of Burgundy. This was a major gate into the city because for years, the Pont de Pierre was the only way to cross the Garonne River, which made this gate strategically important.
The sixth and final gate is the Porte de la Monnaie, located along the waterfront. Built in 1752, it once opened onto the Hôtel de la Monnaie, or Currency House, where Bordeaux's coins were minted.
This is only an introduction but you can spend an enlightening few hours tracing Bordeaux's history through its six gates, built over five centuries.
One of the best ways to see Bordeaux is on foot. To get your bearings when you first arrive, this walking tour is an easy introduction to this vibrant city. If you're more the cycling type, this cycling tour will cover even more ground!
3. Not a gate person? Bordeaux has eight intriguing bridges
I won't go into all eight but let me focus on two: the oldest and the newest.
The city's oldest bridge is the Pont de Pierre (Bridge of Stone). It was requested by Napoleon who, upon traveling to Bordeaux, had to endure the river crossing in a rowboat with his soldiers. Irate and wet, he called for a bridge to be built here.
17 arches don't always spell Napoleon Bonaparte
According to popular lore, the 17 arches were built to correspond to the 17 letters in Napoleon's name. But no, say historians, 17 is "no more and no less than the number needed to ensure the bridge's stability in the face of the strong currents of the Garonne".

While Napoleon did indeed commission this bridge, he was no longer Emperor (nor even alive) by the time it was completed in 1822.
And then, a few decades ago, the bridge almost disappeared!
In 1941, a decision was made to destroy it because it was too narrow, and it only survived because World War II brought the project to a standstill. It was widened instead. And we are grateful.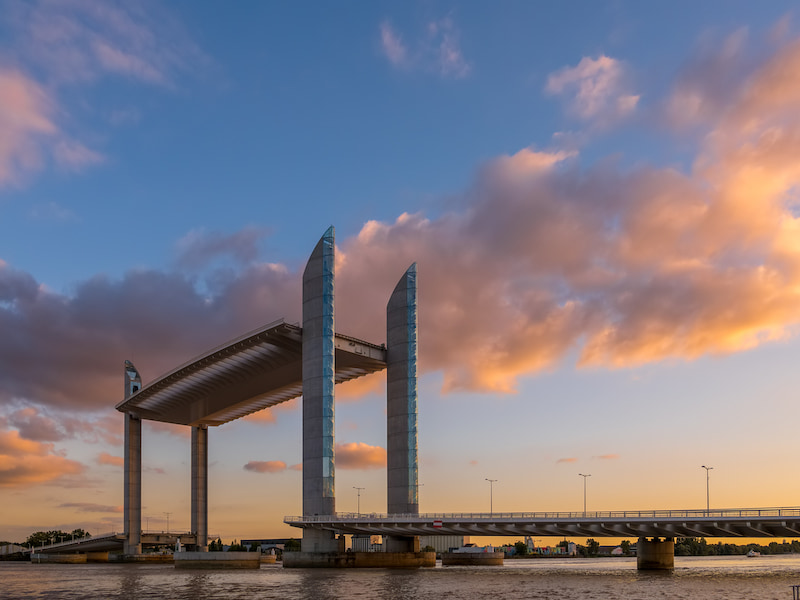 The Pont Chaban-Delmas rises to allow tall ships through: getting to its maximum height takes 11 minutes, and coming back down, the same
If you're more of a modern structure lover, a bridge worthy of your visit is the Pont Chaban-Delmas, the tallest mobile bridge in Europe and Bordeaux's most recent river crossing.
It's all very modern, not just the style, but the thinking: for example, you can cross on foot or bike along a special path. 
It wasn't easy to put together. The pieces were built separately, some in Italy, and assembled on site, while the massive concrete structures weighing up to 6000 tons that would support the bridge were made a few kilometers away – and floated downriver into position, pulled by boats.

For a great view of the bridge, take a look from the top floors of the Cité du Vin (see below).
Jacques Chaban-Delmas, by the way, was a longtime mayor of Bordeaux (1947-1995), and Prime Minister of France under Georges Pompidou in the early 1970s.
4. Stroll down the Rue Sainte Catherine
Since 1984, this has been Europe's longest pedestrian street. It is more than a kilometer long (three-quarters of a mile) and has at least 250 shops, from world brands to small boutiques and cafés.
The street gets its name from the Saint-Catherine chapel, which once stood here (where the FNAC stands now). It was built in 1048 in what was then a mud-filled lane.
While restoration was on the books for a while, the work couldn't be funded and the chapel was eventually razed in 1835, when the Bordeaux Bazaar was built. When the Bazaar was condemned in favor of a theater, plenty of human bones were found underneath during building.
Some days the Rue Sainte-Catherine can be so crowded you'll be elbow to elbow, especially on Saturdays, but even more so during the twice-yearly street fairs in February and July. Shop owners and second-hand stalls line the street for what is a popular time on a popular street.

Sainte-Catherine is also the start of the Camino de Santiago in Bordeaux, but it has another, more infamous reputation. During the 2019 'yellow vest' troubles that swept across France, Bordeaux was particularly hard hit and the morning after each demonstration, its destructive marks were branded upon the street's many shop walls and shutters.
And despite Covid mask mandates because of the crowds, this was also one of the streets where disobedience was common, as though shoppers here were somehow "above all that".
Still, a wander down this street is definitely something you'll have to do during your Bordeaux visit.
No visit to Bordeaux would be complete without a stroll down the Rue Sainte-Catherine
5. Try to take the perfect shot of the 'mirror'
Once you've finished your stroll and had a coffee and cake, it's time to brush off your photographic skills with what is without doubt the city's most photogenic sight – at any time: dusk, at night, when the water is on, on Sundays when it's full of families, when it's empty...
The elegant buildings that ring it may be three centuries old but the fountain itself only dates back to 2006.
It's stunning, magical even, but capturing it is a challenge.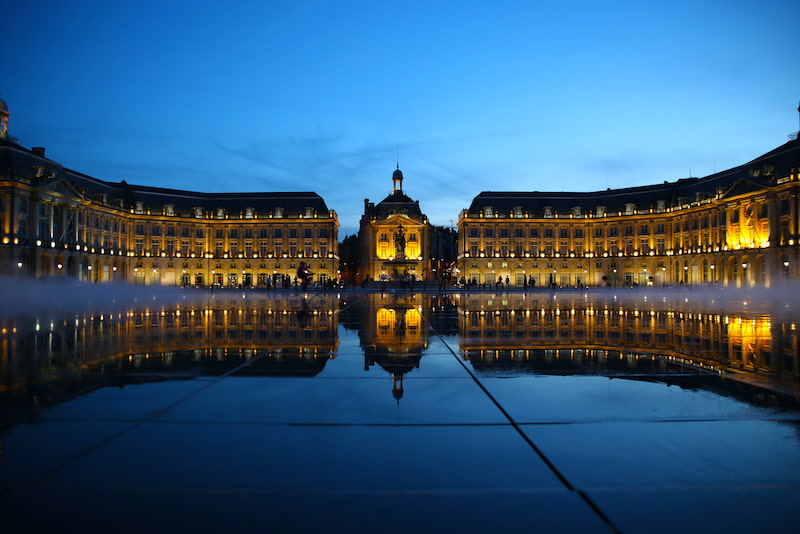 This rather perfect shot was taken by my friends over at Bordeaux Travel Guide
Remain for an entire cycle from wet to dry, and taste the water with your toes – this is one fountain you won't get thrown out of for getting wet!
At 3450 square meters, the mirror is the world's largest reflecting pool. Yet in mirror mode, the water is only 2cm deep (about 4/5").

Beneath it is a huge space that houses a giant underground water reservoir, as well as the fountain's machinery, whose massive pumps serve to expel water into the air.
In summer, this is Bordeaux's premier gathering place but if you come in winter (as I did) you'll be disappointed, because the fountain closes for maintenance and to prevent its pipes from freezing.
6. Discover what's left of the Palais Gallien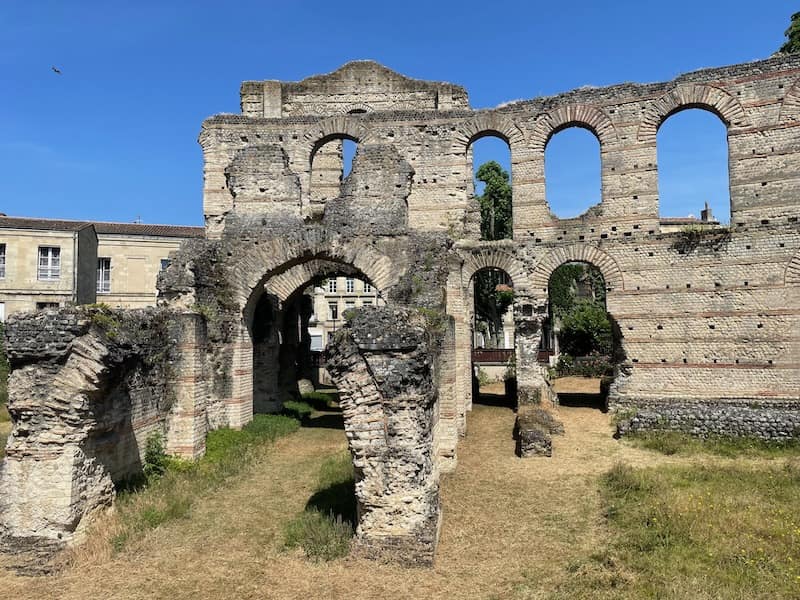 The remains of the Palais Gallien - little may be left but it is not difficult to imagine the contours of what must have been a giant amphitheater
France is wealthy in ancient Roman ruins. However, unlike Lyon, Bordeaux has far fewer remnants of Antiquity.
The Palais Gallien, a former amphitheater in what was then called Burdigala, once seated 22,000 spectators but it is mostly gone – only a few arcades and walls remain. It may have been torched during the Barbarian invasions of Gaul in the third century but, eventually, it was abandoned.
During the 17th century, the ruins served as a haven for thieves and prostitutes and became a dumping ground for the city's mud and waste, until it was turned into a quarry during the Revolution – and much of what was left was destroyed.
Once he came to power, Napoleon put a stop to the destruction and the remaining walls were eventually classified as historical monuments. 
7. Attend the opera at the Grand Théâtre
Are you an opera fan?
Well, the Gran Théâtre might be the place to take that leap.
Its sweeping monumental central staircase and 12 Corinthian columns, topped with statues of muses and mythical goddesses, make this structure an architectural wonder. In fact, it is considered one of the most beautiful 18th-century concert halls in the world.
Created by architect Victor Louis, its acoustics are considered perfect.
Do find out for yourself – you can check out the season's programme here.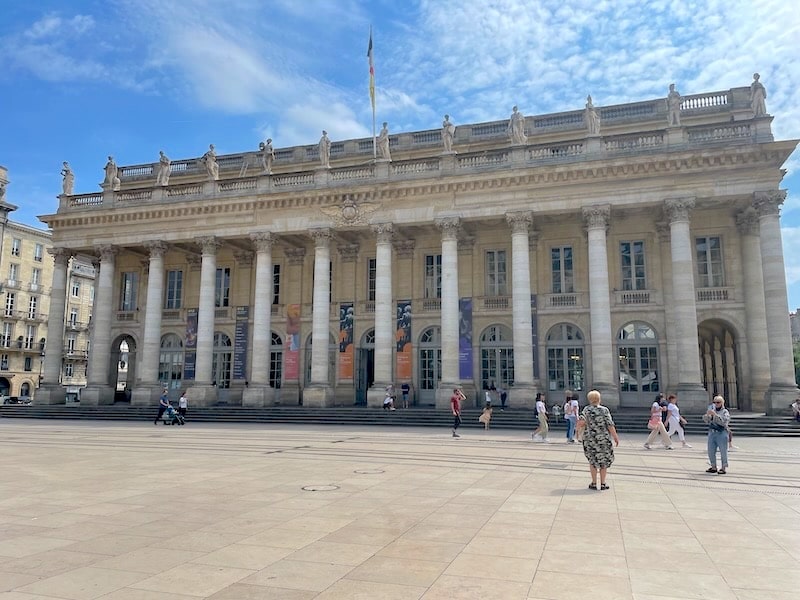 Bordeaux Grand Theatre. And you can't really see it, but the left corner is home to a Michelin-starred restaurant
8. Admire the city's street art
In a completely different vein, the M.U.R de Bordeaux (a play on words that means Wall of Bordeaux) is where street artists show off their craft. If you'd like to see what they're capable of, head to the Place Paul et Jean-Paul Avisseau.
I admit to a certain weakness when it comes to street art and whenever I can, I plan a special outing to discover a city's urban artwork. Keep up with this rapidly changing scene on their Facebook page.

More street art? Check out the Espace Darwin, a former military barracks, or the hangars that line the wharves. There's another wall at the junction of Millière and Brian streets.
Or... just walk around Bordeaux with your eyes open – you'll spy all sorts of art!
9. Take a walk in the park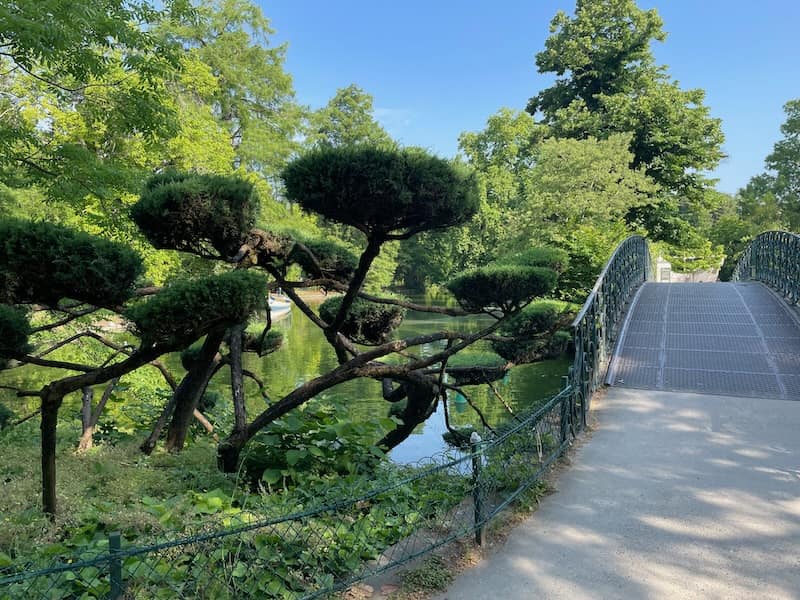 The Jardin Public in Bordeaux, perfect for cooling off in summer
Bordeaux has more gardens and parks than you can count but one of the most delightful is the Jardin Public, the public garden. It is around 250 years old and was initially created for pleasure, but as often happened back then, the flowers were ripped out and the beds turned into a parade ground for Napoleon – with the addition of bridges, a river, islands...
During the 18th century, it rediscovered its origins when it was restyled into an English garden.
Today, 300 trees have been replanted and 17 bird species can be found here. There's an arboretum, and even a Museum of Natural History, utterly pleasant when a bit of shade is required in summer.
10. Go antique shopping
One of the most fun activities in Bordeaux is hunting down antiques. Actually, there's little hunting to be done because they're all over the place and easy to find.
You can wander down the Rue Notre-Dame, or, on Saturdays, rummage through the stalls on the Place St Michel. The antique shops bordering the place spill out into the square on weekends and you may find it all hard to resist: vintage grocery shops, antique stores, old-fashioned fishmongers, bistrots, design shops – no global brands here, just good old businesses that have often been around for generations.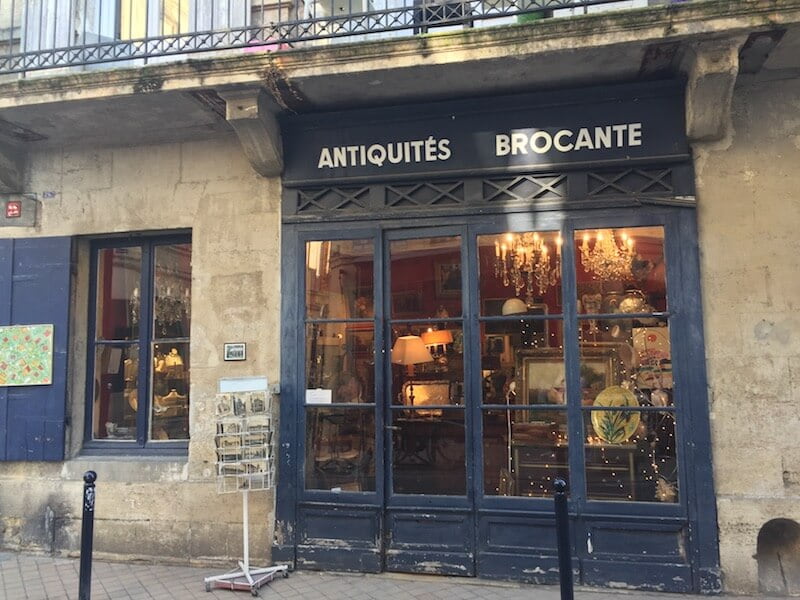 An antique shop on Notre-Dame street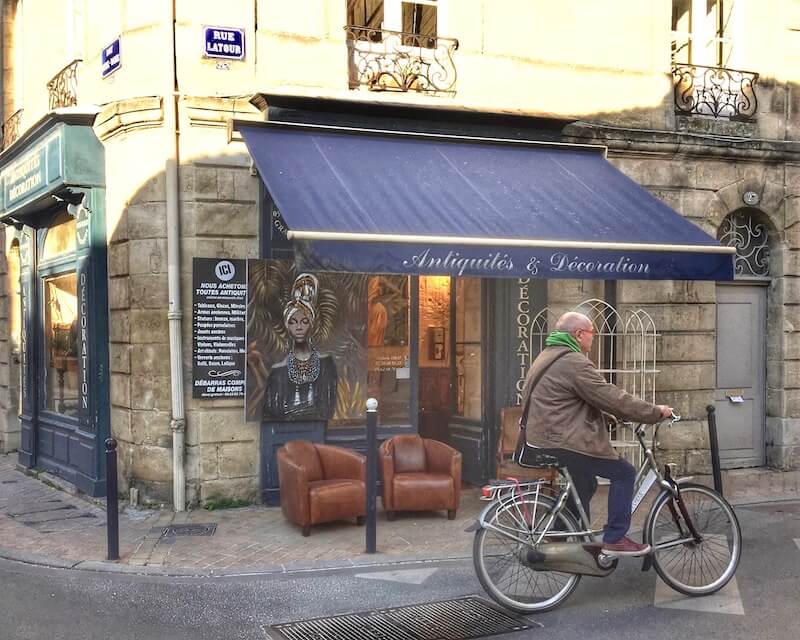 Another typical sight among the antique shops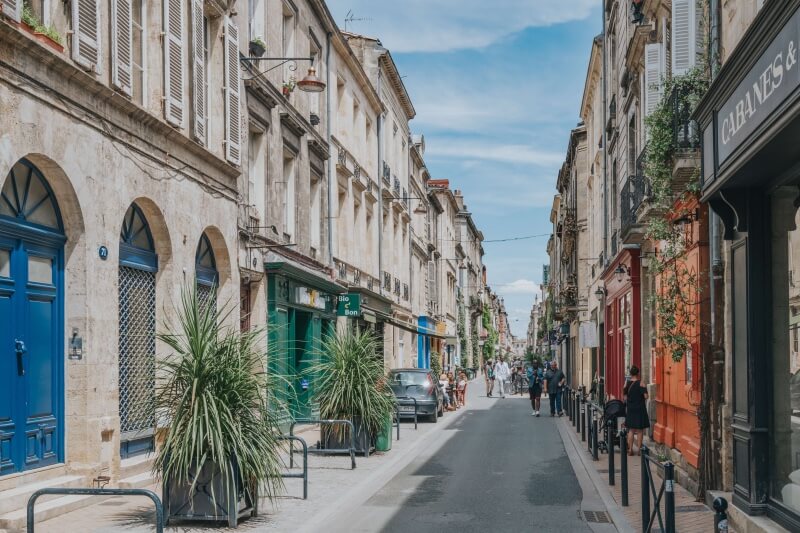 Notre Dame street, lined with antique shops ©Nicolas Duffaure
Not enough for you? Then visit in May or October for the biannual brocante on the giant Place des Quinconces.

11. Cool off on the Garonne
I can't think of a lovelier way to spend a hot summer day during a Bordeaux trip than by exploring the shores of the Garonne River, which slices the city in two.
The waters are calm enough to canoe or kayak, and you can paddle under the arches of the Pont de Pierre, past WW II remnants and Renaissance façades and wild islands. Like most cities built along water, you'll get a vastly different view than you would  from land. 
If you're in more of a lounging than sporting mood, several river boats ply the Garonne or you can reserve your ticket for a river cruise.
Some of the great sights you'll sail by, depending on the cruise, include the façades of the city's UNESCO-protected buildings and the Cité du Vin (see below), while others head towards the estuary and the various villages dotting the river.
The river is also increasingly home to public art, so don't be surprised if you spot a silver-coloured flying saucer during your travels!
Both of these were taken at the Bassin des Lumières. In the lower one, you can see the locks where submarines once docked
Many Bordeaux sights, including the Bassin des Lumières, are included in the Bordeaux City Pass, available for 2 or 3 days.
The riverside has been extensively redeveloped and one of my most enjoyable visits was to the Bassin des Lumières, the world's largest digital art exhibit. Set in a former U-boat Nazi submarine base, the reconverted docks act as backdrops to the exhibit of the hour. When I visited, artist Salvador Dalí and architect Antoni Gaudí were featured. 
What a treat!
12. Tour the city of Bordeaux
There are plenty of ways to explore the city, but taking some kind of tour – even if it's just you and your map – is definitely a good way to see the best places to visit in Bordeaux.
Touring Bordeaux on foot
Bordeaux is a city made for walking, with a relatively compact city center and outlying neighborhoods that are also easily reachable on foot. Learn about Bordeaux's history, its trades and buildings and its culinary secrets on one of its many walking tours.
Discovering Bordeaux by bicycle
Many cities have bikesharing schemes but Bordeaux's is superbly organized: you can take your bicycle on trams and trains and that makes all the difference if you're planning a long ride. Just beware that in the city, your bike is only welcome on public transport outside rush hour. Buy a pass for the day, week or month from the Transports Bordeaux Metropole. 
The TBM website (there's also an app) details routes for all public transportation in the city and tells you where to get your bike, as well as how many are in each station at any given moment. With more than 175 docking stations, it shouldn't be too hard to find a bicycle, and Bordeaux is indeed a cycle-friendly city. Buy your pass at docking station or TBM ticket offices.
Or, take one of the many cycling tours offered in Bordeaux – it's bike-friendly (and very flat!) and a great way to discover the city.
Ride a city bus 
One of my favorite things to do when I get to a new city is to hop on public transportation. Ride the tram and see where it goes! 
13. Explore the Bassin d'Arcachon
Bordeaux is elegant and graceful, but you may still want to escape for a day.
This gorgeous bay about an hour's drive southwest of Bordeaux is absolutely worth visiting and was a high point of one of my recent visits. Dotted with tiny villages, oyster shacks and beaches, the Bassin will show off the essence of coastal Aquitaine. Drive around, or even better, rent a bike if this is something you enjoy. 

The area is also home to Europe's highest sand dune.
Climb it and see... it's a hike but if you attack it from the beach side I'm told it's easier than if you start from the parking lot.
You can get here by public transportation but frankly, a car is best, especially if you'd like to explore the coast a bit.
And field-test every single oyster shack – they are world famous.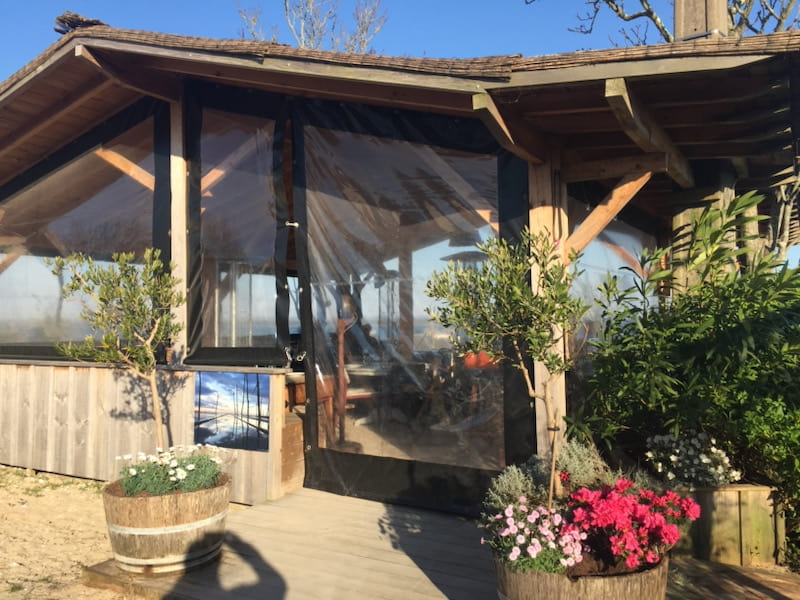 One of my best travel tips: try to visit an oyster shack in Cap Ferret - a meal in one of these is always memorable and one of the best day trips from Bordeaux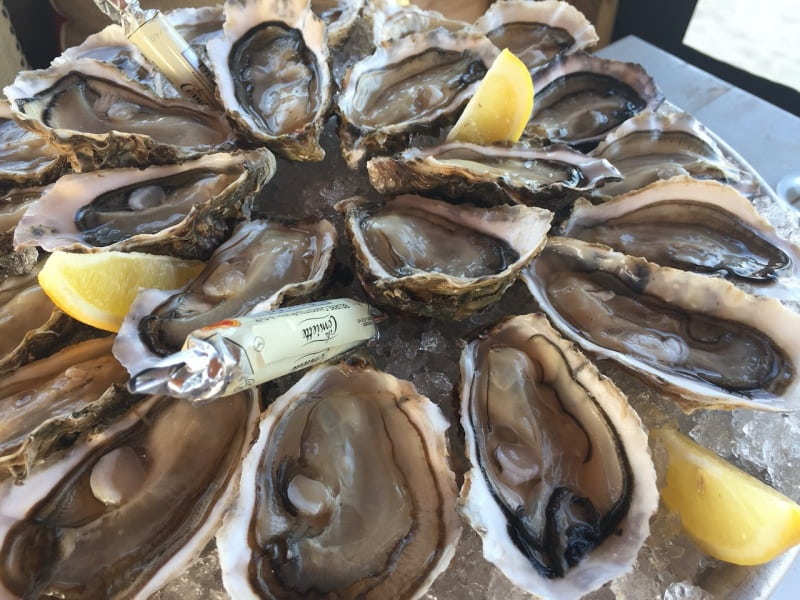 Expect this to show up at your table. And then more
Few things can compare to the arrival of a huge tray of fresh oysters set regally on a bed of crushed ice, with a fresh shrimp starter and (for me the non-drinker) a freezing glass of sparkling water, with a twist of lemon. Rinse and repeat.
Even during the high season, this area isn't too crowded so you can easily find a place to eat or stroll around. Off season, aim for lunch because most of the shacks close for dinner. A perennial favorite of my friends from Bordeaux Travel Guide is the Mille et Une Huitres in l'Herbe but if you're looking for an off-season oyster supper, you'll find it at La Conche in the village of Les Jacquets.
14. And then there's the wine...
If I've left it for last, it's because it's the most obvious: the wine, le vin, the reason most people visit Bordeaux!
If what you want are intimate tastings in the historical chateaux that produce the wines, you'll have to go a bit out of town because most of these are not in the city. Here's a great roundup of the wine chateaux near Bordeaux that will help you choose.
But that doesn't mean you can't taste wine within the city itself, not at all!
First, the city is full of delightful wine bars which will fulfil all your wine-tasting desires. 
And then, there's the fabulous Cité du Vin, that giant decanter-shaped metallic museum by the river in Bordeaux, within sight of the Chaban-Delmas Bridge (you can get that spectacular view I mentioned from the restaurant on the 7th floor or the Belvedere on the 8th floor).
It is a museum, hence a massive 19-part exhibition for which you'll need the audio-guide included with your ticket. The soaring circle-shaped exhibits deal with every imaginable facet of wine culture and are interactive, and it's not just about looking: other senses are involved and yes, you'll get to taste too.
Make sure you avoid the crowds with a skip-the-line ticket and remember, the Cité du Vin is also available with the Bordeaux Pass.
a bit of Bordeaux history
Everything in this part of Europe tends to start with Celts and Romans, and Bordeaux is no different. The city was well situated for trade so it became wealthy – and was constantly under attack from covetous tribes.
Stability only came about in 1152 with the well-documented marriage of Eleanor of Aquitaine to Henry Plantagenet, future king of England.
Even back then, Bordeaux wine was at the heart of the city's trade and the English, quite partial to the product, did a good job of protecting the city and encouraging its trade. Like many western France coastal cities, Bordeaux also built its wealth on the slave trade.
After a rebellious streak (which persists in this non-conformist city) Bordeaux was incorporated into France in the 17th century. Still, it was often anti-regime, for example rebelling against Napoleon's advance.
Interestingly, the stunning urban planning successes of Paris by Baron Haussmann (hired by Napoleon III to redesign the capital) were inspired by the avenues and buildings of Bordeaux.
Inspiration for Paris? That's quite the credential.
In recent years, Bordeaux has been subjected to the whims of policy (no more giant Christmas tree under the new Green mayor, urban destruction by the Yellow Vest protesters) and fate (Covid-19 kept many visitors away).

Still, it remains a city of public spaces and big boats, amazing food and riverside life, of antique shops and sweeping boulevards. 
Definitely one of the prettiest cities in France.
Things to taste: Eating your way through Bordeaux
No question: one of the best things to do in Bordeaux is... EAT.
It may not compare with Lyon when it comes to gastronomic reputation, but it has plenty of excellent restaurants and genuinely outstanding local products, some of which are loved across France (and I'm not even including the wine here!)
My search for the legendary Entrecôte Bordelaise
In some parts of the world, the Entrecôte Bordelaise is a famous dish that exemplifies Bordeaux, a thick steak with a rich red wine sauce. So it stands to reason that upon my first Bordeaux visit, this was the one dish I planned to hunt down.
Except for one thing: no one seemed to know it.
I read every posted menu and spoke to Bordeaux foodie experts, with the same sad result. While a few people had vaguely heard of it, my entrecôte failed to materialize. Perhaps it was too old fashioned a dish...
After nearly a week in Bordeaux, all I could report was a massive fail.
Sample some Bazas beef instead
My efforts to find the elusive entrecôte having come to nothing, I drowned my sorrows in other local dishes at the Brasserie Bordelaise: foie gras, white asparagus from Blaye, pork paté and a delectably marbled faux filet of Bazas beef, reputed to be as tender as Kobe beef.
Only three types of cow, which range freely, are allowed to carry this protected label. It is so special that the cows can be found on only 280 small farms and their meat sold by an exclusive club of 13 butchers.
This isn't something you'll find in the local supermarket.
It is an ancient breed, dating back to the Moors, when they were used as draft animals in the Bordeaux vineyards. 
Bye bye Entrecôte Bordelaise, hello Boeuf de Bazas!
Sit in a café – we are in France, after all
If there's one thing you'll find everywhere here, it's a café, and one thing you must do in Bordeaux is take the time to sit and watch life amble by.
Many tables and chairs line the broad streets and shady squares of this city, while some, like the less traditional Alchimiste Torrefacteur, are tucked into tiny streets, as expertise often is.
Behind the modernist bar, former Paris management consultant Arthur Audibert changed gears one day and moved into coffee, inspired by the delectable brews he had tasted during his youthful travels to many countries. He roasts his own coffee, in what may well be the best little coffee shop in Bordeaux. 
Munch on a Dune Blanche
Once you've had your coffee, all you have to do is cross the street to Pascal's for a dune blanche, a unique dessert made of a choux pastry, whipped cream and two types of sugar in a closely guarded recipe. (The original shop is in Cap Ferret.) 
The owner, Pascal, may be from Normandy but it didn't take long – a brief decade – for his dessert to become a Bordeaux mainstay. 
Yet the dune blanche was pretty much an accident. 
Wanting to feed his friends late one night, Pascal's son added whipped cream to plain pastry. It was so popular Pascal decided to try it out on his customers. Before long, everyone was requesting those creamy fluffy little things, and people lined up outside his bakery.
You may see the name dune blanche used elsewhere but don't be fooled – there's only one authentic Dune Blanche, and it is protected by law. 
And then sample some canelés
Another latecomer Bordeaux's dessert map is the canelé: delicious, unusual and... addictive.
A canelé looks like a ridged mushroom without the stem, an egg preparation flavoured with rhum and vanilla, caramelized and baked in a copper mold (the copper is essential to the caramel crust).
While in past larger sizes existed, today's canelé is small, maybe three bites' worth, slightly crunchy (some might say rubbery) on the outside and soft on the inside. It may not sound delightful, but once tasted, your pre-canelé days will be over.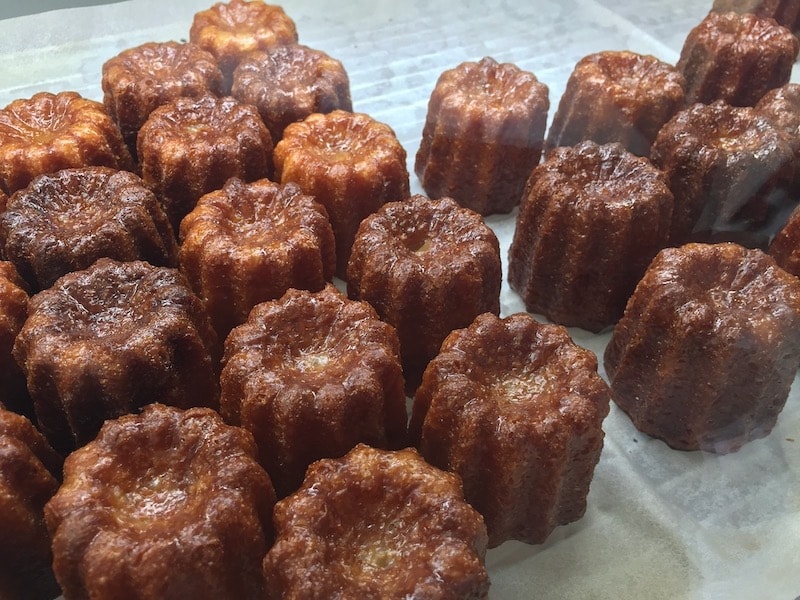 A trayful of canelés - hunting down the best ones is one of the fun things to do in Bordeaux with kids (or without)
No one knows its origins. One version places the canelé in the Annonciade Convent during the 16th century. The nuns baked these to feed children but also sold them to subsidize their convent.

There's no proof of this and there are several other tales of origin.
The first time the mold itself is documented seems to be in  1792, although the little canelé doesn't yet appear by name.
It was mentioned briefly in 1937, but had to wait until the 1980s for fame and the establishment of the Brotherhood of the Canelé, one of France's many food brotherhoods, or confréries. It was eventually immortalized in a 1987 photo when it was offered to heads of state during a G7 meeting.
There's still another tale of its creation, this one dating back to the 1950s, when a family from Toulouse purportedly bought a pastry shop from a Bordeaux colleague, canelé recipe included. Who knows.

Today, the canelé is synonymous with Bordeaux and while it has become one of France's favourite pastries, one you'll find across the country, there's still nothing quite like the ones you eat in Bordeaux (trust me on this).
Then eat chocolate
Bordeaux is an unending parade of food and that parade often leads to chocolate. Wherever you turn in this city, chocolate is waiting to trap you.
At the award-winning Saunion, just minutes from your dunes blanches and fresh-brewed Alchemist coffee, Thierry Lalet runs his kitchen with the energy of a startup entrepreneur.
Ganache, praline, fondant – nothing escapes his spatula. While one tray cools, another crystallises and yet another hardens. Marzipan is shaped into little animals, and cherries Clémenceau, which have macerated in rhum for five months, prepare to be coated.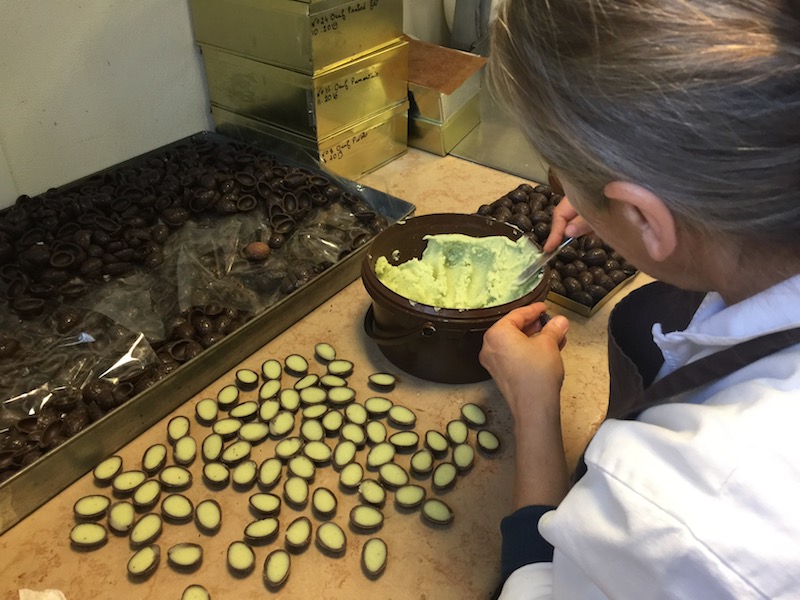 Chocolate making is a fine art - the good news is that the art can be instantly consumed!
During my visit, I received a tour of the "back room" and watched as chocolate eggs and hens and these marzipan-filled delights were being prepared ahead of Easter – and tasted some, of course!
There are often arguments about which country makes the best chocolate... France belongs right up there and I've had some of the best chocolate I've ever tasted here. But just to be sure, I shall continue my research.
With the precision of a field marshal, Thierry has to plan ahead, not only for supplies but for special holidays – and trends.
Back at school, he wasn't even sure he wanted to follow his parents' footsteps into chocolate (he is the fourth generation). He was eventually won over and now sleeps with a notepad by his bed in case his creative juices flow when the night is deep.
Chocolate isn't an easy food to make and many details need to be kept in mind: temperature, light, the environment, humidity... but in France, a huge consumer of chocolate (7.3 kg per person per year), the challenge is worth it.
An anecdote: we are the only country in the world that eats more dark than milk chocolate.
And why stop at one chocolate shop when you can have another? Cadiot-Badie is the oldest chocolate shop in Bordeaux and, understandably in this city, is known for its various chocolate-wine combinations. You'll just have to try several for yourself.
Don't squeeze the produce at the Marché des Capucins
If you're a foodie, this is where you want to roam any morning from Tuesday to Sunday. France's food markets, like the Halles Paul Bocuse in Lyon, are destinations in themselves.
The Marché des Capucins is the city's first covered market and has been in some kind of operation since 1749.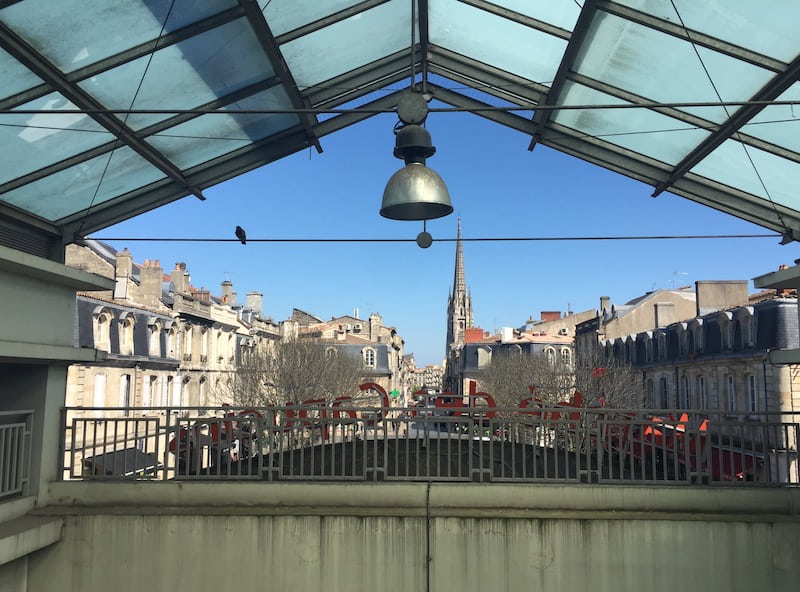 An iconic view from the Marché des Capucins out into the neighbourhood
It started as a cattle market, and eventually grew into trades and food, but the first roof came in 1863, expanding into two additional pavilions joined by a glass and iron gallery. This allowed horse-pulled buses to navigate between the two halls.

A neighbourhood grew around the market, known as the "Stomach of Bordeaux", a source of pride for its inhabitants.
But then the 1960s came, and with them the huge supermarkets that killed so many urban shops. The city authorities did try: a new parking lot, new hygiene measures, better refrigeration and more.
It would take the turn of the century and more renovations, along with renewed interest in local foods, for the Capucines to recover some of its former glory.
Where to stay when visiting Bordeaux?
Visiting Bordeaux FAQ
It is so worth it! Bordeaux is one of the loveliest cities in France, will beautiful classical architecture, UNESCO-protected buildings, and wine that is famous around the world.
You can probably see the major sights of the city itself in a day, if you work at it. But then you'd have to spend at least a day along the Atlantic Coast, and two days for the vineyards of Bordeaux.
Nothing will ever replace Paris, which is unique in the world. But Bordeaux as a city is stunning, even if you cannot compare it with the capital: they are vastly different from every perspective. But Bordeaux is one of the most beautiful cities in France, with plenty of history, great wine and food, and as wonderful setting. You will enjoy both!
That's the beauty of Bordeaux – it's perfectly walkable. It is wonderfully flat, and compact so that you can get from one neighborhood to another with ease, on foot.
That's easy! "Nous visitons Bordeaux."
You can start with the wine, not only the nearby vineyards but the Cité du Vin, a modern wine-themed museum. The city is also gaining a reputation as a gastronomic powerhouse. Beyond that, it is filled with magnificent buildings, plenty of history, and the Miroir d'Eau, the world's largest reflecting pool.
Bordeaux is as safe as any large city in France. Some of the outskirts are less attractive than the center of the city, and should be approached with caution if you're on your own at night, but these neighborhoods are probably off your itinerary if you are here as a tourist. The center of Bordeaux is perfectly safe, although it can be noisy on weekends. While violent crime is rare, there could be instances of theft and vandalism where people congregate.
Both cities have so much going for them! Here's a piece comparing the two cities, which should give you an idea the differences and similarities.
These days, France is an expensive country to visit and Bordeaux a relatively expensive city within it. But it's not extortionate, and similar in cost to other large French cities.
The closest airport is Bordeaux-Mérignac, close to town and with an easy tram that takes you right downtown. An increasing number of airlines fly into and out of Bordeaux, including many European airlines, and a few North African ones, along with such low-cost airlines as EasyJet
Toulouse is a fascinating city about two hours by train from Bordeaux. Another lovely city, and one of my favorites, is Bayonne, the capital of the French Basque country. If you're driving, here's a fun itinerary that covers the beautiful southwest of France.
A last look at the city...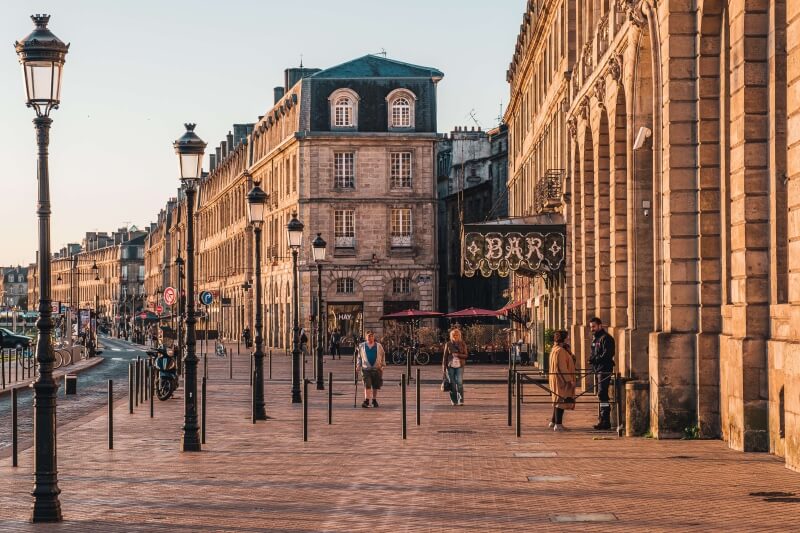 Bordeaux at sunset ©Teddy Verneuil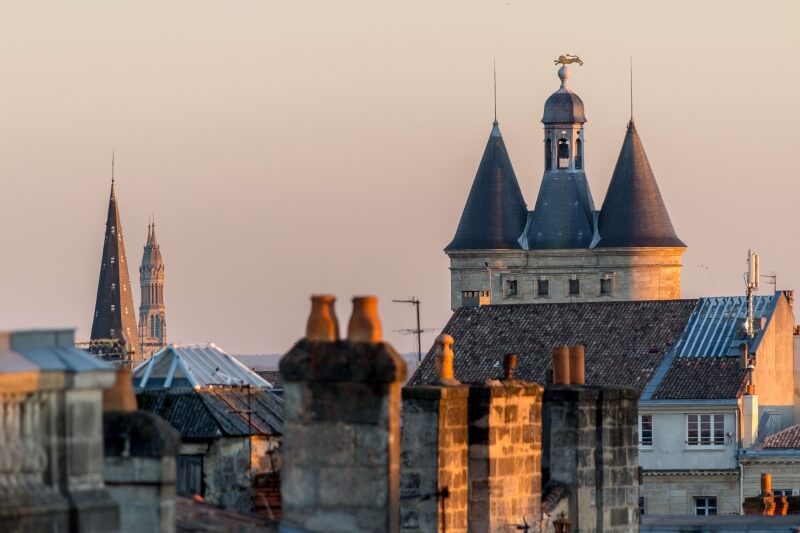 Rooftops of Bordeaux ©Steve Le Clech Photos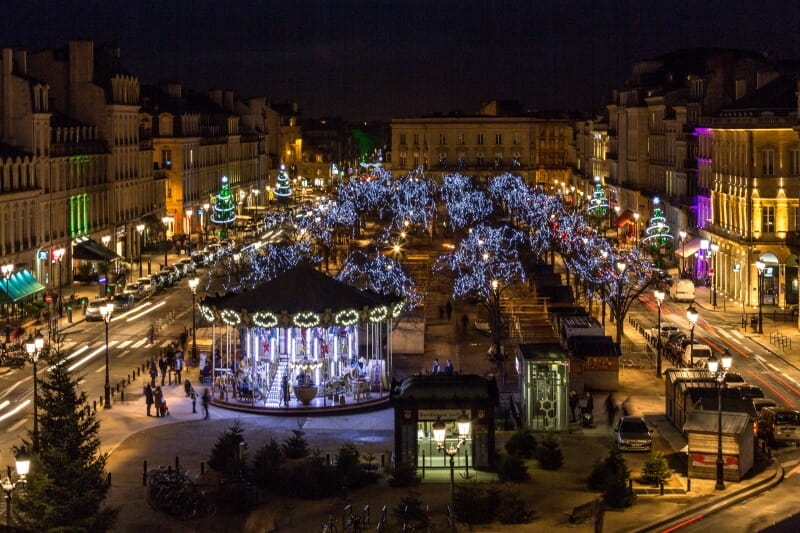 Allées de Tourny - Marché de Noël ©Steve Le Clech
The best time to visit Bordeaux?
Summer is popular but spring will be less crowded. Autumn is also a lovely season – wine drinkers might think twice because it's harvest time and all those wine professionals are busy, and some places may even be closed. But if wine isn't your purpose, then both spring and autumn are excellent, followed by summer.
I went in winter and although there were a few things I couldn't do, the sun was high, the city exciting, and I had a marvellous time. Season isn't everything!
Did you enjoy this article? I'd love if you shared it!