Pages on this site may contain affiliate links, which bring in a small commission at no cost to you.
Are you a foodie headed for Lyon?  Les Halles Paul Bocuse should be your first culinary stop
There's a certain thrill to pushing the relatively non-descript doors of the Halles Paul Bocuse, the tastiest Lyon market for foodies.
The anticipation is almost too sharp, the fear of disappointment too palpable, and a shiver of anticipation rushes down my spine.
As I look around the indoor market's 58 stalls, I tell myself there are many paths to culinary excellence:
the actual product, the so-called raw material, its freshness and crispiness and tenderness
the preparation, the recipe, the cuisson – whether it's perfectly done or overcooked
the environment and the senses, such as the physical beauty, the arrangement in the plate, the palette of colors, and even the wafting scents fighting one another for a nostril.
And somehow, they're all gathered here.
So don't be surprised if you bump into familiar faces, chefs you've seen on television shows or glimpsed in their kitchens – this is one of their favorite places to shop, and I'll explain why Les Halles is so popular.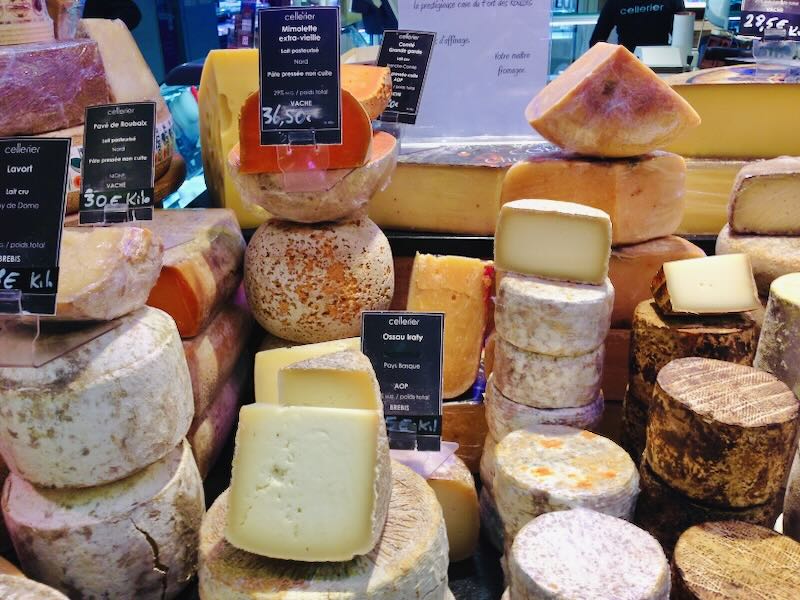 Is this display not a thing of beauty? Selection of cheeses in Les Halles (and as we know, cheese is one of our most popular French foods!)
Things that caught my eye: Iconic vendors and must-try foods
Many of Lyon's best French food producers have an outpost within these walls, their inventions and traditions laid out in splashes of color or perfect geometry, waiting for a hungry soul to shake things up a bit. It is misty and rainy and cold outside, but my world has turned sunny and warm and exciting.
This may not be food for everyone. Some French foods are an acquired taste but once acquired, it's yours for life.
I spend time listening, ogling, inhaling… This is the world of the creamy, wrinkly Saint-Marcellin cheese prepared by the Mère Richard (or by her descendants, as sadly she has passed away).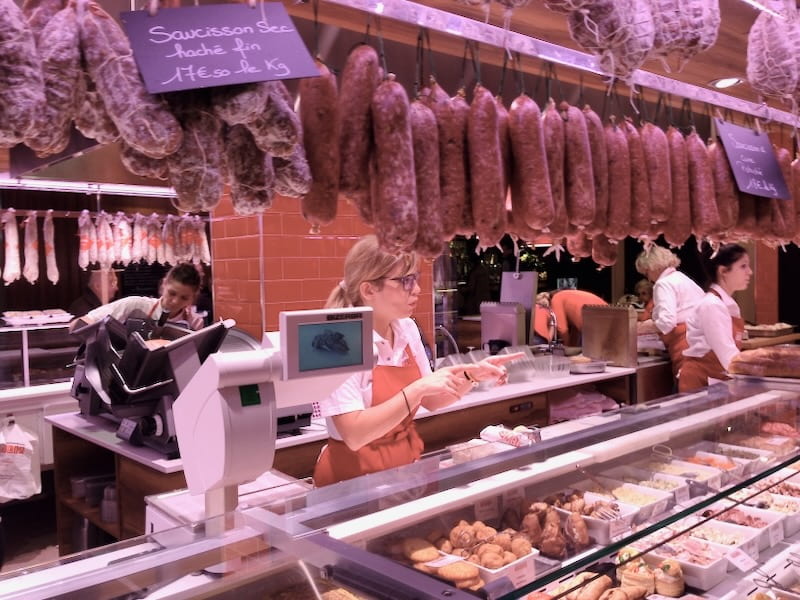 It is a world of saucisson and other cold cuts from the inimitable houses of Scibilia and Bobosse (andouillette tripe sausage and white ham with truffles), and the rainbows of fruits confits – candied fruit (see at the top of this page) – from Bahadourian, the Armenian caterer and grocer whose downtown warehouses have the feel of Istanbul's Grand Bazaar.
Or these escargots, so large my snail tongs barely fit around them, their secret being (I suspect – no one has confirmed this) the variety of parsleys and the use of unsalted butter. The tart taste of herbs pushes through, entwined with the addictive scent of garlic. (I use salted butter but I shall experiment.)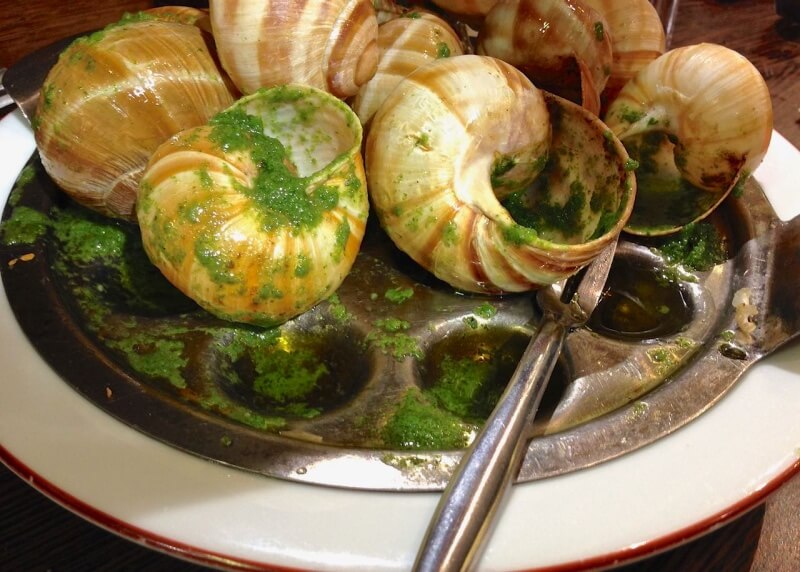 Escargots may be an acquired taste but once you acquire it, you won't be able to pass them by on a menu
I remembering suffering a single disappointment on my very first visit years ago: my eyes are riveted by a chef sautéing a huge pan of frogs legs but by the time my escargots are eaten, the frogs' legs are gone. It's not even noon, and every portion is already eaten or spoken for.

(No matter: a subsequent visit will rectify this oversight.)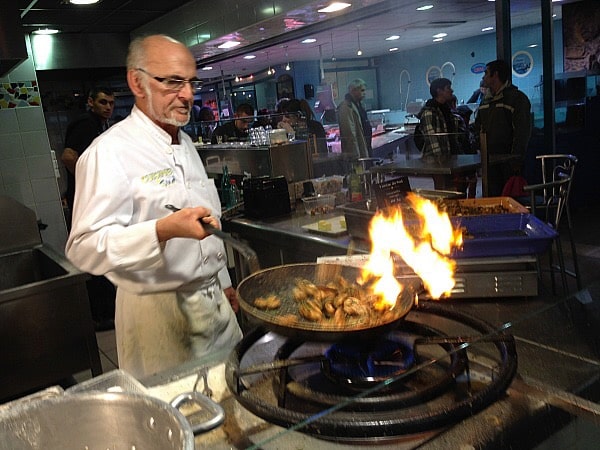 Get there early and reserve your batch, or you may be as disappointed as I was when they run out
For compensation, I head for the pastries, of sizes and shapes I'm not accustomed to seeing in my local village patisserie... Like the chocolate shop Sève, famed for its foie gras macarons, although their more traditional pastries will do just fine, thank you.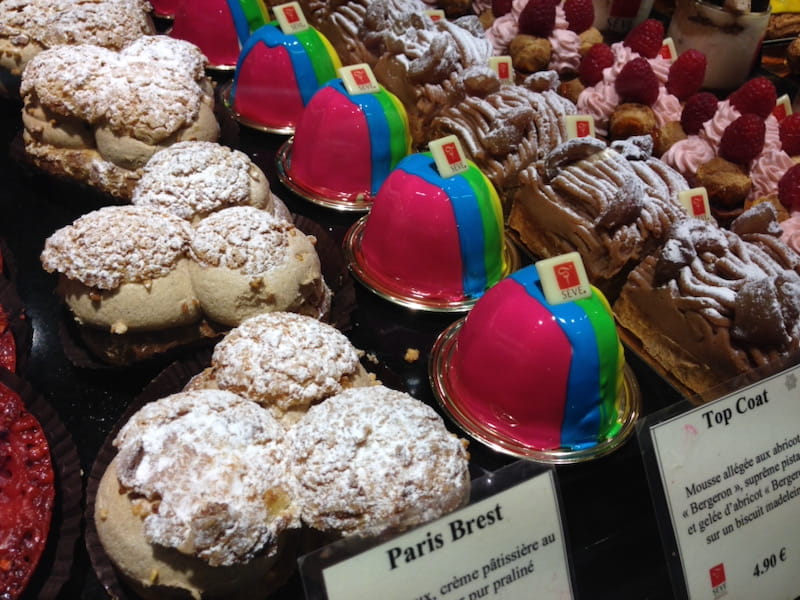 Here are a few other things that caught my eye:

Those fabulous escargots I had for breakfast (yes, garlic at almost sunrise) at Rousseau, where they also prepare giant polystyrene seafood trays to go.
The cheese plates at Mons, which they help you build: they might suggest a cheese wheel, with the mildest first, followed by stronger and stronger cheeses to preserve your palate.
The small turquoise candies – coussins, or pillows – which are a mixture of chocolate, almond paste and Curaçao. They were designed to commemorate the Fête des Echevins, celebrated on 8 September since 1643 in honor of Mary, to whom the Lyonnais entrusted their city, threatened by the plague.
And if I don't stop now, I'll be listing every single shop in Les Halles. Instead of my doing that, here's the list of everyone who sells at Les Halles Paul Bocuse.
The history of the Halles Paul Bocuse
Les Halles Paul Bocuse wasn't always what we know today.
The original Les Halles de Lyon, the city's first covered market, opened in 1859. It aimed to replace outdoor stalls and gather the food trade in a single venue.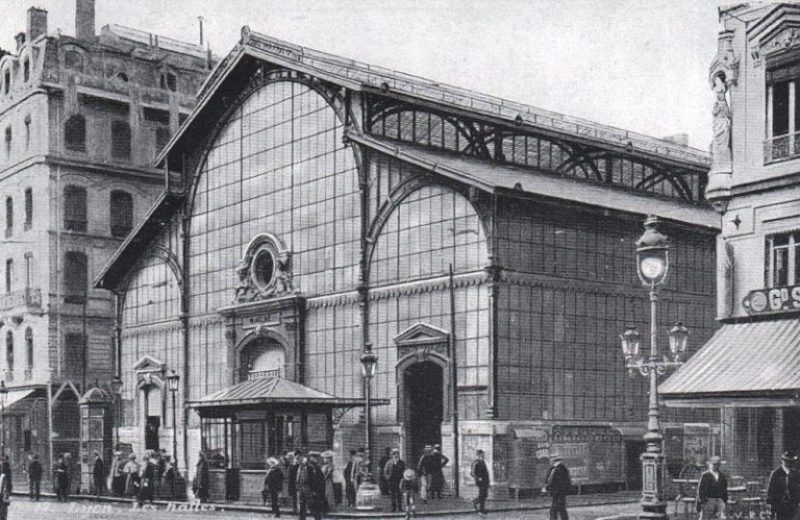 What Les Halles de Lyon used to look like ©Bibliothèque Municipale de Lyon – Archives municipales de Lyon – Collection René Monestier
People flocked, and the market was a success. But in winter, sellers complained of freezing water and icy floors. The building was drafty and cold and working here was a hardship.

Finally, the city decided to build a modern home for its market and in 1971, the building we know today was born.
The move to La Part-Dieu district, then a suburb of Lyon, improved supply because it was far easier for produce trucks to deliver goods than along the twisted streets of ancient Lyon, where the original market was located. The Part-Dieu area, a former military outpost that had fallen into disuse, got much-needed business and traffic.
The market was renovated in 2006 and – what a coup – Paul Bocuse, the world-renowned Lyonnais chef, allowed his name to be used, hence Les Halles Paul Bocuse.
The market's products were already renowned, but the new name provided a sort of a challenge, forcing merchants to reach even greater heights.
They now had to live up to two distinct gastronomic reputations: that of Lyon, and that of Paul Bocuse. The pressure was compounded in 2010 by UNESCO's decision to protect the French gastronomical meal by adding it to the Intangible World Heritage List.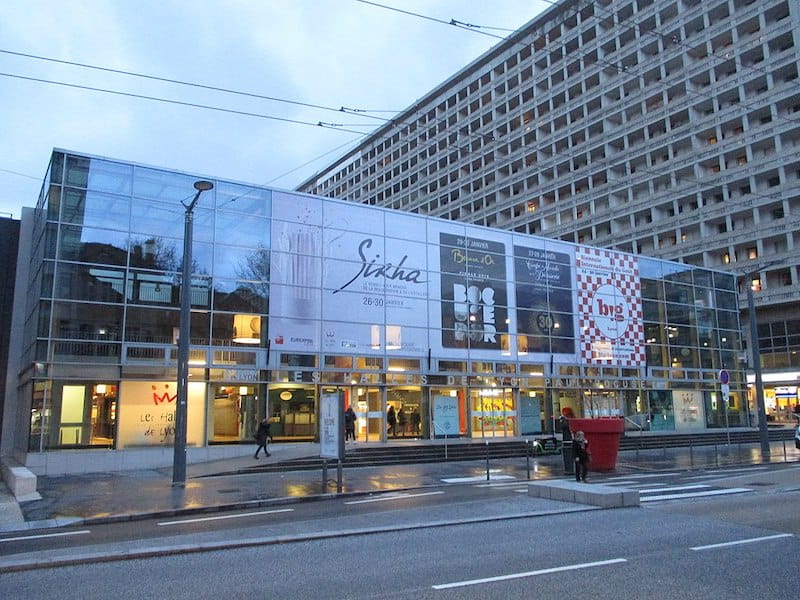 Les Halles de Lyon seen from the outside. You can see what I mean about the non-descript entrance, in the lower left. There are also entrances on other sides... Arnaud 25, CC BY-SA 4.0, via Wikimedia Commons
Les Halles is not what I would consider a handsome building, even with its newer and rather mundane glass frontage and warehouse ceilings. 
But combine the allure of the stalls with the energy of those who frequent them, and this cavernous space transforms itself from vastly impersonal to cozy and welcoming.
The huge tour groups haven't discovered Les Halles yet, but that can't be far off. Already the city of Lyon is pioneering some culinary city walks and while these don't include Les Halles, in future they probably will. (And while you're walking around, remember to look around to spot some of Lyon's 200 famous mural paintings.)

This is an adventure you can handle on your own if you prefer. Just come early, bring your hunger along, and possibly a phrasebook or a translation app if you want to know what it is you're eating. Otherwise, just point. I can't think you'll be disappointed by anything.
If you'd rather have someone explain the background to you, consider a private tour with a knowledgeable guide. I found a private tour hugely valuable and experienced far more than I had on several solo visits.
Planning your visit to Lyon les Halles
Lyon has an airport with flights from across Europe. The two closest are Paris and Geneva – it's a two-hour train ride to Lyon from either. 
You'll usually end up at Part-Dieu train station, whether you arrive by train or ride the tram from the airport. From here, you can walk to Les Halles in about 10 minutes.
Visit Les Halles with a strategy. Don't wait for lunch or the best spaces will be filled. Before 11 am or after 2 pm could be your only hope (and some of the best specialties may have run out). Don't have breakfast before you come – come early, scope out what you want, and ask if you can make a reservation. Then start your leisurely tour... 
This isn't a market for vegetarians, or for fresh produce lovers, although both will find a few items to embrace. This is a market for lovers of traditional Lyonnais fare, hefty, meaty, rich and anything but delicate. Just so you know.
Squeezers and tasters beware. While some (a very few) shops will allow you to sample before you buy, this is not the norm and most will assume you know what you're buying. Unlike more tourist-intensive markets, this is not a pick-and-choose. The point is driven home by the displays, covered with glass or plastic sheets and mostly beyond arm's reach. You either buy something and take it home, or you sit at one that serves, and eat.
Shops aren't always open! While Les Halles themselves are open all day 7/7, you can't say the same of all the shops, many of which have their own whimsical opening hours. Avoid Mondays, which in France is sometimes almost like a Sunday. Tuesday, Wednesday and Sunday afternoons should also be avoided because of certain closures. I like to go in the morning, mid-week.
Some restaurant stalls have additional seating upstairs. If the small crowded bar area is full, ask if there is more seating upstairs. A few restaurants are also open in the evening so if you don't snag a seat at lunch you might still have a chance.
There is plenty to buy. If you're from the USA, though, chances are you won't be able to bring most of this food home. But if you can bring things back, or if you'd simply like to indulge while you're here, I'd suggest any kind of saucisson, possibly hard cheese if you're not traveling too far, candied fruit, macarons (but they're fragile, and anyway, I dare you to have any left by the time you leave Les Halles), chocolates, or or those little marzipan coussins.
Other food-related things to do in Lyon
While Les Halles is an experience and should not be missed, Lyon's status as France's gastronomical capital means it has plenty of other culinary activities to satisfy your palate.
The "bouchons" of Lyon
Inescapable during a visit to Lyon is a meal in a bouchon, a traditional Lyon eatery that serves such local dishes as quenelles (a sort of oblong fish or chicken dumpling), cervelle de canuts (which translates as "silk workers' brains" but is actually a creamy white cheese), or a delicious Salade Lyonnaise, with bacon and a poached egg.

Cervelle de Canuts, a typical white cheese from Lyon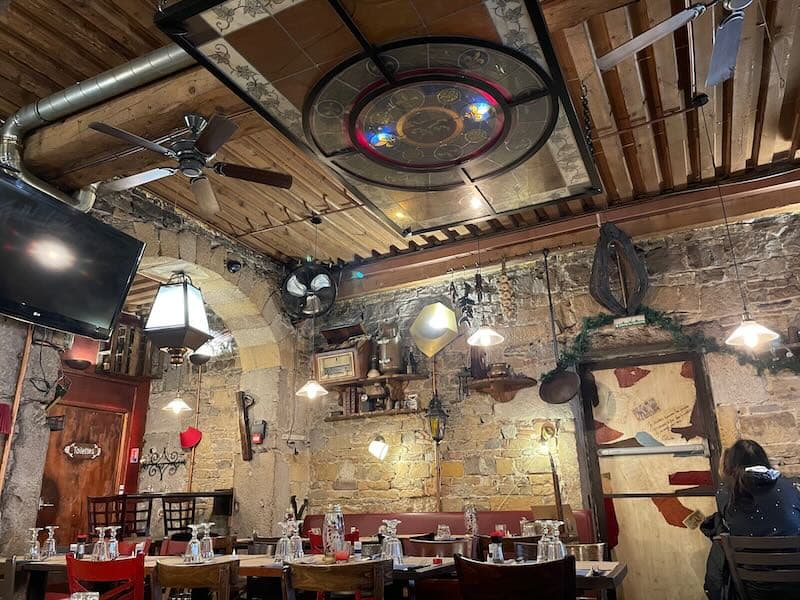 Some bouchons have older, traditional interiors, while others are quite modern. What matters is the cuisine!
The bouchon likely developed in the 18th century to feed the city's silk workers, the "canuts", who needed hearty, affordable meals. Local women, nicknamed "mothers" (les mères), would prepare inexpensive but delicious meals in their homes.

By the 20th century, a few of these mothers had gained fame for their exceptional cooking skills. La Mère Brazier, for example, was awarded Michelin stars...
To make sure you choose an authentic bouchon for your meal, check out the official website of Lyon's bouchons for a list.
Lyon's markets
Les Halles isn't Lyon's only food market, of course.
From Roman times, Lyon (then called Lugdunum) was a commercial hub, helped by its position at the confluence of two rivers, the Rhône and Saône.

The city was known for its major trade fairs, attracting merchants from all over Europe. The excellent quality of local products began to build Lyon's culinary reputation for fresh, local ingredients – especially meats, cheeses and other regional specialties.
That reputation continues today, and you can see for yourself by visiting some of Lyon's most notable markets:
Marché Saint-Antoine Célestins (Lyon's largest) along the Saône, mornings from Tuesday to Sunday
Marché Salengro, a more popular and multicultural market near the Gare de Vaise metro station, on Wednesday, Saturday and Sunday mornings
Marché de la Croix-Rousse, possibly Lyon's favorite, in the mornings from Tuesday-Sunday, starting at Croix-Rousse metro stop
Marché Carnot on Place Carnot, if you'd rather shop in the afternoon
Learn to prepare "la cuisine lyonnaise"

If you'd like to try your hand at French cooking, consider enrolling in a cooking class. Most are unfortunately in French, so head to Plum Lyon for classes in English.
Cité Internationale de la Gastronomie
Finally, there's the Cité Internationale de la Gastronomie.
Housed in the Grand Hôtel-Dieu, a renovated hospital and one of Lyon's architectural gems, this is a unique cultural center dedicated to French gastronomy. It features exhibitions, workshops, and interactive experiences that showcase the connections between food, health, and culture. (Oh, and it also happens to house the fabulous Inter-Continental Hotel, too.)

Interior of the Hotel-Dieu, which now houses the Cité de la Gastronomie (photo LV/ONLYLYON Tourism & Conventions)
More foodie adventures
Throughout Lyon, you'll also find a variety of specialty food shops selling local products like the pink praline pastries (try Pralus, in the Old Town), "saucisson de Lyon" (Lyon sausage), and those little "coussins de Lyon" candies made of chocolate and marzipan.

To top off your culinary adventure, consider a Lyon food tour and rely on a local guide to curate your visit to top food stops and hidden shops, all the while sharing stories and anecdotes about the city's food history and culture.
Discovering the wines of Lyon
Not surprisingly, Lyon also serves up an incredible array of wine experiences.
The Beaujolais and the Rhône Valley are just around the corner...
Head to the Beaujolais for a half-day tour, or spend a full day with a private guide who will take you both to the Beaujolais AND to the medieval village of Pérouges, worth the visit if you have the time. Several day trips from Lyon also take you to wine country.
The Maison des Vins in Lyon's city center offers a unique insight into the Rhône Valley's wines, giving you the opportunity to taste different varieties under a single roof.
Where to stay near Les Halles Paul Bocuse
Here are three recommended hotels near Les Halles:
Hotel Ibis – perfect location near the Part-Dieu station, clean, part of a reputable chain
DIFY Cozy – your own studio within walking distance of Les Halles Lyon
Okko Pont Lafayette – an upmarket hotel, modern and stylish
Or if you'd prefer, here are all the available hotels across the city.
FAQ: Les Halls Paul Bocuse
That is a resounding YES! At least if you're a foodie... From exquisite cheeses to artisan charcuterie to the freshest seafood, Les Halles Paul Bocuse has Lyon's best. 
Did you enjoy this article? I'd love if you shared it!