It's hard to write about my own country sometimes − I may not always be as objective as I'd like! But here, in my opinion, are the best places to visit in France if you want to get to begin to know the country, and of course I include the ones I love the most!
France is synonymous with culture, cuisine, history − and judging by the number of visitors we have, I think we're doing a credible job of providing you with endless travel experiences.
From the iconic to the undiscovered, welcome to France!
Paris: The starting point
Your journey will likely begin in Paris, the perennial favorite for its architectural marvels and culinary delights.
The city's landmarks are well-trodden, but some of the real magic lies in its lesser-known nooks. 
Whether you're after tourist attractions (like the Eiffel Tower), a more haunted side of Paris or other non-touristy things to do, the capital city of France is where you should start, especially if this is your first trip to this country.
Remember too that not far from the French capital are plenty of sights, like the Palace of Versailles or the Champagne region, and plenty more within an easy day trip.
Click here to find all my Paris articles.
From Paris to Provence via Lyon
As you travel south, the pace slows.
Lyon
A little more than halfway to Provence, you could find yourself in Lyon, one of my favorite French cities and the one I call home because it's the largest city near my home in the nearby countryside. Much of the older part of the city is a UNESCO World Heritage Site.
You'll find so many things to do in Lyon!
Perhaps you're keen on massive outdoor murals? Or maybe you've heard of Lyon's reputation as a gastronomic hub – you won't want to miss its famous covered market, the Halles Paul Bocuse. He was a native, after all. But I don't want to unveil all the city's secrets yet.
You'll find all the Lyon stories right here!
Provence
And then, Provence in southern France, a patchwork of vineyards, sunflower fields and olive groves, dotted with hilltop market towns where the air is fragrant with herbs and ripe fruit. 
One of the best things to do in the south of France is to savor the slow life – to enjoy a long lunch under the plane trees in a village square. 
This region of France is also filled with Roman ruins, like the Pont du Gard or the amphitheater of Arles – where Van Gogh spent some time.
Delve into Provence by reading these posts.
The French Riviera: Sun, sea, and glamor
The Côte d'Azur along the Mediterranean Sea appears in stark contrast to the rural heartland, with its beautiful beaches and yacht-filled harbors, like Saint Tropez or Antibes. 
If this is your first time on the Riviera, these delightful towns provide the perfect introduction.
You'll have to make sure to sample all that sunny Riviera food, which may fool you into thinking you've stepped next door into Italy (which you can easily do, by the way).
Don't forget that the historic town of Grasse is the world's perfume capital, and is a lovely place to get away from the summer heat. In winter, on the hand, you could drive the Mimosa Route and enjoy some extraordinary scenery!
The Loire Valley: A journey through history
The Loire Valley offers a feast for history buffs – this is where French kings lived and where most of the renowned chateaux were built or enhanced during the Renaissance. If you're really tight on time, the region can even be visited on a day trip from Paris. 
Base yourself in the cities of Blois, Tours or Amboise, perfect for ambling along cobblestoned streets or taking in a few wine tastings in-between castles. 
The Alps: For nature and adventure lovers
I have to recommend a visit to the French Alps, if you possibly can: they're absolutely gorgeous, in both winter and summer, and – I live in the foothills so I'm utterly subjective. My house is in the countryside, part-way between Annecy and Lyon, and I've lived here for at least three decades.
For an introduction to the mountainous part of my region, try this Lake Geneva-French Alps road trip – you'll need a car to drive it, though.
Or visit some of the stunning small towns in their fairy-tale settings, like Annecy, often considered the prettiest in France, or Chamonix, for skiers and hikers and lovers of soaring snow-capped mountains and rugged rocks.
The Basque Country: A blend of boldness and tradition
I first visited France's Basque country a few years ago, and was surprised on every level, enough to return.
A continuation of Spain's Basque region, it blends both cultures.
Towns like Bayonne and Biarritz near the Atlantic coast showcase this fusion with their renowned cuisine, surf culture, and traditional festivals. The Basque language echoes in the streets, adding to the area's mystique.
In the mountains, you'd think France was a distant country, as pilgrims head off on the St James Way towards Santiago, their backpacks fresh and steps still high, just before crossing the mountains into Spain. Villages with their green- or blood-colored trimmings offer an architecture seen nowhere else in France.
The last time I visited here was after spending a week with a friend in Bordeaux. I drove down, taking my time, because for me, the best way to visit the Basque country is on a road trip.

These regions are awaiting my return
France has many other genuinely spectacular regions, from Brittany to the Alsace (and its wines and Christmas markets) or the wild Ardèche, to mention just a few.
France may be slightly smaller than the state of Texas, but it packs a punch way above its size when it comes to history, diversity (culinary, cultural and linguistic), and sheer authentic character. I'm doing my best to explore every corner!
Did you enjoy this article? I'd love if you shared it!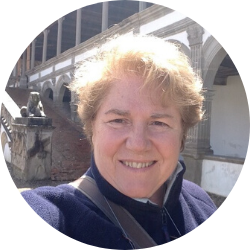 Bonjour! I'm Leyla, born in Paris, I now live in the bucolic mountain foothills of Eastern France. My days are spent exploring my country. 

As a journalist and former diplomat, I spent years living abroad and now, it's time to rediscover my own back yard.
Passionate about history and culture, I've created Offbeat France to seek out my country's mysteries and legends, less-traveled destinations, with plenty of food stops and many castles – I am French, after all! 
Read more here.