Pages on this site may contain affiliate links, which bring in a small commission at no cost to you.
Here it is, your travel guide to Paris in the fall!
For many visitors, Paris in the fall is the most wonderful time of year to visit: the scorching heat of summer has faded, the colors are at their brightest, and the hordes of visitors have returned home.
Across the city, the aroma of freshly baked goods drifts out of  patisserie doors and it is cool enough to begin dreaming of hot chocolate − at the very least, you can again enter a chocolate shop without worrying your purchases will melt into a mess.
Yes, autumn in Paris is definitely a delight, although there's a huge difference between Paris in September (sunny days and often warm) and Paris in December (cold and often rainy).
There are many things to do in Paris in autumn, with concerts and theaters reopening, but and beyond culture, there's energy in the air. Residents have rested up during the summer and brought back some of that happy energy  with them.
Lines are shorter at major attractions like the Eiffel Tower or the Louvre, and you can explore the city's trove of non-touristy things to do.

The problem with fall season in Paris is that there's so much to do it's difficult to choose.
Paris autumn weather
Let's get this out of the way, because when planning for Paris in the autumn, weather IS a consideration. Some things are predictable, some are not.
Autumn is a season of transition, from summer heat to winter cold, and while Paris fall temperatures will mostly fall in-between, you will experience the occasional day at either extreme. 
We have two ways of looking at the fall season in Paris.
According to the astronomical calendar, fall begins with the September equinox, usually around 21 September, and ends with the December solstice, around 21 December.
But a more logical way might be to use the meteorological calendar, with seasons based on climate. The Paris fall would start on 1 September, and end on 30 November. Since this is easier for our travel plans, let's go for that!
Generally speaking, you'll have highs that hover around 8°C (46°F) and lows around 3°C (37°F), with some occasional excesses. In 2022, for example, temperatures were unseasonably warm and there were days that felt like June...
But there are huge variations in fall Paris weather:
Weather in Paris in September: Of all the fall months, September probably has the best weather, ranging from 22℃ / 72°F in daytime to 13℃ / 55℉ at night, with plenty of sunshine. Depending on the year, Paris in September can feel like an extension of summer, without the stifling heat or crowds.
Weather in Paris in October: Paris October weather becomes slightly chillier, from highs of 17℃ / 63℉ to lows of 10℃ / 50℉, and increasing rain. You can still have beautiful fall days and Paris weather in October can range from balmy to downright cold. I love October in the capital...
Weather in Paris in November: As elsewhere in France in autumn, Paris fall weather in November is probably the worst of the year, with highs of 11℃ / 52℉ to lows of 6℃ / 43℉. Expect a full week of rain throughout the month.
Weather in Paris in December: Temperatures will plunge, with highs of 8℃ / 46℉ to lows of 4℃ / 39℉ (it can get even colder). You can experience rain up to half the month, although snow is a rarity.
Of course fall in Paris will bring gloomy days and autumn showers, and plenty of what we call "la grisaille" (the grayness) but the city somehow manages to maintain its mantle of beauty, whatever the weather.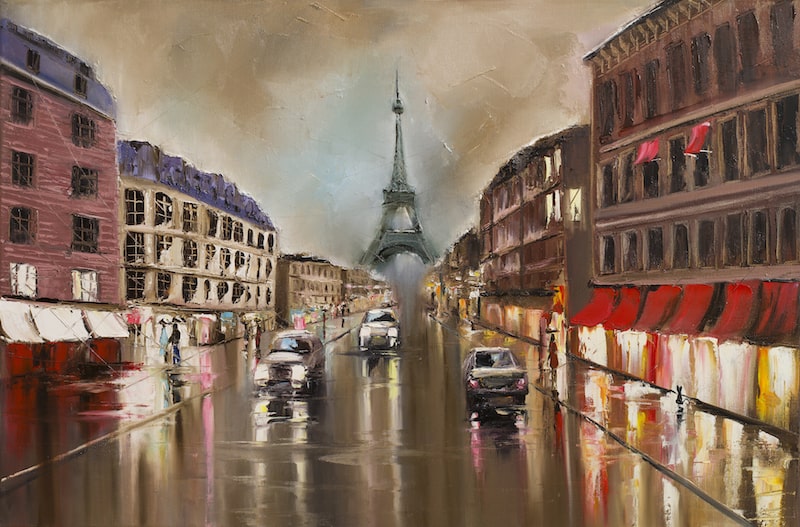 Rain or no rain, it's still Paris!
When the streets glisten with rain, the cobblestones can't help but reflect the light with magic. As autumn edges towards winter, some of those cold gloomy days might be more frequent, but the city somehow remains bright.
Generally, temperatures will get cooler as time passes, and rain will be more frequent. But the vagaries of climate change make sure the only predictable thing about fall weather in Paris is it unpredictability. 
Love Paris in the fall? 7 tempting things to do
You can choose to embrace the wet and damp, or you can hide from it, but either way, the joy that comes with Paris will refuse to go away.

So here we go, ideas of what to do in Paris in the fall, and to get you jumpstarted, here are two fantastic rainy-day museum tours in Paris.
1. Top up your festival culture
After the slump of summer, culture emerges with force once La Rentrée (the "return") is done with, children have started school, and everyone is catching up with overflowing inboxes.
Paris is at its autumn best for culture. Whether posters in the metro or advertisements online, we are bombarded with events that have been waiting for the season to open.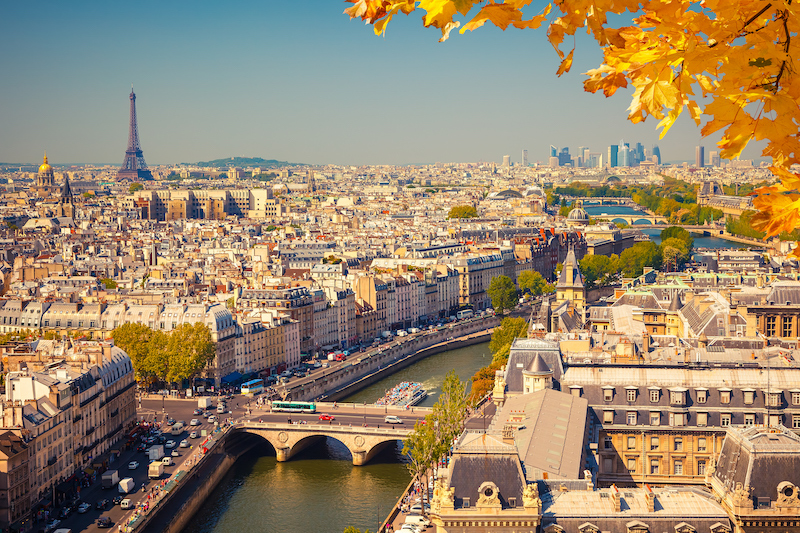 The Festival d'Automne à Paris is everything wrapped into one, a kaleidoscope of contemporary culture that embraces arts from dance and theater to music and film. It's ever-changing programme is a delight for those who want to stay on culture's cutting edge − French, of course, but also from around the world.
As you do the cultural rounds, you'll also discover some of the best venues in Paris: the festival's events take place in more than 60 different venues, from the Centre  Pompidou to the Jeu de Paume museum. You can browse the shows or get your tickets from the festival's office.
2. Visit some of the small, spectacular or lesser-known museums of Paris
Some of the best things to do in Paris in fall involve museums, and of course Paris has some of the most famous museums in the world, like the lavish Louvre. 
But museums in Paris can also be smaller and less known, often covering the range of tastes, from romance to crime to art. The beauty of Paris is that it has it all: there are few interests you won't see reflected in some sort of exhibit.
Museum of Romantic Life
A small museum not far from Montmartre, the Musée de la Vie Romantique is made for romantics and artsy enthusiasts. George Sand and Frédéric Chopin are only two of the network of creative visionaries these antique walls have seen.
Make sure you stop at the elegant fairytale garden after your visit, for a sliver of silence away from the noise of the city. If the weather is cool or rainy, take advantage of the indoor seating in the museum's Tea Room.

One of the lovely and smaller museums in Paris: Musée de la Vie Romantique (Parizpropokrocile, CC BY-SA 3.0, via Wikimedia Commons)
Museum of Counterfeit Goods
This is an intriguing little museum, all about fakes and counterfeit goods. It's tiny and is definitely in need of a spruce-up but that doesn't stop it from yielding plenty of surprises about the world's most popular fakes. Here's more about the Counterfeit Museum, a perfect place to while away an hour if you happen to be in the 16th arrondissement on a rainy day.
The Gallery of Paleontology and Comparative Anatomy
This is certainly not for everyone, but it is an interesting gallery and collection, which forms part of the French National Museum of Natural History, the first museum I ever visited as a child. Animal skeletons and bones? Go ahead, to give your Paris trip an uncanny edge. 
TIP : Have a look at these quirky museums in Paris (and the rest of France) for even more uncommon wonders to surprise you!
Musée Carnavalet
There's nothing small about the Carnavalet but for some reason, it isn't in the top tier of museum visits in Paris – and I don't know why. Its mission is to portray the history of Paris from its earliest days.
I'm particularly fond of the displays around the French Revolution and the Belle Époque, when the face of Paris changed radically. The museum is in the Marais near the Place des Vosges, so it is easy to get to, and it's free.
3. Take a trip to the Paris Pet Cemetery
Paris tends to coexist peacefully with the afterlife, and visiting cemeteries is a favourite Parisian and tourist pastime. There are many cemeteries worth visiting, like the Père Lachaise or Montmartre, and what is autumn without a few shivers down your spine?
If you want to push beyond these human cemeteries for an other-worldly experience in Paris, fall for the Cimetière des Chiens (the Dog Cemetery) for something truly unusual. 
The cemetery was not created for sentimental reasons but because major European cities in the 18th century were not known for their impeccable sanitary habits. Streets were often littered with filth, and the Paris pet cemetery was created to keep the river and rubbish dumps free of deceased pets by burying them in a communal spot.
The cemetery doesn't only welcome dogs, and within its walls you'll find the graves of many other pets. In fact it's actually called the Cemetery of Dogs and Other Domestic Animals.
Should you choose to visit (and I admit it's not for everyone), it's to the northwest of Paris, a half-hour drive, or by public transportation. Perhaps take advantage of being here to visit the nearby Chateau d'Asnières.
TIP : Dogs are allowed on the cemetery grounds as long as they are on a leash.
4. Wait out the rain in a cozy bookstore
Paris is famous for the vast array of literary figures and artists who have trekked through its labyrinth of streets, leaving their stamp on the city's bookstores. There's a whirl of reading to be done, and what better way to while away a crispy autumn afternoon than surrounded by books? 
The Red Wheelbarrow
With its picture-perfect navy blue storefront, The Red Wheelbarrow is an independent literary bookstore perfect for inspiration on an autumn afternoon.
Librairie Galignani
Right on the Rue de Rivoli, Librairie Galignani is continental Europe's first English-language bookstore, a book-lover's paradise with hardwood shelves and mosaic floors. This may be your perfect France in fall moment, especially if you combine it with a glorious "African" hot chocolate (made with beans from three countries) at Angelina right next door.
Shakespeare and Company
Shakespeare and Company needs no introduction, but only a reminder that such luminaries as Ernest Hemingway and James Joyce once haunted its aisles. I was once caught out in the rain right out in front so I rushed in. By the time the rain passed, I was too busy browsing to leave. You may suffer the same fate. 
    You might also like these stories!
5. Visit an indoor garden
You may not feel like sloshing along the Tuileries Gardens on a soggy day, but a rainy Paris doesn't have to stand in the way of your love for nature. Like a Garden of Eden in a jar, the city's greenhouses extend their tempting glass casings to welcome you into the green side of Paris.
Head off to the Grandes Serres in the Jardin des Plantes, the Paris Zoological Park greenhouse, or the kaleidoscope of butterflies at the Jardin des Papillons in the Parc Floral. Admire nature around you, and listen to the soft sound of rain on the greenhouse glass. Experience this once and you'll actually be praying for rain!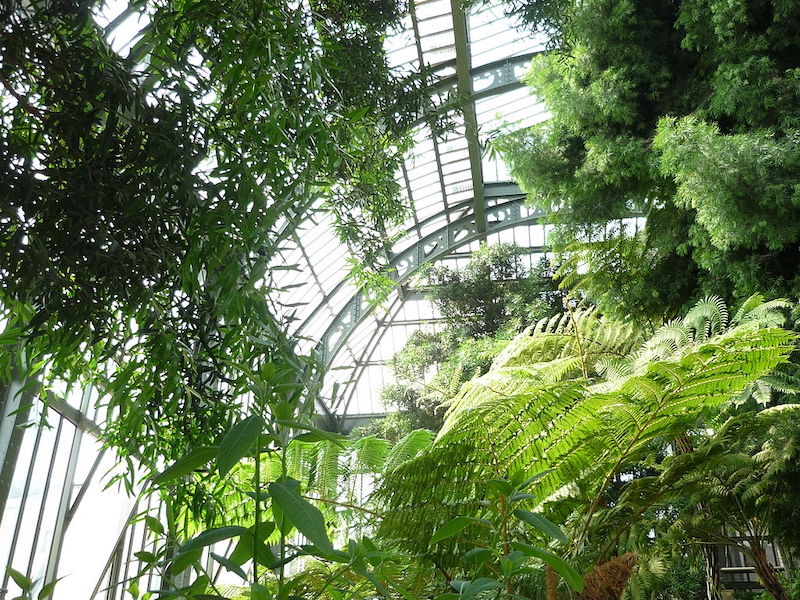 The beautiful greenhouse of the Jardin des Plantes, a wonderful place to warm up on a cool autumn day (Rémih, CC BY-SA 3.0, via Wikimedia Commons)
6. Spooky time in the Catacombs
Autumn is spooky season and the French capital is no exception. This is the perfect time to kindle that otherwordly flame by heading underground into the Catacombs. Rather than scary, there's a certain serenity that overtakes you as you descend the spiral staircase. Or at least it did me.
But − there's no question this former quarry is one of the most haunted places in Paris.
Buy your skip-the-line Catacombs tickets here, or register for a small group guided tour with an English-speaking guide and specially access to parts usually closed to the public.
Better yet, enjoy the spooky season by signing up for one of the ghostly Paris tours which will take you around the city's scariest places.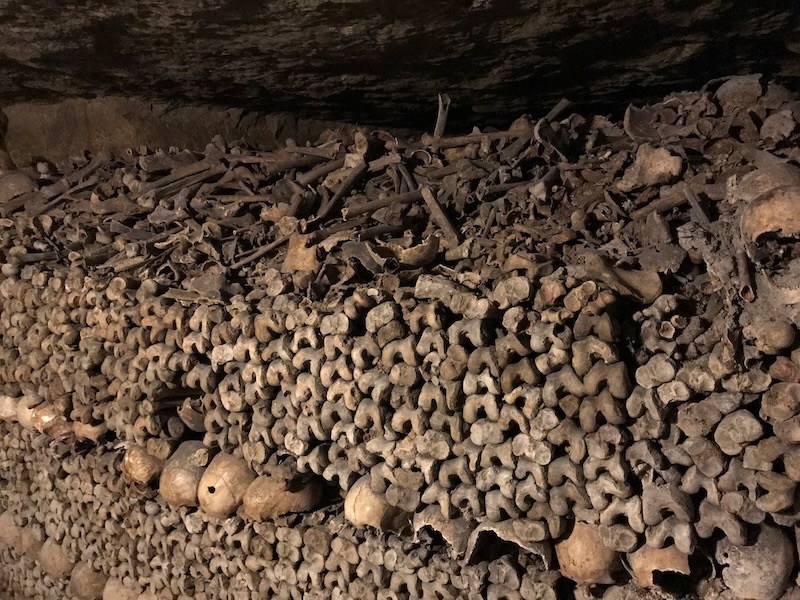 The Paris Catacombs - you can head underground when it's miserable outside. And don't be fooled: these are not as lugubrious as you might think!
7. Explore the Paris sewers
From Remy's unexpected underground adventure in Ratatouille to a crafty escape route in Les Misérables, the Paris sewers often star in film and literature. They may sound a little disgusting, but it isn't at all.
The Paris Sewer Museum is built along sewer galleries and contains such unusual items as old maintenance machines and replicas of different-sized tubing used to pump water and waste. Against all odds, I was fascinated by this offbeat site.
The Paris Museum Pass includes a ticket to the Sewer Museum.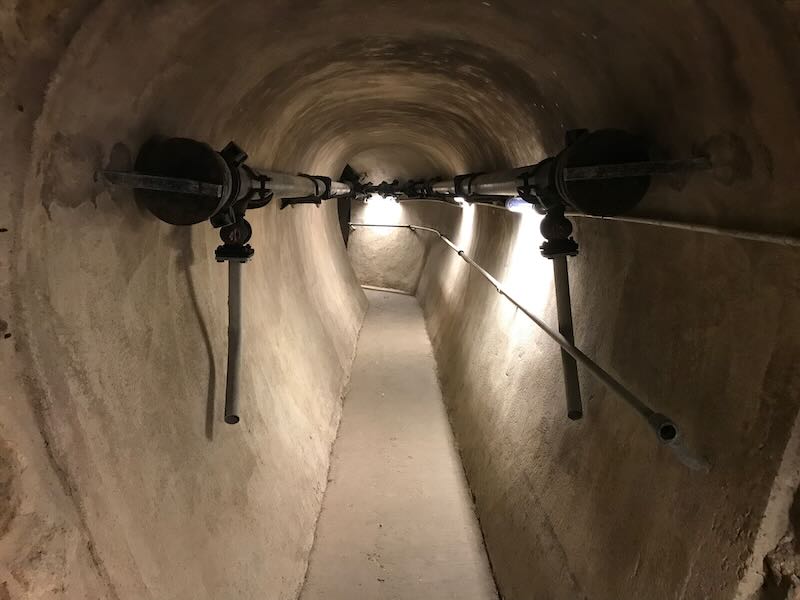 The Paris Sewers Museum was a complete surprise - it felt damp, of course, but clean, despite being built right into the sewers
A few more Paris autumn travel tips
While embracing the French flâneur spirit (a stroller who observes modern urban life) might be tempting, you'll need some Paris prep before your travels. Here are a few essential things to remember when travelling to Paris in the fall:
Make a note of all the holidays during autumn: visiting Paris in October means plenty of festive events, from wine to jazz to art festivals.
Consider renting a bike: On a sunny autumn day, it's an ideal way to see the fall foliage in Paris, without the sweat of cycling in summer. Just beware of yesterday's leftover puddles!
Book popular tourist attraction tickets in advance: If you travel during France's school holidays, you'll need to get all your entrance tickets ahead of time or run the risk of them being sold out.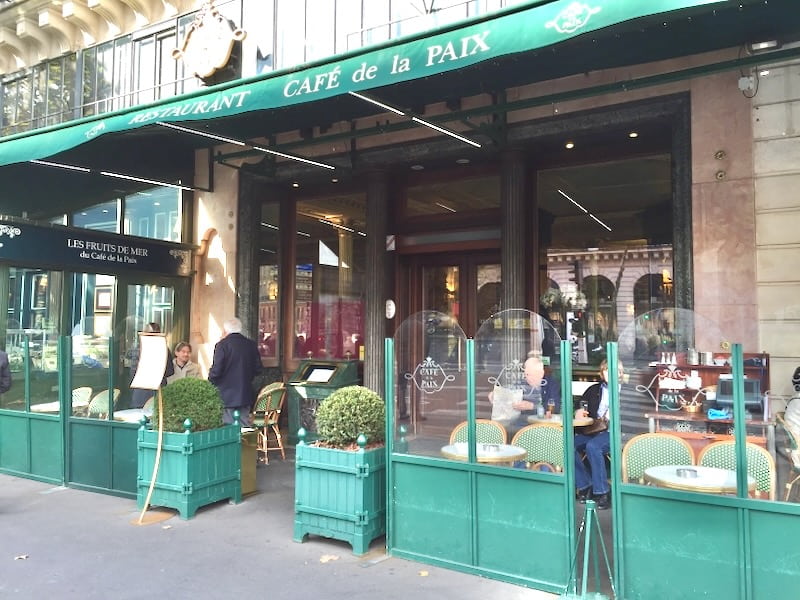 Parisians doing one of their favorite things - sitting in a café - in mid-October. As you can see, the weather is still pleasant enough to sit outside
What to wear in Paris in the fall
Wondering what to pack for Paris in the fall? Layers. The weather is extremely changeable, and can change from hot and summery to cold and blustery − and back again. 
For day-time wear, I usually layer with a long- or short-sleeved T-shirt (in case it gets that warm), with a sweater and a fleece on top. 

Parisians tend to wear muted colors rather than splashy prints so if you want your Paris fall outfits to blend in (always good when trying to avoid those Paris pickpockets), opt for natural colors or grays or navy blue, and get your color from accessories, like scarves or bags.
An umbrella will also be useful when visiting Paris in the fall.
Essential resources for your Paris trip
TRAVEL INSURANCE
Don't leave home without it – your car rental insurance covers certain things but may not cover your health or accident needs, which you can book here.
BOOK YOUR ACCOMMODATIONS
I use booking.com, because they include both hotels and holiday rentals like Airbnb or VRBO, so a wider choice and an easy cancellation policy.
DO YOU NEED A SIM CARD FOR FRANCE?
If you haven't signed up for a roaming service back home and have an unlocked phone, consider getting an e-SIM for France. Here's the one I use when I travel.
IF YOU'D LIKE TO READ UP ABOUT PARIS AND FRANCE
Drop by my long list of books about France, written by French or foreign Francophile authors, with plenty specifically about Paris.
AND DON'T FORGET YOUR GUIDEBOOKS!
➽ Lonely Planet's Paris Travel Guide
➽ Rick Steves' Paris
➽ Paris in Stride - An Insider's Walking Guide
A FEW WORDS ABOUT SAFETY
Paris is as safe as any major European city but you WILL find pickpockets in Paris. I keep them at bay by using a comfy anti-theft purse or a Sholdit infinity scarf to hide my cards and money.
Capturing the autumn mood... [video]
FAQ: Fall in Paris
Fall is one of my favorite seasons in Paris, shifting with the sun, the skies glowing bright or darkening and heavy, depending on the day or even the hour. Autumn is a season of unpredictability, which makes it exciting. 

It's also the season of energy, when everyone is back from holidays and ready to plunge into life with renewed vigor. Culture sweeps the city, coffee steams up the air and ice cubes disappear from drinks. Fall in Paris is a delight!
In normal years, the leaves change color in Paris sometime in October and November. However, there are years in which the fall foliage season in Paris may start as early as August, not because of autumn but because of persistent drought and recurrent heat waves.
Paris weather in autumn is changeable, and depending on when in fall you visit, you can experience everything from summer to early winter. So it's best to pack layers and avoid bulky clothes. This way, you'll be able to peel the layers off if it gets too warm, and put them back on if temperatures fall.

Just be sure to have all bases covered. For example, have at least one short-sleeved top, in case of heat, and a fleece to wear on top of other layers should the weather turn. Something that repels the rain is a good idea in fall.
Fall tends to be regarded as the period between the end of summer holidays and Christmas – so September through December.
A lot of Paris is indoors, so it's not difficult to escape the rain. You can go to museums, take in a movie, explore the city's covered passages, visit underground sites like the sewers (it's a lot better than it sounds) or the Catacombs, spend time in a café, visit some of the city's greenhouses, explore churches and cathedrals, take a course or attend a workshop, or shop in one of the city's wonderful department stores.
There are no seasons to stay away from Paris. Even those months with the worst weather – from November to March – have plenty of things to do and see. If I had to choose when to stay away, it would probably be July and the first half of August: the city is usually very hot, many shops are closed as Parisians head off on their vacations, and the city is excessively crowded.
Paris in the fall: final thoughts
From gallons of frothy hot chocolate to embracing the windy weather and braving the outdoors, the Paris fall season is an exciting time to be here. While many crave spring flowers or summer's warmth, the fall has a way of transforming Paris into a warm, familiar escape.
And if you're thinking of extending your Paris in fall trip into the frosty season? Take a look at this Paris in winter guide to learn about the icy splendors awaiting you if you take the plunge.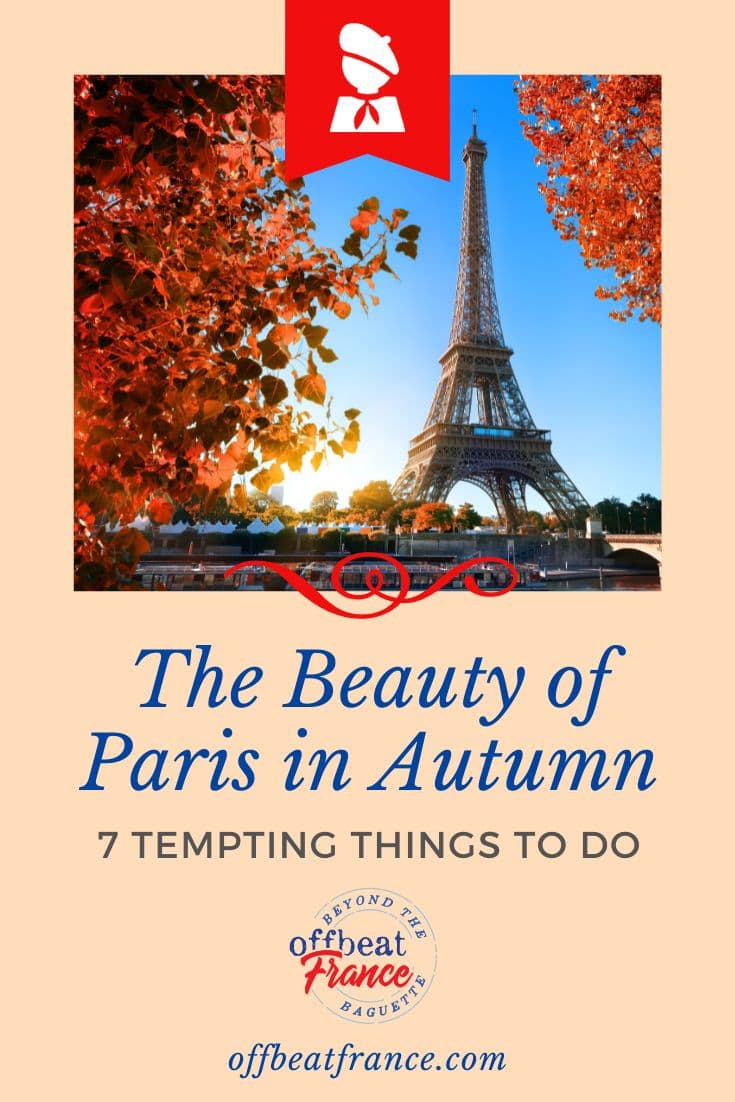 Did you enjoy this article? I'd love if you shared it!