Pages on this site may contain affiliate links, which bring in a small commission.
Spring and summer are two of the most popular seasons to visit the French capital. On the other hand, winter in Paris is a little less tempting − freezing temperatures, occasional snow, and miserable grey skies may put visitors off.
I would ask that you reconsider: December in Paris can be a lovely time to visit. Paris is one of the most beautiful cities in France, and December doesn't change that.
On the contrary: there's so much you can do in Paris in December!
Weather in Paris in December
First things first: the weather.
Paris weather in December can be pretty miserable, with temperatures averaging from 3°C/37°F to around 7°C/44°F. Not exactly tropical.
Rainfall, on the other hand, averages around 49 mm/1.9 in for about nine days of the month. If we do the math, that leaves 22 days without rain. Starting to look better?
Now snow. It's rare, and when it does fall, it doesn't last for very long. Some people (like me) WANT to be in Paris when it snows. It's beautiful, unique (and yes, messy, as everyone skids every which way). 
9 Fun things to do in Paris in December
Right, so now you know that it is quite cold in Paris in December. But please don't let that deter you!
Paris is idyllic around this time, especially when the snow covers some of the city's iconic landmarks, such as the Louvre.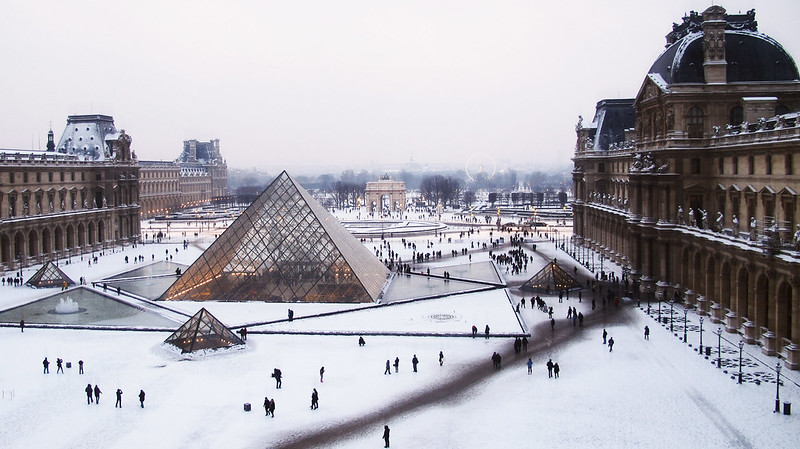 The magic that is the courtyard of the Louvre Museum in December. Photo by Twinka Bauter, CC BY-NC-ND 2.0 via Flickr
There is plenty to look forward to in Paris in December. (Here are some of the more non-touristy things to do, in any season.)
1. Attend a concert at La Sainte-Chapelle
Paris has many impressive chapels and churches but few are more impressive than La Sainte-Chapelle. You'll understand the moment you walk in.
➽ Try to get to the Sainte-Chapelle as soon as it opens, or be the last person out. It's a special experience when you're the only person inside.
Built in just seven years in the 1200s, its 15 stained glass windows reaching 15 meters high depict scenes from the Old and New Testament. 

While this is a rather unlikely venue for winter events in Paris, it does make for a rather majestic concert hall. Each December, La Sainte-Chapelle hosts several classical music concerts, which you can catch throughout the month. Just dress warmly.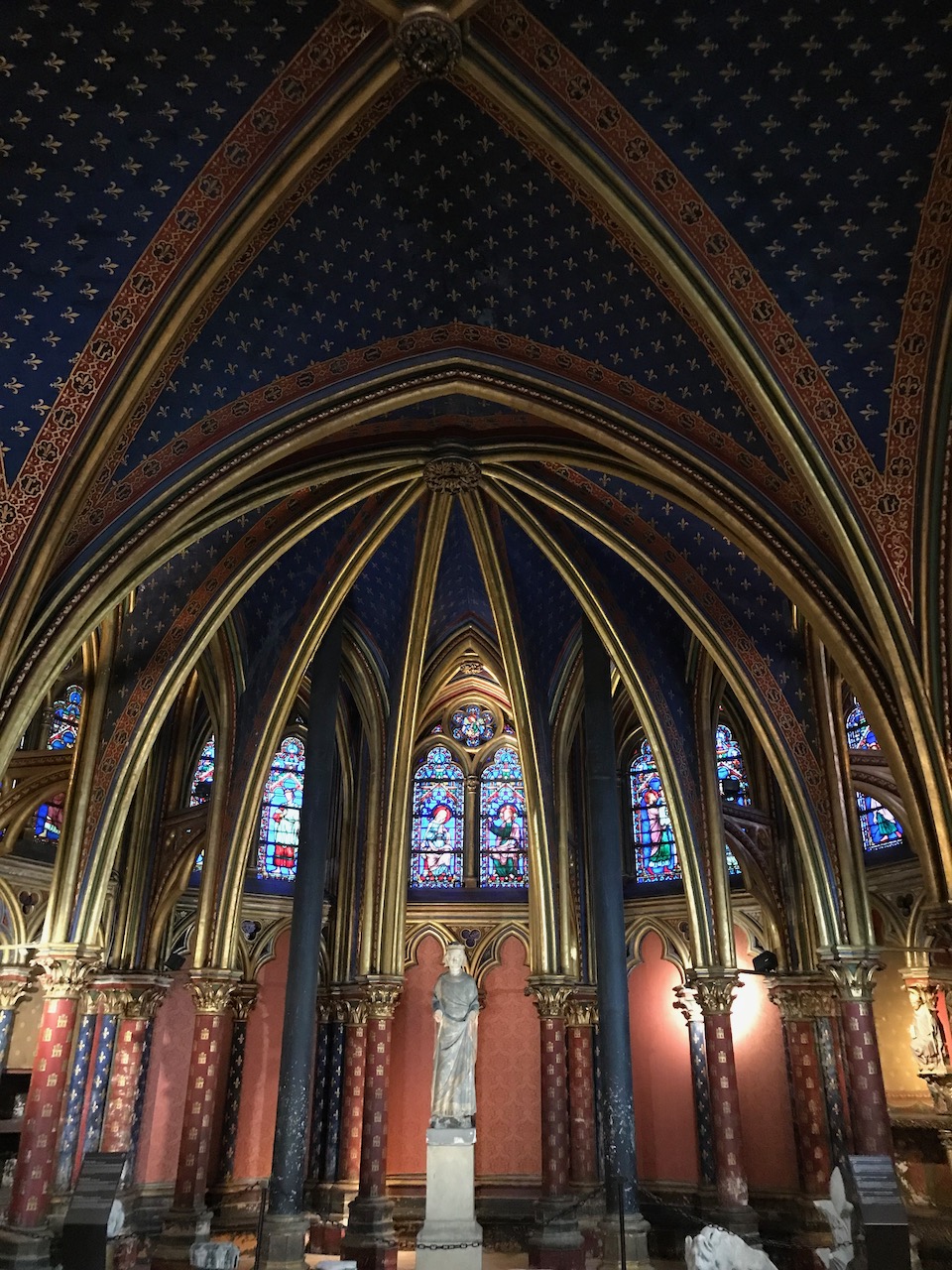 The amazing interior of the Sainte-Chapelle, a stunning backdrop for a December concert ©OffbeatFrance
2. Enjoy the Paris Lights Festival
You've probably seen pictures of Paris lit up by Christmas trees and lights each year. When it rains, the reflections on the ground provide double the beauty.
But there's also a different kind of light festival: it's called the Paris Light Festival and is a fun event that takes place in the Jardin des Plantes in the 5th arrondissement. 
Giant animal statues are lit up with colorful LED lights, super fun to look at.
But this particular light show is just one of several − here are others.
3. Enjoy some classic French onion soup OR TARTIFLETTE
French onion soup is one of most popular French foods, believed to have been invented in the 18th century. This cheese and onion-based soup is topped with croutons or thick slices of bread and is not only a delectable treat, but a welcome and hearty meal on a cold winter's day. 
Another more modern dish is Tartiflette, a relatively recent invention that has taken off so quickly you'll find it on most menus in winter east of Lyon, and in many Paris bistrots. It is a mixture of layered potatoes, cheese, cream, onions and bacon, all gratinéed in the oven. What's there not to like? And I promise it will keep you warm.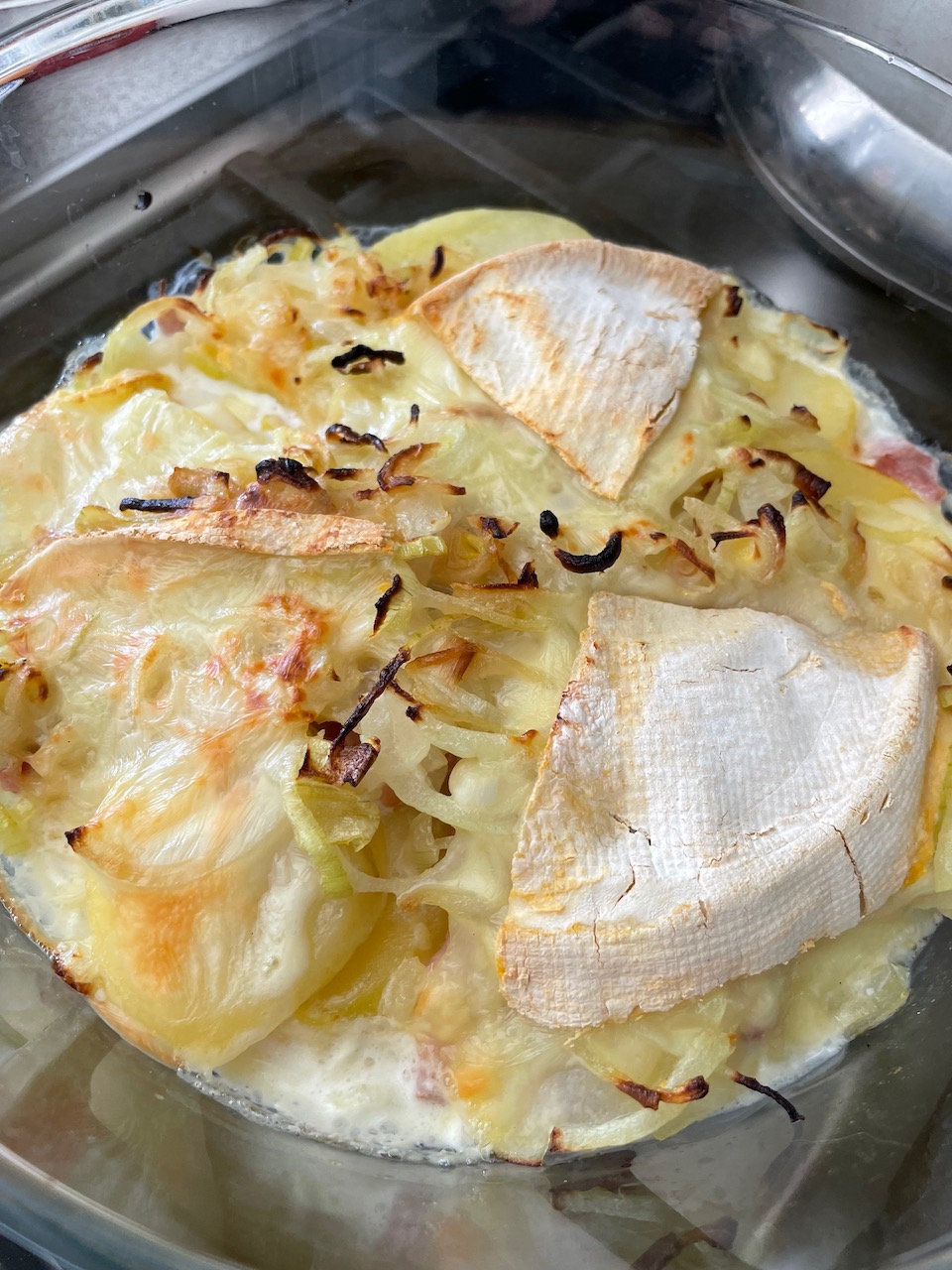 The perfect December dish - Tartiflette! ©OffbeatFrance
4. Visit the Galeries Lafayette rooftop terrace
Ahhh, the Galeries Lafayette, one of my favorite department stores in all seasons. 
Of course you can indulge in some serious shopping, but in December you'll want to visit for two reasons.
First, head up to the rooftop terrace and see what's happening. You might find an ephemeral restaurant, or a temporary ice-skating rink... And whatever else, you'll have a fabulous view of the Paris rooftops and the Eiffel Tower,
But there is another reason to visit in December: Christmas decorations that are among the most striking and elaborate in the city. They change each year and being here in December means an obligatory stop to see what wonderful fantasy the iconic shop has imagined for you.

Galeries Lafayette Christmas decorations are spectacular every year. Photo AmelieNewYork CC BY-NC-ND 2.0 via Flickr
5. admire the temporary exhibits
Paris is home to so many iconic galleries and art museums. The only problem is people have caught on that winter is an excellent time to visit these museums, so they're not as crowd-free as you may like. 
While you might have a skip-the-line-ticket for the Louvre or other famous museums, they might still be crowded.
But this doesn't mean you can't enjoy Paris' awesome art. 
December is an excellent month for cultural programmes and temporary exhibitions throughout the city, so just check the tourist office's website for the latest listings. Here's what's available in December 2022.
6. Explore the squares of Paris
The architects in charge of urban planning in Paris made sure the city would have plenty of green spaces − and elegant squares. Discovering these on a sunny December day is one of the better free things to do in Paris.
Many are ringed by cafés where you can take in local Parisian life by people-watching with a special, rich cup of hot chocolate or creamy pastry. Plus, the squares are elaborately decorated for the festive season with Christmas trees and lights. Paris does December well.

7. Take a food and wine tour of Le Marais
Le Marais is one of the oldest districts in Paris and home to one of the first food tours. This idyllic area is loaded with cafes, restaurants and galleries. But this food tour of Le Marais is the original tour of the area and will take you through some of Le Marais' off-the-beaten-path culinary spots. 
You'll visit the market filled with fresh produce and hidden food spots in the narrow and exciting streets of Le Marais. You can also look forward to some classic French foods and some local favourites that not everyone knows about. 
8. Take photos at a vintage photo booth
Whether you're visiting Paris with your other half or friends, you'll want to leave with a special memory of your time in this beautiful city. One of the cooler yet not so common things to do is to get your photos taken at a vintage photo booth. 
Paris is lined with vintage photo booths, so finding one is not hard. Huddle in and snap away! Afterwards, you'll receive four black and white photos to remember your time in this lovely city. 
9. Stroll through the Luxembourg Gardens
The Luxembourg Gardens are one of Paris' oldest and most impressive outdoors spaces. These gardens occupy more than 25 hectares of land and are divided into the French and English gardens sections. 
Taking inspiration from the Boboli Gardens in Florence, this incredible space was created in 1612 and commissioned by Queen Marie de Medici. There's an apple orchard, a rose garden, and a large pond. There are also over 106 statues around the park and the gigantic Medici fountain. 
These gardens are rather wonderful to stroll around in summer, with green lawns and blooming flowers. In winter, on the other hand, it looks like a completely different place. The Luxembourg Gardens are a true winter wonderland. 
When it snows, the pond freezes up, and walkways lined with trees turn into a white runway. It's quite a unique experience since it differs so significantly from summer. 
Final thoughts on Paris in December
While Paris' weather around December might put a lot of travellers off, it's not all doom and gloom. There's quite a bit to do in Paris in December that doesn't involve freezing your socks off. So, don't hesitate to book a trip to the gorgeous French capital in December. 
Looking for more exciting things to do in Paris during the colder months? Check out this post on winter in Paris. 
If you liked this, please share it on social media!