Pages on this site may contain affiliate links, which bring in a small commission at no cost to you.
Unsure about what to do in Paris in winter? Here's a fabulous list!
Most people shudder at the thought of visiting Paris in winter weather.
For some reason, the idea of snow-covered streets, freezing temperatures, and multiple layers of clothing may not be as appealing as the cherry blossoms of spring and the starry nights of summer. 
Banish those thoughts, and please – don't write off winter in Paris: it's anything but dark and gloomy!
Paris in the winter

 time — why it's the best time to visit


The savviest travellers know that winter may well be the best time to visit France, or Paris at the very lease.

Those masses of tourists you'll rub shoulders with in other seasons will mostly be gone, and you'll have Paris (almost) to yourself, both its main sights and its off-the-beaten-path attractions. Parisian winter months are officially those with the fewest visitors, after all.

Not only are the crowds thinner, but better yet, they're replaced by locals, allowing you to glimpse a facet of Parisian life you'd never experience in high season, when many Parisians have escaped the hordes and the heat.

Prices are often lower in winter, and accommodation is more easily available. Anyone who has tried to reserve a decent room at a decent price in Paris during the high season will immediately understand the value of this. (The exception is Christmas and New Year's, when all of a sudden, low season temporarily becomes high season again.)

So yes, it may be cold and sometimes rainy, but when the sun finally does break out and the mist begins to sparkle, you'll feel like you're waking up in a fairy tale. And if snow happens to fall, then you'll know you're in one.

Should you consider visiting Paris in wintertime? Absolutely. Keep reading to discover why winter in Paris can be as memorable as summer.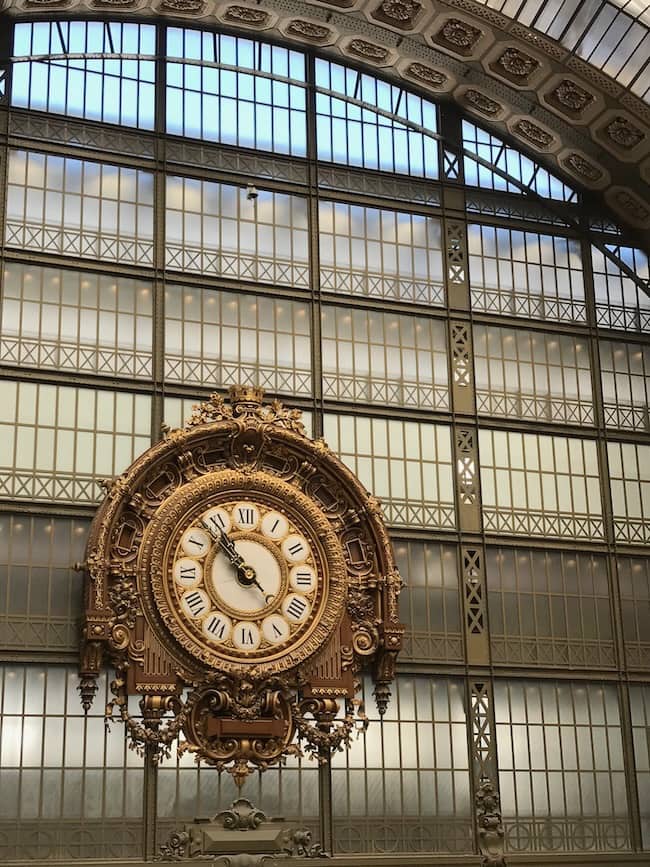 The giant clock in the main hall of the Musée d'Orsay - a perfect place to escape any Paris winter weather
Paris weather in winter
Here's a brief overview of what you can expect over the winter months in Paris, at least according to official forecasts:
Paris in December: Paris weather in December is around 8°C (46°F), with around 11 days of rainfall and snow.
Paris in January: The average Paris temperature during January is around 11°C (52°F), with around 10 days of rainfall and snow.
Paris in February: The average temperature during February is around 7°C (45°F), with around nine days of rainfall and snow.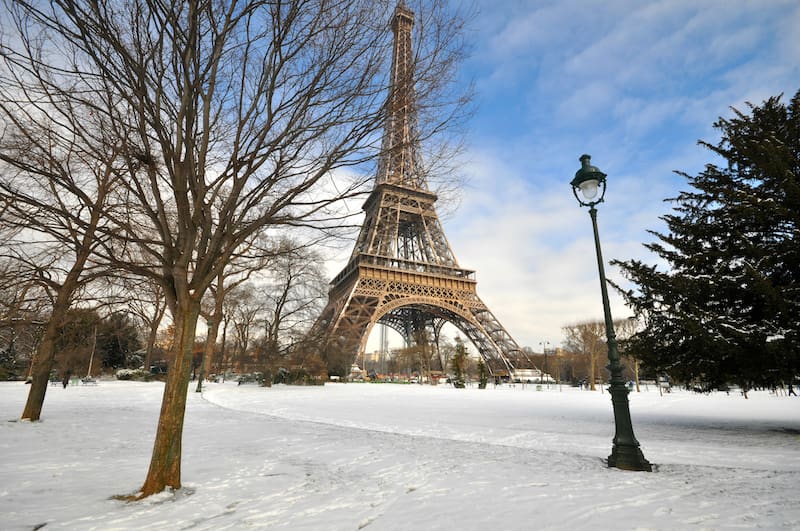 Visiting Paris in the winter: it doesn't snow often, but when it does, it is a thing of beauty
In a nutshell, expect grayness and rain, and sometimes snow, but the sun does shine in winter – just not as often as we'd like.
38 Best things to do in Paris in winter

There are plenty of things to do in Paris in the winter – the ones I've listed here will help keep you warm and fuzzy whenever that thermometer drops. Let's go!
1. Mosey up to Montmartre
Yes, visiting Montmartre on a spring visit to Paris is ideal, but that doesn't mean a winter visit is out of the question. On the contrary! 
On a bright sunny day, hike up Montmartre Hill or take a walking tour and visit the Place du Tertre, where artists continue to capture the faces of visitors despite their fingers getting cold. The winter air makes the colors brighter, if anything, and the sun's rays work hard to warm you as you sip your coffee on a terrace.
If the day isn't made for walking, hop the bus. It was once called the Metrobus, but after a major bus route reorganization, it re-emerged as Ligne 40, or bus line 40. More efficient, but oh so less romantic… Ride the bus around Montmartre and enjoy the scenery from the warmth of your seat.
Make your way to Montmartre museum and relive the area's history in the 17th-century building which once housed the studios of such artists as Renoir.
2. Take a Seine River cruise

While the Paris winter temperature might be low, that doesn't mean you should forgo one of the most romantic things to do in Paris in winter: taking a cruise down the River Seine, one of Europe iconic waterways.
Paris during Christmas means bright lights, and a night cruise on the Seine will reveal these illuminations in all their splendour. If you want even more romance, book an evening dinner cruise and enjoy some delicious French cuisine while floating by many of the most famous Paris attractions.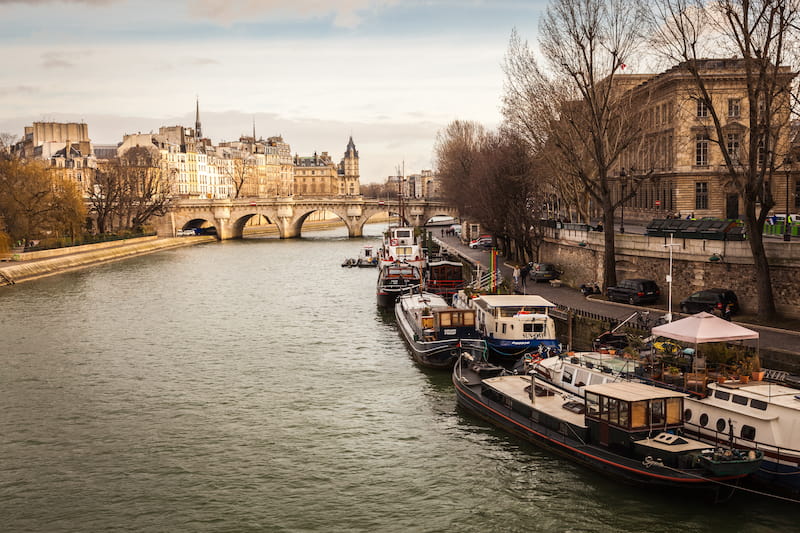 3. Be dazzled by the lights of Paris

Paris Christmas lights are absolutely stunning. Each year, the Champs-Elysées change their light designs and they're always a joy to look at.
But not only: many of the major boulevards have lights too, as do department stores. Enjoy the lights and much more on a Christmas walking tour...
You'll find the lights go up during early December, and usually stay up into early January, but any later and they'll be gone...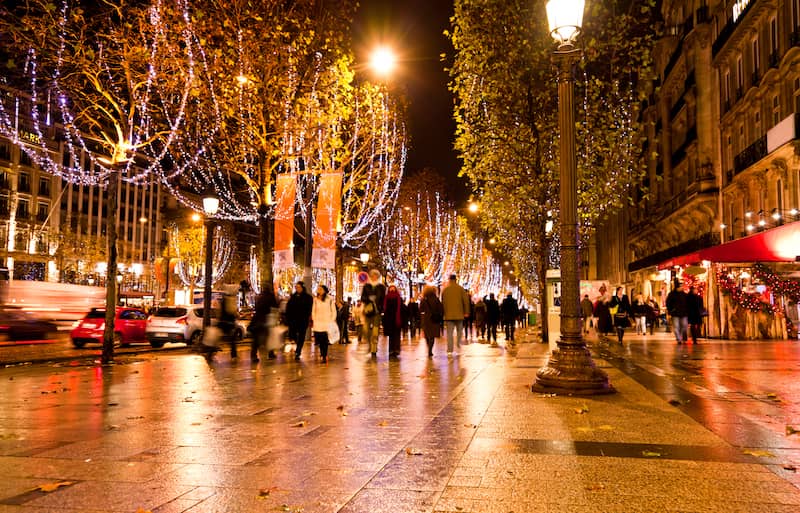 The weather in Paris in December may not be ideal, but the ambiance is fabulous, especially on major streets like the Champs-Elysées, where lights provide a truly magical feeling
4. Do the rounds of the Christmas markets
France is famous for its Christmas markets, especially those in the eastern part of the country, but Paris, too, has its charmers. You can count a dozen or two, from huge and structured to the smaller neighborhood markets that pop up during the winter season.
The largest is probably at the Jardin des Tuileries, with rides, an ice-skating rink, and plenty of mulled wine. Then there's the charming little Montmartre market at the Place des Abesses (a good one for foodies), and for something different, head out of the city core to the market at La Défense, with its 150 or so chalets.
5. Admire department stores at Christmas
Emporia like the Galeries Lafayette and Printemps try to outdo one another with their Christmas decor and displays. They're so successful you might just forget you're in a store and believe you've landed in a Belle Epoque museum.

From the Art Deco escalators of the Bon Marché to the enormous Christmas tree under the cupola of the Galeries Lafayette or the stunning Art Deco colors of the newly renovated Samaritaine, you'll be stunned by Christmas in Paris.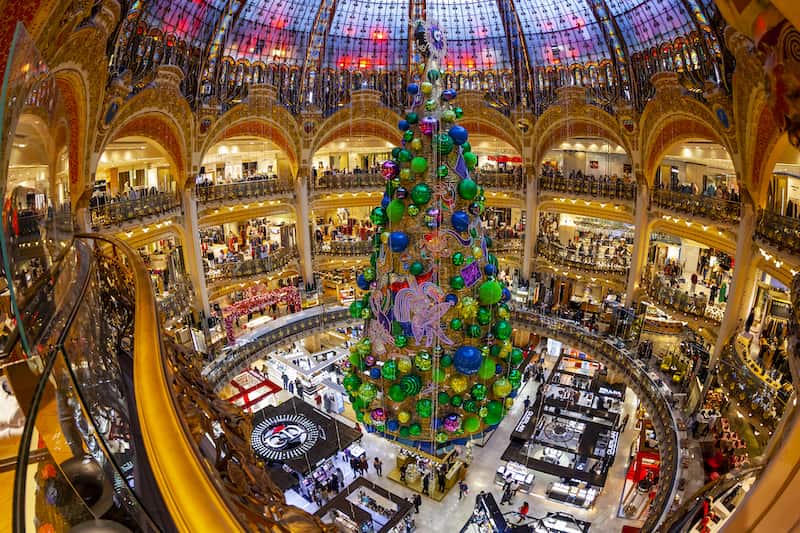 If you're visiting Paris in January, you may still catch the amazing Christmas display at Galeries Lafayette - plus you might be in time for the biannual sales.
6. Get outdoors
On one of those beautiful, all-too-infrequent sunny days, Paris is a city to enjoy. You can walk the streets, sit in a café, or go to the park. 
A winter stroll among the statues of the Jardin du Luxembourg is a plunge into history. And if it's not too cold and you're dressed warmly, grab one of those metal chairs someone has lifted offthe pile and do some serious people-watching.
7. Warm up in a spa
Even a couple of hours spent hopping between steam bath, sauna and heated pool will do the trick in winter.
For a real splurge, try one of these impossibly luxurious day spas in Paris. Surely you deserve it!
If you'd rather save your Euros for something else, you can still enjoy a day spa without breaking the bank yet still surround yourself with luxury.
8. Get tropical in a hothouse

Call it a hothouse or a greenhouse, but the effect of walking into a tropical environment straight from a winter street is almost magical.
Gone are the chills and bare trees of a winter in France, replaced instead by lush green plants and in some cases, multicolored birds whose songs will make you forget winter in a single note.
The 19th century Jardin des Serres d'Auteuil (site in French) is a major botanical garden in which you can hide from winter if you happen to be in the 16th arrondissement in the vicinity of the Bois de Boulogne.
Or head for the Jardin des Plantes, with its museum galleries, gardens and zoo. This is an ideal outing for the entire family because in addition to greenhouses, you can explore a variety of museums that depict our evolution from prehistory onward (and, you've been warned, includes plenty of stuffed animals).
9. Go for brunch

What better meal to warm you up than a big, delicious brunch?
Brunches have taken Paris by storm in recent years, and their numbers are growing. Here are some of the best, from American-style to those with a decidedly French vibe.
10. Test authentic Parisian eateries

One thing that makes me feel warm and welcome is stepping into a beautiful Belle Epoque restaurant, a vintage interior with glorious Art Nouveau decor.
As I walk by the zinc bar with its old-fashioned coffee-making machine, there is an inevitable smell of French comfort food wafting across the room, just like it has for decades.
Where to find these?
Traditional bouillon restaurants, popular in the latter part of the 19th century, served sturdy but inexpensive meals to the workers pouring into the capital from the countryside. Many of them closed during the 20th century but suddenly, they're fashionable again, and reopening. I can't think of a better winter eating experience!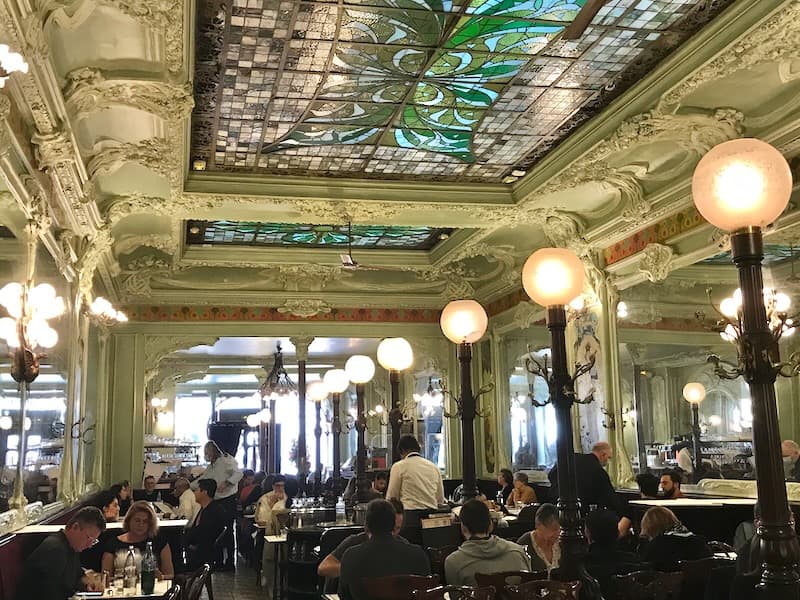 A typical Paris bouillon restaurant - the Bouillon Julien, filled with Belle Epoque design
11. Sample winter foods

Fondue is more of an alpine dish but that doesn't mean you can't enjoy a delicious one in Paris. When it's cold outside, gathering around a pot of bubbling cheese will warm you up in no time.
Another great food (but a lighter meal) is a crêpe, so popular in Brittany and now across France and around the world. Start your meal with the salty version, known as a galette – the most popular are usually ham, cheese and egg but you'll usually find a dozen or two varieties in a good crêperie.
And after your galette, sample a sweet crêpe, with anything from lemon and sugar to ice cream or truly original combinations.
There's a quintessential winter dish you must taste while in Paris: French onion soup. 
Jean-François Piège is one of France's best-known chefs and rumor has it his onion soup at La Poule au Pot is the absolute best in Paris. It's definitely on my list for my next winter visit.
Can you think of better ways to warm up in Paris than by trying some of the most popular French food?
Or maybe you'd like to try some of the "less usual" French foods, like a plate of rich, buttery escargots?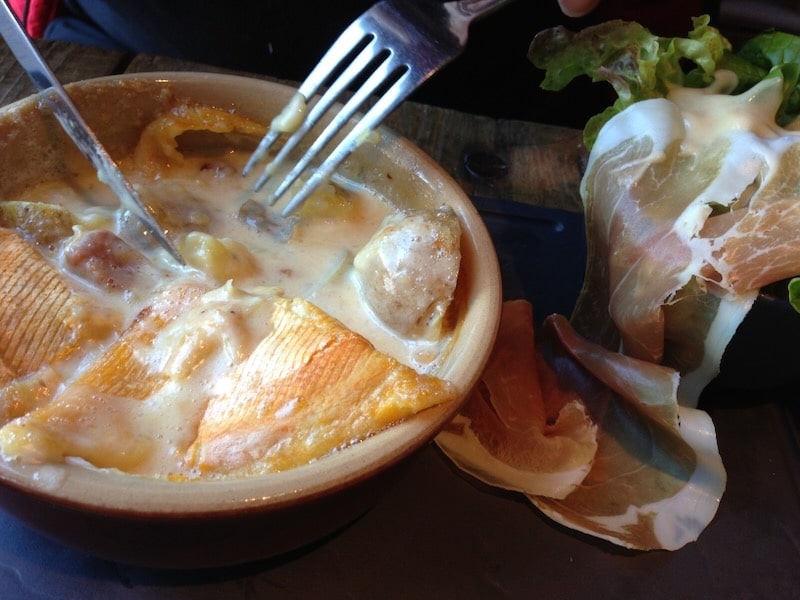 This is the kind of food that will warm you up - something with cheese! Here, a tartiflette, melted cheese over potatoes, au gratin
12. Stohrer: the  oldest pastry shop in Paris

Stohrer first opened its doors back in 1730. When Louis XV married the daughter of Stanislas Leszczynski, former king of Poland, she reportedly brought her pastry chef, Nicolas Stohrer, with her when she moved to Versailles.
Go for the Baba au Rhum, which was reportedly created here, but also for the décor, which is classified as a national monument and signed Paul Baudry, who also had a hand in designing the interior of the Opéra Garnier.
There's only the one (usually crowded) shop, at 51 rue Montorgueil.
13. Time for a Michelin-starred meal

For many people, Paris is the experience of a lifetime, so why not take advantage of this to try a Michelin-starred restaurant for the first time?
Don't be fooled – they come in all sizes and shapes. Of course there are many that focus on grand luxury, but there are also exceptions: the trick is to go for lunch, when prices are lower.
This listing (in French) has a number of Michelin restaurants with lunches under €50.
14. Drop by the Food Society Paris

First Lyon, and now the capital has its own giant food court, Food Society, with its 15 restaurants and bar and grocery, next to the Gare Montparnasse in the 14th arrondissement.
More unusual in Paris is that it's open all day, 7 days a week, but in true French style, you won't get much to eat before 11:30. Sample everything from oysters to pasta to Syrian pastries, and I promise you'll be warm and snug by the time you step back outside. 
15. Take a food or pastry tour

When I don't know a place or want to get to know it better by delving into details, I usually go on a walking tour, especially one that involves food.
A food tour includes walking (to warm you up), food tastings (more calories) and often, wine tastings (warm you up even more!) You can jump on a day or evening tour, but in winter, especially if the sun is out, I'd go for the slightly warmer daytime experience.
Paris, not surprisingly, is heaven for walking food tours, filled as it is with delicious boulangeries, patisseries, fromageries, bistrots... you know what I mean!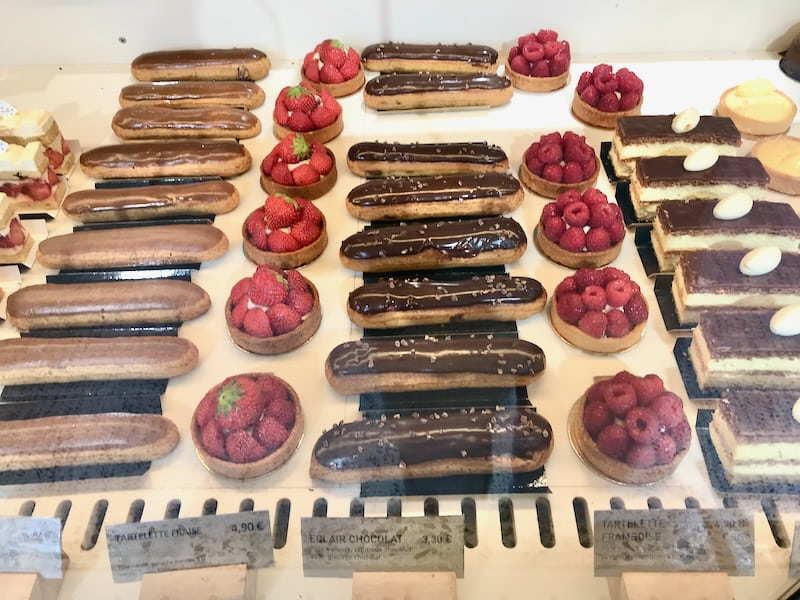 Wherever you turn in Paris, you'll be confronted with the irresistible
16. Browse a bookstore

I may be biased, but can there be anything more pleasurable than browsing through shelf after shelf of fascinating books?
Paris is filled with quaint bookstores – you've probably seen some of them in films.
Of course you know Shakespeare & Co, whose literary claim to fame was the publication of James Joyce's Ulysses, back when no publisher would touch it, considering it far too obscene. Over the years, the bookstore also served as living room (and occasional bedroom) for many of the literary figures who made their way to Paris, luminaries like Ernest Hemingway, Jack Kerouac and Allen Ginsberg, to name just a few.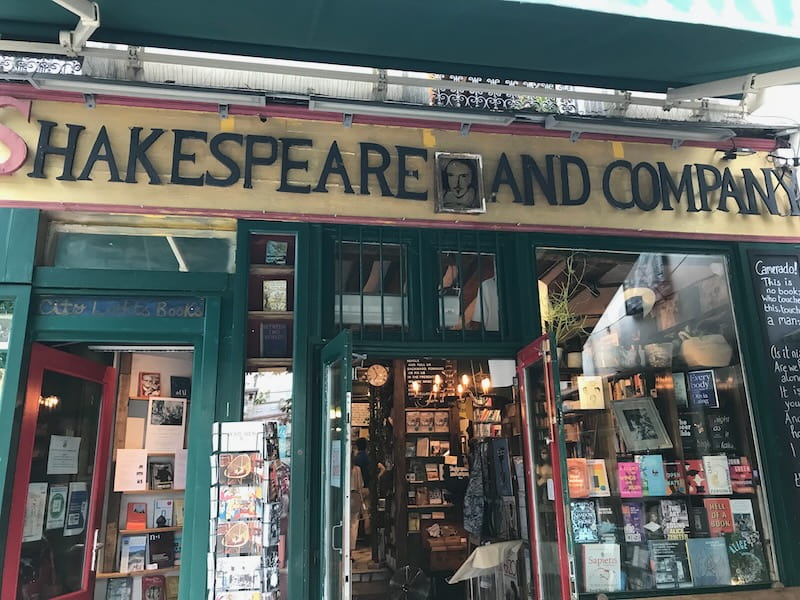 If you decide today is the day to explore the covered passages of Paris, you're in luck: two excellent (French) bookstores are hidden away here. The most gorgeous is undoubtedly the Librairie Jousseaume in the Galerie Vivienne, possibly the most beautiful of the passages.

The other is the aptly named Librairie du Passage, in the Passage Jouffroy, with its wall-to-wall wood-panelled shelves filled with rare and fine arts books.
17. Discover the passages of Paris

If what you really want is a stroll along some of Paris' streets but the weather simply isn't cooperating, this is your chance to discover the many covered passages in the city. (If you'd rather discover them on your own, here's a list of some of the main ones.)
Most of them date back to the early 19th century and are elaborately decorated with glass roofs, arched columns, and detailed floors. These stunning passages are lined with shops, restaurants, galleries, and boutiques and, as I mentioned above, bookstores.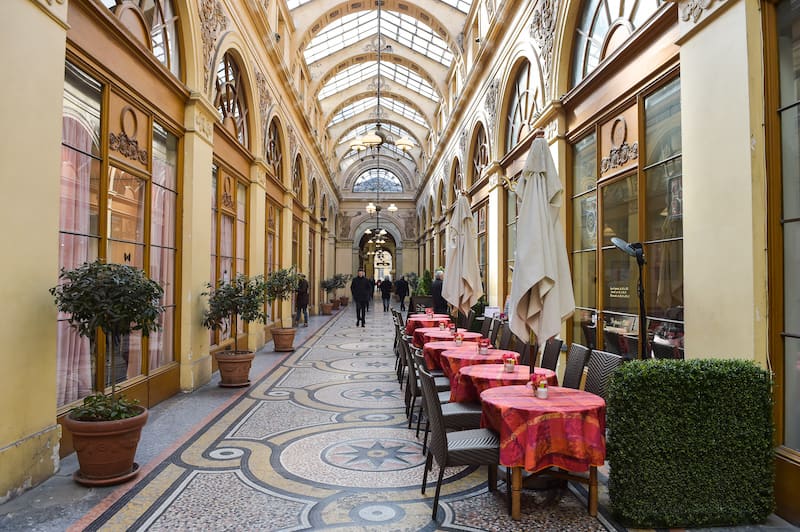 Gorgeous Galerie Vivienne, a perfect hideaway from Paris in snow
18. Go to a comedy show
Laughter is a cure for many things – including the cold.
Whereas going to see a French play can be educational, you might not be able to understand it if you're not fluent.
By taking in a comedy show in English, you'll know why you're laughing! 
19. Experience the Moulin Rouge
A cabaret show may not be your idea of a fun evening.  I felt that way until friends took me here for my 21st birthday many, many years ago.
It's not something I'd do again and again, but I'm so glad I tried it once!
The glitz, the glamor, the edginess – everything conspired to titillate. There's an added bonus these days: the menu has been completely overhauled and the cuisine is apparently fabulous (a definite improvement on bygone days when all the effort went towards enticing you to drink Champagne).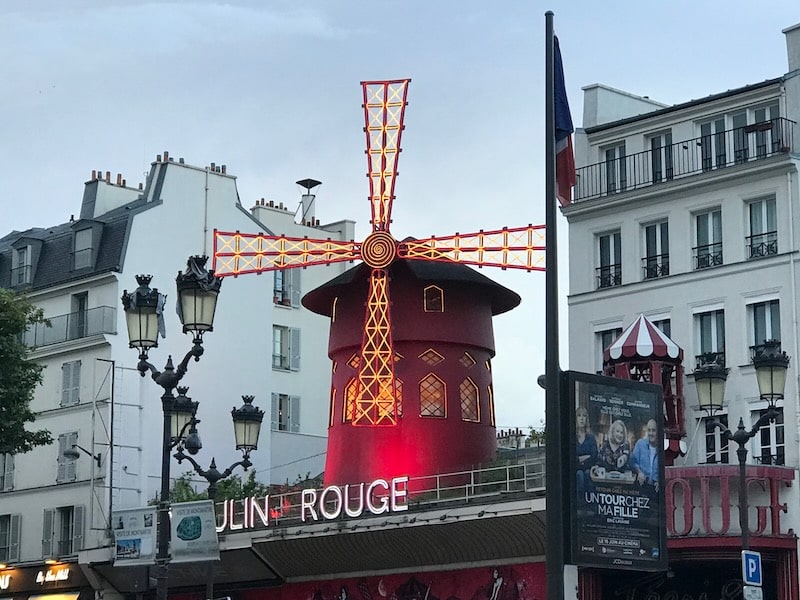 20. Explore the classics on your bucket list

You're in Paris, it's winter, of course you want to see the main sights!
There's no reason to change your bucket list just because it's winter: you can still head for your favorites – the Eiffel Tower, the Louvre Museum, the Musée d'Orsay... 
In fact, winter might even be a better season to see the main Paris attractions: you'll have fewer long waits because it's less crowded, and rather than enter stuffy exhibition rooms, you'll be stepping into pleasant warmth.
21. Visit less frequented museums

Most people make a beeline for the classical venues when they arrive in the capital, but once you've visited these icons, there are so many smaller or unusual museums in which you can both warm up and expand your culture during the winter season in Paris.
I have my own favorites, like the tiny Museum of Counterfeit Goods, which will take you less than an hour to visit but which will open your eyes about the multitude of fakes.
For a bit of extravagance, the Baccarat Museum (designed by Philippe Starck, of course) showcases the finest of fine crystal, and even has its own restaurant, the Cristal Room Baccarat, which is surprisingly affordable given the menu and decor (those chandeliers!)
Here are a few other fabulous museums that are worth your time and perfect for a winter visit:
Maison Victor Hugo on the Place des Vosges: the author lived here from 1832-1848 and wrote part of Les Misérables in this house
59 rue de Rivoli, a former squat turned contemporary art gallery, with artists in residence whose works in progress you can admire (and buy)
If you've ever been to Grasse, near the French Riviera, you may have visited the Fragonard factory. In Paris, renew the assault on your senses with a visit to the Fragonard Perfume Museum
22. Go to the movies (but not just anywhere)

Paris is graced with several historical movie houses that have been refurbished to 21st-century safety standards while retaining their 1920s charm.
My favorite is the giant Rex cinema, with its 2700-plus seats Great Hall and an Art Deco façade to melt for. And if you're partial to neo-Egyptian decor, there's the Louxor.
Both will keep you toasty for an evening of entertainment.
23. Take in a fabulous ballet or opera

Paris is sublime when it comes to culture, with some of the best performers in the world passing through its gates.
If you like classical culture, you must take in a ballet at the Opéra de Paris (it's confusing, because operas now take place at another venue on the Place de la Bastille). The ballet is reason enough to visit the Palais Garnier, of course, but its absolutely extraordinary interior is what you're really looking for.
No ballet on the agenda? Take a guided tour of the building, or simply visit for a few minutes. You might never see another building like this. (I know, I'm biased.)
Even if it's only once, though, you must take in a classical performance while you're in Paris. Here's a calendar with performances and tickets.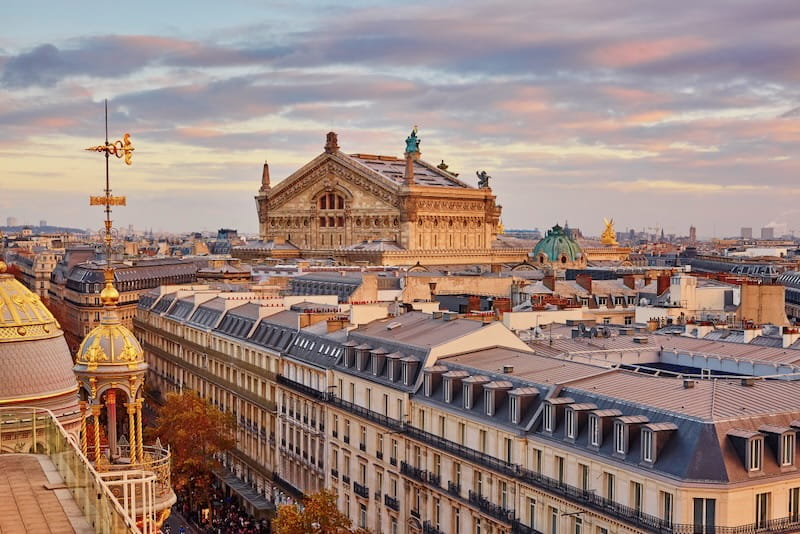 The Palais Garnier is gorgeous from afar - you can see its massive rooftop. Inside, it's even more stunning
24. Take in a concert at the Sainte-Chapelle

Speaking of concerts, when the winter light glitters through the stained glass of the Sainte-Chapelle, the interior becomes a cloud of sparkles.
But once the sun has set, it's concert time in the most serenely delightful venue you could imagine.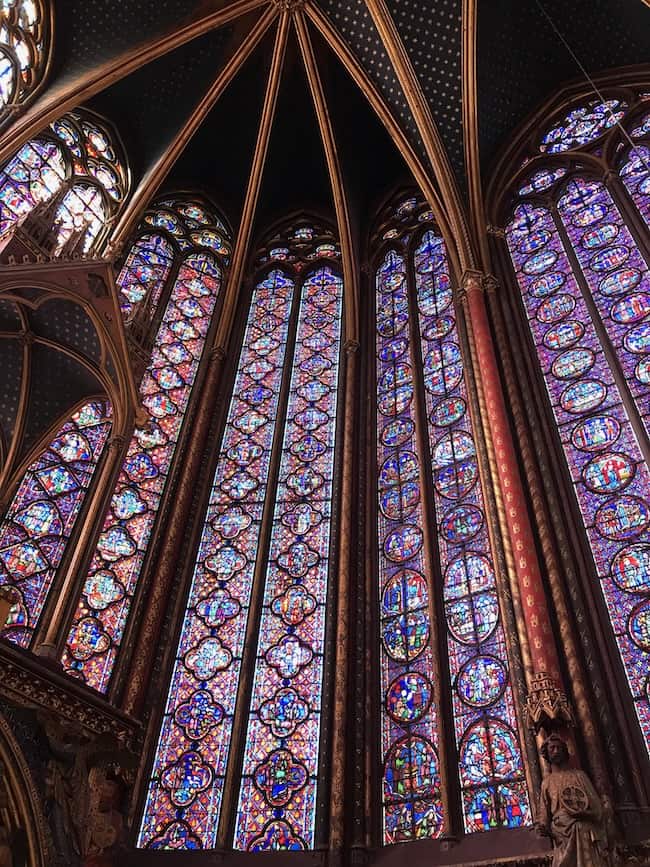 The stained glass windows of the Sainte-Chapelle are among the most beautiful I've ever seen
25. Take a French cooking class

French cuisine and cooking techniques have long played an important part in the culinary world. And where better to learn how to make all those classic French dishes than in the capital?
There are multiple cooking classes that you can take to learn how to make perfect macarons, baguettes, choux pastry, and more. A cooking class is a wonderful way to ditch the cold outside and warm up with some hearty French food.
26. Go wine tasting in Paris

Wine tasting in Paris is always a good idea, but it's even better in winter when you can huddle around a cosy wine bar. There are several wine tasting classes and tours led by  expert sommeliers who will teach you to identify the finest French wines or champagne and how to pair them with cheeses and other foods.
27. Design your own hat (like Lady Gaga)

Winter is when you need to cover that head! While a scarf or a cap will do, why not design your own signature hat with oodles of Parisian chic? 

Lady Gaga is known to have hats made here, so why not you?
28. Perfume making: an olfactory experience

Paris hosts some of the oldest and most iconic perfume houses in the world, such as Guerlain and Fragonard. No wonder it is the perfect venue to learn how to make perfume, an art Parisians have been perfecting for centuries.
Now you too can become an expert by attending a VIP perfume making workshop. You'll learn how to mix essential oils and scents to create your own signature perfume under the watchful eye of a perfume making expert.
29. The dazzling Atelier des Lumieres

The Atelier des Lumières is a giant digital art performance that takes place in a former steel foundry. 
I witnessed its sister show in Bordeaux, which featured Salvador Dalí and Antoni Gaudí, and I can guarantee that a visit here will wipe out any thoughts of winter as the art and music surround you.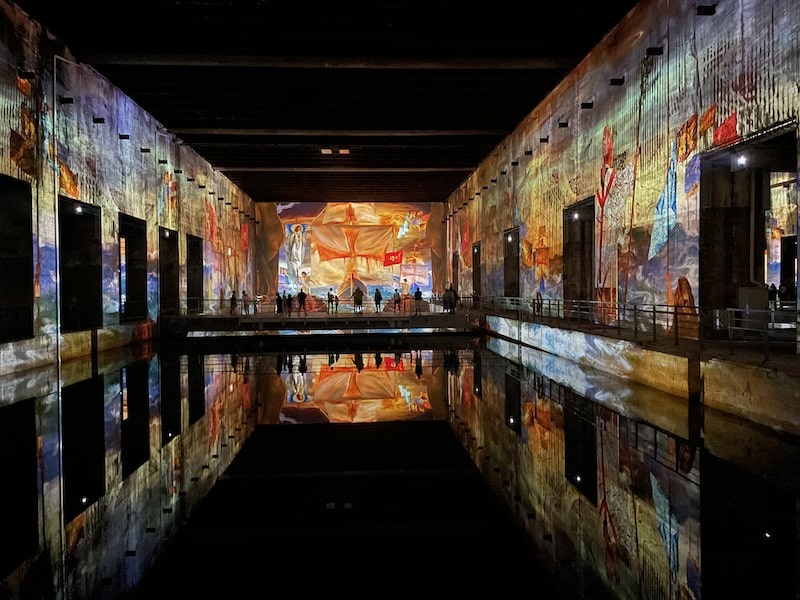 I haven't been to the Atelier des Lumières in Paris, but I've seen its show in Bordeaux, by the same company. This shot of what I saw in Bordeaux can give you an idea of what to expect in Paris...
30. Soar over Paris with virtual reality

Have you ever donned a pair of virtual reality goggles and gone away? This is your chance!
If you really don't feel like being outdoors, FlyView 360 is for the whole family, although I suspect kids will especially love it. I say suspect because I haven't tried this myself – I suffer from vertigo and no matter how much I'm told soaring over Paris wearing goggles won't make me dizzy, I'm not 100% convinced! 
31. Taste Angelina's legendary hot chocolate

Hot chocolate is delicious almost any time of the year (all right, maybe not in summer), but it's particularly perfect when its cold outside. And there's no better place to enjoy a rich cup of chocolatey goodness than at the renowned Angelina Tea Rooms, which opened on the Rue de Rivoli in 1903.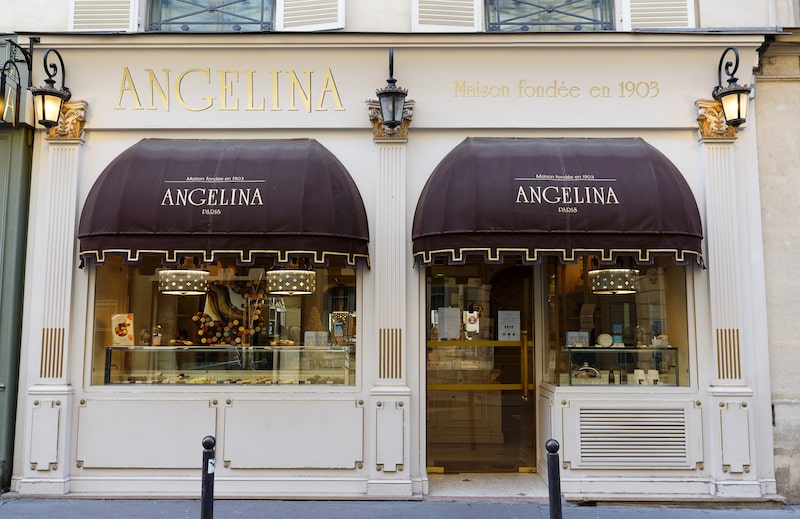 If you've already been to Angelina and are now ready to broaden your horizons, everyone seems to have a favorite hot chocolate in the city. Like these from Vogue.

Or you can make it your mission to sample all the best patisseries in Paris...
32. Ice skating for the entire family

Paris, France in winter. The perfect place to go ice-skating. Yes, I'm serious.
Each winter, Paris unveils several large outdoor skating rinks.
You can skate on the Eiffel Tower, or on the outdoor rink in front of it. Or on top of the Grande Arche de la Défense. Or under the dome of the Grand Palais. The downside is that most are only open in December and until early January, and check first, because venues occasionally change.
33. Aquaboulevard, anyone?

Now this one may be a bit of a stretch, but if you're desperate for some water fun time and don't have an indoor pool where you're staying, why not try the Aquaboulevard? It's a massive indoor complex with waterfalls, slides, waves, all the things you've come to expect in a water park.
I've never tried this one myself. It's expensive, and the reviews are mixed, with some people loving it and some hating it.
Just remember that in all public swimming pools in France, the "American" type swimming trunks, the loose-fitting long ones that look like shorts, are NOT allowed. You have to wear the small, tight speedo-type swim trunks, so either bring your own or resign yourself to buying one at the pool. It's the law. And it has been since 1903.
34. Make a beeline for Disneyland

Winter in Disneyland can be extraordinary if you're lucky enough to witness snowflakes falling all over the Magic Kingdom.
Even without the flakes, Disneyland in winter is great fun. I visited with my niece in February and frankly, I didn't even notice the cold.
Each time the weather turned chilly, we ducked into one of the many indoor attractions or arcades or eateries. To really warm up, head for Walt Disney Studios Park for some classic entertainment that may well include the likes of Mickey Mouse or Donald Duck.
A bit of laughter and clapping is excellent to get that blood circulating.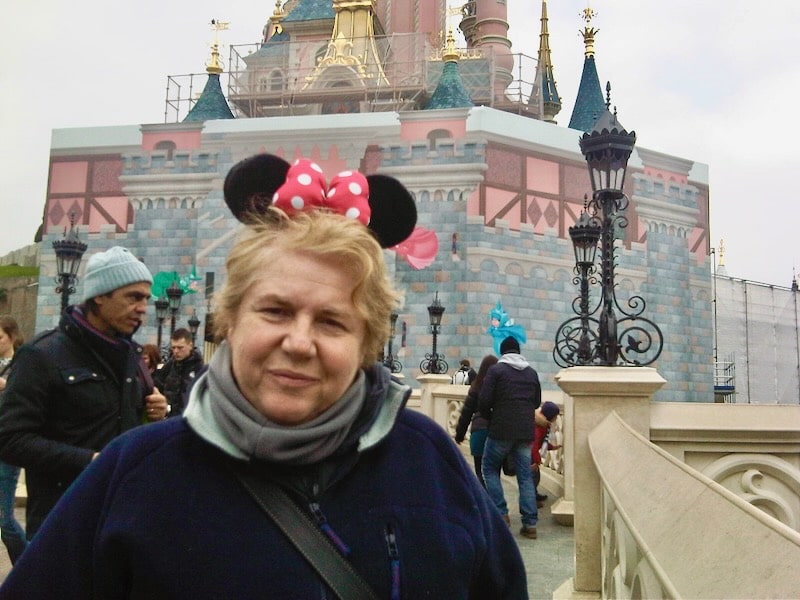 That's me, wearing the ears my then-12-year-old niece insisted were suitable head attire
35. Visit the Salon de l'agriculture

The end of winter (the first week of March, actually) heralds the Salon de l'Agriculture, France's premier agriculture fair.
It's a fascinating event, so much so that most major politicians feel duty-bound to stop by and shake hands with farmers.
It's about farming and cattle, of course, but also about plants and gardening and regional food products (my favorite). There are plenty of animals to see (for the little ones in your family), including cats and dogs to admire and ponies to ride.
It's hugely informational but everything is in French, since this is a professional event. Their website is also available in English, but translations are usually delayed. Still, you won't see anything else like it in France.
36. Traipse through the Catacombs

It might sound counterintuitive to head underground, where's it's dark and damp, in winter. 
On the contrary, there's a steady 14℃ (57℉) temperature throughout what is known as the world's largest grave, so if it's freezing outdoors, heading down into the Catacombs might actually warm you up.
If you haven't visited yet, it's an experience like no other, and while it is somewhat spooky (haunted even?), for some reason it isn't a scary place, rather serene is a strange way. You can either buy a ticket ahead of time, just before you visit, or book a tour if you'd like to know more about what you're seeing.
There are walls upon walls of skulls throughout the Catacombs - but the photos are more ghoulish than the reality
37. Indulge in special seasonal events

Plenty of events take place only in winter, and if this is when you visit, you might be able to coincide with some of them:
New Year's celebrations are fabulous in Paris: why not party on the Champs-Élysées or watch the fireworks on the Eiffel Tower (from a boat on the Seine if you can)?
If you're here on 6 January, make sure you buy a galette des rois, a cake-like pastry eaten on this day across France
Each February, the city of lights has its own Paris Carnival, with parades, disguises and the works
On 2 February, celebrate La Chandeleur (Candlemas), a pagan tradition turned Christian, by eating a crêpe
On February 14, couples celebrate Valentine's Day around the world, and France is no different. Go out for that special meal, have a champagne tasting, or visit a royal château.
If you're lucky, you might get to celebrate Chinese New Year in Paris, with its dragons and lions and parades and plenty of noise and lights
38. Shop the sales till you drop

Unlike many countries, France only has two official sales periods a year – in June, and in January. During each of these four-week periods, discounts are significant, up to 70% or 80% in some cases, and many of them are true discounts. In other words, shops don't order inferior merchandise in bulk simply to attract people into shops (yes, it does occasionally happen, but it's not the norm).
If you happen to be in Paris before the sales, say in December, make sure you scout the things you might want to buy, so once the sales start, you can head for your favorite shop or department without wasting any time.
To find the official dates of sales, Search for "dates soldes [year]" and they should come up.
What to wear in Paris in winter
While the exact winter weather in Paris is unpredictable, you can be pretty sure you'll face rain and cold temperatures, and possibly even snow.
But because the weather is changeable, you'll have to be ready for most eventualities. Rather than a packing list, here are some tips on what to pack for Paris at wintertime:

The most important rule for dressing for winter in Paris is to wear layers. Temperatures change, and forever going in and out of shops and museums means you'll need to adjust your temperature constantly.
You'll need a thick jacket or coat. A long wool coat will strike a more sophisticated look, but a waterproof jacket will keep you warm and dry.
Some people recommend boots, but unless you're packing a large suitcase or want to wear them on the plane, I don't see the need for them. Short ankle boots will do the trick!
Whatever you pack for your feet, make sure there's a good grip: the combination of cold and rain you sometimes get in winter can make those cobblestones slippery.
Lines for attractions don't disappear in winter (although they do get shorter), so plan for waits outside – and consider a hat, scarf and gloves. If you expect to be outdoors quite a bit, leggings or warm silk or merino thermal underwear might help.
Make sure you have a lightweight and water-resistant purse. Winter isn't high season so pickpocketing is less common, but that doesn't mean it's non-existent. To avoid pickpockets, use a theft-proof bag. I have several of these…
It does rain in winter so if you have a good travel umbrella you love, bring it along. Or buy one here.
Tips for
visiting Paris in winter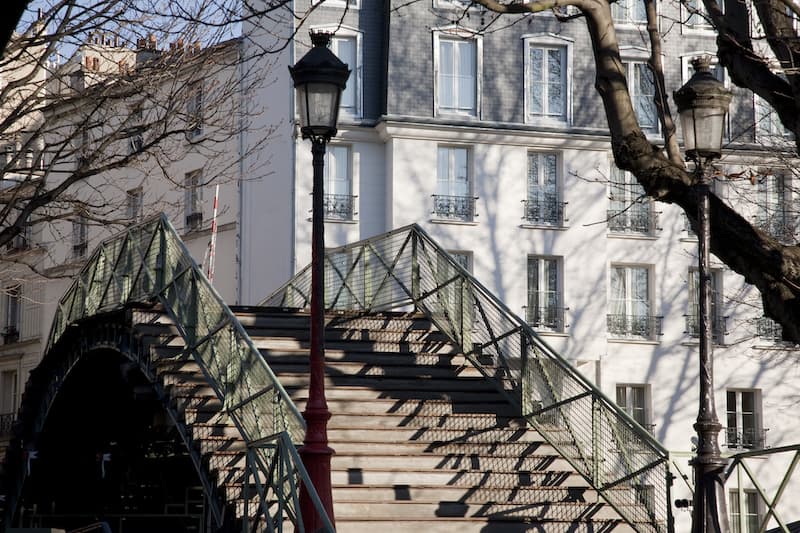 Even if winter, Paris remains beautiful
Here are some practical Paris travel tips to help you plan your visit to Paris during winter.
Manage your expectations

The Paris winter season scene will be different from the customary Instagram shots of green squares and blossoms you've come to identify with Paris.
Winter, everywhere in the northern hemisphere, is less visually kind, and it will look different than the majority of Paris photographs we see. We need to expect that.
Plan for shorter days
Organizing our winter Paris itinerary is a bit trickier than at other times of year.
First, the weather can be a bit more unpredictable, but second, and most important in my opinion, is that the days are significantly shorter, which limits sightseeing time.
In December, on average, the sun sets before 5pm, whereas in June, it's up until 10pm, a full extra five hours of daylight.
Check that attractions are open
Most attractions are open even during winter, but some close in the low season, so check ahead of time. A number of sites don't bother updating their travel guides – for example, plenty suggest you visit Notre Dame, even though it's been closed for repairs since a major fire in 2019!
Beware the school holidays
School holidays in France seem to occur often, and winter is no exception. There are three zones, and they don't all holiday at the same time. The winter holiday usually lasts from early February to early March (you'll have to check every year because the dates change slightly).
If this is when you're planning to come to Paris, make sure you reserve your entertainment and accommodations well ahead of time, because it's busier than usual.
Don't automatically expect snow
Does Paris get snow in winter? Sometimes. You might even catch some snow in Paris in the fall. But it's not common, so don't come dressed for a blizzard.
If the snowflakes do start falling, grab your camera and rush outside to capture some of the shots of a lifetime, like snowflakes whirling around the Eiffel Tower in winter.
Hotel accommodation in Paris
Essential resources for your Paris trip
TRAVEL INSURANCE
Don't leave home without it – your car rental insurance covers certain things but may not cover your health or accident needs, which you can book here.
BOOK YOUR ACCOMMODATIONS
I use booking.com, because they include both hotels and holiday rentals like Airbnb or VRBO, so a wider choice and an easy cancellation policy.
DO YOU NEED A SIM CARD FOR FRANCE?
If you haven't signed up for a roaming service back home and have an unlocked phone, consider getting an e-SIM for France. Here's the one I use when I travel.
IF YOU'D LIKE TO READ UP ABOUT PARIS AND FRANCE
Drop by my long list of books about France, written by French or foreign Francophile authors, with plenty specifically about Paris.
AND DON'T FORGET YOUR GUIDEBOOKS!
➽ Lonely Planet's Paris Travel Guide
➽ Rick Steves' Paris
➽ Paris in Stride - An Insider's Walking Guide
A FEW WORDS ABOUT SAFETY
Paris is as safe as any major European city but you WILL find pickpockets in Paris. I keep them at bay by using a comfy anti-theft purse or a Sholdit infinity scarf to hide my cards and money.
Paris in winter FAQ
Paris is brilliant in winter! Of course, there are such things as rain and cold and the very occasional snow, but the advantages far outweigh these: there are far fewer crowds, which means you won't have to fight to get in everywhere, the cultural season is in full swing, and you'll be mostly surrounded by bona fide Parisians going about their daily lives rather than a city which has been emptied of its inhabitants for the summer.

Winter is also the least expensive season, especially after January and outside school holidays.
Rarely. Although "officially" there are 12 days of snow in Paris each year, that's all relative. Some years it doesn't snow at all, and some years there may be snow falling, but without sticking, so you won't get that gorgeous blanket of snow.
It depends on what you consider cold. You can expect weather to hover between 8°C (46°F) and 11°C (52°F), with some rain and possibly snow. The problem with Paris is that it often feels colder than it actually is, so make sure you have something warm.
January is good if you're planning on shopping, because that's when the semi-annual sales take place. February can have some nearly spring-like days, as can March, but frankly, these may well be (with November) the most unpredictable months when it comes to weather.

Here's my personal order of favorites: March, January, February. It's also important to know when the school holidays are each year, because many popular attractions get crowded during the holidays.
It's impossible to say. Some years, temperatures have plunged to -2℃ or soared to 15℃. You can also expect rain, snow or sunshine. Anything's possible.
Less crowded than in summer, but of course, this is still Paris and tourists will come every season.
This is a question of taste. I prefer the winter, but others wouldn't think of it. I love culture and shows, plentiful in winter, but I'm not much on festivals, which mostly take place in summer. I also prefer the winter light to the summer haze, and I enjoy the lack of crowds and the more "local" vibe of Paris in winter time. The days, though, are awfully short.

On the other hand, if you don't like any cold or winter rain, then winter will be less attractive for you. Summer also means more parks and green spaces, and far longer days.
Yes it is, and if you should happen to visit on a rare snowy day, you'll understand the meaning of the words Magic Kingdom. Schedules are slightly different in winter and the park closes earlier, so do check.
It can and it does. However, I once spent two weeks in March in the capital during which the sun was high every day, so it's impossible to know.
The answer is to wear layers, with a lightweight but warm overcoat and something waterproof for your feet. If you plan to stand in line waiting, make sure you have something warm for your head, neck and some gloves.
It unofficially tends to begin in December and ends in March, but the official dates are 22 December to 20 March.
Final thoughts on
winter in Paris
The thought of visiting Paris during winter might put a lot of people off because they think that there isn't anything fun to do during the cold months. Quite the opposite is true.

Paris during winter somehow seems more sophisticated, and there are plenty of activities you can enjoy when it's chilly outside. Plus, you'll be able to get a sense of what the city is really like without the hordes of visitors. So if you're willing to brave the cold, book a Paris winter trip and be different! 
Did you enjoy this article? I'd love if you shared it!
Shop this post on Amazon
Pin these and save for later!