Pages on this site may contain affiliate links, which bring in a small commission.
Most people shudder at the thought of visiting Paris in winter.
For some reason, the idea of snow-covered streets, freezing temperatures, and multiple layers of clothing may not be as appealing as the cherry blossoms of spring and the starry nights of summer. 
Banish those thoughts, and please – don't write off winter in Paris: it's anything but dark and gloomy!
Paris in the winter

 — why it's the best time to visit


The savviest travellers know that winter may well be the best time to visit France, and Paris in particular.

Those masses of tourists you'll rub shoulders with in other seasons will all be gone, and you'll have Paris (almost) to yourself, both its main sights and its off-the-beaten-path attractions. The winter months are officially those with the fewest visitors.

Not only are the crowds gone, but better yet, they're replaced by locals, allowing you to glimpse a facet of Parisian life you'd never experience in high season, when many Parisians have escaped the hordes and the heat.

Prices are often lower in winter, and accommodation is more available. Anyone who has tried to reserve a decent room in Paris during the high season will immediately understand the value of this. (The exception is Christmas and New Year's, when all of a sudden, low season temporarily becomes high season again.)

So yes, it may be cold and sometimes rainy, but when the sun finally does break out and the mist begins to sparkle, you'll feel like you're waking up in a fairy tale. And if snow happens to fall, then you'll know you're in one.

Should you consider visiting Paris in winter? Absolutely. Keep reading to discover why a winter trip can be as memorable as it would be in summer.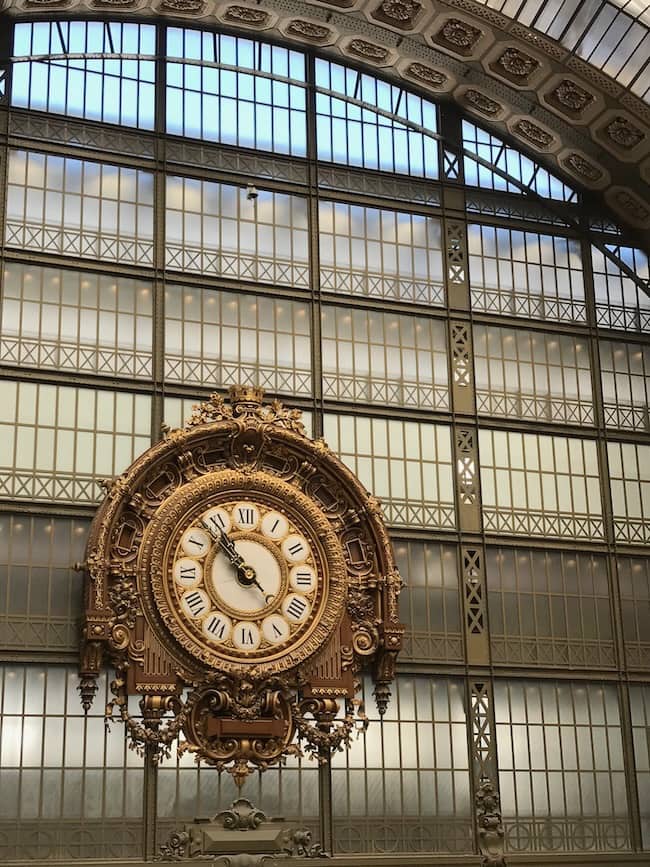 The giant clock in the main hall of the Musée d'Orsay - a perfect place to escape any Paris winter weather
Paris weather in winter
Here's a brief overview of what you can expect in Paris over the winter months:
Paris in December: Paris weather in December is around 8°C (46°F), with around 11 days of rainfall and snow.
Paris in January: The average temperature during January is around 11°C (52°F), with around 10 days of rainfall and snow.
Paris in February: The average temperature during February is around 7°C (45°F), with around nine days of rainfall and snow.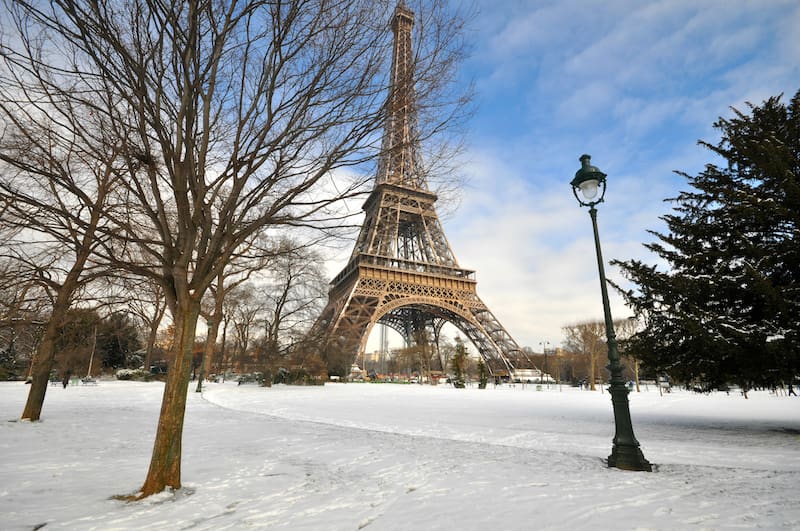 Beautiful Paris in winter: it doesn't snow often, but when it does, it is a thing of beauty
In a nutshell, expect grayness and rain, and sometimes snow, but the sun does shine in winter – just not that often.
What to wear in Paris in winter
Bring warm clothes! It may not get as cold as it is where you live, but it can get very chilly, and humid. You'll need to keep warm if you plan on doing any sightseeing in winter.
Because temperatures can vary so much, layers are a good idea. You'll be able to take one off in a museum or a department store.
I would also bring a scarf, hat, and gloves, although these items are easy to buy, and consider bringing an umbrella for those unexpected showers. Make it small so you can fit it into your daypack (you'll find some women's daypack comparisons here).
Remember that Parisians tend to be stylish, especially when it comes to footwear, so you might consider some fashionable leather boots, since snow is unlikely – but if it does snow, you'll be fine with your boots. Whatever footwear you bring, remember that Paris is full of cobblestones, and they are slippery when wet, so bear that in mind when considering shoes and boots.
Things to do in Paris in winter

There is plenty to do in Paris during winter – here are just a few ideas to keep you warm and fuzzy while the thermometer drops.
Take a cooking class

French cuisine and cooking techniques have long played an important part in the culinary world. And where better to learn how to make all those classic French dishes than in the capital?
There are multiple cooking classes that you can take to learn how to make perfect macarons, baguettes, choux pastry, and more. A cooking class is a wonderful way to ditch the cold outside and warm up with some hearty French food.
Go wine tasting
Wine tasting in Paris is always a good idea, but it's even better in winter when you can huddle around a cosy wine bar. There are several wine tasting classes and tours led by  expert sommeliers who will teach you to identify the finest French wines or champagne paired with cheeses and other foods.
A winter wine tasting tour in Paris is a great idea because you can sample different wines from France's various wine regions without ever leaving the capital.
Take a Seine River cruise
While winter temperatures might be low, that doesn't mean you should forgo one of the most romantic experiences Paris has to offer: a cruise down the River Seine, one of Europe iconic waterways.
Paris during Christmas means bright lights, and a night cruise during Paris' winter nights will reveal these illuminations in all their splendour. If you want even more romance, book an evening dinner cruise and enjoy some delicious French dishes while enjoying the iconic sites around you.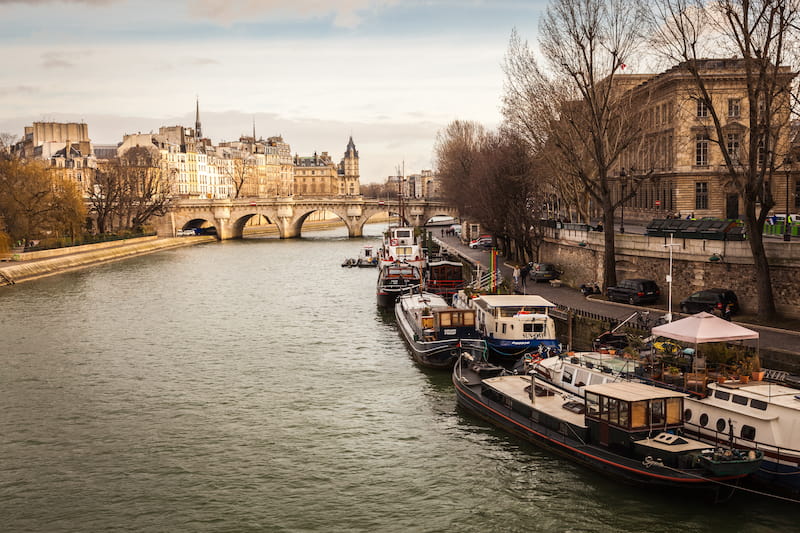 Attend a perfume workshop

Paris is home to some of the oldest and most iconic perfume houses in the world, suchj as Guerlain and Fragonard. No wonder it is the perfect venue to learn how to make perfume, an art Parisians have been perfecting for centuries.
Now you too can become an expert by attending a VIP perfume making workshop. You'll learn how to mix essential oils and scents to create your own signature perfume under the watchful eye of a perfume making expert.
Explore Paris' covered passages

If you fancy a stroll along some of Paris' streets, but the weather isn't cooperating, there no need to despair. This is actually the perfect time to discover the many covered passages in the city. (If you'd rather discover them on your own, here's a list of some of the main ones.)
Most of them date back to the early 19th century and are elaborately decorated with glass roofs, arched columns, and detailed floors. These stunning passages are lined with shops, restaurants, galleries, and boutiques waiting to be explored, especially if it's cold outside.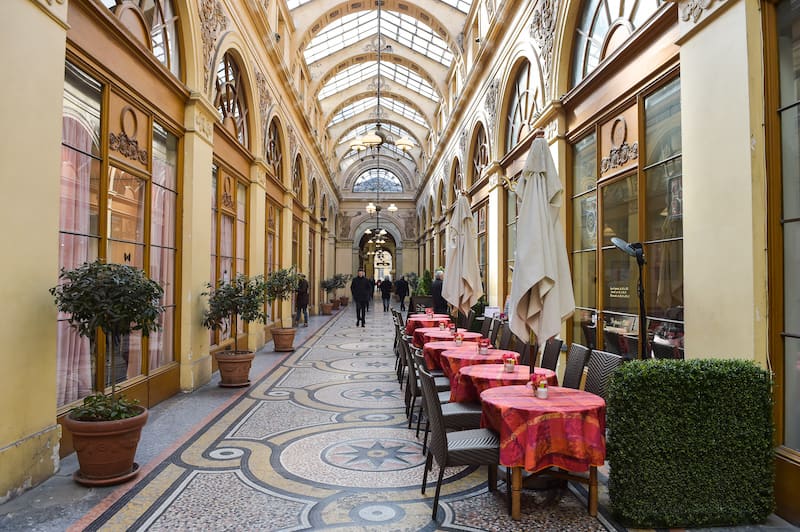 Gorgeous Galerie Vivienne, a perfect hideaway from Paris in snow
Rummage through a bookstore
I may be biased, but can there be anything more pleasurable than browsing around shelf after shelf of fascinating books?
Paris is filled with quaint bookstores – you've probably seen some of them in films.
Of course you know Shakespeare & Co, whose literary claim to fame was the publication of James Joyce's Ulysses, back when no publisher would touch it, considering it far too obscene. Over the years, the bookstore also served as living room (and occasional bedroom) for many of the literary figures who made their way to Paris, luminaries like Ernest Hemingway, Jack Kerouac and Allen Ginsberg, to name just a few.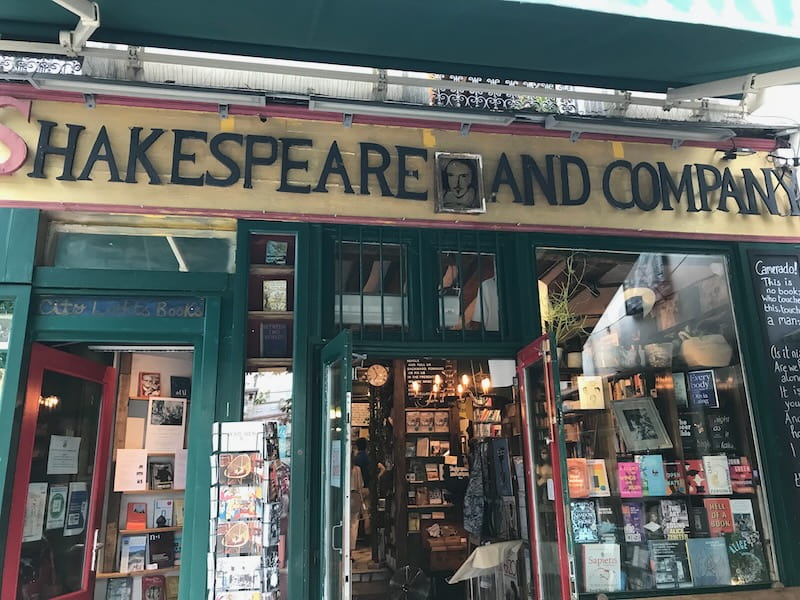 If you decide today is the day to explore the covered passages of Paris, you're in luck: two excellent (French) bookstores are hidden away here. The most gorgeous is undoubtedly the Librairie Jousseaume in the Galerie Vivienne, possibly the most beautiful of the passages.

The other is the aptly named Librairie du Passage, in the Passage Jouffroy, with its wall-to-wall wood-panelled shelves filled with rare and fine arts books.
Take advantage of the semi-annual sales

Unlike many countries, France only has two official sales periods a year – in June, and in January. During each of these four-week periods, discounts are significant, up to 70% or 80% in some cases, and many of them are true discounts. In other words, shops don't order inferior merchandise in bulk simply to attract people into shops (yes, it does occasionally happen, but it's not the norm).
If you happen to be in Paris before the sales, say in December, make sure you scout the things you might want to buy, so once the sales start, you can head for your favorite store or department without wasting any time.
To find the official dates of sales, Search for "dates soldes [year]" and they should come up.
Enjoy hot chocolate at Angelina

Hot chocolate is delicious almost any time of the year (all right, not in summer), but it's particularly perfect when its cold. And there's no better place to enjoy a delectably rich cup of chocolatey goodness than at the renowned Angelina Tea Rooms, which opened on the Rue de Rivoli in 1903.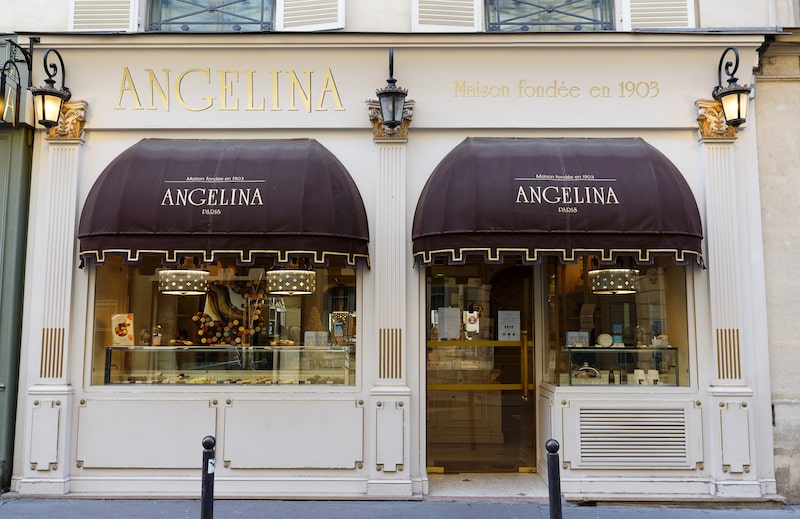 This hot chocolate reminds me of the beverage you drink in Spain to accompany churros: so thick you can't just sip it! So shake off the winter and head inside, for hot chocolate or for one of their signature pastries (their Opera, oh the Opera!)

If you've been to Angelina and are ready to expand, it seems everyone has a favourite hot chocolate in the city. Like these from Vogue.
Or you can make it your mission to sample all the best patisseries in Paris...
Admire the lights
Paris garlanded in Christmas lights is absolutely gorgeous. Each year, the Champs-Elysées change their light designs and they're always a joy to look at.
But not only: many of the major boulevards have lights. So do department stores. Emporia like the Galeries Lafayette and Printemps try to outdo one another with their Christmas displays.
You'll find the lights up during December, and usually into early January but any later and they'll be gone...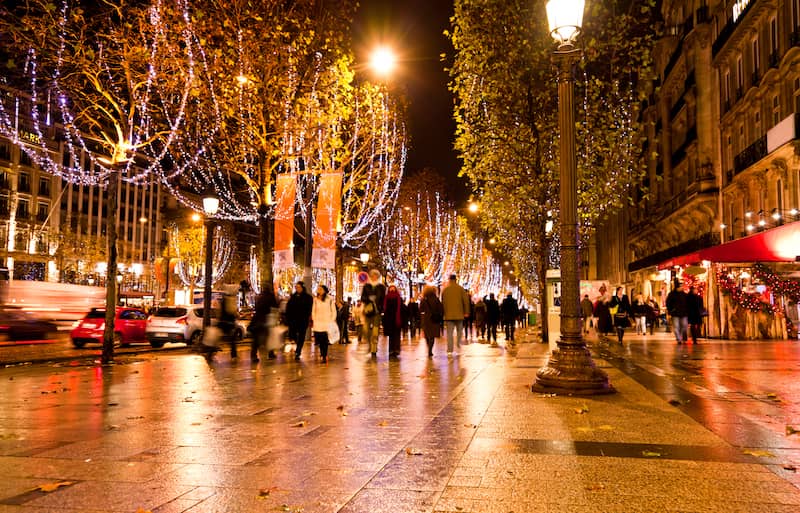 The weather in Paris in December may not be ideal, but the ambiance is fabulous, especially on major streets like the Champs-Elysées, where lights provide a truly magical feeling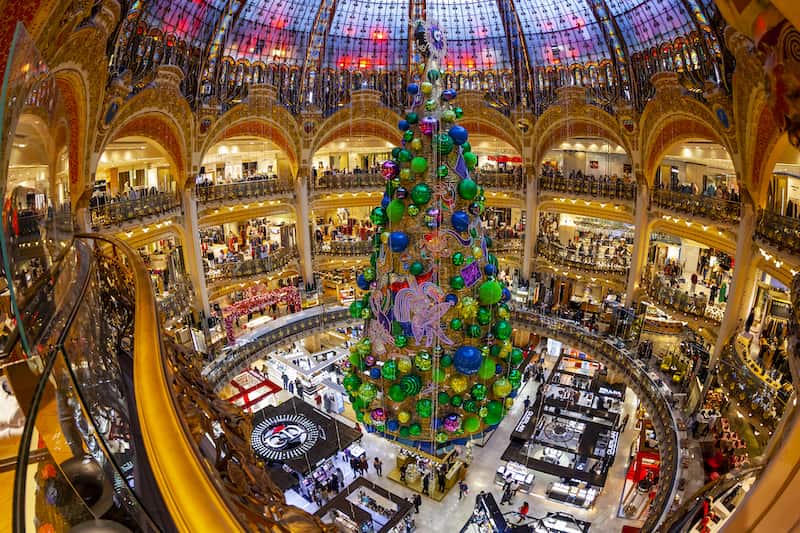 If you're visiting Paris in January, you may still catch the amazing Christmas display at Galeries Lafayette - plus you might be in time for the biannual sales.
Go ice-skating

Paris, France in winter, is the perfect location to go ice-skating. Yes, I'm serious.
Paris has several large outdoor skating rinks, but the best one has got to be on the first floor of the Eiffel Tower, 57 meters above ground. Just imagine the view... 
You can also skate on the outdoor rink in front of the Eiffel Tower, not bad either. Or on top of the Grande Arche de la Défense. Or under the dome of the Grand Palais. The downside is that most are only open in December and until early January.
Paris has a surprising number of skating rinks, for a city not particularly known for this sport. They don't all open every year, and Covid put a major dent in openings, so check with the tourist office welcome centers, but yes. Ice skating.
Visit the Aquaboulevard

Now this one may be a bit of a stretch, but if you're desperate for some water fun time and don't have an indoor pool where you're staying, why not try the Aquaboulevard? It's a massive indoor complex with waterfalls, slides, waves, all the things you've come to expect in a water park.
Now I have to warn you, I've never tried this one myself. It's expensive, and the reviews are mixed, with some people loving it and some hating it.
Just one thing to remember is that in all public swimming pools in France, the "American" type swimming trunks, the loose-fitting long ones that look like shorts, are NOT allowed. You have to wear the small, tight speedo-type swim trunks, so either bring your own or resign yourself to buying one at the pool. It's the law. And it has been since 1903.
Try some traditional Parisian eateries
One thing that makes me feel warm and welcome is stepping into a beautiful Belle Epoque restaurant, a vintage interior with glorious Art Nouveau decor. As I walk by the zinc bar with its old-fashioned coffee-making machine, there is an inevitable smell of French comfort food wafting across the room, as it has for decades.
Where to find these?
Traditional bouillon restaurants, popular in the latter part of the 19th century, served sturdy but inexpensive meals to the workers pouring into the capital from the countryside. Many of them closed during the 20th century but suddenly, they're fashionable again, and reopening. I can't think of a better winter eating experience!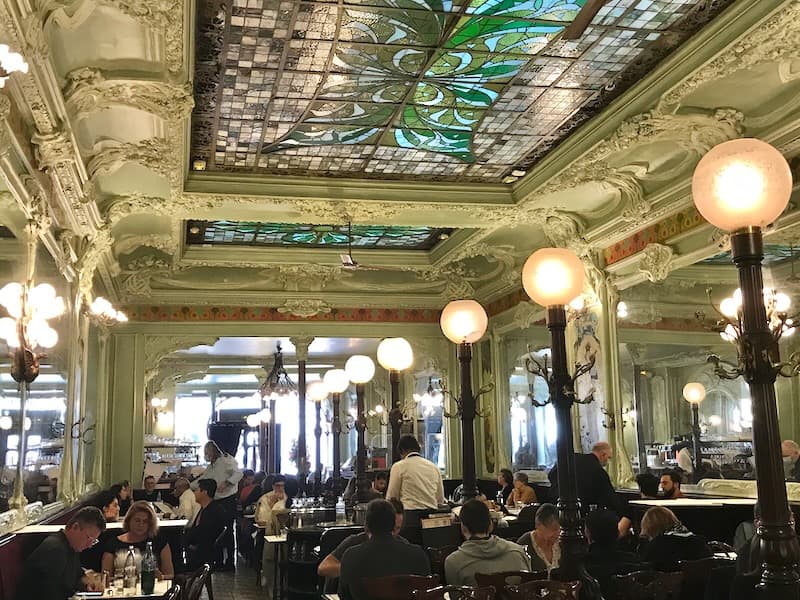 A typical Paris bouillon restaurant - the Bouillon Julien, filled with Belle Epoque design
And there's more...
Because some winter pastimes are obvious.
Going to a museum is a no-brainer in winter: they're indoors, and they're heated.
Visit a department store. Paris has some of the most beautiful department stores in the world (and so it should – it did invent them, after all).
Attend a performance. Winter is the season for opera, theater and ballet, the cultural high point of the year.
Tips for
visiting Paris in winter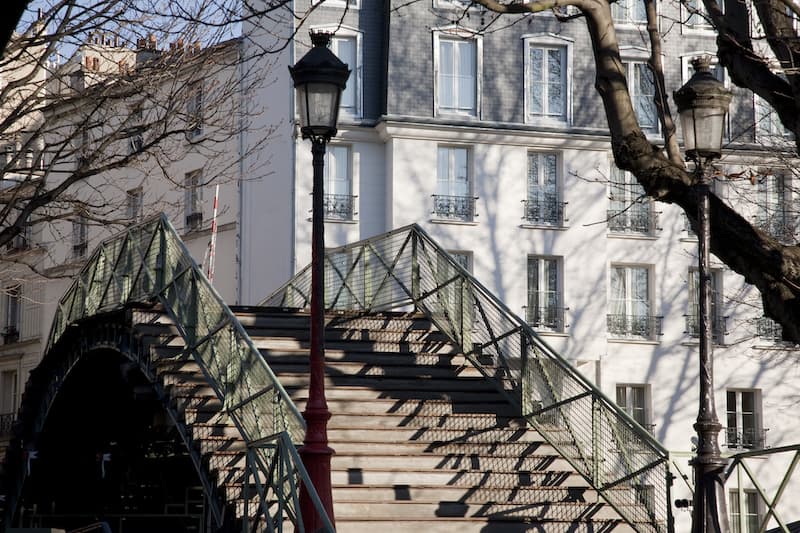 Even if winter, Paris remains beautiful
Here are some practical tips to help you plan for your visit to Paris during winter.
Pack warm clothes

The weather in winter is pretty unpredictable, but to be safe, be sure to pack in a thick jacket or coat, and comfy warm boots for walking around. Remember to grab an umbrella as well.
Check that attractions are open
Most attractions are open even during winter, but some close due to winter being the low season, so check ahead of time that the places that you want to visit are open.
Beware the school holidays
School holidays in France seem to occur often, and winter is no exception. There are three zones, and they don't all holiday at the same time. The winter holiday usually lasts from early February to early March (you'll have to check every year because the dates change slightly).
If this is when you're planning to come to Paris, make sure you reserve your entertainment and accommodations well ahead of time, because it's busier than usual.
Final thoughts on
winter in Paris
The thought of visiting Paris during winter might put a lot of people off because they think that there isn't anything fun to do during the cold months. Quite the opposite is true.

Paris during winter somehow seems more sophisticated. I've visited in every season and winter somehow seemsThere are loads of activities that you can enjoy in the City of Lights during winter. Plus, you'll be able to get a sense of what the city is really like without the hoards of crowds. So if you're willing to brave the cold, book a trip to Paris during winter.
Shop this post on Amazon
Pin these and save for later!
If you liked this, please share it on social media!