Pages on this site may contain affiliate links, which bring in a small commission at no cost to you.
Curious about the story of Grasse, France perfume?
Grasse wasn't always so fragrant.
During the Middle Ages, Grasse was known more for the scent of leather than the scent of flowers. If you've ever been to a tannery, you'll know this is no compliment. The town stank.
The good citizens of the city were ready for a better fragrance. How fortunate that this arrived in the form of fashion, as (not-so-sweet smelling) gloves from Italy and Spain.
And the rest is the rich history of perfumes in Grasse.
Grasse is in the département of the Alpes-Maritimes, number 06, west of Nice and in the hills north of Cannes, one of those lovely towns of southern France.
When I visited in the midst of winter, with a chill undercutting the bright sunshine, Grasse burst with color, a deep ochre and rust which drenched the walls with the warmth of spring. The air was clear, the views stunning, and the cobblestoned streets void of tourists.
In summer, Grasse enjoys a refreshing breeze in the hills, the higher altitude and shaded streets providing a welcome respite from the heat down below.
Located only 15km from the sea, Grasse is an easy day trip from Nice or from Cannes and given its dedication to perfume, an offbeat travel destination that combines essential French culture with the lovely atmosphere of a medieval hilltop village with narrow, crooked streets.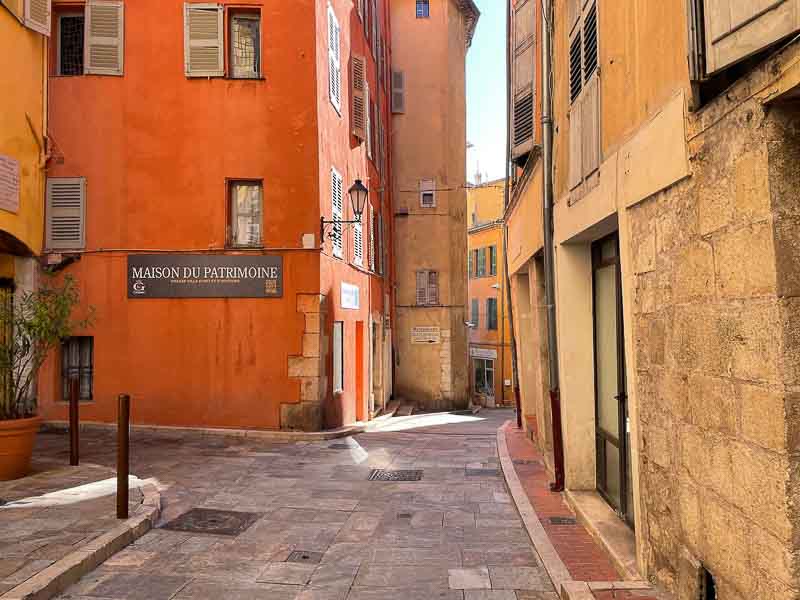 Old town of the city of perfume: Grasse
COMING TO FRANCE? THESE RESOURCES CAN HELP!
🏨 Accommodation - I rent hotels through booking.com
🚘 Car rentals - I use Discovercars, Europe's best car rental website
🚊 Train tickets - I book my train and bus tickets on Trainline
🚌 Day tours - I take day tours with Viator and GetYourGuide
While it stands to reason that many activities in Grasse revolve around French perfume and its significance, not all do: plenty of Grasse's attractions are linked to its history, art, and architecture.
7 things to do in Grasse
There are plenty of things to do in Grasse but I've put together this little travel guide listing my 7 top picks below. If you spend the day, you'll be able to get through them all.
1. Visit the International Perfume Museum of Grasse
How is perfume made?
You'll find out here, at the International Museum of Perfumery.
It's where the history of perfumery begins to make sense, as you discover objects from the ancient civilizations of Egypt and Mesopotamia, and from the perfume trade of the Renaissance through to the modern era.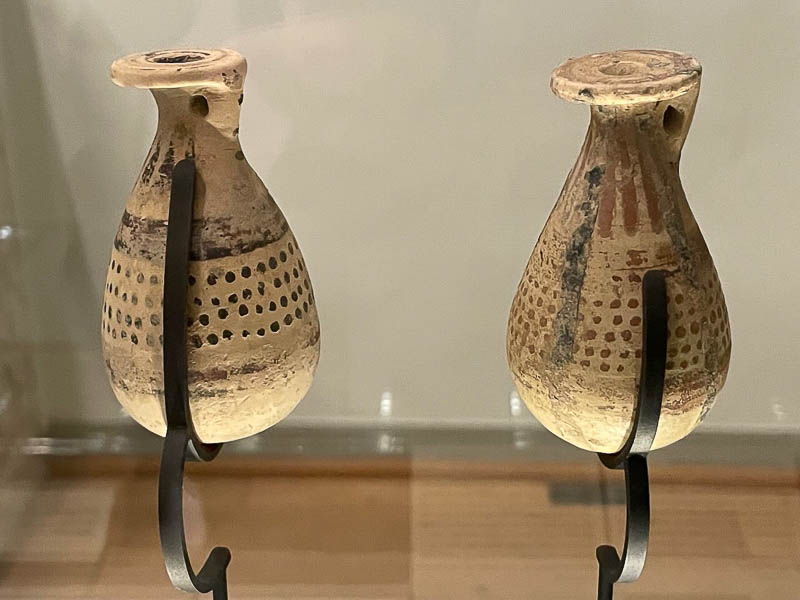 Perfume vials at the Grasse France perfume museum (the Musée International de la Parfumerie)
You can see the various shapes and materials used in the different perfume containers from each period as you learn all about the evolution of perfume-making techniques, ingredients, and the cultural significance of fragrances throughout the ages.

Scheduled guided tours are unfortunately in French, but you can get an English guide if you write or call ahead to the museum. You'll have to pay for the guide, but the more people in your group, the lower the individual cost. If you visit on your own, you'll know what you're seeing – the signs are bilingual.

You'll undoubtedly have your favorite pieces in the museum but I was mesmerized by the "perfume organ", a collection of 200 scents (out of the 1000 or so that exist) used to make just about every perfume under the sun.
You'll read about traditional methods used by perfumers, including distillation and enfleurage, and gain insight into the various ingredients and raw materials used in creating exquisite fragrances. 
No question, a visit to the museum is a sensory experience and, like many things related to perfume, magical.
Do you love being surrounded by flowers? Then go visit the perfume museum's Mediterranean garden, with specimens from around the world. You might even spot the jasmine from which Chanel No. 5 – possibly the most famous French perfume – is made!

Located at the foot of Grasse on the road to Cannes, you can either drive or take the "A" bus.
2. Visit a perfume factory
This is where the magic happens, where flowers are transformed into scent and where you find out how perfume is made.
There are three major perfumers in Grasse: Fragonard, Galimard and Molinard. You can visit them all, and each is slightly different.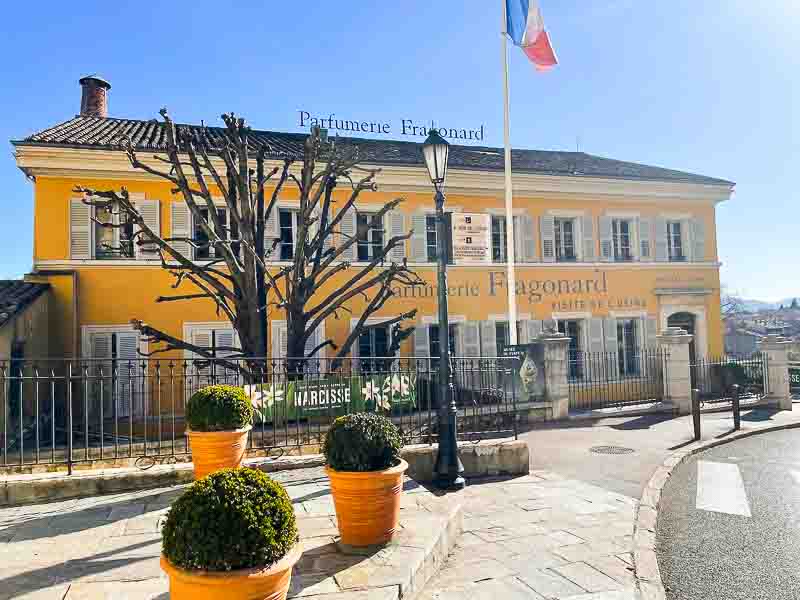 Possibly the most famous of the perfumeries in Grasse, France
I spent my time at Fragonard, which may be the first one you see as it is right in the medieval town center, across from the main parking lot and the tourist office, and around the corner from the museum.
Scheduled tours are often in French, but if you drop by earlier in the day, they'll usually be able to set you up with an English-speaking guide. If you'd rather be certain, you can book a tour, like this one (which happens to include making your own perfume).
Either way, it's worth getting on a tour because the entire perfume-making process is demystified, both the science and the art
Made in France perfume at Fragonard in Grasse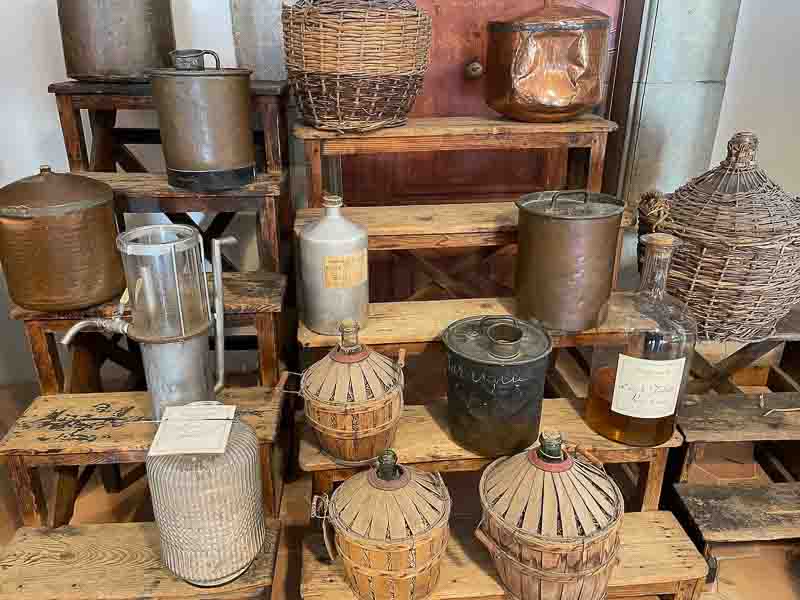 The name Fragonard, by the way, is well known in Grasse. It is the name of a French painter, Jean-Honoré Fragonard, whose rococo paintings were quite popular in the lead-up to the French Revolution.
The perfumers took the name Fragonard because they were fascinated by the painter, not because they were in any way related.
3. Drop by an independent perfumer
Beyond the Big Three, there are a handful of independent perfumers who create their own scents − artists in the olfactory sense.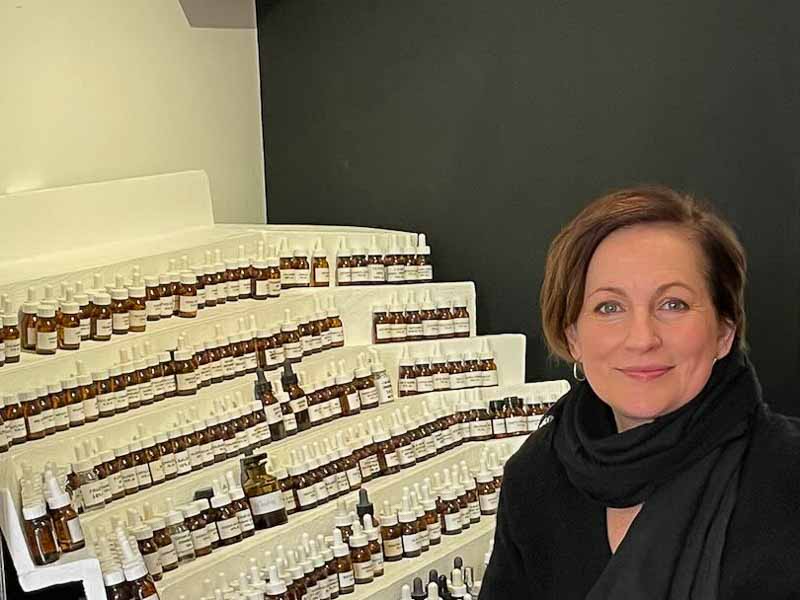 One of these is Canadian Jessica Buchanan, who studied perfumery here and decided to stay in Grasse.
Her delightful boutique, 1000 Flowers, is right off the main market square and of course she also has an online presence.
Buchanan is a "nez", a nose, trained in manipulating raw materials and knowing how to formulate a fragrance.
"Producing a scent starts with an idea," she explains. "Perfumers know what things smell like from memory. We start by writing down our ideas, and then use paper strips to combine and blend scents together."
If they find something they like, perfumers prepare the first draft of a formula, a bit like the ingredients list in a recipe. After the blend matures for a few weeks, it has to be tried on skin, and perfumers need to make sure it conforms to the many safety regulations in place. 
Once they are satisfied, it is time to prepare larger quantities. A price is set, alcohol is added, the mixture is matured and chilled and filtered and, finally, bottled and sold.
Perfuming is an extremely specialized field, part technique, part art, and part science.

"I had trained as a clinical aromatherapist but then attended the Grasse Institute of Perfumery for a year and a half," she said. "Then I had an internship, but I realized Grasse was where all the raw materials and the industry were located, so I stayed."
You can buy perfume from Grasse France at independent shops like this one
Jessica is one of the Grasse's few niche perfumers, who have carved out a space among the larger companies by creating lighter, more modern scents from the best ingredients, which they can afford since they only use tiny quantities .
3. Invent your own signature scent
By now you must be feeling completely immersed in the world of perfume, so what better next step than to create your own?
Sadly, I was not able to take part in a perfume workshop - I arrived in Grasse in mid-winter, right after completing the Mimosa Route, completely off-season, and there was nothing available on that day. Don't make the same mistake and make sure you book ahead!
Here are three workshops that get rave reviews if you'd like to create your own signature scent.
Several friends of mine have taken part in these workshops and they all raved (increasing my disappointment!). You can take a very short class, or you can delve into perfume making more deeply. Either way, you'll learn about the various elements that must go into making a perfume or eau de toilette. 
HIGHEST-RATED PERFUME WORKSHOPS IN GRASSE
➽ Create your own perfume at the Maison Molinard, one of the oldest perfume manufacturers in Grasse and in France. This one-hour Grasse perfume workshop is a group activity, and you'll walk away with a 50ml bottle of your creation.
➽ Enjoy a private two-hour perfume creation session, also at Molinard, where you'll be greeted with Champagne and leave with a 90ml bottle of your perfect individual scent.
➽ A children's perfume workshop: this lasts 20 minutes and is ideal for children, who are not permitted to attend the other, longer workshops.
Perfume scents are made up of three notes.
First, the note de tête, or head note, which is the first thing you smell and the fastest one to dissipate, in two hours at most.
Second comes the note de coeur, or heart note, which is made up of herbs and flowers and can last up to 4 hours.
And finally, you get the note de fond, the base notes, made of wood or spice or animals, lingering the longest, up to 24 hours.
4. Explore the Old Town of Grasse
As with most hilltop towns and villages, the Old Town of Grasse begs to be explored, with its narrow streets, old houses and outdoor cafes.
It is a living, breathing town, ungentrified and real, unlike some of the other (admittedly beautiful) villages that have been scrubbed and prettified in this region.
Just head off from the Fragonard factory or the museum down the narrow streets that lead away from the main square. I followed no particular route, my mission being to discover and lose myself.
I came upon this unusual church, on which building started during the 12th century. It is now known as Notre-Dame-du-Puy but was formerly the Grasse Cathedral.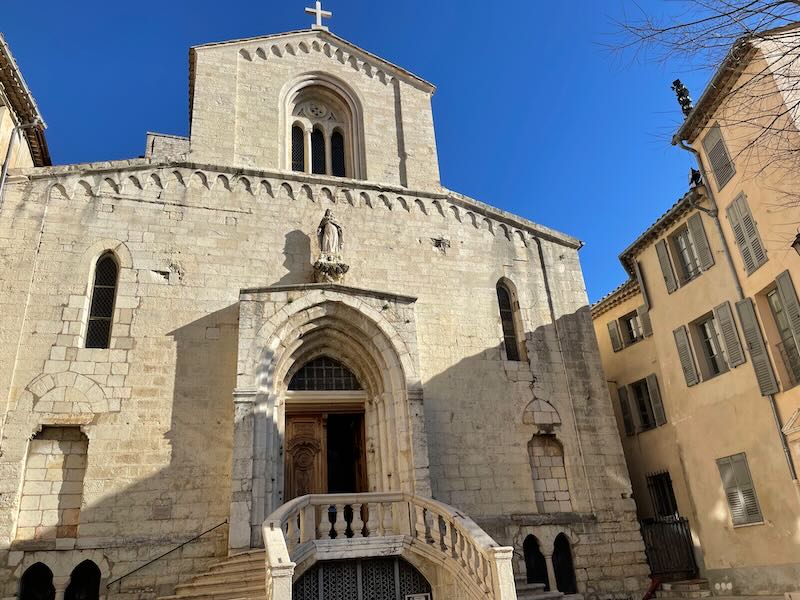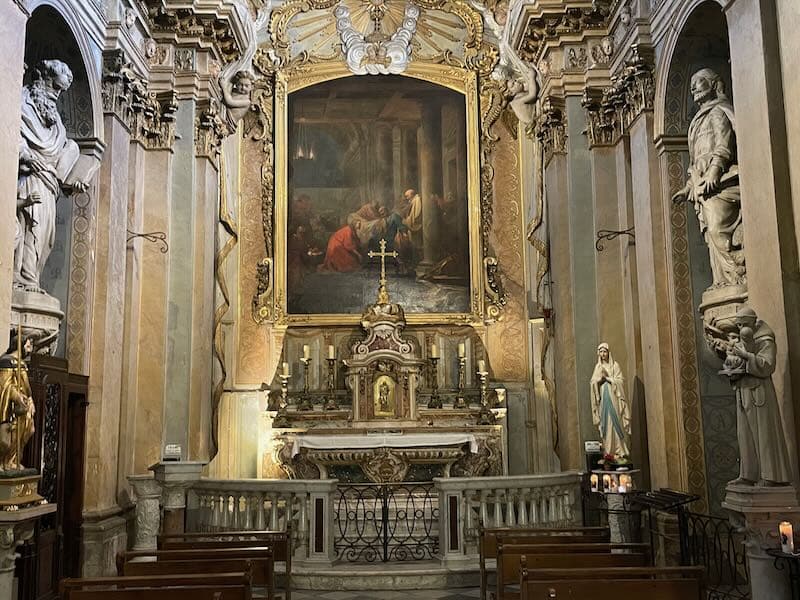 Its exquisite interior also happens to host a number of works of art: three paintings by Rubens and one by Fragonard, among others.
ADMIRAL DE GRASSE, REVOLUTIONARY HERO
On the main square is a statue of Admiral de Grasse, unknown to me until I visited but who apparently played a major role during the American Revolution, a role marked by a yearly ceremony. 
According to the American Battlefield Trust, "The most important strategic decision that set General George Washington's Continental Army on the path to victory in the Revolutionary War was not made by Washington, but by French Admiral François Joseph Paul de Grasse."
Here's what he did: "Francois-Joseph-Paul de Grasse-Rouville, Comte de Grasse, was the French Admiral who won the Battle of the Capes, stopped the British navy from reinforcing Yorktown, and ensured Cornwallis' surrender and the end of the American War for Independence." (Source)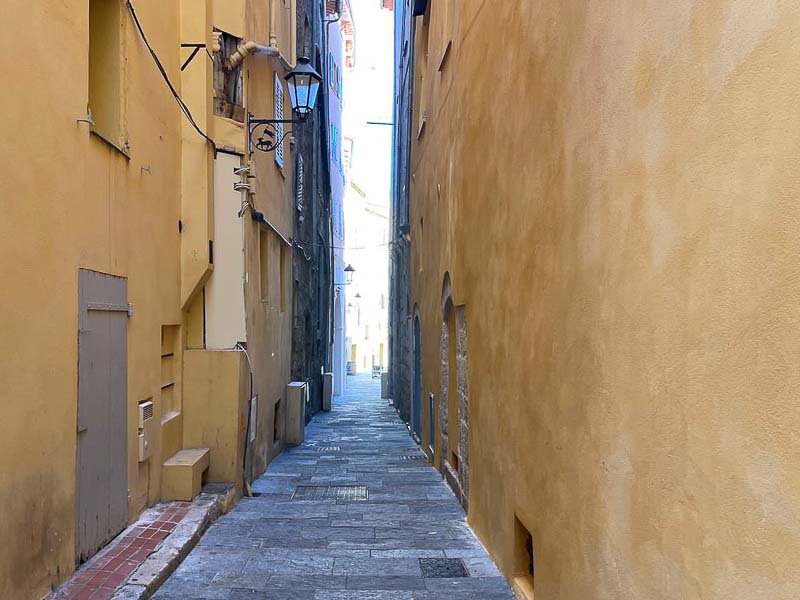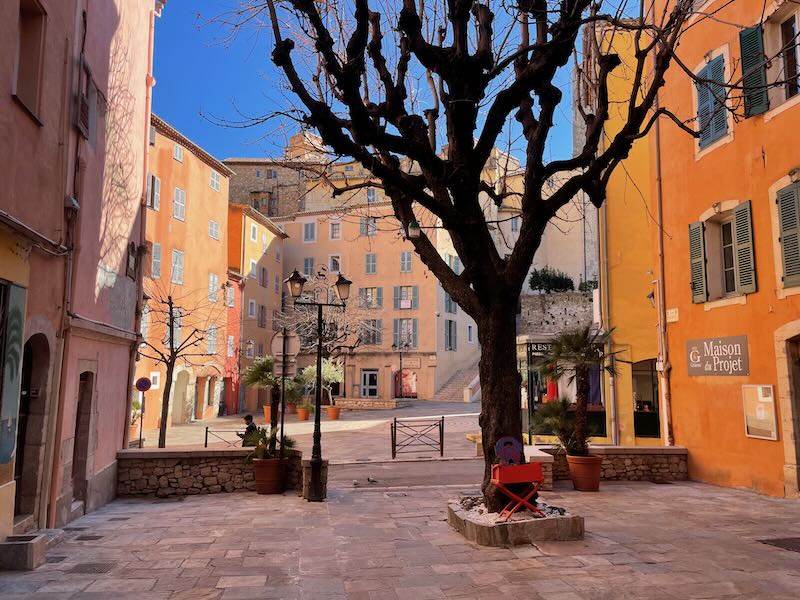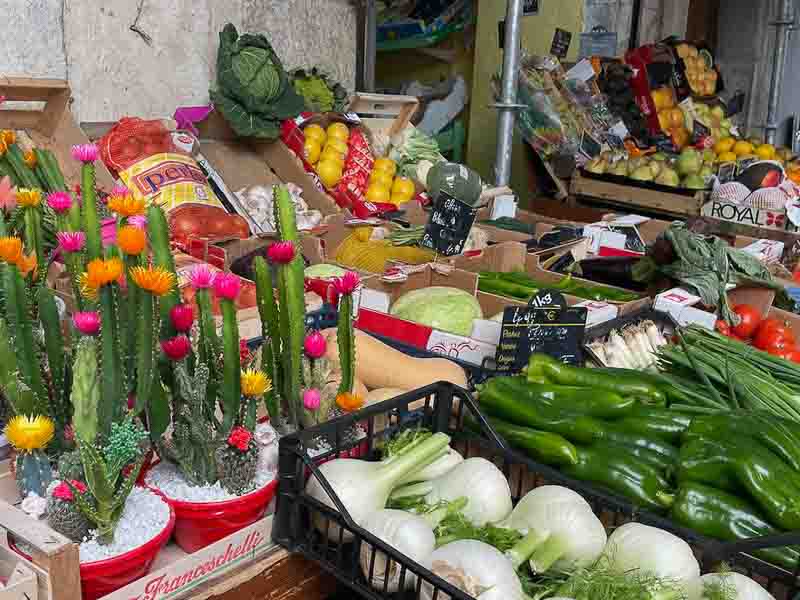 5. Explore one of Grasse's Provençal museums
The Musée d'Art et d'Histoire de Provence documents what daily life was like in this corner of the region since prehistoric times, along with decorative arts from the 17th-early 20th centuries. It is hosted in a traditional private manor house, which hasn't been rearranged and maintains its original layout.
Also important to Provence's traditions is the Musée Provençal du Costume et du Bijou, filled with items from a private collector in love with Provence. This unique collection contains clothing and jewelry from the 18th and 19th centuries including corsets, skirts, earrings and other items once worn in this region.
The final museum worth a visit is the Villa-Musée Jean Honoré Fragonard, the painter. The house contains paintings and frescoes not only by Fragonard but also by several of his relatives – the artistic vein running deeply in the family.
The museum websites are all in French so if you'd like to know more, contact the Grasse tourist office through their Instagram or Facebook accounts or call them at +33 (0) 4 93 36 66 66 (they speak English).
6. Enjoy a flower festival
All the flowers nearby must be celebrated, and that is best done with a festival, common in this part of France. Here are the most important flower festivals in Grasse:
Expo Rose in May turns Grasse into a garden, with 8500 rose bouquets and 25,000 cut roses decorating the town's fountains and squares, along with music and festivities
Expo Rose in Grasse is... full of roses! ©CRT Côte d'Azur/Camille Moirenc
Fête du Jasmin (jasmine), three days of music, dancing and fireworks during the first weekend in August (not to mention sprays of jasmine perfume!)
Not so much a festival but an ongoing celebration, the Mimosa Route ends in Grasse and each February is the perfect time to observe it
A BIT OF JASMINE...
It takes between 7,000 and 10,000 jasmine flowers to make up 1 kilogram (2.2 pounds). And it takes about a ton of flowers to extract a kilo of jasmine absolute. Each kilo is worth over 50,000 euros, about $59,000.
Jasmine is a favorite of perfumers and an important component of such well-known fragrances as Chanel No 5.
7. Drive to nearby natural beauty spots
If you have a car, there's plenty to do and explore around Grasse.
If you're in a sporty mood, you can go hiking or horseback riding, biking or canyoning.
If you'd rather go for a drive into the countryside, head for the Gorges du Loup and the picturesque hamlet of Gourdon, on the list of France's most beautiful villages.
Visit the Domaine de la Royrie, a delightful oil grove (which now accepts overnight guests) or the Domaine de Manon, to smell and see the roses.
And finally, the Grotte de Saint-Cézaire will cool you off on a hot summer day with its ancient stalactites and chasms.
How Grasse became the world's perfume capital
Given its abundant supply of water, Grasse during the Middle Ages achieved prosperity as a center for tanneries, importing skins and wheat from Genoa and exporting tanned leather, wine and cattle.

With the Renaissance and the arrival in France of Catherine de Medici (wife of Henri II during the 16th century) came the fashion of gloves, which – given their unpleasant smell – were ready for an upgrade. Artisans began using perfume on their leather goods, and a new profession, that of "glove-making perfumers", was born.
A technique known as maceration used animal fat to capture the scent of flowers and make a pommade, which was rubbed on leather gloves to sweeten their smell.
Soon, crowned heads were ordering crates of these "perfumed gloves", along with perfumed belts, bags and fans.
Grasse did so well with flowers that perfume eventually replaced leather as the major industry. All this was made easier by the availability of water, a favorable micro-climate, and an eventual increase in leather taxes during the French Revolution.
Grasse was not the only center for perfume, however. The city of Montpellier had been developing essential oils and pommades to fight disease since the eighth century CE, but Grasse perfumeries competed successfully, making it the city of perfumes while Montpellier focused on using flowers and plants for pharmaceuticals.
Industrial production of perfume grew and the town saw its first perfume factories. Perfume uses developed (for use in drinks, shampoo, detergents and food aromas), and fragrance manufacturers sought an alternative to expensive natural essences, turning to cheaper synthetics. (By the way, one of the reasons people use synthetics when making perfume is because they don't involve any animals.)
The traditional trade dwindled in the wake of cheap imports. Whereas 5000 tons of flowers a year were cut for the perfume trade in the 1940s, that figure dropped to below 30 by the start of the 21st century, with many of the raw materials cheaper to import than to produce. 
But Grasse has demonstrated its ability to adapt to new ways of doing things and maintaining its #1 perfume town status. Nearly half of its modern perfume industry involves industrial products such as detergents, and industrial food aromas for the dairy and prep-packaged food industry.
Today, there is a bit of a perfume resurgence, with a move away from synthetics towards more natural essences. Many farmers converting their agricultural land to flower fields.
There is hardly any limit to the combinations that can come from their fields. Natural essences can be obtained from some 400 plants and 5 animal products (an increasingly controversial process which has given rise to "vegan" perfumes), whereas up to 4000 scents can be achieved synthetically, providing an unending number of possible combinations.
The story of perfume in Grasse is ever-changing, ebbing and flowing with fashion. One perfume may be popular today, fall out of fashion tomorrow, only to bounce back come the next generation. 
To make sure traditional skills are never lost, the art of perfume-making in Grasse achieved protection on UNESCO's Intangible Heritage List in 2018.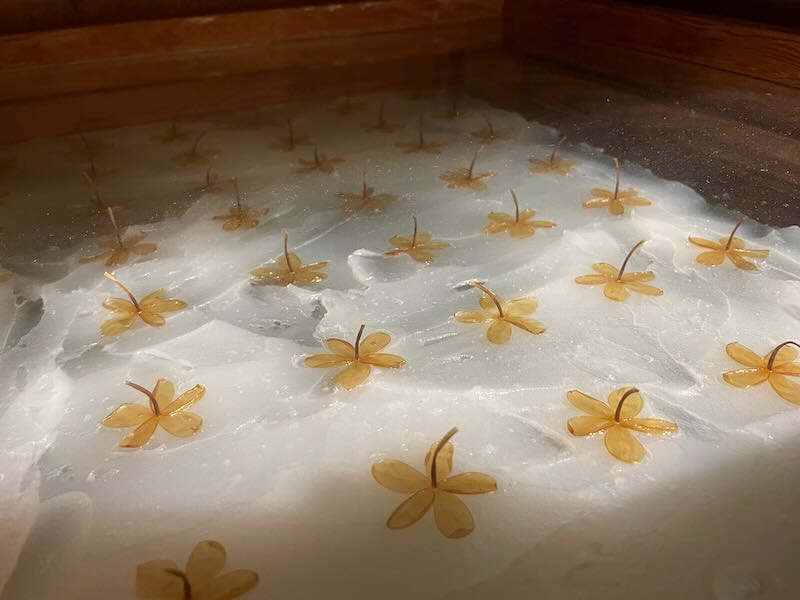 The ancient Egyptian technique of 'enfleurage', in which grease absorbs the scent from the flowers. A sheet of glass is covered in grease, and flowers gently placed on top. Sheets are stacked, and new flowers constantly added until the grease is saturated, yielding a pommade. The technique was adapted to modern perfume making during the 19th century. Here, it is demonstrated in the Fragonard factory
A few perfume history facts
In Antiquity, perfume was not only liquid but also came in soap form; in Ancient Egypt, perfume was mixed with thyme and cinnamon and used to communicate with the gods (putting oils on bodies during the embalming process was also believed to get them to heaven faster); and among the Greeks, women perfumed their hair, and men used perfumed oil on their bodies to help heal armor wounds. Perfume had medical uses in Ancient Rome, and was used in kohl in Arab countries and in India.
Somewhere during the Middle ages, between paganism and Christianity, perfumes as scent disappeared, considered an unwelcome filter between individuals and God. Perfumes became medicinal and were used for healing.
During the Black Death of the mid-14th century, people stopped washing, convinced the plague came from water – and baths. Perfumes came back into style, used to wash away the odors of the plague, and believed to protect people from certain illnesses.
During the Renaissance, stylish containers appeared, the "flacon bijou". Perfumes were still rudimentary, with rare mixes and most often based on a single flower, known as "solifleur".
With the increase in travel 

came the "nécessaire de voyage", or travel case. Marie-Antoinette had not one, but two of these. The original is in the Louvre in Paris, and the second one was to have served her when she and her husband Louis XV tried to escape to Belgium just before the French Revolution.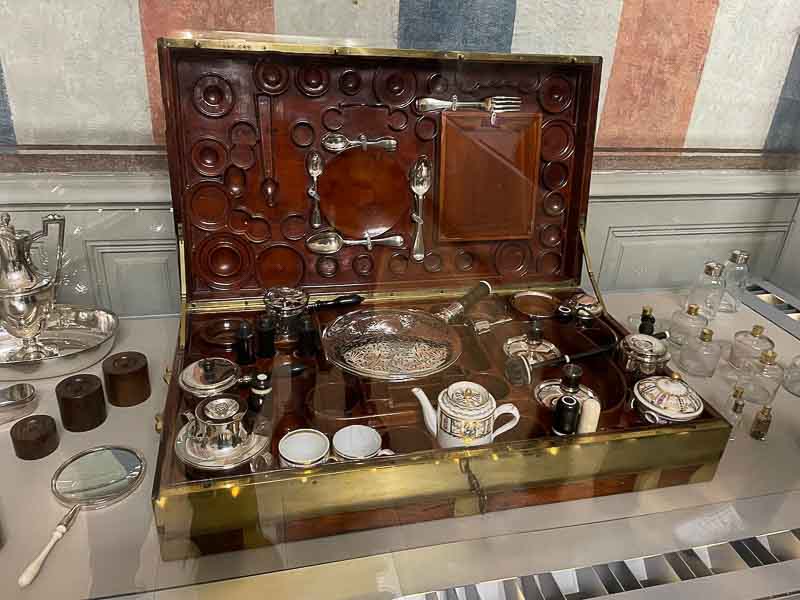 Marie-Antoinette's travel case: not quite the art of traveling light
Practical information about Grasse
How to get to Grasse
You have several transportation options.
The road from the sea into the hills is pleasant and winding, with wide views as you climb. At only 15km (9mi) from the sea, Grasse is within easy reach of the nearby cities of Cannes and Nice, and perfect from a day trip – just as Queen Victoria did when she vacationed in Nice and climbed up the hill to buy Grasse perfumes.
If you visit in summer, the areas along the coast and in the flatter lowlands are bound to be hot, but climb up to Grasse and you'll be pleasantly surprised by the cool breezes in the hills.
You can catch a direct train from Nice (a bit over an hour) or Cannes (half an hour), and they're quite regular.
If you'd rather have someone else take care of the details, there are plenty of tours to Grasse. Here are two highly recommended ones:
Finally, Grasse has no airports but you can easily fly into Nice.
Where to eat in Grasse
There are plenty of places to eat in Grasse but here are two recommended restaurants I personally tried, ideal for a light lunch.
The first is right next to the perfume museum and is called the Café des Musées. It only has a few tables so if you want to eat here, either go early or drop by and reserve a table. The menu is short but delicious.
The other restaurant is Lou Pignatoun in the Old Town, which specializes in aïoli (a typical fish dish of the cuisine of Grasse with potatoes, a hard-boiled egg and a garlicky mayonnaise) typical of the French Riviera's food – it does have other popular dishes.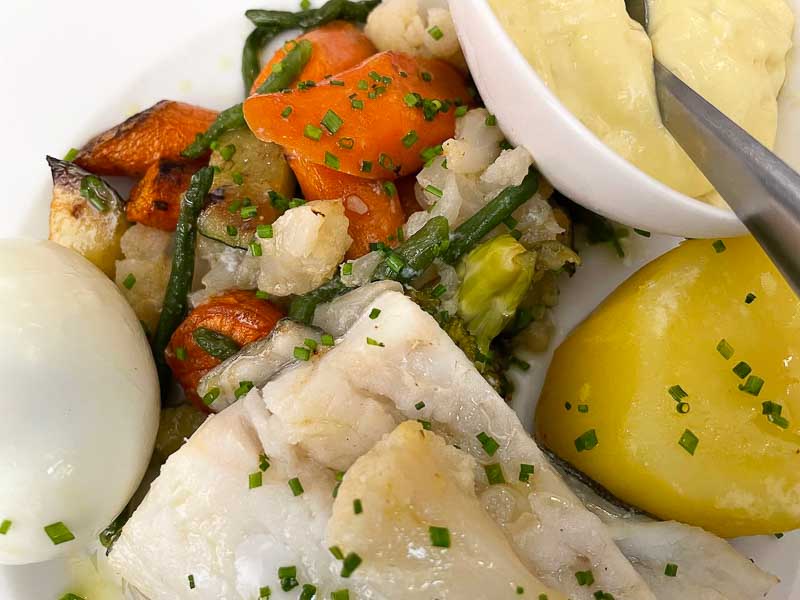 Aïoli, a typical fish dish of Provence
Accommodation in Grasse
In Grasse, this perfect little apartment in the heart of the town is within easy walking distance of everything.
If you have a car, I heartily recommend Lou Messugo, a lovely property in Roquefort-les-Pins, an easy 15-minute drive from Grasse. The pool is a godsend when the temperatures soar, and the delightful hostess, Phoebe, will share her intimate knowledge of the region with you.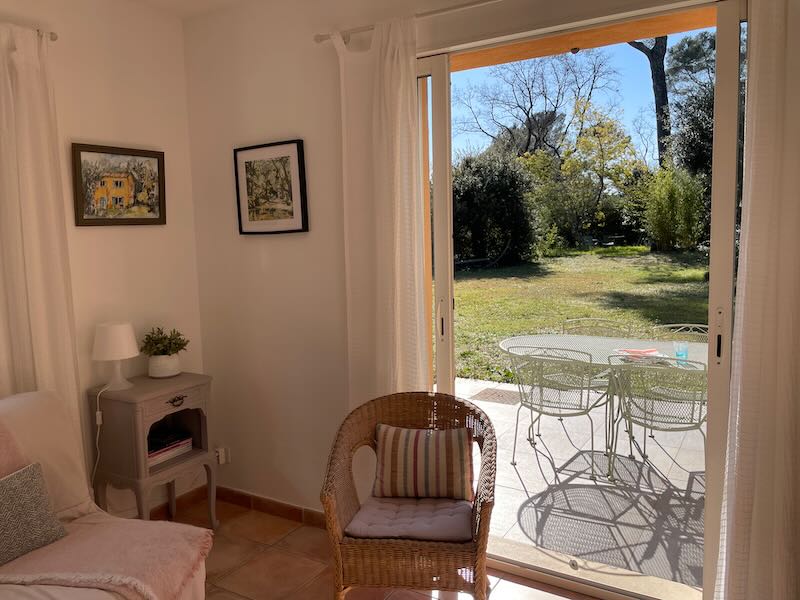 Preparing to sit outside for lunch at Lou Messugo
Grasse, France: Perfume at its best
Whether you come to Grasse for a couple of days or even a few hours, you'll enjoy one of the more unusual visits on your French Riviera stay.
Not only will you explore cooked medieval streets and Provençal culture, but you'll come away with an understanding of perfume and delightful scents that will stay with you for hours, perhaps days.
FAQ Grasse France perfume
You can buy perfume from any perfume houses. Grasse has three major ones and a few smaller, independent ones.
The three major perfume makers – Fragonard, Galimard and Molinard – are equal in quality: perfume is a matter of personal taste.
You can make perfume by extracting the oil from flowers, plants or wood (or animals). Some perfumes add alcohol or other products during the manufacturing process.
The process of extracting oils from plants is believed to have been developed in Mesopotamia by a chemist called Tapputi. Her successes were recorded in Cuneiform back in 1200 BCE.
Very much so, especially if you're interested in perfume or if you love small medieval hilltop towns in the French Riviera.
Before you go...
In a very different vein, if you love flowers and gardens, you might enjoy strolling around the gardens of the Villa Ephrussi de Rothschild, on Cap Ferrat. 
I ate well in Grasse, and if you're a foodie, then make sure you try these French Riviera culinary specialties, either in Grasse or as you tour the south of France.
Did you enjoy this article? I'd love if you shared it!