Pages on this site may contain affiliate links, which bring in a small commission at no cost to you.
How well do you know French Riviera food?
Probably better than you think!
One of the joys of travel is experiencing a place's many foods, and the French Riviera is no different.
The local food you'll try here is basically Provençal food, or foods of Provence (Provence is the wider region which contains the Riviera).
Some of its regional dishes will seem familiar − this IS the Mediterranean, after all, and these foods are not all exclusive to the Riviera: you'll notice the influence of other parts of Provence, not to mention Italy. It's just that they may taste a little better here, under the stars and with the sound of waves lapping in the distance...
CRAZY ABOUT PROVENÇAL COOKING?
Ready to try your hand with the foods of the French Riviera before you go? The Provencal Cookbook by Provençal chef Guy Gedda is filled with the authentic flavors of the Riviera.
You'll find some hyper-local dishes around Nice, which has its own cuisine niçoise but in the end, French Riviera food will inevitably remind you of lemon, olives, and sunshine. And tomatoes.
You'll find similar food in most towns in southern France.
When you visit the Côte d'Azur (the French name for the Riviera), these 10 Provencal food dishes just have to be on your radar.
1. Socca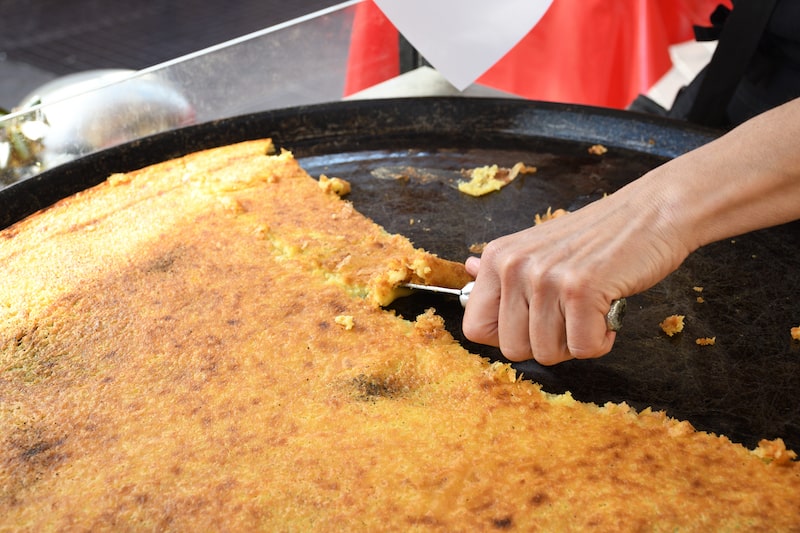 Of all the French Riviera cuisine, it doesn't get much more traditional than this: socca, or the local version of bread.
This is one of those Nice, France specialties that defines the city, but there's not much to it: chickpea flour, olive oil, salt and water, all mixed and then spread on a flat copper dish and baked in a wood oven. If you've been to Italy, you'll know it as a farinata, crunchy on the outside and soft on the inside (and make sure you have a paper napkin with you because a good socca is an oily one).
You can sprinkle black pepper on it but whatever you do, don't eat it with a fork, or every Niçois within sight will shake their head!
This French Riviera restaurant is full of specialities: Chez Thérésa on the Cours Saleya or 28 rue Droite in the Old Town.
How do you pronounce socca? SOCK-a
🍅 🧄 🫒
2. Tapenade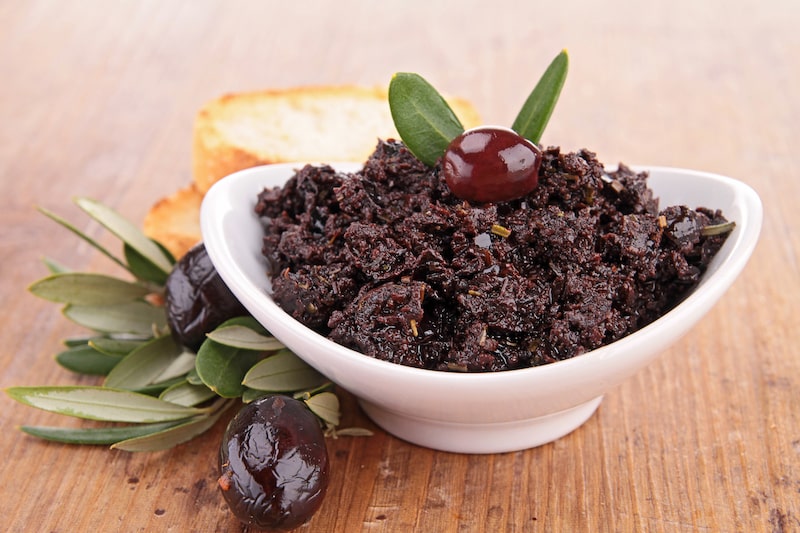 If you like olives and anchovies (together), you're in for a true treat.
It may sound a little odd, but this southern French food is in fact delicious, and a perfect aperitif, very common throughout the Mediterranean.
It's basically a spread, so you can spread it on toast or a baguette, dip a bread stick into it, or for the "healthy" version, smother it on carrot sticks or other raw veggies. Remember it's not vegan though − because, anchovies!
Most tapenade is black, from black olives, but you can also make it with green olives, which to me is a bit milder.
This is one of those French Riviera recipes that is incredibly easy to make at home: dry out the anchovies (place them on kitchen roll), chop them up, mix them with (de-stoned) olives and garlic, and add chopped capers. It is a paste, so run the mixture through your food processor and add a bit of olive oil if it's too stiff. And voilà!
It's not a meal at all, but a nibble before a meal or at a bar. It's salty, too, and yes, it is an acquired taste (and I've acquired it!)
How do you pronounce tapenade? tap-a-NAD
🍅 🧄 🫒
3. Soupe au pistou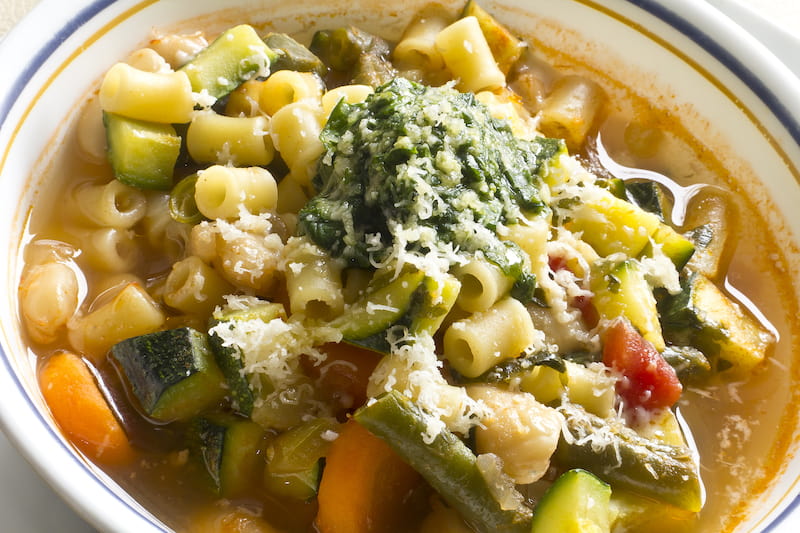 Most of you are probably familiar with pesto, that Italian basil-based sauce we love to add to our pasta.
But do you know its little French sister, pistou?
Possibly not, unless you've already been to the south of France.
There's really only one difference: Italian pesto has pine nuts (and often parmesan or pecorino), the French pistou does not.
While pesto is usually eaten on pasta, pistou tends to be eaten in soup, and "soupe au pistou" is a traditional dish of vegetables, pasta and pistou. It may have potatoes too, with a bit of grated cheese on top.
Strangely though, this typical Cote d'Azur food is a soup for summer, and while a Niçois classic, everyone seems to have their own recipe − I've never eaten it the same way twice.
How do you pronounce soupe au pistou? soup-oh-piece-TOO
🍅 🧄 🫒
ARE YOU PLANNING YOUR TRIP TO THE FRENCH RIVIERA?
A good guidebook can make all the difference to your enjoyment and in-depth understanding of the Côte d'Azur!
4. Soupe de poissons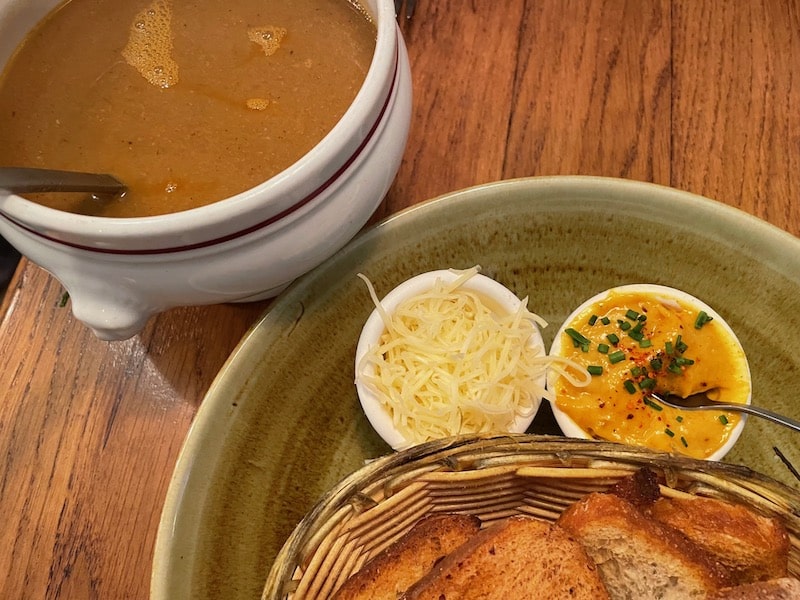 Traditional fish soup (soupe de poissons) and the famed bouillabaisse of Marseille are often confused and that's no wonder, because they do have fish and soup in common.
But here the similarity ends.
A bouillabaisse is more of a stew, filled with chunks of fish, while the soup is more... soupy. Both are delicious if you love fish, but make sure you try them right on the coast, where you know the fish will be extremely fresh.
Both also come with croutons and rouille, a slightly spicy egg-based sauce.
The Bouillabaisse is a native of Marseille, further west along the coast, whereas here, you'll find fish soup as often as not. If you're a fish soup fan, try every restaurant – most local ones serve it so it'll be a case of too many, not too few!

How do you pronounce soupe de poissons? soup-duh-pwah-SOH
WHAT IS THE FRENCH RIVIERA, EXACTLY?
The French Riviera, or Côte d'Azur in French, starts east of Marseille (exactly where is under debate) and continues past Monaco to Menton and the Italian border. It is part of Provence, more formally the Provence-Alpes-Côte d'Azur region.
🍅 🧄 🫒
5. Pan bagnat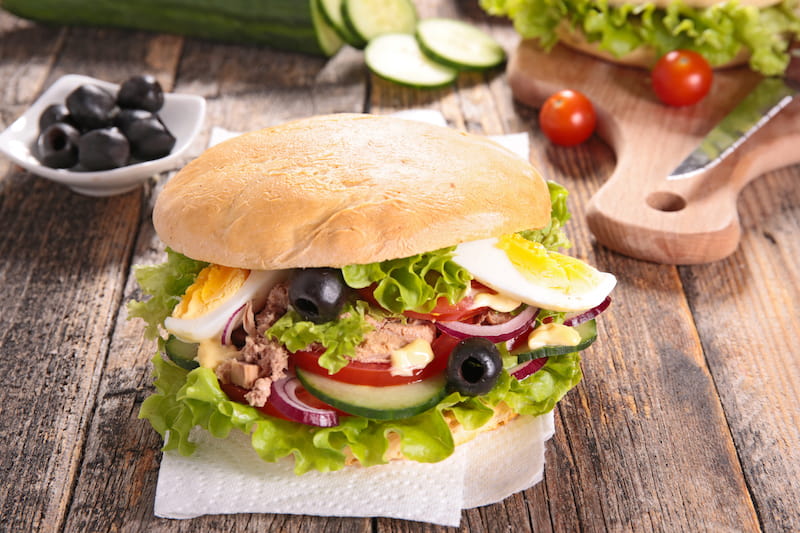 This is a jewel of Cote d'Azur cuisine, so simple, yet so rich and complex. The pan bagnat is basically a tuna sandwich, filled with crudities, hard-boiled egg (and the occasional anchovy) and moistened with olive oil, all sitting on a round bun.
Called a "bathed sandwich", it does get soggy if you let it sit, but connoisseurs say it only gets better. I, on the other hand, have never waited long enough for it to get soggy...
Originally, this was a dish for the poor, using day-old bread softened with olive oil, hence its name, pan bagnat, or bathed bread.
Best pan bagnat in Nice: try Chez Tintin at 3 place du Général de Gaulle or Lou Pantail at 107 avenue Saint Lambert.
How do you pronounce pan bagnat? pon-bahn-YAH
🍅 🧄 🫒
6. Pissaladière
If I'm honest, I'll admit this one is my favorite French Riviera foods: onion tart, the Provençal equivalent of pizza.
It doesn't get any simpler – basically pie shell meets caramelized onions, making friends with anchovies and olives (always those!) along the way.
There are two kinds of pissaladière. One is the pissaladiere niçoise, or from Nice on the French Riviera, and the other is the monégasque, from Monaco. The difference is that the Monaco one has a tomato base, and I can't say which is better because they both are.
Best pissaladière in Nice: Chez Thérésa of Socca fame (see #1 above), but also A Butteghinn'a at 11 rue du Marché in the Old Town and L'Escalinada at 22 rue de la Pairolière.
How do you pronounce pissaladière? pee-sal-ah-dee-AIR
🍅 🧄 🫒
7. Salade niçoise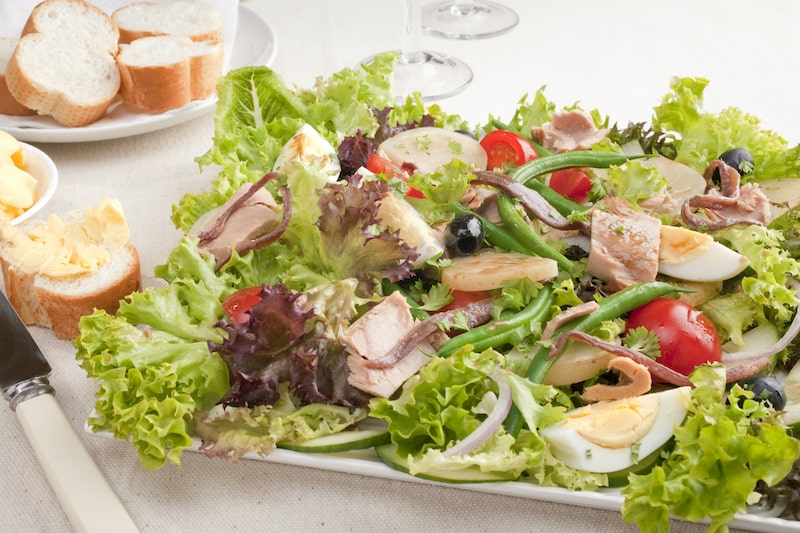 Now this one's a bit tricky. My mother is from southern France and she used to make this at home: traditionally this salad is made with hard-boiled egg, tomato, green pepper, onions, green beans, olives, tuna and anchovies. Sometimes lettuce and radishes. Or cucumber.
Except that my mother added boiled potatoes, and I grew up thinking potato was a constant ingredient, so you can imagine my reaction when I tried my first Salade Niçoise in Nice. And my second. And third. No potato.
It turns out that it's a "variable" salad, with ingredients that can change, the only constants being tuna, olives, tomatoes and anchovies. If you have fresh salad makings, just throw them in! And the dressing will be olive oil vinegrette, of course.
Perfect for those hot summer days.
A final word: while purists may leave out the potatoes, none other than August Escoffier, the 19th-century grand chef and culinary writer, did put potatoes in his.
Best salade niçoise in Nice: L'escalinada, same place you'll eat a great pissaladière.
How do you pronounce salade niçoise? salad-nee-SWAHZ
🍅 🧄 🫒
8. Ratatouille
Does this dish even need introduction?
Beyond being the cutest of movies, of course.
Ratatouille is a mainstay of southern French cuisine, a vegetarian (vegan too) stew of eggplant (aubergine), peppers, tomatoes, usually zucchini (courgettes), and always onion. Simmer on the stove forever, as was the case when I was growing up.
Ratatouille can be eaten hot or cold, and somehow, it tastes better the day after.
Best ratatouille in Nice: frankly, the best ratatouille is the one you make yourself at home but barring that, you can sample this dish at Chez Davia at 11, bis rue Grimaldi or at Lou Pistou, 4, rue Raoul Bosio.
How do you pronounce ratatouille? rah-tah-TOO-ee
🍅 🧄 🫒
9. Aïoli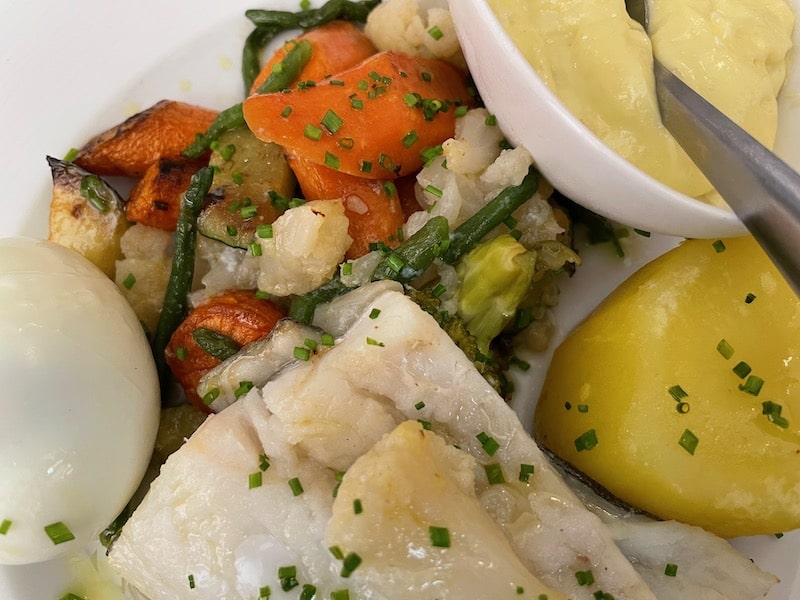 I'm not sure what I thought this was... basically I expected a garlicky mayonnaise.
I wasn't wrong.
It IS that, but the sauce is designed to accompany a very specific dish: a filet of cod, with a boiled egg! (And a few other things...)
Aïoli sauce and the dish that comes with it is typical of the cuisine of the Mediterranean, particularly Nice.
For great aïoli in Nice, try La Taca d'Oli at 35 rue Pairolière or the Bar de la Bourse, 15 Place Saint François, both in Old Nice.
How do you pronounce aïoli? eye-OH-lee
🍅 🧄 🫒
10. La tarte tropézienne
Tarte Tropézienne. Photo Fortetclair75 via Wikimedia Commons CC BY-SA 4.0
Light, puffy and creamy (a bit too creamy for me), it's a brioche, or kind of sugary bread, sliced in two, filled with lemony crème patissière (a thick custard), and sprinkled with sugar crystals.
It became famous in 1955 when a baker was hired to cater for the cast of "And God Created Woman". Brigitte Bardot fell in love with it and gave it its name.
The tarte has been copied and many versions exist throughout the Côte d'Azur but to try the original, you'll have to go to St Tropez and stop by the original French Riviera bakery, La Tarte Tropézienne.
How do you pronounce Tarte Tropézienne? tart-troh-pay-ZEE-ENN
CRAZY ABOUT PROVENÇAL COOKING?
Ready to try your hand with the foods of the French Riviera before you go? The Provencal Cookbook by Provençal chef Guy Gedda is filled with the authentic flavors of the Riviera.
A final word about French Riviera food
I've given you a list of ten top dishes of French Riviera food but of course there are many more.
You'll find many of these dishes over the border in Italy. Despite this, each city or micro-region along the French Mediterranean coast gives its dishes a new twist: with or without sauce, with or without pieces of fish, with or without peppers... the similarities are far greater than the differences.
Comparing the food of Liguria in Italy with French Riviera food means you'll find some constants, like olives and garlic, but also some differences - more pasta here, more sauce and tomatoes there... and all equally delicious.
Did you enjoy this article? I'd love if you shared it!