These are the most beautiful French Riviera towns in southern France for your first visit
No one is going to argue: the French Riviera has some of the prettiest towns in southern France.
In all of France, in fact.
But if this is your first trip to the area, you're going to have to make some difficult decisions about where to go: there are so many gorgeous villages and towns sown here that choosing what to visit could be beyond daunting.  
NOTE: Pages on this site may contain affiliate links, which bring in a small commission at no cost to you.
I faced exactly this decision when I visited recently: in French they call it an embarrassment of choices, "l'embarras du choix".
I had visited the Riviera as a child with my parents and again as a teenager with friends, but I remembered little. I did spend a weekend in Monte Carlo 20 years or so ago, but again, no deep knowledge resulted from this.

So for all intents and purposes, I was a Riviera newbie, in exploration mode for the very first time.
If I, a Frenchwoman living in France, was overwhelmed by the choices, I can imagine you might be too, hence this practical article.
French Riviera: South of France Map
Where exactly is the French Riviera?
There is still argument about what is and isn't the French Riviera, at least at one end.
Most agree that it stops at the Italian border, at Menton, in the east. But what about the west? Does it start at Hyères? Or does it include Marseille? Or even more?
For my own purposes here, I'll suggest that the Côte d'Azur, as the French Riviera is known, goes from Cannes to Menton.
Here, then are the top 10 loveliest towns in southern France for your first visit if you're planning a trip to France.
1. Nice: Gateway to the French Riviera's best towns

Without a doubt and from every perspective, Nice is one of France's most beautiful cities – from its graceful bay to the twisty streets of its old town.
If this is your first visit to the region, you can't (and shouldn't) avoid Nice. In fact, for many people, Nice is the ideal base from which to explore the rest of the Riviera. I tend to agree. Here are a few examples of day tours you can take from the city.
Day tours from Nice
Things to do in Nice
Stroll along the Promenade des Anglais, the 7-km walkway that gracefully follows the contours of Nice along the bay.
Get your art fix at the Musée Marc Chagall, the Matisse museum, or any number of other exhibitions you'll find throughout Nice, all of which are included in the Nice Riviera Pass sold by the tourist office.
Go shopping. Yes, seriously. Nice is heaven for antiques and has one of France's best flea markets along the Cours Saleya on Mondays (and in the antique shops around the old port). Every other day of the week, the Cours Saleya is a fantastic food market. Grab the makings of a French picnic, or try a local "socca" – look for Chez Thérésa, serving local Niçois food specialties since 1925. Don't forget that this IS a market, so hang on to your purse or better yet, get one of those cross-body anti-theft bags that I use whenever I'm in a crowd.
Walk up to Castle Hill to take that impossibly stunning photograph of the city and its bay from above. Or take the elevator if you're running out of steam.
Where to stay in Nice
If you're looking for a hotel or holiday rental in Nice, this handy map shows you what's available on your dates, and at what price. Click around and get a sense of your vacation accommodation in Nice.

2. Cannes: Queen of glamor on the Côte d'Azur

You may remember the occasional TV snippet of the Cannes Film Festival... perhaps you swooned at images of an azure sea, dotted with superb yachts crowded with A-list celebrities ascending those famous red carpet stairs.
Yes, it is all those things.
Viewing the sweeping bay of Cannes from above
It is also much more: a charming old quarter, Le Suquet, which towers above the city; delightful and affordable restaurants; a sweeping sea walk; delightful islands 15 minutes from shore – and a very unpretentious vibe (which undoubtedly disappears when the festival rolls around), even along the marina and its sleek seagoing vessels.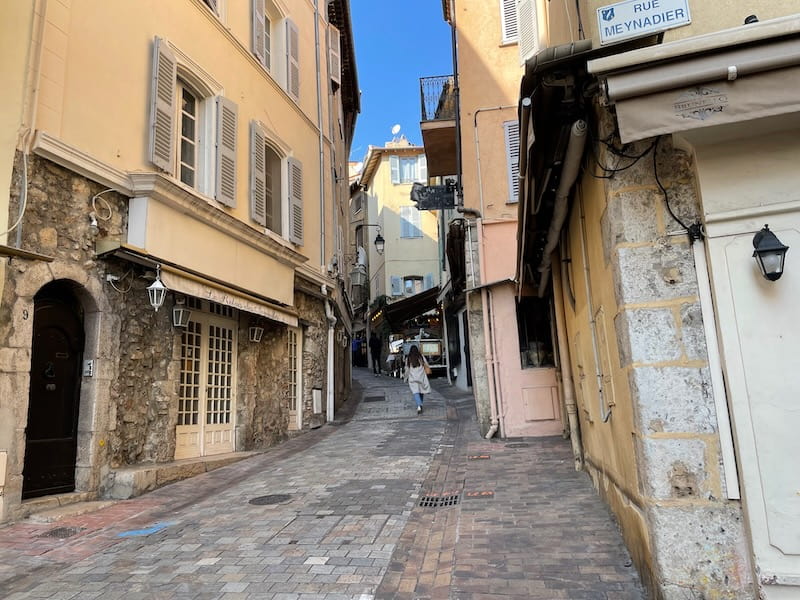 Cannes old town and its narrow streets
It is also unexpectedly diverse. 

Walk out of the train station and you'll be assaulted by smells from other lands, Middle Eastern and Vietnamese aromas drifting out of homes and restaurants, giving Cannes a much more cosmopolitan feel than I expected.
When the Palais des Congrès isn't welcoming celebrities, it welcomes plenty of other events. When I was there, it hosted an international gaming convention, a far cry from the gala gowns of Tinsteltown.
At 40 minutes by car or train from Nice, there's no question Cannes makes the cut for the top 10 list of must-see towns in southern France.
Things to do in Cannes
Stroll down La Croisette, the Cannes equivalent of Nice's Promenade des Anglais and one of France's most famous streets. It's undergoing massive renovation right now, to the dismay of many luxury shops whose displays will be hidden by tarps or scaffolding until the end of 2025. (You just have to look up above the bulldozers to see the wonderful Belle Époque buildings rising behind them.)
There's the beach, of course, all along the Croisette. Choose between the private (often hotel-owned) or public beaches, and stop for lunch in one of the beachside restaurants. They usually have menus outside so you can stroll along, read, and choose.
If you're here in May, you'll run smack into the film festival. There are films for viewing all over Cannes even for those not involved in the festivities, but it's more about the atmosphere and the celebrity-spotting, especially along the Croisette. If you love film but not visiting during the festival, take advantage of a tour guided by a screenwriter and get some of the inside scoop.
If that's not your thing, or if you're here in September, you can still ogle some luxury... Your timing is perfect, because this is when all the yacht designers show off their latest creations.
Cannes has four lovely offshore islands, two of which are easy to reach by ferry. The largest is Île Sainte-Marguerite, famous for housing the unidentified Man in the Iron Mask, imprisoned for 11 years by Louis XIV. Visit his cell and the the museum at Fort Royal. The second largest, Île Saint-Honorat, has an abbey where monks who have taken a vow of silence still make their own wine.
One of my favorite parts of Cannes is Le Suquet, a charming warren of cobblestoned streets lined with pastel-colored houses that date back to the 18th century. This is where you want to go for a sweeping view of Cannes.
Down below, perfectly visible from Le Suquet, is the Old Port, lined on the one side with super-yachts and on the other by a row of restaurants and bars. Sit outside and watch the comings and goings.

3. Antibes: Charm, history, and Picasso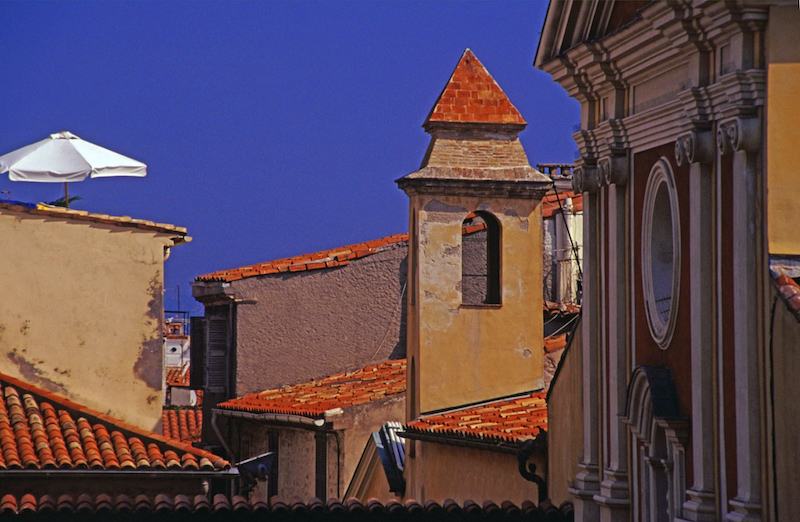 Antibes is a delightful village, bursting with charm and quirky contrasts: a 16th-century fortress, a Picasso museum, and the most luxurious mega-yachts in the Mediterranean, so it's hard to pigeonhole.
Head for the covered market and you'll feel like you're in a small French town anywhere in the country.
The fort was once the last French frontier before the Duchy of Savoy, to which Nice then belonged (the Var River was the border). It is an imposing structure
It's a town with something for everyone!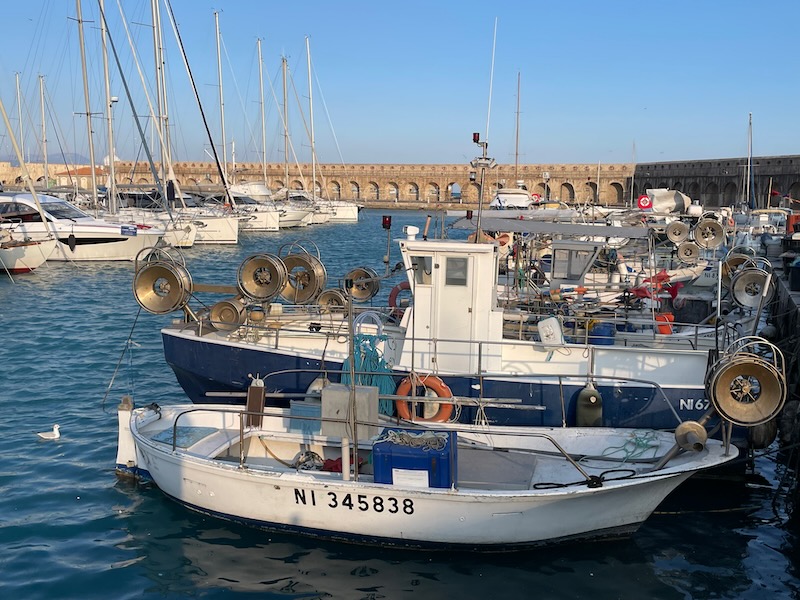 Port Vauban in Antibes, on the French Riviera
Things to do in Antibes
You can walk for miles along the seashore path in Antibes, passing by the moored yachts, along to the Fort Carré, the 16th-century star-shaped fortress with a stunning mountain backdrop. Hike to Cap d'Antibes and Juan-les-Pins. 
Charter your own yacht for half a day and sail and snorkel with your friends and family in the bluest of Mediterranean seas.
Stroll around the streets of the old town and enjoy the colorful architecture.
Shop in the market and get your goodies for a picnic by the sea, or eat nearby and wait until the market turns into a craft display in the afternoon to buy some original gifts to take home with you.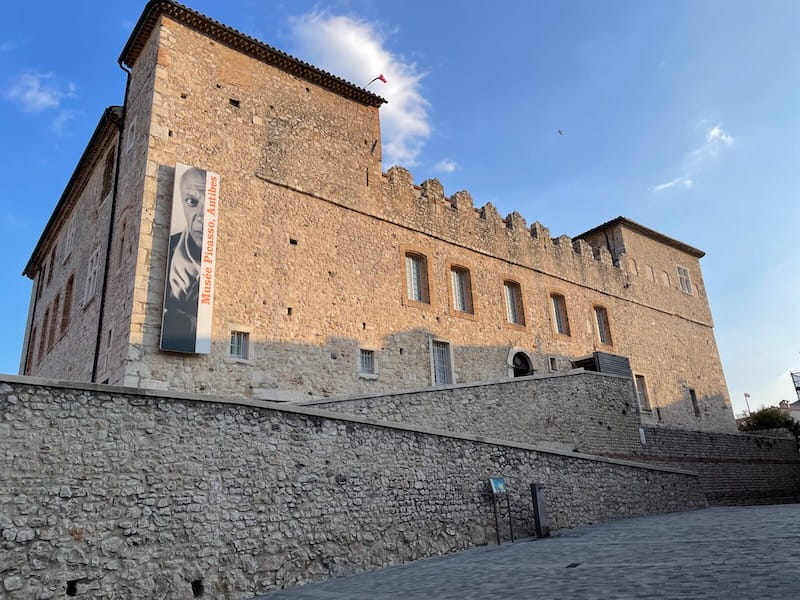 The exterior of the Picasso Museum in Antibes

4. Saint-Tropez, the exclusive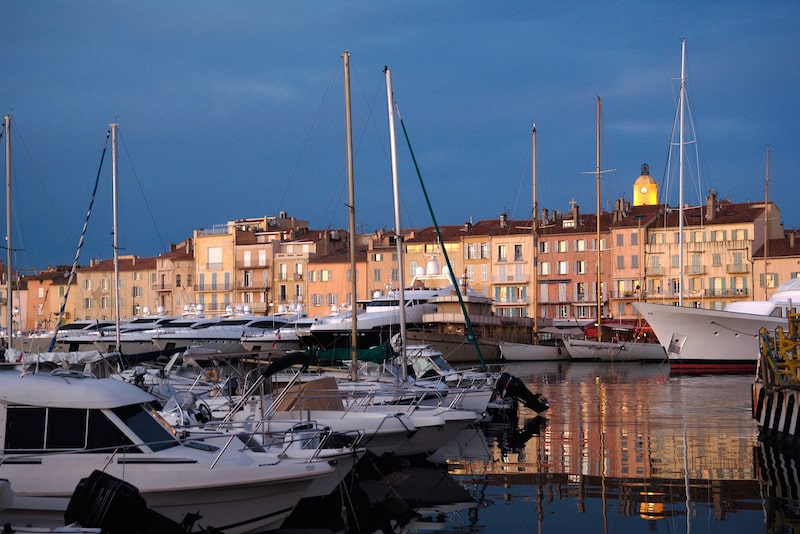 Here was another town I was prepared to dislike – except in this case, my instincts were confirmed. I'll chalk it up to the season: I visited in winter, when everything is closed and the only life seemed to be a rushed resident buying a quick baguette for lunch and a few poorly attended port-side market stalls.
I tried to imagine the glitterati sashaying from disco to trendy resto, shielding themselves from the hot sun with a tray-sized hat and sunglasses that were barely smaller. This didn't quite shake my first impression of what was apparently once a charming little fishing village.
But everyone reacts differently to a place, and if this is your first time on the French Riviera, then there's no question, St Tropez must be on your itinerary. So many people love St Tropez that I'm certain to eventually be proven wrong!
Things to do in Saint-Tropez
Visit the St Tropez citadel and its Museum of Maritime History.
Hunt for glimpses of famous residents or visitors who own homes or vacation here, like Elton John, Leonardo di Caprio or Brigitte Bardot, who cemented the village's popularity with the 1956 movie "And God Created Woman", filmed on Pampelonne Beach.
Speaking of beaches, the ones around St Tropez (and nearby Ramatuelle) are perfect for sunbathing – try the celebrity-frequented Tahiti Beach of fine white sand, or the delightfully named Canoubiers or Bouillabaisse beaches. 
And speaking of Brigitte Bardot, hunt down a bakery and sample a Tarte Tropézienne, a type of brioche filled with lemon and vanilla cream which the actress reportedly made famous when she succumbed to its deliciousness while she was filming. A number of bakeries claim they have the best one – but first,  try the original at La Tarte Tropézienne.

5. Grasse, world perfume capital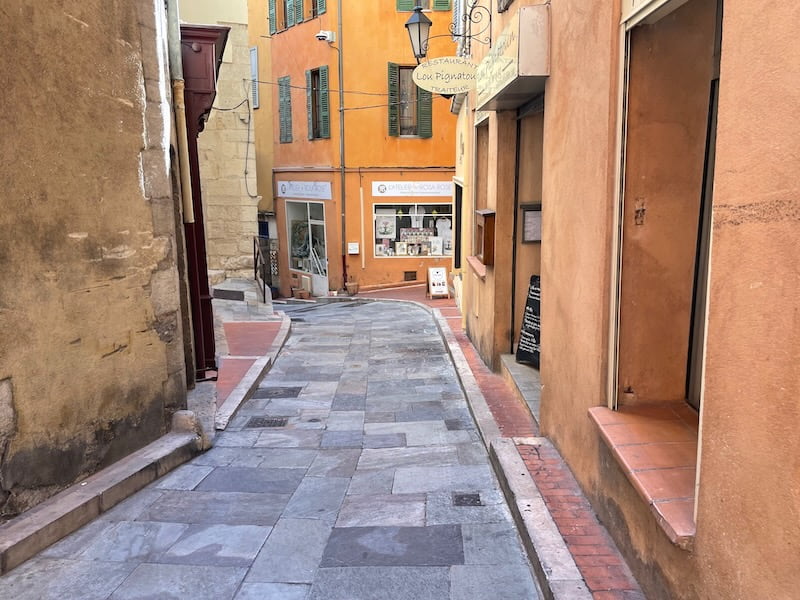 Grasse may be known as the world capital of perfume, but as a town, it also packs a punch, with its solid stone steps, layered streets and Mediterranean flora. I thoroughly enjoyed this town, which I expected would be a tourist trap, and which turned out to be anything but.
Even if you're not interested in perfume, the town is worth a stroll and perhaps a lunch stop – although it will be hard to avoid scent-related places no matter how hard you try.
Grasse is also an ideal jumping off point for villages of the interior, although the town is only 20 minutes from the sea. You can easily go everywhere from here!
If you drive here, there are parking lots at the edge of town. If you take the train, make sure you hop the bus from the station to the center of town – otherwise it's an uphill hike.
IF YOU NEED TO RENT A CAR IN FRANCE
Don't wait until the last minute, especially if you want one of the scarcer automatics.
🚗 Check availability at Discover Cars (it's what I use to compare prices).
Things to do in Grasse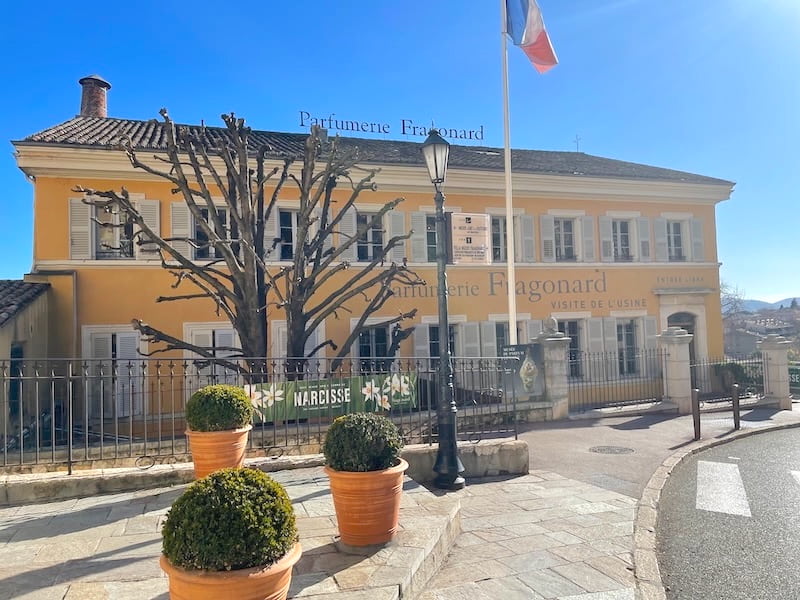 Fragonard is one of the three major perfumers in Grasse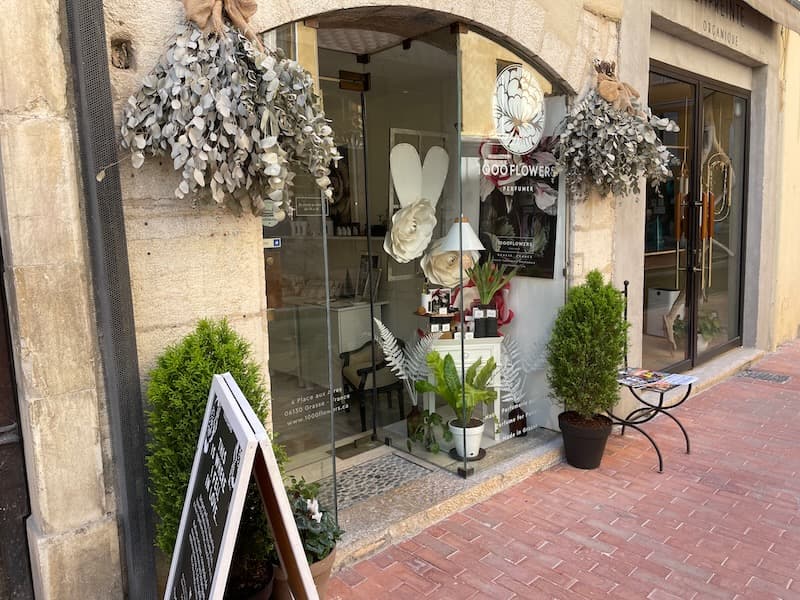 Grasse also has a handful of small, individual boutique perfumers, like 1000 Flowers
The International Perfume Museum, of course, but also the guided tours at any one of the three major perfume factories – Fragonard, Galimard or Molinard.
Wander around some of the smaller boutique perfumers, professionals who have developed their own fragrances and sell independently rather than to the big houses – drop by and see Jessica at 1000 Flowers in the old town.
Get creative! One of the most fun activities in Grasse is to create your own perfume (with the help of an expert, of course).
The town also has museums not dedicated to perfumes: the Musée Jean-Honoré Fragonard, in honor of the 18th-century painter from Grasse (no relation to the perfumers); Musée d'Art et d'Histoire de Provence, an eclectic museum with plenty of local exhibits; and the Musée Provençal du Costume et du Bijou, the costume and jewelry museum, highlighting 18th-century costumes. All these museums are in extraordinary settings, adding beauty to their collections.
And finally, Grasse is the last stop along the Mimosa Route, if you happen to be visiting in the middle of winter.

6. Saint-Paul-de-Vence: Art galleries and medieval streets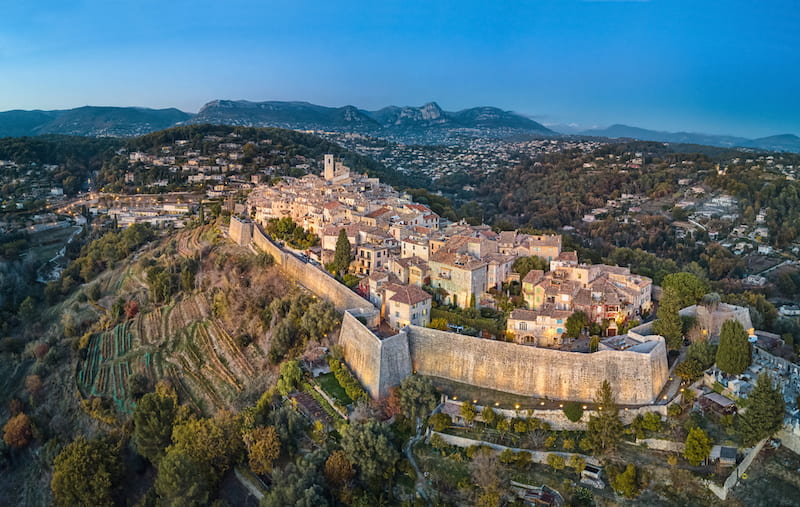 In a land of beautiful hilltop villages, Saint-Paul-de-Vence still stands out. I don't think I've ever seen as many art galleries per square meter, and even if you don't go inside, the window-shopping is superb if you love new creators and contemporary art.
I visited in winter and was surprised that the reputedly crowded village was almost empty. And while some art galleries were shut, many were open, making it an exciting and relaxed visit.
Entrance into the village is through a quintessentially southern tableau: groups of (mostly) men playing pétanque on a sandy gravel court, next to an outdoor café, surrounded by ramparts and cobblestones. It doesn't get more iconic than that.
Predictably, artists from all disciplines would fall in love with St-Paul-de-Vence over the years, from Chagall to Modigliani to Matisse, along with actors like Yves Montand and Simone Signoret.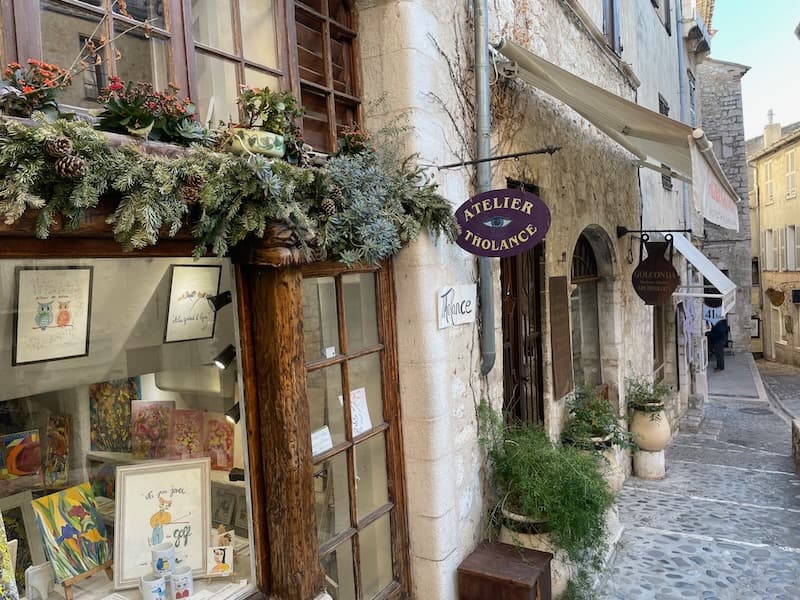 Empty streets in Saint-Paul-de-Vence, in winter, before the tourist season
Things to do in Saint-Paul-de-Vence
Stroll the ancient streets and 16th-century ramparts, admiring the buildings within and the expansive view beyond.
Visit the Maeght Foundation and its impressive collection of 20th- and 21st-century art. Sadly, it was closed for renovations when I visited but next time I'm on the Riviera, this will be one of my first stops. A browse through their website has whetted my artistic appetite.
Stop by the Folon Chapel, named after a Belgian artist who used it to express his love for Saint-Paul-de-Vence.

7. Villefranche-sur-Mer: A seaside stunner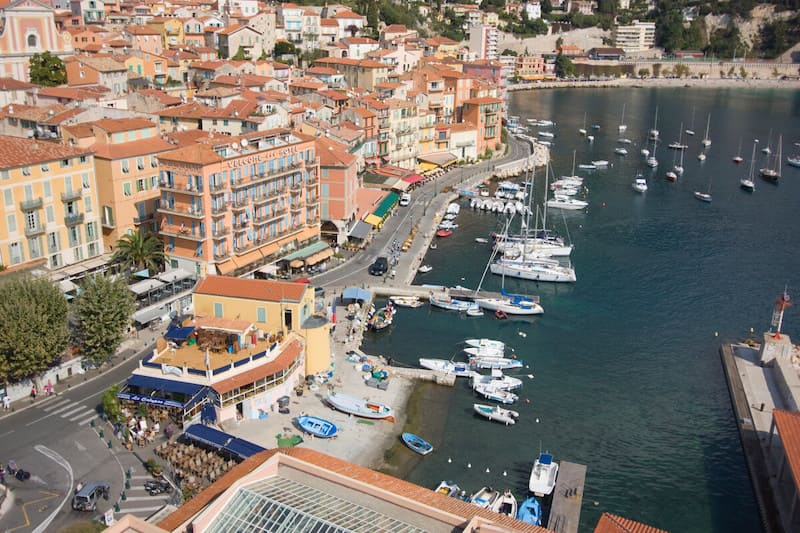 The view from above of Villefranche-sur-Mer ©CRT Cote d'Azur France/Pierre Behar
Villefranche-sur-Mer has such a laid-back and unpretentious vibe you may not want to leave. I stopped in for an hour and ended up having lunch, and walking the length of town.
Not that this is usual, but it was February, and there were actually people in the water (although I think they were wearing wet suits).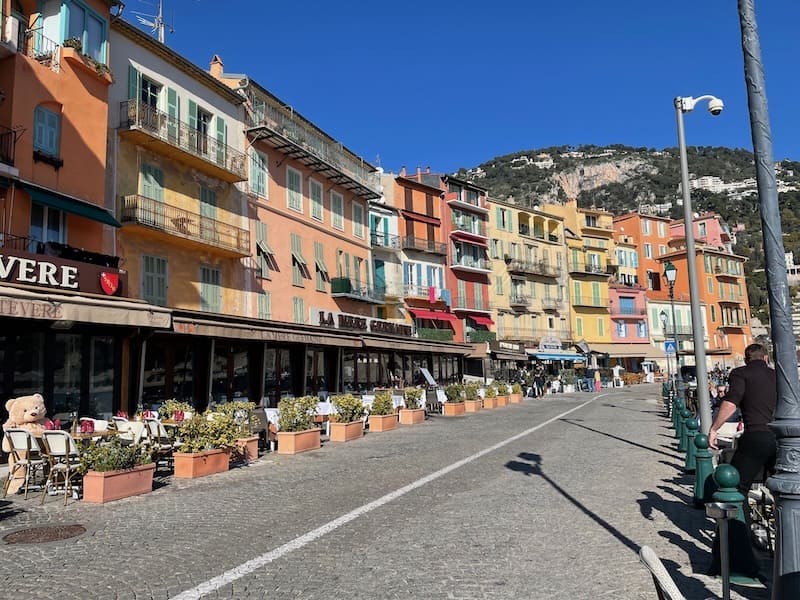 This beachfront street in Villefranche-sur-Mer is an ideal spot to stop for lunch
Things to do in Villefranche-sur-Mer
Go to the beach and have lunch. Can you think of any more simple delight?
And when you're done, take a walk from one end of town to the other. It's less than half an hour, but with the blue Mediterranean on one side and the colorful village on the other, you'll be walking the quintessential French Riviera.
The old town is lovely, with its winding streets and colorful buildings, and a walk around the village is a bit like strolling into a sunburst.
Visit one of the town's chapels and churches: the baroque Saint-Michel church and its historic organ, one of the oldest in the region; Sainte-Elisabeth (the striped façade might well remind you of Florence); and Saint-Pierre, by the water, with frescoes by the artist Jean Cocteau.
If you're staying in Villefranche but would like to explore the region, this full-day tour will take you to Monaco and Èze.
Not far from Villefranche is the amazing Villa Ephrussi de Rothchild, a historical monument whose gardens have been classified as a Remarkable Garden of France. It's only a short bus ride away. Get off at Passable station. You can get your ticket online here or at the door.

8. Èze: Priceless panorama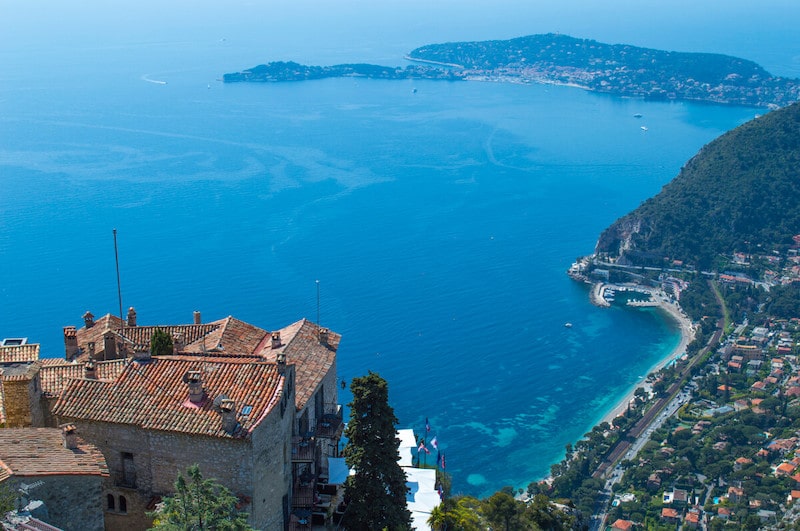 Both Èze and Saint-Paul-de-Vence are magnificent hilltop villages, or "villages perchés", and unable to choose one over the other, I've included both.
Èze will grip you with a sense of history: the village's first inhabitants moved here in the 2nd century BCE – more than 2000 years ago. But it came into its own as a fortified medieval village in the 14th century... one can imagine it hasn't changed too much since then, with the exception of restaurants and shops, naturally.
While Èze is lovely, possibly its most spectacular feature is what you see when you turn away: a swooping view down the mountain to the coast below.
Things to do in Èze
Visit the Jardin Exotique, a botanical garden filled with exotic plants, including unusual cacti varieties.
Feeling athletic? You can hike the Nietzsche footpath from Èze-Bord-de-Mer to Èze village up the hill. I haven't tried this, but the view sounds heavenly (and I'd probably hike it downhill rather than up!)

9. Monaco: In the lap of luxury 
Monaco isn't France, but a separate principality ruled by its own prince. That said, for travel purposes, it is considered by most as being part of the French Riviera – it is surrounded by France and difficult to avoid as you ply the coast.
If you want to rub elbows with luxury, this is probably one of the best places to do it – but there's more here than bling.
Monaco is the world's second-smallest country (Vatican City is the smallest) and its name is confusing. People seem to flip-flop between the names Monaco and Monte-Carlo, so let me clarify: Monaco is the country, and it has four quarters, or neighborhoods, of which Monte-Carlo is the largest.
Things to do in Monaco
Play a few games at the casino, or simply take the guided tour – it's a stunning Belle Epoque building designed by none other than Charles Garnier, responsible for the beauty that is the Paris Opera building.
If you've come to the Riviera for the Cannes Film Festival, you may be here just in time for the Monaco Grand Prix, which also takes place in May.

10. Menton, almost Italy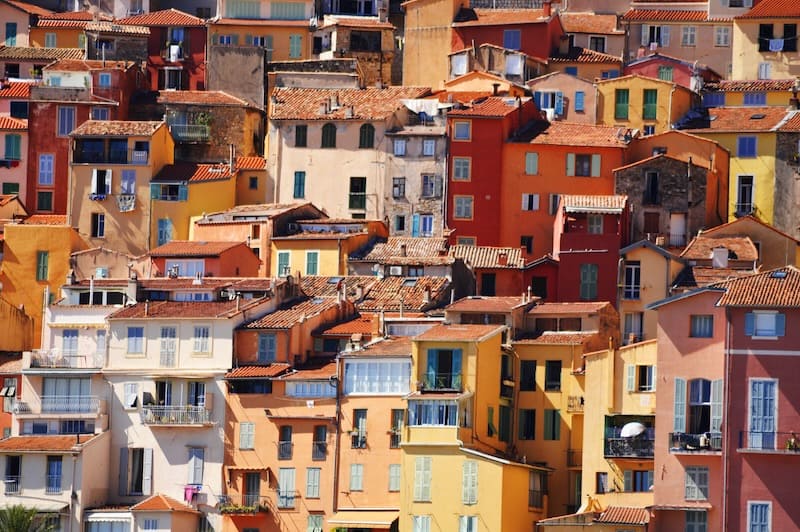 Menton is on the other side of Monaco, towards Italy, the last major stop before you reach the border. It does have a taste of the country next door, a French town with an Italian vibe.
When the sun hits it at a certain angle, Menton glows. I may be biased, because I also had the best lemon gelato of my life here (no surprise given that the town is famous for its lemons).
Things to do in Menton
Head into the old town to breathe in the town's particular atmosphere.
Visit the Basilica of the Archangel Michael, which looks as though it's been painted with lemons and sunshine.
Visit not one, but two Jean Cocteau museums, either the original at Le Bastion, or the newer Severin Wunderman Collection (sadly closed since it was damaged by a 2018 flood).
Stroll around the peaceful cemetery and quietly enjoy the stunning views out to the sea, reflecting on the beauty of your journey around one of France's most extraordinary regions.

FRENCH RIVIERA PRONUNCIATION GUIDE
Some words are harder to say than others, so I've put together this little guide to things and places that might not be that obvious to pronounce. Since some sounds don't exist in English, please bear with me – I've tried to get as close as I can!
Nice – NEECE
Cannes – CAN
Antibes – on-TEEB
Èze – EZ
Menton – mon-TOW
Le Suquet – luh-soo-KAY
La Croisette – lah-krwah-ZETT
Fort Carré – for-car-RAY
St Tropez – saint-trop-AY
Tarte Tropézienne – tart-trow-pay-zee-EN
Pétanque – pay-TONK
How to visit the French Riviera
The Riviera has an excellent public transportation network: you can take the train along most of the coast, and those towns not served by railway can be visited by bus. 
Another way of visiting the area is by car, which can provide a measure of freedom in the interior (but is less than convenient on small beachside roads at the height of the season). 
Don't forget that if you're driving and need to rent a car, reserve one as soon as you have your dates, because the number of cars is limited, especially if you're hoping for an automatic transmission. Here's the availability and prices right now to help you get started.

A reliable guidebook is helpful both in planning your trip and as a reference when you're already at your destination. It can help you delve into a specific destination, uncover new sights, or provide some background if you don't feel like getting online. Buy this guidebook on Amazon
This itinerary of the top 10 towns in southern France is designed for the first-time visitor to the Riviera: these are the places I visited on my own trip. Of course I'll go back, but you have to start somewhere. 
Overall, the French Riviera has something for everyone, whether you're looking for a relaxed beach vacation, a cultural getaway, or experience rubbing shoulders with the rich and famous.

Towns in southern France FAQ
It depends. If you mean the French Riviera, then Nice and Cannes, and many other large towns. If you mean the entire Mediterranean coast, then you'd include Toulon, Marseille, Montpellier, Narbonne, Perpignan... You can also include Provence and the cities of Avignon, Nimes, or Arles. And that's just a start. In southwestern France, you'd also include Toulouse, Albi, Pau, or Biarritz.
The Côte d'Azur, as the French Riviera is known, is an extremely popular but expensive place to live if you love having the sea nearby. If you're more into hilltop villages, head towards the Riviera's interior, or into the Luberon region.
Cannes, Antibes and Nice are among the most popular in the French Riviera. Further west, you'll find Marseille.
There are dozens but these are definitely on the list: Canet Plage, Plage de Saint-Clair in Le Lavandou, Plage du Racou in Argelès sur Mer, Plage de Pampelonne in Saint Tropez/Ramatuelle, Plage de la Mala in Cap d'Ail, Plage de la Garoupe in Antibes... and the list goes on.
Before you go...
Like many regions in France, southern France has its own culinary specialties, with a strong Mediterranean flavor. When you visit, make sure you try some of the French Riviera foods.
Did you enjoy this article? I'd love if you shared it!