Pages on this site may contain affiliate links, which bring in a small commission at no cost to you.
Can you list France's most beautiful cities?
Do you ever ask yourself: "What cities in France should I visit?"
Let me help you!
France is full of stunning cities. Plus, beauty is subjective, so you may or may not agree with these choices, but each of these cities has its own beauty: it may be natural beauty, but it may also be a certain 'je ne sais quoi', a bit of a buzz that lifts the city out of the ordinary.
France is a country of many beautiful villages and human-sized towns, and what we call "city" in many parts of the world only applies to a few in France. Think about it: only one city in France has over a million people, and that is the incomparable Paris. Only two have over half a million: Marseille and Lyon.
I had to set a cut-off point, so I chose cities with over 100,000 population. Arbitrary, I know, but I had to draw the line somewhere... 
To give you a range of impressions, I've asked a group of francophile bloggers to each choose a beautiful city in France – and tell us why it's special.

Some will be immediately obvious and you'll jump in, nodding energetically.
Others will have beautiful neighbourhoods or buildings but would not normally be qualified as beautiful in themselves − yet they deserve to shine because they have that certain something.
And finally, you may wonder why some are on the list of beautiful France cities at all. But then, they were someone's choice, so who am I to impose my own take on what's beautiful in France?

1. Aix-en-Provence: city of fountains
In the heart of the Provence region, the city of Aix-en-Provence (or Aix, as the local's call it) is an impossibly charming place that has a distinctly village-like feel in its center.
Here, in the old town, the grandiose buildings and countless fountains give the city its distinguished atmosphere.
Stroll along the curved streets and you'll encounter several idyllic squares (known as 'places'), strewn with café tables and littered with market stalls. In fact, several times a week, the city is awash with markets that line the main boulevard. Every morning, you'll find food markets taking place under the shade of the plane trees.
Part of the buzz of Aix-en-Provence is art: it is renowned for is its museums and galleries, and you certainly won't have to go far to find one. A few of the best places to visit in Aix-en-Provence if you love art, include Hotel de Caumont, Foundation Vasarely and Musée Granet.
Popular tours in Aix-en-Provence
🚶Aix en Provence is renowned for its historic architecture, art heritage, and lively food market. With this private tour, you can discover the city's Provencal cuisine as you browse the local market and explore the atmospheric streets, cafés, and delicatessens
🌺 Don't miss the aromatic fields of lavender in Provence on this guided tour from Aix-en-Provence
🍷 Pair spectacular wine-tasting with gorgeous landscapes of villages in the Luberon region on this one day tour from Aix-en-Provence
Art aficionados may walk in Cézanne's footsteps, following the path from his statue at La Rotonde to the church where he got married (and where his funeral took place), and then, up to his former studio, which has since been turned into a memorial.

For something completely different, head for the eerily intriguing Camp des Milles, which was established as a Holocaust memorial and museum. For something more light-hearted, the Calisson Museum tells the story of the city's most famous sweet, the Calisson d'Aix.
—by Nadine Maffre of Le Long Weekend
🏘️ Where to stay in Aix-en-Provence

2. Annecy: France's prettiest town?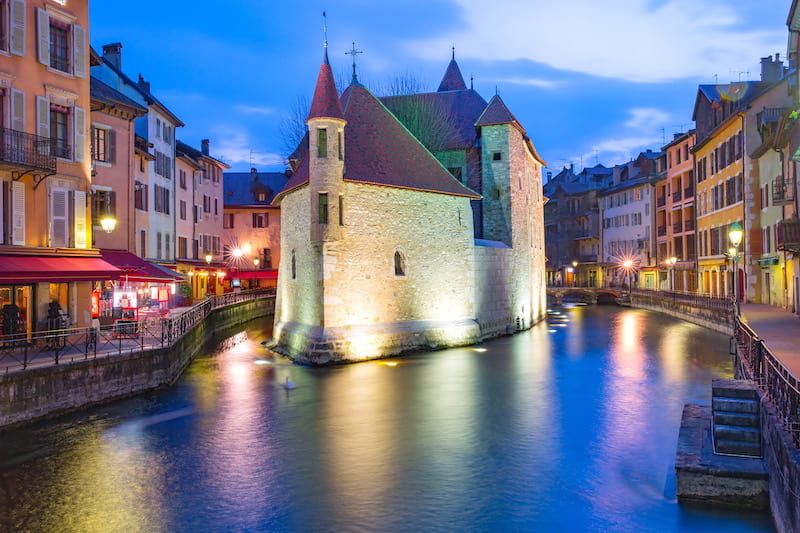 Annecy is by all accounts a beautiful city, often called the prettiest in France and one of the best cities to visit in France.
Right on the lake and very close to the Alps, Annecy is one of those places just small enough to be manageable, yet big enough to offer a huge variety of activities, accommodations and restaurants.
It is often called Little Venice for its maze of picturesque canals located in the Old Town area just off the lake. You can wander along the gorgeous little waterways for hours, browsing a variety of niche shops and stopping off for drinks, snacks and desserts at the atmospheric canal-side bars, cafés and pastry shops. (Rigollot, in the Old Town, won Best Pastry Chef of France one year!)
Popular tours in Annecy
🍷 Savor the delicious cheeses and fine wines of the French Alps with this private tasting tour in the alpine city of Annecy
🚶Explore the old town with antique charm, from its small cobbled streets to colourful pastel houses or even its transverse canals on this walking tour
🚲 On this Electric mountain biking tour you will discover the magnificent Semnoz forest, a veritable "green flow" which starts at an altitude of 1,700m and ends at the edge of the old town of Annecy
Renting a 'pedalo' or pedal boat for a spin on the water can keep you occupied for a hot afternoon, enjoying lake breezes and mountain views. For an adrenalin jolt, paragliding from the hills around the lake is popular, and if you prefer something more sedate, just go up and watch the others jump. The view is adrenaline enough.

Annecy is also a hiker's paradise, from short jaunts to viewpoints around the Semnoz mountain to challenging day-hikes or an epic long-distance trek, the Tour du Mont Blanc.
Finally, if you happen to visit at the end of August, you might just be in time for the huge Martin Fourcade Nordic Festival. Understandable, in the sense that Nordic sports are very popular in this area in winter, but somewhat surreal when this celebration of winter sports takes place on a 30ºC summer day.

—by Dean and Laynni at Routinely Nomadic
🏘️ Where to stay in Annecy

3. Bordeaux: Sleeping Beauty no more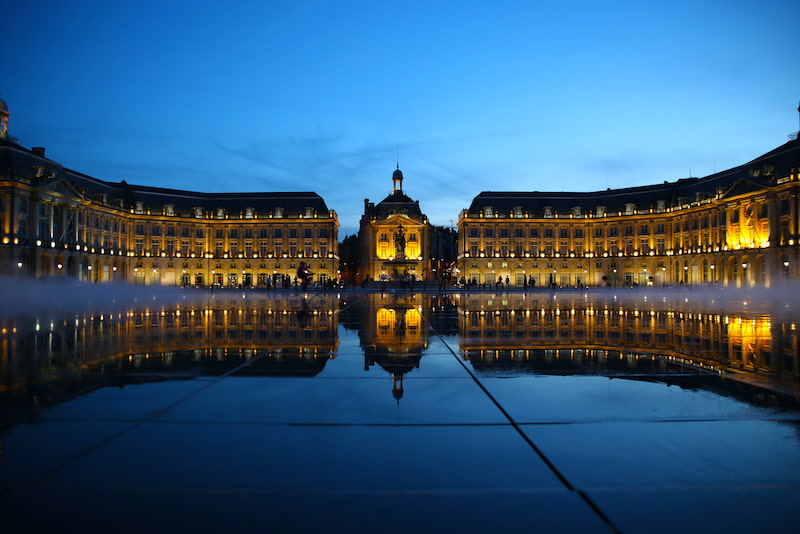 Place de la Bourse: if this doesn't take your breath away... photo by Jennifer Dombrowski of bordeauxtravelguide.com
Nicknamed "The Sleeping Beauty", Bordeaux wouldn't have made this list little more than a decade ago. Industrialization of the port city on the Garonne River left it dirty and quite literally covered in years and years of shipping grime. But a beautification plan by an ambitious mayor gave this southwestern city new life, and now Bordeaux is regularly ranked among the most desirable cities in France the French want to live in.

Popular tours in Bordeaux
🏰 Departing from Bordeaux, visit two chateaux to taste the region's famous wines and wander the streets of beautiful Saint-Emilion, a UNESCO World Heritage Site
🚢 Hop aboard a yacht for a cruise down the Garonne River and enjoy some of Bordeaux's prettiest spots, including the elegant Place des Quinconces and the Pond d'Aquitaine, while an on-board guide provides live commentary
🍲 Go on this unique food tour in Bordeaux and discover the "crème de la crème" of gastronomy
The Sleeping Beauty has awakened. The former docks are now the city's largest green space, with kilometers of gardens stretching alongside the Garonne. The limestone facades, once blackened from years of shipping pollution, gleam once again in honey gold. Much of the center has been pedestrianized, and its compact size, makes Bordeaux a beautiful city to explore on foot. This UNESCO World Heritage city has more than 350 listed historical buildings and monuments.

Of course, as the World Capital of Wine, any visitor must take time to visit La Cité du Vin. But don't forget to explore some of the lesser known and unexpected attractions Bordeaux offers up.
Street art lovers will enjoy Darwin, just across the river on the Bastide. This space is quite literally a canvas for street artists, as well as home to France's largest organic grocery store and organic restaurant.
Wine lovers don't need to go far to quench their thirst for Bordeaux, with a wine producing château located right inside the city limits. (If you happen not to drink wine, here are plenty of grape-free things you can do.)
And there's even something for nature lovers with a network of bicycle paths and a number of parks where you breathe in the fresh air and enjoy nature. The newest Bordeaux attraction is a former WWII-era U-boat submarine base, re-imagined from an unsightly reminder of not-so-good-times into the world's largest digital media center.
–by Jennifer Dombrowski of Bordeaux Travel Guide

4. Brest by the sea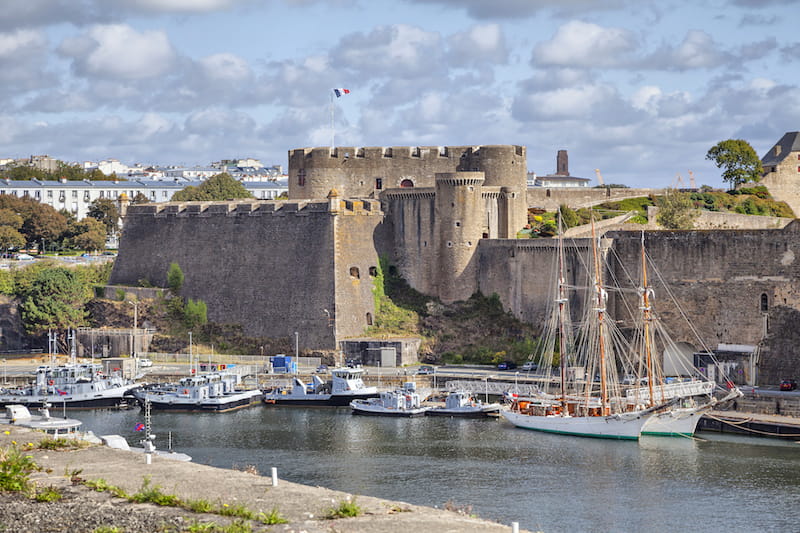 Brest is a perfect example of a city that isn't naturally beautiful but that has huge attractiveness. It boasts historical architecture from a variety of periods, its seaside setting is stunning, and the fact that there are no crowds make it extremely welcoming, because the city is off the tourist track. Interestingly, the beauty of Brest is more evident from outside the city, when admiring its contours, shores and architecture.
Its chateau is the oldest building in the city and now houses the Marine Museum. But Brest is also about the new: it is home to one of the few urban cable cars in the world. Ride it high above the roofs of the city and enjoy some of the best views around.
Located in the heart of Brittany, Brest is also the perfect place to try some traditional Breton snacks and dishes, such as the famous Gâteau Breton or delicious crêpes.
While in Brest, please make an effort to visit the nearby Crozon peninsula, lined with incredible beaches and impressive cliffs from which you can admire Brest across the water. 

—by Victoria from Guide Your Travel

    You might also like these stories!

5. Clermont-Ferrand: volcanic!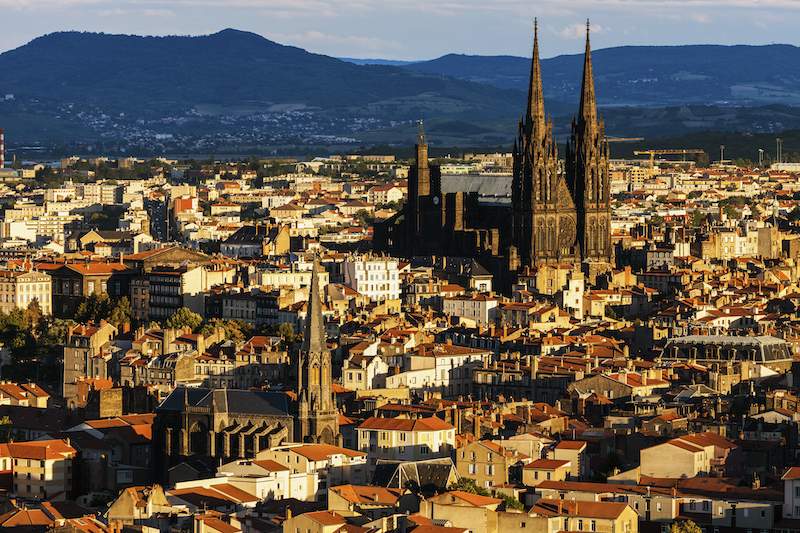 A few hours from Paris by train, the region of Auvergne awaits, with the charming city of Clermont-Ferrand as its central hub. The city is often bypassed and used as a jumping off point for the nearby extinct volcanoes that make up the Massif Central mountain range (the most popular and best known is the Puy-de-Dome). 
Yet Clermont-Ferrand is one of the oldest cities in France and derives much of its buzz from history and ancient buildings, such as its 13th-century cathedral, which is made of local black volcanic rocks. 
Sights you cannot miss include the Place de Jaude, with its statue of the Gaul hero, Vercingetorix, as well as the nearby Place de la Victoire, which dates back to the Romans. For less-visited attractions, head to the Old Montferrand, or walk through the Parc de Montjuzet for stunning views of the city.
The Auvergne area is known for its cheese − especially the Bleu d'Auvergne (blue cheese) and its excellent food. Wander the cobblestone streets of downtown Clermont in search of truffade, Potée Auvergnate, or Petit Salé aux Lentilles du Puy! This is a city in which the food will be succulent.
—by Patricia Pagenel of Ze Wandering Frogs

6. Dijon, capital of Burgundy
Dijon is as beautiful from above as it is from within its medieval streets and alleys
Dijon is one of those delightful cities that simply scream France! Half-timbered houses, Gothic churches, cobblestoned streets, classic manors, gastronomic specialties, a rich history, and a lived-in core that makes it a real city, not a tourist attraction.
There are many things to do in Dijon and one of the easiest ways to see them all is to follow the owl. That's right. The owl is the city's symbol and there are more than 1600 of them scattered throughout town, embedded in the sidewalk. Several self-guided tours will walk you through all the city's sights. And why not learn how to make your own mustard, while you're at it?
While wandering the streets is a delight, stop by one Dijon's great museums. A favourite of mine is the Museum of Burgundian Life, which takes you through the region's history by using life-like statues, products, and replicas of old shops. Kids love it, but this adult had a wonderful time. 
And if you have time, take a day trip from Dijon into one of the glorious areas nearby, like the Auxois, heartland of Burgundy's history, or, since you happen to be in prime wine country, why not take advantage and learn all about Burgundy wine? 

7. Grenoble: in the foothills of the Alps
The beauty of Grenoble's natural setting and dramatic landscape is undeniable, even though the city isn't necessarily at the top of a tourist's itinerary.
Grenoble is a low-lying city surrounded by majestic mountains, close enough for sporty day trips. 
As a city, Grenoble is a pleasure to explore. Not only is it easy to get around, but it is one of the best France cities for visitors with physical disabilities − in fact, Grenoble is the second most accessible city in Europe. 
There are plenty of things to do in Grenoble, despite its relatively small size. Enjoy its historic French architecture around Place Victor Hugo, Saint Claire Halles, and across the Isère River via the Passerelle St. Laurent bridge.

Visit the caves of Chartreuse, a French liqueur originally from the nearby Chartreuse mountain range. Chartreuse is a plant-based liqueur, naturally green or yellow in color and with a strong herbal taste. It was created centuries ago by monks living in the mountains and today, Chartreuse allows visitors to visit its caves, and attend liqueur tastings and cocktail workshops.
Several world-renowned food specialties originated in the Alpine region between France and Switzerland – such as raclette cheese, fondue, or tartiflette (potatoes, cheese, and ham). Since Grenoble sits in the foothills of the Alps, these specialties can easily be found in local restaurants like La Ferme à Dédé. Eating an authentic raclette is a cultural undertaking that is several centuries old and involves a slab of cheese (sometimes up to half a wheel) being brought to your table and placed before an open flame. As the cheese melts, you can scrape it right onto your plate. Eat with pickles and potatoes. Repeat.
—by Selam of SWT Living

8. Le Havre: rising from war
Le Havre, located in Normandy in northwestern France, is best known as the gateway to France for ferries arriving from the UK – and not as a French tourist hotspot.

The city sits on the right bank of the Seine estuary and even though three-quarters of its unique architecture was destroyed during World War II, the city has maintained some charm – for example, the large public square facing the Place de L'hotel de Ville, the 16th-century church of Notre Dame and a beautiful modern art museum, to name a few.
This demolished and reconstructed city derives great urban buzz from its listing by UNESCO as a site of post-war architectural excellence: concrete is used as its primary building material, and Le Havre was rebuilt into a well-planned, innovative and inspired city. Unique post-war buildings of note include St. Joseph's Church, which also pays tribute to the more than 5,000 lives lost in the city during World War II; the unique shape of the Le Havre lighthouse; the Porte Océane and the entire boulevard of Avenue Foch, a modern-day Champs-Elysées); and the spectacular post-war architecture of the Hotel de Ville.
Le Havre is an easy visit from Paris, even if it isn't exactly on the tourist trail.
—by Noel Morata of Travel Photo Discovery


9. Lille, home of the Grande Braderie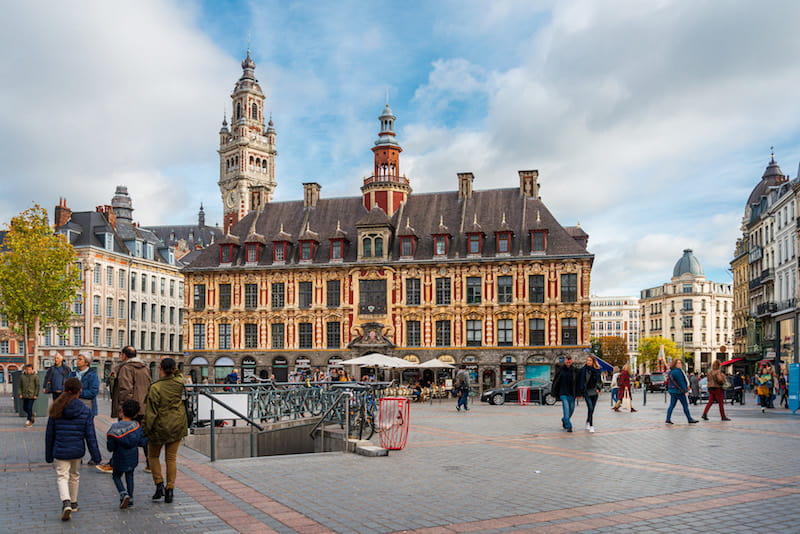 The capital of the Hauts-de-France region, Lille is a city bursting with history, culture and very good food. 
The city was founded in 1066 and was under Flemish, Burgundian and Spanish rule before becoming French in 1667. This colourful past has shaped the look and feel of Lille, resulting in a beautiful old town (Vieux Lille) characterised by handsome red-brick buildings and narrow cobbled streets. 
It is within this historic quarter that you'll discover some of the best things to do in Lille, and wandering the charming streets is a great way to get a feel for the city.
For some sustenance while you're exploring, head for Aux Merveilleux de Fred, a wonderful patisserie famous for its enormous brioche buns and for 'Les Petits Merveilleux', which translate roughly into "the little marvels". These cakes originated in Belgium and consist of two meringues with whipped cream in the middle, covered in more whipped cream and topped with flavours such as chocolate shavings or nuts. You may never leave.
Other Lille highlights include the Gare Saint-Saveur, a former goods station turned exhibition and restaurant space; La Piscine, a beautiful Art Deco swimming pool, now an art museum; and La Citadelle de Lille, a military fortification built in the 17th century by the unparalleled Vauban, engineer to Louis XIV.
The city's greatest buzz takes place once a year, on the first weekend of September, with the famous Grande Braderie de Lille, Europe's largest flea market.
—by Katja Gaskell of Globetotting

10. Lyon, capital of the Gauls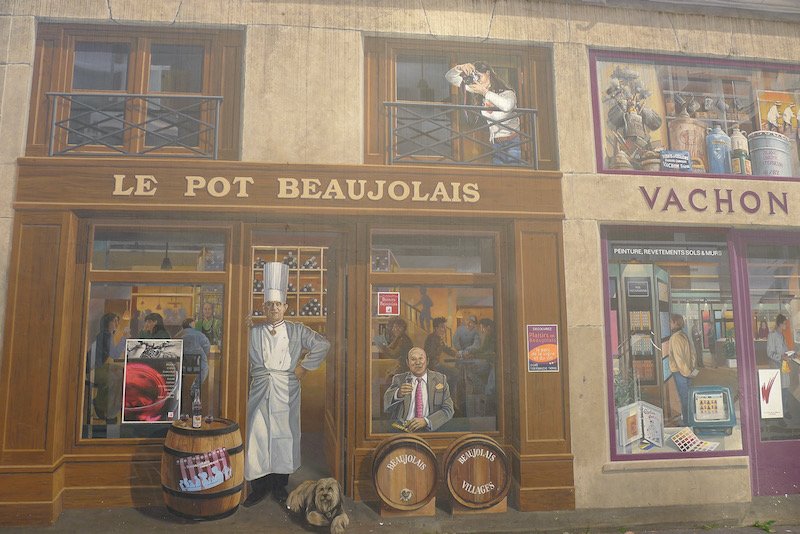 The stunning city of Lyon, reputed to be one of the most beautiful cities in France, dates back to a time when the Roman Empire controlled large swathes of Europe. Today, you can see many remnants of Roman architecture throughout the city.
Lyon is also one of the most famous cities in France, sitting astride many eras and styles. A wonderfully quirky feature are its secret passageways, or traboules, which pierce Croix-Rousse hill all the way down to the river. These passages once used by the city's silk workers to carry their bolts of cloth from the workshops above to the warehouses and transport below.
You'll often find these traboules behind perfectly innocuous doorways, invisible from the street, so you'll need to know which house numbers you can actually enter. In total, there are about 40 passages open to the public, provided you find them of course! 
Lyon is also famous for its astonishing murals, some of them so realistic they don't look painted, with people traveling from all across France to spend a day hunting them all down.

And let's face it: Lyon, once known as the capital of the Gauls, is one of the best French cities for food. They would argue THE best! There is so much to do in Lyon...
—by Emma Verhaeghe of Emma's Roadmap


11. Marseille: a cultured beauty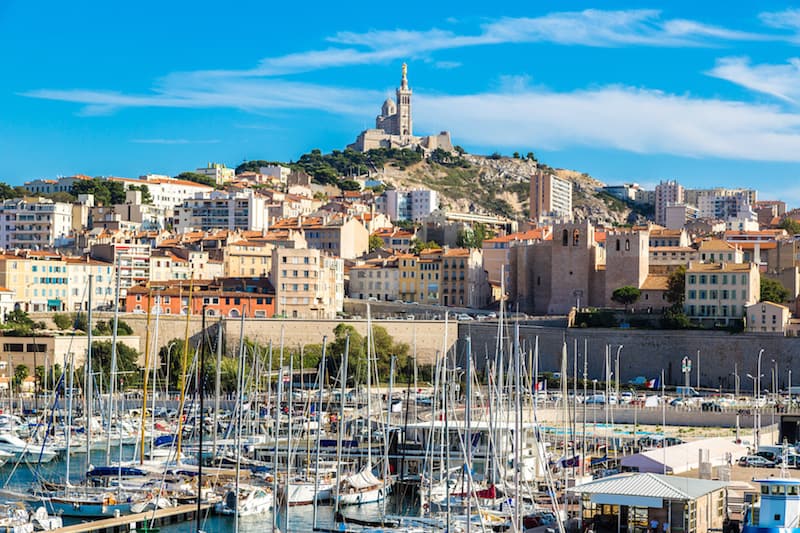 West of the famous French Riviera, Marseille is one of the oldest cities in Europe, one of the largest cities in France (just after Paris) and one of the busiest ports of the Mediterranean. Yet until recently, it had not taken off as a tourist hotspot. Now, a few developments have helped it shed its reputation and turn it into one of the more popular and best cities in France to visit: in 2013, Marseille became the European Capital of Culture, followed by European Capital of Sport in 2017. 
Among the many interesting things to do in Marseille are a stroll around Le Vieux Port, followed by a short boat ride to Château d'If, an inhabited island built up in the 16th century and known as the setting of the famous novel, The Count of Monte Cristo, by Alexander Dumas.
Get beautifully lost in the hippie neighbourhood of Cours Julien and admire the street art, chic boutiques and artistic cafés. For a panoramic view of Marseille, head for Notre Dame de la Garde, a Catholic basilica elegantly sitting on a hill overlooking the Vieux Port. 
And of course, its cultural flagship, the MuCEM, explores the city's history and civilization, not only of Marseille, but of the entire Mediterranean basin.
—by Anuradha from Country Hopping Couple

12. Metz: plenty of surprises
Metz, in the North of France, is filled with enchanting architecture, cozy streets and forts full of history.
Its train station is one of France's most beautiful, both inside and out. The main cathedral, Saint Stephen, is an impressive work of art, especially beautiful at night when its stained glass windows create an amazing show.
The Centre Pompidou, known in Paris for its modern urban design, has an equally delightful branch in Metz.
The Palais de Justice, or courthouse, is one of the city center's most imposing buildings; another is the castle-like structure along the river, which is in fact a Protestant church. For something offbeat, head to the museum dedicated to Paul Verlaine, a celebrated poet of the late 19th century who was born in this city.
Metz does like its festivals, especially those involving sculptures: in August, the Mirabelle Plum Festival features flower sculptures, and during the Christmas market, you can enjoy a beautiful festival of ice sculptures.
—by Gabrijela Zec of Under Flowery Sky


13. Nancy, home of Art Nouveau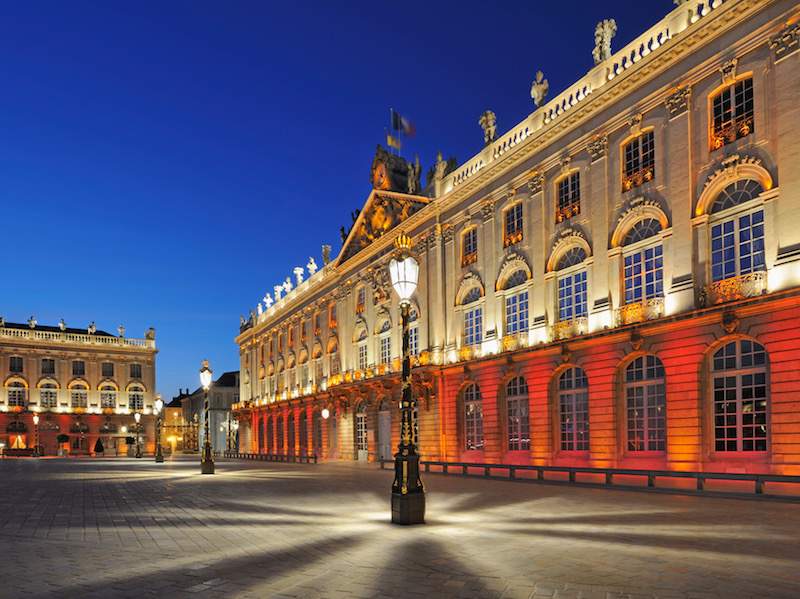 Nancy, once the capital of the Duchy of Lorraine, is without a doubt one of the most beautiful cities in France, and amazingly undiscovered by foreign visitors. It is a town rich in cultural and gastronomic heritage, begging to be explored – one of the most fascinating major France cities.
The focal point of the city and the place to start any visit is its crowning glory, the elegant 18th-century square, Place Stanislas. Place Stan, as it is known locally, is a UNESCO World Heritage Site, along with two other squares in the city: Place de la Carrière and Place de l'Alliance. With its ornate gilded iron gates, fountains, symmetrical classical buildings and triumphal arch, it is beyond doubt one of the most beautiful squares in the world, not just France. 
Nancy gets a great amount of buzz from its abundance of ornamental Art Nouveau buildings and decoration from the École de Nancy (a group of early 20th century Art Nouveau designers, who focused on crystal and furniture design in Nancy). 
The most amazing example of the school's style is the highly decorated Villa Majorelle at 1 rue Louis-Majorelle. The interior of the villa is only visitable on certain days of the year but the outside is captivating in its intricacy, all rounded organic forms and decorative details.
An exceptional place to appreciate the beauty of the Nancy School, while enjoying a drink or a meal, is the Brasserie Excelsior. With chandeliers and furniture designed by Majorelle and lamps by Daum, dining in this Nancy institution (a classified historic monument) is like dining in a living museum, an extraordinary and unique experience.
Other beautiful areas in the city worthy of exploring are the Vieille Ville with its fairytale turreted gate, la Porte de la Craffe − the only part of the medieval city fortifications remaining today, the tranquil Parc de la Pépinière and the excellent covered market for its Lorraine specialities (and other food).
Finally, you can't visit Nancy and not indulge in two of its local delicacies. First, the divinely delicious St Epvre cake (meringue, vanilla butter cream and nougatine) from Pâtisserie St Epvre, found only at this unique place, and second, macarons from la Maison des Soeurs Macarons, with a recipe that dates back to 1793.
—by Phoebe Thomas of Lou Messougo

14. Nice: seaside glory
You cannot glimpse the Promenade des Anglais in Nice without a sharp intake of breath at its graceful beauty. Lined with elegant palms, a long pedestrian walkway and a sandy beach, it's no wonder tourists have been coming here for years, starting with the British in the 18th century, turning it into one of the most popular cities in France.
The newly refurbished Place Masséna has devolved the square to the city's citizens, also serving as the city's political, social and cultural heart.
Much of Nice's buzz (in addition to its natural harmony) comes from antiques, whether in the many shops along the old port or the fabulous monthly antiques market on the Place Garibaldi.
Nice also has some fabulous religious architecture. The Russian Orthodox Cathedral stands out, with its spires and onion domes, and Notre Dame de Nice is also an unusual but spectacular building.
Castle Hill, once a fortress, is now known for its wonderful park and panoramic view  − and fewer views are more stunning than the graceful bay of Nice, one of the top cities in France when it comes to beauty.
—by Dymphe from Dym Abroad

15. Nîmes, the French Rome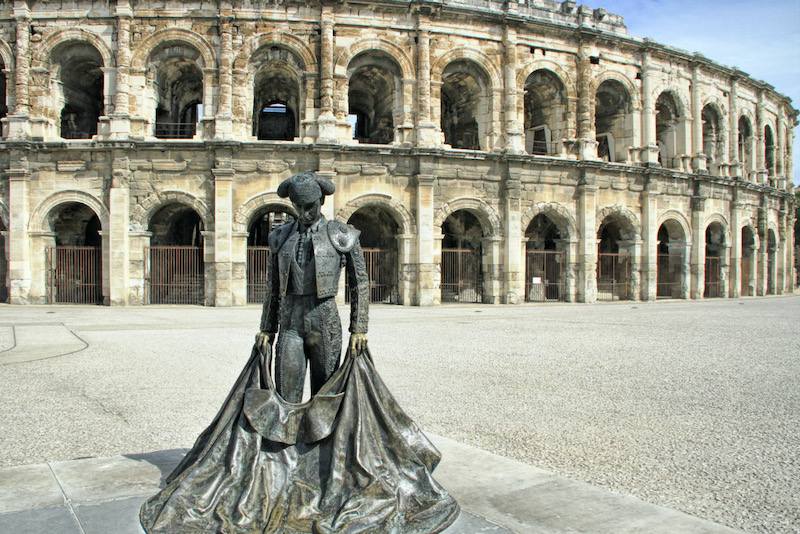 Visiting Nîmes is like having your own Roman holiday in France − the city has some of the best-preserved Roman structures outside Italy. From impressive Roman arenas to temples, there are plenty of things to do in Nîmes, making it one of the more intriguing places to visit in France.
Often called the "French Rome", Nîmes is a former Roman colony dating back to before the Christian era, a fact reflected in the city's architecture. 
A striking sight in this beautiful city is the Nîmes Arena. A replica of the Colosseum in Rome, this massive amphitheater was a symbol of Nîmes' influence back then. It was built around 70 AD and witnessed the rise and fall of the Roman empire. These days, the arena is a popular concert venue.
The Pont du Gard, a construction marvel back in the first century AD, is often considered one of the most amazing monuments in France and happens to be the highest standing Roman aqueduct in the world. Its beautiful arches inspired world renowned authors and philosophers of early generations such as Henry James and Jean-Jacques Rousseau.   
Nîmes also has several beautiful squares, fountains and Roman temples. Most are easy to find but some, like the Temple of Diana, will catch you by surprise. Hidden in the middle of Jardins des Fontaines, this beautiful temple is said to be an old library and may (or may not) have something to do with the goddess Diana. Either way, visitors will enjoy the intricate details carved on the temple, depicting thousands of years of history.  
—by Christine Rogador of Journey To France

16. Paris, unforgettable, indescribable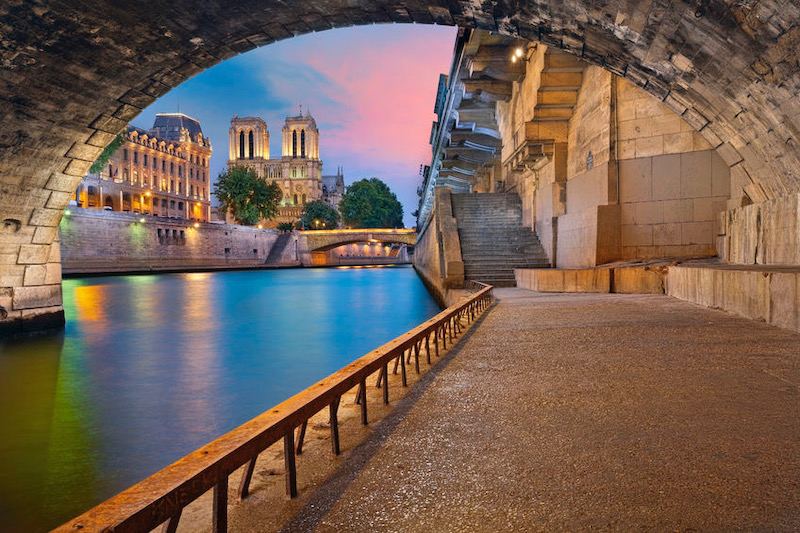 Paris, possibly the most beautiful city in the world, deserves its own (many) pages but a list of beautiful French cities would simply not be complete without at least mentioning it. So at the risk of being superficial, one can touch upon its iconic sights − the Eiffel Tower, Notre Dame, the Louvre, the quais of the Seine, the historic bridges, the buildings of Hausmann...
Its beauty is almost crushing it is so prevalent. But the city truly shines when you duck into its side streets and stumble upon romantic corners or unexpected buildings or unusual museums, like the Carnavalet or Counterfeiting Museum.
A major buzz of the city is its surprise factor, the ability of the city to come up with novelty just when you think you've seen it all, like these less frequented parts of Paris.
PARIS QUOTES BY VICTOR HUGO: the best way to describe the city...
"He who contemplates the depths of Paris is seized with vertigo. Nothing is more fantastic. Nothing is more tragic. Nothing is more sublime." 
"Breathe Paris in. It nourishes the soul." 

"To err is human. To loaf is Parisian." 
"He who contemplates the depths of Paris is seized with vertigo. Nothing is more fantastic. Nothing is more tragic. Nothing is more sublime."
But in the end, most Parisians agree Paris cannot be described. Here are some of the words I've seen used to try to paint words about this city: mythical, fashionable, elegant and gritty (depending on which part of town you're in), historic, lively, energetic, historical, arty and artistic, cultured, harmonious, revolutionary, sophisticated, civilized, beautiful, wicked, rude, mysterious, enlightened, enchanting, carefree, noisy, picturesque, literary, classical, seductive, eclectic... and I'm just getting started.
And this may explain why describing the beauty of Paris is nearly impossible. You have to see it for yourself.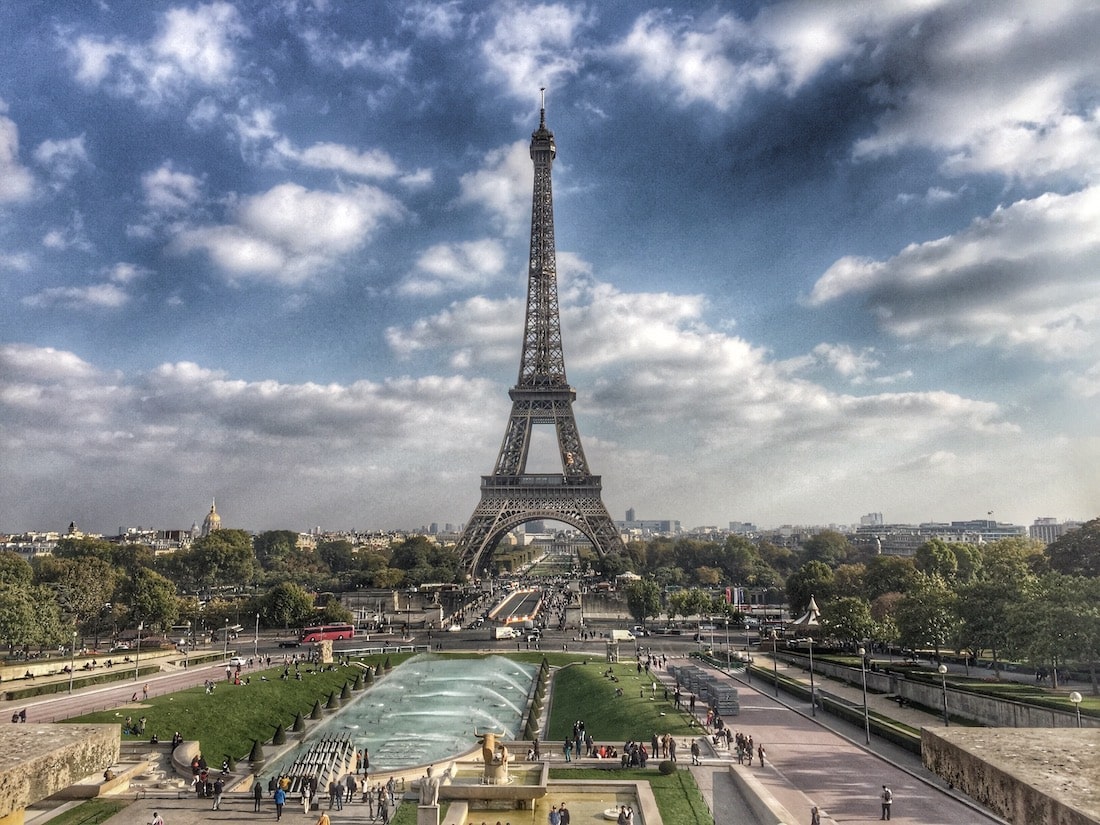 17. Reims, heart of Champagne
The city of Reims is a gorgeous addition to any France itinerary, its classical beauty evident in a cathedral that inspires artists, cobbled café-lined streets, and green spaces. Its beauty is actually multiplied after a couple of glasses of Champagne. It is, after all, the capital of the nation's most celebrated beverage.  
While there is plenty to do in Reims, an obvious buzz comes from touring one of the popular Champagne houses, like Taittinger, Veuve Cliquot and Pommery.
Beyond Champagne, Reims packs a punch in local history: this is the city where Germany surrendered to the Allies in World War II. What is now the Musée de la Reddition was once Dwight D. Eisenhower's Supreme Headquarters. The War Room, as it is called, is still set up as it was at capitulation, when it changed the course of world history.  
Reims is also home to several UNESCO World Heritage Sites: Palais du Tau, Notre Dame de Reims, and the former Abbey of Saint-Remi. Lovers of France's Roman ruins can visit the Porte de Mars, an ancient triumphal arch. It helps that the city is ideal for pedestrians and one of those easy places to visit near Paris on the high-speed TGV, which takes less than an hour.
—by Jade Laurenza of The Migrant Yogi

18. Rouen, packed with history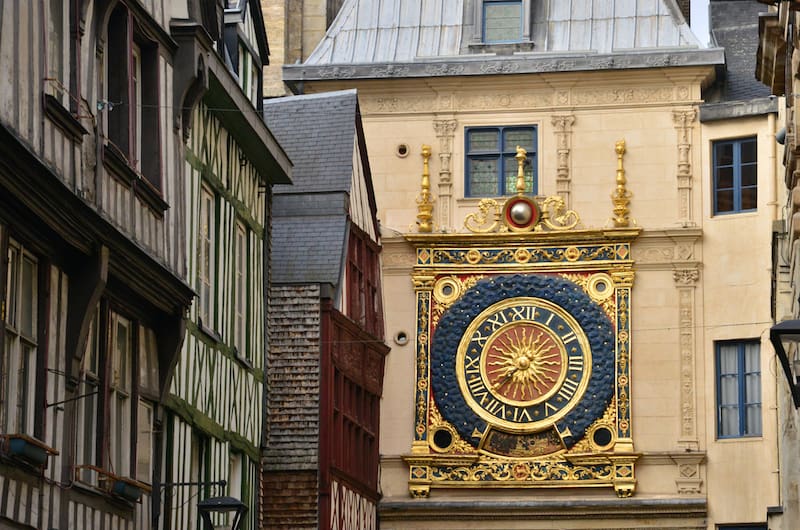 Rouen, in Normandy, is a city that somehow never lost its authentic northern French flair and atmosphere, making it one of the prettiest cities in northern France, its streets lined with half-timbered houses.
From its old buildings and to its narrowest alleys, you'll be headed on a historical journey. The cathedral and surrounding churches are almost 1000 years old, and the Gros Horloge clock is a masterpiece of Renaissance art.
Rouen is also the city most identified with Joan of Arc, who led French armies agains the English but was eventually burned at the stake for heresy. Start with the Historial Jeanne d'Arc, where she was placed on trial, and then the tower that bears her name: this former dungeon is where she was imprisoned during her ordeal. Finally, visit the Église Sainte-Jeanne-d'Arc; the site marks the place she was put to death and a statue of her sits in the very place, apparently, where her short life ended at 19.
Opposite the dungeon is a secret dining recommendation, the Pomme d'Épice, with authentic regional specialties (try the baked Neufchatel cheese from their menu, accompanied by a cool rosé).
—by Helene of Masala Herb

19. Strasbourg: authentically Alsatian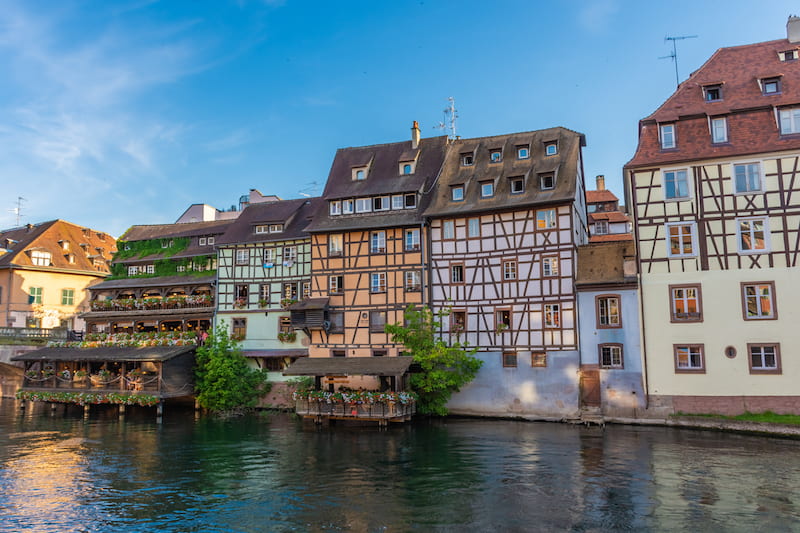 Strasbourg is among the most beautiful cities in all of France. Of Europe, actually. The network of bridge-crossed canals personifies beauty, as does its picturesque medieval center and cobblestoned streets. Many of its famous timber-framed homes can be booked through Airbnb Strasbourg for an authentic and unique place to stay.

One of the best ways to explore Strasbourg and its Alsatian culture is to sample Alsatian cuisine, embodied by rich and hearty dishes. Like everything Alsace, it combines elements of French and German culture. A favourite is spaetzle, a rich and creamy baked pasta dish.
A stunning landmark is the beautiful Cathédrale Notre Dame de Strasbourg. You can enter for free, but many visitors are unaware you can actually climb its tower to the observation deck above, which offers panoramic views of the city and surrounding landscape. Over the centuries, church officials would allow patrons to climb the tower and carve their names in the stone of the cathedral's exterior. It's full of centuries-old graffiti, which proves our ancestors were a lot like we are now.
Strasbourg has gone through phases of being an independent city-state, part of France and part of Germany, and Old Saint Peter's Church clearly reflects this, having see-sawed between Catholicism and Protestantism. During the Reformation, France absorbed Strasbourg and ordered part of this Lutheran house of worship be rededicated to Catholicism. In 1683, a wall was erected, dividing the church in two: to this day, it remains a simultaneously Lutheran and Catholic church.
—by Derek and Mike from Robe Trotting

20. Toulouse, la Ville Rose
Toulouse, for some reason, was often overshadowed by the likes of Paris, Lyon or Marseille yet it is one of the most beautiful of south of France cities. That all changed with the arrival of cheap low-cost flights and a busy airport hub connecting it with the entire continent.
It is often referred to as "La Ville Rose", the Pink city, with much construction made of pinkish terracotta bricks, unique and beautiful. The Pont Neuf, the city's main bridge over the Garonne River, has a stunning view, especially at sunset.
A major contribution to the city's buzz and beauty is its mixed cultural heritage. Toulouse is a gateway to France, Spain and Catalonia, a mixture also evident in the city's culinary traditions. 
This melting pot of cultures makes Toulouse a charming city, its character visible on street signs (written in both French and Occitan) and subway announcements, also in both languages. And while the city is home to several UNESCO World Heritage Sites, the surprises come from its hidden corners.
Sites worth a detour include the Basilica of St. Sernin, Europe's largest Romanesque building, the Hôtel-Dieu Saint-Jacques, a fine example of the city's terracotta architecture, and the Canal du Midi. This is a city that has finally come into its own.
—Alessia & Totil of Italian Trip Abroad 
TRAVEL TIPS
🏘️ Book your room
Booking.com will help you to book accommodation in advance and check availability
✈️ Book your flight
To find the cheapest flight options, you can use WayAway and find the most suitable option for you
🧾 Book your tours
with Viator to get the most out of your journey
Did you enjoy this article? I'd love if you shared it!
Shop this post on Amazon
Pin these and save for later