Pages on this site may contain affiliate links, which bring in a small commission at no cost to you.
The city of Nancy in France's northeast is known for many things, especially its Art Nouveau architecture. It has three UNESCO sites, one of which is Place Stanislas, much loved by the French. This is the story of this unusual square.
It's been called many things: the most beautiful square in Europe. France's favourite monument. An architectural UNESCO gem.
Call it what you will, but its real name is Place Stanislas, as in Stanislas Leszczyński, a dethroned ex-king of Poland in exile.
Who was Stanislas and what did he have to do with Nancy?
It all started with Louis XV needing a wife.
The Bourbons were not particularly good at securing their lineage. His great-grandfather, Louis XIV, had outlived all his other descendants, and Louis XV,  somewhat sickly, would have to be married off quickly to ensure the Bourbon family line. 
In proper court fashion, a list was drawn up of 99 potential queens from royal families across Europe.
The criteria were pretty stringent: she had to be healthy, a virgin, Catholic, not promised to anyone, and not too wealthy, so that the marriage would be a step up the ladder.
After much pruning of the list, Marie Leszczyńska, the daughter of our poverty-striken Polish ex-king, was approached.
The gamble paid off, and Marie would go on to give Louis ten children in as many years.
But back to the father-in-law.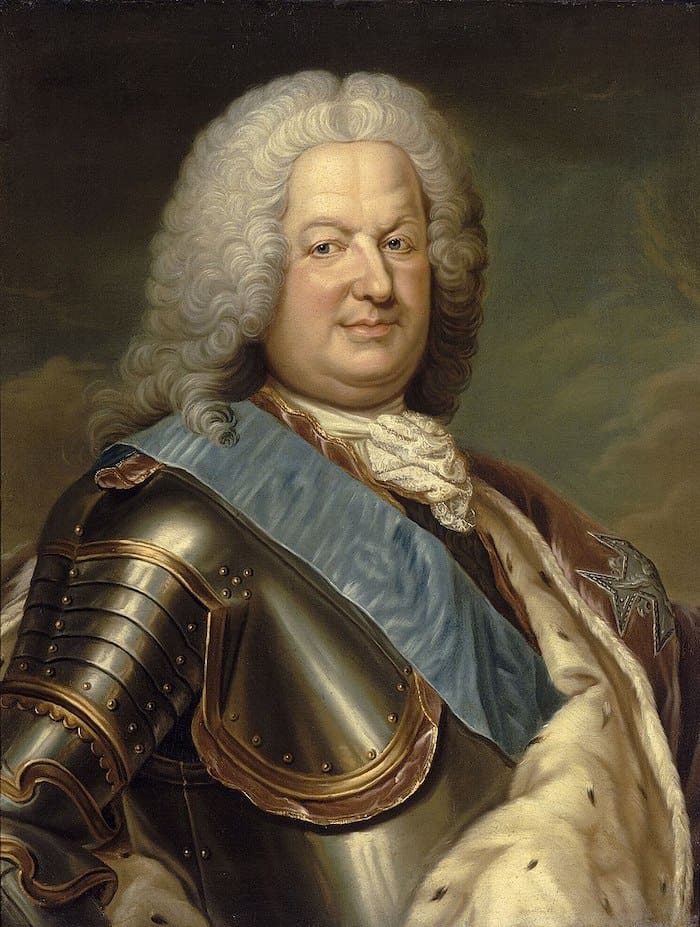 King Stanislas Leszczyński of Poland and Duke of Lorraine
King Stanislas had no intention of staying on the sidelines and tried hard to get his throne back. He failed, and became embroiled in a few European messes along the way.

His daughter's betrothal would be a godsend: a complicated diplomatic tapdance would end up making him Duke of Lorraine, with the understanding that the then-independent duchy would revert to France upon his death.
Louis XV, a dutiful son-in-law, would support Stanislas for a few years; the king was no longer in the flower of youth, and with life expectancy far shorter in those days, Louis felt he had a bargain.
This gamble, on the other hand, did not pay off.
Stanislas went on to live nearly 30 more years, a lengthy vacation paid wholly by France. He would be great-grandfather to three future kings of France: Louis XVI, Louis XVIII, and Charles X. But that story is for another day.
Still, Louis XV's investment wasn't wasted and Stanislas used his pension to transform the city of Nancy.
Place Stanislas would be the jewel in its crown.
Eventually, as planned, when Stanislas died in 1766 (his bathrobe caught fire), France annexed the Duchy of Lorraine, as had been agreed in the 1738 Treaty of Vienna, through which Stanislas renounced his claims to the Polish throne.
So why did Stanislas build this huge square?
He wanted to honour his son-in-law, of course.
But there was a more practical reason: he wanted to connect Nancy's two separate parts, the Old town, dating back to Medieval times, and the New Town, built more recently in the 16-17th centuries.
They had grown separately and traveling from one to the other often resulted in terrific traffic jams because of the narrow street that connected them.
A clearing that existed between the two would be perfect to bridge the divide.
With the Place Stanislas, the ex-king-and-now-Duke would, indeed, honour Louis XV, with what many consider the most beautiful royal square in Europe. He would also fulfil his own wish to provide administrative offices with a home, on a convivial square where citizens could meet, chat, and enjoy themselves, a cultural crossroad of sorts.
Place Stanislas in history
It is fascinating to see how much − and how little – the Place has changed.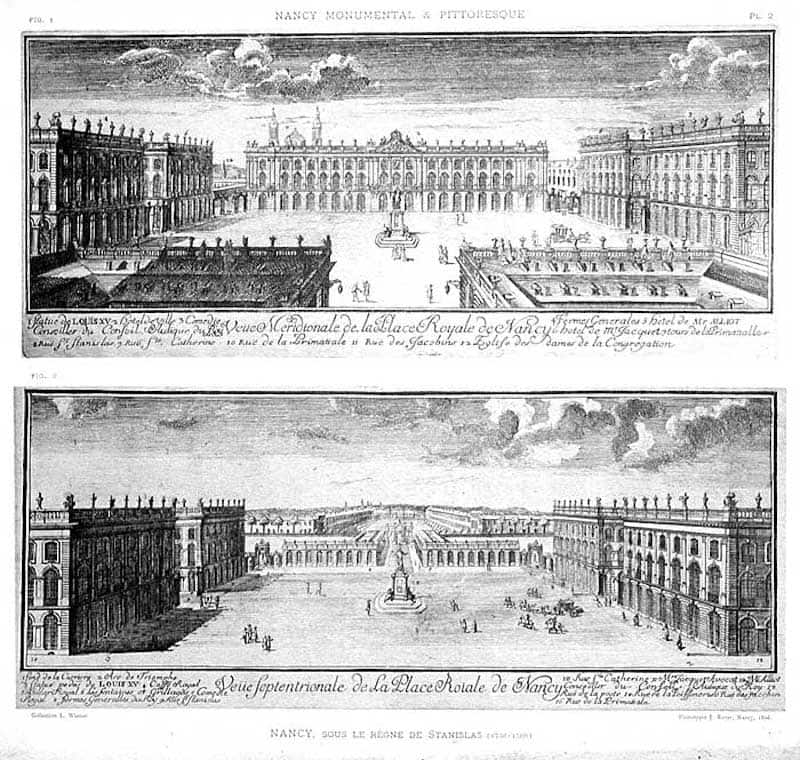 Place Stanislas in 1754 by Claude-François Nicole fils
It was initially called the Place Royale, of course, in honour of Louis XV, but would eventually change names along with the currents of history.
With the coming of the French Revolution, the square was predictably renamed Place du Peuple, or People's Square. It would then become Place Napoléon under Emperor Napoleon I's reign, only to be renamed Place Royale when the monarchy was restored.
Finally, in 1831, the Polish king's statue was erected and the square became Place Stanislas once and for all.

Place Stanislas in the mid-19th century by Hippolyte-Jules Demolière (1802-1877)
King Stanislas had wanted this to become a gathering place, and it was a mission accomplished, because the square has served a multitude of purposes over the years.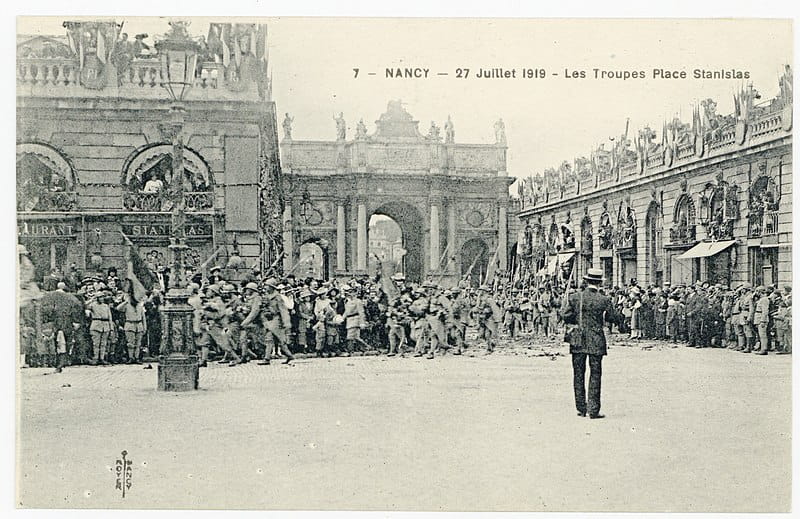 Troops on Place Stanislas in 1919. Photo Bibliothèque municipale de Nancy
Place Stanislas under German occupation during World War II. Photo by Willi Ude via Wikimedia Commons CC BY-SA 3.0
The square was turned into a parking lot in 1958, a state of affairs that would last until 1983, when it was added to UNESCO's World Heritage List. Goodbye parking lot!
So much history has unfurled within this square, from military mobilizations to political rallies to anti-government demonstrations. Place Stanislas has seen it all.
In 2005, the square celebrated its 250th birthday. Three heads of state (France, Germany and Poland) were present and to mark the occasion, the square was turned into a pedestrian only area, refurbished and restored at a cost of eight million euros.
It continues to be home to a multitude of events, ranging from an ephemeral garden to a giant Christmas tree and parade to an unforgettable annual light show. And when something major happens, this is where people gather and make their feelings known.
Place Stanislas at night, during a light show, by Celeda, CC BY-SA 4.0, via Wikimedia Commons
During a visit after the start of the war in Ukraine, he was draped in the Ukrainian flag and the Place sported its support. King Stanislas was born in Lviv - now in Ukraine but part of Poland in those days ©OffbeatFrance
Deconstructing Place Stanislas
To build his square just the way he wanted it, King Stanislas appointed his finest architect, Emmanuel Héré, who had already sharpened his talents by beautifying Stanislas's chateau at Lunéville, the traditional home of the Dukes of Lorraine. (An earlier architect took a stab at the square but was "too classical" for his taste.)

Héré would also go on to design the neighbouring Place Carrière and the Place d'Alliance, which, along with Place Stanislas, form a delightful triumvirate protected on UNESCO's World Heritage List.
The square's art and architecture
Lining the vast square are seven exquisite buildings: 
Grand Hôtel de la Reine (four stars), once known as the Pavillon Aillot
the Opera-Theater
Museum of Fine Arts (Musée des Beaux-Arts), with an admirable art display and an exceptional collection of Daum glassware from the Art Nouveau era in the basement (it had previously been the College of Medicine)
the Jacquet building, the only private building on the square 
City Hall, the square's longest building, its pediment engraved with Stanislas's coat of arms, topped by a clock, statues representing Justice and Prudence, and three flags – France, Europe and Lorraine
two "lower" buildings, originally designed to hide the city ramparts (these no longer exist) which separated the Old and the New towns; a short avenue
This architectural ensemble is incredibly harmonious, even for those who know little about such things: gigantic French windows, which become smaller as you go up. Edging the roof are balustrades topped with sculptures, vases or putti (naked little cherubs) worth a closer look if you happen to have a set of binoculars.
The façades share a number of common traits, including graceful iron balconies fashioned by Jean Lamour, the master-locksmith who also designed the six massive gold-tipped gates that lead into Place Stanislas, which gave Nancy the nickname "City of the Golden Gates".
(Fun fact: just how much gold was used for those gates? Hold that thought – I'll tell you in a moment.)
Two spectacular fountains fill the lower corners of the square: Neptune, the Roman god of the sea, and Amphitrite, the wife of Poseidon, the Greek god of the sea (yes, confusing).
In the center of the square, of course, stands Stanislas (when I visited, draped in a Ukrainian flag because of the war: he was born in Lviv, then in Poland and now in Ukraine).
However sleek and elegant the square in daytime, at night, the scene turns to magic as the light from the lamps flicker across the pavement and along the façades.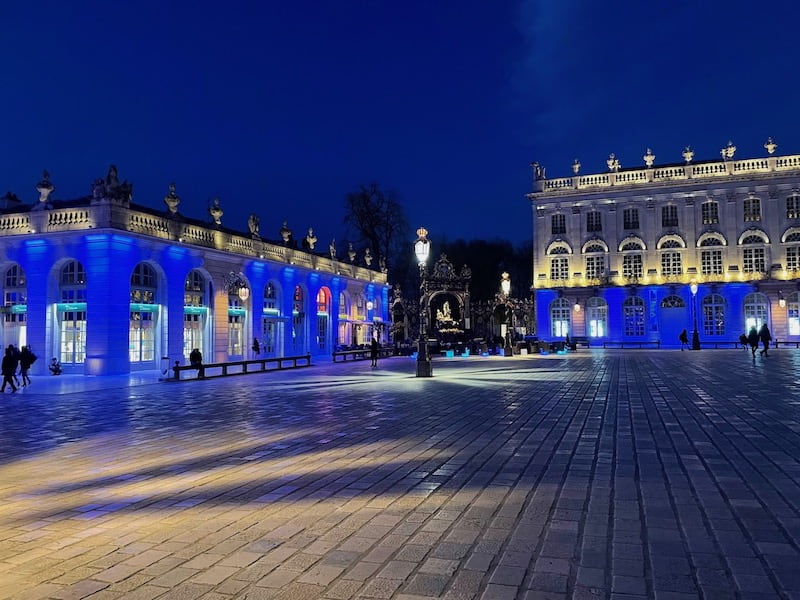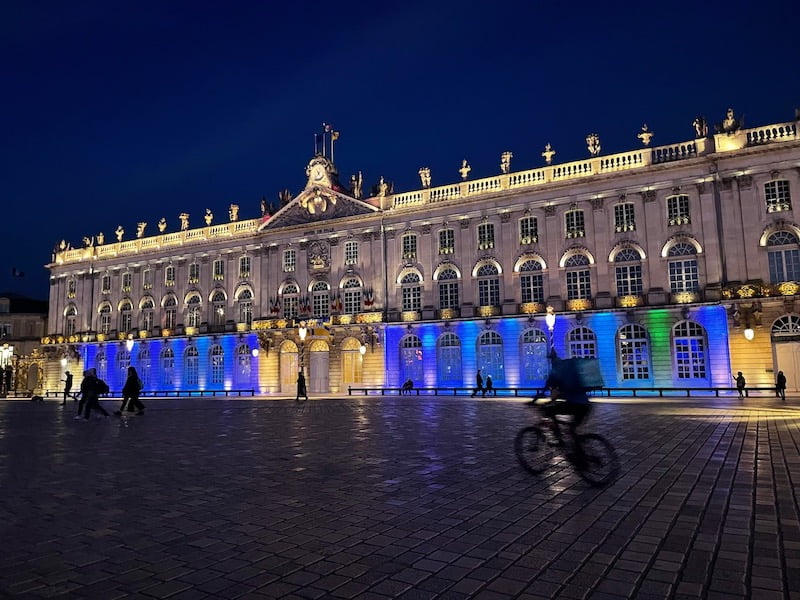 PLACE STANISLAS - FACTS AND FIGURES
It was built between 1751-1755
It measures 124m x 106m (135 x 116 yds)
At any given time, up to 400 were busy with its construction
Amount of gold used to tip all 8 gates: less than 1kg / 2.2lb
The final bit of stunning architecture is the Arc de Triomphe, or the Arc Héré. If it looks familiar, it's because the inspiration for it came from the Septimius Severus Arch in Rome.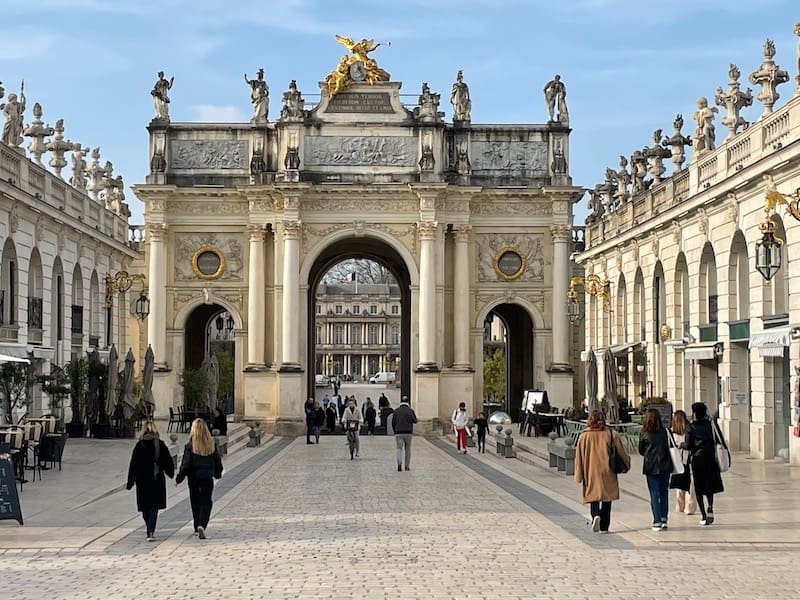 The Arc de Triomphe, or Arc Héré
Stories from Place Stan
Behind the square's classical façade are a multitude of secrets, stories which take Place Stan, as the locals like to call it, from a magnificent backdrop to a mysterious place with tales to tell.
A hotel built for a queen
A queen? Which queen, exactly?
Marie, Louis XV's wife?
Actually, no.
Marie-Antoinette. Seriously.
The building was originally a private home and while traveling to meet her fiancé, Louis XVI, the future queen stopped in Nancy to listen to a local poet's verses. This is where she stayed.
Before becoming a hotel, the building was a government office, and a residence of the Czar of Russia (perhaps Russia's elite also had many homes abroad back then). Throughout the years, it was also a music school, an insurance company, a business center, and finally, sometime around 1830, it became a hotel.
I enjoyed breakfast here every morning during my Nancy visit, sitting in one of the romantic royal salons now transformed into a bar. Today it is a four-star hotel, with an eclectic décor that ranges from rococo through classical and Belle Epoque.
The owners are upgrading and expanding it, hoping to turn it into Lorraine's first-ever five-star hotel. It's the perfect place to say if you want to gaze upon Place Stanislas at sunset. Click here to book your room at the Grand Hotel de la Reine.
By the way, Marie-Antoinette and the Russian czar aren't the only luminaries to have stayed here: other featured guests included Marie-Louise, future wife of Napoleon I; Empress Eugenia, Napoleon III's wife; Austrian emperor Francis II; the prince and princess of Siam... and undoubtedly many more whose traces history has erase.
Where is that finger pointing?
Look at the statue in the middle of the square and you'll see Stanislas is pointing a finger (as a scion of polite society, he should know better).
But what is he pointing to, or towards?
One story has him pointing to the royal medallion on the Arc de Triomphe, representing Louis XV, perhaps a gentle reminder of Lorraine's return to France. (Lorraine shuttled back and forth between independence and French rule; it was annexed by Germany after the Franco-Prussian War, but returned to France when Germany lost World War I.)
There is another possible answer, however. 
If you place that finger in your line of sight (a bit difficult unless you're sitting on the statue's head), it would apparently seem to point to the left of that medallion.
This historical detail required elucidation, so a scientific study was organized by France's national geographic institute to measure the finger's direction with precision.
The conclusion? Following the finger yields something called a geodesic curve that slices through a number of locations like Brussels, Newcastle, Calabria... I have no idea what this means, but here you have it!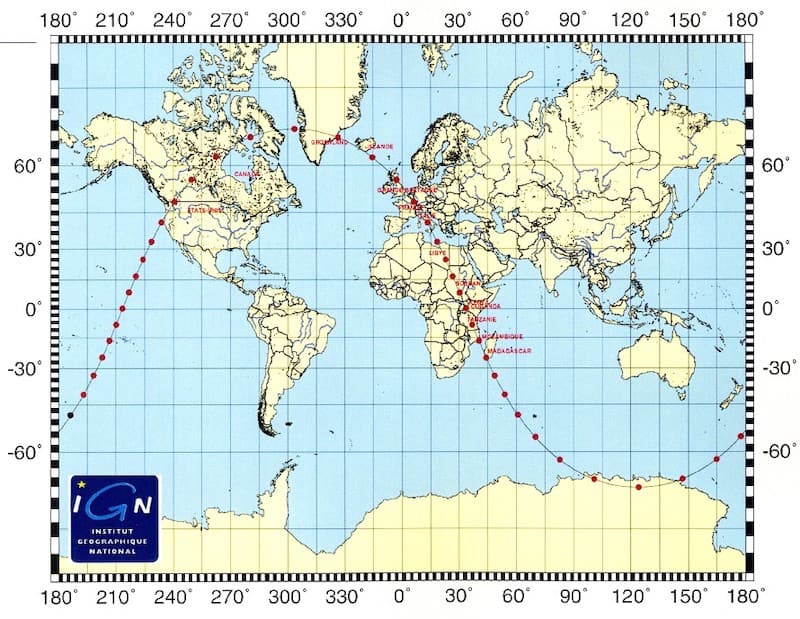 Courtesy Project Urbi et Orbi, with map by Institut Géographique National
Have you heard about the time capsule?
A few weeks after the 250th anniversary celebrations, a time capsule was buried in the square, a lead box containing 1360 portraits of citizens of Nancy, the words of some 800 locals and workers who helped renovate the site, a lunar meteorite, and a copy of l'Est Républicain, the major local newspaper. Next time the Place Stanislas gets a facelift, who knows? The capsule might just be ready to open.
Curious about where it is? You'll have to find the paving slab marked with a star.
Need a hint? Stanislas is pointing towards it!
The "favourite monument" is really a thing!
It's easy to conclude that this is France's favourite monument, or at least one of them.
But in fact, it actually IS: in 2021, it was voted the favourite monument of the French in a television show of the same name hosted by popular historian Stéphane Bern.
Place Stanislas today
You might come here for one of the many special events, but this is Nancy's favourite gathering place, and dropping by in the evening for that classic French pastime, the apéro, is customary.
Choose one of the many cafés that line the edge of the square, and have a coffee or a drink, or, if it's later, dinner.
Try the Grand Café Foy, named after one of Napoleon's most brilliant generals, or the Jean Lamour, for the creator of those magnificent gates. The food is good in both, but the view is unsurpassable.
And wait for the sun to fade...
Did you enjoy this article? I'd love if you shared it!
Pin these and save for later!