Pages on this site may contain affiliate links, which bring in a small commission at no cost to you.
The best time to visit France? Actually, it depends
The best time to visit France is during the shoulder season: May-early June, and September-October. The weather is good nearly everywhere, mass tourism isn't at its height yet, and there are still plenty of cultural events. (And, along the Mediterranean, the water is warm enough to swim!)
Here is a rough guide to France's seasons: 
Winter: don't write it off! Culture is in full swing, the sun can be high in some regions, winter sports are in high gear, and you won't be bumping into huge crowds. 
Spring: this season is lovely across the country, possibly the best weather in France, so April-May would be delightful and with fewer people than in summer.
Summer: this is beach weather, but you'll run into BIG crowds and many closures. Some people swear by summer, others will do everything they can to avoid it. If you travel in summer, consider avoiding the most crowded places, like the Riviera and the Alps, and head for some less-touristy parts of France (there will still be people, but not as many).
Autumn: similar weather to spring, but possibly more rain. September and October are usually mild and often sunny, but come November you're risking cold and rain.
COMING TO FRANCE? THESE RESOURCES CAN HELP!
🏨 Accommodation - I rent hotels through booking.com
🚘 Car rentals - I use Discovercars, Europe's best car rental website
🚊 Train tickets - I book my train and bus tickets on Trainline
🚌 Day tours - I take day tours with Viator and GetYourGuide
France by the seasons (more or less)

France weather by destination 
When to go to France if you're a...
What to do when you visit France in...
Is there any season you should avoid for travel to France?
The short answer: There is NO BAD TIME to visit France.
Some seasons are better than others for certain activities, but every single season offers benefits. But now let's get into specifics.
Best time of year to visit France by season
France isn't exactly a small country: it's nearly twice the size of Colorado and a bit smaller than Texas.
Its climate varies considerably, from the colder and rainy North to the balmy Mediterranean, so you can't really generalize – but I'll try!
Winter: December-March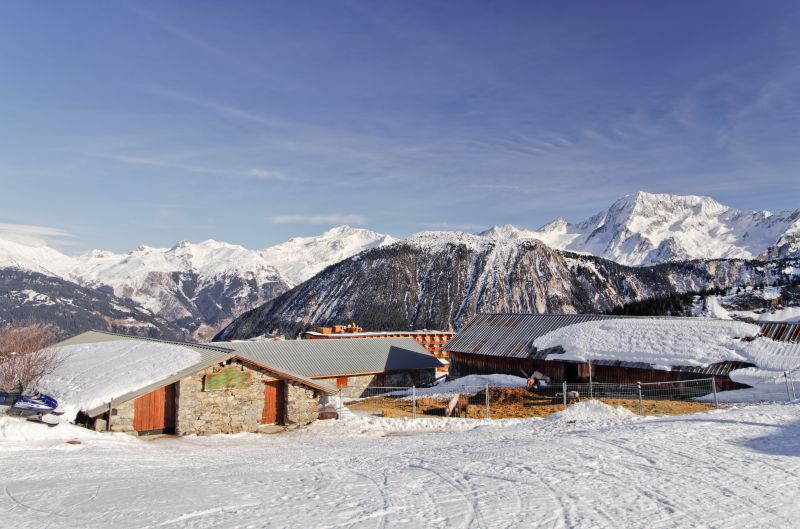 Winter is a delightful time to visit France, with its well-known mountain resorts and its snow-topped summits
This is when you'll have the fewest tourists and December is great for visiting France's Christmas markets and its light shows. The days are short, temperatures are cool or cold, and it can be very wet – a great time for museums and indoor activities and city exploration.
The south of France in December is warmer and sunnier, the north colder and wetter. In smaller towns, many tourist-type events and transportation shut down for winter – certain tours, for example, or shuttles to famous chateaux, or hotels and restaurants located in tourist centers.

It is also the perfect time for mountain and snow sports, for which France is famous, with Alpine scenery that is among the most spectacular in the world. 

And yes, Paris is wonderful in winter.
Spring: April-May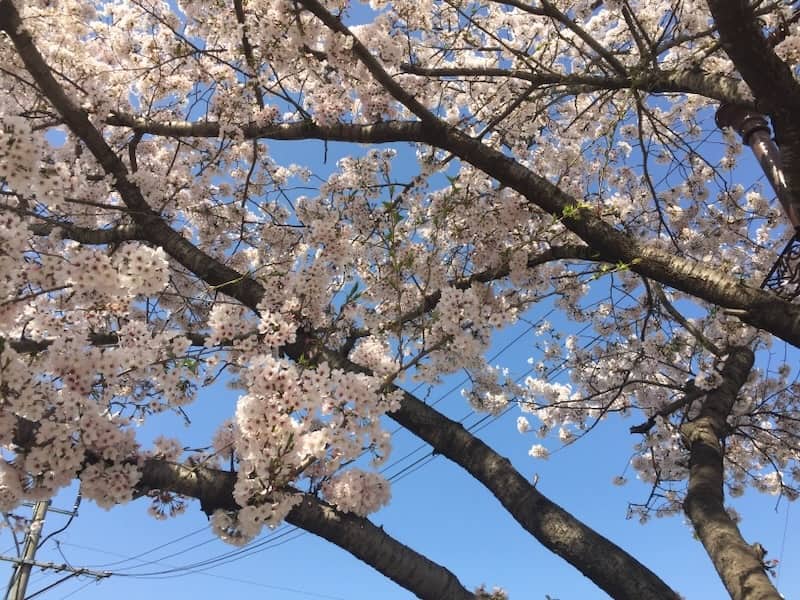 If you love blossoms, you'll be spoiled as they appear across France
This is hands down your best bet with the weather, but, no guarantees. You may also find cheaper prices and more availability, since the mass of summer tourists hasn't arrived yet. But don't expect short lines – France is almost always busy, especially its more popular spots, like the châteaux of the Loire.
Think wild bursts of color across the country... except lavender, for which you'll have to wait until June. Village markets and flea markets will spruce up and pull out their best goods, and you can feel that springtime aura of life beginning again.
Just beware of Easter: many things close, and many French people travel. May is also a month to beware of: there are at least three statutory holidays and if they can be turned into long weekends, you may find much of France has shut down during half of May. Here's an explanation of France's holiday schedule.

Early summer: June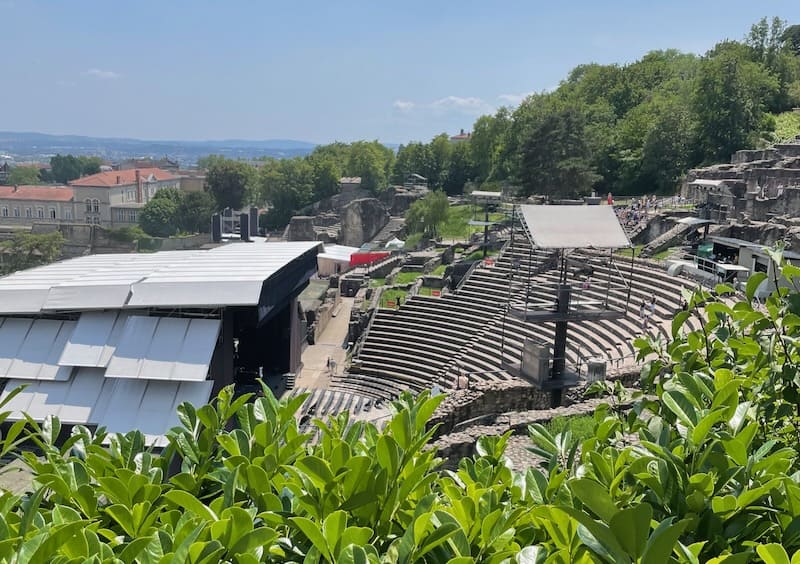 Across France, venues spruce up for summer concerts. Here, the Roman amphitheater gets ready for les Nuits de Fourvière, an annual music event held in the magnificent ancient ruins
France in June is possibly when the country is at its best, vying with May for first place. The freshness of spring hasn't disappeared yet, nor has the dryness of summer made leaves brittle or the ground thirsty.
On the contrary, the scent of flowers is heavy, and the air is still clear, without summer pollution. Evenings are warm, not too hot, and cool breezes can still be felt once the sun goes down – which, by the way, is extremely late throughout the month.
June is also a month of festivals, during which you'll find plenty to do as the cultural season extends into the summer months. June is definitely one of my picks for visiting France.
Summer: July-August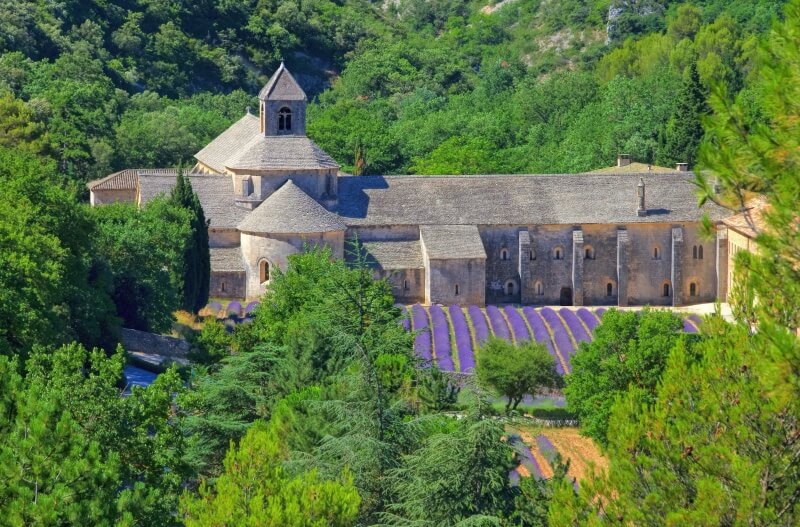 Few sights equal those of lavender fields in southern France come summer
High summer is festival season, when outdoor events take place and when even the smallest villages are at their most active.
The days are long during the summer months, which gives you many more hours to explore the outdoors, eat al fresco or stroll along the cobbled streets of some of the most beautiful villages of France.
Is August a good time to visit France? It depends.
August is crowded, expensive, and hot, especially during the first half of the month, and especially the further south you go. In the northern regions, the weather should be a bit cooler, and while there are plenty of French tourists, there aren't as many foreign ones as you might encounter, say, along the French Riviera.
Big cities, on the other hand, empty out. Shops close, boulangeries and patisseries take their summer holidays, and you'll be elbow-to-elbow with your compatriots.
Autumn: September-November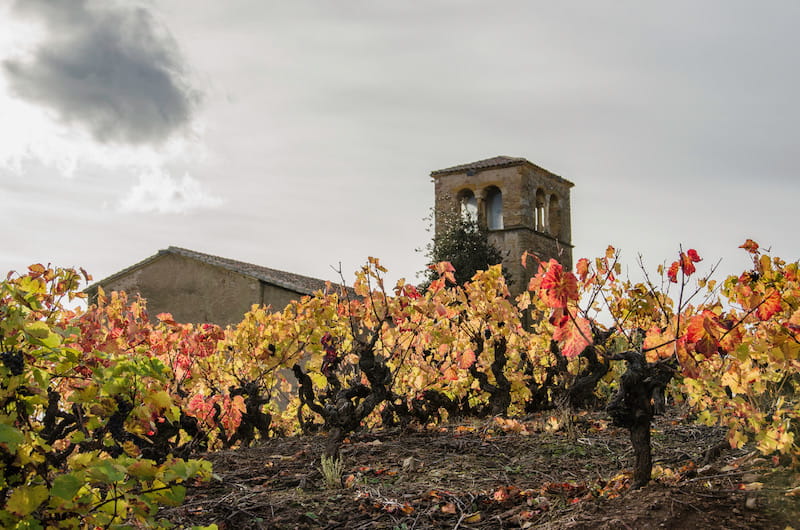 Autumn colours in France are beautiful - this is an excellent time to visit France, especially the southern half
This can be a beautiful time to visit France. The tourist crowds have thinned, and French visitors too have gone home as children return to school and students to university. This is the beginning of the cultural season and ideal for hiking and exploring the country's forests... and the season for Beaujolais Nouveau, of course.
At the same time, this is also a time of rain, and the latter part of the autumn (November!) can be unpleasant, but only weatherwise. France, for her part, remains beautiful.
©météo-france
TOURIST SEASONS IN FRANCE
It's difficult to apply these across the country because they vary by region. Generally speaking, you can categorize them as follows:
Peak season: June, July, August
Shoulder season: May, September, October
Off season: November, February, March
Since there are huge regional variations, please check the various regions below.
Best weather in France by destination
France has four distinct climate areas: the coast of western France and its oceanic climate; the continental climate of the center, with its hot summers and cold winters; the Mediterranean region; and the mountains, with cold and snow in winter.
Mainland France (France also has far-flung territories and regions in other corners of the world) also has four coasts, as well as too many rivers to mention.
There is no real "worst time to visit France" because each season has its different benefits depending on where you go.
Best time to travel to South of France 

Spring and autumn are wonderful seasons to visit the villages of the Luberon and of Provence in general
If you're headed to the beach, the Riviera – the Côte d'Azur – is one of the best places to enjoy the Mediterranean. Bear in mind that summers are hot, sometimes so hot you can't do much more than loll by the water.
In winter, on the other hand, watch out for the mistral, the bitter winter wind that can catch you by surprise, as well as many closures in touristy places, which only reopen when the tourists arrive. In spring and autumn, you'll often get perfect weather – unless it rains, and it can, a lot, during the shoulder season. 
I'll make two exceptions: winter is when the best festivals take place, the Nice Carnival and the Lemon Festival in Menton. It's also when the mimosa is in full bloom. I followed the Mimosa Route in February and this may well become my favorite time of year in the south.
Best time to visit southern France: April/May and September/October. The weather will be at its best (maybe even perfect!) Summer is simply too hot (and this is my personal opinion – you may love the heat!) and in winter, many things are closed (although... see the exceptions above).
Alps and Pyrenees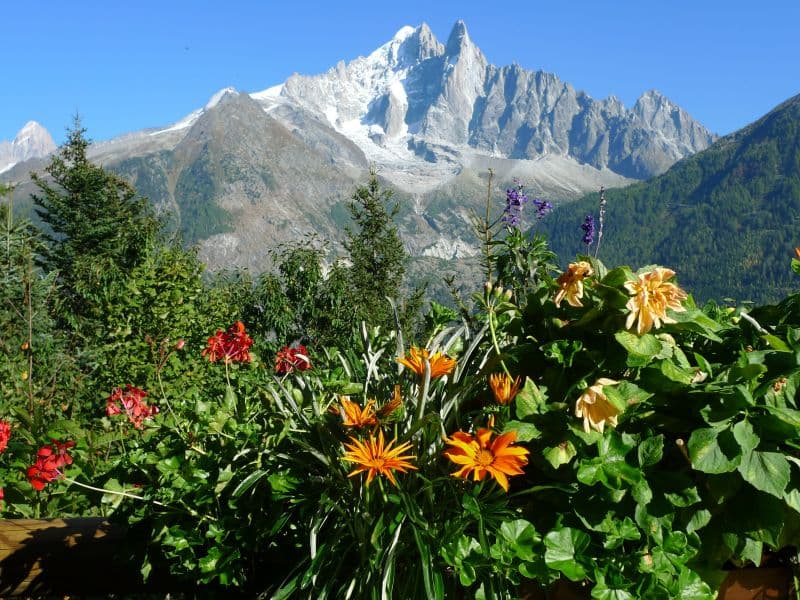 The mountains of France are ideal in both summer (for hiking) and winter (for snow sports). The shoulder seasons are the worst in the mountains and many places are closed
If you're coming for winter sports, you already know that winter is the time to visit.
But summer is ideal in the Alps if you like to hike, with thousands of mountain trails and spots for delightful outings. Spring and autumn, on the other hand, are when everyone gets ready for the two big tourist seasons – winter and summer – and you may find a lot of places closed.
Yes, there are crowds, but the mountain regions are huge and there's enough space to accommodate everyone.
Best time to visit the Alps and Pyrenees: winter for snow and summer for hiking
Southwest and Basque country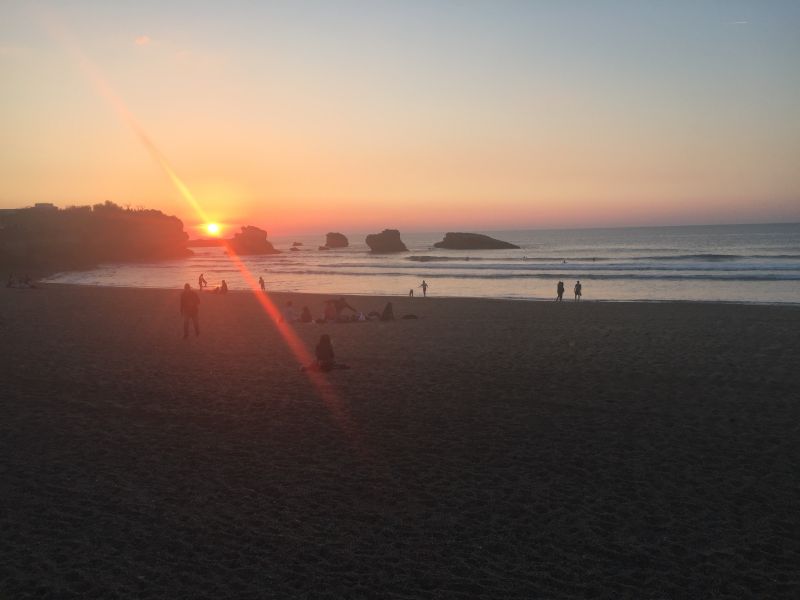 Surfers have finished for the day on the beach at Biarritz in southwestern France
The area around Bordeaux and the Atlantic beaches to the south are wonderful from spring through fall, with wonderful sunshine that shows off the area's natural beauty.
Further south, the Basque country is ideal in summer, with warm Atlantic beaches, perfect for surfing, and plenty of outdoor and foodie experiences. You'll also avoid many of the crowds of the Riviera. Autumn and winter, however, get their share of rain.
Best time to visit southwestern France: spring and summer and early fall
Normandy and Brittany

The northwest of France, a popular destination, is often wet, grey and cold in winter but mild in summer, when the Riviera is roasting under the heat.
The best time to visit Brittany and Normandy is probably May, but if you want to experience some of their lovely beaches, summer it is. Just expect the occasional day of rain and plenty of Parisians on holiday. Along the entire Atlantic Coast, January is the coldest month.
Best time to visit Brittany and Normandy: spring and summer
And of course, the best time of year to visit Paris

Paris in spring (think blossoms!) and Paris in autumn (fall foliage) are delightful, and definitely wonderful seasons for France visitors. 
In early summer, you can enjoy outdoor activities like the Paris Jazz Festival (site in French). Mid-summer, however, can be quite hot, especially with all that asphalt reflecting heat off the streets.
The crush of tourists can also make summer less pleasant, and if you're curious about local life and people, you won't see much of it – this is when Parisians leave their city and most of your interactions will be with other tourists or waiters.
It can get wintry in Paris around Christmas but real cold is rare, as is snow (although it does happen). That light powder you see falling on the Eiffel Tower is a photograph worth taking. Paris in winter? Lower travel prices, too. And if you want to narrow it down further, Paris in December is, for me, the best of the winter months.
Best time to go to Paris: spring and fall, although you'll find plenty to do in winter
Best time to travel to France if...
You like to shop
January and July, hands down. Unlike many countries, France has set periods during the year when they can hold sales: shops are allowed to discount their goods, often by up to 75%. The dates differ slightly each year but the sales tend to last 4-6 weeks, are slightly different in each part of France, and you will absolutely find bargains.
You are a foodie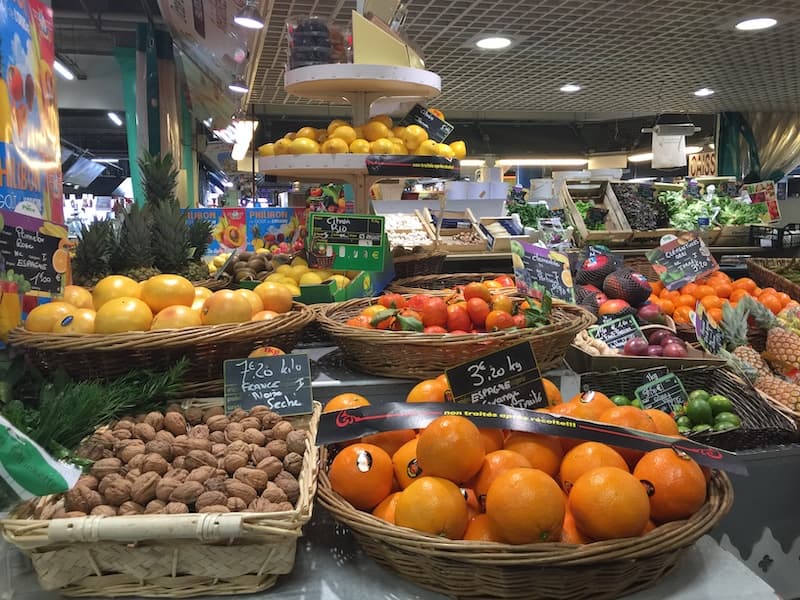 You can't walk very far in France without bumping into some kind of food market or festival, in any season
A good season is when the winter markets kick off.
The most important truffle market runs in Richerenches in Provence every Saturday morning from December to mid-March. Carpentras' truffle market is on Fridays and, over in the Dordogne, Sarlat's is on Wednesday and Saturday mornings. It coincides with the winter marché au gras, which majors in poultry products.
So find your favourite foodie festival or market, and build your trip around it!

You love wine
The best time to enjoy wine tasting amid mild weather and fewer crowds tends to be in May and June. While September and October will be busier, the weather is usually good and you'll be here during harvest time.

You are a culture vulture
If this means museums, galleries and shows, then you'll want to steer clear of summer because that's when shows take a break, and museums are jam-packed with people.
Winter is ideal, with the cultural season (or just left) in full swing, and late autumn/early spring will work too – just beware official and school holidays (and long weekends). France has many, and cultural venues get swamped with groups of students.
The first Sunday of the month is free for many museums, so while entrance may be free, crowds will be at their maximum allowed.
Finally, many major museums are closed on Tuesdays – so stay away from those that are open; they'll be bearing the brunt of visitors.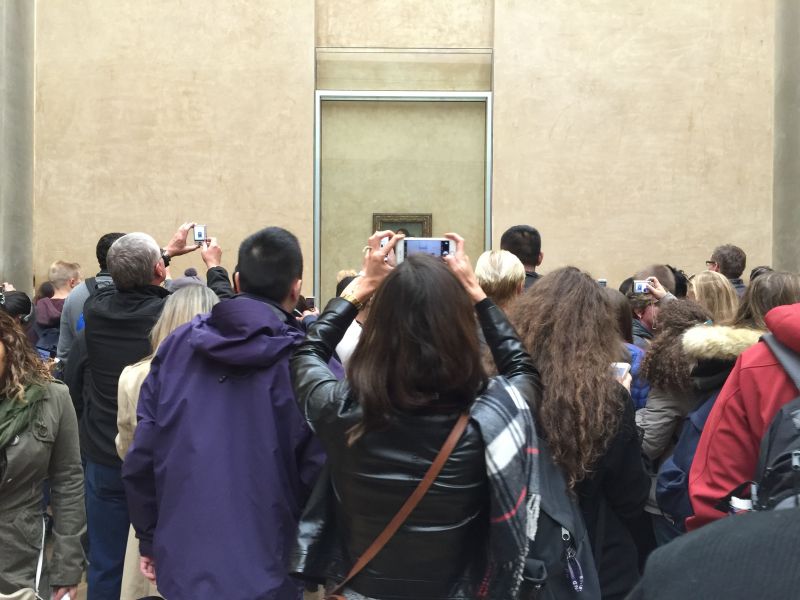 Crowds like these are common around the Mona Lisa in the Louvre Museum in Paris, but at the height of the tourist season, it's just as crowded everywhere
You're a lover of festivals
Summer. Like it or not, this is when most of France's festivals take place. Several are long, lasting several months, so you can enjoy them in late spring or early autumn as well. Festivals by their nature are held out of doors, and the most reliable weather is (usually) in summer.
There are some notable exceptions, like Carnival (for example in Nice), the Menton Lemon Festival or the December light show in Lyon. But they remain exceptions.
You want to see the sights
If you can visit during the shoulder season, in May-June or September-October, do so. The weather will be relatively reliable, perfect for photographing those wonderful French landmarks, and you'll probably avoid the summer crowds. I say "probably" because the tourist season is getting longer.
Consider pushing even further into the shoulder season, like March or April. It's you and your luck with the weather: it can be positively balmy and glorious, or spitting down freezing rain. 
You just want to relax
If your trip ideas center more around strolling and people watching in a sidewalk café, then anytime in spring or autumn will be perfect. But if lounging means the beach, then the season narrows.
On France's southern beaches, especially along the Mediterranean, waters will heat up quickly and you'll be splashing around from June onwards, and right into September, before the water becomes cooler. In the North, or along Atlantic beaches, the season is a bit shorter and the water less warm – but then, you may prefer that.
Still, the main beach-going season is June to September.
The best month to visit France

The best month to go to France is up for grabs – depending on what you want to do or see, we all have favorites, and the beauty of France is that every month brings surprises.
There's isn't a month without something exciting happening somewhere in this country. I've provided links to websites about seasonal activities but please be aware that not all websites have English versions, so you may have to resort to Google Translate.
France in January
There's no getting around these stark facts: it's winter. That means mostly cold and grey, but that doesn't mean it can't be fun!
Love truffles? Point your GPS towards Sarlat and its annual Truffle Festival, where farmers sell their products. You can learn about truffle hunting and take part in workshops and demonstrations. Excellent if you love these fragrant fungi!
Go watch the huskies and other sled dogs at the La Grande Odyssée Savoie Mont Blanc. France's dogsled race is world-renowned and takes place in the Alps, along a different route each year. There are plenty of places you can stop and watch the race, and celebrations and activities along the way. You haven't lived until you've woken up at 6am in sub-zero temperatures to go hang out with the mushers pre-race. And if you can, don't miss the opening ceremonies.
The premier dogsled race in the French Alps is a yearly event open to the public and delightful to watch as it makes its way across the mountain range, with a different route each year
Classical music fan? Will you be near Nantes? Then don't miss La Folle Journée, the 'crazy day', and crazy it is (although closer to four days than one): on average, 140,000 tickets are sold, 250 concerts take place, and 1500 artists perform. Concerts are limited to 45 minutes and the site is open all day and evening. That's a lot of concerts...
All right, this isn't everyone's cup of tea but you could go ice skating! Christmas may be over but the lights will still be up, and skating is taking France by storm (here's a list). Just don't expect a coordinated, organized skate - everyone throws themselves in pell-mell and you'll rarely find any change of direction at the toot of a horn...
France in February
February is carnival time! Say goodbye to the grey and white of winter and watch the world explode into colour with bright costumes and flowers and fruit. Here are some of the can't miss ones:
Across the western part of the Côte d'Azur, it's time to embark on the Mimosa Trail, from Bormes-les-Mimosas to Grasse, the world's perfume capital. Over 130 km, you can follow the undulating yellow bursts of mimosa through towns and hillsides.
The Nice Carnival, with its nearly 20 floats and fireworks and 1000 artists from around the world and its famous Battle of the Flowers on the Promenade des Anglais, which Queen Victoria apparently loved.
Not far away, in Menton, another burst of sunshine pierces winter with the 

Fête du Citron

, the Lemon Festival, with a series of citrus-themed activities.
One of many displays at the annual Menton Lemon Festival (Photo Fête du Citron)
In a completely different vein, the crazy 

Dunkirk Festival

 in northern France straddles weeks of winter (from January onwards) with fish-based fun that involves slinging a ton of smoked herrings from a balcony into the crowds below.
Have you ever heard of vin jaune, or yellow wine? It's made in the Jura Mountains and is similar to sherry, but not fortified. You'll find out more if you attend La Percée du Vin Jaune, the festival that celebrates this unusual and relatively rare wine. 
There's a perfect festival to usher in spring: the Fête de la Violette. What could be more engaging to mark the end of winter? It takes place each year (although interrupted by COVID) in

Tourrettes-sur-Loup

, one of those perfect little hilltop medieval village Provence does so well.



Tucked away in a far-off wedge of Central France is a village whose fame wouldn't be the same if it had a different name. I'm talking about the village of Saint-Valentin, or Saint Valentine. Each February 14th, in celebration of France's Valentine Day, thousands of visitors invade this tiny village to get their pictures taken next to the village sign or the tree of love, or to stroll through Lovers' Garden, or enjoy all the red roses which carpet the village. So if you happen to be nearby...
France in March
March, like November, can be a bit slow and dreary; while culture is in full swing, the weather is often uncooperative, wet and cold in many parts of the country. Still, it's not a given − I've experienced glorious sunny days in March, especially in the south (I visited the Luberon in March so you can see for yourself). As usual, you cannot generalize.
In the South of France, you'd sometimes be hard-pressed to know it's winter - everything looks summery and peaceful; the big difference is that besides essential shops and cafes, many establishments are shut for the season
The first weekend in March is reserved for foie gras lovers. Sarlat Fest'Oie celebrates foie gras in all its forms, along with other products from the region. This is the place to be if you want to taste this specialty and learn everything there is to know about it.
March is also time for the Festival Printemps des Arts in Montecarlo. Monaco is not technically France, but is so intertwined with this country (for example, Monaco's prime minister, while appointed by the Prince, must be a French national) that we can let this one slip in.
France in April
This is usually time for Easter, a traditional Christian holiday in France where many people go away during the long weekend (which they sometimes stretch to a week) and some things close down. And while that may be true, April is very active with plenty to do − and to eat.
Do you love antiques? If you do, the bi-annual (Easter and 15 August) antique fair in Isle-sur-la-Sorgue in southern France is among Europe's largest antique fairs, turning the lovely town into a giant flea market, or brocante (here's everything about France's best flea markets).
April is cultural festival time, celebrating film, theater, art, music and plenty more... here's a listing (in French).
This is also bullfighting season, with a major Easter Feria at Arles that combines bullfighting with revelry.
Ile-sur-la-Sorgue in Provence is intimately linked with antiques, from its major annual fairs to the Sunday flea markets to the Village des Antiquaires and its permanent displays
France in May
Everywhere in France, May is a beautiful month (no guarantees, we are talking about the weather, after all), with enough sunshine for beach weather in the South, and mild temperatures throughout the country (a fleece or sweater would not be remiss). This is also time for a major festival trifecta...
Major festival trifecta
The first of these is the Cannes Film Festival, which is a professional venue not open to ordinary people. But that doesn't mean you can't soak up some of that glitterati vibe by strolling along the Croisette, having a drink at the Carlton, attending free screenings on the beach or dressing to the nines and trying to get your hands on an unused ticket. If you're passionate about film, this is the place to be at least once in your lifetime.
The second event of note is the Monaco Grand Prix, Formula One's most glamorous race. This one is open to the public and, just like the Cannes Film Festival, is expensive.
The final of the three is the French Open, the world's top clay court tennis championship.
Other events in June in France
May is also when the Romany of Europe converge on Saintes-Maries-de-la-Mer for the feast of Saint Sarah, their patron saint. For ten days, this giant family reunion is unlike any other gathering in the country. Here's some background about it.
France in June
This is when summer vacations and festival season begin, and when visitors start to arriving in full force. Most Parisians haven't left home yet, but monuments and beaches are already crowded.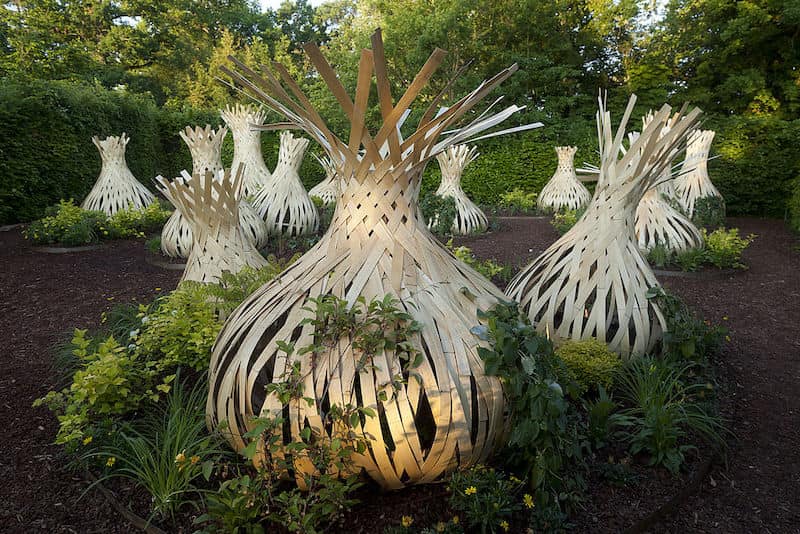 Garden festival at Chaumont-sur-Loire (Photo by E Sander via Wikimedia Commons) - the gardens change each year, chosen competitively through a global competition
The Fête de la Musique takes place all across France on 21 June (now also called World Music Day). There's a formal agenda of performances, but this is also when music hits the pavements and in many places, all you have to do is walk down the street and imbibe the vibes.
The Bordeaux Wine Festival along the banks of the Garonne River has plenty of workshops, tastings and vineyard tours.
The D-Day Festival in Normandy commemorates the 6 June Allied landing.
The International Garden Festival starts at Chaumont-sur-Loire in the Loire Valley and will last through summer. This is a fun event as it showcases the winners among a worldwide selection of garden designs. Plus, you get the chateau!
Lavender blooms in Provence (check out the best lavender fields) so if you want to photograph those lovely, lush lavender fields, now is the time.
Les Nuits de Fourvière in Lyon is an impressive festival, not only because of the stellar annual line-up, but because of the venue, the ancient Roman amphitheater. (While you're in the city, take advantage of Lyon for some sightseeing.)
Gay Pride parades take place throughout France.
I'll add the world-famous Tour de France here, because it could start in June. Or July. Or later. It does change each year but around this time is when you should start checking.

France in July
July is full festival and holiday season in France pretty much wherever you go. Everyone is outdoors, and looking for entertainment, so it is provided. You could probably spend the entire month going to the beach during the day and listening to live music or watching performances at night...
Bastille Day is a major July event and is celebrated across France, none better than in Paris, with fireworks and parties and parades. Throughout France, the smallest villages celebrate the storming of the Bastille during the French Revolution.
The Festival d'Avignon is a massive drama festival that takes place throughout the entire historic town.
The Fêtes de Bayonne is the premier gathering that celebrates Basque culture, from food to music – and bullfighting, for nearly a week each year.
Are you into mime? Then head for Mimos.

France in August
August divides France in two: Paris (and a few large cities), and the rest of France. Paris empties in August, as though a giant crane had lifted Parisians from their home to the country's coasts.
If you're in Paris and enjoy contemporary sounds, head for the massive three-day Rock en Seine festival.
On the more folkloric side, you'll love the Festival Interceltique Lorient in Brittany, which attracts nearly a million participants interested in Celtic culture from around the world. In western France, another famous festival, Confolens Folklore, features world music and dance.
Arles, a city full of Gallo-Roman remains, returns to its origins with the Arelate Festival and its chariots and gladiators.
Mostly, though, August is for recovering from the rest of the year...
France in September
Summer's nearly over but the weather in France is still balmy, with warm weather and dryer in the South than in the North (and it can still be very hot: in 2021 the year's hottest days were recorded in September). This is when school starts, and also when the cultural season starts. People are rested from their holidays, and there's a buzz in the air as they return to work – it's too soon for the boredom or overwork to set in.
The Braderie de Lille, or Lille Flea Market, the largest of its kind in the world (and it's only an hour from Paris by train).
The Fête de la Gastronomie is an annual country-wide event that celebrates French cuisine, know-how and the gastronomic meal (in the wake of its inclusion on Unesco's list for the protection of intangible heritage).
It's wine harvest time across France...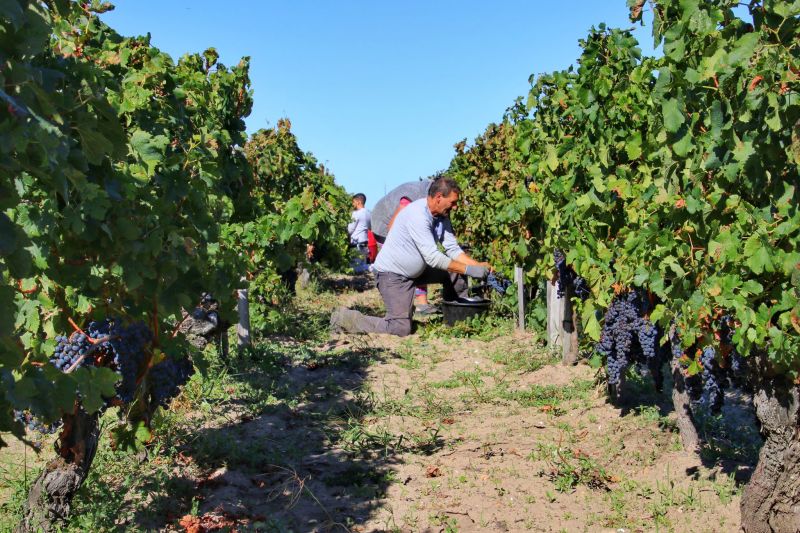 Picking grapes is a labour-intensive job but the result is worth it! Photo courtesy Bordeaux Travel Guide
The Festival d'Automne à Paris is a major cultural event covering all disciplines. Frankly, the month is full of festivals of all kinds throughout the country... Noteworthy: Biennale de la Danse in Lyon, but too many others to list.

European Heritage Days, which celebrate culture and heritage across the continent are an exciting way to see places that are usually off limits. 
A perfect mix of music and wine (listening and tasting!) happens at Jazz à Beaune.
For a touch of Spain, there's the Basque Country Music Festival (not Spanish at all but the Basque country stretches from France to Spain) and the Feria du Riz in Arles, around bullfighting.
France in October
The weather in France in October is actually exciting!  There will still be warm days, but you can feel the winter season inching forward. It's still a great month for tourism, with everything open but far fewer crowds than in summer.
The rentrée is over, summer holidays are but a distant memory, but cultural offerings are on every corner. It's also a decent month for festivals, which aren't limited to summer.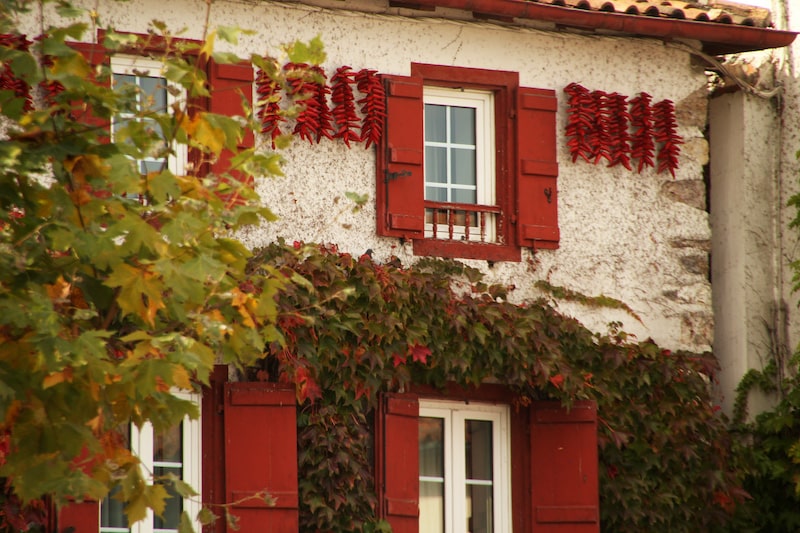 The chilli peppers of Espelette are widely known for their smoky, suave taste. The village of Espelette, in France's Basque country, is home to these peppers, which can often be seen drying outdoors, even on the façades of local houses
Fête du Piment, or Chilli Pepper Festival, which takes place in the Basque town of Espelette each year, a traditional Basque fest with tastings, history, music, and the induction of new members into the Brotherhood of the Chilli Peppers (read more about France's food brotherhoods here).
Nuit Blanche, a yearly all-night arts festival in Paris that spills into the streets.
Lyon Street Food Festival – this one gets better every year, held in an old manufacturing plant, with cooking classes, history lessons, sampling, and everything street food gastronomy.
Oktoberfest – you'd think you're in Munich but no, you're still in Paris, swilling traditional beer and listening to Bavarian music (the last one was in 2019 but keep checking back)
Hallowe'en has now entered French mores, at least in some parts of the country; a couple of decades ago, no one had ever heard of it but now, commerce has got involved and from early October, you'll find Hallowe'en decorations and costumes in every supermarket
If you happen to be in Paris, head for Montmartre, site of the city's last working vineyard. Catch the vendanges, or harvest; you'll have plenty of festivities during the three-day event
And now, in Paris, what just might be everyone's favourite event this month: the Salon du Chocolat, where you'll get to sample, taste, learn, watch... if you love chocolate, this is where you'll want to be.
France in November
November is the cultural season is in full swing. But it is low season and the weather can be anything from ho-hum to horrible, depending on the year and region. Expect early nightfall, gloomy skies, cold rain and winds – but not always. These are trends, after all, not certainties. 
The Foire de Dijon is paradise for foodies, with the presence of noted chefs and everyday gourmets, and everything food-related.
This is also Beaujolais Nouveau season, which is of course celebrated in the Beaujolais region but also throughout France. Bars and restaurants begin building anticipation weeks before the new wine's arrival, which is a major news event and takes place on the third Thursday each November.
11 November is Armistice Day, when we commemorate the end of World War I; many services take place at memorials as France remembers, the most notable being at the Arc de Triomphe on the Champs-Elysées.
These days, Christmas lights start earlier each year so yes, you might catch some decorations towards the end of November, a welcome diversion from the November gloom
France in December
December is a special month: festivities have started in the lead-up to Christmas, and Christmas markets have popped up all over France. It's cold and crispy in many parts of the country and with luck, the November rains have eased and you may enjoy clear sunshine. December is one of my favourite months in France: the photographs taken this time of year are usually amazing.
In early December, if you can, get yourself to Lyon's yearly Festival of Lights, the Fête des Lumières, an extravaganza of lights.
If you like your illuminations with champagne, the Habits de Lumière in Épernay is a fun mix of tastings, vintage cars, lights, and live entertainment
New Year's fireworks take place all across France, the most beautiful of which are those of the Eiffel Tower in Paris.
Depending on the year, if enough snow has fallen, it might even be ski season in the Alps or Pyrenees...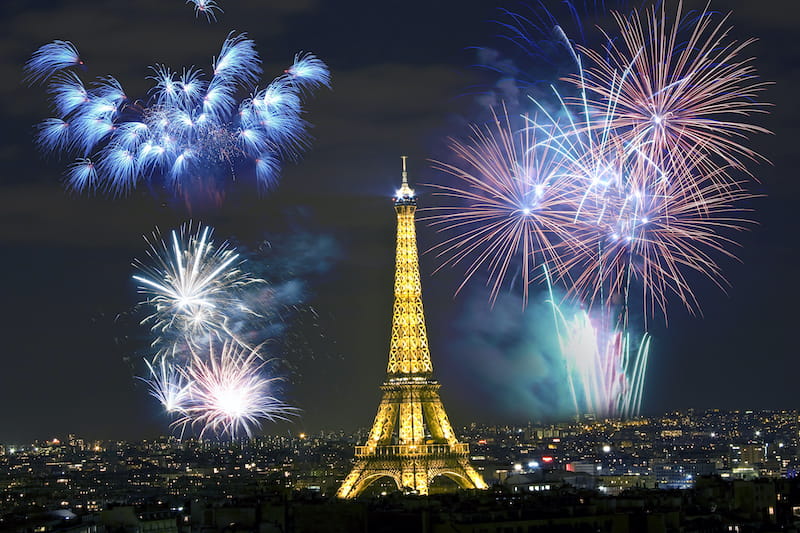 France does love a good fireworks show...
WORST TIME TO VISIT FRANCE WEATHERWISE
February is cold in most of the country
November and March are quite rainy and can be cold
July and August are very crowded in the most popular areas and can be exceedingly hot in cities
FAQ: Best time to go to France
That completely depends on what you want to do! The answer will differ depending on whether you're a wine or food lover, whether you want to indulge in French culture, whether you want to visit small hilltop villages...

There's Paris, of course. And then, there are brilliant cities nearby which you can get to by train for day trips. And if you rent a car, you can go further afield to places where public transportation is more difficult, like the hilltop villages of the Luberon. Many people also love to visit Provence and the French Riviera.
It depends what you mean by best weather. If you love heat, then the south of France is where you should go. For the most sunshine, try Corsica or southern cities like Marseille or Montpellier.

Love rain? Head for eastern France or the southwest, places like Bordeaux or Grenoble.

But if you want the cold in winter, then head for Langres or Nancy, both in the northeast.
The best time to travel to Paris is May, June and September.
November is the capital's least crowded month.
It's hard to say because it varies with the region. The high season in Paris, for example, is May, June, September and October. On the French Riviera and in the mountains, it's July and August.
Prices are slightly lower in November, January and February, mostly because the weather isn't as agreeable as in other months. That said, the variations among months aren't huge.
Best time to visit France: Final factors to consider
Like all nutshells, there are far more exceptions than rules... In this France travel guide, I take factors other than weather into consideration:
France is a large country with plenty of climate variations between regions. Some parts are hot, nearly arid, while others are snowy or wet. The best time to go to France will depend to a great extent on where you are going.
There are set holiday periods during which many facilities are fully booked and French vacationers and schoolchildren take over. Two of those periods are most of May, and mid-July to mid-August. Again, this is big picture only. (Here's a closer look at when holidays in France take place.)
Everything I say could soon turn out to be wrong. Climate change is making a mess, and weather is not as predictable as it once was (I wrote the first version of this piece in July, with a scarf and jacket and my feet under a blanket). Plus, the French propensity to go on strike just as the tourist season starts can throw a wrench into your well-laid plans. 
Finally, the weather travel tips below are not meant to be exhaustive. These are examples of things you could do in France during certain times of the year but of course, there are many more!
Pin and save for later!