Pages on this site may contain affiliate links, which bring in a small commission at no cost to you.
Here you'll read all about Langres, a small town in northeastern France that is off the beaten path – an authentic French destination that may not yet be on your radar screen.
What if I told you about a town that...
Surely you'd know it?
Yet when I polled followers on social media recently, only one person in 53 had ever heard of it. ONE.
Langres is certainly a small town, yet enough people want to move here so that the local authorities have prepared a "Welcome Pack" for those who take the leap.
What attracts them? 
Tucked away in the département of the Haute-Marne, astride Burgundy and Champagne, this town far from the tourist trail is stuffed with authenticity, history, culture, and nature.
Have a look.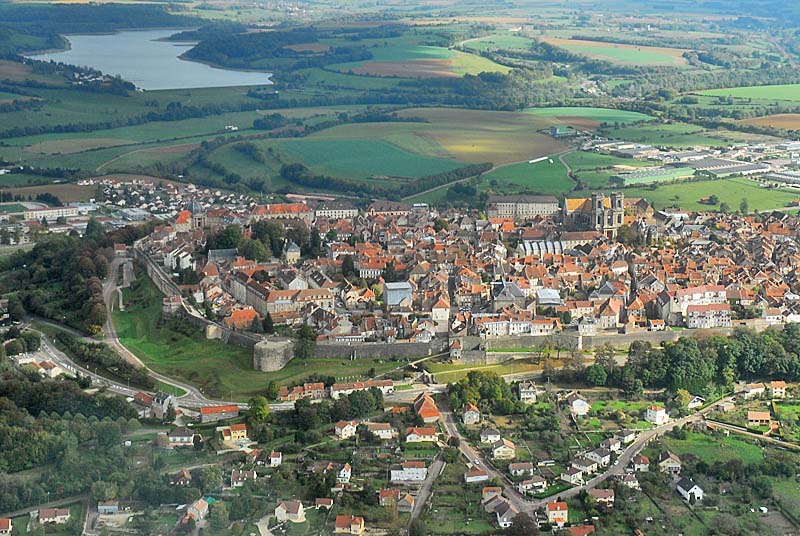 Langres as you would see it if you were flying over. Stunning, right? © Jean-François Feutrie
And here's a map of Langres and the Haute-Marne around it, so you can see just how far off the beaten path it actually is. 
Map of the Haute-Marne
So yes, Langres may well be the prettiest French town you've never heard of, and I say this with some aplomb because I, too, was oblivious to it before visiting.
You can get to it by public transportation, but not easily, so it's not one of the simpler day trips from Paris by train. BUT – you can drive here. It's about three hours from Paris, but what people often do is rent a car in one of the nearby cities, like Dijon or Nancy, and drive to Langres. (It's one of the few French towns where I've found plenty of free parking.)
In the words of Andrew Carnegie, "Anything worth having in life is worth working for."
You'll have to work to get to Langres, but it will be worth it.
How Langres survived the centuries
The fact that Langres is still standing more or less intact is a testament to its near-impregnable position 500m above ground on a well-protected promontory lined with the longest enclosed ramparts in Europe.
It has been inhabited for centuries, and was once the home of the Lingon people. A few scattered Gallo-Roman ruins point to the city's age, as well as its importance right into the Middle Ages. It was then a powerful bishopric, eventually becoming a royal fortress so yes, a solid regional power.
Some older ramparts were modernized, a citadel was built, and today, the total length of the walls is 13km, with a 3.5km sentry path around the town itself, 12 towers and 7 gates, from which the panorama unfurls far into the distance.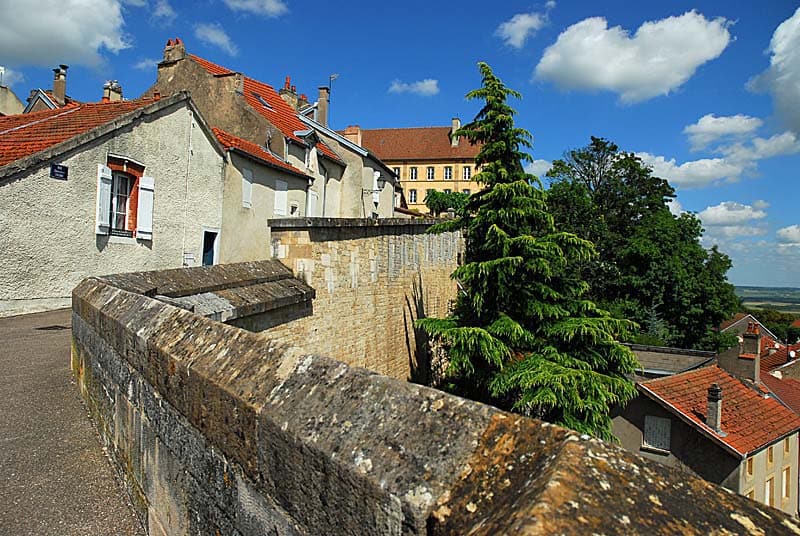 The town of Langres and the land beyond as seen from the town ramparts ©Jean-François Feutriez
Often, during wars, invaders destroy what they capture and the next wave builds on top of the ruins, hiding or eliminating what was left. This never happened in Langres for one simple reason: no one ever captured it.

In fact, they hardly even tried.
A few brave souls certainly thought about storming the town, but common sense prevailed. One look up and they changed their minds.
In 1592, the Duc de Lorraine, keen to subdue and annex Langres, mounted a small nighttime expedition to sneak an explosive into town at dusk. But a villager noticed the unusual movement and gave the alert, so the pseudo-invaders escaped and each May, on or around the almost-invasion's anniversary, the event is celebrated in Langres as a victory.
More recently, during the Franco-Prussian War of 1870, the Prussians were ordered to take the town and marched right up to its base: they looked up, shook their heads, and returned to camp, smart enough to know the cost of attack would not be worth the victory.
THE LEGEND OF LANGRES
Legend has it that if the Prussians witheld their attack, it was due to the many Langrois who prayed to Mary for protection. It is said that on the eve of the attack, which was on the 14th of the month, special lights danced in the sky. For several months, odd things would happen on the 14th, so the town came to believe it enjoyed divine protection and built a chapel in thanks.
The town's defenses have protected Langres not only from invaders but from change, preserving its authenticity and maintaining its character. 
Langres video: getting a sense of the city's soul
7 Things to do in Langres, Haute-Marne
As I mentioned, this is an offbeat destination. You won't trip over it – you need to actually seek it out. But make the effort and you'll be amply rewarded.
Away from the hordes it may be, but two notables were born here.
The first was the Age of Enlightenment philosopher Denis Diderot (1713-1784), whose name you'll find all over town, from his statue on (of course) Place Diderot, at the top of the Rue Diderot, paces from the Collège Diderot and not far from the Diderot bakery and the Diderot stationery store... you get the picture. But more about him in a minute.
The other notable was the missionary nurse Jeanne Mance, a name that will be familiar to Montrealers, where she co-founded the Hotel-Dieu, one of North America's first hospitals. As you'll see, the town pays homage to both.
Off the beaten path it may be, but there are a surprising number of things to do in Langres! Here are my top seven.
1. Walk the city ramparts
Given that Langres is Europe's largest entirely walled city, walking the ramparts is the obvious thing to do. Or biking them. Anything but driving, which isn't allowed.
It's a wonderful walk, with a giant open view in all directions.
The views stretch out into the distance, over the lakes that surround the town or towards the rolling, forested countryside. To the south, on an impeccably clear day, you can see the Mont-Blanc, a four-hour drive away. You can also see the Vosges Mountains in the other direction, but that's a bit easier than spotting the Mont-Blanc.
Whichever way you look over the ramparts of Langres, you'll have an expansive view. Here, the ramparts to the west of town ©Angélique Roze
Langres wasn't always a walled city – in Roman times, it was an open town allied to Caesar, with the first ramparts only built in the 3rd century, when Rome's power was waning and the "barbarians" were at the gates. Sadly, many Gallo-Roman monuments were destroyed during that time.
Over the years, the military fortifications were modernized and extended, but the original ones circling the city remain, its 3.5km of rounds a delight to follow.
The walls also contain an intriguing anomaly – a first-century Gallo-Roman gate (one of many Roman ruins in France) which was still in use in medieval times but has since been walled up and incorporated into the city walls.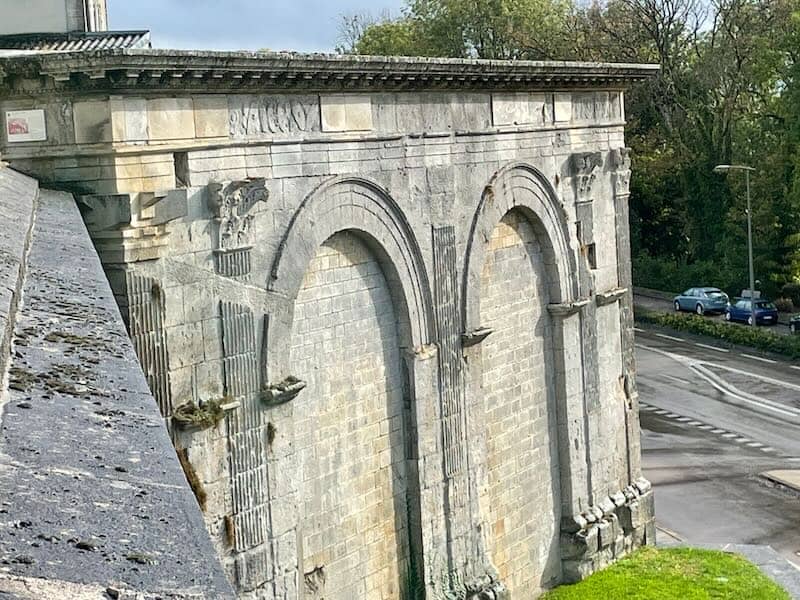 Tour de Navarre
Along the ramparts, stop by the tour de Navarre, a 20m round Renaissance structure with walls that are 7m thick (23ft). It was designed to impress the enemy, and it did. There's no other tower like it in France.
During the building, it was discovered that the tower was too low to avoid eventual enemy attack, so it was raised by 2.5 meters. But this now meant canons couldn't be rolled in from the ramparts – and so the Tour d'Orval was built next door, with a spiral ramp that allowed weaponry to be moved around.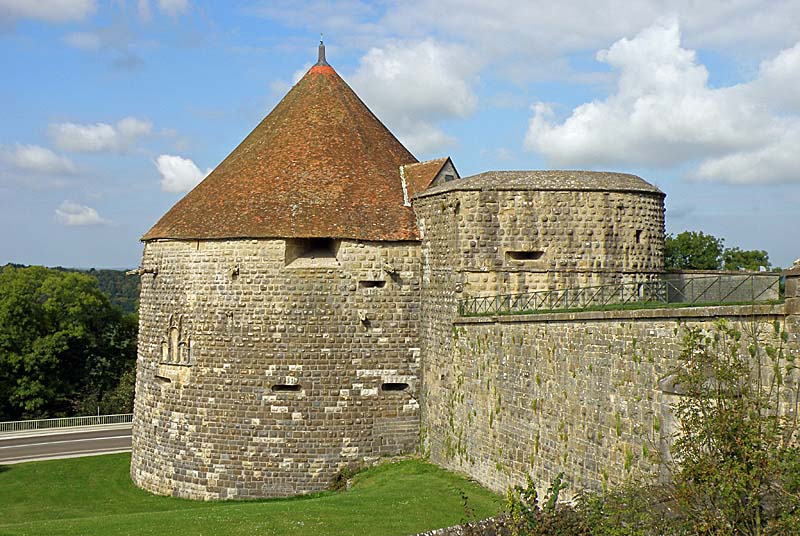 The Tour de Navarre (left) with the tour d'Orval addition ©OT Pays de Langres - photo : ISCL
LABELS AND KUDOS
Langres has collected quite a few accolades for its size, and enjoys several labels of excellence (here is a list of France's major labels):
It has been named one of France's 50 prettiest cities by the French edition of Reader's Digest.
It is listed as a "Ville d'Art et d'Histoire", or Town of Art and History, a label which recognizes efforts to promote local culture and heritage.
The Maison des Lumières is labeled a "Maison des Illustres"; these are houses reflecting the life and work of major political or historical figures, in this case, Denis Diderot.
It has two "Musées de France", exceptional for its size; the label applies to museums considered of public interest by the Ministry of Culture.
It was voted most beautiful fortified city in an online poll.
2. Explore the city's nooks and crannies
Langres is an old town, made for meandering, down streets and lanes and over cobblestones. You'll find striking "hotels particuliers", or historical homes, and ancient schools and churches, all plunging you back centuries.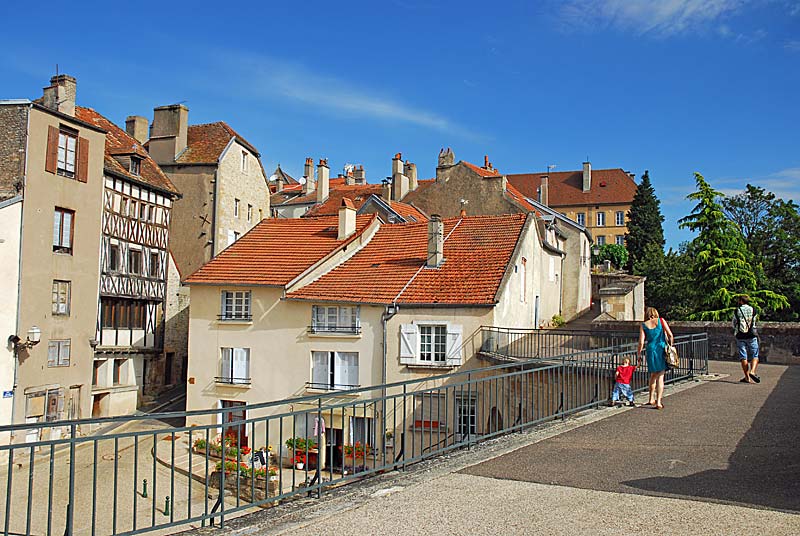 Old Langres - and even older Langres, in the bright light of summer, the best time to visit Langrres ©Jean-François Feutriez
Spot the tapestries in Saint-Mammès Cathedral
The 12th-century Cathédrale Saint-Mammès sits in the heart of what was once the ecclesiastical quarter of Langres, which covered a third of the town.
It has a peaceful feel when you enter, the distant echoes of long-muted Burgundian and Romanesque sounds tempered by the giant tapestries that cover some of its walls. 

The tapestries helped keep people warm during services by blocking the cold air stored in the thick stone walls. At a time of great illiteracy, they also told stories to those who couldn't read: each of the eight tapestries recounts a segment of the life of St Mammès.
One of the eight tapestries at the Saint-Mammès Cathedral in Langres ©OffbeatFrance
Langres is a stop along both the Camino and the Via Francigena, and one day a pilgrim brought back a bone of St Mammès, a third-century child martyr, which became a relic. The Langres Diocese was an important one at the time, whose bishopric included the city of Dijon.

Like many such buildings in France, the cathedral bridges a number of periods, the latest additions being the 18th-century western façade and the stunning 19th-century varnished tile roof, Burgundian style.
Remember we are next to Burgundy, so it's not surprising to see the polychrome tiled roofs - this belongs to the Saint-Mammès Cathedral in Langres. Clément Huvig, CC BY 3.0, via Wikimedia Commons
Visit the Maison Renaissance
This 16th-century building was once a private house but is now the seat of the Langres Historical Society. It can be visited during the summer in the afternoon most days, and is typical of some of the architecture found in Langres.
Its various rooms and underground kitchen and cisterns provide a glimpse into how people lived at the time.
The Maison Renaissance ©Jean-François Feutriez
Stop by the kiosk
In summer, fanfares and plays take place here but in earlier times, the pond that sits next to this gazebo was a baptismal font, where both Diderot and Jeanne Mance were baptized.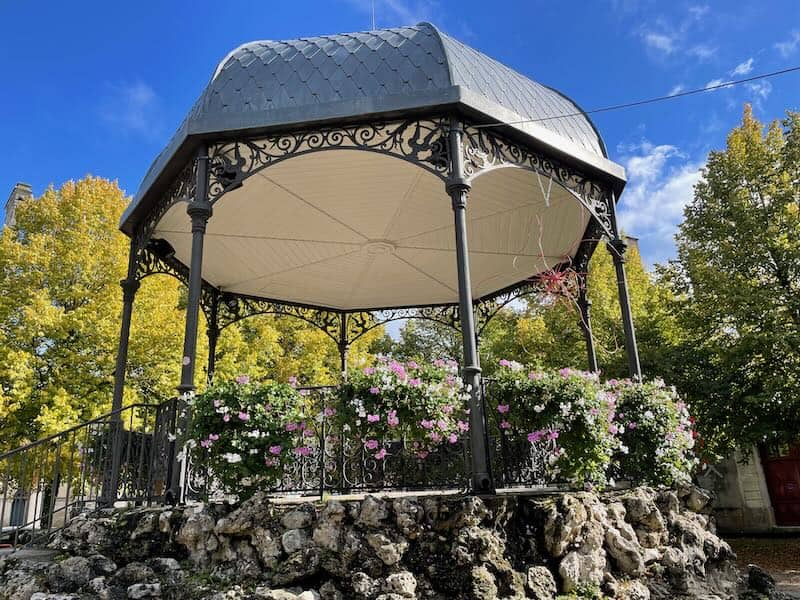 The kiosk at Square Henryot ©OffbeatFrance
3. Spot the chapel in the Museum of Art and History
This contemporary museum was built in true preservation fashion: around a 12th-century chapel, the oldest in Langres. Even older is its preserved Bacchus mosaic, which graces the floor of what was once a Roman domus, or house, and a marble statue of a Roman emperor.
The museum, like Langres itself, houses a collection that runs through the ages, from Prehistory forward. It's an eclectic museum, made up mostly of donations of decorative arts, paintings and interesting old photographs.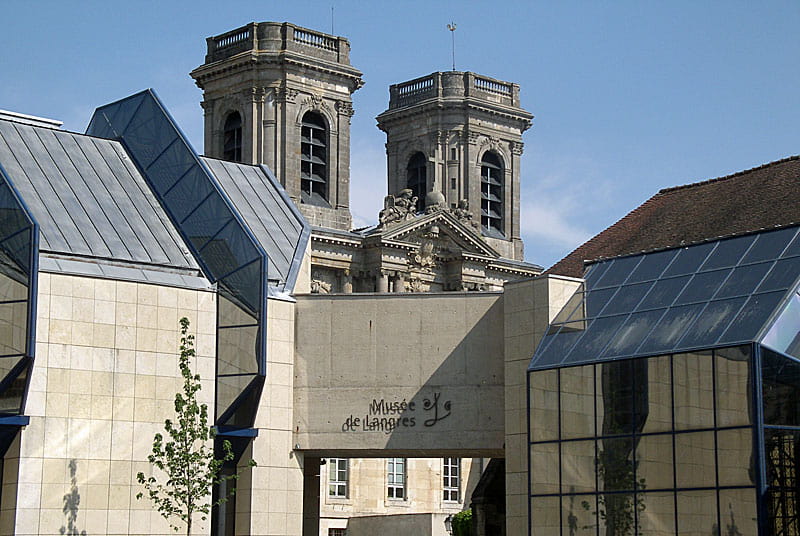 Langres art and history museum: see how it's been built around the chapel? ©Musées de Langres
4. Pay your respects to Denis Diderot and the Enlightenment
Wherever you turn in Langres, you'll be staring at Diderot's name – it is everywhere, on squares and streets, bakeries and stationers. He is clearly the town's most famous native.
WHO WAS DENIS DIDEROT? 
The young man (1713-1784) from Langres wasn't particularly predestined to great things. He studied this and that, dabbled in religion, and eventually found himself translating for a living – including works from England that were significantly less conservative than their French counterparts.
He was approached to translate a two-volume "Cyclopaedia" from England that dealt with arts and sciences. He got to work, in partnership with the mathematician Jean d'Alembert, but the two men would eventually veer far from their original mandate, creating a massive ode to rationalism that covered much of the knowledge available in those days, a sort of anthology of human progress.
Gathering a team around them, the authors faced ridicule, censorship, and even imprisonment for a short while, but the work continued. He would go on to write prolifically but few of his writings would have as much influence as his 28-volume Encyclopédie, the so-called "Bible of the Enlightenment" – a strange moniker for such an anti-clerical work. You can read more about Diderot in The Art of Thinking Freely.
Diderot's statue
The statue of Diderot (designed by none other than Bertholdi, of Statue of Liberty fame) was erected in 1884, at a time when Langres was highly religious, hosting nine different religious communities within its walls.
The statue created quite a stir when it was erected. First, Diderot was renowned for his anti-clerical beliefs, so unveiling a statue in his honor caused plenty of ink to run in the local press, with vehement arguments both in favor and against.
But to add insult to injury, Diderot was facing away from the cathedral and the religious part of town, physically turning his back on them, so to speak.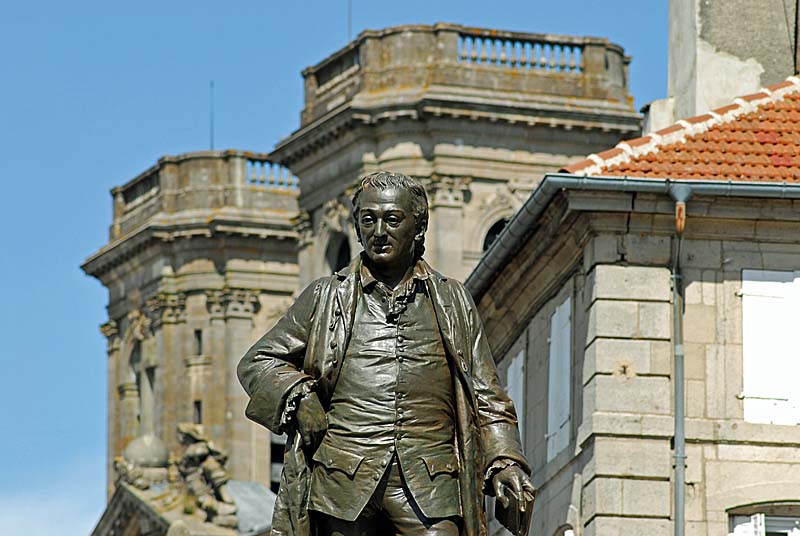 Clearly turning his back on the church! ©Jean-François Feutriez
Diderot's birth house
Just across from the statue is the house where he was born (there's a plaque on one of the houses, but it is placed on the house where he grew up – he was in fact born next door, in the house with green shutters).
He and his family lived upstairs, and his father's knife boutique, as was the custom in those days, was on the ground floor. Langres was very much a knife-making center at the time, but would eventually lose this specialty in favor of nearby Nogent.
The house where Denis Diderot was born ©Jean-François Feutriez
The Maison des Lumières
A highlight of any visit to Langres is the new Maison des Lumières, the only museum in France dedicated to native son Denis Diderot.
A set of his Encyclopédie is displayed in the museum, a sobering thought when you realize that at the time of publication, it gathered all the knowledge available at the time. The Encyclopedia was alphabetical, with illustrations of the various entries, everything from birds to botany. It also provided bylines for each article, and presented mechanical arts and handicrafts, a novelty at the time.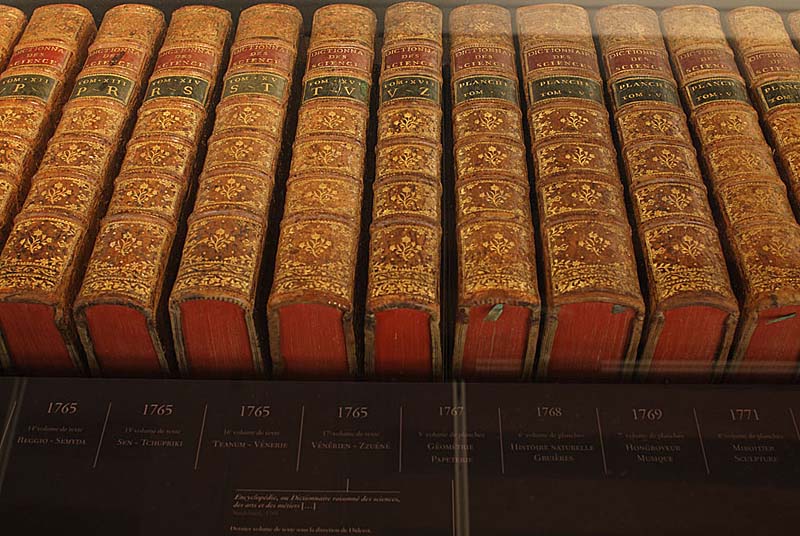 A copy of the original Encyclopedia in the Maison des Lumières in Langres ©BasaltArchitecture, photographer Daniel Moulinet
As a thinker, Diderot embodied the Age of Enlightenment, a time of reason which questioned the status quo, including royalty and religion, and he was a controversial figure.

This fantastic museum contains objects that belonged to him and his entourage, as well as items that in some way influenced him. 
5. Sample Langres cheese
Langres is an AOC-labeled cheese with a reputation for strength and smelliness, so much so that I hesitated a while before trying it.
I shouldn't have! It's a bit strong, yes, but nothing like I'd been led to believe. Delicious, in fact (although I might not pack it into my car on a hot day).
Not only is the mature and soft taste different, but so is the look, with its wrinkles and a dip on top.
It is said that the cheese might date back as far as the 12th century but no one knows for sure.
Sample it in Langres and then decide.
6. Stay in France's oldest hotel
The Hotel de la Poste is a small hotel and yes, it has changed over the centuries but plenty of the old remains, for example the tiled floors. It's a small provincial hotel and it won't be hard to conjure up an image of horses tied up in front and carriages dropping off their dignitaries.
Its first mention as a hotel was in 1588...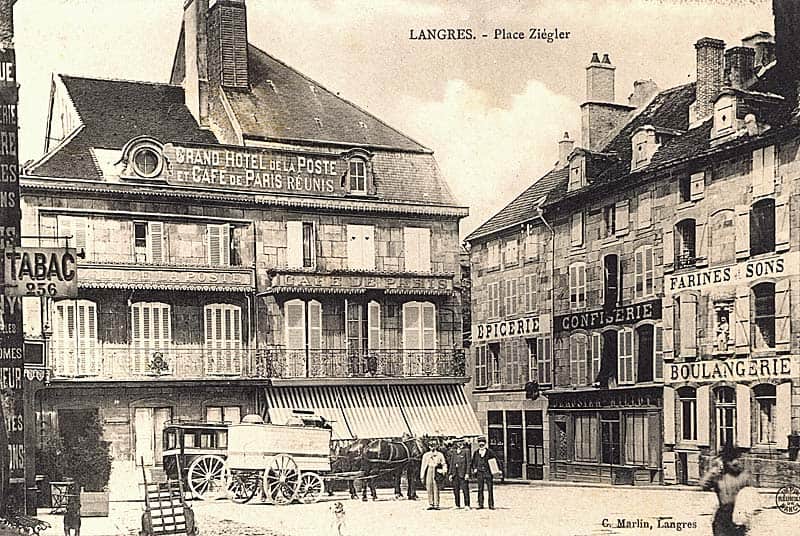 Then... (©Collection Gisèle Peter)
...and now. ©OffbeatFrance
7. Luxuriate in nature
Not only is Langres a historical jewel, but it is one set in a pristine and delightful environment with 500 km of hiking trails.
Beyond the hiking are 1000 km of cycling circuits, which include 33 loops that go through Langres but also the towpath of the "Between Champagne and Bourgogne" canal which crosses the Haute-Marne.
If all you want is a pleasant stroll in the countryside, Langres has a "Voie Verte", or Green Way, which was once a railway line and is now a pedestrian path leading into nature.
The Pays de Langres (or Langres countryside) has four nearby lakes with plenty of water fun and extraordinary views. One of them, the Lac de la Liez, is easily visible from the ramparts. In addition to water sports, these lakes are great for fishing and birdwatching.
And finally, just 15 minutes away, the Parc National de Forêts is the only one in France fully dedicated to forests and their inhabitants.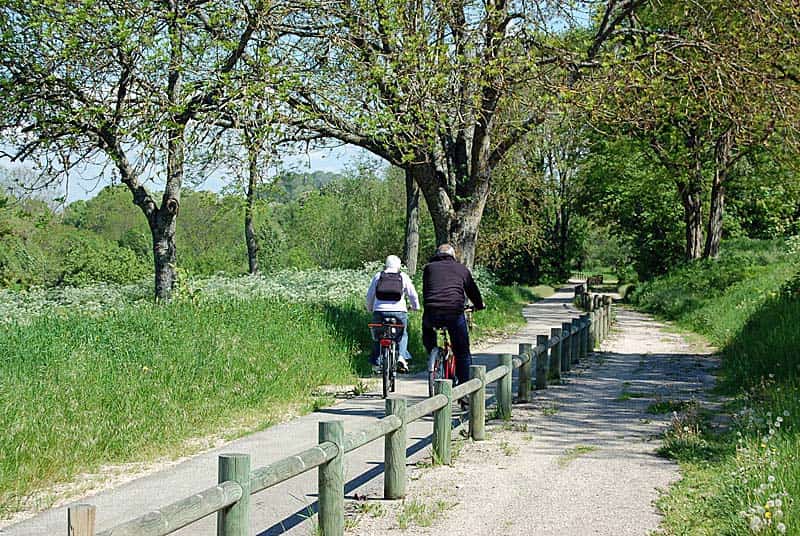 Biking along the Voie Verte in Langres ©Angélique Roze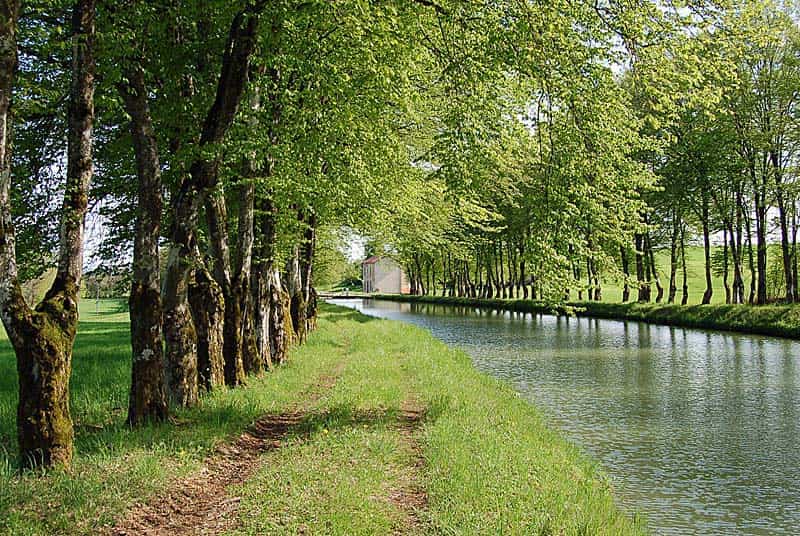 Canal between Champagne and Bourgogne ©Gérard Féron
Places to stay and hotels in Langres
Because a visit to Langres requires a bit of planning, I suggest you spend at least one night in town, and then take one of the day trips I suggest below.
I thoroughly enjoyed my stay at the Hotel de la Poste, because of the hotel itself, but also because of the history behind it.
Another wonderful choice is the Belvédère des Remparts, within the walls and with a panoramic view.
If you're a pilgrim traveling along the Camino or the Via Francigena, you may be able to stay at the Langres pilgrim accommodation, L'Abri du Pèlerin, in the heart of the old town.
As I mentioned earlier, getting to Langres on public transport is complicated so if you plan on visiting, you're better off with a car, which you can rent in one of the larger nearby cities. Here's where you can check prices and availability.
Day trips from Langres
If you want to wander beyond Langres, you will need to jump behind the wheel to see some of the stunning sights within driving distance.
Chateau de Cirey
If you're fascinated by French history, then you must visit the Château de Cirey, just over an hour from Langres. It's a private château and very much lived in, but the owners organize daily tours in summer.
Voltaire lived here with his mistress (who was married to someone else) for 15 years, and his stamp is everywhere. As was once the fashion, he built a private theater, one of the few remaining in France.
Colombey-les-Deux-Eglises
Once you've visited with Voltaire, you can fast forward to the 20th century to General de Gaulle's former home in Colombey-les-Deux Eglises 15 minutes away.
You can visit his house, of course, but don't miss the giant memorial cross and fascinating museum that celebrates the World War II hero. 
The village also has some great eateries so combined with Voltaire's old home, this is the perfect day trip from Langres for lovers of history.
Cutlery heartland of Nogent
Langres was once a center of blade-making in France (Diderot's own father was a master cutler).
But the trade moved off to nearby Nogent, 20 minutes away, where a fascinating knife museum showcases the work of exquisite artisans in cutlery, scissor-making and medical-surgical instruments. 
Visit the cities of Troyes and Nancy nearby
If you're keen on visiting a larger city, Langres is equidistant from two which are well worth visiting, either as day trips or as the next stop in your journey.
To the west of Langres is Troyes, with its tiny cobblestoned streets and half-timbered medieval houses, and to the east, the city of Nancy is a jewel of Art Nouveau style.
So yes, Langres may be a bit of a mystery for many visitors to France, but the beauty of this country is that no matter how many times you visit, you will find new and offbeat places to discover.
Photo credit header image: ©Benoit Gallien
Did you enjoy this article? I'd love if you shared it!