Pages on this site may contain affiliate links, which bring in a small commission at no cost to you.
The Haute-Marne, in Eastern France, a land shared by Diderot, Voltaire, De Gaulle...
If I call these things to do in the Haute-Marne "unexpected", it's because I had no preconceived ideas whatsoever before visiting this lesser known French département, number 52.
And if I were to be fully honest, I'd fess up to not even knowing exactly where the Haute-Marne was (somewhere in the northeast!) until I looked it up on a map.
And that's the beauty of it: because many foreign visitors have never heard of it, many of the crowds will be blissfully absent, but parts of this department are ready for your discovery.
COMING TO FRANCE? THESE RESOURCES CAN HELP!
🏨 Accommodation - I rent hotels through booking.com
🚘 Car rentals - I use Discovercars, Europe's best car rental website
🚊 Train tickets - I book my train and bus tickets on Trainline
🚌 Day tours - I take day tours with Viator and GetYourGuide
To pinpoint the Haute-Marne's whereabouts, it lies to the east of Paris and to the north of Dijon. In fact, it's right on the edge of the region that produces Champagne: it produces a modest amount of Champagne itself, hence its nickname, the "other Champagne".

In the spirit of always seeking the "offbeat" in France, it doesn't get much more offbeat than this. 

Part of the beauty of France is its whimsy and diversity, its ability to surprise us with the unexpected.
Like these nine things in the Haute-Marne.
1. Pay your respects to General Charles de Gaulle 

If you ask someone to name France's greatest leaders (or its most famous ones), that list will probably include Louis XIV, Napoleon, and… Charles de Gaulle, who led the French to freedom during World War II.
Certainly, growing up, these were the names I heard whispered around my home when my mother talked about "the past".
He moved around plenty throughout his life − he was, after all, a military man. But in 1934 he bought La Boisserie, a modest country home in Colombey-les-Deux-Eglises, a typical village in the Haute-Marne. It had no running water and little electricity at the time, but was exactly what he was looking for: a quiet family refuge where his children − especially Anne, who had Down's Syndrome − could flourish.
He may have moved often, but he always returned here, as often as every other weekend, to enjoy the countryside and take long forest walks that would feed his creativity.
Why Colombey? Probably because it was about halfway between Paris and Strasbourg, near the German border, where senior military officers could expect to be stationed. 
While de Gaulle lived here, he was part of village life, attending church on Sundays and appearing at local celebrations. Despite his fame, a mutual respect allowed him to live his life calmly and discreetly.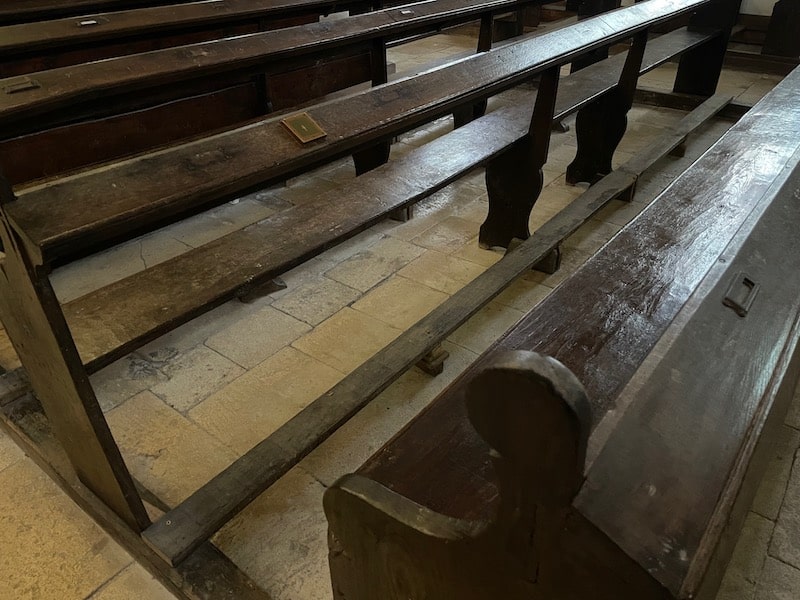 General de Gaulle and his wife lived a modest life in Colombey-les-Deux-Eglises. When they were in residence, they would attend Mass on Sundays and sit in their own pew - it came with the house.
Before he died, he wrote a will which included a request to be buried in the local village cemetery, modestly and without fanfare, along with his daughter Anne, who had Down's syndrome and died prematurely at 20. 
Anne de Gaulle is buried in the left-hand side of the grave, while the General and his wife are buried on the right
Upon his death, a huge Cross of Lorraine was built nearby, 44m high.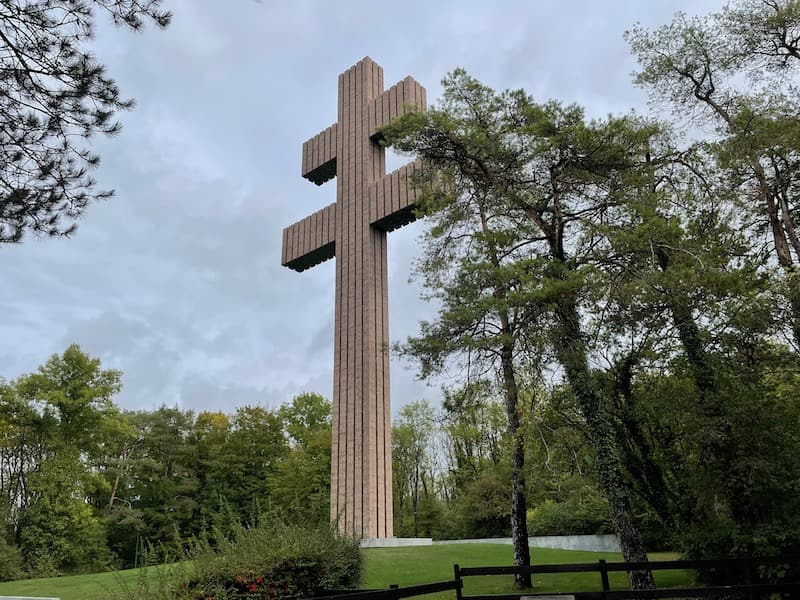 Top: the Lorraine Cross at the de Gaulle Memorial; bottom: the upper entrance to the museum
Below the Lorraine Cross is a museum dedicated to General de Gaulle, which traces his entire life and while it of course recounts his political trajectory, it doesn't neglect the man himself. Everything from posters to films to artefacts dating from his time as a military man are displayed in an area so vast you'll need at least two hours to see it all.
2. Eat in the world's cheapest Michelin-starred restaurant

Those of us who identify as foodies know just how expensive a meal in a Michelin-starred restaurant can cost, and eating in one is not an everyday experience.
But I know of at least one for which you won't need to take out a second mortgage: as soon as you've finished visiting La Boisserie, walk into the center of Colombey-les-Deux-Eglises towards the Hostellerie la Montagne and its restaurant, Chez Natali.
Chez Natali was named the world's least expensive Michelin restaurant in 2021, and a glance at their menu will confirm its affordability. A daily special, all three courses, for what you'd pay in any decent restaurant in France, without star.
Chef Jean-Baptiste got his Michelin star in 2002, the youngest chef to ever achieve this, so plenty of superlatives for this lovely set of three restaurant rooms in the shadow of de Gaulle's Memorial.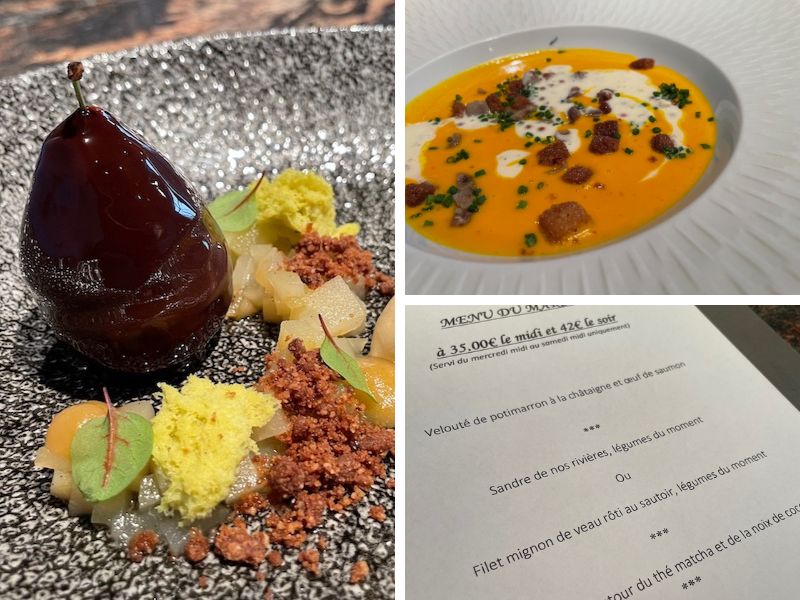 That roast pumpkin soup is possibly the best I've eaten; on the left, a complex and stunning pear-shaped invention
3. Taste a "perfumed" Langres cheese
It may not be on the menu at Chez Natali, but don't let that stop you from tasting one of the best local cheeses while you're in the Haute-Marne.
It's called Langres, like the city from which it comes, and locals tell me their cheese is "close to Epoisses". If you've ever tasted Epoisses, you'll know it belongs in the category of "stinky cheese you should never carry in your car".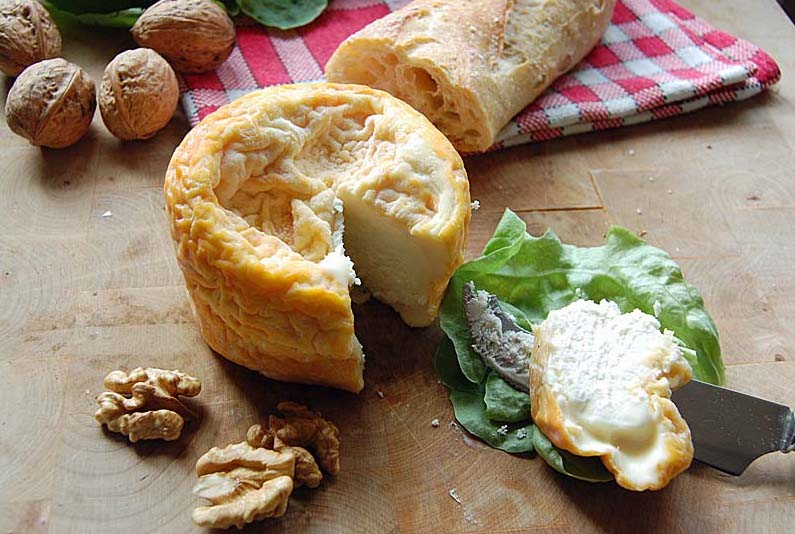 Characteristic creamy cheese from Langres. Photo Angélique Roze
Having tasted Langres cheese several times, I don't think it's anything like Epoisses. It's far creamier, and while perfumed, I would not consider it stinky. If you've familiar with Brillat-Savarin, you might discern a similarity in their aroma and texture (although many will disagree with me).
But then, who knows whether my taste and smell have fully recovered from my brush with Covid a few months ago…
DON'T FORGET YOUR TRAVEL INSURANCE FOR FRANCE!
Safetywing covers COVID-19 and most things until the age of 69. If that birthday has come and gone, click here for travel insurance that covers you at any age.
4. Explore Langres, one of France's 50 prettiest towns 

The walled town of Langres was built for defense, and its impressive ramparts remain intact, ringing the town, unbroken. 
On weekends, entire families use them to stroll or cycle, and the views in every direction are gigantic and stunning. As I walked along them, I bumped into children running − their gym class used it as a race track because schools within the walls, predictably, are limited by space.
Langres was threatened several times in its history, but it was never attacked, burned, or pillaged. There are stories of armies approaching, for example during the Franco-Prussian War, looking at the 400 meters uphill, and wisely deciding to retreat. For centuries, when wars were fought exclusively on the ground, Langres remained impregnable.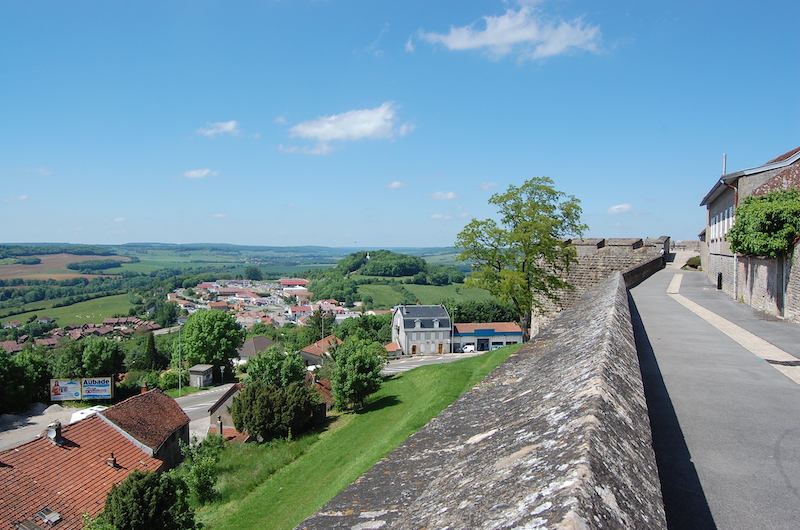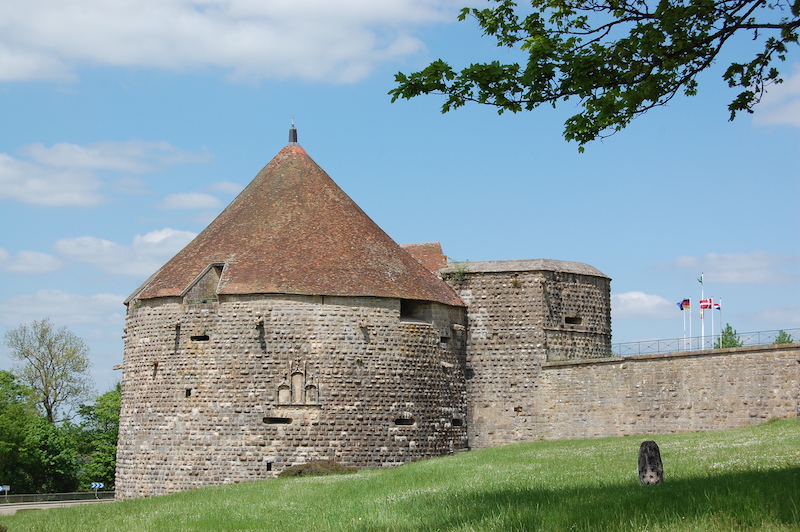 Two different views of Langres, the ramparts and the Tour de Navarre. Photos Angélique Roze
What's inside the city hasn't changed much. Its 3 km of walls date back anywhere between the 3rd and the 13th centuries. Its ramparts are protected as national monuments, and there are plenty of restrictions to building and encroachment, guaranteeing the town will retain its part-medieval feel.
5. Sleep in the oldest hotel in France

Having explored Langres on foot (or by bike), you'll need to rest. How about spending the night in France's oldest hotel?
There's documented evidence that this was a hotel as far back as 1588, although it's name evolved over the years − Hotel du Loup (Wolf Hotel), Hotel de Bourgogne (Burgundy), Hotel de la Poste et aux Chevaux (Post and Horse) and, finally in 1872, the name it carries today, Hotel de la Poste.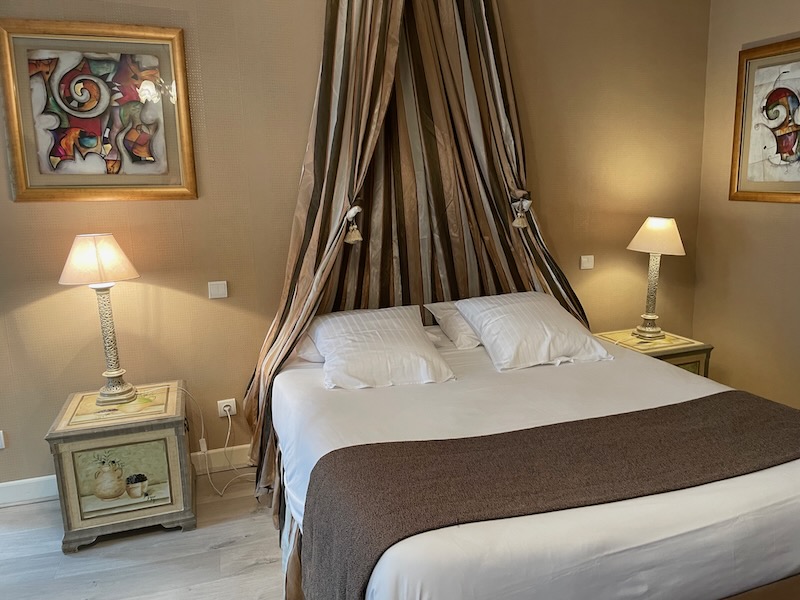 I had hoped there wouldn't be too much renovation, and I wasn't disappointed. Obviously things changed over half a millennium, but not that much. The hotel had all the conveniences, yet there was an aura of history in the room, up and down the wood stairs, and along the floor tiles and wall fittings.

The rear of the hotel of course has been transformed. These days, a parking lot and pool stand where stables once housed horses along France's early postal routes, but no matter: the façade of the hotel is pretty much what it used to be, minus electricity, and the soul of that early hospitality remains.
Why not book your own night steeped in history at the Hotel de la Poste?
6. Study the Age of Enlightenment with Diderot

If Langres has a patron intellectual figure, that would be Denis Diderot, luminary of the Age of Enlightenment and co-editor (with Jean le Rond d'Alembert) of the "Encyclopedia, or a Systematic Dictionary of the Sciences, Arts, and Crafts". Not quite the snappy title, but then, its mission was anything but modest: to gather all the knowledge in existence at the time, to inform present and future generations.
Diderot's idea was to democratize knowledge so that all classes would have access to it. The original 17 volumes included texts by more than 200 writers, all of them men, with the exception of one (anonymous) contribution by a woman.
You can see (but not touch) an original of the Encyclopedia at the Maison des Lumières in Langres, the world's only museum dedicated to Diderot, who was born in Langres and lived here until the age of 15, returning often throughout his life.
Diderot was famous for more than the Encyclopedia, however, and would also be remembered for his opposition to many of society's accepted beliefs, from religion to the monarchy, beliefs that would often get him into trouble. 
Like most students in the French school system, I studied Diderot, but the years have frittered away my knowledge. To dust off your own memories, I suggest you read the excellent biography entitled Diderot and the Art of Thinking Freely, which beautifully details this brilliant personage.
The Maison des Lumières is housed in a wonderful manor house built between the 16th and 18th centuries and covers not only Diderot, but his relationship to the Enlightenment, and all its advances − every known bird, for example, or tools like the sextant or a mechanical solar system in use in those days.
Diderot is also honored by a statue in the center of Langres designed by none other than Bartholdi, of Statue of Liberty fame.
7. Discover Nogent's pre-industrial past

The city of Langres used to be one of France's main centers of knife-making, and corporations were formed to protect the trade from outside competition.
By the 18th century, there were some 30 master cutlers in the town, specializing in luxury knives.
But then a series of laws eliminated corporations and the trade began to wane. Combined with excessive taxes, a lack of water, and an ecclesiastic edict banning noise from the forges within the town walls, the craftsmen began leaving Langres.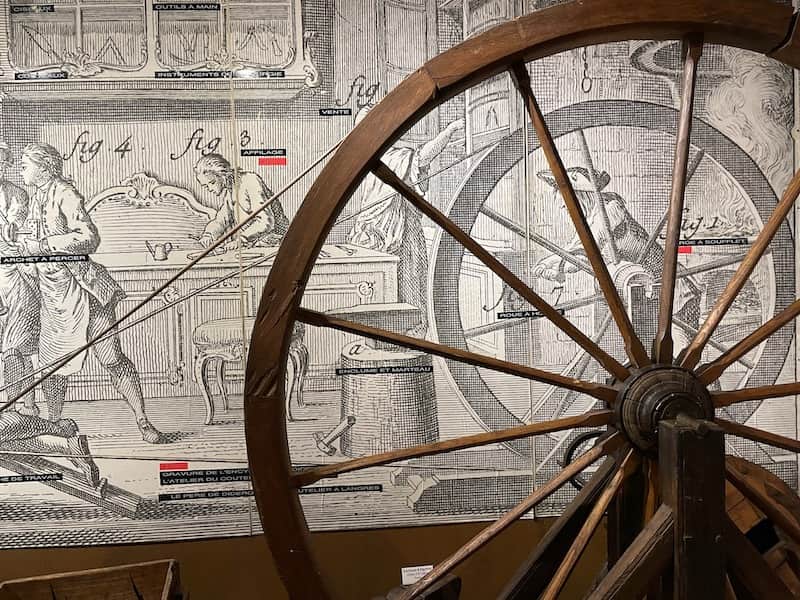 Making knives was a complicated process and to recreate this machine, historians copied it from Diderot's Encyclopedia
The museum contains more than cutlery - like these finely carved scissor handles
Nogent, about 25 minutes away, had everything Langres did not: a fuel source (forests), a river, and a welcoming environment. By the 19th century, some 6000 individuals worked in Nogent making knives. Many worked from home, and supplemented their income by farming.
As for Langres, it didn't discard its knife industry − it simply shifted from manufacturing them to reselling.

Many of the knives from Nogent were sold to select Parisian houses who insisted on stamping their own name on them, adding "in the style of Nogent". This reduced Nogent's  prestige, in a way usurping the knowledge and skill and repackaging it, much as white labeling is done today. It would take until the Universal Expositions of 1889 and 1900 for Nogent's work to be formally recognized.
Today, machines and mechanization play a large role in making knives, but much of the craft and artistry is displayed in the Museum of Cutlery (website in French), right next to the town hall, filled with fascinating examples of knives, scissors, and all types of cutting objects made throughout history, some so artfully that they look more like lace than tools.
HOW DO YOU GET AROUND TO ALL THESE PLACES IN THE HAUTE-MARNE?
You can reach the town of Langres by train, but most visitors to the Haute-Marne come by car because once you've visited Langres, you might want to see some of the other sights - and you'll have to drive. I love train travel in France but in this case, I couldn't have seen what I did without a car. If you don't have a car, you can rent one easily by comparing prices here.
8. Visit Voltaire's not-so-hidden love nest

Sometimes a hidden love nest isn't quite hidden: Voltaire didn't try to hide his affair with mathematician Émilie de Châtelet, nor did he have to. He fell in love, moved in, and befriended Emilie's husband, then a military man stationed in Semur-en-Auxois, further south in Burgundy. Emilie's husband knew about the affair but didn't seem to mind, even allowing Voltaire to enlarge and embellish his château.
A white iron gate leads to the Château de Cirey from the center of the village of Cirey-sur-Blaise, 80 km north of Langres and 15 minutes from de Gaulle's home.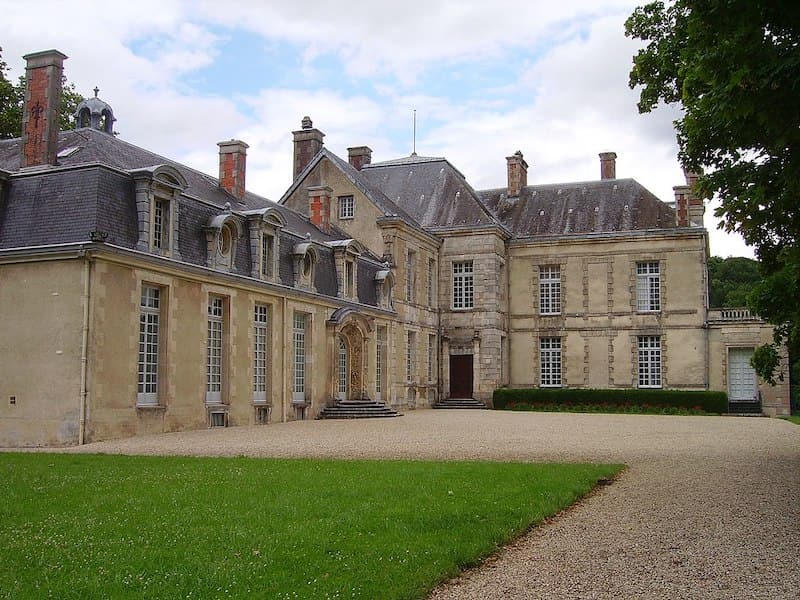 This is the front of the château if I remember correctly! (Photo by Aetius520, CC BY-SA 3.0, via Wikimedia Commons)
Voltaire hadn't exactly planned to live here but, ever the rebel, he was about to be arrested when he ran into Emilie at a wedding, told her his sad story, and promptly accepted her hospitality.
His 15-year affair with Emilie de Châtelet was possibly the greatest love (and intellectual) match of the 18th century. A brilliant polyglot, Emilie grew up with parents who recognized her intelligence and desire for learning and, rare in those years for a woman, encouraged it and made sure she had the best education possible.
She is best known for her translation of Newton's Principia Matematica, which she not only translated but annotated, explaining its complexities in a less arduous fashion.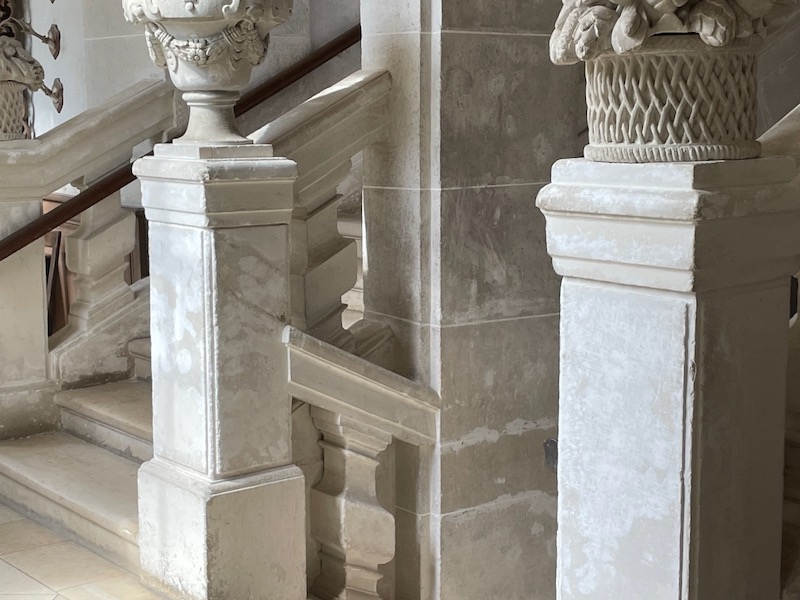 The majestic staircase of the Château de Cirey
Today's owner inherited Cirey from her great-great-grandfather, an industrialist from eastern France who bought it and began fixing it up. It may officially be a historical monument, but to the family who lives here, it is home.

The château is open to visitors during the summer so if you're coming this way, write to them and reserve because you can only visit with a guide.

9. Discover the foundry art of Hector Guimard

Despite its culture and the beauty of its gentle countryside, the Haute-Marne has a powerful industrial history, one in which local foundries blossomed into art.
Not only is the region the bedrock of France's metallurgical sector, but the development of art foundry gave the industry a different sheen.
All those wonderful cast iron subway entrances in Paris? They were made by Hector Guimard, a designer and architect who used the foundries of the Haute-Marne to cast his works, floating them down the Marne Canal towards either the Seine or the Rhine.
Apart from the Paris métro, some fine examples of Guimard's work can be seen in two unlikely places.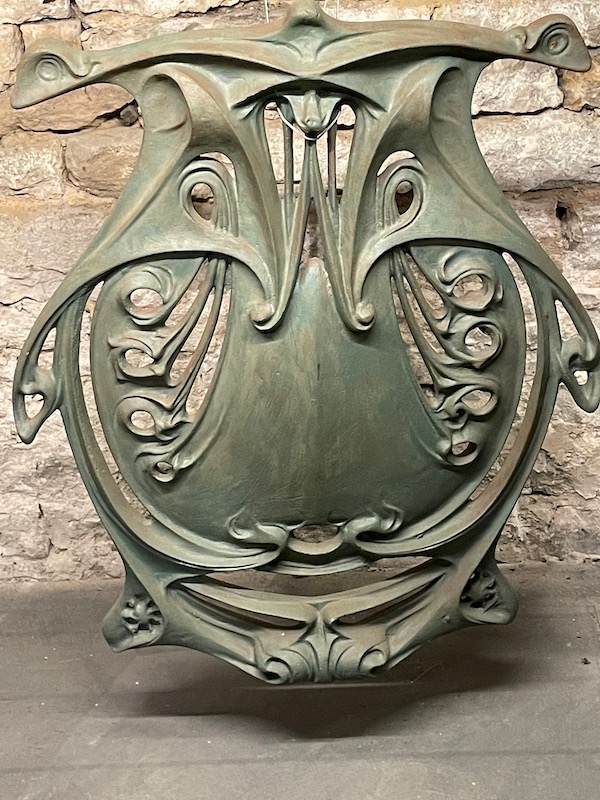 Guimard's work as exhibited at Metallurgic Park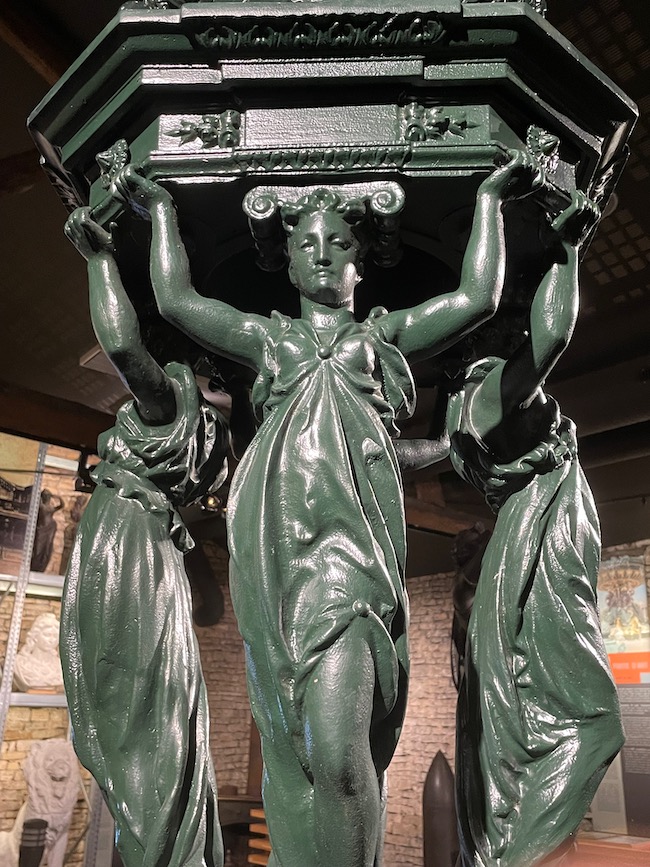 Wallace Fountain exhibited at Metallurgic Park
The first is Metallurgic Park, a former iron foundry which is now an exhibition space dedicated to showing how iron ore is melted into ingots and then melted again to be used for buildings or art.
It is only open in summer but if you're driving through this region, do stop by to see if it's open: in an annex to the main exhibit, you'll find pieces of art foundry. Guimard, of course, but also a few other pieces − a Wallace fountain, for example. (Here's their Facebook page.)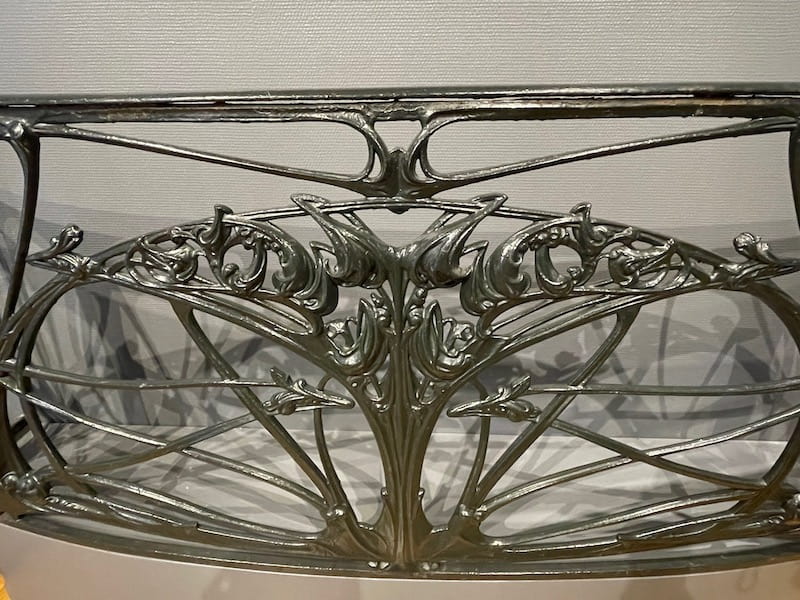 Part of the Guimard collection in Saint-Dizier
The second location for Guimard's work is almost as unlikely: the small, industrial town of Saint-Dizier, about an hour's drive from Langres. In a side street near the prefecture is a modest, eclectic museum which − lodged between its ornithology and paleohistory sections − houses an entire room dedicated to Guimard, the world's second-largest collection (the largest is in Houston, Texas).
There is another place to see Guimard's work in Saint-Dizier: on the street. You have to look hard, but here and there, you'll find window and balcony railings so characteristic of Art Nouveau.
If you peer carefully, you'll even be able to spy an entire building or two either by Guimard or very much in his style.
If you love Guimard's work, and Art Nouveau in general, this wonderful illustrated book, Hector Guimard: Art Nouveau to Modernism, will lift the veil on his life and provide excellent detail about his work - the Paris Métro, of course, but so much more than the capital's subway stations.
The beauty of the Haute-Marne, and of other less-visited departments, is that they tend to hide deep strains of culture that in better-known places have been "sanitized" to make them attractive to the greatest number of tourists.
Here, the "fame" − whether of Voltaire or Diderot or de Gaulle − remains authentic and accessible, far more about them than about us.
So yes, all this was unexpected, and in these days of mass travel, I appreciated the surprises.
Did you enjoy this article? I'd love if you shared it!