Are you fascinated by France? Curious about the French, about our foods and customs? Do you love our little perched villages and romantic chateaux?
My mission with Offbeat France is to give you outstanding content that explores France behind the scenes.
What does that mean? It means...
Offbeat places that fewer people visit

The backstories of the most popular places

History, culture, lifestyle... things that will put you "in the know"
If I've managed to intrigue you, to get you to say, "I didn't know that!" then I'll be doing what I set out to do.
I'd love to show you a France you might not otherwise see, and answer questions you might not even have thought of asking!
Another. site. about. France.
There are so many websites and blogs about France.
Many of them are generic, filled with top ten attractions that tell you not to miss the Eiffel Tower or the Père Lachaise Cemetery. Everyone visits Paris and some travelers even stay a few weeks – and then publish an ultimate guide to the city.
Yes, it happens.
I'm not saying I won't write about France's top attractions – of course I will!
But I'll also tell you WHY they're so special, when they became so, and to whom. You won't find any cookie-cutter descriptions here.
Whether you've been here a dozen times or you're planning your very first France visit, Offbeat France makes sure your takeaways are anything but superficial.
Because France is a bit like an onion... the more you peel, the more you find underneath.

I'm on a mission to peel that onion.
But there is a danger: 
Here at Offbeat France, you run the risk of scurrying down innumerable rabbit holes from which you'll emerge enlightened, wide-eyed and craving for more.

Offbeat France is about anecdotes, about history and unexplored corners, about the obscure and the unexpected. It's about my doing that extra bit of homework for you, like telling you what a day at the court of Louis XIV was like so you can prepare your visit to Versailles, or explaining the intrigues and legendary crimes that coloured the histories of the best Loire chateaux.
Please click around, enjoy the journey, or if you'd like some guidance, start here to get a bird's eye view.
Or, if you have questions, please don't hesitate to get in touch... I can't tell you about hotels or restaurants though − that's what Google is for).
In these pages you'll find plenty of answers to questions like these:
Do all French really eat frogs legs and snails?

Is it true no one in France speaks English?

Why don't the French tip? Or do they?

Are all Parisian rude?
I write in-depth stories (check here regularly to see what's new) and do it often − you never know when I might be gripped by a writing frenzy!
A few random facts about moi, your hostess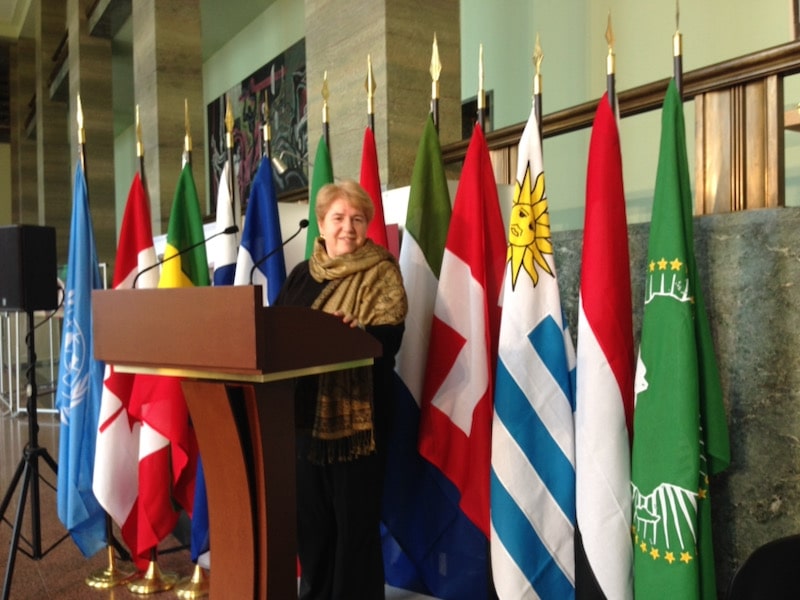 That's me in the photo, at the United Nations, in the job I had before dedicating myself to writing about France
I live in Eastern France near the Swiss border and have a dog, 6-8 cats (I'm never sure) and four chickens
I'm on a perpetual diet but I love the food of France (built-in failure)
I've visited 97 countries (I was headed towards 100 when... Covid...)
I'm a Taurean, and often too literal and direct
I love to laugh, although my sense of humor isn't appreciated by everyone
I'm a French history fanatic 
I'm writing a historical mystery novel set in the Renaissance
My favourite styles are Art Nouveau and Art Deco (yes, both)
I'm an extremely slow reader, which makes research quite time-consuming
I graduated from McGill University in Montreal (in person) and from Edith Cowan University in Perth (online)
I run another website called Women on the Road
I was born at a time when bobby socks and saddle shoes were all the rage across the pond, while in Paris, Juliette Greco was haunting the bars of the Quartier Latin
I love travel with no destination: I'll get in my car and take off without knowing where I'm going, or hop on a city bus to see where it takes me!
I get motion sick on most forms of transport, but that doesn't stop me from traveling
The one type of transport I won't use is seagoing ships − partly for the motion sickness but mostly because I'm a terrible swimmer, and being surrounded by a body of water is, how shall I say, terrifying!
If you liked this, please share it on social media!