Chenonceau Castle is often a favorite – it certainly is for me! Of the 20+ Loire chateaux I've visited in the past few years, this is near the top of the list. Read on and you'll see why.
One of the Renaissance's greatest love stories (and steamiest rivalries) was set in Chenonceau Castle, a 16th-century jewel and one of the best chateaux of Loire Valley.
Romantic, chic, delicate, sublime, feminine – just a few of the words used to describe this delightful château. Chenonceau France: a fairy tale.
So many sights that are exquisite in photographs disappoint in person; with Chenonceau it's the opposite. The more I explored, the more I fell in love with the château − and its curious history.
  NOTE: Pages on this site may contain affiliate links, which bring in a small commission at no cost to you.
Château de Chenonceau history: two remarkable ladies
A kiss worth a king
The era that concerns us is the early 16th century, and François I (Francis, King of France) is the monarch.
He was a lover of arts, a kingpin of the Renaissance, so determined to bring the best to his court that he invited none other than Leonardo da Vinci to come and stay. Leonardo obliged, and would spend the remainder of his days in France.
But Francis was also a warrior, and was dramatically defeated during the Italian wars at Pavia by Charles V, Holy Roman Emperor, King of Spain. That defeat would cost Francis his freedom, and without it, the two ladies of Chenonceau might never have been.
Captured and taken to Madrid, Francis eventually negotiated his release, but only in exchange for his two sons, aged six and eight, who would be held hostage in his stead.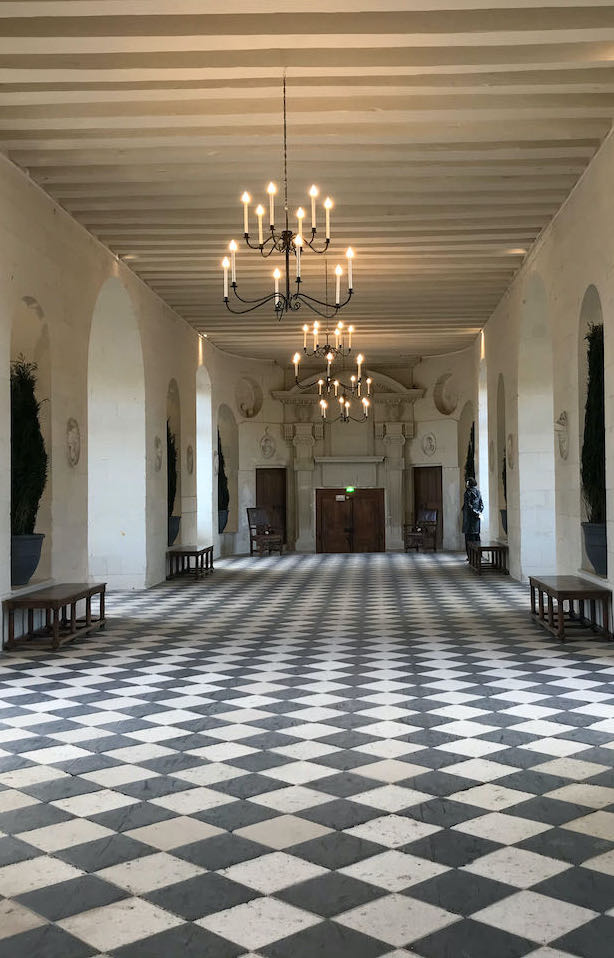 The gallery built by Catherine Medici at the Chateau de Chononceau, Loire Valley, France. She added the gallery but the original bridge was built by her rival, Diane de Poitiers
As the two little princes embarked into exile, legend has it that Diane de Poitiers, a member of the king's court, hugged Henri, the younger son, and kissed him on the forehead.

Terrified at his upcoming exile and undoubtedly angry at his father's hostage exchange, little Henri treasured  Diane's kind gesture and would never forget it.
When finally, after four years, the boys were returned to France, Henri would spent time with Diane, her husband and the rest of her family.
As Henri evolved towards adulthood, Diane even helped him choose a wife, the Tuscan-born Catherine de Medici (sometimes spelled with an apostrophe in English, as in Catherine de' Medici), a distant cousin of hers. He was 14 when he and Catherine married.
Meantime, Diane's husband died, and she would use her newfound freedom to create an unprecedented life for herself: she would begin a love affair with Henri (the youthful, married Henri) that would last a quarter of a century. Henri was 15, Diane was 35.
She would remain the love of his life, as well as a trusted political adviser (a role he would prevent his wife from playing). She may well have been the most powerful woman in France during her lifetime, and she was definitely Queen Catherine's most feared rival.
➽  Skip-the-line tickets for Chenonceau HERE.
The jewel goes to the rival
And now, the scene for Chenonceau was set.
When King Francis I died, his son Henri inherited the delightful chateau, which his wife had coveted for years. In a move that would wound and enrage her, he promptly turned the castle over to... his mistress, Diane, an affront the Queen would never forgive.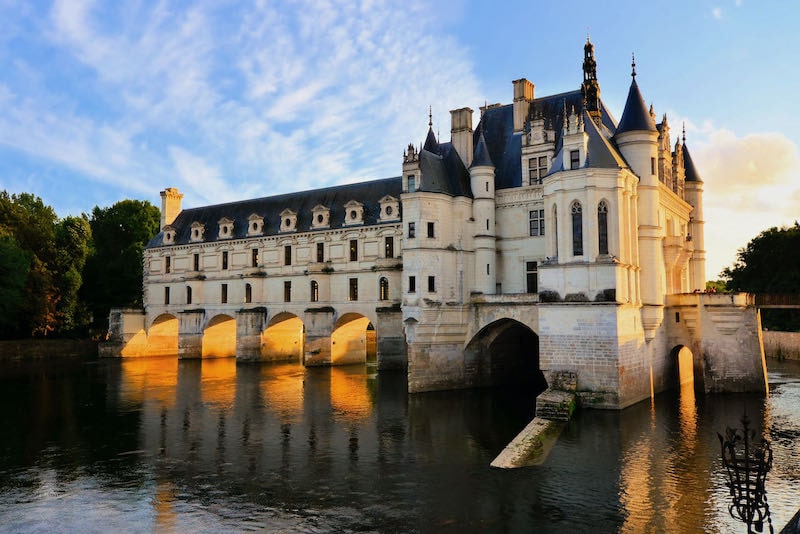 Despite their rivalry, at times the two women put aside their enmity for their greater good.
After her marriage to King Henry, Catherine seemed unable to bear children. There was gossip at court that the marriage would be dissolved and a younger and lovelier wife found for Henri.
This, Diane thought, would be catastrophic. She was in no mood to allow a new, beautiful wife to slip under her lover's sheets and turn him away from her.

So she and Queen Catherine of France conspired. Diane gave Catherine lessons in the art of lovemaking, and the lessons must have worked, because Catherine soon gave birth to a son, followed by nine other children.
Things calmed down at court and an uneasy truce developed between mistress and wife, spurts of jealousy alternating with periods of calm.
Queen Catherine loved Henri; she had fallen head over heels for him when they first met as teenagers and would go to great lengths to keep him – including "allowing" him to keep his mistress. By bearing the royal heirs, she did have leverage, which she would, as we shall see, use to the fullest.
Diane de Poitiers' reign
Diane was the perfect royal mistress, utterly charming and superbly intelligent, and those who knew her fully understood what the king saw in her.
She was an extraordinary businesswoman and never missed an opportunity to enrich herself or her family. She was rigorous with her money, but a budgetary whiz, multiplying her fortune many times over and keeping minute track of each expense.
She was also health-conscious and clean, unusual for women of her era. It is said she took ice baths in the morning, rode horseback three hours a day, ate healthily, wore no makeup and stayed out of the sun, which may have helped her retain her youthful beauty.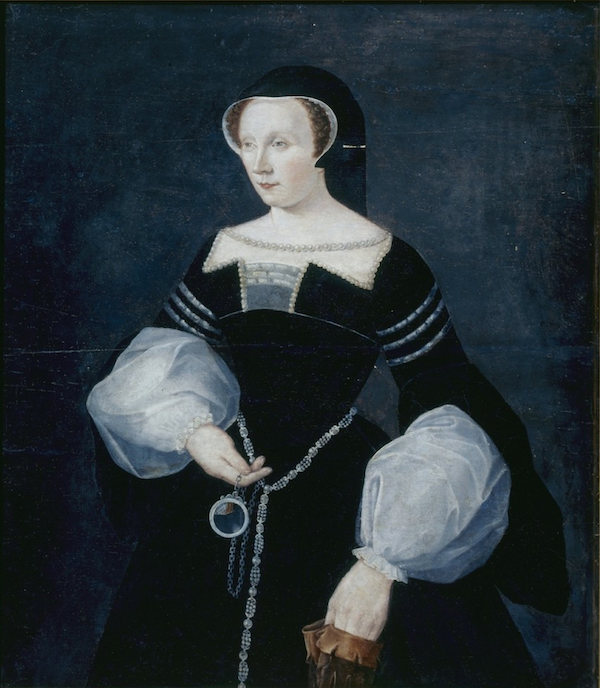 Diane de Poitiers by François Clouet via Wikimedia Commons
The Queen gets her revenge
As with everything, however, Diane's good fortune would be cut short.
One day, King Henri – accompanied by both Diane and Catherine – attended a joust at a family wedding. He was 40, in good health, and keen to show his mistress he still had what it took: youth, prowess and vigour. He decided to ride, wearing Diane's colours.
His wife Catherine was highly superstitious (she had her own personal astrologer) and experienced an intense premonition. She begged Henri not to ride, but of course ego prevented him from listening. Bad omens indeed...
A first pass was successful, and everyone was relieved. But the king wasn't satisfied, and rode again. It was one ride too many.

In a freak accident, his opponent's lance broke off, its tip piercing the king's visor and lodging itself in his left eye. Henri would agonize for ten days, calling desperately for his mistress.
His wife, now in charge, would exercise that leverage we just mentioned, and she was unrelenting.
Henri would die without ever seeing Diane again. Nor would she be invited to his funeral.
Catherine had waited a long time to become Mistress of Chenonceau, and she quickly sent Diane packing to Chaumont, another Loire Valley castle which, by the way, happens to be stunning and actually brought in more money than Chenonceau.

The Queen settled into her long-awaited castle and made it her own. She remodeled the façade, redecorated the interior, and built the two-story gallery above the simple bridge Diane had erected over the Cher River.
Here she gave spectacular parties, introducing the fork to France and organizing the first fireworks the country had ever seen.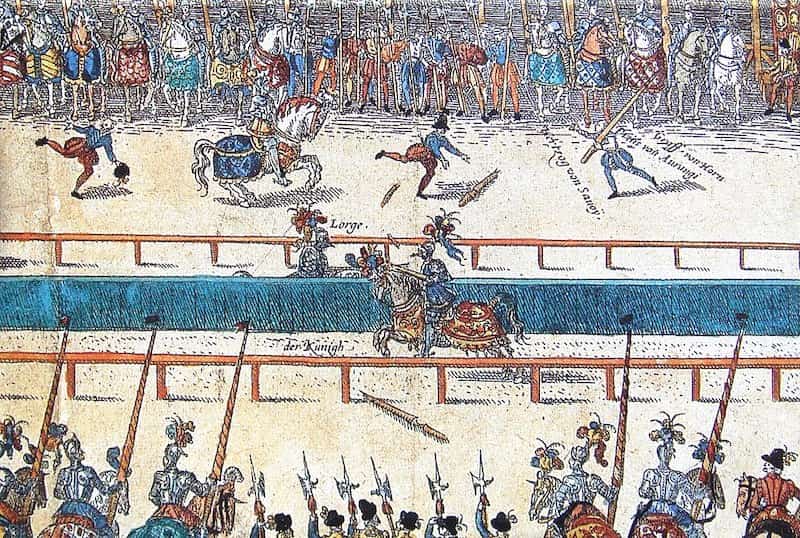 The fatal tournament during which Gabriel Montgomery, captain of his Scottish Guard, pierced his faceplate with his lance 16th century German print, anonymous via Wikimedia Commons
What had been a backdrop for Diane's beauty became an instrument of power in the hands of Catherine. 

She would rule France for 15 years as regent, first from Chaumont (before switching castles with Diane), then from Chenonceau, and, in her final days, from the regal and eclectic château de Blois.
She would be witness to turbulent years during the Wars of Religion which pitted Catholics against Protestants and would die in 1589 at the age of 70, Chenonceau passing into other hands.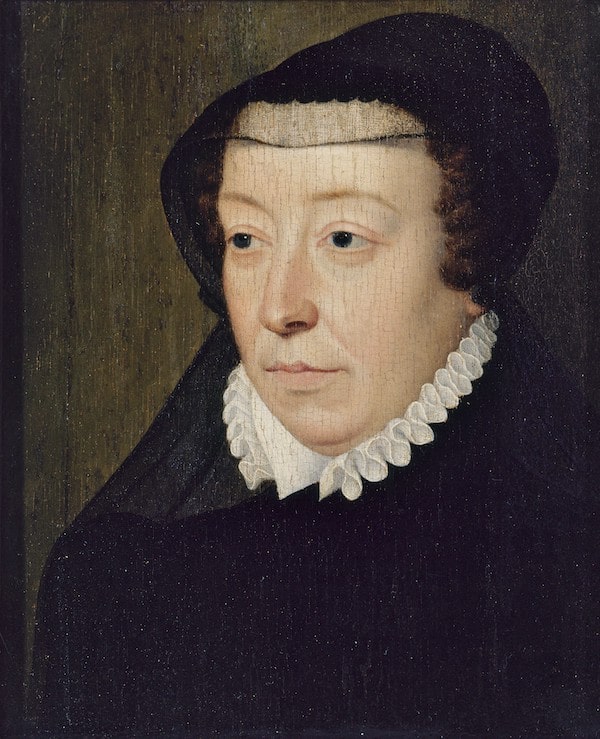 Portrait of Catherine de Medici by François Clouet
The other women of the Ladies' Castle
Diane and Catherine were not the only women whose lives were intertwined with Chenonceau. In fact, the castle's entire history has been predicated by women.
Married to Thomas Bohier, finance minister to three kings,

Katherine Briçonnet actually built Chenonceau, not with her own hands, of course,

 but she designed and oversaw its building in 1513, while her husband was away during those pesky Italian Wars
Then, as we know, came Diane, who embellished it, and Catherine, who expanded it
The austere Louise de Lorraine, Catherine's daughter-in-law, transformed it into a religious sanctuary of sorts, spending her time there in mourning over her husband's assassination (he was Henri III, fourth son of Henri and Catherine)
Louise Dupin saved it from the rampant destruction of the French Revolution
From 1864 to 1888, Marguerite Pelouze transformed it into a center for arts and literature, welcoming writers, artists, musicians and all manner of talents
In the early 20th century, the chateau was auctioned off and bought by a scion of the French chocolate family, Menier, but you can see why, over the Chenonceau castle history, it would come to be known as the "Château des Dames", or the Ladies' Castle.
A closer look at the château on the river
Stories are wonderful but I shouldn't miss this opportunity to show you around one of my favourite castles.
The approach to Chenonceau Castle is intriguing because the castle looks tiny in the distance as you walk down the drive. You'll pass two gardens. The one on the left was designed by Diane, and the one on the right by Catherine, opposites until the end.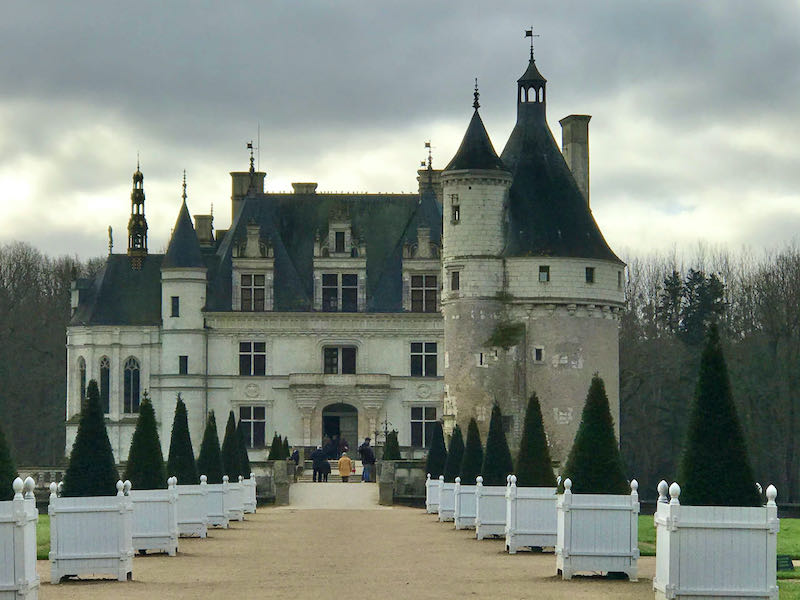 Alley leading to Chateau Chenonceau, with the Tour des Marques on the right
Once upon a time there was a beautiful castle...
Before it became a castle, a medieval fortress and a mill stood here, of which only a dungeon – the Tour des Marques – remains. The fortress was razed so that Katherine Briçonnet could build Chenonceau.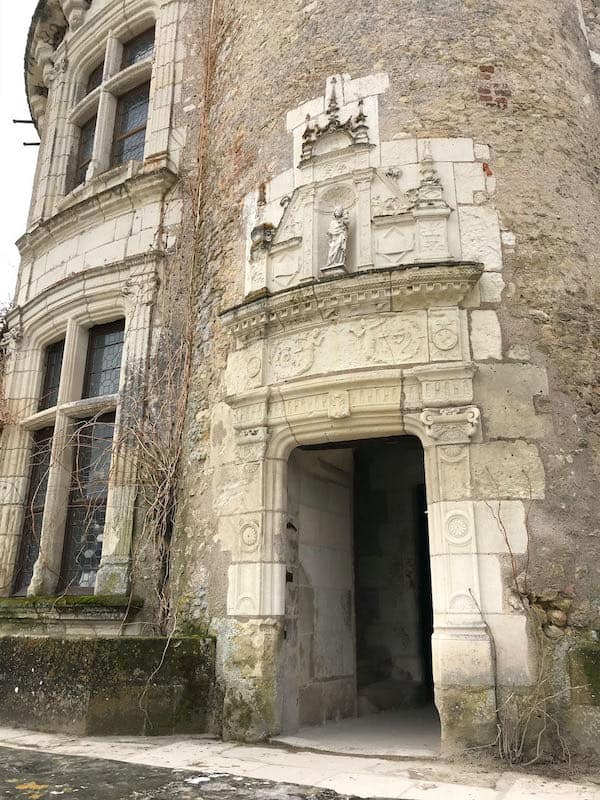 The entrance to the Tour des Marques, the original dungeon of the structures razed to build Chenonceau
Chenonceau is a delightful building by any standard, a product of the Renaissance (with a few Gothic remnants), built at a time when building beautiful castles in the Loire Valley was very much in vogue.
Does it not remind you of Venice a little? Does the gallery not make you think of the Ponte Rialto? Perhaps not, but there's no denying the Venetian influence on this palace over the water, from the lacy mouldings and friezes to the loggias and stairways.
The Chenonceau Gallery
The gallery is probably Chenonceau's best-known architectural feature. Its graceful arches over the River Cher are the face of every postcard, while the black-and-white tiled floor is a reminder of rivalry: Diane's "official" colour was white, while Catherine's was black. And while Diane built the span across the river, Catherine went one better and built the two storeys above.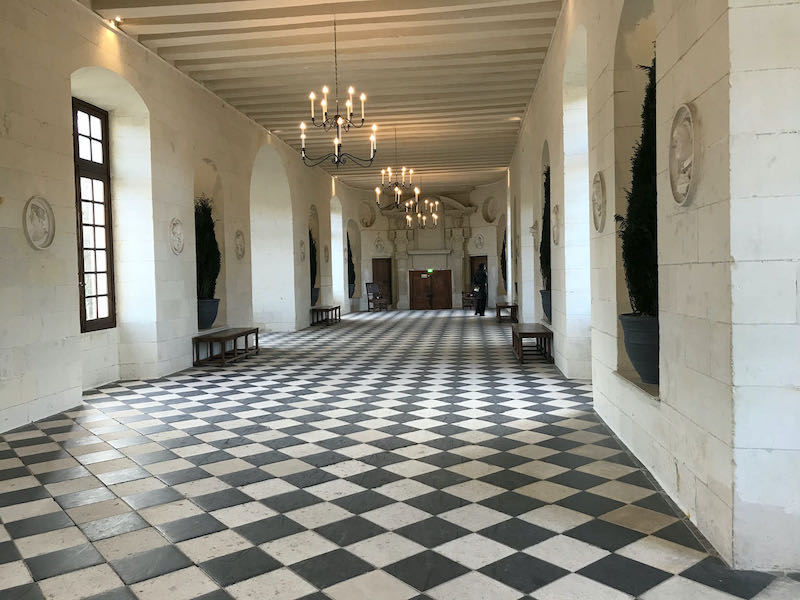 Another shot of the gallery, because it's worth it!
The Gallery is 60 meters long, with sunlight streaming in through 18 windows. Catherine's upstairs section was inaugurated in 1577 with celebrations in honour of her son, Henri III.
It is a magnificent space but Chenonceau is an example of the dazzling French chateau interior decor we have come to expect in a chateau de la Loire... Here's a peek to whet your appetite!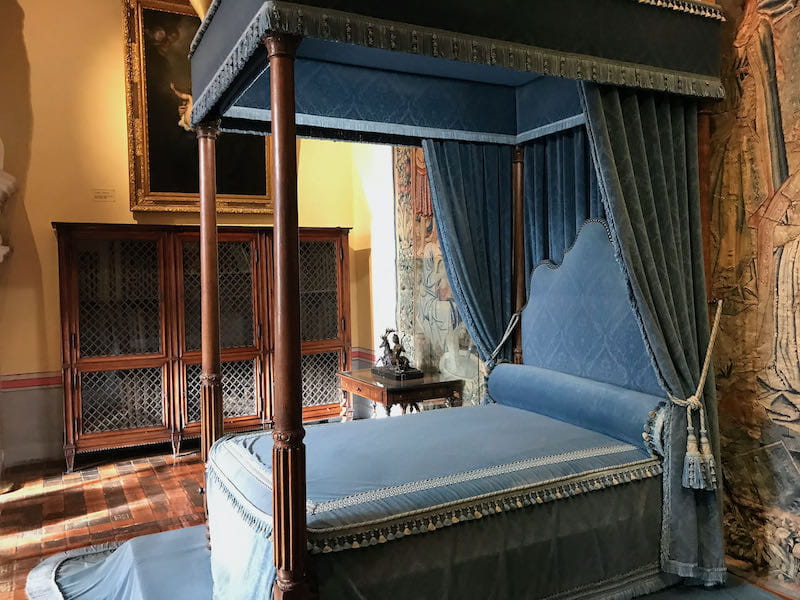 Diane de Poitiers' bedroom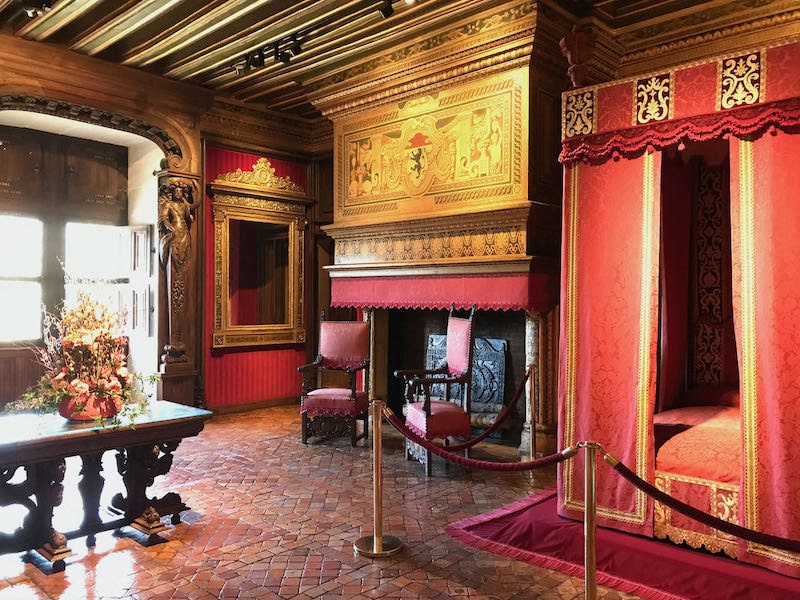 César de Vendôme's room - he was the son of Henry IV and his mistress Gabrielle d'Estrées, and the uncle of Louis XIV, who became the owner of Chenonceau in 1624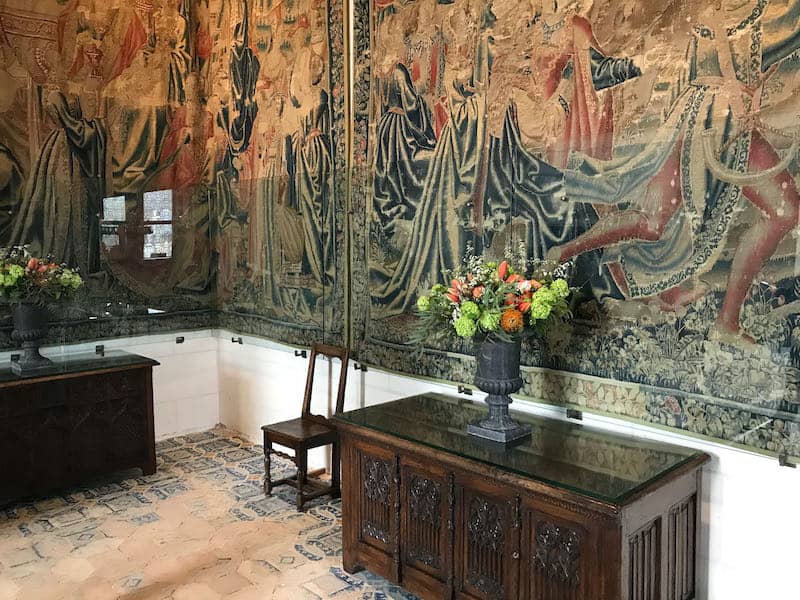 The Guard Room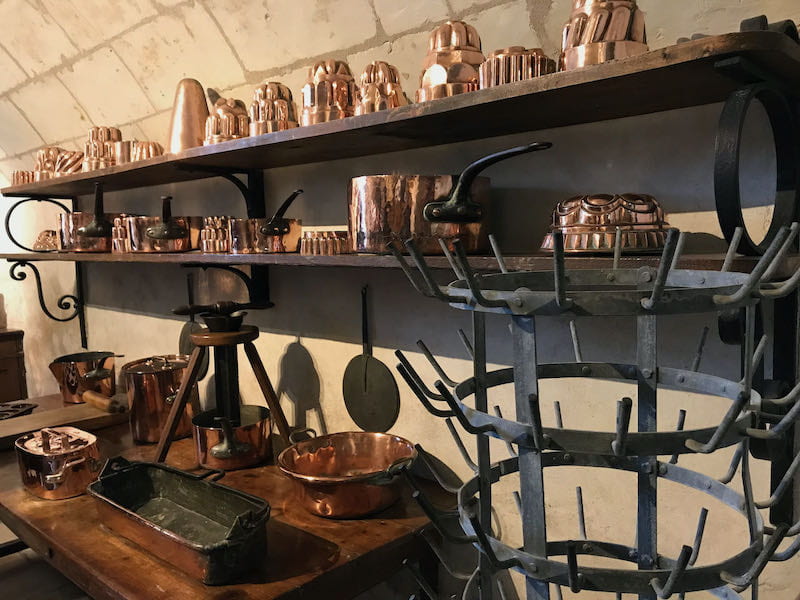 Chenonceau kitchens, two enormous underground rooms with the chateau's largest fireplace. The kitchens were modernized when the castle was used as a hospital during World War I
➽  Skip-the-line tickets for Chenonceau HERE.
A few more Chenonceau Castle facts
While researching the history of Chenonceau, I did come across a few additional facts that had nothing to do with Diane or Catherine. Still, I thought you should know...
You have noticed it's not spelled with an X, as many guidebooks (mistakenly) do? There IS such a place as Chenonceaux, but it's Chenonceaux village, where the chateau is located, not the castle itself. France is nothing if not confusing.
The fireplace in Diane de Poitier's bedroom is surrounded by the initials of Henri (H) and Catherine (C), his wife. Those who indulge in theories beyond the obvious might read something different into it: the intertwined letters can also form the letter D.
When World War I broke out, Chenonceau was converted into a military hospital. By war's end, it would have welcomed some 2254 soldiers.
During World War II, the Château de Chenonceau was severely damaged, although it would be restored by the owners (the Menier family). It also served as an escape route from occupied France − the border between the two French zones happened to be the River Cher. But we'll save that story for another time.
How to visit Chenonceau from Paris and beyond
One does have to deal with practicalities, because to enjoy Chenonceau Castle you'll first have to get here!
The Chenonceau train station is near the castle, so you can easily walk (one of the few châteaux you can do this with).
Keep in mind Chenonceau weather before you go: in summer it's hot, and holidays mean crowds. I visited in March, which was ideal (cold but sunny). Another good time to visit Chenonceau would be September.
Wondering about Chenonceau pronunciation? shuh-non-SOH
Did you enjoy this article? I'd love if you shared it!