Welcome to Lyon's Festival of Light - the renowned Fête des Lumières!
Paris may be nicknamed the City of Light, but Lyon is definitely the City of Lights.
We all love a good light show but there's something special about the Lyon light festival: it lasts several days, it takes place all over town (not just on a building or two), and it happens in Lyon in winter, a season which is often harder for visitors.
NOTE: Pages on this site may contain affiliate links, which bring in a small commission at no cost to you.
Well, Lyon in December may not be technically winter, but watching my breath curl and feeling my toes freeze means the Christmas season is upon us, an ideal stop on your way to visiting Christmas markets in France.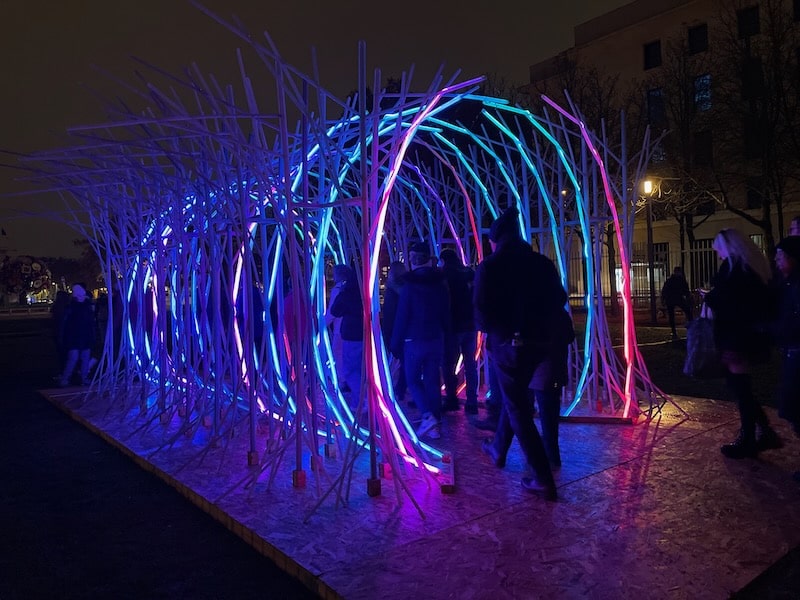 While the Fête des Lumières is a main highlight of Lyon's year, I should warn you it is not an event for everyone. The weather is usually cold, a lot of walking is involved, and the crowds are HUGE – thousands of people crammed into tiny twisty streets.

But if you decide you can handle all that, you'll be rewarded by a fabulous array of (30 or so) light events, some of them extremely sophisticated, with images dancing on buildings and light tunnels inviting you to walk through.
History of the Fete des Lumieres
The Fête des Lumières – the most important festival of lights in France – dates back to 1852, when Lyon city planned to inaugurate a statue of the Virgin Mary on Fourvière Hill on 8 September in gratitude for protection from all sorts of ills.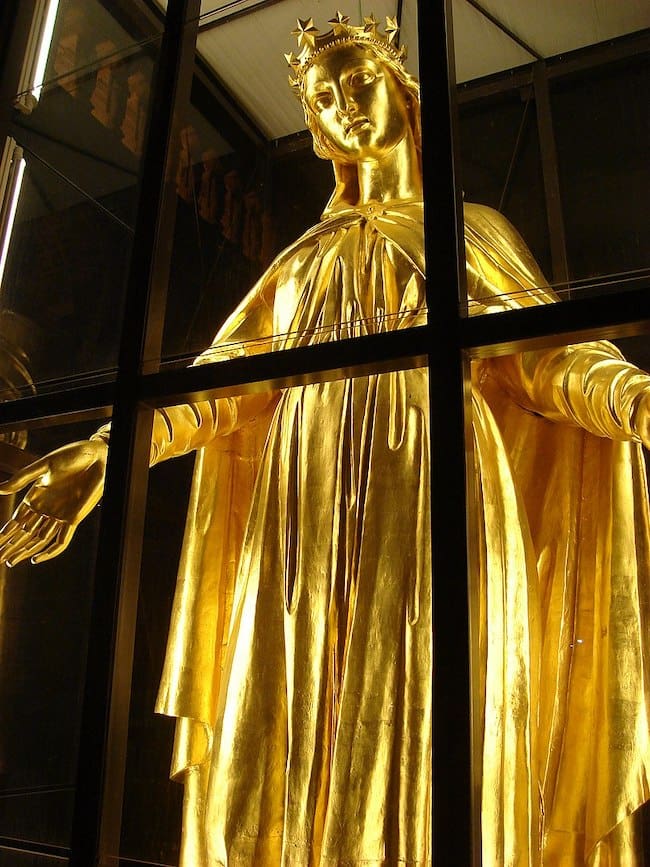 The inauguration of this golden statue of the Virgin Mary on Fourvière Basilica in Lyon, which gave rise to the Festival of Lights. Photo by Gonedelyon via CC BY-SA 3.0
But the weather wouldn't play along so the celebration was moved back three months to 8 December. Of course the weather in December was no better, and the city considered cancelling the event, but the good people of Lyon took matters into their own hands.

Across town, people lit up their windows and balconies with lumignons, or little lights, giving the city an ethereal and fairytale look.
The tradition has remained.
During the Lyon festival of lights, you'll see individual lights in windows, and hotels often give out small electric candles so you can play along. That said, these lights have a hard time competing with all the bright Christmas lights and displays... 
The city experimented with public light installations for the first time in 1989 and ten years later, it inaugurated the first four-day festival of lights in Lyon, held every year since.
Except for twice.
In 2015, the Fêtes were cancelled for the first time, because of security concerns. In January of that year, a horrible massacre took place in the offices of the satirical weekly Charlie Hebdo newspaper in Paris. Two Islamic terrorists killed 12 people in that attack and the next day, one of their associates killed another five.
And in 2021, the event was vastly reduced because of the Covid-19 pandemic.
Today, it is back in full force and again ensconced in the city's contemporary culture.

What you'll see
The exhibitions change each year and the lights shows aren't organized by the city but by individual artists and creators, who go all out to impress the (possibly) two million people who attend the festivities.
Here's what I saw when I visited.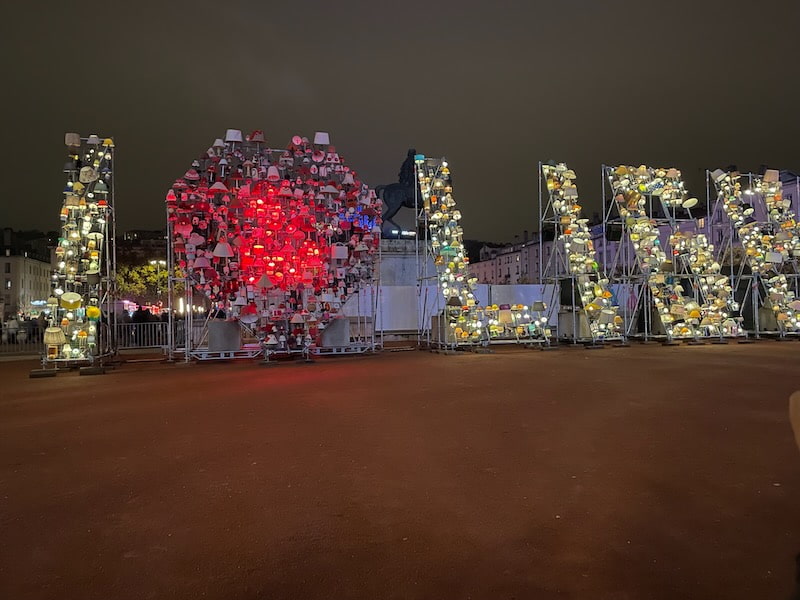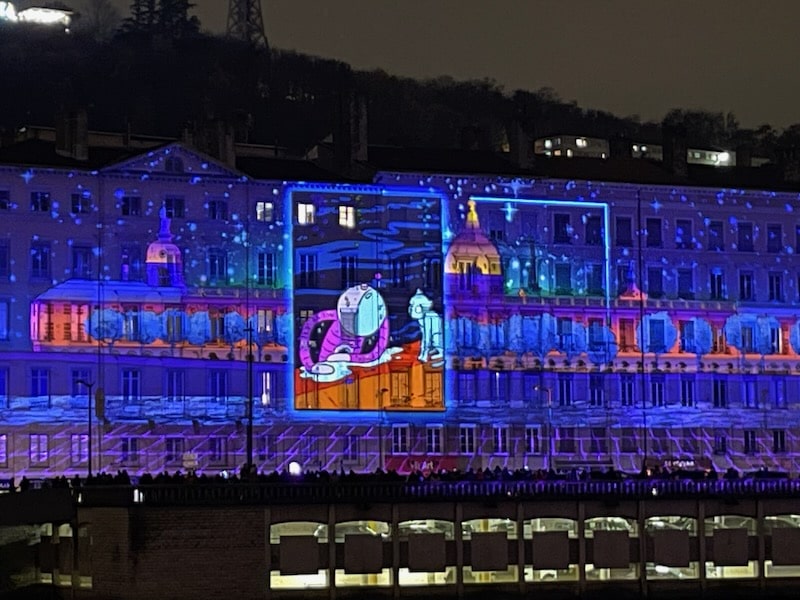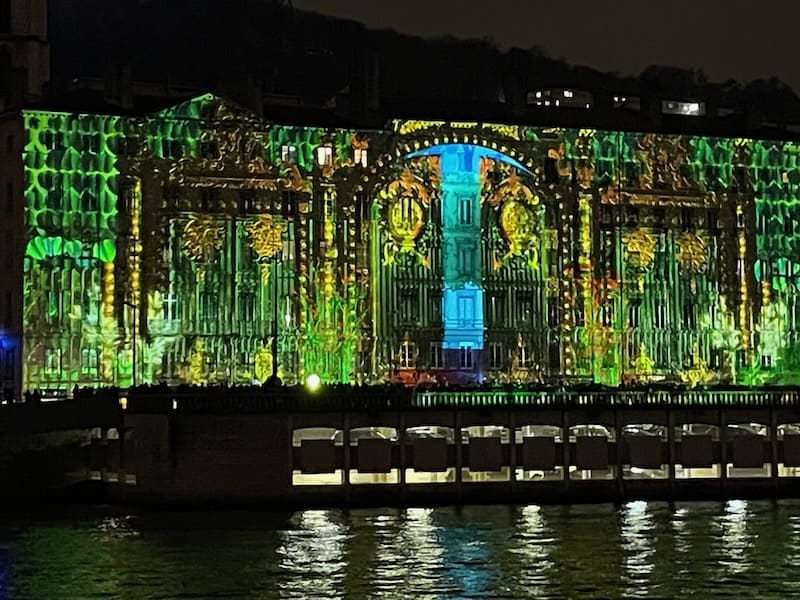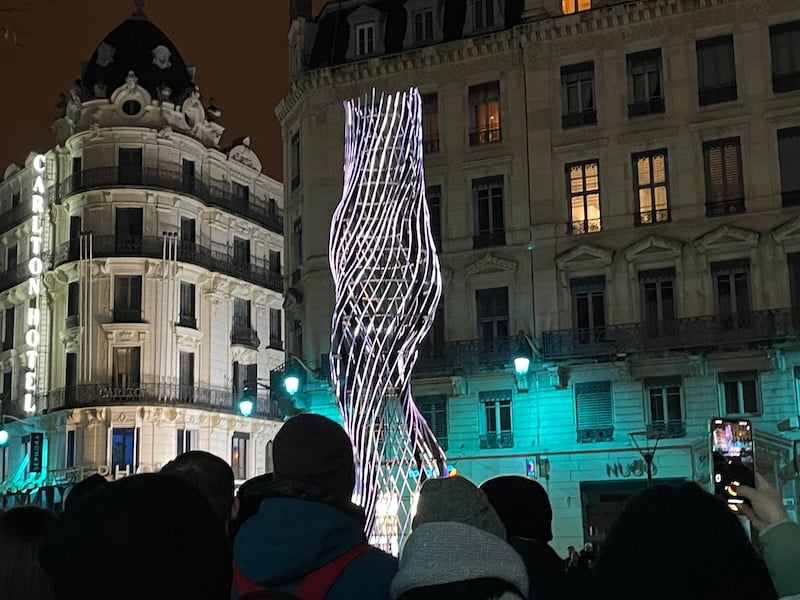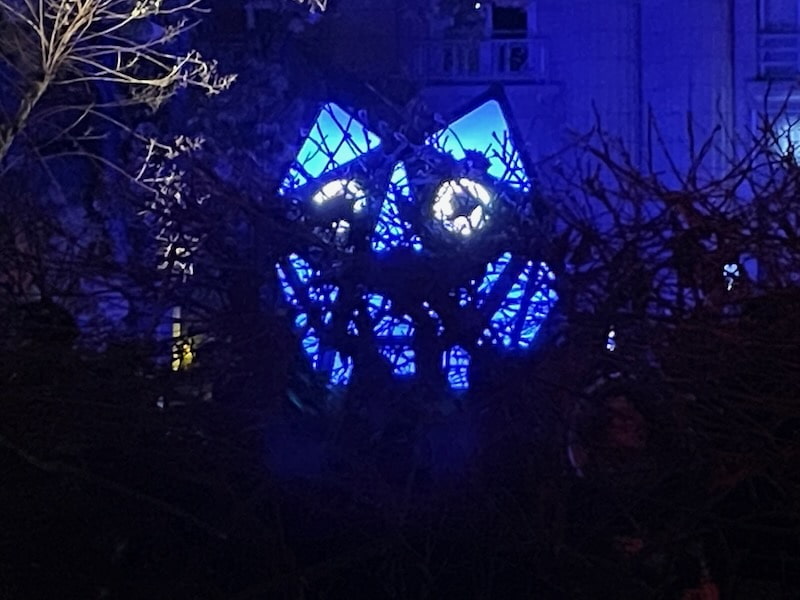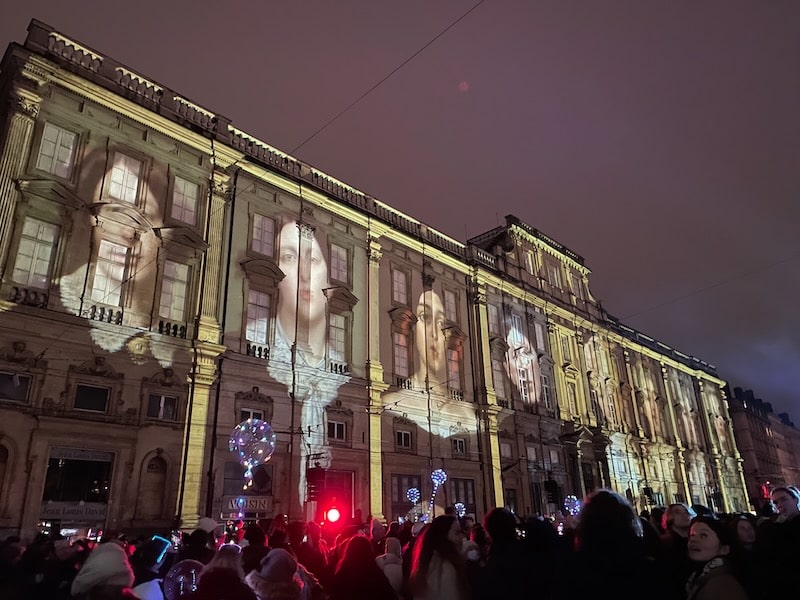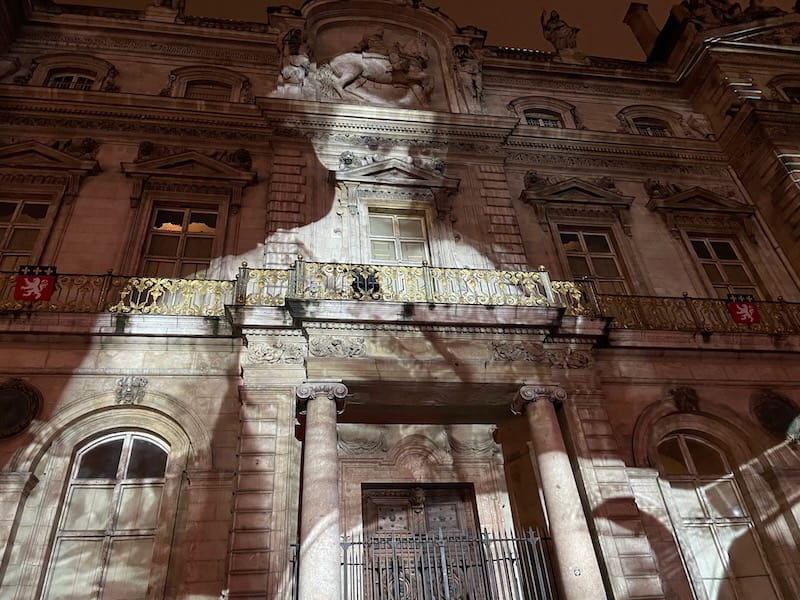 Where to position yourself
The city usually produces a map of the Fêtes that shows you where everything is located. This is important because there are plenty of venues, and unless you happen to live in Lyon or spend several nights here, you probably won't be able to see them all.
Here are my favorite observations points, although since the shows change each year, what's good today may not be worth the effort tomorrow. But, generally speaking:
Place des Terreaux, because it is large, of course, but also because it has a span of buildings perfectly suited to a show, lights and music both.

Place Bellecour, which for many is the starting point and usually has several exhibits.

When you leave Place Bellecour and head for the river (either to cross over to the Old Town or to walk up towards the large squares like Terreaux, Jacobins or République), look over to your left across the water: there's usually a show on the opposite shore and to get a great view, go down the steps to the riverside, where chances are no one will be standing in front of you!
The Saint-Jean Cathedral in the Old Town probably has one of the best shows, and I say probably because all I've seen are the photographs: I didn't go to this one because of lack of time – getting in and out of Old Lyon can be very time-consuming when it's crowded. If you want to see this display, I'd start here and get a good spot before the crowds arrive.
The Fourvière Basilica is reputed to have a wonderful light show on its façade, but I haven't made it up there either. Next time.
The city is also trying to improve its facilities for people with disabilities and have set up a special email, text and phone number you can access for more information (in French), along with reservations for special access tours.
However, from the crowds I saw, I would be very careful about accessing some of the more popular and highly crowded venues without any assistance.
Organizing your visit
One thing I learned about attending the Light Festival is the importance of having a plan of some sort. You simply cannot decide to show up at the last minute and hope for the best...
Save the date
The Fêtes usually take place on the weekend nearest to 8 December, and last from Thursday to Sunday, although there has been talk of shortening them by a day or extending the hours. 
They usually start at 8pm and last until 11pm, although some years on some days they start a bit earlier.
Where to stay
This is one of the biggest events of the year in Lyon, and people come from far away to see it. I reserved my "inexpensive" room six months ahead of time and still had to pay €150 for the privilege.
Yes, prices are at a premium and demand is huge.
If you're planning to visit, click here to book your hotel room as far in advance as possible. You may have to book as much as a year in advance if you're looking for premium accommodations. And don't be surprised if your favorite Lyon hotel costs twice as much as usual – prices do skyrocket during the festival.
Where you stay doesn't matter too much because there are exhibitions in most parts of town, but I would advise staying either within walking distance of the center or near a Metro station, since there is no other public transport during the Fête. 
I prefer to stay near the Part-Dieu train station when I can, so I don't have to carry my luggage too far and can just hop the train when it's over. In normal times, getting around Lyon is simple, but less so during the festivals.

How to get there
Unless you plan to stay in a hotel near the edge of town with a parking lot, don't even think of driving.
All cars are banned from the city center during the Fête, and while there are public parking lots, you'll be hard-pressed to find a place.
You can come by train (you'll usually end up at Lyon Part-Dieu station) or you can fly in and catch the Rhône Express from the airport to the Part-Dieu station.
You can click here to explore train schedules and book your tickets.

A few words on energy
France's energy situation has been somewhat precarious and some people have been asking me about what happens to energy consumption when all these lights go on.
According to the organizers, a 2019 study showed the amount of electricity consumed during the four days of the festival make up about 0.1% of the city's annual public lighting budget, or a third of one day's worth.
This is because most displays use LED lights, the lights themselves are of the latest quality, and the nightly lighting of buildings such as the Cathedral, Palais de Justice, or the Basilica are turned off during this time.
That said, rumors do surface about energy use. There are regular questions about whether the festival should go on, or whether it should be shortened, or any number of critiques.
For now, things remain as they are, although the contradictions between France warning about power outages and staging a light festival are not lost on most of us.
A few final tips on attending the Fête
Given the crowds, the cold and the popularity of this event, these few simple tips will help ensure your trip is perfect.
Leave your valuables at home, and carry what you need in a cross-body purse 

like this one

 (I have three of these). They dissuade pickpockets and are so comfortable you won't even remember you're carrying it. (I do not recommend any kind of backpack in these crowds). 
Wear layers, so you can add or subtract as you need to during the day and evening. I wore layers, but it was cold and I didn't have to remove a thing.
Bring gloves and a hat (or a jacket with a hood). It may feel relatively balmy (not ALL Decembers are freezing) but standing outdoors for hours will bring down your body temperature quickly.
Wear comfortable shoes or boots with warm socks to keep your feet warm. 
Make sure your camera or smartphone is charged, and even better, bring along a portable battery. It's cold outside and battery life plummets in the cold. I have this lightweight one − just don't forget to bring along the correct cable to connect the charger to your phone. 
I also suggest two other items to protect your phone in the crowds (I have both these items and used them during the Light Festival). The first is a military-grade phone case, and you'll know how important this is if you've ever dropped and broken your phone. The other "must" is a wrist lanyard strap for your phone. I didn't believe in this before I bought it but it was cheap so I thought I'd try – it's now my favorite phone accessory.
If you're taking the Metro (it's either that or walk, because there no cars or buses are allowed in the center of town), be ready to have your bag searched as you exit.
And if you happen to be spending an extra day or two in Lyon, consider getting a city pass, which includes entrance to plenty of museums and events, along with access to public transportation. The festival is at night, so you'll have to keep busy during the day. 
Take bathroom breaks wherever you can. They do have public toilets but I couldn't find them. Stop in coffee shops if you need to (but you may have to drink or eat something for the privilege).
There are plenty of stalls selling coffee, hot mulled wine, crêpes and sundry fast foods, but all bars and restaurants are open as well. So yes, you can easily eat during the festival. If you plan on dinner before the Fêtes, make sure you reserve because of the crowds. 
Speaking of which, I repeat, there are MAJOR crowds. If you're not comfortable with thousands of people crammed into tiny streets, this is not for you.
If you'd rather be guided, the Tourist Office organizes a limited number of tours of the light festival, covering those attractions nearest to Place Bellecour. Contact them for more information. (Not all tours are in French.)
When walking along from show to show, if you find yourself guided down a narrow street (you will), walk along the edge, where you can duck into a doorway if you need to.
And finally, bring stilts! I'm kidding, but be prepared for tall people, people carrying children on their shoulders, kids carrying large balloons and bright lights on sticks... half your time will be spent weaving surreptitiously among people to catch that perfect viewpoint. I was not particularly successful at this and next time I visit, I'm getting a selfie stick.
A word about security
Speaking of security, there are crowds.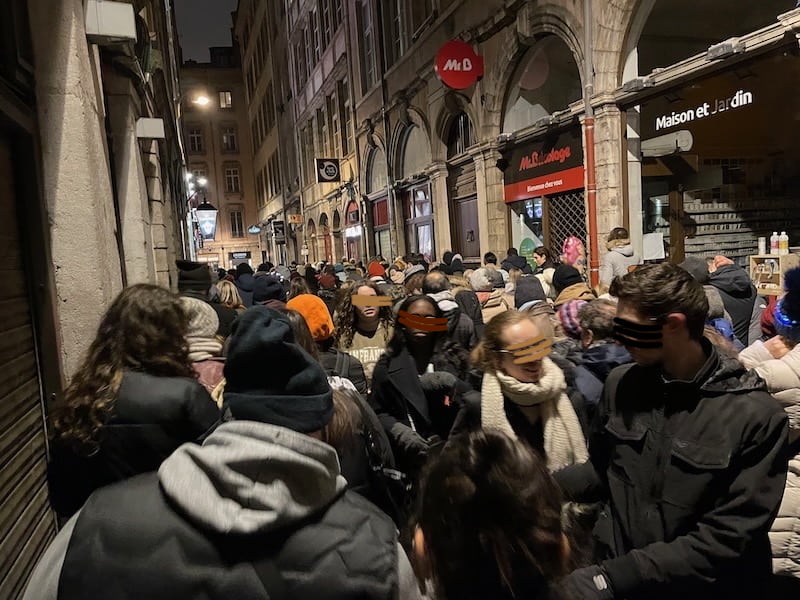 Many of the light shows take place on large squares crammed with people. When each show ends, all those people are funneled into ancient streets – which get smaller and smaller, while the crowds get denser. 

While I understand the need to control pedestrian flow, this is not handled well.
Often, we were directed in circles as we tried to "escape" a specific route – so there is plenty of room for improvement on that front. Just be aware and use your common sense as you navigate the crowds and make sure you can duck in somewhere if it becomes too dense.
How to discover Lyon during the day
The lights festival doesn't start until 8pm so you'll have all day to visit this incredibly stunning city – if you don't know Lyon yet, you may be very (pleasantly) surprised.
Here are a few things you can do during the day:
If you happen to be visiting before the festival starts, this food tour would be perfect – Lyon is known as France's culinary capital, after all.
This is also a good time to get your bearings for the evening light show: drop by the Lyon tourist office and get a map of the festival. As evening comes around, the tourist office gets crowded so get this out of the way earlier if you can.
You can visit the Old Town, take the funicular up to the Basilica, sample some of Lyon's fabled cuisine, explore its Roman history, or search for its secret passageways and monumental murals. And so much more.
Compare Lyon hotel prices
The sad reality is that this is a high point of the year in Lyon and hotel prices do jump. Your best bet is to book as far ahead of time as possible, once the dates are announced.
Did you enjoy this article? I'd love if you shared it!