Pages on this site may contain affiliate links, which bring in a small commission at no cost to you.
France has many extraordinary villages but only a select few belong to an association called "The Most Beautiful Villages of France". Here we explain how they are chosen, and how to stay on the list.
If you drive up to a lovely village and think, "Wow, this must be one of the most beautiful villages in France," please go back. Return to the village entrance.
Is there a sign that says, "Plus Beaux Villages de France"? No?
Well, then, you're NOT in one of France's most beautiful villages because yes, there is an official list (this is France, after all). If you're not on the official list, then you're not one of the most beautiful. Period.
I'm kidding. A bit. Not that much, actually.
There IS an association called "Plus Beaux Villages de France", and it DOES award its carefully curated label to a select few villages who meet a mountain of criteria and promise to deliver something so postcard-perfect you'll want to wrap it up and take it home. Some are even a UNESCO World Heritage Site...
Once you're on the vaunted list, THEN you can call yourself one of the most beautiful villages in France. But not before.
What on earth are the "most beautiful villages" in France?
First things first: we are French, so of course we will start with a definition.
The association – shall we call it the 'most beautiful' to keep it simple? – was created to protect the heritage of our best French villages to visit by promoting tourism to them and applying a bunch of rules that force villages to maintain certain (incredibly high) standards. These are villages that will look much like they did centuries ago, with perhaps a few more souvenir shops and restaurants but no satellite dishes, no neons, and as few automobiles as possible, if any.
So far, 172 France villages have made the cut and have thus become the best, the most picturesque, the loveliest of all villages in France.
And not to boast, but we have a lot of villages, many of them utterly gorgeous. We have about 20,000 villages in France (some sources say 30,000 but village counting is not an exact science).
We once had many more but the rural exodus and the call of the big city doomed quite a few (here are some examples of French villages that were abandoned for a variety of reasons), while such things as administrative amalgamations took care of others. 

But back to the 'most beautiful' label.
It dates back to 1982, when Charles Ceyrac, mayor of a rural village in the Corrèze in the center of France, apparently laid eyes on a book entitled "The Most Beautiful Villages in France" filled with stunning photographs. The mayor was enchanted and he quickly contacted the mayors of the book's 100 villages. Two-thirds replied, and so an association to safeguard and enhance the heritage of these villages was born. Or so the public relations story goes.
Why is everyone so keen to join this list of prettiest villages in France?
We French are extremely proud of our heritage, and some of our best heritage can be seen in these stunning villages.
When a village joins this coveted list, things happen. Tourists come. Television crews descend. Hotels fill up and new restaurants open. In other words, the village makes money because tourism leaps, on average, by 30%. The added visibility also encourages villages to keep a keen eye out for untoward happenings, like modern outcroppings built without permits or excessive parking in the middle of a medieval landmark...
It's a good deal for the villages, and a good deal for visitors: win-win. Choosing a destination listed as 'most beautiful' promises a perfect medieval (or at least very old) France of cobblestones and quintessence.

(It also ensures that some of the inhabitants will be serenaded from sunrise to sunset by musical instruments played on a loop to make sure not a single note is lost. But more on that in a moment.)
My personal 'most beautiful' picks
If I've chosen these villages, it's NOT because they're the MOST beautiful of the 'most beautiful'. It's only because I've visited them personally and can say a few words about them that don't sound straight from Wikipedia (which, by the way, I love and donate to so no criticism intended!)
Here we go, then, for my lopsided and utterly subjective selection of France's best villages.

Many of these villages can only be reached by car. If you need to check out rental deals, compare prices at Discover Cars, which scours the web for the best deals from ALL car rental agencies.
Ainhoa
'Downtown' Ainhoa
Established in the 13th century, Ainhoa is in the Basque country of southwest France, one of my favourite regions (here's a fantastic one-week itinerary of the French Basque country).
The region is a bit sedate and quiet, with rolling rather than dramatic landscape, and food as only the Basques can concoct it. What you see is an example of typical Basque timbered houses, with blood red trim (deep green is another common colour), and Ainhoa has a particularly high concentration of this type of architecture.
Grignan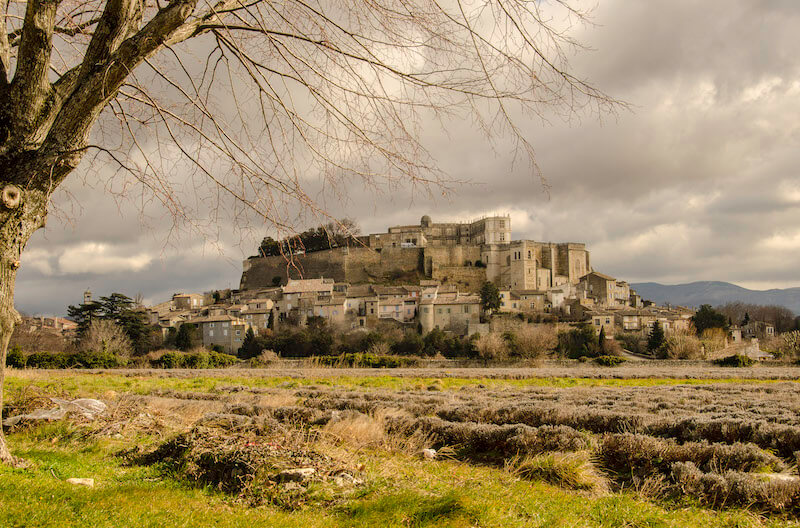 The hilltop village of Grignan, seen from lavender fields that will soon be in bloom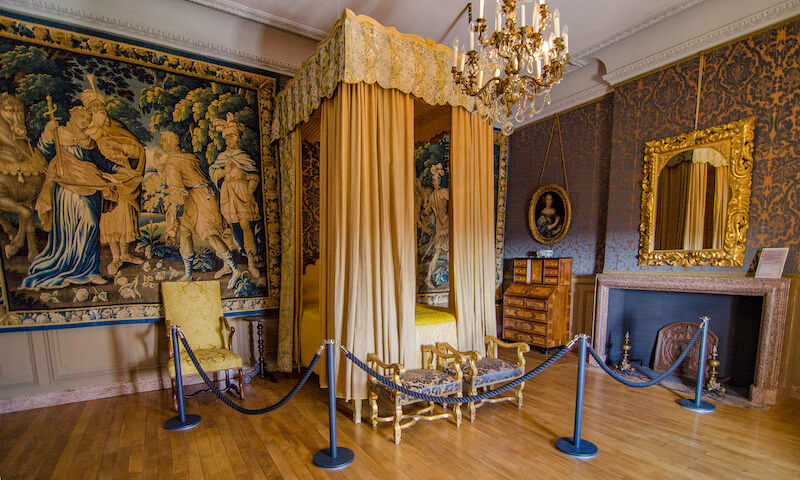 Mme de Sévigné's bedroom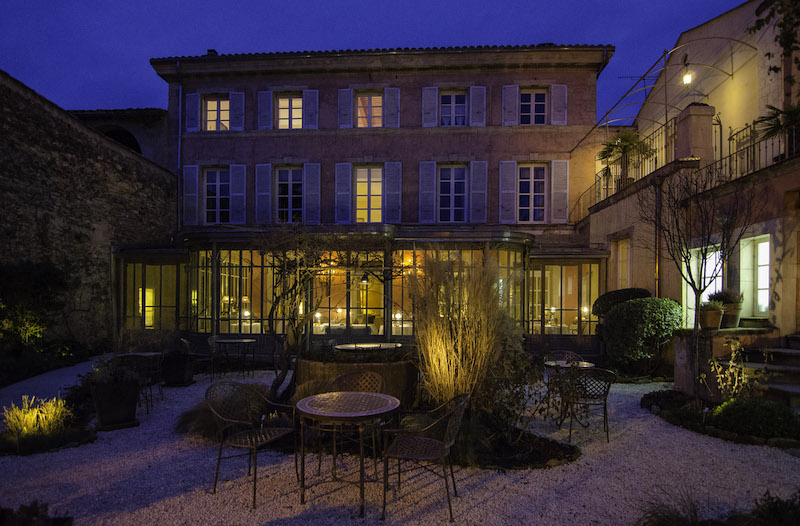 My favourite hotel, Le Clair de la Plume
Grignan is the jewel of the Drôme Provençale in southern France, at least in my opinion. It has it all: lavender fields (not quite Senanque but a lot less frequented), literature (Grignan Castle is where the 17th century author Mme de Sévigné wrote her famous letters to her daughter, which are classics of French literature), a wonderful chateau (where said letters were written), and possibly my favourite hotel (comes equipped with a gastronomic restaurant) in France, Le Clair de la Plume.
Oingt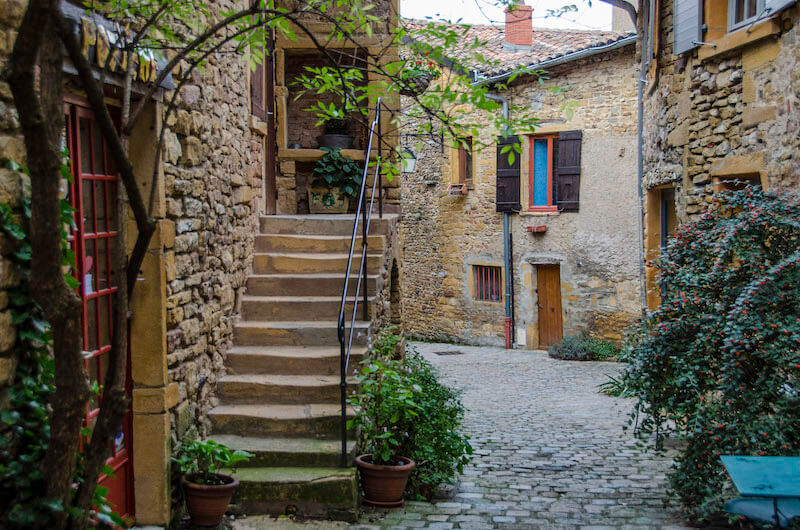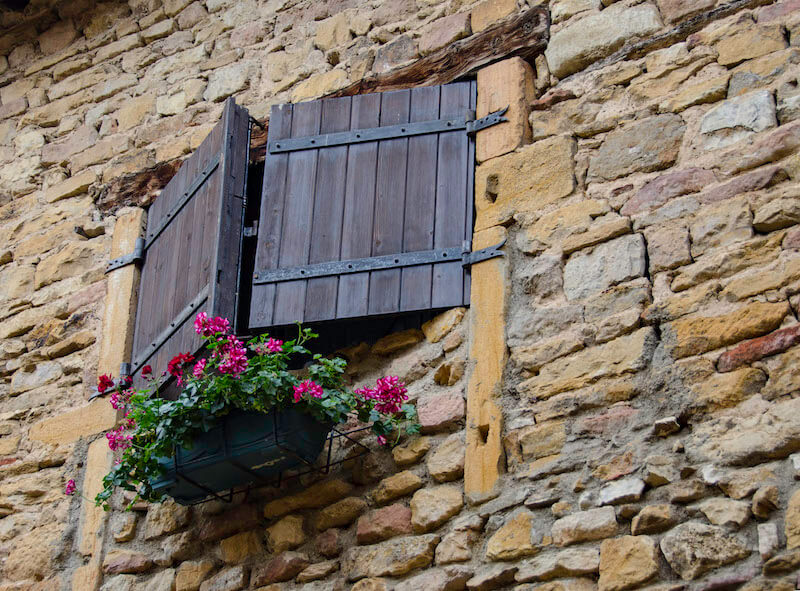 Oingt (don't even try to pronounce it) is in the Beaujolais region near Lyon, in an area known as the Pierres Dorées (because, yes, the colour of the lovely stone houses is golden). First mentioned in the 11th century, it is the perfect stop along the Beaujolais wine route and people flock here when it's time for the Beaujolais Nouveau. To me, while it is lovely in summer, it becomes extra-special in December, when villagers vie to see who will put up the nicest mangers in their windows – instant Christmas spirit guaranteed.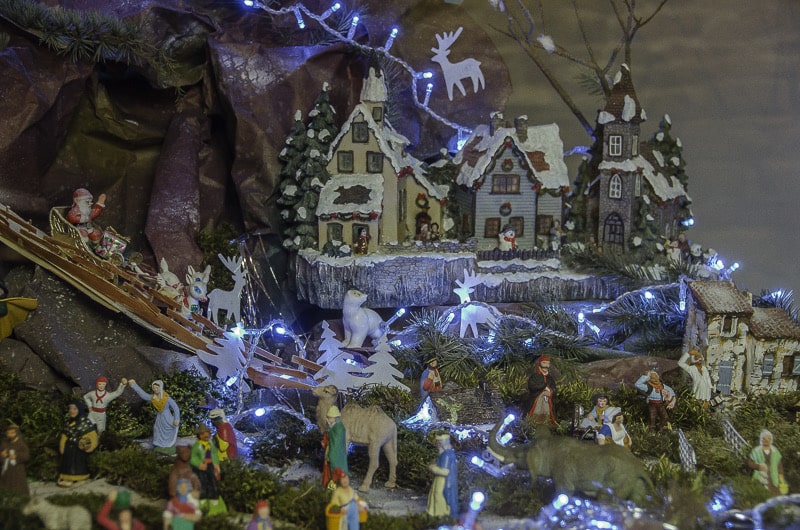 A typical window dressing in December - the mangers are more stylish each year
Perouges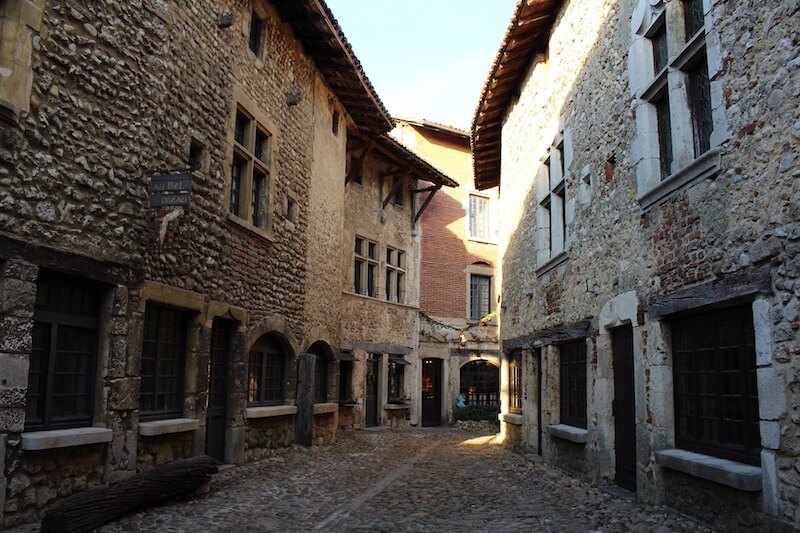 Rue du Prince in the impossibly picturesque village of Perouges by Alizée Vandermolen / CC BY-SA 4.0
Pérouges, also near Lyon and VERY popular, hosts artisans who are trying to keep old trades alive. The village works hard to maintain its medieval atmosphere and most things that are modern or touristy are hidden.
Once a textile weaving center, today what stands out in this hilltop village are its double ramparts, church fortress and its many 15th and 16th century houses.
Saint-Jean-Pied-de-Port

street in St-Jean-Pied-de-Port
long view of St-Jean-Pied-de-Port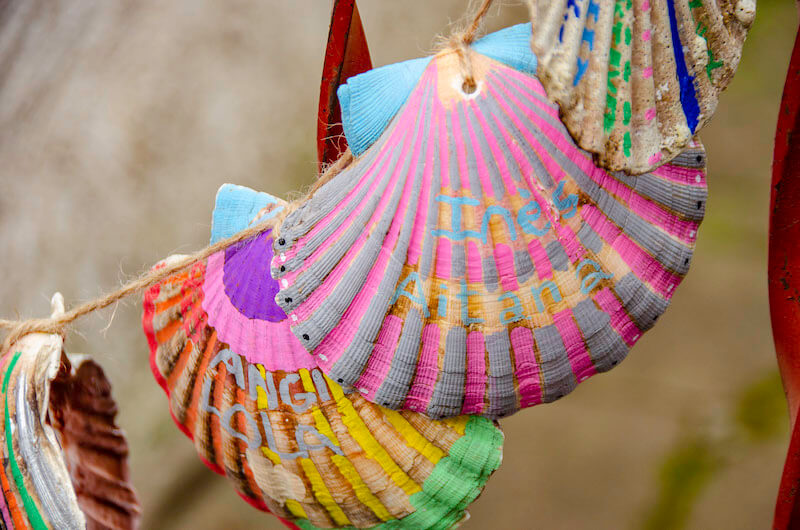 Various views of St-Jean-Pied-de-Port
Saint-Jean-Pied-de-Port in the Basque country is a fortified village along the Nive River and, more famously, the jumping off point for the Camino Francés, one of the main St James Ways, just before the Spanish border. Everything is geared to the pilgrim here and you might feel a bit guilty (I did not) as they all walk past with their staffs and backpacks while you fill up on delicious Basque fare.

Sare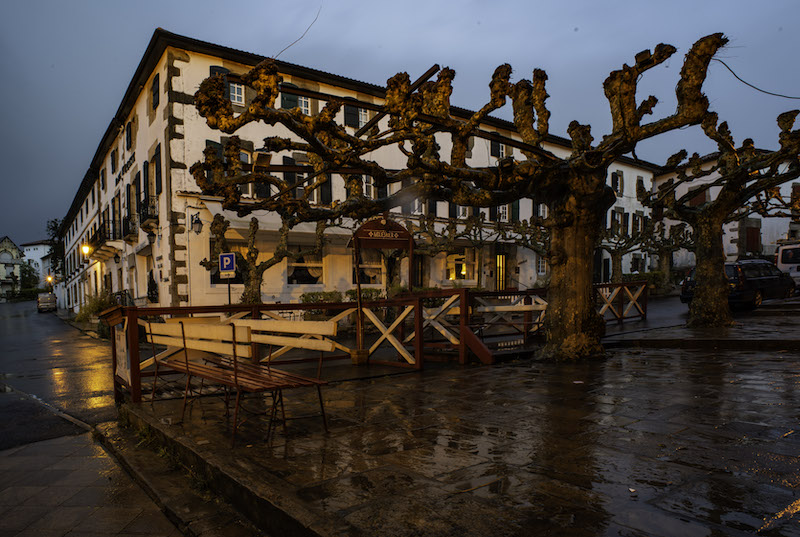 The Hotel Arraya in Sare, in France's Basque country and a beautiful village in a spectacular setting
Sare, another Basque village (you can tell where I've been spending my time), bucolic and green, so close to the sea (less than half an hour's drive) yet in another world of hills and forests. It is also home to another of my favourite family-run hotel-restaurants, the Arraya. Because of its proximity to Spain, Navarra to be specific, the border here has always been a little porous, with sheep ambling back and forth and, less visibly, smugglers. Many of its houses date back to the 15th century.
Yvoire
A typical courtyard in Yvoire by Fawaz.tairou / CC BY-SA
Founded in the 14th century, medieval Yvoire is a lovely small village in the Haute-Savoie on the shores of breathtaking Lake Geneva. It is a mandatory day trip from Geneva, one which should include visits to one of the many artisans' shops. Of course a village of this popularity will be filled with souvenir shops, but there are actual workshops here so much of what is on sale is unique, of high quality and more art than souvenir. I lived here for a year so see below if you'd like to know what it was like to spend a year in one of the 'most beautiful'.
✱ ✱ ✱ ✱ ✱ ✱ ✱
As of this writing, 172 villages belonged to the 'most beautiful' and you'll find details on their official site. Have a browse and start making your list. It's a great place to start your research because they have a Google Map to lead you to each village and help you build your itinerary. Bear in mind that the number of villages fluctuates, depending on who's in and who's out.

What it takes to join the 'most beautiful' list
It's not easy for a beautiful village to become a 'most beautiful'... In fact, only one in five applicants ever makes the grade (and the application itself is complicated and expensive so not every potentially qualified village will apply).
The village must be small (under 2000 inhabitants), have at least two national monuments or historical sites, and its council has to vote in favour of membership. This is important because there is an annual fee to pay and a charter of obligations to follow.
No fewer than 27 additional criteria must be fulfilled before a village can join the association: the protection of historical buildings, whether façades and roofs are harmonious (if a rebellious resident painted his shutters blue when all the others are brown, forget it, you're out!), flowers visible everywhere, commercial ads invisible, and a bunch of technical requirements ranging from appropriate (as in "won't spoil the Instagrammable sight") parking to lighting and urban planning.
Meeting the criteria is only the first step – the one that allows your village to apply.

And now the fun begins: the selection process. This is a four-part adventure that involves submitting a proposal that confirms the first three criteria are met; an on-site visit by inspectors to check the other 27; the production of an expert report to be discussed and voted upon by the association's Quality Commission; and the signature of the Quality Charter, which governs such things as the use of the logo and improvement efforts. All this can take up to a year...
And once IN, you can just as easily be kicked OUT. Like the Michelin Guide, the 'most beautiful' sends around its inspectors every few years. They look under every nook and cranny to make sure your village still deserves the label. They fan out through the village, taking notes, checking that no stones have crumbled and that no overly 'personal touches' have magically appeared.
Just look at Saint-Saturnin in central France, which lost its label due to too much traffic and too many new houses in its suburbs, or Saint-Lizier, a charming (but debt-ridden) village in the foothills of the Pyrenees, which suffered the same fate because it couldn't afford to reduce car parking around the cathedral or beautify the village entrance.
However painful the expulsion, it isn't immediate, and it might not be forever. After a six-year period a village can apply again and will be judged like any other applicant. And there is an appeals process during which villages can repair the damage and be reinstated.
There are enough benefits to belonging that any village that strays will usually do its best to be brought back into the fold...
While the label confers plenty of advantages, all is not perfect in the land of the 'most beautiful'.
Most of these villages are inhabited, and the onslaught of tourists in a concentrated period – usually the summer months – makes them hard to live in. As a result, these villages run the risk of becoming museums rather than breathing, living entities, especially as they try to control traffic and prevent any kind of urban sprawl.
My personal experience in one of the (hallowed) 172
I once lived in Yvoire, one of the 172, a drop-dead gorgeous hamlet and one on everyone's must-visit list when they come to this region.
In winter, a few hundred (including those living outside the medieval walls) of us shared a handful of quiet, cobbled streets with mists swirling up from Lake Geneva. In summer, an extra million or so visitors yelled at me (not all of them, but a few, enough to be stressful) for driving into the village to reach my house to deposit my groceries. 
A village like this is lovely to visit, but at the height of the season it can be murder to live in, unless you're addicted to El Condor Pasa, which is lovely the first 20 times but under an open window, for 12 hours a day, the pleasure pales...
Perhaps I'm not being fair, and I don't want to colour your visit, because Yvoire is a delightful artists' village and if you spend the night or come in the shoulder season, you'll sense the waves of air drifting across the lake, much as they have for centuries, and without the crowds. (Sadly, you'll have to miss El Condor Pasa.) If you should decide to take my advice, I highly recommend the Hotel du Port, right on the dock, with a heart-stopping view, and you'll sell your soul for a second helping of their fresh perch fillets with lemony butter sauce.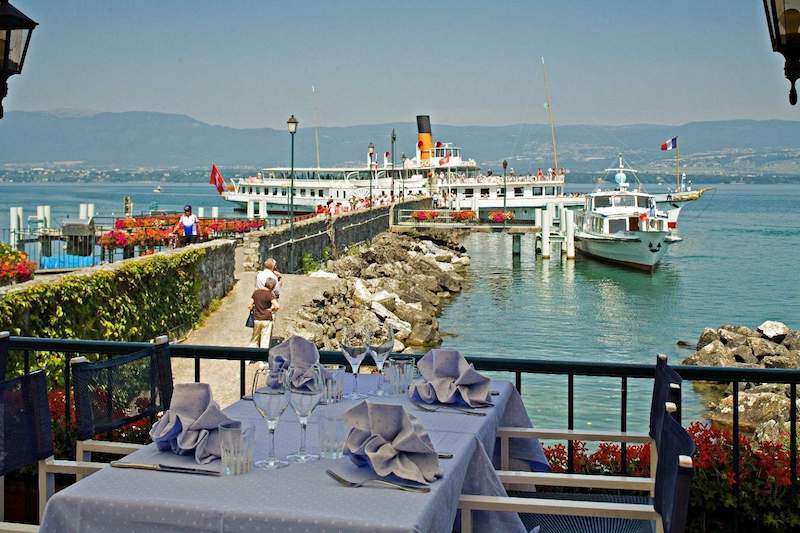 This is the view, and I've spent many a happy hour watching the boats come in while munching on perch... ©Hotel du Port, Yvoire
It's not the only label in town
What if the 'most beautiful' rejects your village? Or you lose your label? Are you doomed to forever drift in the land of the unloved and undiscovered?
No, my friend, not at all.
We French love our associations, and just as we have the 'most beautiful', we also have the most flowered, the cleanest, the ones with the most character, the ones known for their art and history, the most charming villages, most remarkable gardens, best for cycling... here's a list of the best known, just to give you an idea.
And just to show everyone that true regional autonomy exists, each region has its own 'most beautiful' label so if you fail to join the Plus Beaux Villages de France, you might be able to joint the Plus Beaux Villages de Provence. Even departments may have a 'most beautiful' designation, which increases your chances even more.
Not enough? Then lobby to get into France's guidebooks series, which also have their own best picks, like the Green Guide by Michelin or the more informal Guide du Routard. 
So no, do not despair, your chances of becoming a 'most something' are far greater than you think. Some villages have even ignored the 'most beautiful' label, opting instead for one of the other 'mosts' (less prestigious but also less onerous and expensive).
So if you enter what you THINK is a 'most beautiful village' but it doesn't have a sign, just know that here in France, we have many most beautiful villages, and that the 172 official ones are just the tip of the iceberg.
Did you enjoy this article? I'd love if you shared it!
You might also like these stories!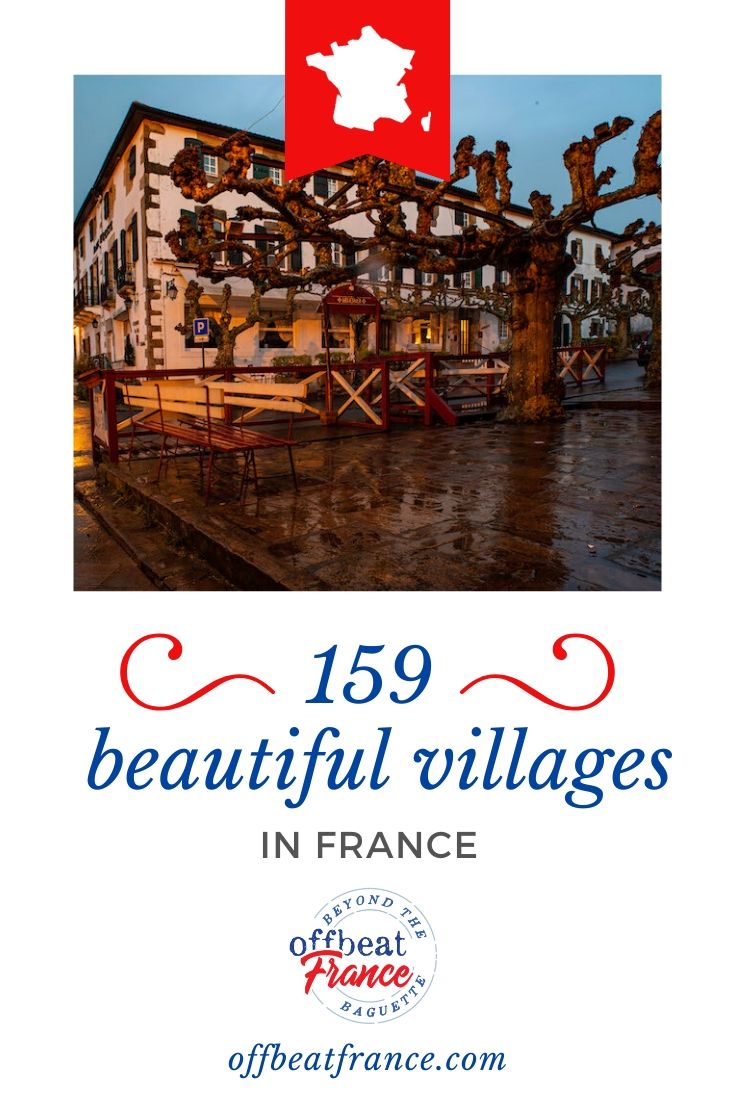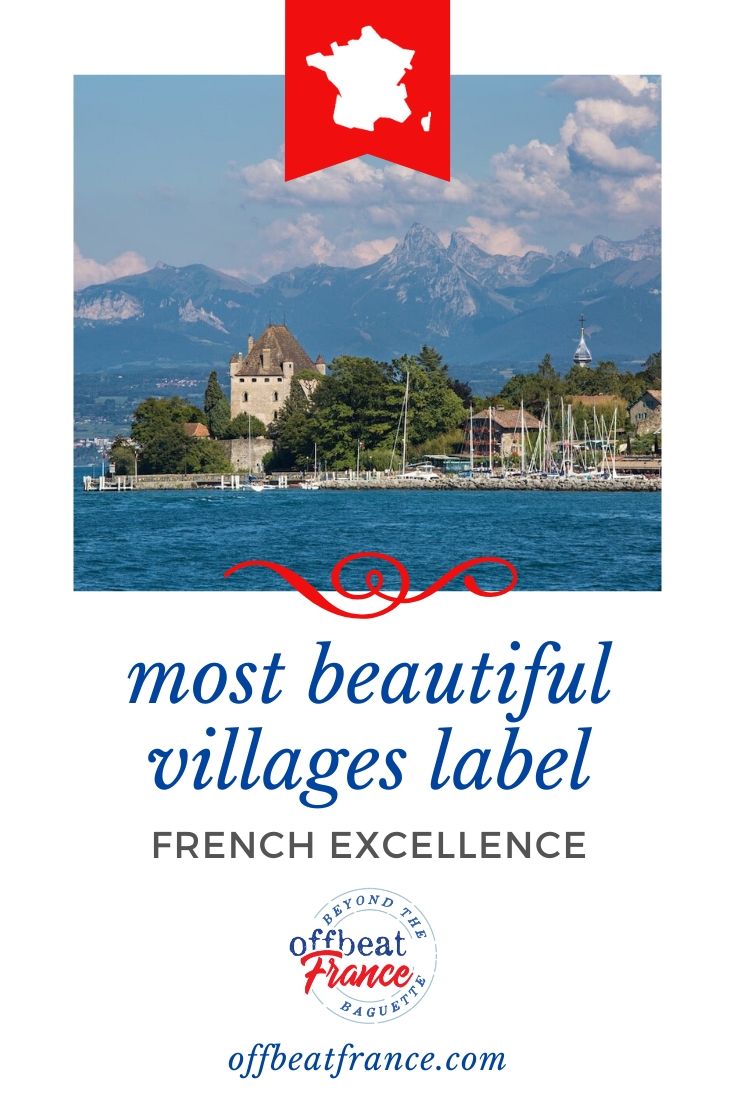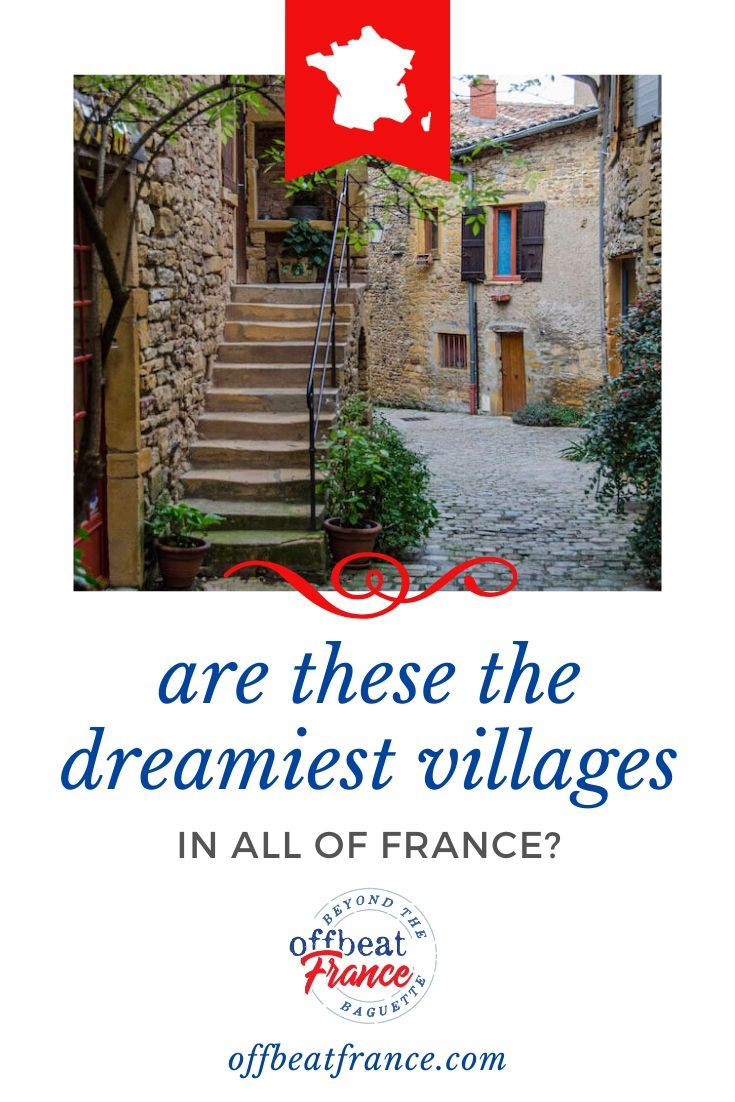 All photos ©OffbeatFrance unless otherwise noted — 15 May 2020