To visit Provence in southern France is to allow every single sense to be exhalted – from the scent of lavender to the bursting taste of olives, or the sound of the cicadas to the breathtaking views.
NOTE: Pages on this site may contain affiliate links, which bring in a small commission at no cost to you.
What follows is a quirky Provence travel guide, including many day trips, to places and experiences that reflect that sensory overwhelm – dazzling perched villages, hikes along turquoise rivers or the touch of linens or produce in local markets.
You'll find some of the high points everyone wants to see, but also some more off-the-beaten-path places where you can avoid the crowds and bask in the beauty of this land.

Go antiquing in l'Isle-sur-la-Sorgue 
If you love antiques and happen to be in Provence on a Sunday, there's only one place to be: L'Isle-sur-la-Sorgue, a glorious riverside village, replete with waterwheels and a delectable outdoor market.
It's everything you would expect from a market in Provence: bright fruits and crisp vegetables, Provençal linens and scarves, mountains of olives and candies.
And antiques, one of the best antique markets in France.
L'Isle-sur-la-Sorgue has styled itself the Capital of Antiques, and you'll see why as you rummage through some of the 300 stalls that line the River Sorgue each week.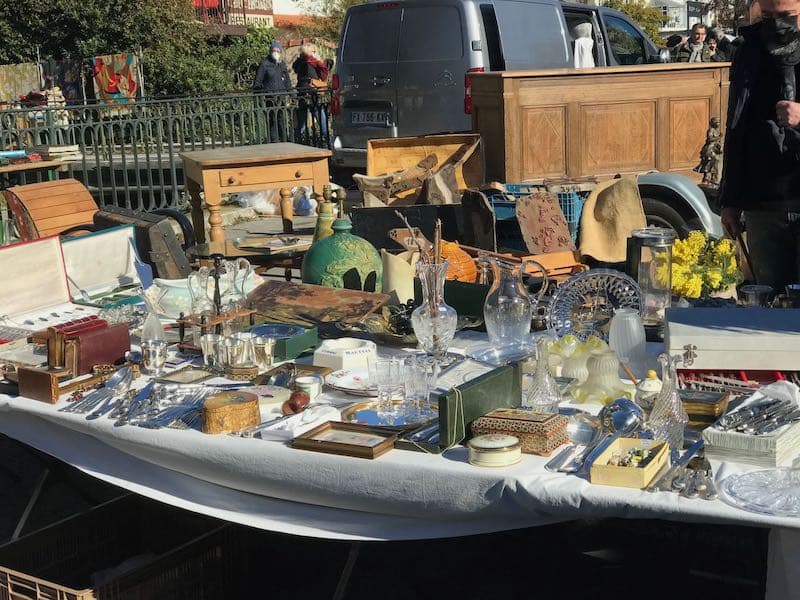 If searching through bric-a-brac isn't enough, the town has a dozen "antique villages" filled with shops run by professional antique dealers. The villages are grouped by such topics as antique books or Fifties design.
Twice a year, it gets even better as the village turns into Europe's antique hub. Two major antique fairs take place each year, one at Easter and the other on 15 August, turning the town into paradise for lovers of old things.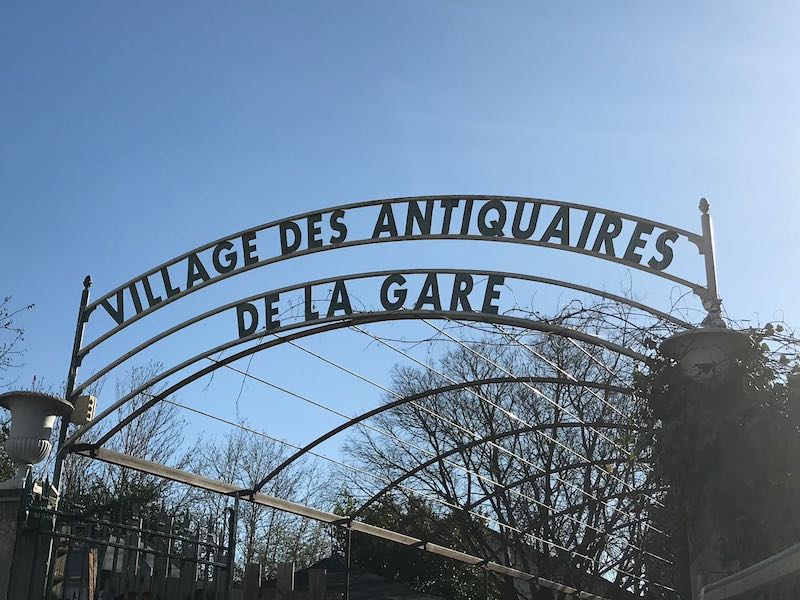 Since you happen to be in Isle-sur-la-Sorgue, you might as well push on to the Luberon...

Investigate the hilltop villages of the Luberon
These magnificent villages are renowned for a reason: they are drop-dead gorgeous, sitting majestically atop their hills, with sweeping panoramic views of the lavender fields below.
If you've ever read Peter Mayle's A Year in Provence, then you already know the region, at least through his eyes.
Located in the "Little Alps", les Alpilles, these delightful villages are bursting with character and history and enveloped by age-old legends. Yes, some of them are a little touristy, like Mayle's Ménerbes or Gordes or Roussillon, but that doesn't matter.
Go out of season, go early or late, but go, because these are some of the most beautiful villages in Provence (and France) and you'll spend hours surprised by the beauty that appears around every corner.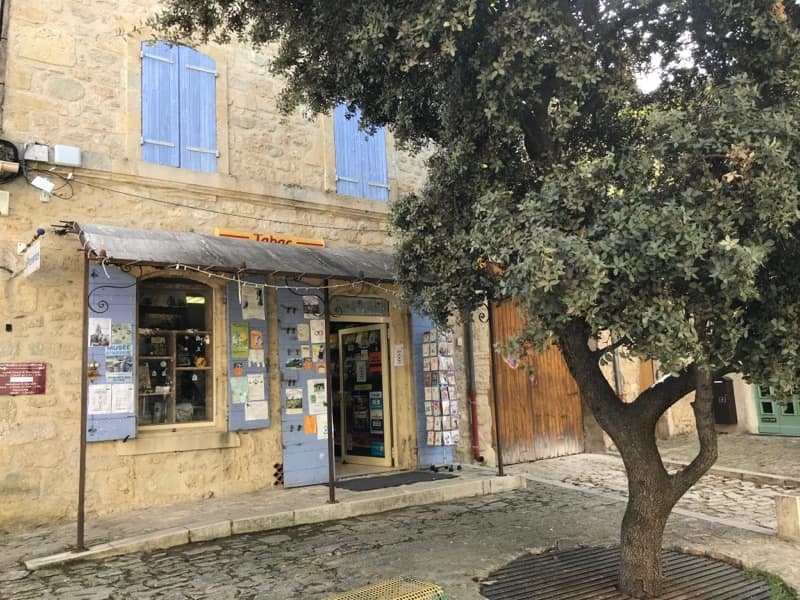 Down below, if the month is right, the fields will be tinted blue and purple, the lavender bursting forth with the brightness that is so identified with this region of France.


Inhale the lavender when you visit Provence
If you're here in early summer, prepare for a treat: it's the best time to visit Provence for its lavender.

The peak lavender season begins in mid-June and extends through mid-July, but lavender can still be found flowering through to the beginning of August in some areas.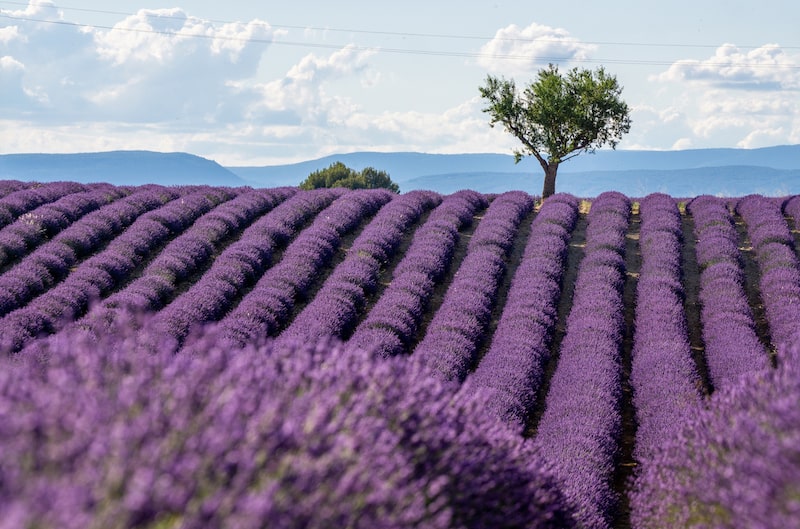 When to visit Provence? Lavende is best in the summer months ©LeLongWeekend
In the Luberon, some of the most beautiful lavender experiences are to be had at the Senanque Abbey, at the foot of Saignon, and near the Cave de Bonnieux on the way to Bonnieux. Visit at the end of June, through to the second week of July to experience these fields at their best.

Nearby, on the Valensole Plateau, you'll find sprawling lavender farms as far as the eye can see. To visit, drive down the D6 from Manosque towards Valensole, where you'll discover some of the most famous fields in Provence.
After stopping in Valensole village for lavender-flavoured ice cream, you can continue along to Riez, down to Sainte-Croix-du-Verdon, and up to Moustiers-Sainte-Marie, taking in the dramatic scenery, flower fields (sage and sunflowers grow here too), and roadside produce stalls as you go.
If your Provence travel takes place from mid-July onwards, head north to the village of Sault, whose lavender fields flower later due to the increased elevation.
Don't miss the Chemin des Lavandes – a signposted walk through some of the lavender farms, and if you're around mid-August you'll be able to catch one of the most popular lavender festivals that takes place in Sault village. It's a celebration of the year's crop, with parades, market stalls, and entertainment.

—Contributed by Nadine Maffre of Le Long Weekend

Delve into the markets of Provence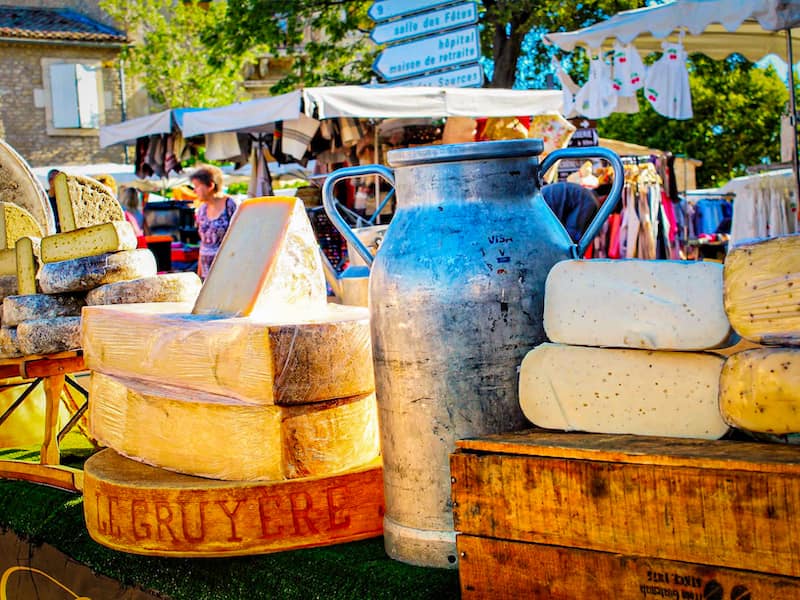 @Dream Plan Experience
Every day is market day somewhere in Provence, and these are as iconic as the lavender that undulates across its fields.
Visiting a local market is one of the best ways to experience life in Provence, and market day is a ritual during which locals catch up with a friend or their favourite vendor.
Market stalls sell fresh produce, of course, and cheese and bread. But markets in Provence also sell textiles, like traditional woven baskets and linens, along with lavender products and ceramics. It's a true feast for the senses to visit a town or village on their market day.
Many towns and villages of Provence have a daily market, each offering something special or unique. Some draw huge crowds, while others are quiet and quaint.
Here are three recommended ones to visit.
The hilltop village of Gordes, considered one of the most beautiful villages in France, sets up their Tuesday market at the foot of a castle in the centre of town. Gordes is known as having the best market in the Luberon region of Provence.
One of the best and most well-known markets in Provence is Saint-Rémy-de-Provence. This small, sleepy village comes alive on Wednesday mornings.
The biggest Saturday market in the Luberon region is in Apt. Over 300 market stalls fill the town centre. Apt is known as the world's capital for candied fruit so why not buy something authentically made in Apt while at the market.
—Contributed by Renee of Dream Plan Experience 


Discover wineries to visit in Provence
Many people don't realize there are vineyards to visit in Provence, and that the region is considered the oldest wine-producing region in France: the ancient vineyards of Provence date back as far as 600 BCE.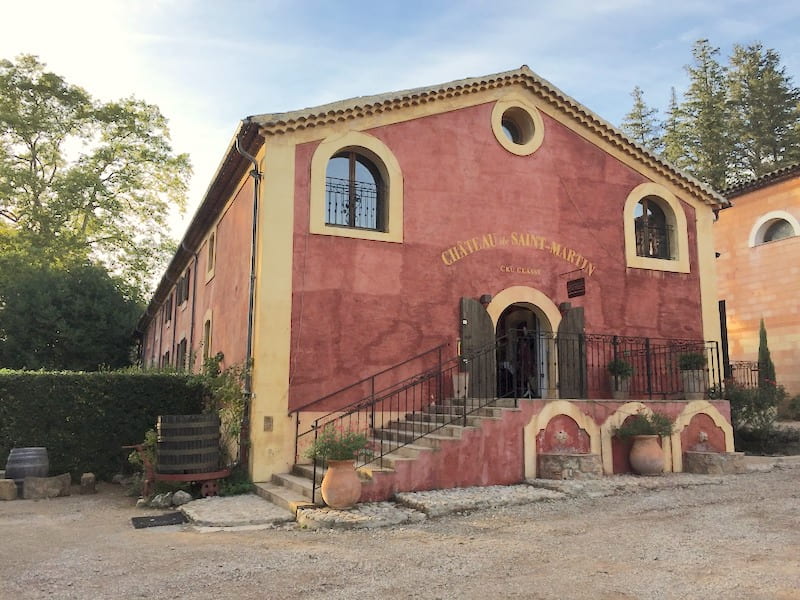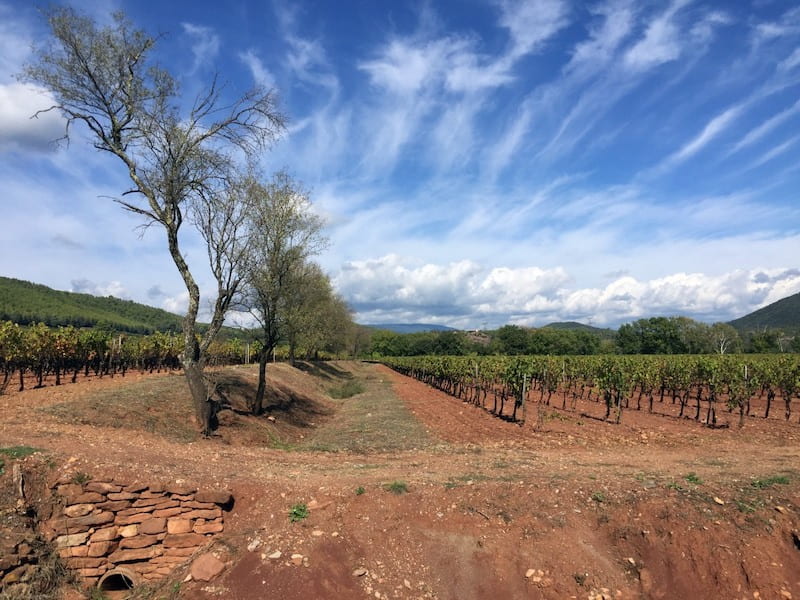 Vineyards of Provence ©OneGirlOneWorld
The wines of Provence are dominated by rosé – in fact, it's almost 90% of the wine production in the region – but there are excellent whites and reds as well. 
The grape varietals here include a handful of well-known names (Grenache, Syrah, Cabernet Sauvignon), but many lesser-known French vines as well (Ugni Blanc, Clairette, Carignan, and more). The bright, dry, and crisp style of rosé wine made in Provence is a perfect match for the region's lighter Mediterranean cuisine.
The best way to experience the wines of Provence is to visit a winery or two, and it's simple to do since they're scattered throughout the region. You can enjoy a self-guided visit or take a guided tour, which simplifies the drinking and driving logistics and winery arrangements. 
If you are exploring on your own through the vineyard areas, look for signs that say "Degustation" (meaning visitors are welcome to come in and taste) and "Cave" (they may offer different vintages to taste).
A few wineries worth a visit include Château de Saint-Martin, Château d'Esclans (home of the famous Whispering Angel brand), Jans d'Esclans, Château de Bellet, and Castle Paquette. 
There are also many smaller wineries to discover, and you may just happen upon a charming family-run winery as you drive around one of the most underrated wine regions in France.
—Contributed by Jessica of One Girl, Whole World


Follow in the footsteps of Vincent van Gogh
One of the more famous artists to live and work in Provence was none other than van Gogh, the Dutch post-Impressionist often known – in addition to his art – for cutting off his ear in a fit of insanity.
Even if you only know his name, you've probably seen his work, the swirling skies and dazzling sunflowers and irises that redefine light.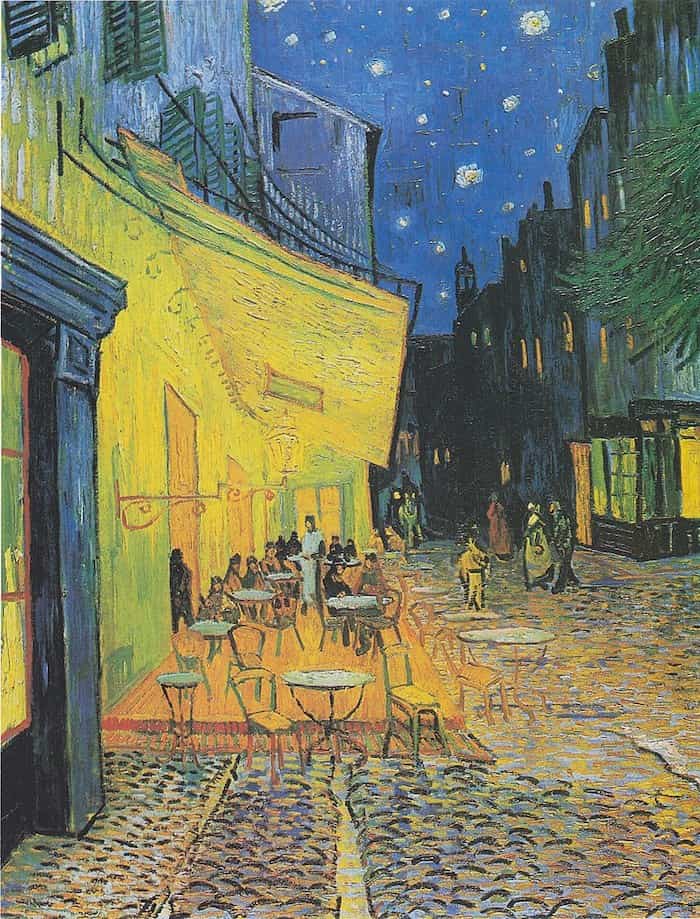 What you may not know is that of his 900 or so paintings, 200 were painted in the Provençal cities of Arles and Saint-Rémy-de-Provence, in the short space of 27 or so months.

Van Gogh left Paris, where he then lived, because of his health, but in Provence he found light and inspiration.
Sadly, though, the mental problems he had faced since childhood only became worse as he threw himself into his work, until that fatidic night he cut his ear off in a fit of absinthe-fueled pique.
One of the unique things to do in Provence is to follow in van Gogh's footsteps in Arles and Saint Rémy.
Both towns have a trail mapped out through cypresses and olive groves which you can follow at your leisure, gazing at the scenery and wondering whether, somehow, you might see what van Gogh was able to see. This is one of the best places to visit in Provence if you love art, and you'll find plenty of things to do in Arles.

Explore Roman Provence
If you're in Saint-Rémy learning all about van Gogh, your main stop will be Saint-Paul-de-Mausole, the monastery and asylum where the artist spent a year after leaving Arles.
Across the street from the monastery is the treasure that is Glanum, a Roman city built on the foundations of an even earlier city dedicated to a sacred spring with a reputation for healing.
When the Romans were on the march across France, the city caught their attention and they captured it, renaming it Glanum and erecting the many monuments we can visualize from the ruins – temples, baths, and a religious sanctuary celebrating the sacred waters.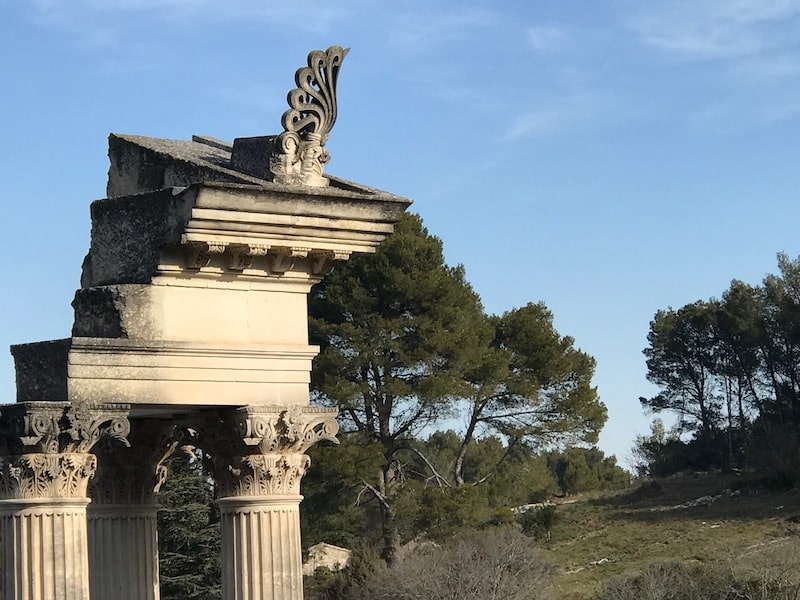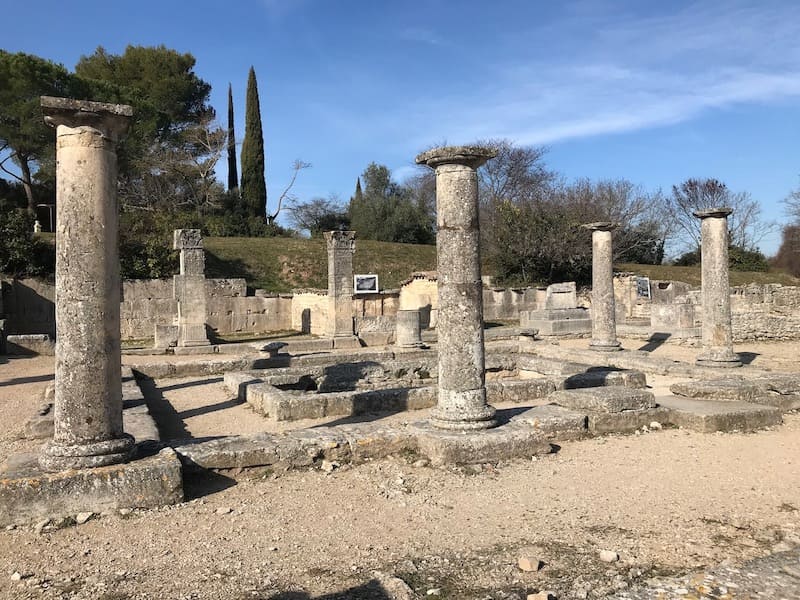 While Glanum was destroyed during by barbarian invasions in 260 CE, there remains nearby what are now called The Antiques, the nearly-intact gate through which one entered Glanum.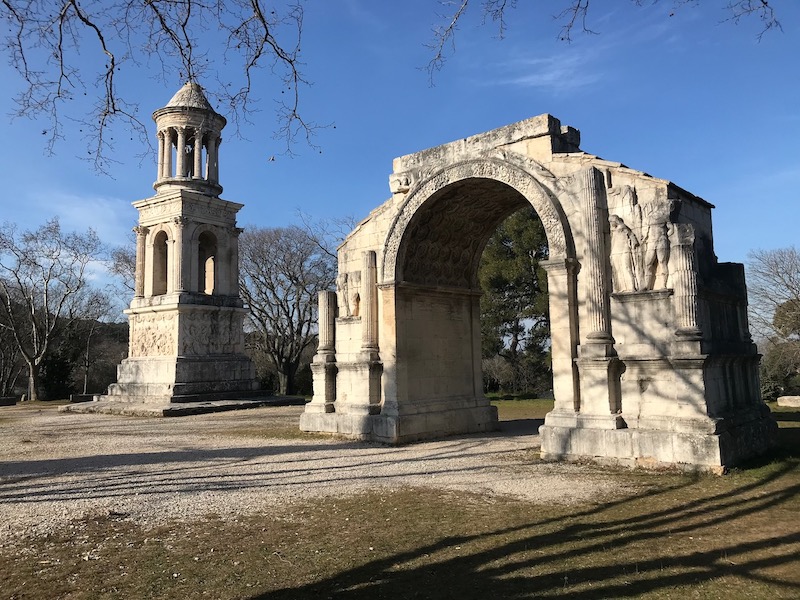 While Glanum is one of the best places in Provence for roman ruins, half an hour's drive away is the small town of Arles, so filled with monuments that most of them are protected as a UNESCO World Heritage Site. Here are the top ten must-see Roman ruins of Arles.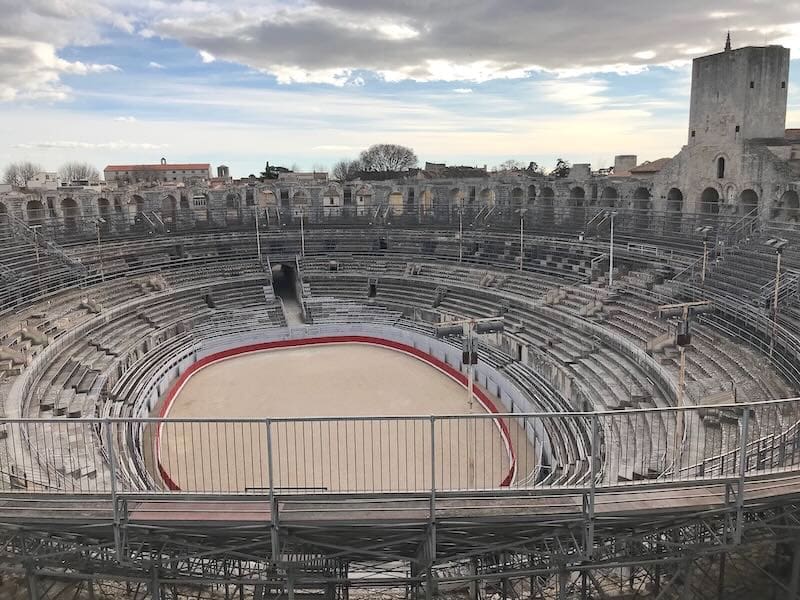 Stroll along Nice's Promenade des Anglais
While Provence is filled with glorious villages, some of its cities are equally stunning.
Take Nice, one of the best towns on the French Riviera, founded by Greek mariners around 350 BCE. Today, it is the capital of the French Riviera, and its Promenade des Anglais is a Provence must see, bordered on one side by the sandy shores of the Mediterranean and on the other by elegant palace hotels like the Negresco, built during France's Belle Époque.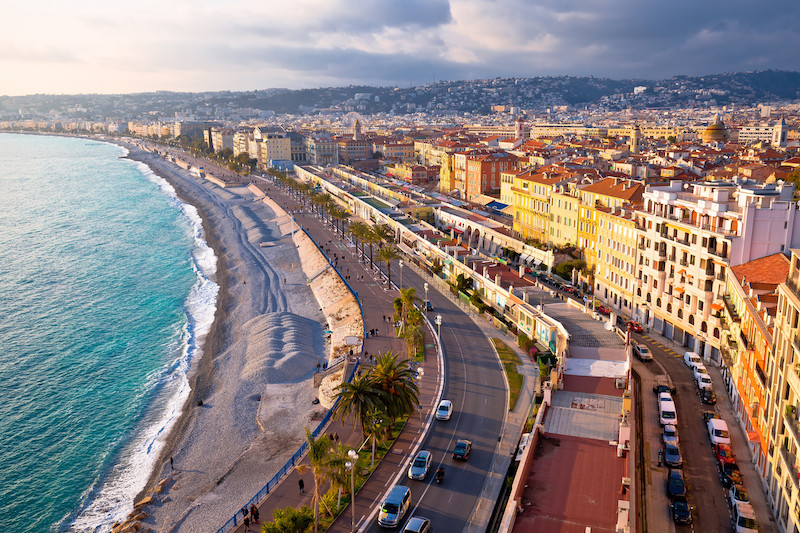 A bird's eye view of the Promenade des Anglais, one of the delightful urban places to see in Provence
The Promenade is a pedestrian walkway that stretches seven kilometers from the airport in the west to the headland in the east, perfect for a breath of fresh air and a fantastic workout – walking its length is one of the best things to do in Nice.

Nice has been wildly popular for a long time, and in the 18th century became a coveted winter destination for the English aristocracy. A century later, the city's English community raised funds to build the walkway and so the Promenade des Anglais was born. 
While walking along the Promenade, with the sea breeze whipping your face, stop for food or drinks at one of many local bars and restaurants and enjoy typical dishes of the French Riviera. If you're tired of walking, there are seats to take a break and enjoy people watching. Some parts of the Promenade des Anglais enjoy a cooling water mist: perfect in summer!
Of course, after all that walking and exercise, why not use the opportunity to step onto the beach for a bit of sunbathing or for a dip in the Mediterranean Sea?
—Contributed by Ophélie of Limitless Secrets

Browse the art galleries in Saint-Paul-de-Vence
To feed your inner artist, take a day trip from Nice to Saint-Paul-de-Vence, with its stunning views cascading down to the coastal areas of Provence to the Côte d'Azur.
It's no wonder the village was a magnet to so many famous artists – Chagall, Picasso, Matisse, Braque, Modigliani, Miró... all fell in love with the village and left behind a bit of themselves, from artworks with which they paid their bills at establishments like the Colombe d'Or to much-loved public sculptures that dot the town. Marc Chagall is even buried here.
More formally, the Maeght Foundation – France's first ever private art foundation – has one of the best collections of modern European art. In the streets of the village, all you have to do is walk around and you'll notice every other shop is an art gallery.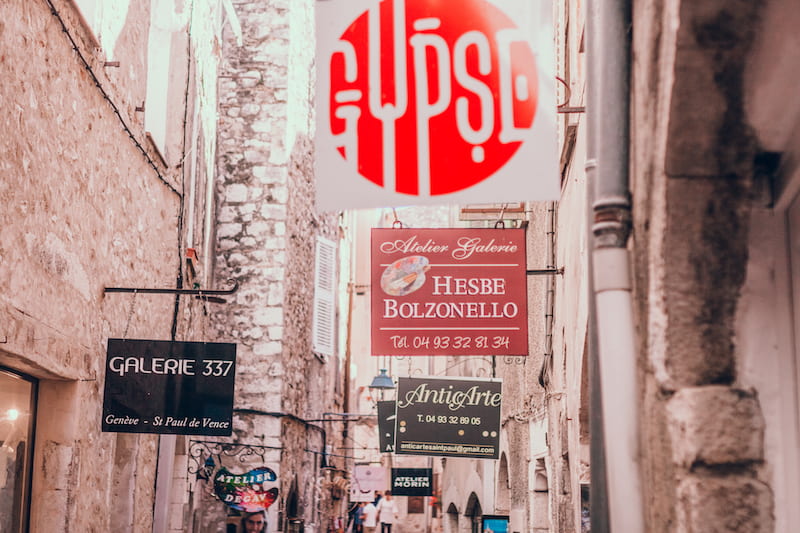 Saint-Paul-de-Vence is also one of the best towns in Provence for strolling, with its old stone walls and cobblestone streets. It has long been a popular weekend getaway spot for the rich and famous of France and beyond, and for everyday lovers of wonderful art. It is a place to relax, heal and soak in the magnificent views and slower pace of the hills of Provence.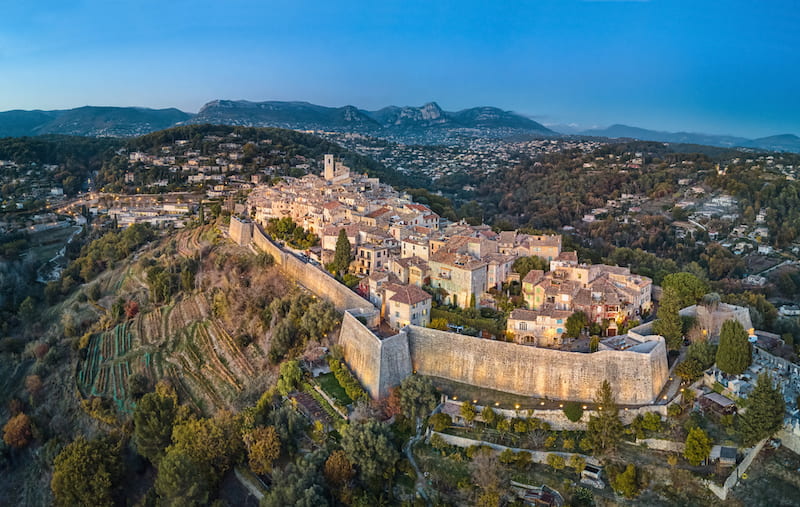 Tempted? Just hop a local bus from the main bus area in Nice and after half an hour, you too will be feasting your eyes on the beauty of Saint Paul, both inside and outside its walls. 

—Contributed by Noel Morata of This Hawaii Life

Hike the famous calanques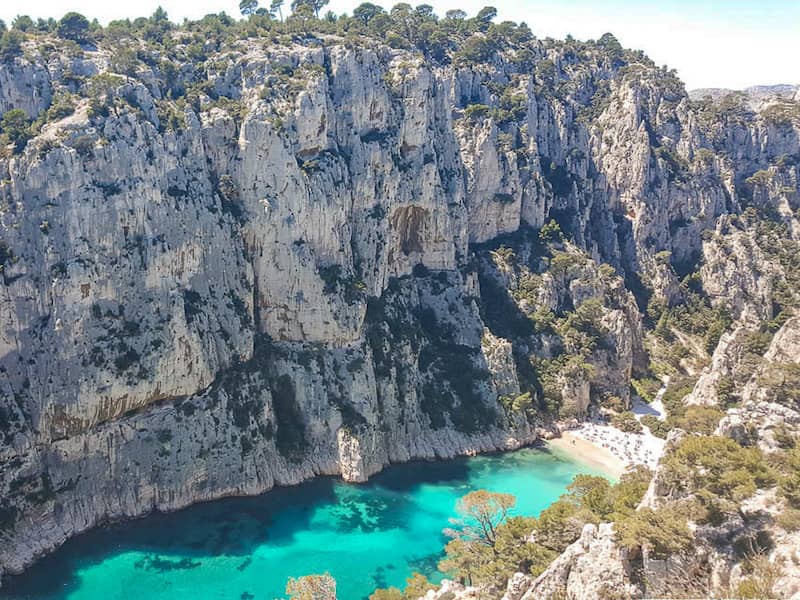 The Calanques ©TheUnknownEnthusiast
Villages, towns and cities are part of Provence's DNA – but so are its natural areas.
The Mediterranean coast between Marseille and Cassis is dotted with natural inlets called calanques, rugged inlets similar to the fjords of Norway (but much, much smaller). 
They are part of the Calanques National Park and their natural beauty makes them a joy to hike, an easy day trip from Marseille.
One of the most popular routes is from Port Miou in Cassis to the Calanque d'En Vau,  easily the most dramatic calanque, with towering white limestone walls contrasted by turquoise water. 
As you start your hike from Port Miou, you'll experience your first calanque (the aptly named Calanque de Port Miou), small but beautiful. In about 20 minutes, you'll hit the Calanque de Port Pin. Here, you can follow the trail straight and inland, or keep to the left and follow an alternative trail along the coast. The coastal trail is longer, but it will give you the best views as you approach Calanque d'En Vau. 
The descent down to d'En Vau is steep and rocky, and sometimes you'll have to use your hands to ease yourself down the rocks. It is worth the effort, however, as you enter the beach of the calanque and see the white walls rise up over you, with a narrow passage out to sea!
Go swimming in the Mediterranean waters, but make sure you have some water shoes or sandals – the beach is rocky. Otherwise, bring a baguette, a hunk of cheese, and some fruit, and enjoy a French picnic in one of the most stunning natural wonders of Provence. 
—Contributed by Stephanie Rytting of The Unknown Enthusiast

Snorkel in Port Cros National Park
Further down the coast is another pristine hideaway, this time a Mediterranean island with no cars or bikes and distant views of untouched nature.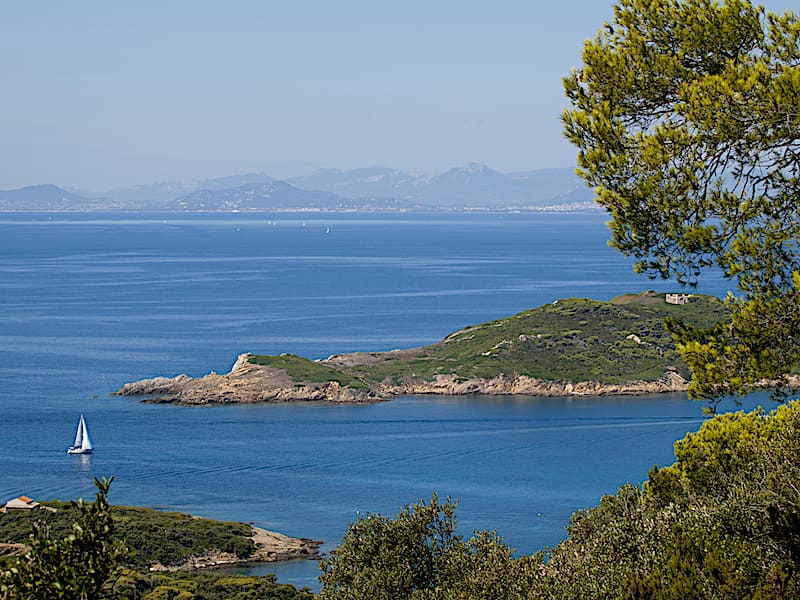 Port Cros Island has been a national park since 1963 and is only a 30-60min ferry ride from Hyères or Le Lavandou.
Although you can visit Port Cros as a day trip from the mainland, consider staying overnight and exploring the entire island.
Despite its isolation, the port and nearby beaches can get busy during the high season in July and August, especially the Plage du Sud and La Fausse Monnaie, the most accessible.
The Plage de la Palud is also very popular, even though you have to hike for half an hour to get there. It's famous for a snorkelling trail that explores the oldest marine park in Europe. Underwater signs (in French but with images) allow visitors to learn more about the local biodiversity and what to look for.
The farther you go from the port, the fewer people you'll see. There are no shops or restaurants on the island once you leave the port area, so make sure you pack water and snacks, grab your good walking shoes, and head for a distant beach.
—Contributed by Eloïse of My Favourite Escapes

Brave the Gorges du Verdon
If you head inland in Provence, just two hours from Nice, spend a day discovering the Verdon Gorges, famous for the turquoise waters of the Verdon River.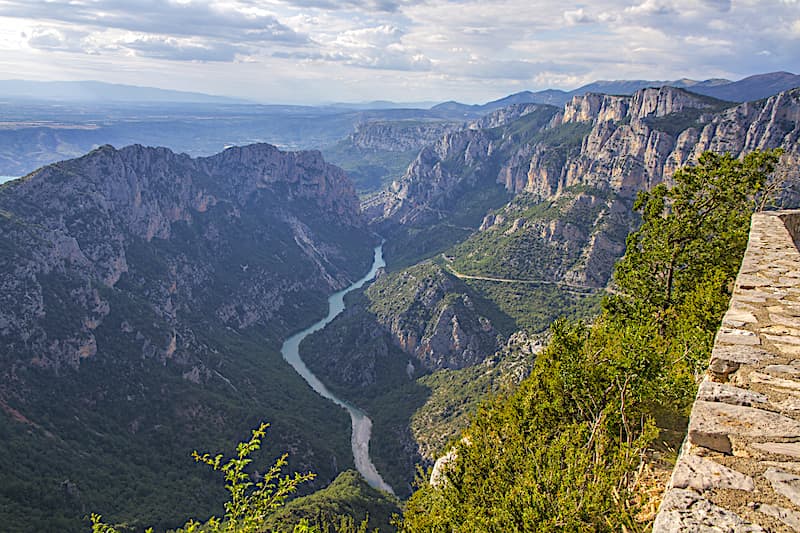 Exploring the Gorges can be done in several ways, each allowing you to experience them differently. 
Driving is the easiest to do, along the snaky road which provides several stunning viewpoints – and a few vertiginous drops.  Watch out not to fall!
Hiking is one of the most popular Verdon River's outdoor activities, with several trails around the gorge or down by the river.
The most popular are the Martel Trail and the Imbut Trail – this last trail is challenging, with some steep areas and limited safety, better reserved for experienced hikers.
Come summer, the top attraction is kayaking along the turquoise waters of the Verdon River. Rent a kayak for an hour on Lac Sainte-Croix, and head for the gorge; it only takes an hour to visit the section of the river accessible to kayaks.
—Contributed by Patricia Pagenel of Ze Wandering Frogs

Drive up Mont Ventoux
And then there's Mont Ventoux, Provence's iconic mountain and a UNESCO Biosphere Reserve well-known by the Tour de France cyclists who huff and puff their way up pretty much every year.
You can do it more easily by driving up – there are three roads leading to the top. It is quite the adventure, but worth it to savour the breathtaking views.
Keep a few things in mind as you contemplate your climb.
First, make sure your vehicle is in good condition and that you're familiar with its capabilities. You're about to start a winding and treacherous climb, and there are no guard rails.
Also know that the summit is 1,912 meters (6,273 feet) high, so there is a risk of altitude sickness. If you're not feeling well, or if you have any other concerns, don't hesitate to turn back.
Finally, make sure you have plenty of water and snacks. There's a café up there, but you never know if they'll be closed just the day you decide to drive up.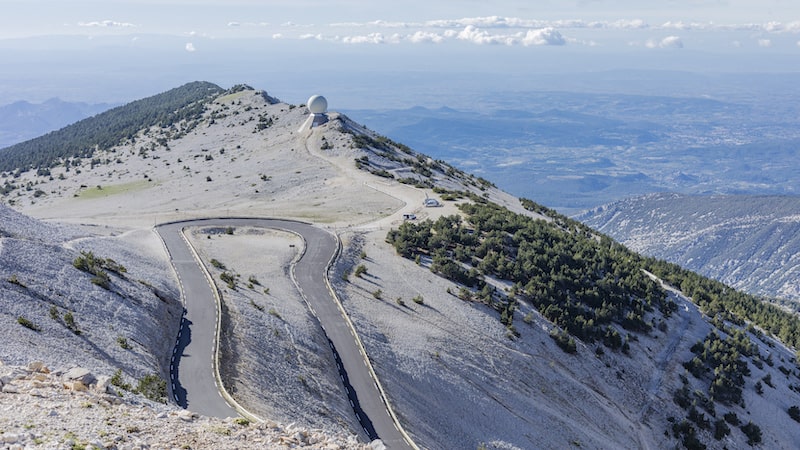 There are those who think the name Mont Ventoux means windy mountain – it does not, but it should, given what blows up there, so don't forget a jacket or a windbreaker. And download your GPS or road map before you start the climb, because the connections isn't always that good.
The real meaning of Mont Ventoux? "The mountain you can see from anywhere."
—Contributed by Don of The Money Saving Daddy
Provence FAQ
Absolutely. It is one of the most beautiful regions of France, if not THE most beautiful. Some of the world's most famous artists came to Provence to paint – they couldn't get enough of its exquisite landscapes and brilliant light.
Some people love the Luberon, in the Alpilles region, others feel the Riviera is dreamy, with its turquoise waters and graceful inlets, and yet others are taken with the wild expanses of the Camargue.
There are so many! And it depends what you mean by "best"...

Gordes and Lourmarin in the Luberon, for the setting and the beauty of the towns
L'Isle-sur-la-Sorgue, for its riverside setting and its Sunday markets
Avignon, for its historic buildings
Saint-Paul-de-Vence for its artists

And any number of towns along the Riviera...Villefranche-sur-Mer, Beaulieu-sur-Mer, Saint-Jean-Cap-Ferrat and so many more
You can drive to Provence from Paris in a few hours along the main A7 autoroute.

You can also fly into Provence into several airports, including Nice and Marseille, both of which have international flights.
You can take the train to Provence, where there are many stops for the high-speed TGV, including Aix-en-Province, Avignon, Cannes, Marseille and Nice.
When to go to Provence
The best time to visit Provence is in spring or autumn, with May and September usually the best months. However, the best time to visit Provence for lavender is summer, in the latter part of June and the early part of July.
Did you enjoy this article? I'd love if you shared it!
Shop this post on Amazon
Pin these and save for later!