There are corners of the world that were put here to be painted. Bali. Greece. Tuscany. And south France. 
Looking at the works of the artist Van Gogh in Provence, he clearly agreed.
NOTE: Pages on this site may contain affiliate links, which bring in a small commission at no cost to you.
Van Gogh stayed in Provence, France for a total of 444 days in Provence, during which he would paint better and more than at any other time in his life: 187 paintings in Arles, and 142 in Saint-Rémy-de-Provence.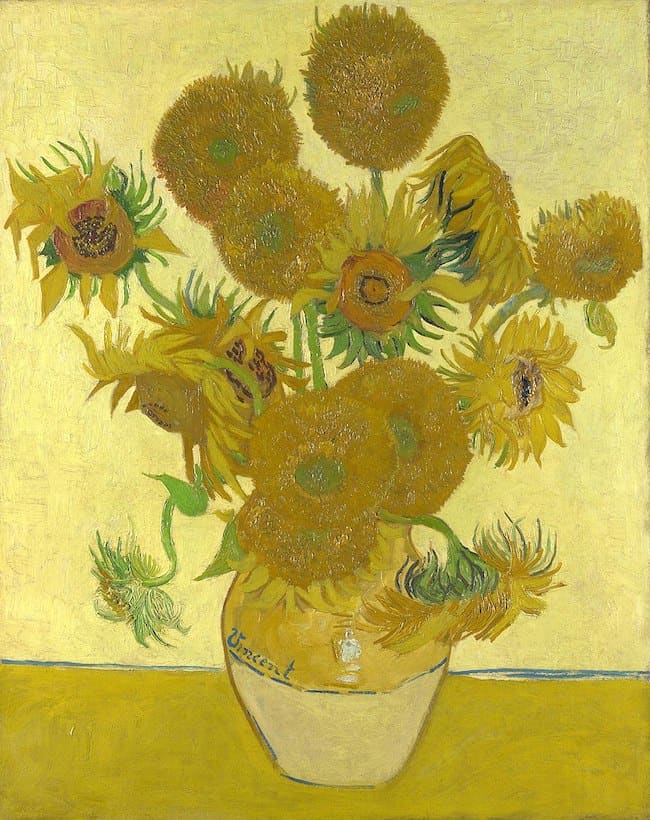 One of several "Sunflowers" painted by van Gogh. His first set was painted in Paris, but this is a fourth version, painted in Arles in 1888
The story of Vincent van Gogh in Provence
Despite his planetary fame, Vincent van Gogh was not immediately predestined to be an artist. In fact, he came dangerously close to not becoming one.
When he finally did start painting, he was a dismal failure – or at least that's how he saw himself. He couldn't, after all, even sell his paintings...
His eventual move to Provence would propel him into one of his most prolific phases, during which he would develop his brush strokes and use of colour, bringing even greater light to a region already graced with so much. 
The 900 van Gogh Provence paintings would become world-famous.
While Vincent van Gogh was in Provence, he wrote his brother voluminous letters, mostly to his brother Theo but also to other family members, Paul Gauguin, and a few others, in which he talked about his work and life in Provence. This illustrated book offsets excerpts of his letters with the paintings that go so well with them. Order from Amazon 
Vincent van Gogh – life before Provence
Born in the Netherlands in 1853 to a good family, he was a quiet child who grew into a searching young man, trying his hand as an art dealer (a common profession in his family), a Protestant pastor, a bookseller, and diverse odd jobs. 
He had always been interested in art but it wasn't until 1880, aged 27, that he took it up seriously, briefly attending art school. 
Discovering his love of painting did nothing for his personal life, which would always be unsettled. The few times he did fall in love, the relationships were either impossible or didn't last. He was more of a vagabond, unable to support himself, often returning to live at home with his parents.
Even in his youth, he would exhibit the beginnings of the mental issues that would plague him throughout life.
By 1883 he was painting more regularly, but you'd have a hard time recognizing his work – dark, gloomy, and bereft of the brightness and passion we've come to love. His sole support was his brother Theo, with whom he would maintain a rich correspondence throughout his life.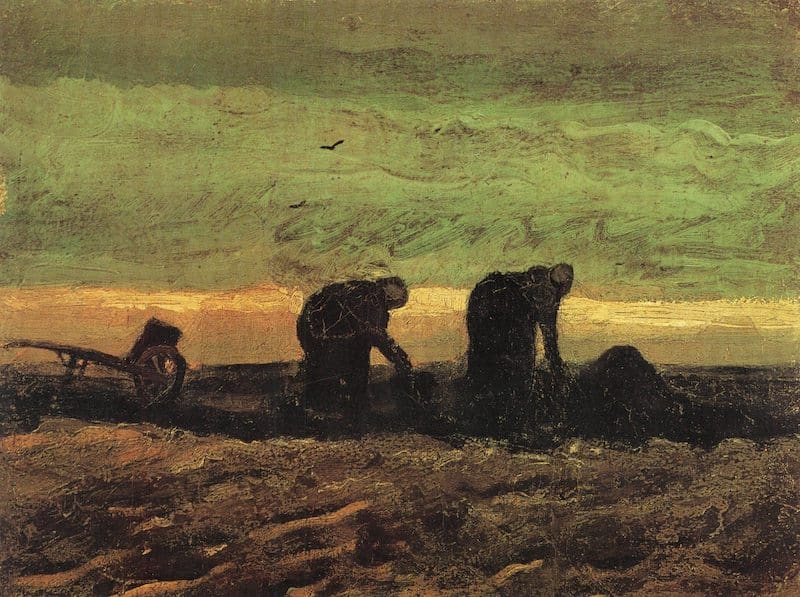 Two Women on the Moor, a van Gogh painted in 1883, in colours vastly different from the late van Gogh style he would develop in Provence France
In 1886 he moved to Paris and his paintings became brighter as he befriended other artists of the Belle Epoque. His style quickly evolved – he was, after all, surrounded by the likes of Toulouse-Lautrec, Gauguin, Pissarro, Signac...

A nasty cough – possibly linked to the overuse of alcohol and tobacco – demanded a better climate.
In February 1888, he abandoned the greyness of Paris in winter and stepped foot on the soil of Provence, headed for Marseille.
But he fell in love with the Arlesian landscapes and never continued his journey.
It was a new beginning. He would heal. He would paint. He would start an art colony and gather all the best painters of the time. His art dealer brother, Theo, would sell all the paintings, and everything would be fine.
TOUR PROVENCE IN VAN GOGH'S FOOTSTEPS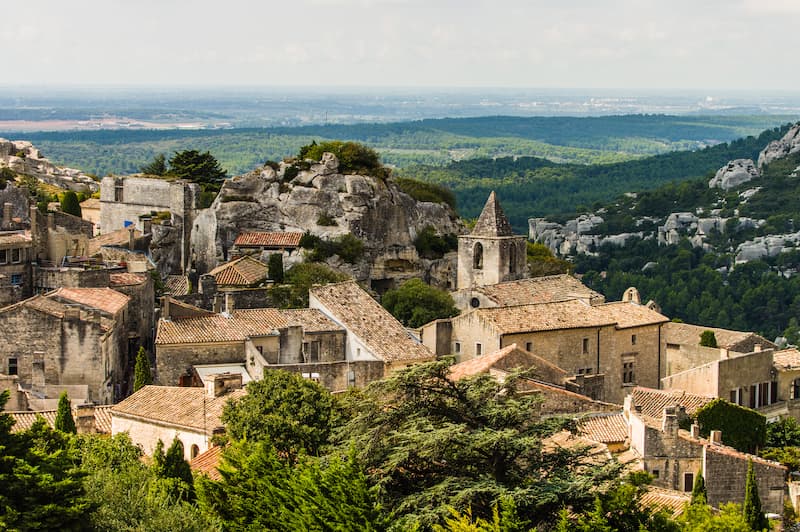 This wonderful half-day tour starts in Avignon and visits the high points of van Gogh's life through the Provençal villages and towns of Arles, Saint Rémy de Provence, and Les Baux de Provence, not to mention passing through some of the region's most stunning scenery. Find out more here!
Van Gogh in France: the Arles years
When you visit Arles, you'll see van Gogh everywhere, whether you look for him or not.
You'll see him in the café he immortalized in his painting, the Night Café, now renamed Cafe van Gogh. You'll see him on street names and shops, museums and galleries. I may have even spotted a chocolate shop bearing his name.
The only thing you won't find here is an actual van Gogh painting. He may have painted Provence under all its forms, but his paintings went elsewhere, to the Orsay, the Hermitage, the Met, the van Gogh museum in Amsterdam...
I always think that what we need is sunshine and fine weather and blue air as the most dependable remedy.
—Letter to Theo, September 1888
Van Gogh settled in quickly and once the unseasonably cold spell had passed, he began painting, first at night, and then, as spring took hold, he captured the blossoming trees and peasant farmers, all under the Provençal sunshine.
He visited other painters. They visited him. And his dream of an art colony might, just might, be within reach.
Van Gogh and Gauguin in Arles
And then there was Paul Gauguin.
It appears brother Theo may have twisted Gauguin's arm but whatever the motivation, van Gogh persuaded Gauguin to come.
He agreed to visit van Gogh in Arles and become involved in his artist colony scheme. Become its dean, in fact.
Van Gogh got to work decorating a room for Gauguin in the Yellow House where he lived, producing a set of "Sunflowers", modest then, but among the world's most coveted and expensive paintings today.
It all went perfectly. They placed their easels side by side, painting their way through Arles and environs. They inspired one another, ate and drank absinthe together, explored brothels together.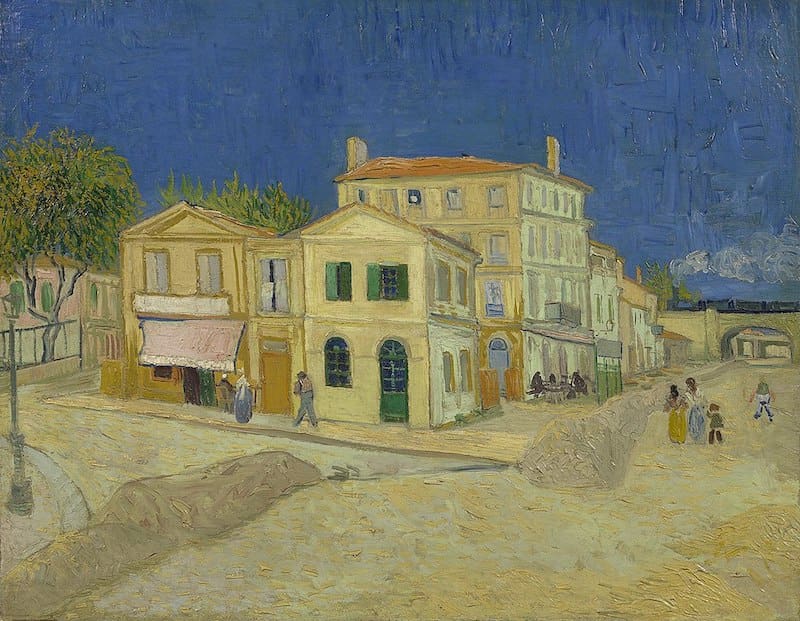 Van Gogh rented four rooms in this "Yellow House" at 2, Place Lamartine, where Gauguin also lived during his stay in Arles. The house no longer stands, badly damaged during World War II and eventually razed
But this idyll only lasted two months.
It may have been that Gauguin was domineering and unwilling to treat van Gogh as an equal, and after a few peaceful months, their friendship went irretrievably downhill. It may have been due to growing differences in their artistic styles and visions, or too much absinthe, known to produce hallucinations. Add van Gogh's self-doubt to the mix and the concoction was bound to become explosive.

Which gets us to the ear.
FURTHER READING ABOUT VINCENT VAN GOGH 
How did van Gogh lose his ear?
It's a story we've all heard, but there are plenty of grey areas.
No one really knows what happened, and we have many conjectures – and clues.
What is probable is that Gauguin had decided to leave Arles, and van Gogh was distraught. He could feel his dream of an art colony ebbing...
Or there may have been money involved, perhaps a loan from Gauguin to brother Theo.
Or yet again, van Gogh may have been informed of Theo's impending marriage and feeling the pain and fear of abandonment.
What IS known is that just before Christmas, on 23 December, van Gogh had a mental breakdown.
He and Gauguin fought after an absinthe-fuelled evening at the café. A glass was thrown and van Gogh may have gone after Gauguin with a razor. What's known is that Gauguin quickly disappeared, soon leaving town.
When van Gogh returned to his room, he apparently heard voices, grabbed a razor (unless he still had it from his earlier altercation) and cut his ear off. Or his earlobe, no one knows for sure.
Or maybe he didn't. Maybe Gauguin did it by accident and van Gogh covered it up to protect Gauguin from going to jail.
It is even said van Gogh severed his ear accidentally while shaving, during an epileptic seizure.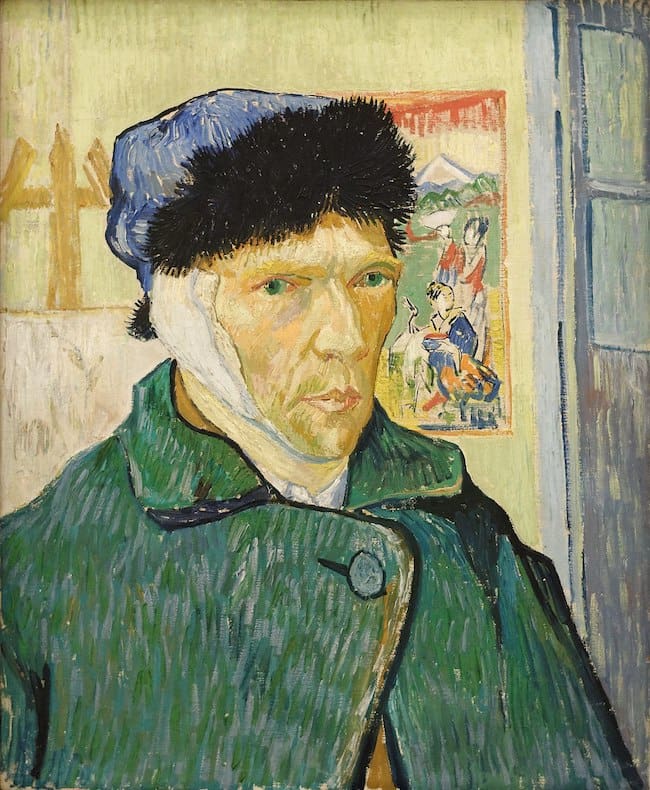 Van Gogh painted this self-portrait a month after he cut his ear. He hurt his left ear but his right one is portrayed here - he painted from his image in the mirror
Whatever the cause, the ear (or part of it) came off, and van Gogh inexplicably seems to have given it to a cleaning woman in a brothel, asking her to "guard it". He then returned to his rooms and promptly fainted, perhaps from blood loss, before being discovered by a policeman the next morning, his head wrapped in a bloody towel, possibly arrested, and finally taken to hospital.

His neighbours were convinced he was crazy.
He remembered nothing.
The ear would never be reattached, van Gogh would suffer a severe mental breakdown, and Gauguin would get out of town as fast as he could. They never saw one another again, although they did keep in touch.
The next few months saw an alternation of lucidity and hallucinations, with several more breakdowns so wearing that van Gogh eventually checked himself (some say was brought) into what was then called a mental asylum, Saint-Paul-de-Mausole, in the nearby town of Saint-Rémy-de-Provence.
But before we run off to Saint-Rémy, we have a bit of unfinished business in Arles.
FOLLOW IN VAN GOGH'S FOOTSTEPS
If you don't have the time to organize your own trip in the footsteps of van Gogh, these tours will immerse you in his Provence:
Locations of the most famous van Gogh paintings in Arles
Many of these events in van Gogh's life were punctuated by paintings, his moods and inspiration sweeping high or sinking low with his emotions.
Walking around Arles in his footsteps is a slow discovery of the artist, an unwrapping of sorts. Prepare to be enchanted. But first, drop by the Tourist Office to grab a map (or download it in PDF from their site).
You'll be guided to these stops, and many more. 

Café "Le Soir", The Night Café
The name of this café is confusing. It's been called the Café du Forum, or the Café de la Nuit, or the Café Terrasse – the last two probably being wrong and simply referring to translations of the name of the painting.
During the 1990s it was renovated to look just like his painting, and has since been aptly renamed Café van Gogh.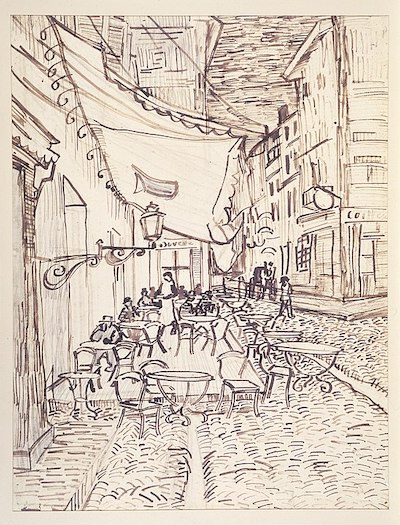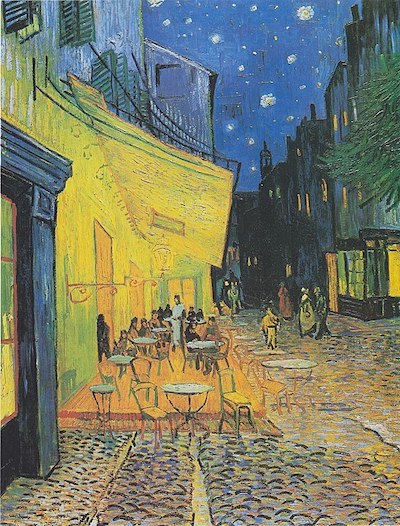 Van Gogh loved painting at night: "I often think the night is more alive and more richly coloured than the day", he said.
What's unusual here is the preparatory drawing, which he often skipped, preferring to paint what he saw directly. Often, his drawings would be included in the letters he wrote to his brother.
He also avoided using the colour black, believing the night had plenty of colours he could use instead, richer colours than the day, even.
Starry Night over the Rhône
We're all familiar with his painting "Starry Night", which would soon be painted in Saint-Rémy, but before it came Starry Night Over the Rhône, which he painted in Arles.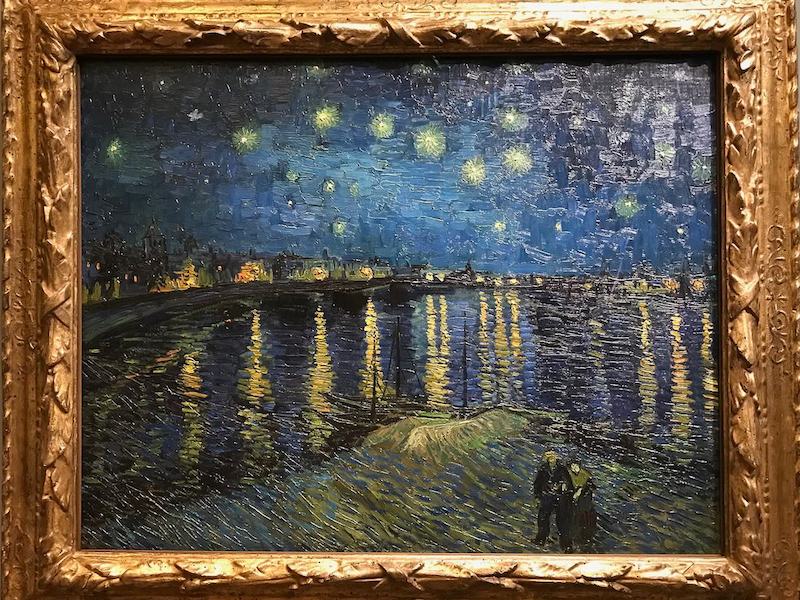 My own not-very-well-lit shot of Starry Night Over the Rhône from its place on the wall of the Musée d'Orsay in Paris
Van Gogh loved to paint at night, and the clear skies of Provence didn't deny him that pleasure, but his love of colour made painting at night more challenging.
Also, simply put, it was harder to see.
He apparently devised some ingenious work-arounds. Some say he lined the brim of his straw hat with candles, having modified his hat to do so (definitely not something we should try ourselves). Another account has him writing to his brother about using a "gas jet", so while he did manage his masterpieces under the starlight, we're not quite sure what help he had.
If you follow the van Gogh trail map, you too can stand where Vincent painted this, the spot marked by one of the many explanatory metal easels set up by the city to help guide you.

By Rolf Süssbrich CC BY-SA 3.0, Wikimedia Commons
This is the view, today, although the pink lights were there only for the Arles photo festival and are now gone. 

The Arena
Van Gogh was fascinated by the Arles Arena, or Amphitheater, one of the most spectacular remnants of the Roman civilization that ruled Provence two millennia ago. 
The Arena was used for blood sports then, and it is now, the principal venue for the bullfighting that remains a tradition in this part of France.
But van Gogh was more interested in the in the people than in the bulls... So that's what he painted.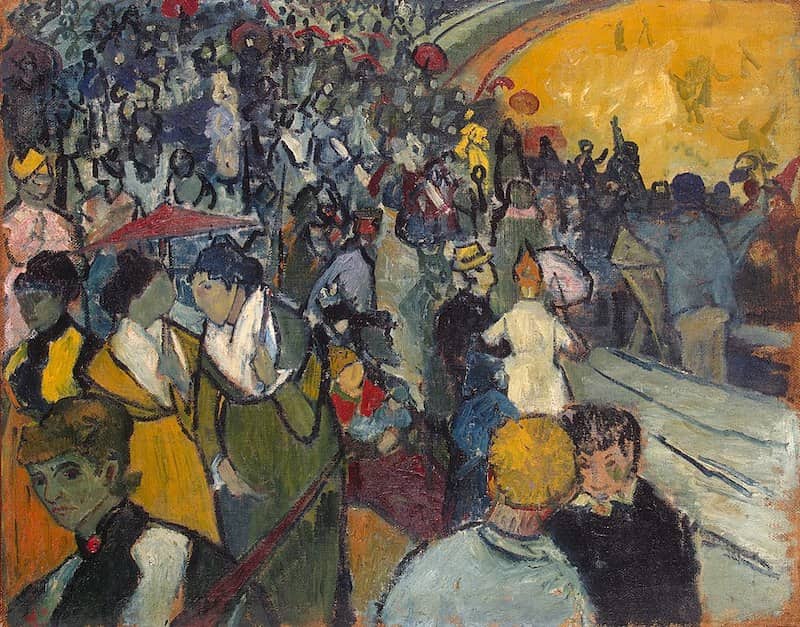 Watching a bullfight in the Arena would leave a lasting impression on him – some even say his ear incident may have been prompted by witnessing the custom of cutting off a bull's ear after the competition.
Just another possibility...
Les Alyscamps
The Alyscamps is a Roman necropolis, filled with sarcophagi where they once put the dead to rest.
As I walked down the tree-shaded path, I could see how van Gogh would have been taken by his surroundings, and how not that much would have changed since he walked through here.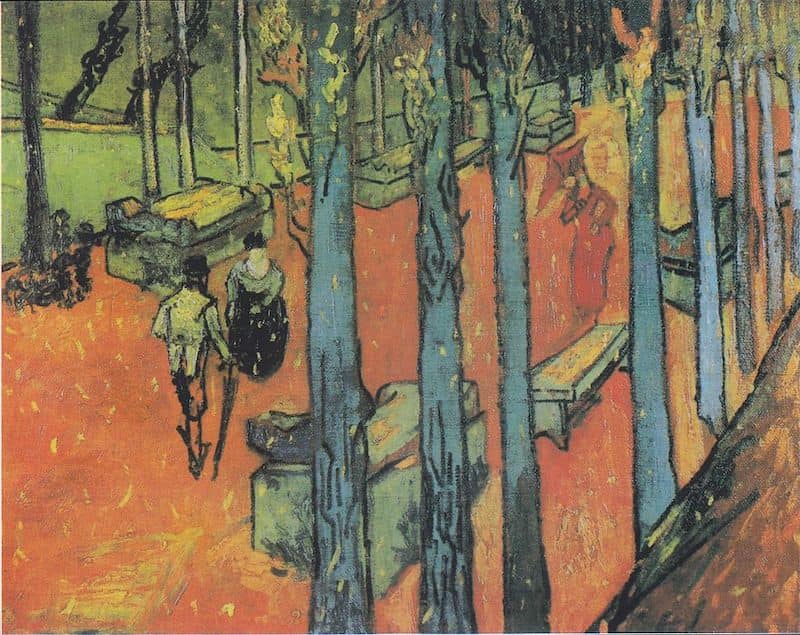 This painting is one of a set of Les Alyscamps, and also one of the earliest works he painted after the arrival of Gauguin to visit him in Arles, a masterpiece he considered the product of a deep collaboration.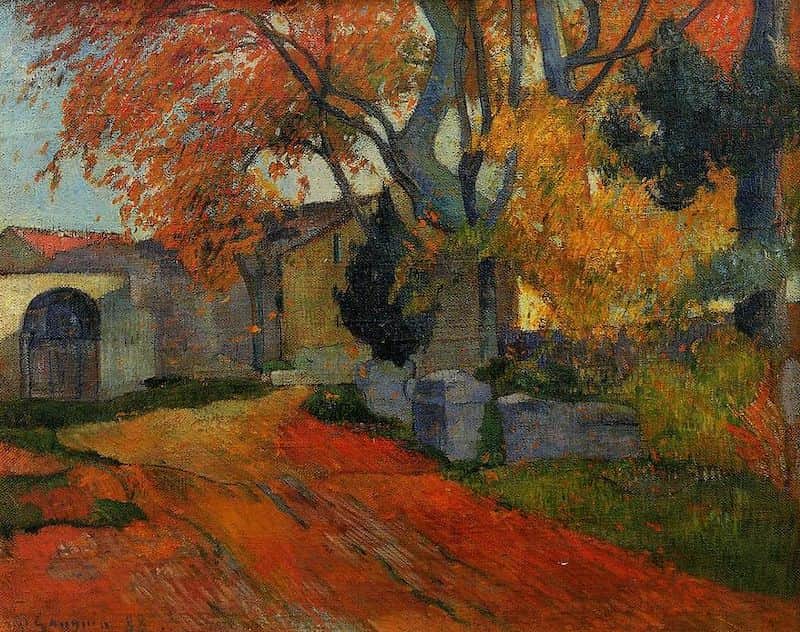 Here is Gauguin's vision of Les Alyscamps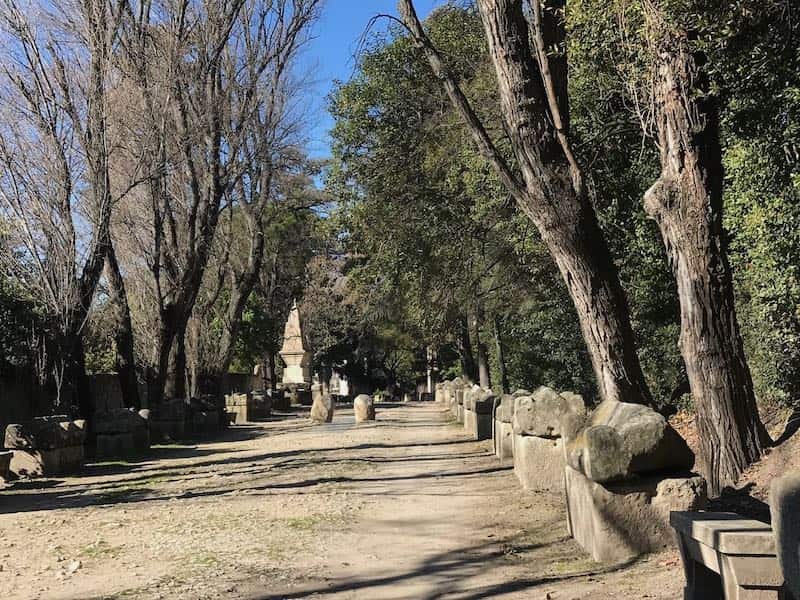 The Alyscamps, today
Langlois Bridge, aka Van Gogh Bridge
The bridge is no longer where it was when he painted it – the city moved it to another location, but it is completely visible, a couple of kilometers from town, as you head towards the Camargue and the salt flats, looking very much like the bridge painted by van Gogh.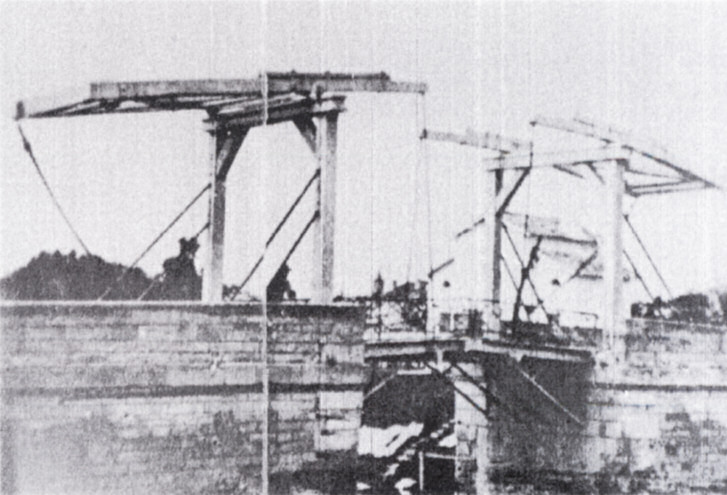 The bridge as it was when van Gogh was in Arles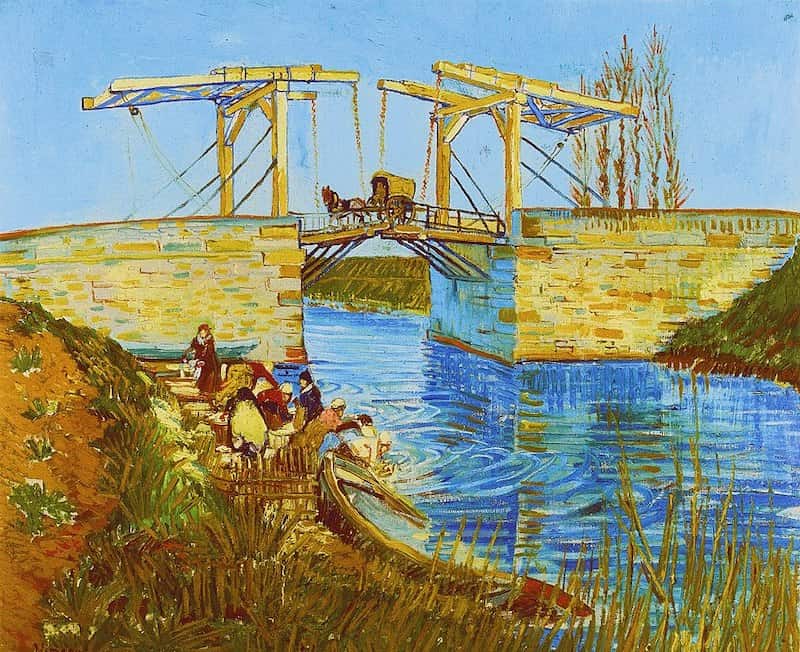 The bridge as van Gogh saw it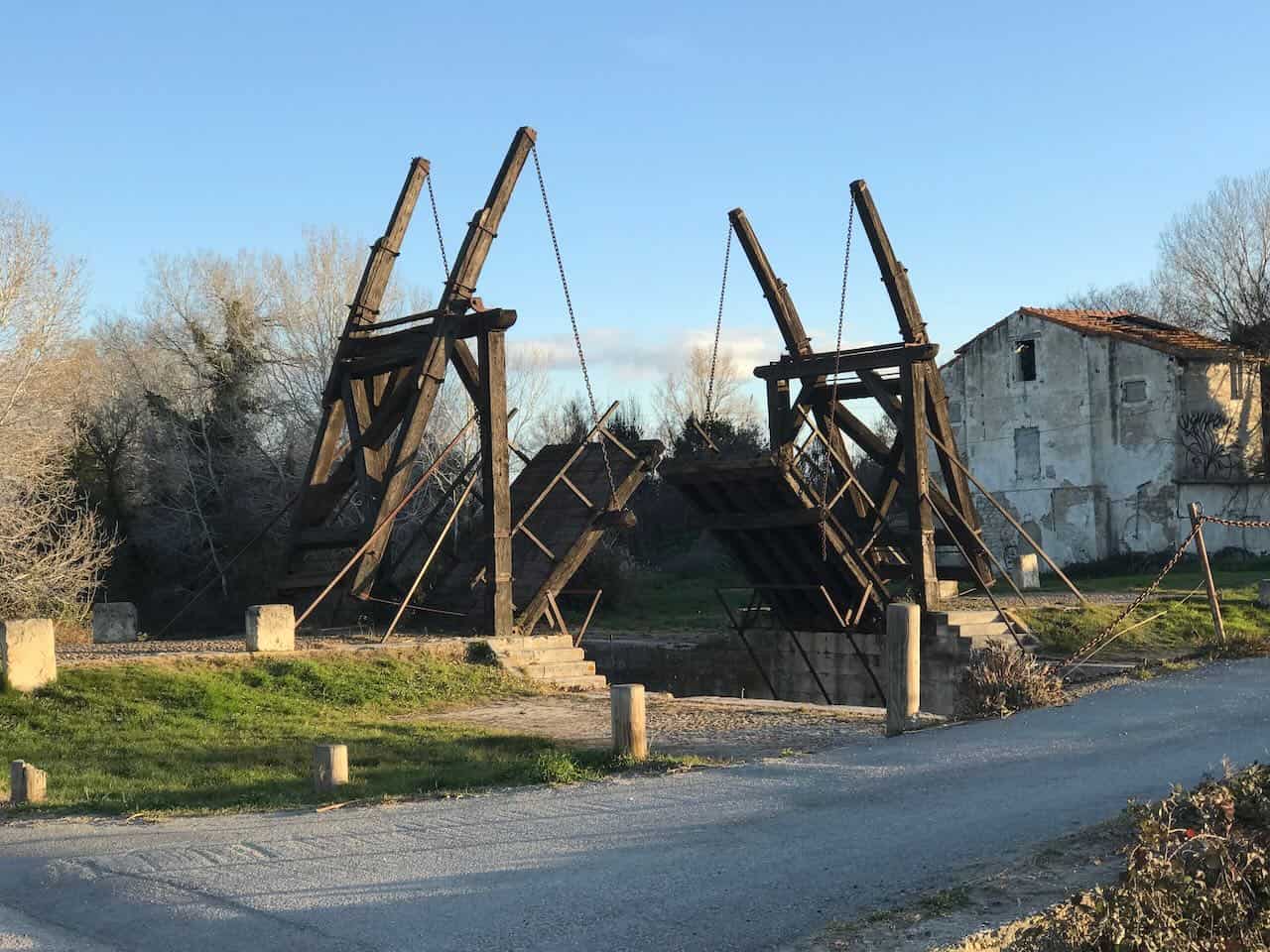 The bridge today
Other van Gogh locations in Arles
The map will take you to a number of other spots where van Gogh painted, some of them famous, some of them surprising.
Beyond his painting venues, there's more to see in Arles for van Gogh aficionados.
The Vincent van Gogh Foundation (Fondation van Gogh Arles) exhibits several works of the art of van Gogh each year as part of its temporary exhibits, but equally important, it explores – through other artists – the painter's influence on the world of art. It is not quite the colony van Gogh had imagined, but a homage and fitting tribute.
The Espace van Gogh (Arles) is where the artist was committed after the famous ear episode. He painted the courtyard gardens which have been restored to look exactly how they did when he painted them in "Le Jardin de l'Hôtel-Dieu". One of the many points along the route stops here. These days it houses municipal offices, an exhibition venue and a souvenir shop.
And now, on to Saint-Rémy, where he spent the rest of his time in Provence.
Driving is a wonderful way of getting around this part of France, with so many lovely villages to visit. If you don't have your own car, you can rent one easily anywhere in Provence (check here for the cheapest rentals). From Arles to Saint-Rémy, you can catch a bus - just ask at the Tourist Office.
Van Gogh in Saint-Rémy-de-Provence
Van Gogh would stay in Saint-Rémy for a year, a turbulent period of alternating genius and mental relapses that would fuel ever more spectacular art.
He was allowed out to paint, so he mined his surroundings with a vengeance, first his room, then the view from the window, and soon the canvases would quickly succeed one another – wheat fields, cypresses, olive trees, the Alpilles hill beyond.
Some of the most famous paintings of van Gogh would come from his stay in Saint-Rémy.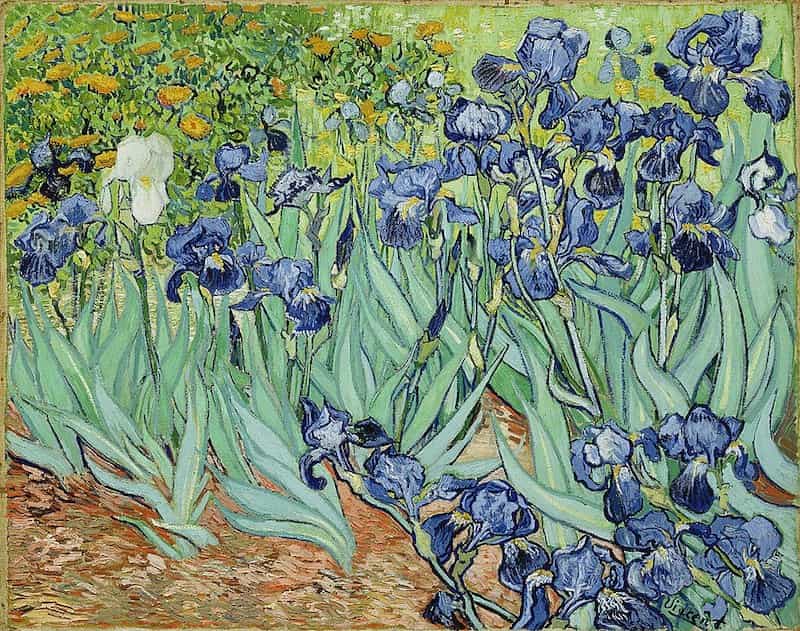 Irises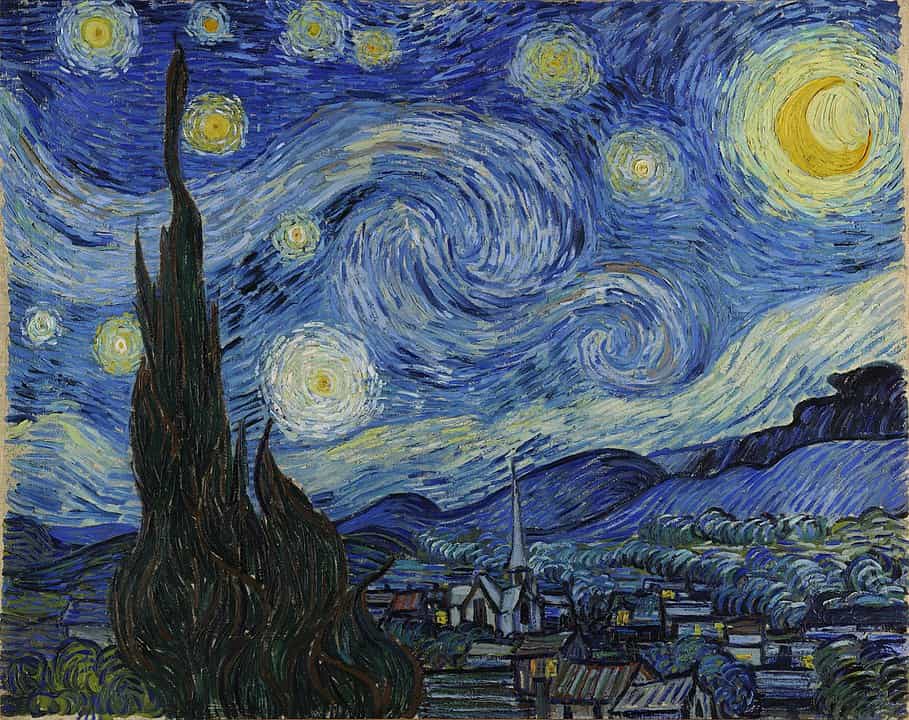 Starry Night, possibly among the most famous paintings by Vincent van Gogh, Saint Rémy de Provence
FACTS ABOUT STARRY NIGHT (one of van Gogh's most famous works)
The night sky in this Provence painting pictures the stars in their exact positions at the time, according to where the stars were, according to astronomers.
Starry Night also includes the planet Venus.
The painting might reference either death or a belief the afterlife.
Van Gogh didn't really rate this artwork - it wasn't one of his favourites.
It may well be van Gogh's most expensive painting, worth some US $900 million.
He painted the sky through his window. His window had bars. The painting has none.
In a strange bout of synchronicity, as van Gogh's days in Saint-Rémy wound down, his fame would grow. He still felt a failure and thoughts of suicide may have been frequent, but the rest of the art world was beginning to take note.
Still, his fame and fortune would only be posthumous, and he would not live to know it. He eventually left in May 1890, moving to Auvers, near Paris, still under medical supervision and still suffering.
Exhausted and pushed beyond his limits, he wandered off into a familiar wheatfield on 27 July and shot himself in the chest. He survived two days before succumbing, a tragic end to one of the greatest artistic geniuses of all time.
A trip to the asylum
Visiting Saint-Paul-de-Mausole provides a tiny glimpse into van Gogh's life and later years through his paintings of Provence.
A small museum has tried to capture some of his daily sights by reconstructing his bedroom to look exactly as it was when he was a patient here.
It's all here: his bedroom, the view from his window, the garden behind the hospital, the fields and Alpilles mountains beyond.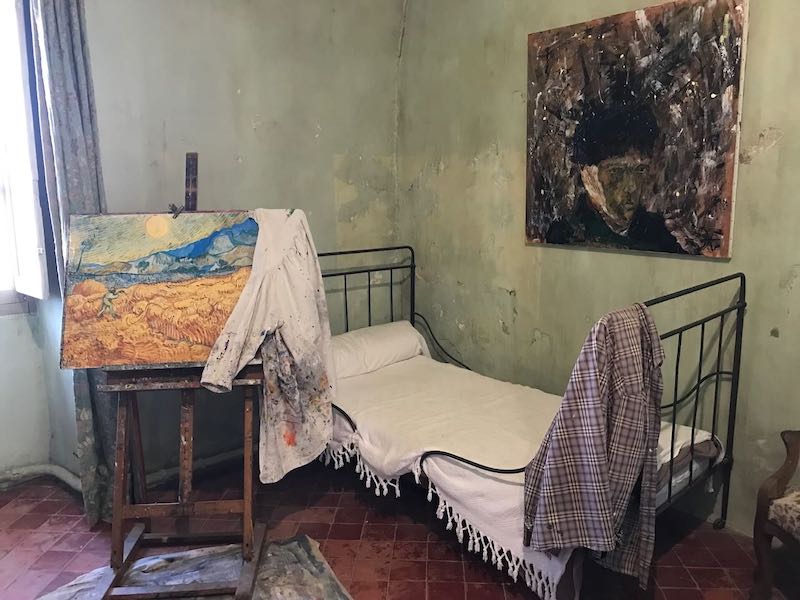 Van Gogh's bedroom at Saint-Paul-de-Mausole
The day I visited, I could hear screams in the distance. At first I thought they were the grinding of some electrical machine, but they were human, and it took me a moment to realize the establishment still received mental patients, and that I was probably witnessing a difficult episode.
It's just that sometimes, the work of van Gogh eclipses his mental imbalance and we almost forget that his genius came at such a high price.
I used the monastery as a starting point for the Van Gogh Route the town of Saint-Rémy has set up, with prints of his paintings and explanations along a 1.5km path that leads from the monastery to the center of town, or vice-versa. (You can download the van Gogh itinerary in PDF from the Tourist Office here.)
Following in his footsteps, I tried to see the surroundings through his eyes, but the scenery looked far flatter and less lively than his paintings depicted.
That's to be expected: I don't have his eye, and where I saw an everyday landscape, he saw brilliance and energy and scintillation. I also visited in winter, when the wheat fields hadn't grown yet and the greenery was still waiting to explode.
For example:
Olive Trees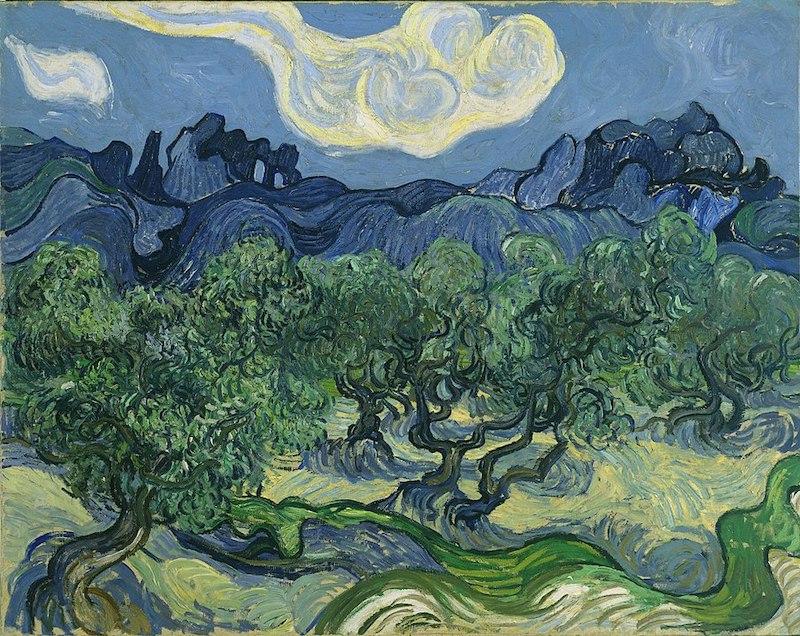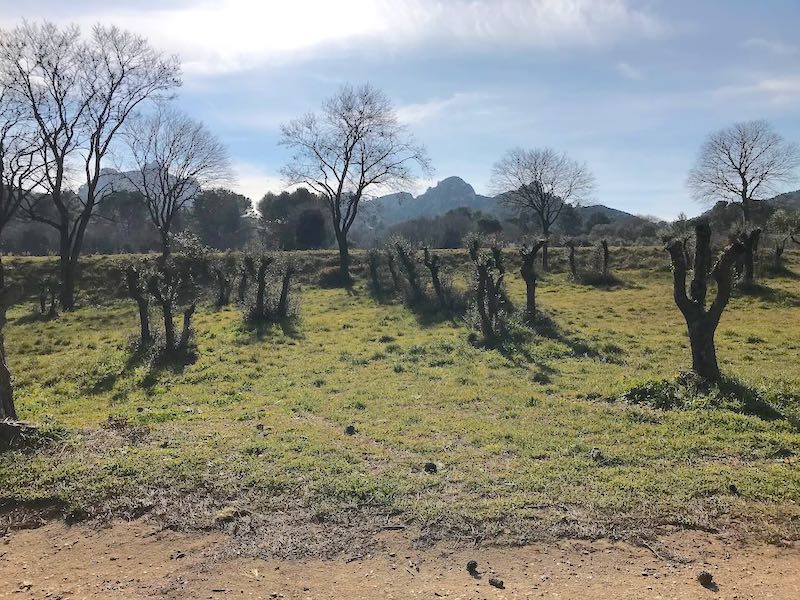 Also in Saint-Rémy
As was the case in Arles, the town of Saint-Rémy-de-Provence has done its best to highlight the artist's legacy.
And then start following the path that takes you through the van Gogh easels, all 19 of them.
Beyond the route of his paintings you can follow, stop by the Musée Estrine, with an interpretation center designed to help you better understand the work of van Gogh.
Your visit through Arles and Saint-Rémy will be suffused with the spirit of van Gogh, but as his paintings unfurl before you, you might just wonder, how can so much light and beauty burst forth from such an unhappy soul? 
FAQ about Vincent van Gogh
Where was Vincent van Gogh born?
In Groot Zundert, Netherlands, in the southern part of the country near the Belgian border. 
Was Vincent van Gogh French?
The nationality of Vincent van Gogh was Dutch, but he lived in France several years. 
Did van Gogh go to art school?
He may have briefly attended the École des Beaux-Art in Brussels, but that remains uncertain. He also studied, quite informally, with a well-known painter, but no, he is mostly self-taught. 
How many paintings did van Gogh paint?
More than 900 paintings, and some 1100 drawings, for a total of more than 2000 works of art. 
How long did van Gogh paint?
Only for 10 years. He started at the age of 27, and died at 37. 
Did Vincent van Gogh have a wife?
No, he was never married, although he proposed to three women, who all turned him down. 
Where did van Gogh live?
In four different countries: Netherlands (where he was born), England, Belgium, and France. This cool interactive map has it all. 
Where did van Gogh paint Starry Night?
In Saint-Rémy-de-Provence, while he was a patient at the asylum of Saint-Paul-de- Mausole. 
Did van Gogh cut his ear off?
Yes he did, or at least part of his ear. The circumstances around it have always remained murky. 
How did van Gogh die?
After leaving Provence, van Gogh moved to Auvers, a village near Paris. Sadly, he was In the spring of 1890, Van Gogh left Provence for a village near Paris called Auvers. Sadly, his stay in an asylum hadn't cured his mental illness and in July, he shot himself, dying two days later. 
Where can you see van Gogh's paintings?
They are held in museums all over the world, as well as in private collections. Here is a list of the top 10 van Gogh paintings and where you can find them.
You can also delve more deeply into the artist and his works at vincentvangogh.org
—Photos of France ©OffbeatFrance; photos of Van Gogh's paintings courtesy Wikipedia.
To deepen your understanding of van gogh
Pin these and save for later!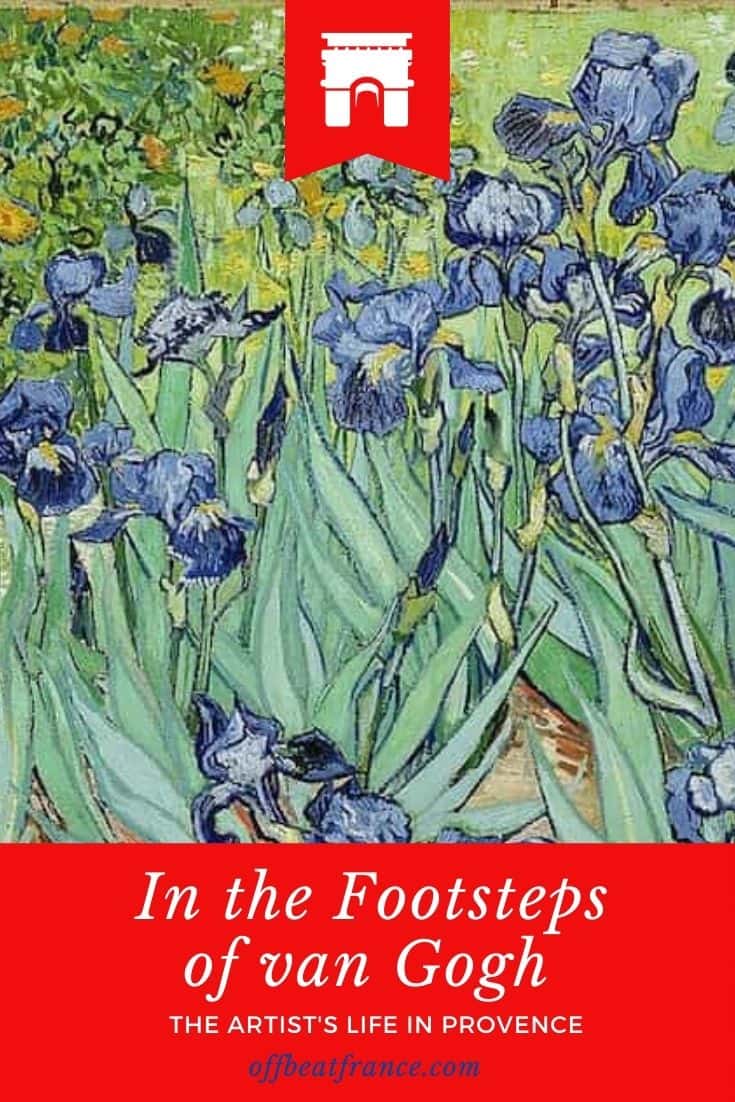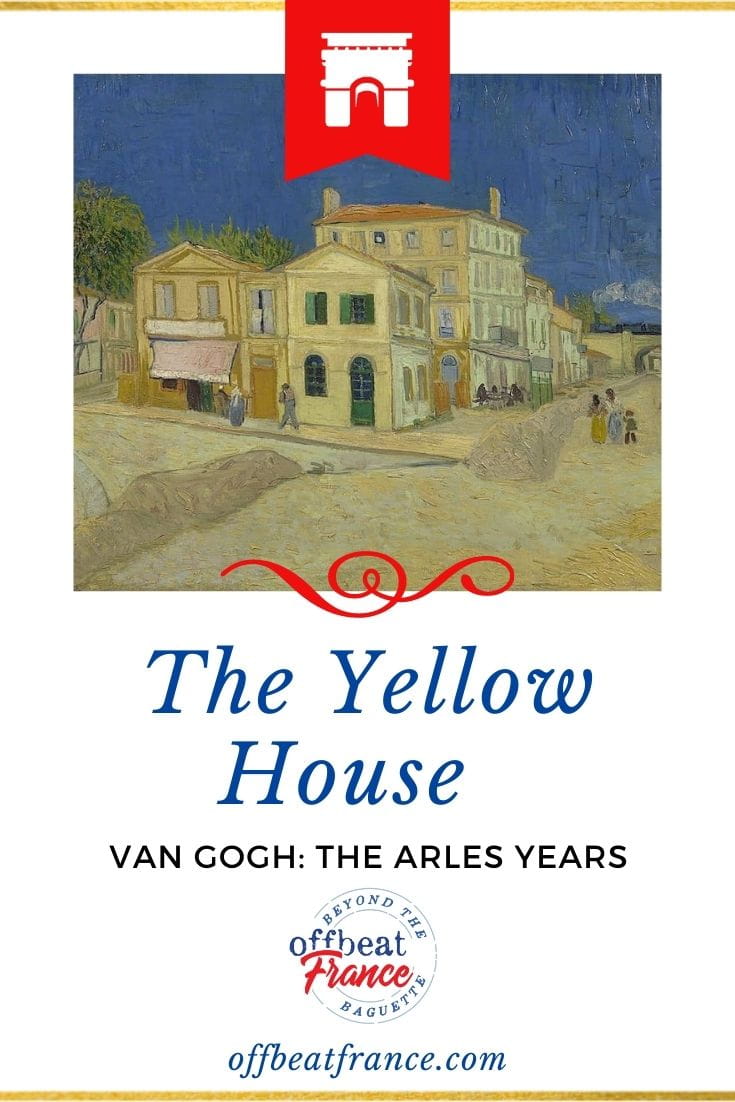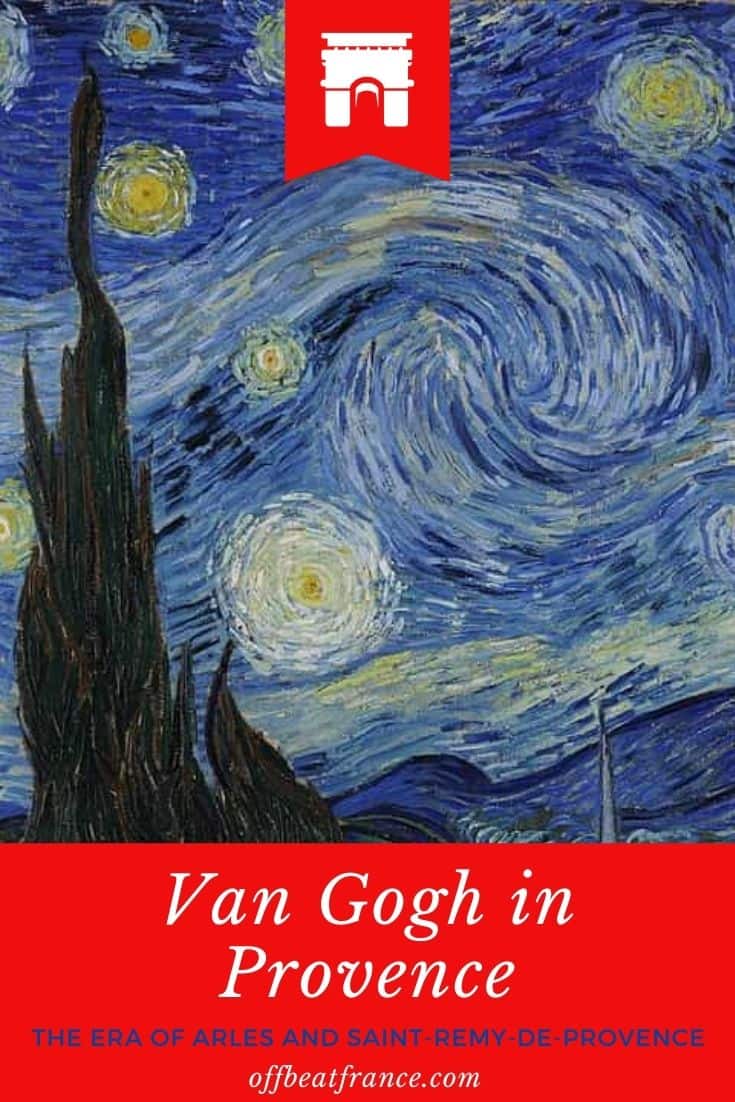 Did you enjoy this article? I'd love if you shared it!