Avignon is known around the world as the site of Avignon Bridge, subject of a little ditty every French child learns early. But there are plenty of other things to do in Avignon, even if you only have one day. 
Visitors to this part of France often come for the sunshine, a certain Provençal atmosphere, or the region's Roman heritage.
So it may surprise you that I visited in the freezing heart of winter, immersed myself in medieval rather than Roman lore, and spent an inordinate amount of time chasing the sunshine.
Despite this, I adored the city, vowed to return in even better weather, and found plenty of things to see in Avignon, whose historic center – the Papal Palace, Episcopal Ensemble and Avignon Bridge – is protected on the UNESCO World Heritage List.
Things to do in Avignon in a day
Why just one day, you ask?
Because according to research, that's exactly how long most people spend in this city: one day.
It's not much time, but it is enough to see some of the main Avignon tourist attractions, and to soak in the Middle Ages, a historical period we often consign to some vague, unknown past.
➽ AVIGNON PRONUNCIATION : ah-vee-knee-OH
➽ AND PLEASE NOTE: I've given links to websites in English when they exist, otherwise to the original in French only
Avignon is located in in the Vaucluse department of the PACA (Provence-Alpes-Côte-d'Azur) region, an old city surrounded by ramparts and filled with medieval treasures. Here, then, are my recommendations for what to see in Avignon in a day.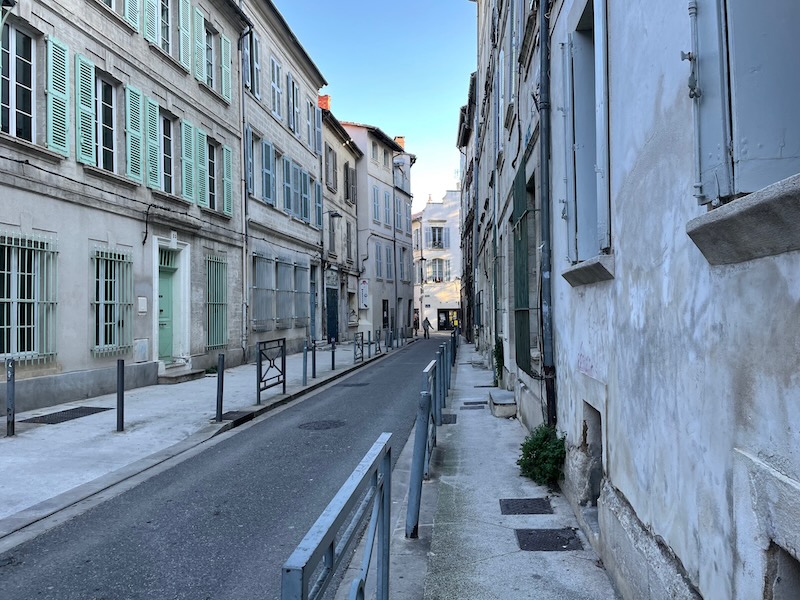 Avignon Papal Palace
If there's one single venue you must see while you're here, it is the Avignon Palace of the Popes (or Avignon Palais des Papes, in French).
For some strange reason, I've seen guidebooks discourage you from entering if you have little time, suggesting instead that you concentrate on the outside.
I utterly disagree.
This may not be a palace with luxurious furniture and pretty displays, but its sheer enormity provides ample insight into how the Avignon popes lived, and what the Avignon papacy was like. (For more about this strange period, jump down to the history section.)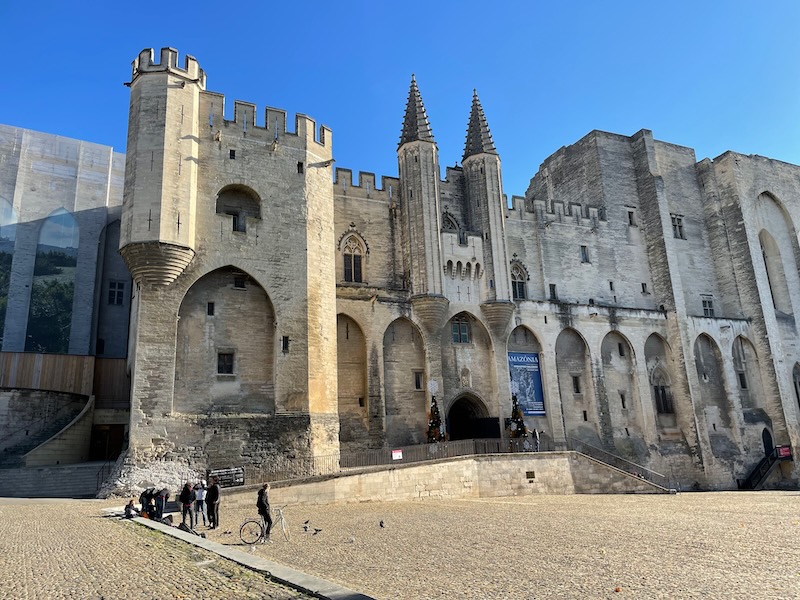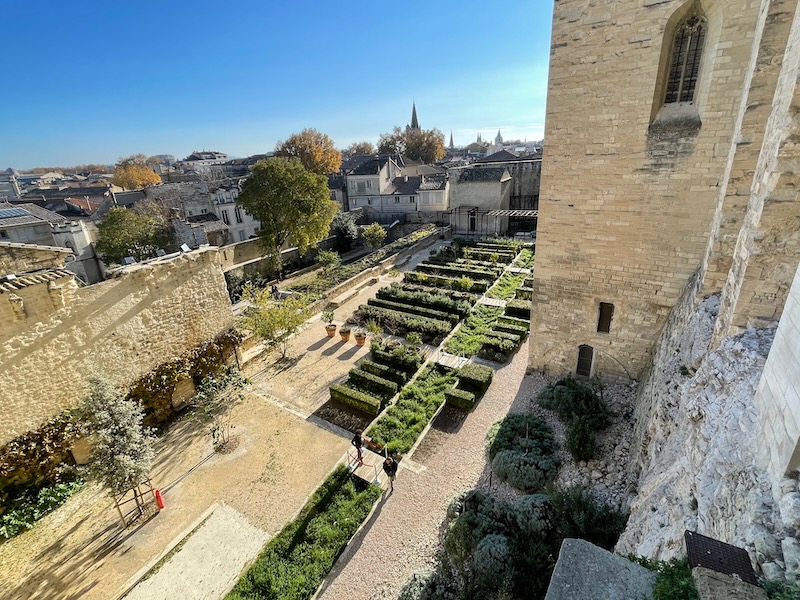 The Avignon Popes Palace is less a palace than a fortress, its 52-meter-high walls (170 ft) designed as much to protect the popes as to impress with their power. At 15,000 square meters (18,000 sq yds), it is the largest Christian gothic structure in the world. Not bad for a building that took less than 30 years to complete...

Speaking of completion, what we have today is not the original Avignon pope palace. No sooner would the first stones be laid in the 14th century that something would be destroyed, expanded, or eventually replaced.
The palace was a living, breathing work of art, with each pope adding or subtracting wings and towers, and later destruction and misuse changing its silhouette more times than we even know.
Visiting is both easy and fun. A "Histopad" (in several languages, including English) guides you through all the rooms and if you press the buttons, you will see designs of what each room looked like before the walls eroded, the furniture disappeared, and the popes moved on.
It's true that the French have made great strides in learning English, and especially in tourist areas, you'll usually find you can make yourself understood. But it's often rewarding - for you and us - to hear you make an effort in French, however modest. If you'd like to learn a few phrases for your visit, this Easy French Phrase Book will provide you with phrases you can actually use when you travel. BUY ON AMAZON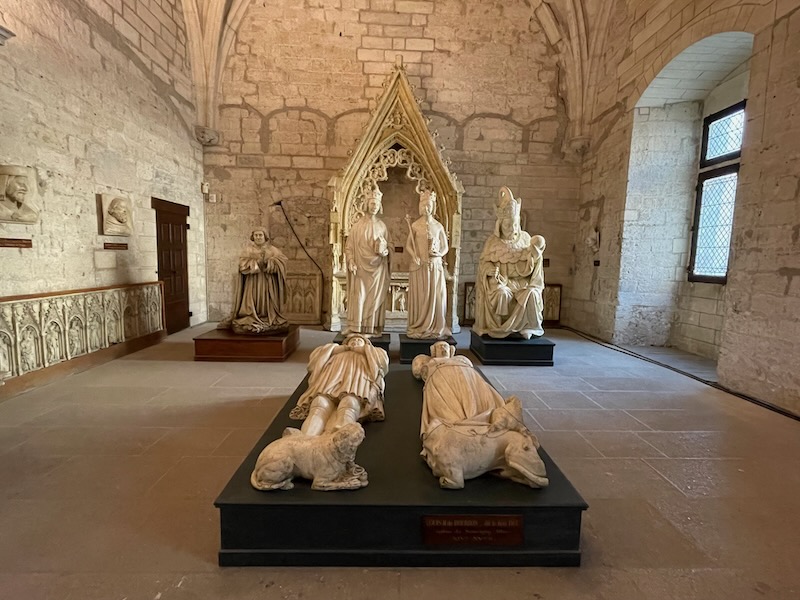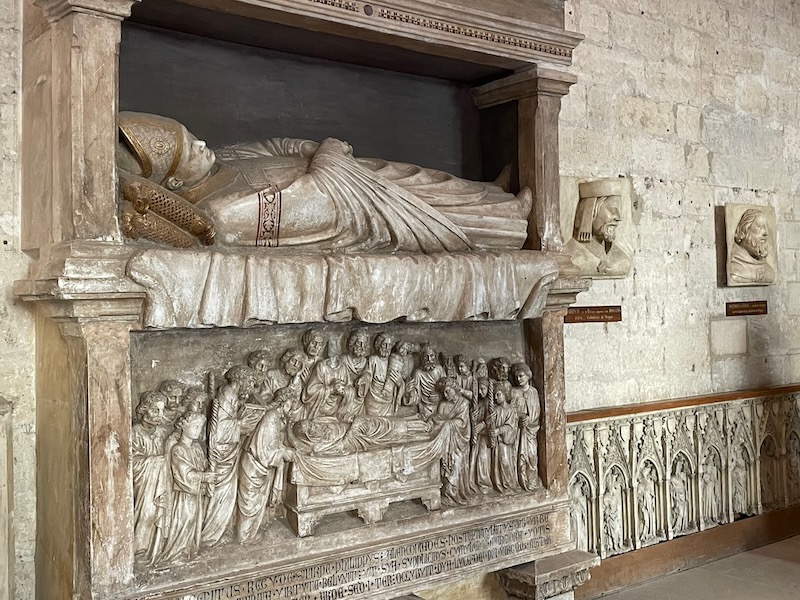 The rooms in which the popes met to entertain dignitaries or elect other popes are enormous, with soaring ceilings that were undoubtedly challenging to build in an era with few mechanical aids. The entire effect is one of puritan sobriety – until you press those Histopad buttons that show you just how well housed, well dressed and well fed they all were.

You could easily spend three hours wandering around all the nooks and crannies of this palace.
Avignon Bridge
Just down the hill from the Avignon Palace of the Popes is the famous Pont d'Avignon, the subject of a song we all learn as children (and whose reputation has spread far beyond France's borders, a bit like Frère Jacques).
You can't just walk over it, though. First, the bridge no longer spans the entire river as it once did, and only 4 of the original 22 arches remain.
This isn't because of neglect but because of the powerful river current that washed bits of it away each time the bridge was repaired.
For more about the Pont Saint Bénézet, as it is called, and about the song that entertained countless generations, you can read my piece about Avignon Bridge.
The Rocher des Doms
Surrounded by some lovely gardens, this outcrop provides a stunning view over the surroundings, and you can even see the (snowy) top of Mont Ventoux in the distance. It's a great viewpoint for the bridge and the fort on the other side of the river.
The climb would work better on a spring or summer day, preferably one without wind.
Avignon Old Town
One of the most entertaining items on your Avignon sightseeing checklist is perhaps the simplest one: walk.
This is an old city, one contained within ramparts and filled with twisty medieval streets that will yield surprises at every turn, from an intricately carved Virgin Mary guarding an upper floor to a heavy carved wooden door.
Five minutes' walk from the center of town (the heart of Avignon is quite compact) is the Rue des Teinturiers, where all the cloth dyers once worked. All we have left from those days are the power wheels on the River Sorgue, similar to the ones in Isle-sur-la-Sorgue not too far away. They still turn, and if the weather is balmy, you can sit outdoors at one of the many cafés and watch.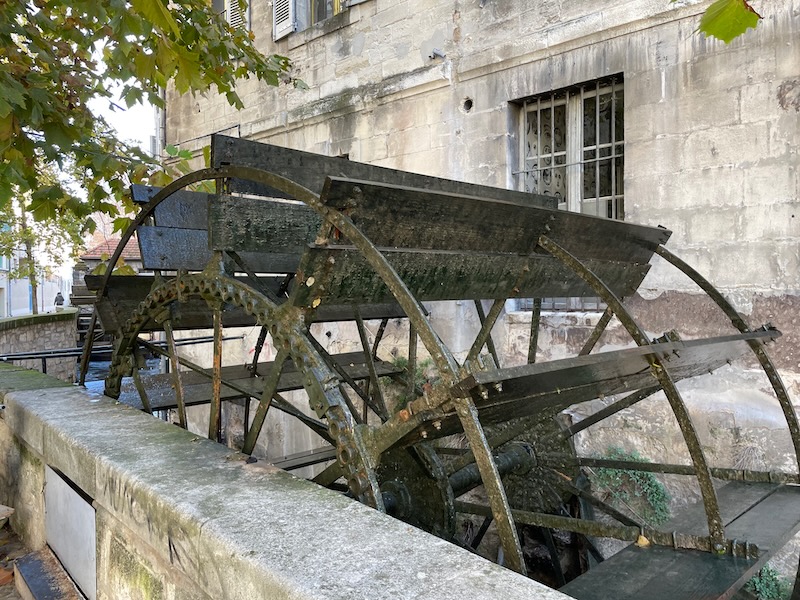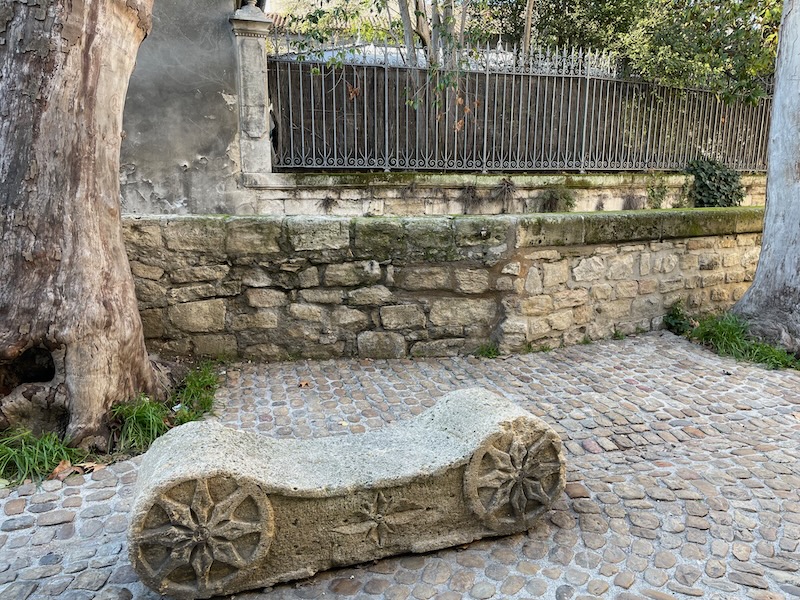 I had to content myself with rushing through, pushed by the wind, the sunny tables on the cobblestones in the sun left very much to my imagination.

In summer, at night, the street is lined with tiny theaters and I can only imagine the excitement of so much creativity crammed into such small spaces. Let us not forget that Avignon is known for its festival (more on that below) and that this is one of France's most artistic cities.
Taste-test some delicious Provençal specialties
Of course food is very much a part of any trip I take and in Avignon, you'll be  well placed to sample it all.
In any city, my favorite stop is usually the main market, and Avignon was no different. While you can buy all the produce you can think of at Les Halles, the city's covered market, you can also sit and eat here.
There are several restaurants in Les Halles but I find it hard to walk past oysters without stopping, so I settled into the Cabane d'Oléron before the crowds arrived. Not quite provençal, but irresistible.
I did eat elsewhere too, so I do have a few Avignon restaurant recommendations for you: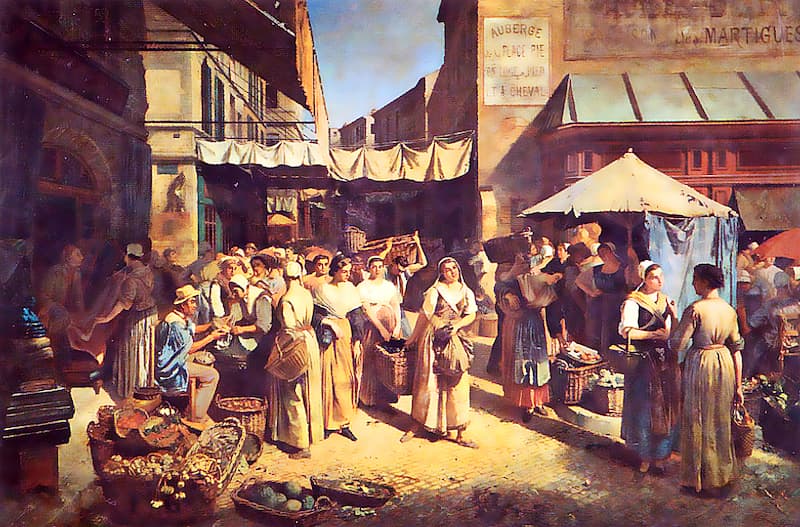 Before Les Halles was built on Place Pie, this is the weekly market that took place. Art by Pierre Grivolas
This is what Les Halles looks like today, with its vertical walls. Photo Dierk Shaefer, CC BY 2.0 via Flickr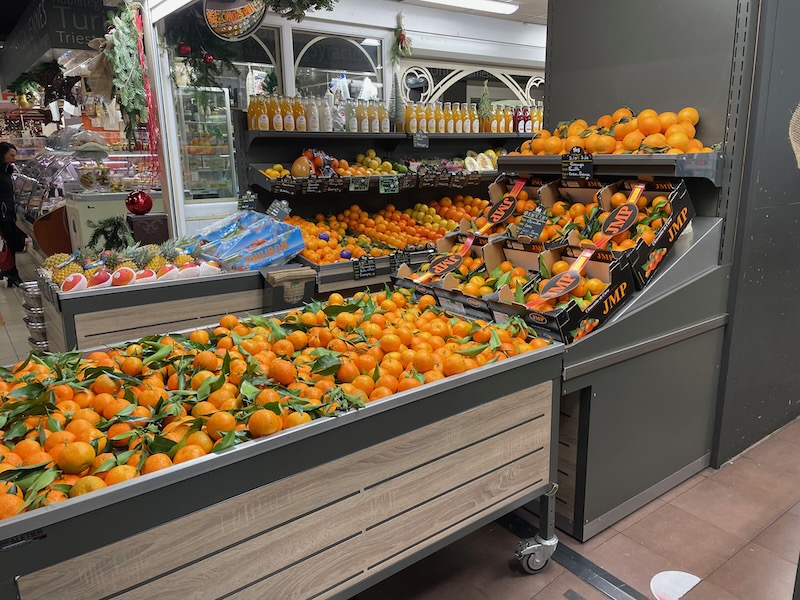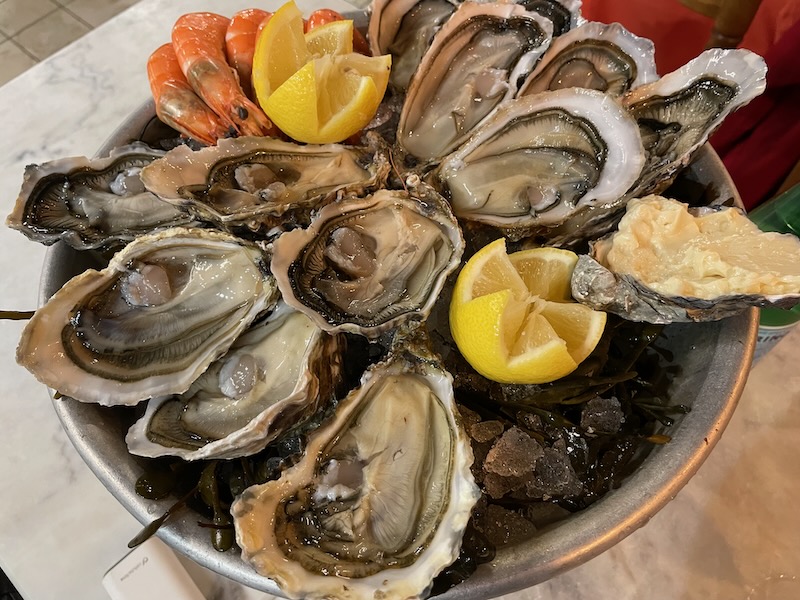 ➽ Many Avignon attractions are available on the City Pass, either the 24- or the 48-hour version. I found it was worth it because I visited quite a few sites – entrance fees mount quickly.
Walk around Avignon
A good way to see a town when you don't have much time is to take a walking tour.
You can check the offerings from the tourist office, although if like me you come in winter, you'll be out of luck (outside summer, they only run during Christmas week or occasionally on weekends).
If there are several of you, consider booking a private tour guide in Avignon. They are often more easily available than the more common group tours.tem
You can also strike out on your own − Avignon is a wonderfully walkable town and one of my delights when I visited was to simply take a street, wander down to its end, and get lost.
Because of the center's compactness, of course, you will not get lost − and squares will begin to look familiar.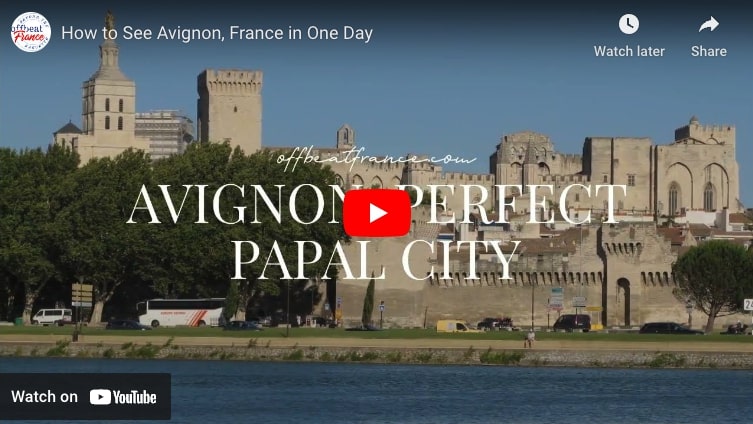 What to do in Avignon if you have more time
If you have several days, you could spend an extra day in Avignon, and then take a few day trips out of the city.
Here are some of the other Avignon attractions you can explore if you have an extra day:
Walk along the city's spectacular ramparts
Visit the other papal sites nearby in Villeneuve-lès-Avignon, where many cardinals once lived
Ride the little tourist train through the city
Take the free cable ferry across to the Ile de la Barthelasse – you'll get some excellent shots of Avignon Bridge from across the river
Further your papal explorations and visit the Cathédrale des Doms, right next to the palace, whose building started in the 12th century and which has been rebuilt several times since
Petit Palais, with its fabulous medieval works of art
Musée Calvet, a bit eclectic but well worth a visit for art-lovers
Collection Lambert, for lovers of contemporary art
Musée Lapidaire and its archeological discoveries
Go to the theater. Even if you don't understand French, get the tourist office to recommend something in one of the many small playhouses scattered around the city.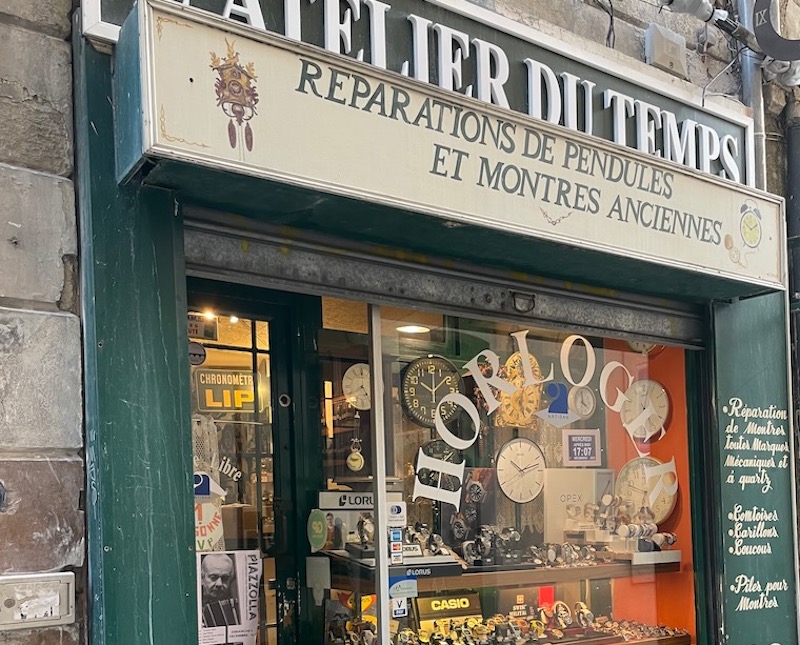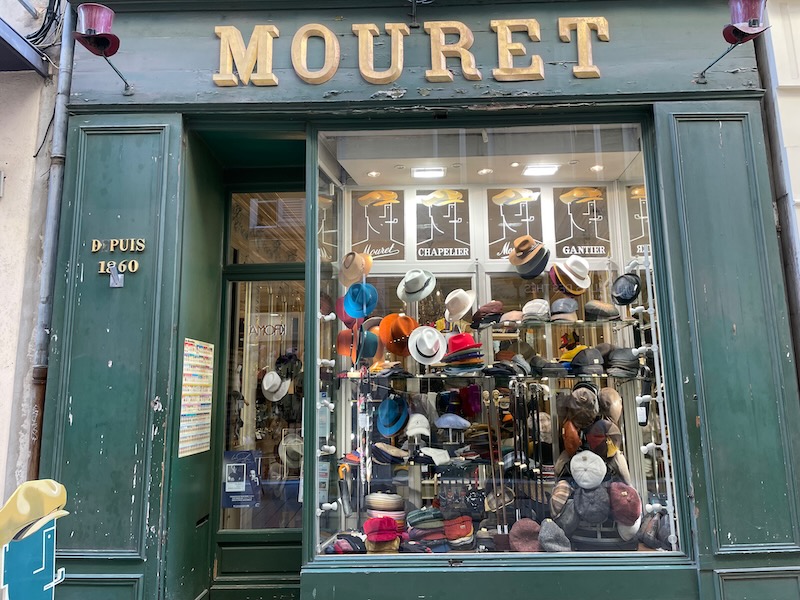 Day trips from Avignon
You won't find much better than Avignon as a base to visit that triangle stretching down from Avignon to the Camargue in the west and east through the Luberon and down to the Riviera.
My favorite day trips from Avignon by car
I have two favorites:
One of the best Avignon day trips is to Arles. While it's easy to visit Arles by train, I would recommend driving if you can: you can easily park on the outskirts, just minutes from the old city, and use your car to visit the Camargue, a magnificent wetland area covering the mouth of the Rhône River. Arles, by the way, has some fabulous Roman ruins, and is also where Vincent Van Gogh painted some of his most famous works of art.
My other favorite trip is to the Luberon and its hilltop villages. If you want to get from Avignon to Gordes or Roussillon, you'll have to drive − there's no public transportation. Along the way, you can easily stop in Isle-sur-la-Sorgue, especially if you're in time for the Sunday morning flea market, one of the best flea markets in France. If you're there in June-July, you'll be just in time for Luberon and Avignon lavender.
If you have enough time, this delightful 10-day south of France road trip will take you to all the best highlights of the region.
And if you're not driving, you can also visit Arles, Nîmes, or Isle-sur-la-Sorgue by train.
Guided day tours out of Avignon
If you'd rather have someone else take care of all the arrangements, there are plenty of day tours to show you what to see in Avignon and beyond.
AVIGNON THEATER FESTIVAL
Avignon has gained a worldwide reputation for its theater festival, the Festival d'Avignon, held in July each year, when venues across town turn into temporary stages to welcome tens of thousands of fans under the stars. Many, but not all, the plays are in French, and attending is worth it even if you don't speak the language.
Once the plays are over, head out to the cafés and mingle in the cooler evening air, in an atmosphere unique to the city in the summer.
In parallel with the Avignon Festival is the fringe street Festival Off Avignon, a mix of events, conferences, forums and music, all dedicated to theater, music and dance, bringing the streets of the city alive.
Getting to Avignon
Getting here is easy by car or train, but not by air.
There is no such thing as an Avignon airport, so if you want to fly to Avignon you'll have to land at one of the "nearby" airports – Marseille, Montpellier, or Lyon. Marseille airport doesn't have good connections to Avignon, Lyon is relatively distant, and Montpellier doesn't have frequent flights.
Instead of a flight to Avignon, consider the train. There are easy routes from many cities, and trains in France are relatively affordable, comfortable, and reliable (as long as they're not on strike, that is).
Just don't get off at the wrong Avignon train station – there are two!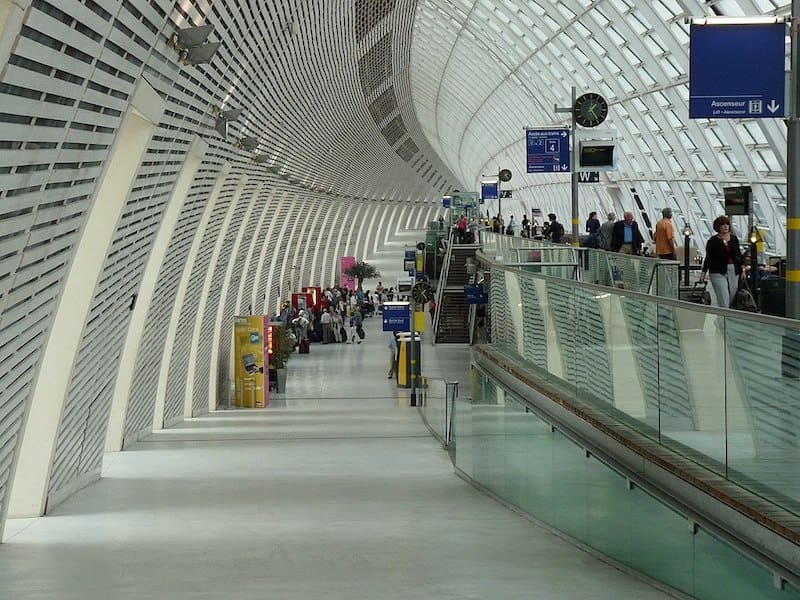 Avignon TGV train station, where long-distance trains arrive. Photo Gordon Joly, CC BY-SA 4.0 via Wikimedia Commons
The most convenient is the Avignon Central Train Station, which drops you off just outside the ramparts and is a few minutes' walk from pretty much every part of Old Avignon.

However, if you're arriving from Paris, you'll probably end up at the Avignon TGV train station, which is a bit out of town but equally easy to use – there's a regular train shuttle between the two train stations. The journey from one station to the other takes all of 5 minutes but make sure you have a ticket. Either get the add-on when you buy your original ticket to Avignon, or buy your Avignon TGV-Avignon Centre ticket here.
There are also buses to Avignon from several cities, worth noting if the trains are on strike. The Avignon bus station is right next to the central train station.
And finally, while I don't recommend it inside the city, renting a car in Avignon is a good idea for day trips. If you're looking for an Avignon car rental, you'll find prices vary widely so make sure you compare them here first.
A bit of Avignon history
In Antiquity, Avignon was an important commercial outpost for the Greek city of Massilia (Marseille), sitting at the confluence of the Rhône and Durance rivers – however difficult to navigate, the Rhône has long been used as a route into northern Europe.
It was then called Aouenion, which is variously translated as "lord of the rivers" or, and I believe this one, "city of violent winds". I would definitely vote for the second.
Like the rest of this part of Europe, the region around Avignon would come to be ruled by Rome, invaded by Barbarians, Arabs and eventually Francs. Feudal wars would move borders around, but Avignon's commerce continued to grow. In 1185, the first spans of the Avignon Bridge were built, which fueled the economy and increased the city's importance.
Sometime in the early 14th century, Avignon entered its heyday, in a most unexpected way: because of things that were happening in faraway Rome.
Having bounced around in ownership, Avignon at this time was a vassal of the pope. But in Rome, things were broiling. There were factional battles and brutal violence and international intrigues, complicating Catholic governance.
The election in 1305 of Clement V, a Frenchman, to the papacy made things even more difficult in Rome, so much so that the pope decided to move his seat to friendly Avignon. The election of subsequent French popes more or less guaranteed they would remain in Avignon, a situation that lasted until 1378.
The papacy then moved back to Rome – but the French were not pleased, so for the next half-century, Catholicism would have two popes, one in Avignon and one in Rome, both claiming to the rightful head of the Catholic Church, in a period that came to be known as the Great Western Schism.
During the years in Avignon, the popes kept busy, most notably with the building of the various parts of the Papal Palace, giving Avignon the wealth and richness it boasts today. Until it became part of France in 1791, Avignon would remain a papal enclave.
I've greatly simplified its history but it is fascinating, and you'll find a more in-depth account here if you'd like to read more.
Avignon France weather: When is the best time to visit Avignon?
Most people will tell you the best months to visit Avignon are between June and September. I agree – but only to a certain extent. Summer (July and August) are extremely hot in this part of the world, and air conditioning is rare. 
However, July is also festival season and the evenings are cooler so if you suffer from the heat, sightsee in the morning and the evening, and leave the afternoon to those more accustomed to hot weather.
You are also discouraged from visiting in winter (I would partially agree with this) because of the weather, which is cold, windy and rainy, but also because few of the tours you might take out of town are available in winter. However, some visits go through November and may begin as early as March, so check first.
Also, café culture and people-watching, one of the most agreeable pastimes in Provence, are out of the question in winter.
Given the choice? I'd opt for April-May or September-October, or July for the festival. And though I did visit during a cold spell in December, I wouldn't discourage you, because Avignon decks itself out for Christmas and there is definitely a sense of good cheer in the air.
Where to stay in Avignon
Because it is so attractive to visitors, you'll find plenty of places to stay for all budgets, whether you want your own Avignon apartment or are looking for luxury Avignon hotels.
I would stay within the city walls, in the old town, because everything is within walking distance and you can pop into your room as many times a day as you want (I did this often!)
Use the Search box and the map below to check out the best hotels in Avignon, France.
Did you enjoy this article? I'd love if you shared it!