Pages on this site may contain affiliate links, which bring in a small commission at no cost to you.
Stop dreaming of a romantic French picnic and wishing you were in France - instead, prepare your own perfect picnic right at home with these picnic tips that show you everything you need to know to pull it off perfectly.
France has plenty of memorable foods, and eating in French restaurants is a treat − whether in tiny holes-in-the-wall or in touted Michelin-starred establishments.
Once in a while, though, we may want a break.
Why not do what the French do when the sun shines high?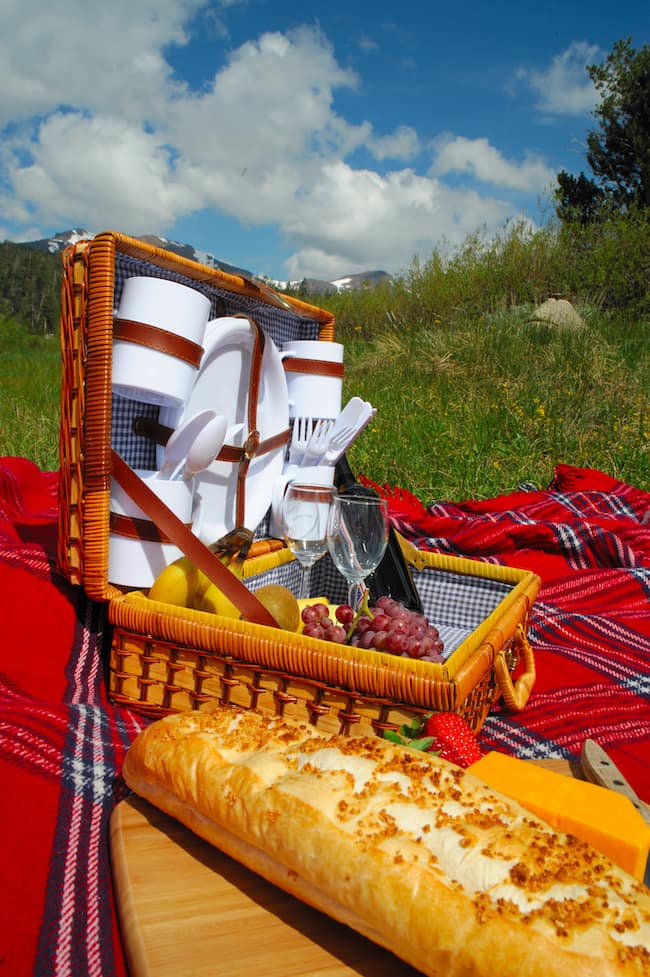 You've probably seen them... families sitting by the road with a folding table and chairs... couples relaxing on a blanket laid out in a park or on the beach... or on steps leading to a church or spread out in the sand...
They're all sharing their version of the perfect French picnic.
How to organize a classic French picnic
What are the steps involved in creating this marvel?
Simple: you have to decide where to have it, who to have it with, what to eat, and what to take with you.
And make one basic assumption: good weather.
What are the most common picnic foods?

And now, the heart of the matter on your French picnic menu − the FOOD! 
Basically, like any French meal, the quintessential picnic has several essential parts:
the apéritif, which may or may not involve drinks
the main courses, whose content we'll examine below
dessert (I'll include cheese in this one)
all accompanied by a baguette or two, of course!
You can prepare all these yourself, or, this being France, you can pick up part of the food at the local market or from a traiteur, the French equivalent of a delicatessen.
The absolutely essential element
As far as I'm concerned, it's not a picnic if you don't have some sort of baguette.
There's plenty of room for other breads, of course, but there's nothing quite like tearing off the end of a baguette, pulling it apart and slathering it with a slab of paté or a piece of cheese.
French picnic apéritif
Think of what you can eat by hand, easily: olives, nuts, cut vegetables with dip (yes, it's a thing here too), Apéricubes, slices of saucisson (thick sausage), individually wrapped cheese portions, chips...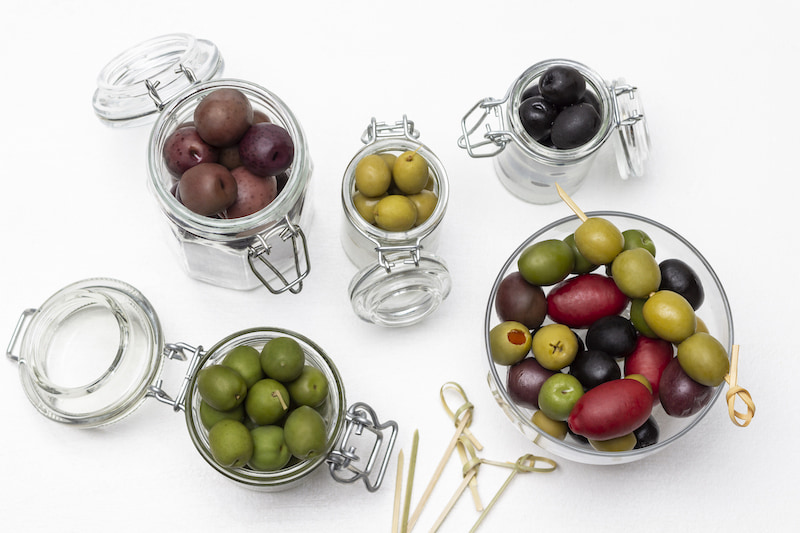 French picnic main dishes
The sky's the limit!
An easy win for picnic ideas in France is some kind of quiche: easy to make and versatile. You can make a popular cheese and bacon quiche, or add vegetables (broccoli or asparagus or peppers ), or even fish (salmon or tuna). You can also make a plain Quiche Lorraine, all cheese.
Sandwiches are classic picnic foods, of course, the most popular  french picnic sandwich being the jambon beurre, or ham with butter (on a baguette, of course). But sandwiches on any bread are fine, and these are becoming increasingly sophisticated as France's love affair with sandwiches continues to grow. Make sure you bring along a few gherkins!
A French picnic wouldn't be one without some kind of salad. Here are some favorites: Greek salad (feta, tomatoes, olives), Salade Niçoise (the traditional recipe includes potatoes, green beans, hard-boiled eggs, tuna, tomatoes, green onions and lettuce), a taboule (North African and Middle Eastern foods are very popular in France), and the increasingly popular Caesar's Salad, always served with chicken here.
Cold cuts are hugely popular, given France's wide array of what is called charcuterie, as are hard cheeses. These are all easy to eat, and equally easy to turn into sandwiches.
If you happen to arrive somewhere on market day, take advantage. It's bound to have a rotisserie of sorts, where you'll be able to buy a whole or half roasted chicken, and sometimes, much more − not to mention all the regional specialties you'll find.
Not prepared to cook and no market today? No problem! Your trusty local traiteur − there should be at least one in every small town − usually sells a wide range of prepared dishes you can take along for your picnic.
French picnic desserts
If you expected me to list French pastry desserts here, you'd be wrong! A few might make it to the table or blanket, but those with a lot of cream will need constant refrigeration and aren't necessarily picnic-friendly.
Instead, a good picnic in France will have fresh fruit (the easy kind, nothing messy like mangoes or pineapple), and cheese, although this too should be kept cool.

If you're making dessert, an easy-to-eat pound cake or something cooked, like a clafoutis (cherry custard pie) would do nicely, as would any baked fruit pie, for that matter.
A WORD ABOUT SAFETY
The most important precaution to take is to make sure the temperature of your food remains cool, especially if you have anything with cream, eggs or mayonnaise.
Non-food items you need for your French picnic
This is very personal and will depend on where you're picknicking.
If you're planning on stopping by the side of the road during one of your French road trips, you'll need a table and folding chairs, whereas a lunch on the beach will require a blanket.
Here's a sample list of what you might need (besides food) to organize your picnic.
And don't forget the salt, pepper, paper towels, napkins, hand gel and garbage bags to take away your trash.
THE ORIGINS OF THE WORD PICNIC
It's a bit of a mystery. Some historians believe the English word "picnic" comes from the French word "pique-nique", which itself has an untranslateable convoluted source. 
The French, of course, have a different story and don't think it comes from the French language at all but from combining the English words "pick" and "nick", as in a nick of time - pick at small bites quickly, or something of the sort.
Your French picnic locale
if you're already in France
Almost anywhere in France is good for an al fresco picnic − parks, countryside, even the city.
France has rules for just about everything, but surprising few rules about where you can unpack your food in public.
You can spread your blanket in public areas, or in places designated specifically for the purpose. As long as nothing says picnicking is forbidden, then go ahead!
PICNIC SIGNS - signs that designate specific picnic areas
A calm riverside
France is full of rivers, from the mighty Rhône to the tiny rivulets that dot the countryside. Most rivers in France have small beaches, sand or pebble, and are regularly used for weekend fun.
Setting up near a placid stream or gently flowing river is the perfect spot for a relaxed lunch far from the crowds, and a good place to capture a bit of breeze under the hot summer sun.
With more crowds but equal beauty, you can set up along the banks of the Seine or the Canal Saint-Martin for the perfect Paris picnic, often a simple lunch break with a jambon-beurre, a typical French baguette with butter and ham, and possibly a few gherkins.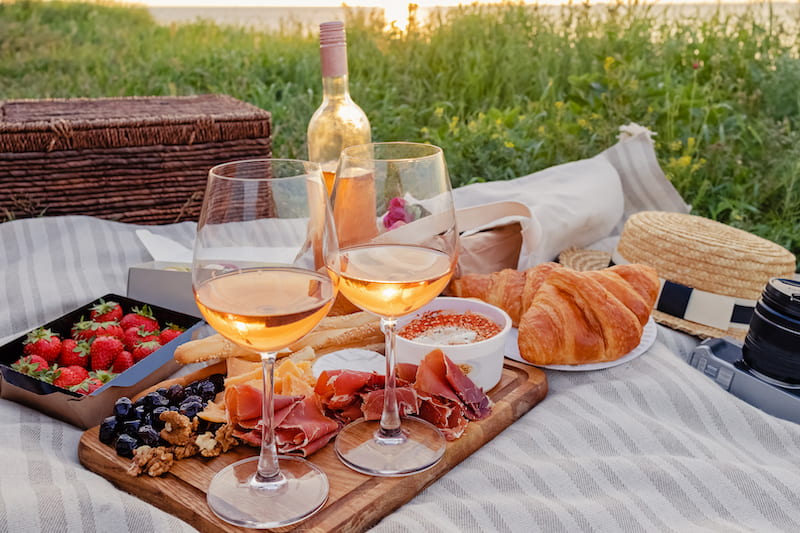 In the park
Most cities and towns have parks, and contrary to some parts of the world, you are usually allowed to picnic on their lawns, unless the park happens to be a protected area or there is a specific rule prohibiting it.
You'll see people spread out on park grass all around France, reading, chatting, kissing − and eating, from a simple sandwich purchased in a boulangerie or bakery to a five-star spread with crystal and bubbly (champagne or fizzy water).
On a hot summer day, find a spot of shade under a tree, or look for a table − many parks have them.
By the sea
If you're near the coast, a whoosh of sea salts and air will whet your appetite. You can spread out on the sand, or near a dune, or under an umbrella.
Just beware of the wind or you might end up with a mouthful of sand!
A bit of sun, some swimming, a chapter or two of your book, and it's time to pull out the ice box and gather strength for an equally exhausting afternoon.
In a village
Of course we love eating out in a lovely café under the wisteria in one of France's most beautiful villages − but there are plenty of picnic options too.
You can sit on the edge of a fountain, on a park bench, on the church steps... this won't be one of those elaborate picnics but a pleasant place for lunch nonetheless.
After your meal, you can dash into a patisserie, or pastry shop, to grab an éclair or a tartelette, a small fruit pie. These desserts wouldn't usually work well in a picnic, since refrigeration is an issue and they are often made with dairy. But if you're in a village and rush into the shop at the last minute, well, the sky's the limit.
In a forest
You won't be fighting anyone for space in a forest or a wood: just find a spot near the edge and settle in. If I say near the edge, it's to avoid any potential wild animals, although in France they're mostly harmless. And then there are woods and forests in cities, where wild animals will be... absent.
A wood is perfect for those stifling summer days, the trees providing welcome protection from the rays. Make sure you take some bug spray, though, especially if there's a body of water nearby.
Find a field
France is crisscrossed with farms, and with tiny roads and lanes leading off country roads along which you can stop for lunch.
Just choose a track and head off, setting up your table in a likely spot. Why not next to a lavender field just below the hilltop villages of the Luberon?
Just keep an eye out for any signs of private property.
Along a main road
Now this is anything but romantic but that doesn't stop thousands of French families from pulling off during a long journey and setting up their picnic with as much care as though they were setting the table for dinner at home.
Out come the chairs and ubiquitous tablecloth, the spread, the wine (or water) bottle and glasses, although some care is usually taken not to drink excessively while driving (French drivers still have a bit of a learning curve when it comes to not drinking and driving).
Along many roads you'll find picnic signs, for designated areas, and some of these have BBQ facilities, if that's what you'd like for your picnic. If they don't, be careful where you light a fire. Forest fires are all too common in France and lighting fires is often restricted, when not outright banned. One rule is constant, however: you cannot light a BBQ or any kind of fire within 200 meters of a wooded area, ever.
On the castle grounds
Most châteaux have extensive grounds, in addition to their manicured French gardens. And the view! Sitting in the shadow of Chenonceau or Chambord or Chaumont castles in the Loire Valley provides a backdrop of dreams, better than a scene in a movie.
In Chambord, along the canal near the Renaissance gardens, each bite of sandwich will yield a view of the chateau's amazing turrets, a postcard perfect view you couldn't pay for.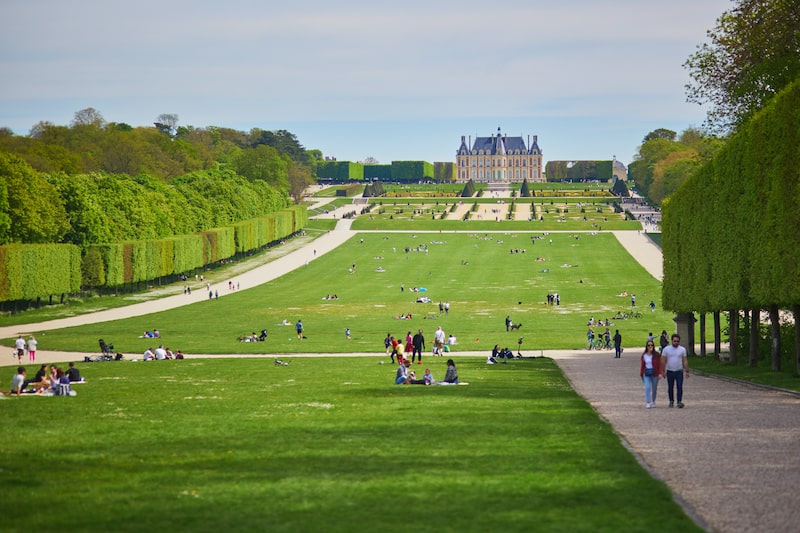 Picnicking in the Parc de Sceaux near Paris
A Parisian picnic
Contrary to some cities where walking on the grass is nearly a capital crime, finding a picnic spot in Paris couldn't be easier.
Of course you have the city's delightful parks − Champ de Mars (with that impossible view on the Eiffel Tower), Montsouris, Buttes-Chaumont, Villette, André Citroën, Monceau, the Luxembourg... or woods like the Bois de Vincennes. 
The water's edge is also perfect, along the Seine, or the Canal Saint-Martin − it's not hard to find a picnic spot in Paris.
I did mention there were few picnic rules in France, but there's an exception in Paris: no fires or BBQs, and no alcohol, although I have seen many a glass of wine or champagne appear...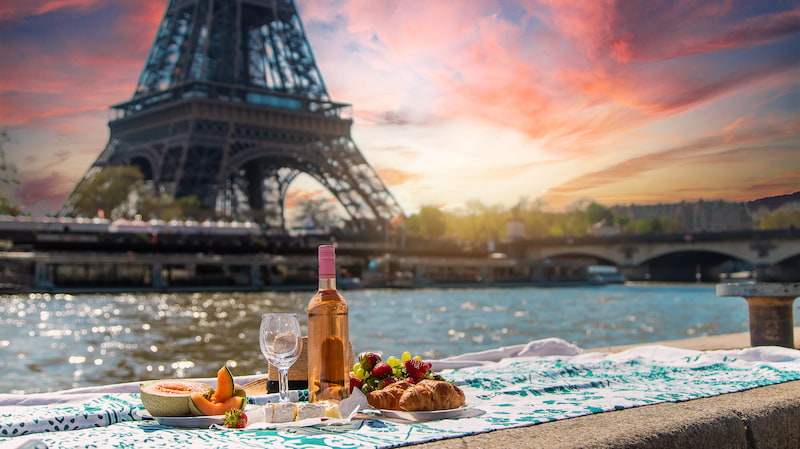 Still can't decide where to have your picnic?
There's actually a website with France's official picnic sites − it's in French but relatively simple to navigate. Just use the drop-down menu to navigate to one of the French départements you'll be visiting, and voilà! 
Where does the French love of picnics come from?
Picnics aren't modern events, not by any means.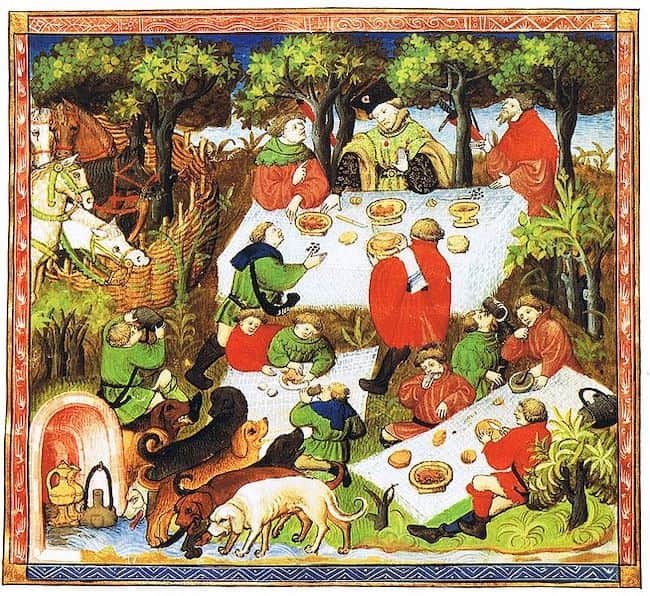 Noblemen enjoying a picnic after the hunt, from a French edition of Le Livre de chasse de Gaston Phébus
They were already common during the Middle Ages, when peasants working in the fields took their lunch with them and ate outdoors. Nobles, too, took their lunch with them when they were on a hunt. These would evolve into veritable meals, with people contributing dishes to the general meal.

In fact, it is said that Louis XIV enjoyed eating outdoors and always carried food with him when he traveled.
After the French Revolution, organizing festive gatherings on former royal grounds "liberated" for the Republic became common, an act of quasi-rebellion in enjoying domains that had once been closed to them.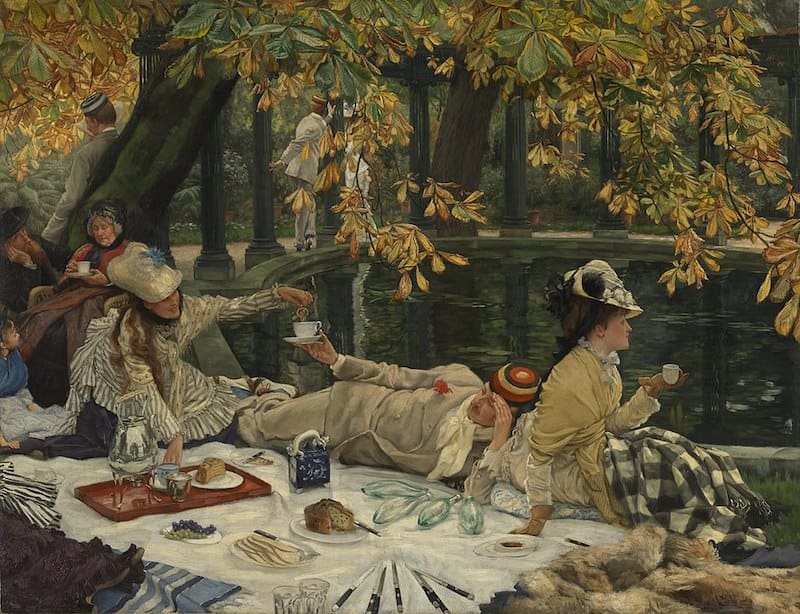 Elegant men and women picnic in the garden in this 1876 painting by French artist James Tissot. Called Holyday, it is also known as The Picnic
By the 19th century, the picnic was a major social event, which you can see reflected in the impressionist art of the time. Today, it is less about the food, and more about outdoor life and socializing with friends and family.

FAQ on French picnics
French picnics will usually have some sort of saucisson-type sausage, and perhaps cured ham or some cold roast, possibly pork. You'll often find a meat terrine, and probably a pâté or two.
A jambon-beurre (a baguette with butter, ham and a gherkin or two) was once the traditional Parisian picnic, but any sandwich goes today. Cheese is essential, and wine is also often present, along with bottled water.
Did you enjoy this article? I'd love if you shared it!