Like most French kids, I was brought up on La Vache Qui Rit, the Laughing Cow. I always had a little triangle as part of my "goûter", or afternoon snack. Now, many years later, I admit I still occasionally indulge.
Think France is a cheese snob?

Move over, Roquefort and Brie, and make way for melted cheese wedges, France's best-kept culinary secret.
Even the biggest foodie in the country will have tasted these.

These little cow cheese triangles come wrapped in foil, with tiny red plastic strips that have frustrated (and entertained) generations of children struggling to unwrap their little portions.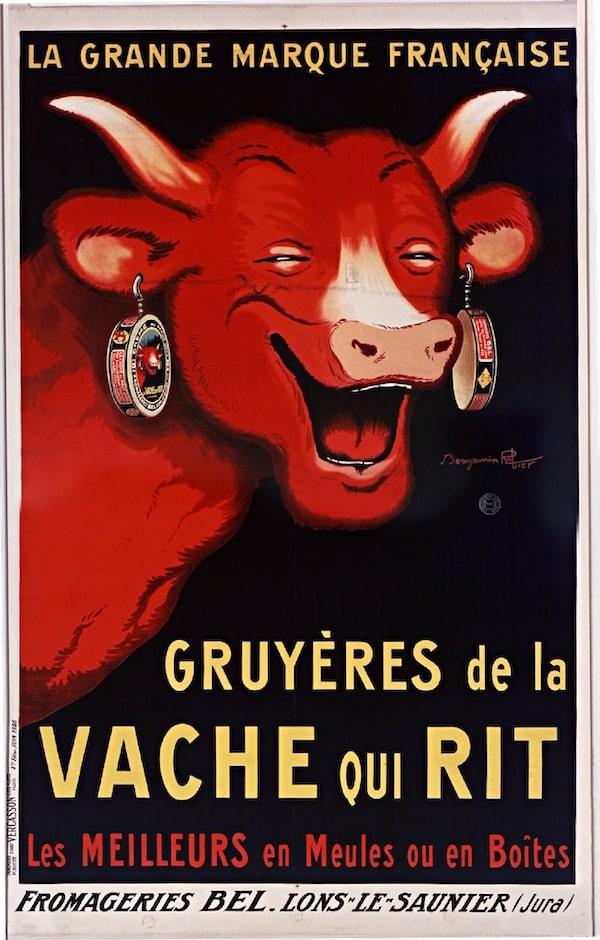 1926 advertising poster by Benjamin Rabier, the illustrator who designed the original laughing cow
If you're French, that portion is probably La Vache Qui Rit, or Laughing Cow cheese triangles in French (sometimes known as "smiling cow cheese").
Even if you're NOT French, actually, because here's the secret: this tiny triangle is one of the most consumed cheeses in the world (THE most consumed, in some countries!), one of the many unusual or weird foods of France.
That's nearly four billion portions a year, or 125 per second.
  NOTE: Pages on this site may contain affiliate links, which bring in a small commission at no cost to you.
France's unlikely gastronomic ambassador
Who doesn't know the little round box with its red laughing cow logo, wearing earrings shaped like a box with a laughing red cow, wearing earrings... you get the picture.

Each time I open a box (yes, I still do) I almost feel like that child again, guarding my cheese from other children in the 'récré' courtyard who may be eyeing my little treasure. Accompanying it would usually be one-eighth of a baguette, along with something fruity. But all I really wanted was the cheese. Nor would any French family picnic be complete without it.
That modest triangle is now part of a multi-billion dollar conglomerate, the Bel Group, but like many global French brands, its origins are exceedingly humble.
The story begins in a little village in the Jura Mountains
Once upon a time in the Burgundian village of Orgelet, in the foothills of the Jura Mountains, a young cheese refiner spent his days turning wheels of cheese.
Jules Bel then sold his products through a local cooperative.
His sons, Henri and Léon, moved the cheese workshop to larger premises in the "city", Lons-le-Saunier, to be near the railway lines and the local saltworks. But Henri did not take to entrepreneurship, and Léon took over.
When World War I erupted, Léon ferried food to soldiers on fleets of buses and trucks and taxis requisitioned for transport. His job was to get meat to the front and his unit was known as RVF (Ravitaillement Viande Fraîche, or fresh meat supply vehicle) B70.

With so many vehicles crisscrossing the roads of France, something was needed to tell them apart, so soldiers began drawing on them to identify those belonging to different units. Some of the drawings were more caricature than insignia...
One day, the head of RVF B70 wrote to Benjamin Rabier, a well-known animal illustrator, to ask him to design an insignia that would stand out from the others. Rabier obliged, creating a smiling cow, which someone irreverently dubbed La Wachkyrie – it's a play on words in French. You pronounce it the way you'd pronounce the cheese La Vache Qui Rit (lah-vash-kee-REE), which sounds like Richard Wagner's "Walkyrie", so prized by the Germans. A small joke at the expense of the enemy.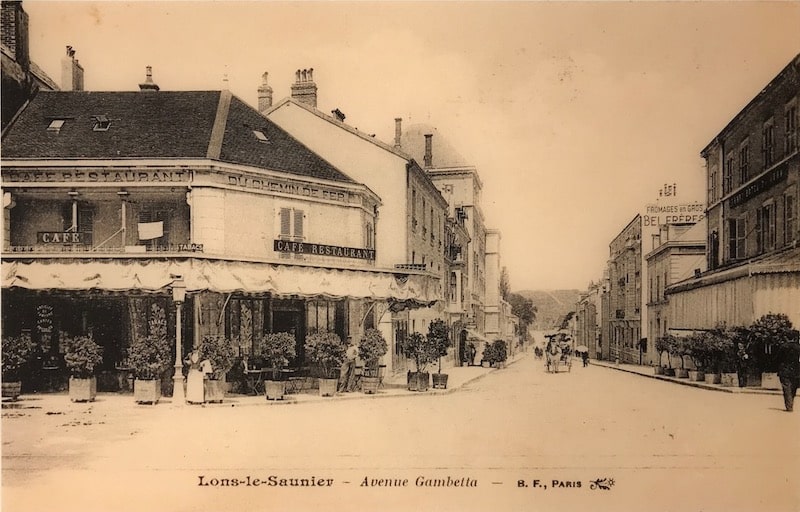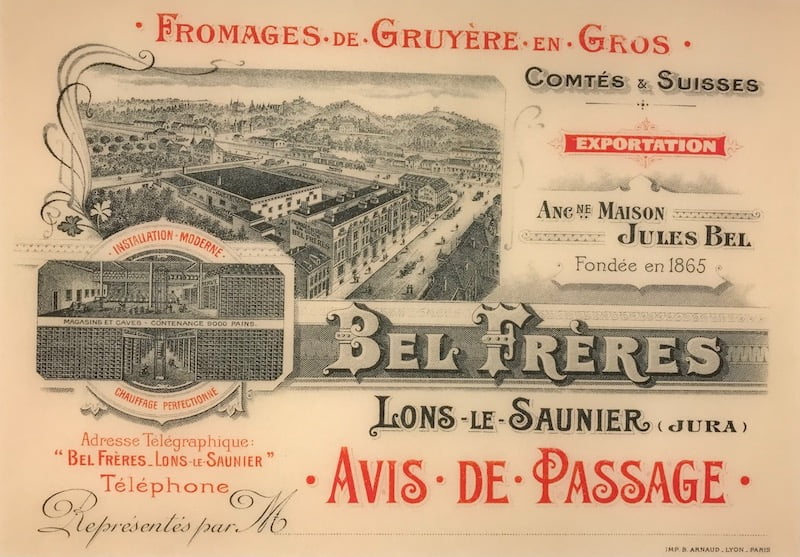 You might also like these stories!
With the war over, Léon Bel returned to the family business.
His cheese was doing well but it needed that "little something", that speck of humour that would differentiate it from all the others.

He remembered the drawing on the bus: Rabier's design would fit the bill perfectly, so he got in touch.
"I spent sleepless nights trying to make the cow smile! I even rented my milkman's cow to see if I could make her smile..."
—Benjamin Rabier, 1864-1939

And the rest is history: the adoption of a Swiss process for melting cheese was a game-changer (it helped cheese travel better), the visionary development of the individual portion, its wrapping in foil, and the innate marketing savvy that turned a laughing cow into a global icon.
Of course the design would evolve over the years: the cow would become redder, it would smile more, the horns would be less bull-ish and more cow-ish, and the earrings would appear, replicating the box itself.
All this was insanely clever: I mean, who could dislike that contagious smile and those silly branded earrings?
Next thing you know, posters and plaques sporting the joyful cow began appearing across France, and of course everyone rushed to buy the cheese.
At a time when advertising aimed at children was still the norm, kids were bombarded with the grinning bovine – notebook covers, stickers and all manner of advertising materials specifically designed for them.
Various incarnations of the Vache Qui Rit box... the one on the left was the first

Some offbeat facts about La Vache Qui Rit cheese
Success wasn't instant, and there were many hurdles along the way.
Is it even really cheese?
Have you ever wondered what actually goes into a laughing cow cheese wedge? I admit I have. I even wondered if – given today's industrial processes – it was really cheese...
And it is a question that has plagued the company – but one it can answer with a firm YES. 
It may be processed cheese, but it is still absolutely cheese.
Originally Comté from the Jura was used but over time other cheeses were substituted, like Emmental, which is local, or even such foreign ones as Cheddar or Gouda. Add milk solids, butter, and some salts. 
Imitation as flattery
There have been plenty of imitators, some with a successful product. They usually play on the cow design – turning it blue or making it sing – or on the name, the Curious Cow, the Laughing Monkey or the Happy Goat.
One particular lawsuit against an imitator lasted more than a quarter century, in a case so complex it's still being studied in Business School. La Vache Qui Rit won.

The soft cheese cardboard box
La Vache Qui Rit didn't start life in a cardboard box. This cheese began life in a metal box, before the portions came along. Now, of course, the lighter cardboard has taken over.
The path to world domination
A rather large number of cream cheese brands in France hide behind the mother ship –I've been shopping for Kiri cream cheese (and Port Salut and plenty of others) for years, and it never occurred to me they were all made by the same company. The same goes for wonderful, garlicky Boursin...
So when I was told that the Vache Qui Rit had its own museum just a few hours from home, I couldn't resist.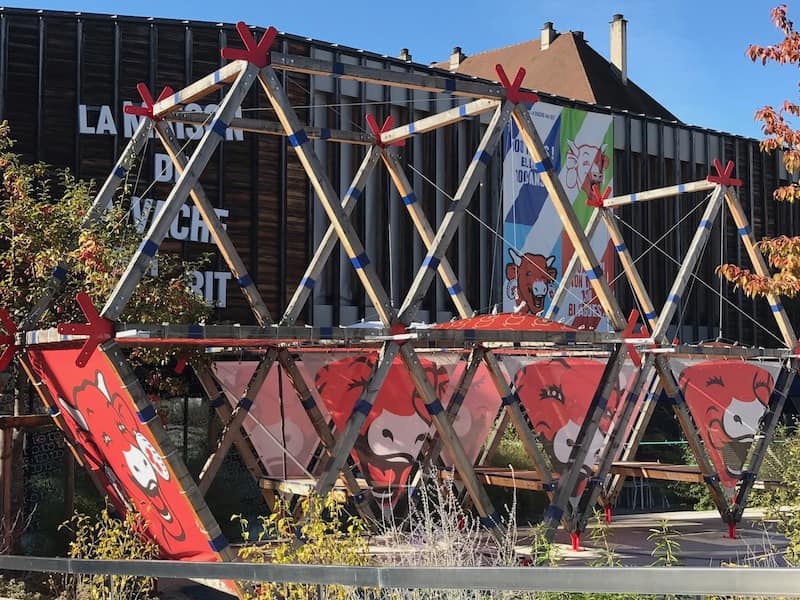 And that's where I picked up a lot of this history. Right in the heart of Lons-le-Saunier, there it was, covered in big red cow signs, an entire building dedicated to Laughing Cow cream cheese.
Today, you'll find La Vache Qui Rit cream cheese in 136 countries, including the UK and the United States. It's as ubiquitous as Coca-Cola or Nutella.
The format might be a little different though: it might come in a tub for spreading or a stick for cooking, but you're still eating the same French spreadable cheese.
Flavours are also adapted to local tastes, like paprika or ham in some parts of Central Europe or olives around the Mediterranean, or creamy "light" versions or spicy pepper – everything can be on the menu.
In some countries, where there may be nutritional deficiencies, you might even find added iron or Vitamin D.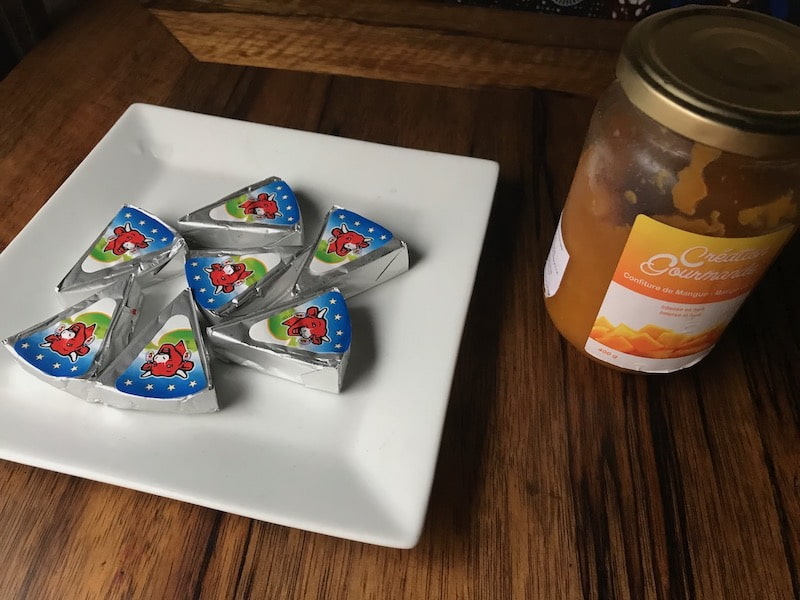 On a trip to Senegal, to the city of Saint Louis in the north, I was served a certain famous French cheese with red cow logo for breakfast...
La Vache Qui Rit as art
Remember Andy Warhol's Campbell's Soup can?
Enter La Vache Qui Rit, a competitor.
The celebrated cow turned 100 in 2021 and to mark the centennial, a series of three works of art were commissioned from German artist Rosemarie Trockel.

Not one, but three boxes grouped for this collection, with the traditional Vache Qui Rit colours, which, coincidentally, are also the colours of the French flag.
They are collector's items: only 350,000 were produced, for sale in supermarkets, no more expensive than your usual box.
The design premiered at the highly prized FIAC International Contemporary Art Fair in Paris, one of the world's major contemporary art events, and was the central feature of "She Laughs", an exhibit at none other than the Palais de Tokyo, home of the Paris Museum of Modern Art. Swish.
The collector boxes were first launched in 2014 by the company's art laboratory, Lab'Bel, and the anniversary edition was the eighth of the series. Each set has been designed by a renowned artist...
Remember, we're still talking about a box of spreadable cheese wedges!
Meantime, the little triangle continues to build its popularity, an unexpected French culinary ambassador in a world more accustomed to Nouvelle Cuisine and gastronomy than a quick snack food wrapped in tinsel.
La Vache Qui Rit FAQ
Yes it is, straight from the Jura Mountains in Burgundy.
When the design was first created during World War I, the cow was already laughing, and it proved so popular it would have been silly to change it.
The Laughing Cow, of course!
Yes, one of the very first, made by melting several hard cheeses and mixing them.
The cheeses used to make it are pasteurized, and it can be stored on a shelf. 
Pin this and save for later!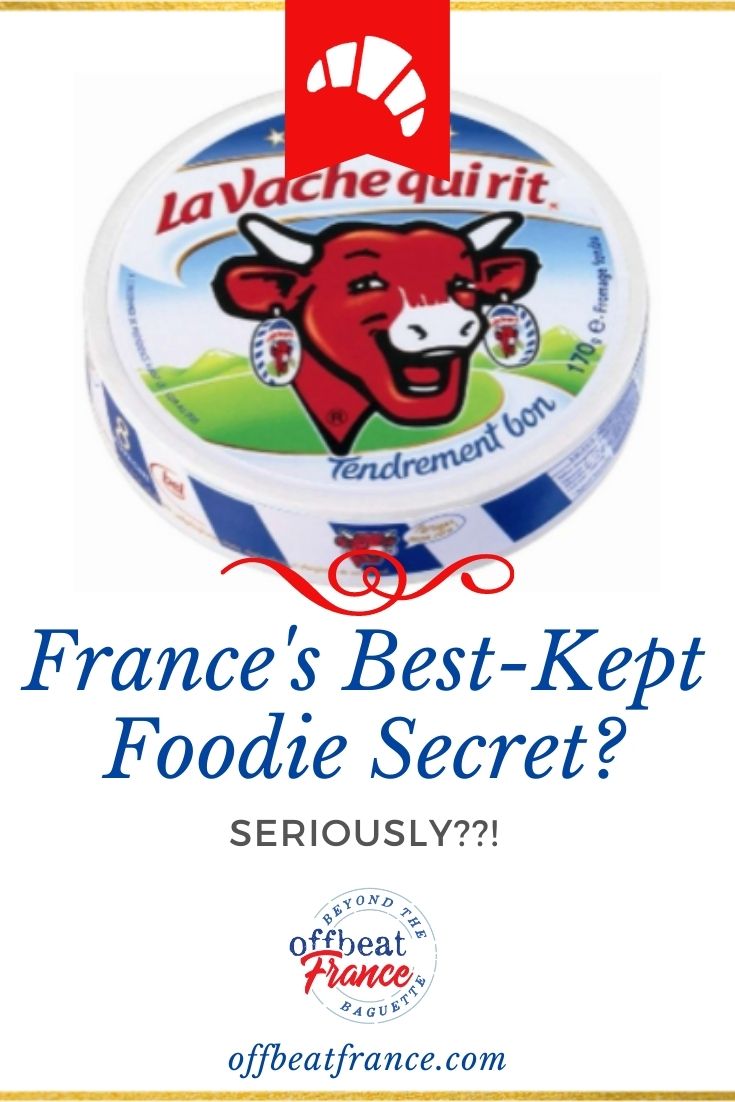 Did you enjoy this article? I'd love if you shared it!