Do they actually celebrate Valentine's Day in France?
Like many parts of the world, the French do celebrate Valentine's Day, but not in quite the same way as many English-speaking countries. This story explains the differences, and some of the originalities of Valentine's Day in France.
NOTE: Pages on this site may contain affiliate links, which bring in a small commission at no cost to you.
Does France celebrate Valentine's Day?
Many people worldwide look forward to the 14th of February, a day exclusively devoted to love. You get to shower or be showered with gifts and signs of affection from people you love. Most people think that, because France is one of the most romantic countries in the world, Valentine's Day is a big deal.
Yes. And no.
It seems that about half of France's couples celebrate Valentine's Day, and and the celebration is slightly more popular among younger than older couples. So as you can see, this is far from the red-heart tsunami experienced in some countries...
However, Valentine's Day in France is not quite what most of us expect it to be. The French are very interesting people, so they do things a little differently. Including Valentines Day or Jour de la Saint Valentin, as they call it.
Stick around to find out how French culture celebrates Valentine's Day and what you can expect around this time.
How does France celebrate Valentine's Day?
Unlike most parts of the world, Valentine's Day in France is only for adults, and people who are in love. So no, you will not find pre-schoolers, best friends, or even family members giving each other handmade cards and gifts.
In fact, you might be giving someone you are not in love with the wrong impression by giving them a card or gift. So it's no surprise that the French don't hand out cards on Valentine's Day. Instead, they prefer to spend time with their significant other in person, enjoying an activity and sharing gifts.
Here are some of the activities we might enjoy on Valentine's Day in France:
enjoying a romantic dinner at home by candlelight

giving someone special flowers or chocolates

booking a romantic weekend away

enjoying one of the many Valentine's Day specials put on by hotels or restaurants
buying a love-themed pastry at your local patisserie (yes, this is becoming a "thing")
sharing a couples spa treatment
booking a romantic cruise on the Seine (or other river near you)
taking in a "love-themed" exhibition at a museum (this is France – you shouldn't have too much trouble finding one!)
take a class together, cooking perhaps?
attend a special wine tasting...
Frankly, the list is infinite. It can be a simple as walking together in a park or booking a helicopter ride or balloon trip over one of France's iconic landmarks!
France Valentine's Day traditions, Events and Festivals
Although French Valentine's Day is not what most of us thought it to be, there are some traditions that most people look forward to each year.
Saint-Valentin Festival
Situated just 257 km (160 miles) outside of the City of Love, Paris sits a quaint and beautiful little village known as Saint-Valentin. As you may have guessed, it takes its name from Saint Valentine himself.
Known as "Le Village Des Amoureux" (Lovers' Village), it's the one place where you'll find loads of dreamy-eyed travellers from all over the country celebrating Valentine's Day. Each year the village hosts a three-day festival of love held over the weekend closest to Valentine's Day.
It's one of the most idyllic places over the Valentine's period because the whole village is covered in flowers, mainly red roses, and hearts everywhere for visitors to celebrate this special day.
Over the three-days you'll find many chocolate makers who arrive at Saint-Valentin to show off their delectable heart-shaped creations filled with various fillings. It's not hard to find the perfect gift for your significant other at the Saint-Valentin festival. Here you'll come across chocolate-making demonstrations, tastings and a gift market amongst many options.
Over the three days, you'll find that quite a few weddings, proposals, and vow renewals take place in Saint-Valentin which is quite a special thing to watch as couples declare their profound love for each other.
The main venue for this is in the center of the village, called the Lover's Garden. This spectacular garden, with its perfectly manicured lawns, features a wooden bridge, the Tree of Vows, and a sculpture that's shaped like dripping hearts. Most trees in this garden have been planted by couples who visited here during the festival to show off their love.
For visitors who are a bit more old school, you'll find them lined up at the local post office waiting to have their love letters stamped. After receiving the stamp of approval, they then place their love letters in Cupid's Mailbox and wait for it to be sent off to their special person.
Couples who have been married for seven years and longer qualify for a truly unique privilege in Saint-Valentin over this time. It's called the "Confirmation of Marriage." This is a special ceremony performed by the village mayor in front of the town hall.
Many people gather together to watch as the mayor presents couples with a personalised certificate confirming their marriage. After which, couples can have their names engraved onto a metallic heart which they can keep or attach on the Tree of Vows in the Garden of Love.
Visit the Le Mur des Je t'aime in Paris
Being one of the most romantic places in the world, Paris is filled with numerous love-themed destinations across the city. One of these places is Le Mur des Je t'aime or the "I Love You Wall" in the picturesque neighbourhood of Montmartre.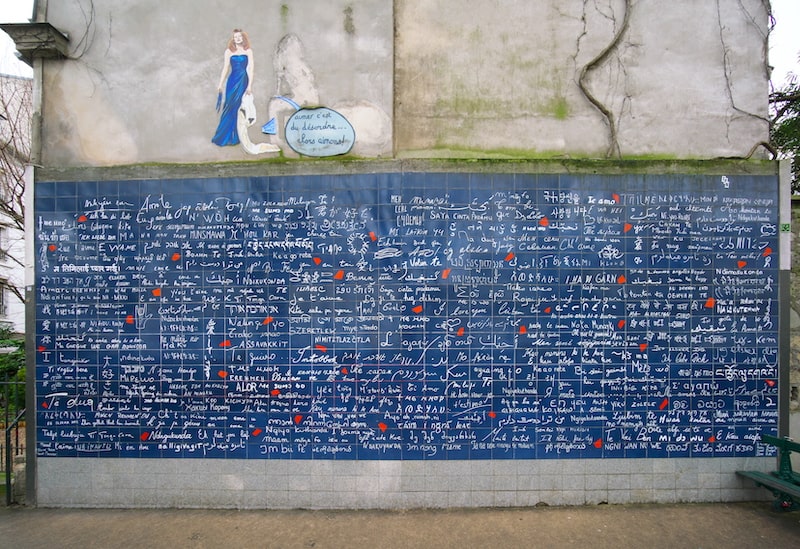 This mural was created in 2000 by artist Claire Kito and calligraphist Frederic Baron who created this masterpiece to celebrate love. The wall is over 40 square meters, featuring 311 "I love you" notes in 250 languages.
While not a very big tradition, it has become the custom of some Parisians, as well as sightseers to visit the wall on Valentine's Day. Here they declare their love for each other and also take pictures at the wall.
Romantic things to do in Paris, the City of Love
Since Paris is the City of Love there is no shortage of romantic things to do, especially around Valentine's Day. Here are some activities you can look forward to on La Saint Valentin in Paris.
Enjoy a chocolate tasting
For anyone with a sweet tooth, chocolate tasting is always a good idea. What better way to spend Valentine's Day with the person you love than by indulging in some delicious confectionery?
A chocolate tasting tour will give you the opportunity to learn about France's chocolate making history and also sample some of the best cocoa treats you'll find in the city.
Take a food and wine tour
French cuisine has long been the blueprint of the gastronomic world. So naturally, one of the best ways to try out France's most popular dishes is to treat yourself and your partner to a food tour. You'll get to sample the best dishes, cheeses, cured meats, breads, wine and so much more.
Take a Seine River dinner cruise
Nothing screams 'romance in Paris' more than a cruise down the idyllic Seine River. While a river cruise is pretty spectacular during the day, it's even more special during golden hour.
A dinner cruise makes an already romantic occasion even more special. As you sail past some of Paris' iconic landmarks and take in some wonderful views of the city, you can feast on a classic French 3-course dinner.
Visit Disneyland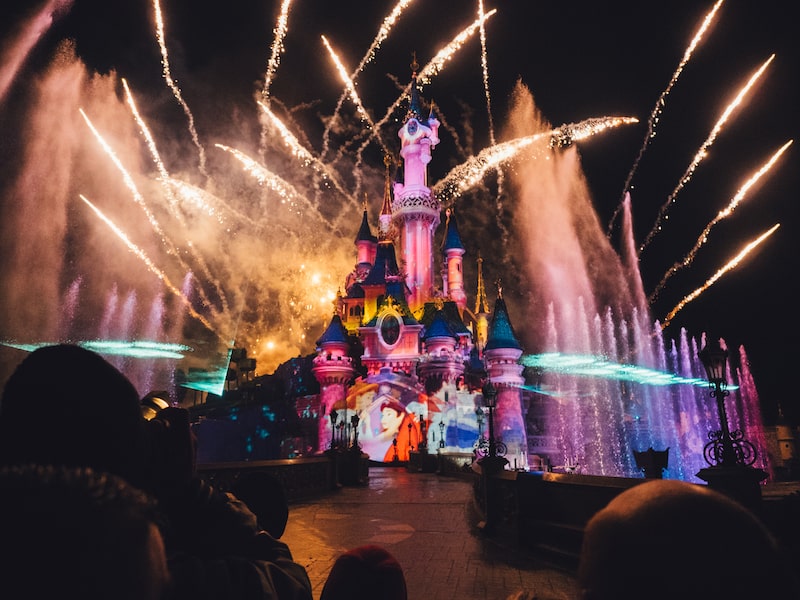 A fun way to enjoy Valentine's Day is to tap into your inner child with a visit to Disneyland Paris. Think thrilling rides, spending time with beloved childhood characters, and shopping at various Disney-themed stores. If you stay until the evening, you can even catch the exciting firework display.
Organize a couples photoshoot
Sure, you could take some great photos on your smartphone, but visiting France is usually a once-in-a-lifetime experience. So why not capture your best memories with a family or couples photoshoot around the best locations in Paris on the traditional French love day? Some of the most popular locations in the city include the Louvre Museum, Eiffel Tower and the banks of the Seine River, which all make gorgeous backdrops.
Visit the Musée de La Vie Romantique
There is no shortage of museums in Paris to visit, but one that's certainly worth visiting, especially on Valentine's Day, is the Museum of Romantics (Musée de La Vie Romantique). This museum takes visitors back to the era of Romanticism, where you can learn more about Parisian romance in the mid-1800s.
The origins of La Saint Valentin in France
As is the case elsewhere, plenty of French people see St Valentine's Day as a commercial event, one designed to part them from their money with flowers or chocolate.
What many do agree on is that Saint-Valentine's origins are uncertain, shrouded in mystery. The feast may date back to pagan Roman festivals of purification, the Lupercalia, a February event involving an animal sacrifice in the cave in which Remus and Romulus had been weaned by a she-wolf, if you recall the foundation legend of Rome. The sacrifice also seems to have involved young men covered in the animal's blood running amok in the streets, whipping women as they ran, an act they believed enhanced fertility. 
The celebration and choice of the date of 14 February came much later, during the 3rd century, to commemorate the death by decapitation of the Roman priest, Valentine, for having celebrated Christian weddings. Not very romantic...
As for the "love" portion of the celebration, this seems to date back to the Middle Ages when on that date, an equal number of men's and women's names (each paired with a romantic poem) were placed in a hat and drawn at random, the accidental couple then reciting the poems to one another. Now that's a bit better.
Along the way, these morphed into romantic notes exchanged on that day, and, with the advent of efficient postal services and mass printing of Valentine's Day cards (this development began in the USA) in the 19th century, the habit grew.
These exchanges of notes are far more common in the USA and UK than they are in France.
Valentine's Day in France
While Valentine's Day in France is not what most people may have expected, we can still claim to be romantics at heart, whether in a village dedicated to Saint Valentine, on a love wall in Paris, or even a museum dedicated to romance.
Valentine's Day wishes in French?
Joyeuse Saint Valentin! Happy Valentine!
Did you enjoy this article? I'd love if you shared it!