Pages on this site may contain affiliate links, which bring in a small commission at no cost to you.
Comparing Bordeaux vs Lyon? Not easy, but let's try
Being asked to choose between these two cities is like having to decide between a mille-feuille and an éclair – both are wonderful, but you can't really compare them. I might choose one, you the other, and neither of us would be wrong. Ideally, we should get to eat both.
It's the same with Bordeaux vs Lyon: they both rank among the most beautiful cities in France, and each has plenty to recommend it.
But not everyone has unlimited time and sadly, choices might be necessary. So if you HAD to visit only one, which would it be? And how would you decide?
I love both cities, and while I live near Lyon and know it better, that doesn't stop me from getting excited each time I head for Bordeaux.
Let's look at what makes these two cities so special, as well as what makes them so different.
Bordeaux vs Lyon: An impossible choice
Lyon, by any measure, is a stunning city, with its two rivers and undulating rust-colored roofing tiles that belie its proximity to the Alps. On a clear day, you can spot them in the distance. 
Bordeaux, flatter and more compact, has its own majestic river, one that throws itself into the ocean. Rather than mountains, it boasts a nearby coastline whose oysters and sand dunes spell out holiday with a capital H.
Both share a massive historical heritage, Lyon for its Roman and medieval remains, and Bordeaux for its classical buildings and avenues and for its role in opposing the French Revolution. And both have inherited the Roman love of wine.
1. Location, Location, Location
Where a place is located often determines whether we'll go.
Geographically, Lyon is in south-central France, on the way to Provence, and Bordeaux is in the southwest, near the coast, on the way to… Spain (via the French Basque country). Here's the map.
More to the point is the difference in the natural environment that surrounds each city.
Lyon is built on hills, and to enjoy the outdoors you can take advantage of its rivers, its giant parks, and not that far away, the Alps and the Jura, perfect backdrops for hiking and skiing and eating cheese fondue in mountain restaurants.
There's plenty of life along the Lyon's riversides, which are full of houseboats turned into bars and restaurants, biking paths leading in and out of the city, and even, like Paris, the occasional temporary beach.
In the case of Bordeaux, a major river port, you've got the ocean, the magnificent Bassin d'Arcachon bay and smooth sandy beaches, all under an hour's drive away. If you're partial to chugging oysters while watching the waves unfurl or lying on the sand in the sun, this is where you'll want to be. 
So Lyon has the mountains, Bordeaux has the ocean, and both have the river.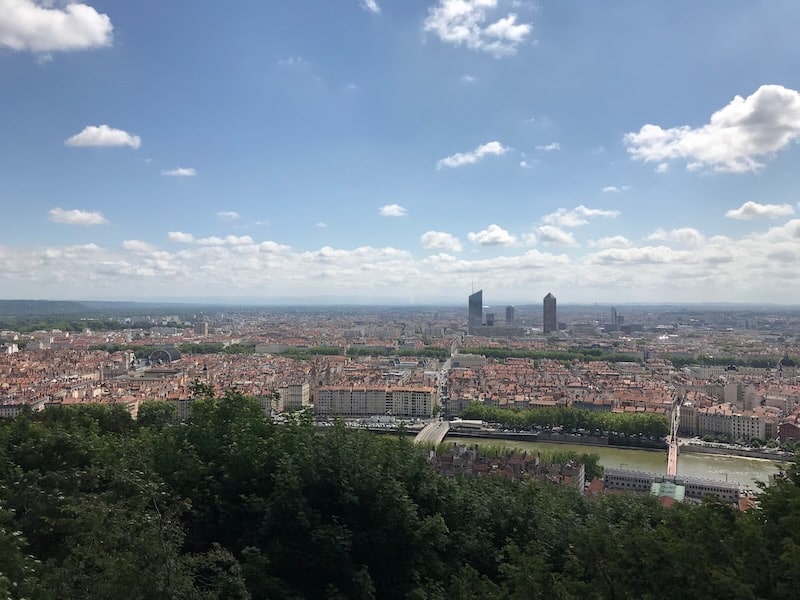 Lyon seen from the Fourvière Basilica, with the mountains in the distance
2. Gastronomy vs oenology
One of the most contentious differentiations between the two cities is culinary.
At first sight, if you want fantastic food, you would head for Lyon, renowned as France's "capital of gastronomy". Most people have heard of influential native son chef Paul Bocuse, and the food of Lyon, the cuisine lyonnaise, has been famous for centuries, its specialties known across France and Europe. Lyon is home to 16 restaurants with Michelin stars, the most coveted French culinary award.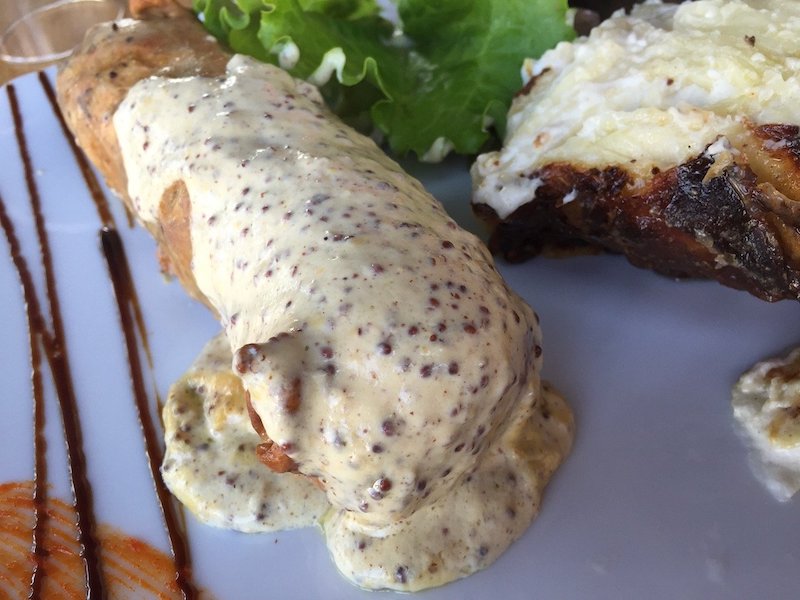 Typical Lyon dish - andouillette, or tripe sausage
Bordeaux, on the other hand, is best-known for the wines that carry its name and which people come from far afield to taste. The city is surrounded by rolling hills covered with vines, starting with the famous Saint-Emilion, and with wines carrying such illustrious names as Château Pétrus, Château d'Yquem, or Château Margaux.

But here it gets murky. Lyon may not have any wines that carry its name, but that doesn't mean it has no vineyards. On the contrary, the city is right next door to the Rhône Valley and the Beaujolais, and that's as wine as you can get. Push a little further and you're in Burgundy.
Some swear Bordeaux wines are the best, while for others, Burgundy rules, so it's a tough fight.
If you're a lover of wines, you'll be satisfied in either city.
Map courtesy francemap360.com
One could say the same about Bordeaux and food. Lyon doesn't hold the monopoly. Bordeaux has its own noteworth specialties – the delicious canelé pastries, beef from Bazas, or oysters from Arcachon – not to mention the deep, red-wine based Sauce Bordelaise. The range of culinary delights may not be as extensive as Lyon's, but the quality is evident.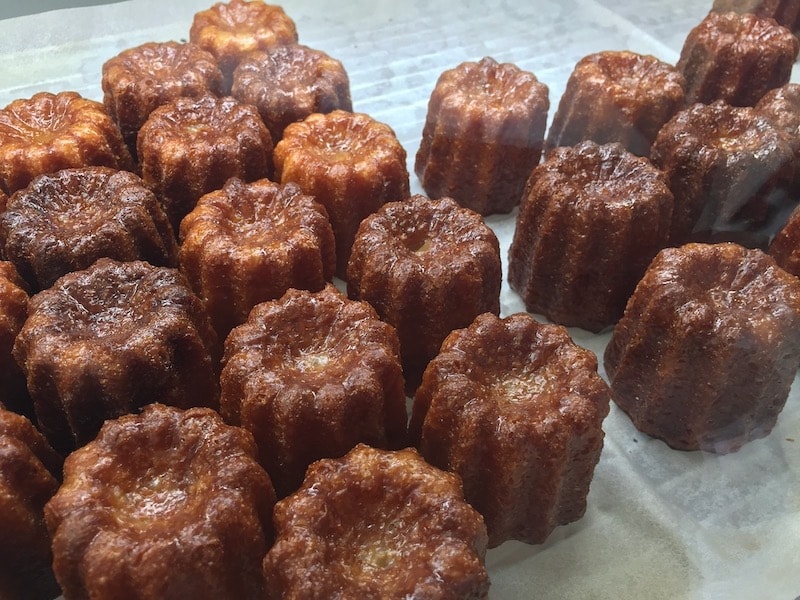 Delicious canelés from Bordeaux
These days, Bordeaux counts nine Michelin-starred restaurants, fewer than Lyon, but then, so the population is smaller (Lyon has just over half a million people while Bordeaux counts a mere 250,000). Per capita, Bordeaux would seem to have more starred restaurants than Lyon…
And in recent years, several culinary luminaries have chosen to open establishments in Bordeaux, signalling the city's quick rise in the gastronomic firmament. Not quite enough to push Lyon over the side, but still, enough to make it look over its shoulder.
3. A city's vibe
How a city feels is an intangible factor, but that feeling you get when exploring a place can weigh as heavily as any objective factor in your decision to visit.
Bordeaux has often been likened to a "little Paris", its clean, pale buildings recalling the Hausmannian-era construction craze of Paris in the 19th century. Mind you, a few years ago this is not the impression you would have had of Bordeaux, a dirty, gritty city known as a sleepy provincial backwater, not the dynamic urban area it is today.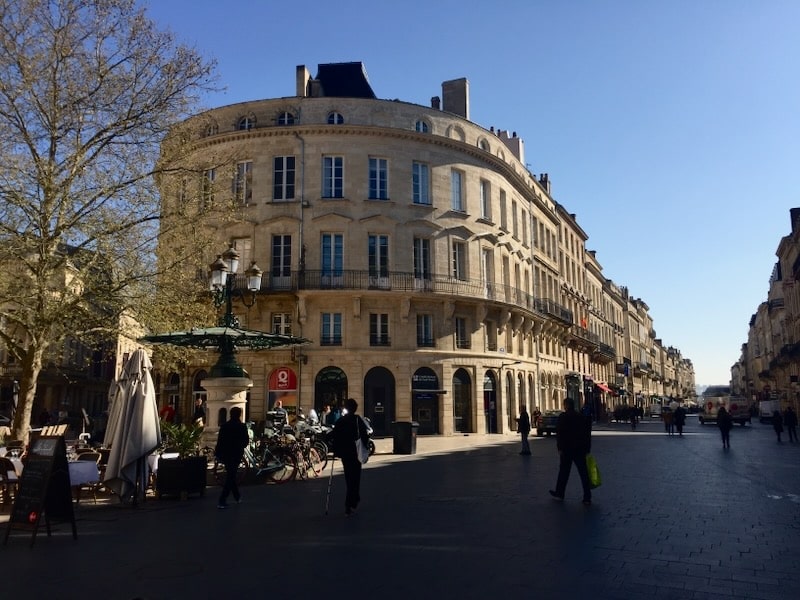 Handsome streets of Bordeaux
Lyon, too, has its handsome classical buildings but it is more variegated, its Gothic and classical architectures mixing and matching with the Mediterranean ambiance you'll encounter if you continue heading South. It is also more diverse, as you would expect from the bigger city.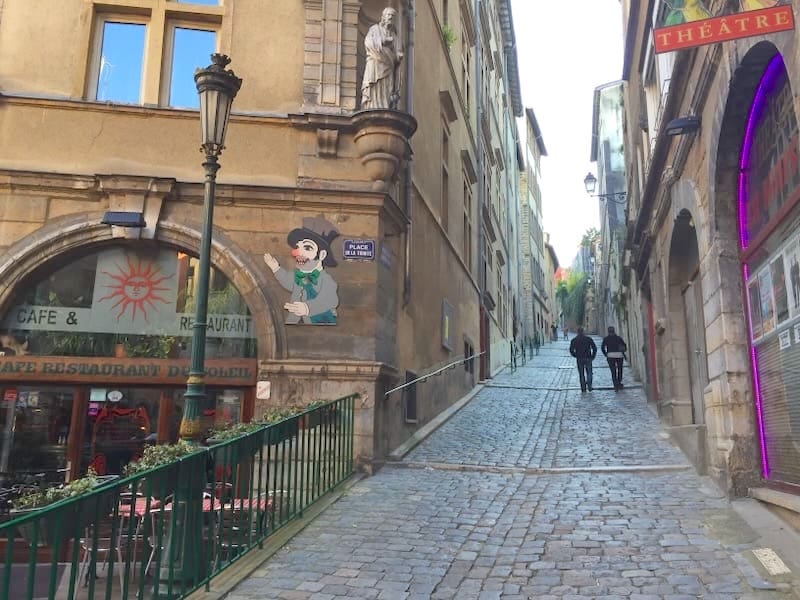 Both cities are physically attractive, architecturally appealing, and filled with innovative energy. Difficult to choose...
4. But what about the people?
There are plenty of clichés surrounding both the Lyonnais and the Bordelais. Some may be true.
Both populations have a reputation for being a bit cold and uppity – bourgeois even. But then, why shouldn't they?
Bordeaux has its châteaux and grand wines, and is rightfully proud of its heritage. The city also suffered from isolation for years (the high-speed TGV only arrived to the city in 1990), firmly off the tourist path and left to itself. A bit of standoffishness is no surprise.
Lyon, always a great crossroads and close to Switzerland and Italy, enjoyed great wealth from trade, especially silk, and developed the elitist mentality that goes with financial success. At the same time, this is the city where the proletariat was most active during the upheavals of the 19th century (and where the Résistance was headquartered during World War II), so a certain sense of importance and of holding the moral high ground might occasionally surface.
In both cities, people tend to keep to themselves, especially those who have been there for generations. They have their groups of friends, many developed in childhood, and often feel little need to go beyond. That said, outsiders are not unwelcome and attitudes have evolved dramatically. (I remember boycotting Lyon for a while in the 1980s because people had been so insufferably rude…)
As is the case anywhere, there are friendly and unfriendly people, tolerant and close-minded ones, welcoming or distancing. You can't generalize about a city. You'll just have to go see for yourself.
One thing that is often said is that while Bordeaux is weighty with "class", Lyon is stuffed with "charm". Perhaps. But I would add that Lyon has plenty of class, and Bordeaux is definitely charming.
5. History and national monuments
Many of us travel to uncover history and gaze at the monuments of the past.
Lyon, with its 2000 years of history and four neighborhoods on the UNESCO World Heritage List, makes it easy to go back in time, whether to the Roman vestiges of Lugdunum, the narrow streets of Old Lyon, the Renaissance and classical quarters of the city, or the remains of the Industrial Revolution which played itself out here. There is certainly plenty of history to discover in Lyon.
Lugdunum's ancient amphitheater
Bordeaux, too, can boast historical accolades, with UNESCO protection for much of its historical center, including 350 buildings listed as national monuments and several protected churches which happen to be on the Camino to St James, or Santiago de Compostela in Spain. There may be fewer Roman ruins in Bordeaux, but the city has just as much historical heritage as does Lyon. 

Adding to Bordeaux's heritage is a more modern streak of developments, some of which have become cultural icons, like the riverside Bassin des Lumières, a magnificent light show in a former Nazi submarine base or the Water Mirror, a magical sight and the city's most photographed.
Of course the same can be said of Lyon and its ultra-modern Cité Internationale and Confluences neighborhoods.
Light show at the Bordeaux Bassin des Lumières
6. Shopping in Lyon and Bordeaux
Lyon vs Bordeaux shopping: predictably, both cities have excellent shopping, but it does differ.
Bordeaux has the longest pedestrian shopping street in Europe, la Rue Sainte-Catherine, along which you'll find every possible globalized or French brand you know. There are plenty of other shopping streets and malls, including the riverside Bord'eau Village discount outlets.
For antiques, head to the rue Notre-Dame, and for food, the Marché des Capucins is the city's delectable covered market. Of course one thing you'll trip over on every corner is wine: it will be difficult for you to leave town with a bottle or two under your arm.
You can of course buy wine in Lyon as well, but the specialty here is silk, and you'll find plenty of shops selling the city's signature craft. Lyon has several shopping areas, from the boutiques of the Presqu'île to the shops of the Old Town or the modern malls dotting the city. For food, the Halles Paul Bocuse is a must, as are the city's excellent daily markets.
Both cities boast world-class shopping and artisanal boutiques, with a strong sense of style and design where you won't go wrong.
7. The joys of sightseeing and getting around
Mundane as it may seem, sightseeing occupies a significant part of our time when we visit a city. Both cities fare well on this front.
Lyon, intriguingly, is more like several cities in one, with its distinct neighborhoods each representing a specific period in time: Fourvière and its Roman ruins, the medieval Old Quarter of Lyon, the classical Presqu'île, the Croix-Rousse, home of the industrial advances of the 18th century, and the new creations, like Confluences or the Cité Internationale (of course, the city isn't that clear-cut, and many neighborhoods bleed into one another).
To visit Lyon, you must love walking uphill. Unless you exclusively use public transportation, you'll have little choice. It is a city built on hills, and whatever respite you experience when heading downhill will evaporate quickly at the sight of the next upward incline.
Lyon's public transportation system is excellent, but there's no getting away from a hill or two…
Bordeaux, on the other hand, is blissfully flat. It is also smaller and more compact, which makes getting around a lot simpler than zig-zagging around Lyon. It, too, has its neighborhoods, but they're within easy walking distance of one another.
Getting out of the cities is also a factor to consider.
There are plenty of varied day trips out of Lyon, whether to the Rhône Valley or Burgundy vineyards, nearby lakes, the mountains or even over the border into neighboring countries. From Bordeaux, you can visit the vineyards, of course, and the oceanside. In a longer day, you can get as far as the Basque country and enjoy the likes of Bayonne or Biarritz.
8. What about the weather?
At the height of summer, both cities are hot. Very hot. The pavement reflects the heat, and no amount of breeze from the ocean or the mountains will succeed in dislodging it. I try to stay away from cities in France during the summer and would rather be home in the countryside during the hotter months.
Bordeaux is close enough to the Atlantic to have a temperate ocean climate, with mild winters and beautiful shoulder seasons. There is rain, however, but for many of us, especially if it's hot outside, it can be welcome. I've witnessed terrific showers in Bordeaux that fell violently – for five minutes, with the streets absolutely dry a few seconds later.
Stormy summer day in Bordeaux
Lyon, on the other hand, is influenced by the Alps and has a more extreme climate, with well-delineated seasons, also temperate but with cold winters (and the occasional snow). In summer, finding an afternoon breeze can be a challenge, even by the rivers.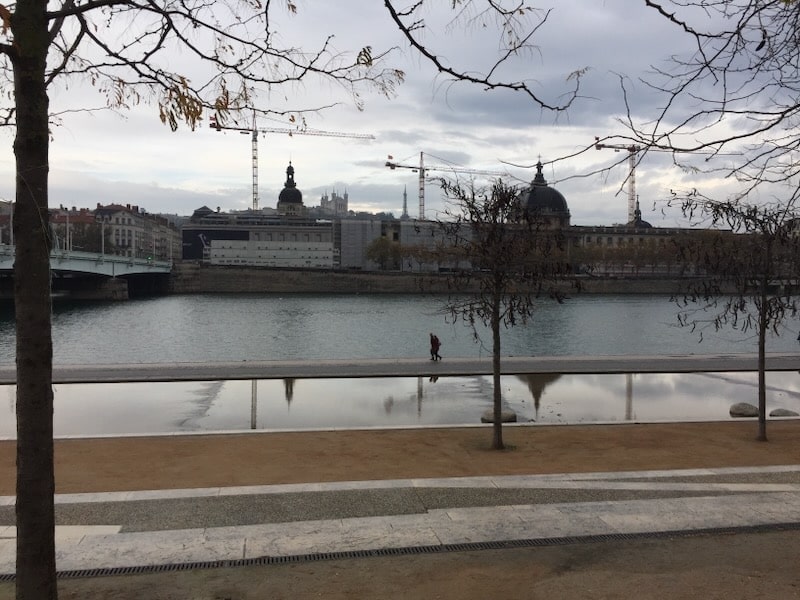 A typical cold and rainy winter day in Lyon
9. Getting to Lyon and Bordeaux
Both cities can be reached by plane, train and car. These days in France, many short flights have been eliminated in favor of train transport so flying from Paris to either Lyon or Bordeaux is increasingly difficult.
But why even think of flying when you can take the TGV high-speed train?
Most trains from Paris to Lyon leave from the appropriately named Gare de Lyon, and the average trip takes around 1h56, a hair under two hours – door to door downtown, that's definitely faster than flying.
For Bordeaux, you'll most often leave from Paris-Montparnasse for a journey that averages 2h07, a whopping 11 minutes longer than the Lyon trip. Frankly, that's not much of a difference, and is also faster than a flight.

By road, the story is a bit different. Driving the 466km / 290mi from Paris to Lyon – roughly halfway between Paris and Marseille – takes about 4h50 down the A6, while the trip to Bordeaux is longer, at 5h56 for the 584km / 363mi drive along the A10. 
So if you're taking the train, you'll travel just as long for both, but driving means a longer trip to Bordeaux. If you want to explore the countryside, consider taking the train and renting a car once you arrive, just to visit out-of-town sights. Driving in French cities is becoming increasingly unpleasant, from odd traffic rules and rude drivers to expensive and difficult parking.
FAQ: Bordeaux vs Lyon
Both cities have plenty going for them and it depends what you're looking for. Each city has something going for it – for example, Bordeaux is reputed for its wine and Lyon for its food.
On the contrary, Lyon has twice as many people as Bordeaux and is France's second largest city.
No. Lyon is in southeastern France and Bordeaux in southwestern France. There is no direct Bordeaux-Lyon train liaison. If you're driving, you can cover the distance in about 5 hours.
The distance from Bordeaux to Lyon is 562 km, or 350 mi.
As is often the case in France, you have to go via Paris, and then change trains there. Or you can drive directly. You can also fly between the two cities with Air France or EasyJet.
Bordeaux vs Lyon: Who wins?
The heart vacillates… These two cities are among the most beautiful and beloved in France, making a choice truly difficult.
The best way to decide will be to align with what you like...
If you're more into food, then perhaps Lyon. Wine? Bordeaux, but as we've seen, not only.
If you're a beach lover, Bordeaux. For mountains, head for Lyon.
Roman ruins? Lyon. Classy classical architecture? Bordeaux. 
Museums? I'd have to say Lyon, by its sheer size and diversity.
Love to stroll? Both. Lyon has a variety of neighborhoods, but Bordeaux has that compactness that gives it a more human scale and makes it easy to get everywhere on foot.
Big city density vibe? Lyon – Bordeaux is smaller, yet simultaneously more spacious.
Conclusion? I'm sorry, but I can't.
I go to Lyon more often, but that's because it's closer to where I live. If I were halfway between Bordeaux and Lyon, I'd probably visit both just as often. If you only have time to visit one city, just pick one. Then come back for the other.
Did you enjoy this article? I'd love if you shared it!