Make sure you're hungry when you visit Bayonne!
If you've already eaten, please stay away until you're ready for more.
There are plenty of things to do in Bayonne but eating is at the top of the list.
NOTE: Pages on this site may contain affiliate links, which bring in a small commission at no cost to you.
COMING TO FRANCE? THESE RESOURCES CAN HELP!
🏨 Accommodation - I rent hotels through booking.com
🚘 Car rentals - I use Discovercars, Europe's best car rental website
🚊 Train tickets - I book my train and bus tickets on Trainline
🚌 Day tours - I take day tours with Viator and GetYourGuide
Gateway to the French Basque country
Chances are that if you're visiting the southwestern region of France and heading into French Basque country, your trip will either start or end in Bayonne, perched where the Nive and Ardour rivers meet.
With its feet firmly planted near the border of France and Spain, this small town of 50,000 pulls from its French and Basque heritages, of course, but also from its Spanish neighbors, a half-hour drive to the south.
It may be less glitzy than its nearby cousin Biarritz, but it has plenty of history and an abundance of charm.
And chocolate. A lot of chocolate.
Gastronomic things to do in Bayonne
If I'm starting this story with Bayonne food, it's because the city's situation makes it a natural magnet for the development of a culinary culture: the Nive and Ardour rivers converge in the heart of the city, ensuring produce can arrive quickly and promoting variety.
The city is, after all, astride the centuries-old coastal road between France and Spain.
This situation has been exploited over time to fine-tune many culinary specialities, of which two (in my humble opinion) are more than noteworthy.
Why Bayonne is called the Capital of Chocolate
Bayonne has an extraordinary culinary distinction in a country already replete with culinary distinctions: it is France's capital of chocolate.
Chocolate came to France from Spain and was initially spotted in Bayonne, in the first half of the 17th century, at Louis XIII's wedding to Anne of Austria, the daughter of Philip III of Spain.
But it really took off at Versailles under his son, Louis XIV, who was – as most French children still recall from their history lessons – married to the Infanta Maria Theresa of Spain, another strong Spanish connection.
At the time, chocolate only existed as a hot beverage, albeit a delightful one.
But most of the chocolate stayed in Versailles, at court. 
The family of the Duque of Penthièvre drinks hot chocolate, by Jean-Baptiste Charpentier the Elder [CC0], via Wikimedia Commons
"If you are not feeling well, if you have not slept, chocolate will revive you. But you have no chocolate! I think of that again and again! My dear, how will you ever manage?"
—Marie de Rabutin-Chantal de Sévigné (French aristocrat and prolific and gifted writer)
As for its appearance in Bayonne proper, the city's archives make a reference to something called chicolatte in 1670. 
Bayonne was a multicultural city and many Jews had settled here, descendants of families that had fled Spain (and Portugal) as a result of the brutal Catholic Inquisition. They were the first in France to work with cocoa beans, producing a more bitter dark chocolate with a high cocoa content. Through them, the use of chocolate and made its way to the rest of the population.  
By the 18th century, most self-respecting homes in Bayonne had a chocolatière, a chocolate-making machine, much as we now have coffee machines.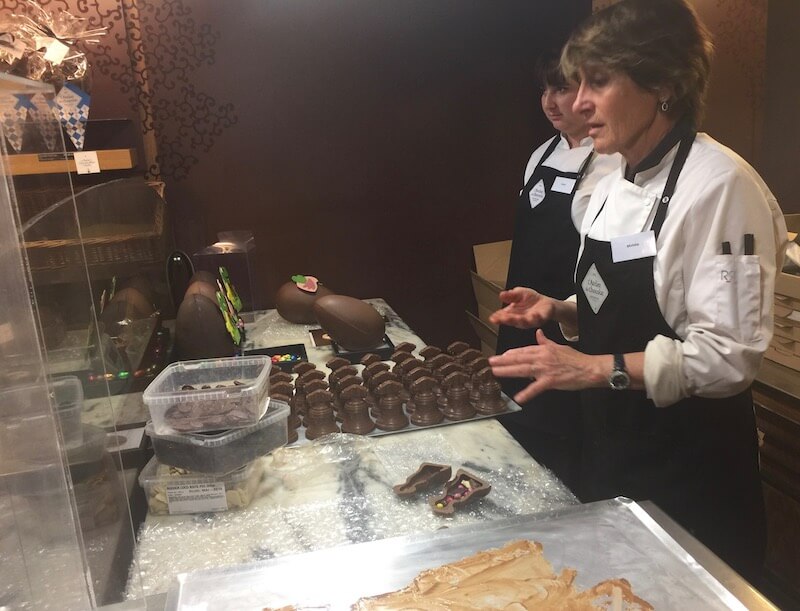 Tabling chocolate to cool it off at l'Atelier du Chocolat ©OffbeatFrance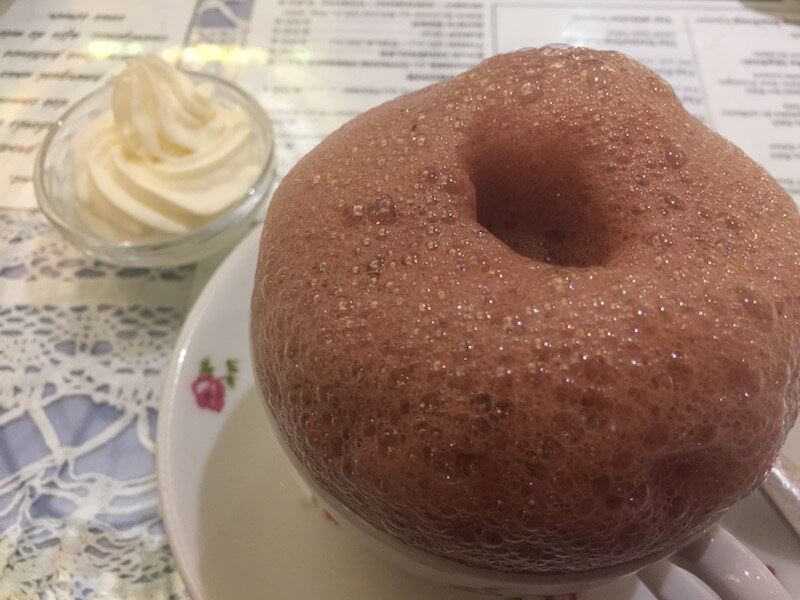 Cazenave's (est 1854) famous chocolate mousseux, or foamy chocolate, served in exclusive porcelain of its own design. Surprisingly, this version - made with milk - is thinner than the one made with water ©OffbeatFrance
The interior of Cazenave chocolates hasn't changed in generations ©OffbeatFrance
At its zenith, Bayonne boasted 30 master chocolatiers. 
Then mechanization arrived; the new generation steam machines were noisy and cost too much, and the electric ones that followed cost even more. The inevitable happened and the number of chocolatiers dwindled to a mere eight.
It's hard to imagine there are so few because walking through Old Bayonne's pedestrian area, there seems to be a chocolate shop on every corner. You'll feel strangely compelled to enter each one (you may be able to fight the compulsion once, but you will eventually give in...)

If you're a true fan, a three-day festival celebrates the arrival of chocolate in France each year. The festival is a pilgrimage for chocolate lovers – think chocolate dipping stands on the streets, gourmet pieces on offer for tasting, plenty of chocolate history, chocolate tours... in other words, everything chocolate.
France, famous for its medieval guilds and food brotherhoods, even has a chocolate guild through which professional chocolate-makers still hand down their knowledge and secrets.
For the less sweet: jambon de Bayonne, or Bayonne ham
But what if you're more savory than sweet? (Don't worry, you CAN be both.)
If you're a ham aficionado, then you've probably tasted ham from Bayonne.
And if you haven't, it's never too late, because many gourmet food shops worldwide carry this air-cured traditional ham, which carries a European Union PGI label. PGI, or Protected Geographical Indication, means that a product must be produced in a specific place and in a certain way.
In other words, the label guarantees quality and place of origin. This means any ham labelling itself 'Bayonne' must be produced in the River Adour basin and must come from one of eight breeds of pig.
Every aspect of production is clearly regulated by the label – how the pigs are fed and identified, how they are transported – everything. No imitations allowed!
If you're unfamiliar with Bayonne ham, you may be better acquainted with its cousins, jamón serrano in Spain or prosciutto from Italy. I'm not about to risk expulsion from France by engaging in comparisons, but if you like those two, you'll like this one too.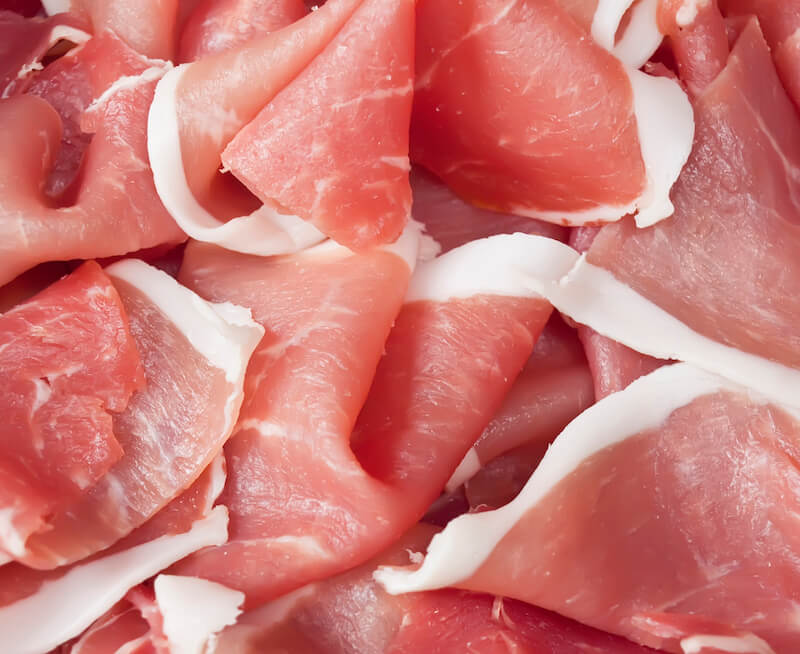 Bayonne ham is first rubbed and then crusted with local salt before being placed in a salting tub. Hams are then hung in a cold room at the back of the kitchen – a souillarde – where they'll cool off, a bit like imitating winter. They are dried to maturity, and then coated with a mixture of flour and lard to seal in the flavour. Finally, the best part – testing and eating. 
No one quite knows how jambon de Bayonne originated but like most of you, I love a good story.
Perhaps the most enduring legend involves a 14th-century wild boar falling into a salty spring and being found, well preserved, the following season. This version would also account for the discovery of the perfect salt required to preserve the ham, which made its export from Bayonne's busy port possible.
Of course, where there is food there is a festival and each spring, Bayonne hosts a Ham Fair, one of the two annual fairs (the other is in August) granted to the city by Louis XI back in the 15th century. Goes to show how long ham has had pride of place here, and sounds like the perfect event to explore.
You can eat it any way you like – sliced thick or thin, on its own or in a sandwich, or used in a recipe.
My favourite? Sliced thinly, very thinly, almost a chiffonade. Then, it melts in your mouth.
Take a walk through the Old Town
Bayonne's trajectory is intriguing – in a quirk of history, it was actually under English rule for some 300 years (which might partially account for British predilection for this part of the world).
Of course there's a backstory.
In 1152, Eleanor of Aquitaine married Henry Plantagenet, who then became King of England. This wedded bliss ushered in a golden age that turned Bayonne into a major trading port between France and England.
The city expanded and blossomed, art developed and St Mary's Cathedral was built, but prosperity waned once the city fell to the French. The port was eventually abandoned and would only resume its lofty position in the 18th century. 

Bayonne remains a garrison town today. In fact, the Château-Vieux is an important 12th-century military building which is still in use – as an officers' mess. 
As befits a town with a rich military history, you may have guessed that this is the city that invented the bayonet...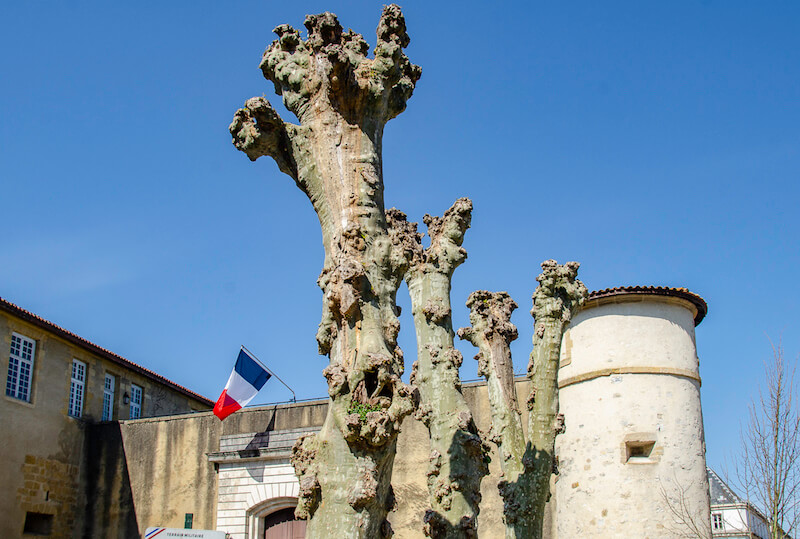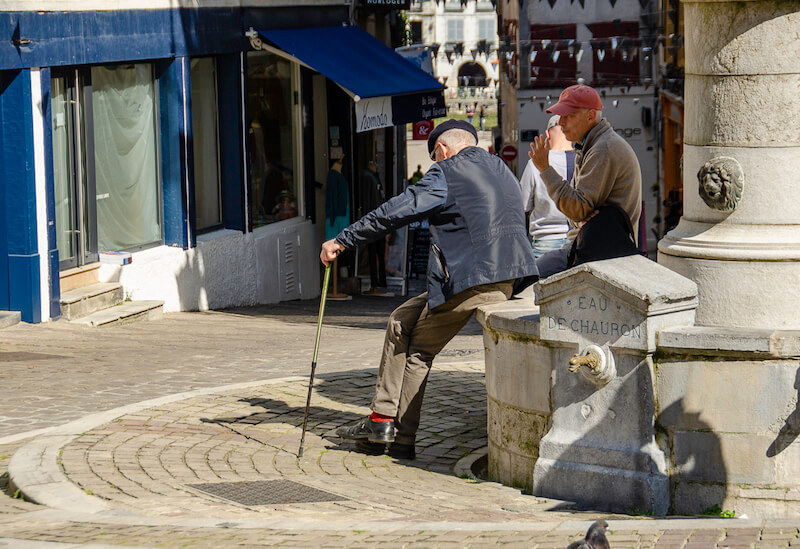 A scene from the streets of Bayonne. Top, the entrance to Chateau-Vieux ©OffbeatFrance/Anne Sterck
To sample the best things to do in Bayonne, you'll have to spend half a day at the very least, but if you want to do it even the smallest amount of justice, stay overnight and give yourself a full day to sightsee (and do some chocolate-tasting).
Below I've provided a map of Bayonne with a suggested walking itinerary. If you stop for lunch and take your time at the various museums and at the Cathedral, you'll fill your day to the fullest. By eliminating the museums or giving them the most cursory look (that would be a shame!) then you can manage to see Bayonne in an afternoon.
Here are some of my favourite highlights.
Bayonne ramparts
There is a nebulous legend surrounding the ramparts that dates back to the reign of Charles V, Holy Roman Emperor...
It involves a war, a fight, and the women of Bayonne, who valiantly defended their city by placing their voluminous cloaks on the ground and filling them with stones. They then asked their children to throw the stones over the ramparts onto the assailants, thus helping win whatever battle they were fighting.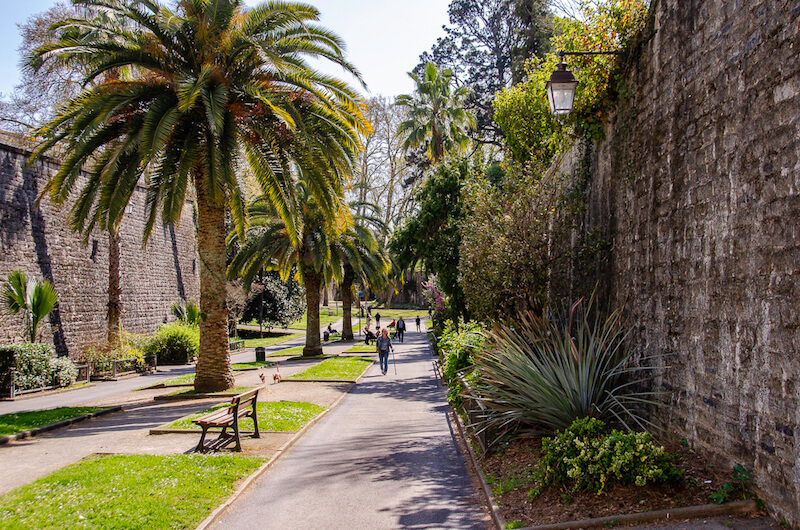 Bayonne city ramparts ©OffbeatFrance/Anne Sterck
One oddity of Bayonne is what happens underground.
The city has more than 130 medieval caves beneath its buildings, but most aren't open to the public. They tend to have a single, narrow entrance which doesn't meet modern safety standards so they can't really be used. That said, the city wouldn't mind restoring one or two. 
The caves may be closed, but the casemates are not.
A casemate, you say? 
These are former military shelters that lie beneath the city's ramparts (which, by the way, were designed by none other than Vauban, the brilliant military engineer who served under Louis XIV).
Today, these casemates are beloved for their acoustics and used for musical rehearsals and even concerts.
Bayonne is a beautiful but small city now, with three distinct districts, but during the Renaissance, living quarters outside the walls were eliminated and inhabitants forced to move within the walls (mostly because the city was safer and could be better defended). In fact, people weren't allowed to live outside the ramparts until 1907, barely more than a century ago.
At first, living within the walled city wasn't a problem – there was plenty of space... 
Old Bayonne's houses
Originally, the city's houses would have been pleasantly spaced, with a small garden, usually in the back. But as the Bayonne population grew, space ran out and the architecture had to be adapted.
First, the roofs were lifted and re-oriented – without cranes or lifting equipment. Where they had faced north and south, they were repositioned to face east and west. This expanded their surface and allowed inhabitants to add an extra storey or two to their houses.
The bayonnais built over their gardens and extended their homes to the back limit of their plots. The houses were dark, with light coming in only through the front. Back rooms were illuminated (barely) by an internal well with a skylight.
Many of these houses are now being renovated, maintaining their appearance and character but improving the wells to provide more daylight. The effect inside is a bit eerie – but you can see for yourself. When you visit the Cazenave chocolate shop, ask to go to the ladies' room. You'll have to go through one of these light wells surrounded by stairs...
These houses may feel old but by French standards, they aren't: most date back to the 16th and 17th centuries, because the original medieval houses burned down. 
The French, with their old civilization, consider these buildings relatively new.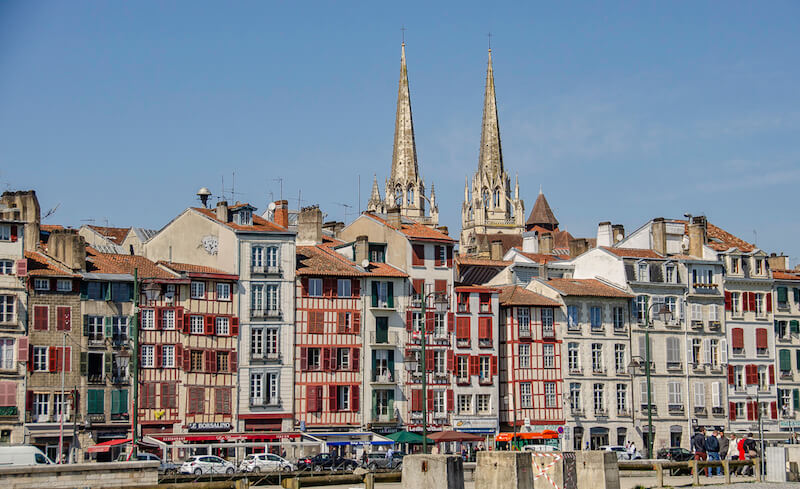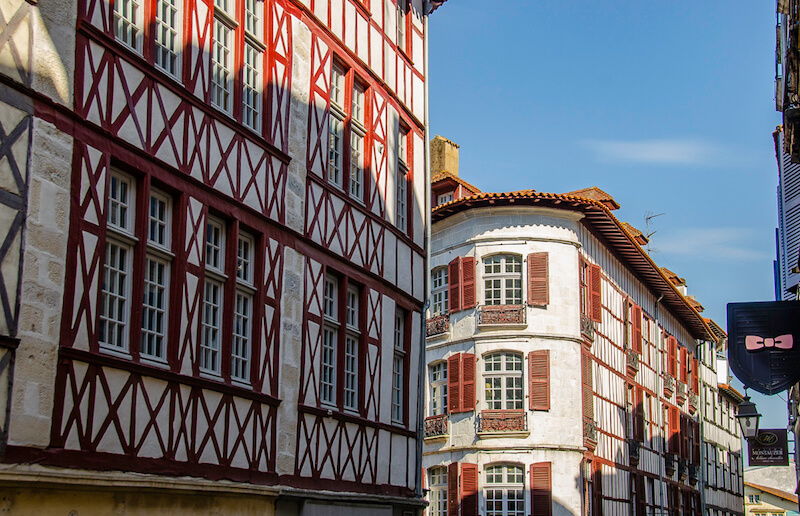 Rue du Port-Neuf
This is the heart of Bayonne's pedestrian area and as you walk through here, look at the arcades: like Venice, some of the streets were once canals and houses were only accessible by boats sliding under the arcades.
Now, shops have taken over the space below the arches and a stroll around here is definitely a challenge for your waistline – this is where most of the chocolate shops are located. Take your time and linger.
St Mary's Cathedral and cloister
The gothic Cathedral, built over an older Romanesque one, is an intriguing building (and a UNESCO World Heritage Site) constructed during different periods: started in the 13th century, it took over 250 years to complete.
The Bayonne cathedral was designed to attract pilgrims heading towards St James (Santiago de Compostela) but it burned down... and was rebuilt.
Like most French cathedrals, it is in the Gothic style, although money ran out after the first tower and the second (on the left) was only built – this time in the neo-Gothic style – in 1882 when a wealthy local provided much-needed funds.
The cathedral is also full of stories.
Take the stained glass window you'll find on the left wall, entitled The Canaanite's Prayer. According to legend (again!) it depicts a ransom paid by Francis I to recover his two sequestered children. 
If you look up, you'll see a number of different coats of arms along the vaulted ceilings. These often belonged to women donors – a woman would finance the building of a section of the cathedral and leave her emblem stamped forever. The one pictured below belonged to Graciane de Haux, from the Valley of Ossau – which means ours, or bear, in French.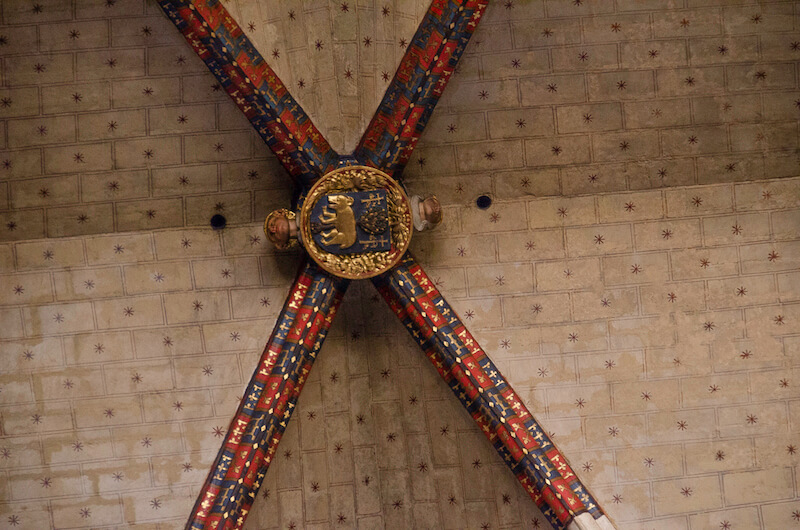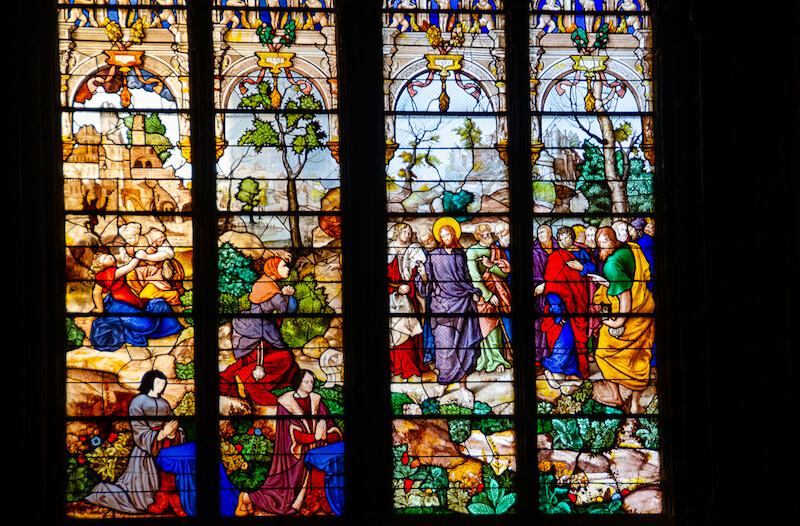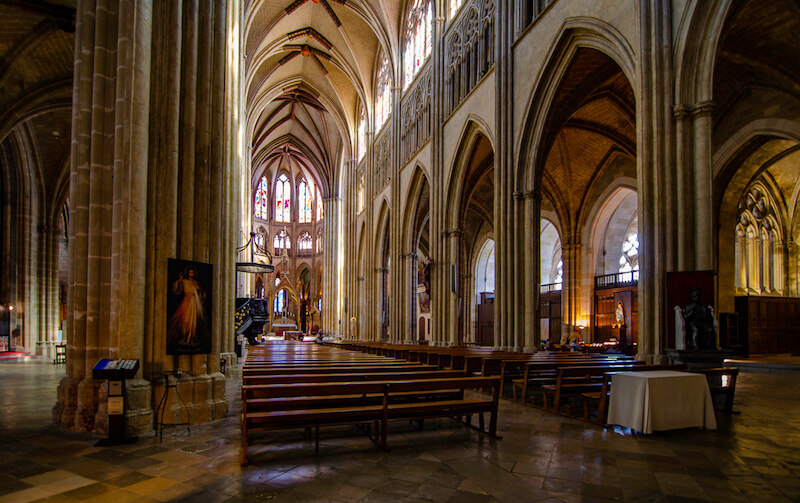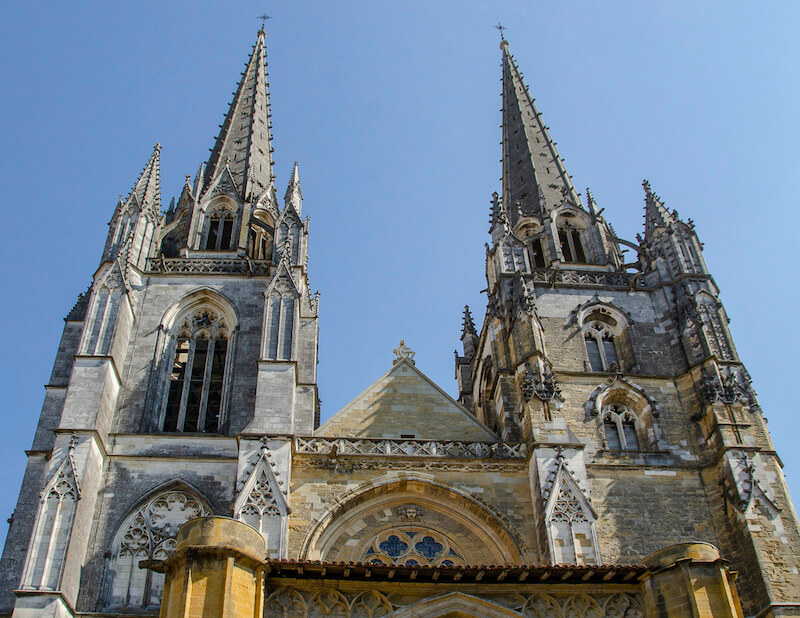 From the top: Graciane de Haux's bear emblem; the Canaanite's Prayer stained glass window; the interior; and an outside view of the cathedral's two mismatched towers. ©OffbeatFrance/Anne Sterck
When you visit the cathedral, please don't miss the cloister, an unusual space and one of France's largest.
Try to imagine the central grass expanse filled with people: it was once used as the main public square, where residents gathered to hear proclamations or listen to the public reading of the tribunal's judgments.
The cloister also served as the town market, with the covered arcades providing protection from the rain.
Perhaps its eeriest function was as a cemetery.
Commoners were buried under the grassy square (and the bones haven't been removed); notables were placed below the stone floors of the cloister's alleys, while bishops had proper stone coffins which are now empty but still line the cloister walls.
A bit like the Paris Catacombs, the eeriness comes from knowing that the remains of hundreds, maybe thousands, are there, somewhere, underground.
About the bulls
You may not know this, but Bayonne is France's oldest bullfighting town, a tradition that dates back to the 13th century.
In fact, for five days each July, close to a million people get together for a running of the bulls, an event borrowed from Pamplona over the border.
Everyone is dressed in red and white (as in Pamplona) but instead of bulls, Bayonne uses cows with horns. Rather than chase people up narrow streets, the cows are released on the main square, which may be more humane but remains the one thing that keeps me away from this massive popular party.
Locals are proud of their bullfighting tradition and each year, the Fêtes de Bayonne offer visitors an extravaganza of food and drink and music and floats that qualifies it as one of the wildest festivals in Europe. But... bulls. Or cows, as you like.
Bayonne's top 10 sights in a nutshell
Bayonne Tourist Information Office – drop by and have a chat and pick up a map of the city
Botanical Gardens, or Jardins Botaniques, a lovely place for a stroll, especially in summer
Walk along the ramparts, beyond which it was once forbidden to live
Place Montaut for unusual architecture and 17th-18th century houses
Ste Marie Cathedral and cloisters, a highlight of Bayonne
Chateau-Vieux – historically fascinating from the outside and now an officers' mess
Cazenave chocolates, for the most amazing hot chocolate ever
Place de la Liberté – the handsome heart of official Bayonne
Museum of Fine Arts – everything from old masters to contemporary artists
Basque History Museum (click on the English flag for a quick download overview in English)
And if you'd like to push on further down the Basque coast, remember that the area is tiny and you can drive anywhere – glamorous Biarritz, charming St Jean de Luz or the lush Basque interior – in well under an hour.
Resources French Basque country
Getting to Bayonne: you can fly here from London or Paris or take the train from Paris or Madrid (the train station is right in the center of town). It's also an easy two-hour drive from Bordeaux, but I'd opt for public transport. Traffic in the city is heavy, and parking lots not that easy to find.
If you'd like to tour the Basque country, here's a fantastic Basque itinerary, which I prepared for my own trip.
The Txik Txak public transport network will take you most places you need to go, including some of the region's smaller villages.
A City Pass is available from the tourist office that covers transport between Bayonne-Anglet-Biarritz, free museum entry and all sorts of shopping discounts.  
If you're short on time and want to make sure you don't miss anything, check out this walking tour.
If you're visiting from outside the European Union, make sure you have good health insurance.
I can't recommend any specific restaurants because I spent my time nibbling ham and "researching" chocolate, but here's what The Fork has to say about the best restaurants in Bayonne.
Bayonne FAQs
Ham – the famous Jambon de Bayonne – and chocolate, as well as Basque culture. Oh, and inventing the bayonet.
You can see quite a few important sights in half a day but to really see it all you'll need a full day or an overnight stay.
No, they are two separate cities but only a 20-minute drive apart.
Absolutely, especially if you love architecture, chocolate, Basque culture, and ham.
It is as safe as any other similar-sized town in France, so yes, very.
Guidebooks to help you travel
Did you enjoy this article? I'd love if you shared it!