NOTE: Pages on this site may contain affiliate links, which bring in a small commission at no cost to you.
Britanny is surrounded by the sea, a land of ships and fish and waves crashing against towering cliffs.

It is a combination of wild and cultured, of sea foam and Celtic roots. It's a place unlike any other in France, part-magical, part-medieval, but stunningly beautiful if you like untouched natural landscapes and postcard-perfect ports with boats bobbing in the water, heavy with  their catch.
Of the many things to do in Brittany, those related to the sea will probably be the ones you do most.
©Alexandre Lamoureux / Tourisme Bretagne
Brittany is a cultural treasure trove, yet it is also France's only region not to have any official UNESCO World Heritage sites.
For Bretons, though, Brittany is by far the best place on earth.

It's just that the rest of the world doesn't know it yet.

Where IS Brittany, exactly?
Brittany makes up France's extreme west, jutting out into the Atlantic Ocean like the bow of a boat. It is made up of four départements (here are the other 97): they are Ille-et-Vilaine (35), Côtes d'Armor (22), Morbihan (56), and Finistère (29).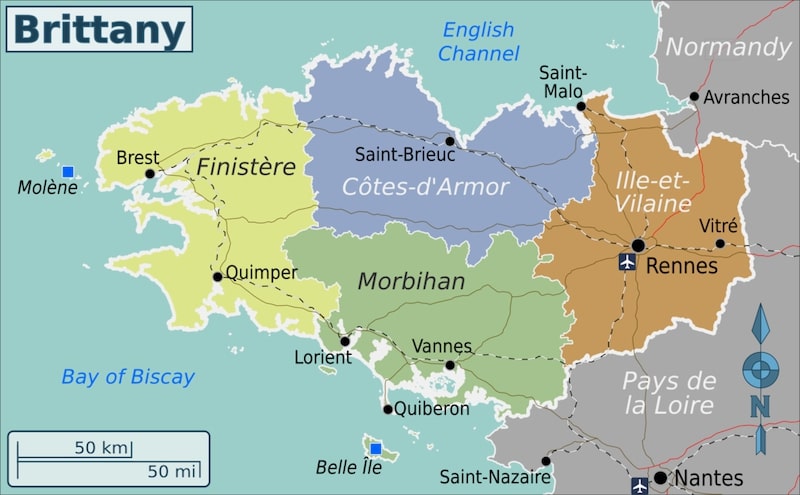 Map of Brittany
Highlights of Brittany

With its nearly 2500 kilometers of coastline (1500 miles) it's no wonder Brittany's eyes turn to the sea, its hidden creeks and beaches concealing crystal-clear waters. This makes it ideal for every possible type of water sports, from sailing and surfing to scuba diving – or simply to gaze upon its wild beauty.
Just one thing: don't complain about the "invigorating" water temperature. 
And where there are rugged coastlines, there are also crashing waves, cliffs and boulders.
Whatever your pleasure, if you love the sea and are partial to wild nature, medieval villages and Celtic culture, then you'll go wild over Brittany.
HIKE ALONG THE COAST OF BRITTANY
Brittany's coast is breathtaking and you can enjoy its gorgeous views and dramatic cliffs on well-maintained hiking trails that run all along it. If you enjoy travel on foot, you simply cannot ignore Brittany's coastal hikes.
This part of France is mostly flat so the hiking is actually rather just walking. Most of these shoreline hikes run along the Customs Trail, the Sentier des Douaniers, also known as the GR 34. It covers the whole western coast of Brittany and was created in the late 1700s for the purpose of preventing crime at sea.
The 20th century brought a new wave of development to the old trails and nowadays you can simply enjoy scenic, well-marked paths.
These three hikes belong to the "crème de la crème":
The Emerald Coast - yet another part of beautiful Brittany
Emerald Coast
This hike along majestic cliffs starts by a tall lighthouse and a smaller one designed by  Vauban, Louis XIV's chief architect and creator of many of France's ramparts and fortifications.  It also goes through a protected nature reserve full of heather, offers views of islands in the distance, and ends at the picturesque fortress La Latte. 
Pink Granite Coast

Here it's all about the uniquely shaped and uniquely colored rock, le Granit Rose - it features hues of pink! The extremely easy path passes different rock formations and boulders, small coves, and bays and ends at the fishing port town of Ploumanac'h, with its little crescent beach.
Crozon Peninsula
A hike on this deserted peninsula is extremely scenic. Plummeting cliffs, little islands.. and heather everywhere… You can also observe remnants of a wartime coastal defense system. The hike ends at the town of Camaret-sur-Mer, where you can enjoy a lovely meal and a fortress built by Vauban.
—Contribution by Veronika Primm of travelgeekery.com
Ille-et-Vilaine (35)
Arriving from Paris by car, the Ille-et-Vilaine is the first départment you'll drive into. Its capital, Rennes, is also the capital of Brittany, a delightful city filled with crooked houses and cobblestoned streets.
RENNES: CAPITAL OF BRITTANY
Rennes is the cultural and administrative capital of Brittany and the eastern gateway to the region. With a population of about 225,000, it's a good place to spend a few days or a nice base for day trips, as it is well-connected by train and bus to other parts of Brittany. The driverless metro is state-of-the-art and makes it simple to get around.  In fact, Rennes is the smallest city in France to have a metro.
Join a walking tour or a bike tour to explore the history of the old town. You'll want to see the quaint half-timbered houses from the 16th century and the Breton parliament building, illuminated in summer by a light and music show.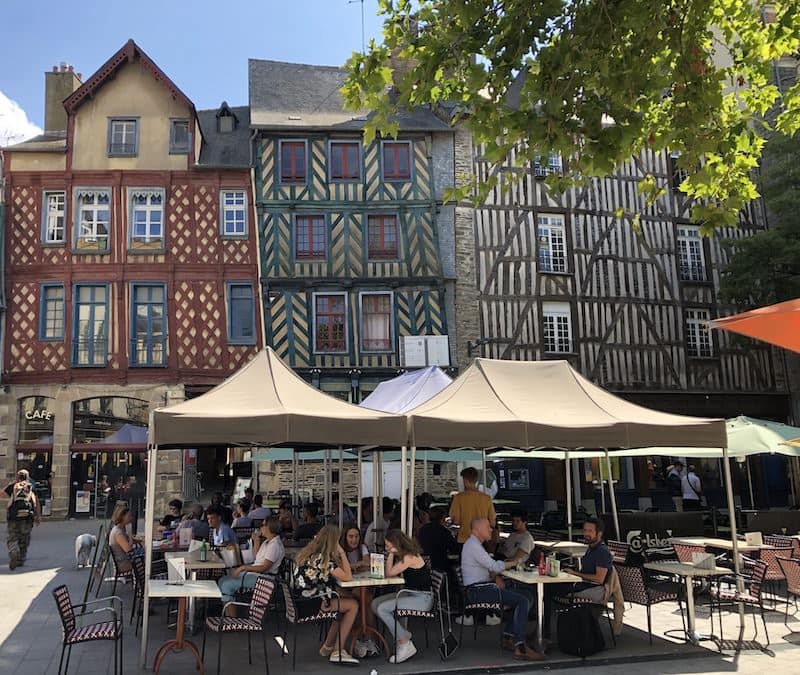 Rennes, one of the best places to visit in Brittany
Another special summer event is the Fest Noz traditional Breton music and dance festival in the park. This is the best place to see traditional Breton music and dance and even try out some traditional games and join in the dancing.

Learn about the history of the music and dance you saw at the Musée de Bretagne, an interactive museum which traces the history of Rennes and the Brittany region.  
The Saturday market in the Place des Lices is one of the biggest in France, and a great place to try the best of local Breton cuisine and pick up some food for a picnic in the massive Parc du Thabour. If you want a sit-down meal, go for a galette or crêpe at the Crêperie Sainte-Anne to people watch around Place Sainte-Anne and the Basilique Notre Dame.  
—Contribution by Kristin Montgomery of GrowingGlobalCitizens.com
The département is full of medieval history, but is also home to such national treasures as the Saint-Malo city ramparts.

SAINT-MALO, HOME OF CORSAIRS AND PIRATES
One of the best places to visit in Brittany and an unmissable stop on your itinerary is Saint-Malo. The walled medieval city in the north of the region is actually the most visited city in Brittany, and four million visitors per year simply can't be wrong.
Located on the Côte d'Émeraude (Emerald Coast), also known as the pearl of Brittany, Saint-Malo has a long history as a corsair and pirate town. Its location right on the English Channel couldn't have been better for forcing English ships to pay tribute for passing, and it brought notable wealth to town. 
The pirate days are over and today, Saint-Malo is a popular holiday destination for French and international tourists, and has one of the best beaches in Brittany, at Bon-Secours. When visiting Saint-Malo, it's best to start with a walk through the historical center to explore the cobbled stone alleys, the region's typical houses, cute stores and even a handful of turrets.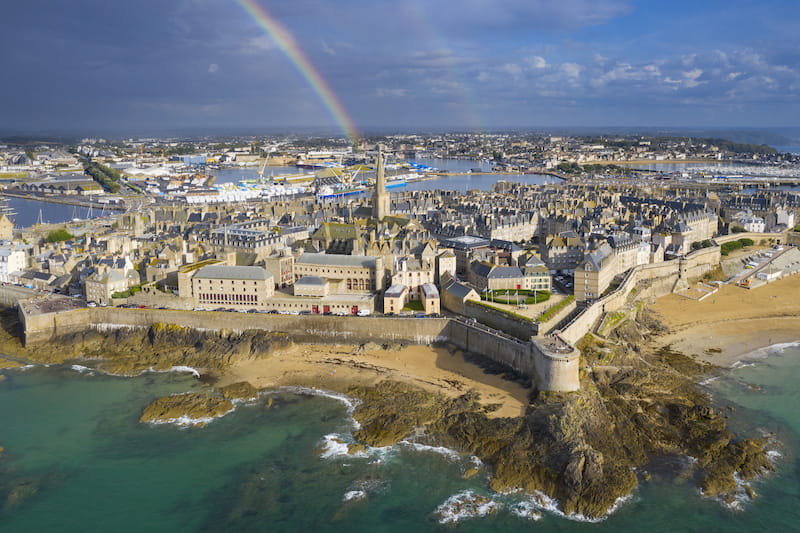 The city of Saint-Malo, a high point of Brittany tourism
It is easy to locate the historic center, by the way: it is surrounded by a massive walled rampart. You can enter through one of the many access points and walk the entire length of the city. From the walls you can take in the spectacular views over Saint-Malo, but also the sea, the harbor and the two little offshore islands. 

If the weather is good, you also spend time at one of the beaches in front of the city walls. Saint-Malo is known for some of the biggest tides in Europe: on a sunny day, walk over to the offshore islands, which become reachable on foot at low tides. The smaller one of the two, Petit Bé, is home to a small fort, which can be visited with a guided tour. 
—Contribution by Lena Drevermann of salutfromparis.com
Places to see in Ille-et-Vilaine
Saint-Suliac: Not far from Saint-Malo is the seaside village of Saint-Suliac, its beautiful granite houses with cheerful shutters bordering a gentle bay dotted with fishing boats, the occasional net recalling a past of cod fishing off the Grand Banks of Newfoundland.
Cancale: This lovely port is famous for its oysters, which you can sample right off the boat, or sitting along the port, or in one of the many eateries along the water. If you hike around here (the famous GR34 rears its head again) you'll see all the oyster banks in the distance. You'll also find lovely creeks and white sandy beaches on the way to Saint-Malo, but eating oysters is definitely one of the top things to do in Brittany.
Bécherel: This village may have fewer than 1000 inhabitants, but it has more than a dozen bookshops! Stroll along the granite houses of this hilltop village and enjoy the views.
Dinard: This is one of the most famous places along the Emerald Coast and possibly the best-known spa town, with its lovely villas and Belle Epoque vibe, and the iconic blue and white beach tents lined up along the main beach. Look across the water for a stunning view of the fortified city of Saint-Malo.
Blue beach tents of Dinard (L'Oeil de Paco/Tourisme Bretagne)
BROCÉLIANDE FOREST (AKA FORȆT DE PAIMPONT)
Sitting astride the Ile-et-Vilaine and Morbihan departments is a bewitching forest filled with magic, where reality and imagination meet. Formally known as Paimpont Forest, Brocéliande is more dream than reality, the perfect setting for all those medieval legends and one of the more unusual things to do in Brittany.
Think King Arthur... and start your immersion into Arthurian legend by visiting Comper, a medieval castle, followed by Merlin's tomb (well, his supposed tomb) and the Fountain of Youth, guaranteed to add years to your life – as long as you've led an exemplary one, which of course we all have.
Hire a storyteller and immerse yourself in this mythical Arthurian atmosphere. (Contact the tourist office for help in finding English-language tours. This group also offers tours.)
Guillotin Oak, 800 years old, with a trunk so huge it was used as a hiding place during the French Revolution
Morbihan (56)

There's something magical about the Morbihan – the beauty of its ancient buildings and gulf islands, of course, but also the legends that hide behind the Carnac stones and the Brocéliande Forest.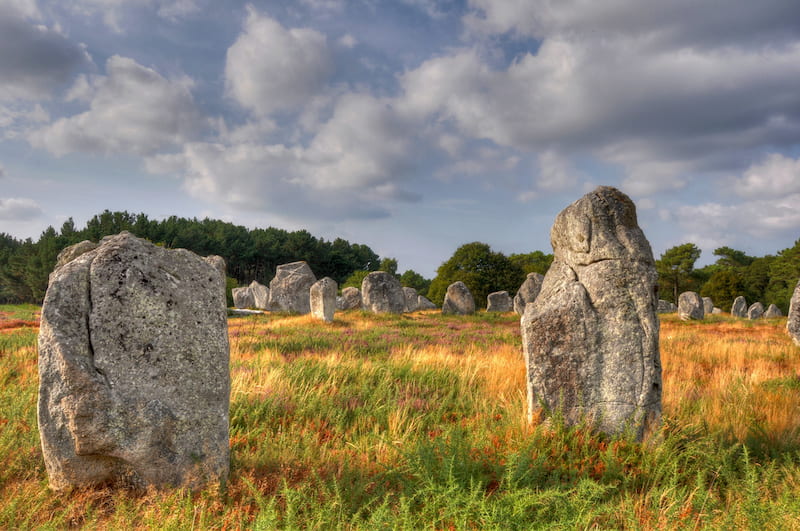 The thousands of prehistoric stones that make up the alignment at Carnac
In a land filled with glorious medieval towns, Vannes, the capital of this départment, is one of the best towns in Brittany. Once its capital, it was supplanted by Rennes when Brittany became French.
WALLED CITY OF VANNES
Called Daroritum under the Romans, this Gallo-Roman port is one of the region's most important, and therefore fortified. It was Brittany's capital for a while and this is where François I met with Breton officials to seal the unification of Brittany and France, so it played an important role in Breton history. The union with France also spelled the beginning of the decline of Vannes.
The city has a rich heritage of half-timbered houses, more than 200 of them, which are the delight of lovers of medieval buildings. Twice a week, a market is held on the Place des Lices, once the site of jousts.
The Archeological Museum of the Morbihan, located in the Chateau Gaillard, is also worth a visit.
Places to see in the Morbihan
This is a much-loved region and you'll run out of time before you run out of places to see.
Belle-Île-en-Mer: This is wilderness at its best, and a perfect defensive point against foreign invaders and pirates during the Middle Ages., fortified with the stunning Citadelle Vauban (yes, again!). But there's much more to see on the island, from the busy Port du Palais to the pastel colours of Sauzon and the wild coast of the north. To the west, the rocky cliffs and crashing waves fascinated Claude Monet, and you'll see why. A bus tour might well be the easiest way to tour the island and it's one of the favourite Brittany tourist attractions.
Quiberon Peninsula: This stunning area is made for lovers of nature, from its sunsets to beaches to wild coastlines, among the best of Brittany for natural landscapes.
Côtes d'Armor (22)
The Côtes d'Armor takes you deeper into Breton immersion as the local language swirls around you and you stumble upon more quaint fishing villages (we can never see too many of these!) and dramatic cliff backdrops.
This is also home to the ravishing 13th-century town of Dinan, where you'll feel like you've stepped out of a time machine.
MEDIEVAL DINAN
With over 130 historic timber-framed houses, visiting Dinan is like visiting the 13th century. Dinan is even pictured on the Bayeux Tapestry, a Romanesque piece of art commissioned nearly one thousand years ago.
Dinan is perched on a steep hill above the Rance River. At the bottom of the hill, the port is lined with restaurants, bars and cafes with incredible river views, and a viaduct built in 1852 to give access to the town.
If you want to see the best medieval architecture in France, head to the Rue du Jerzual, a cobblestone road that runs through Dinan and has changed very little in the past few hundred years.
For centuries this street has been home to medieval craftspeople, from weavers to tanners, and these days it is inhabited by glass-blowers, sculptors and painters. Beware, it is a steep hill but with benches for resting along the way.

Historical tourist attractions in Dinan include the Jacobins Theatre, which dates back to 1224, the flamboyant Gothic St Malo Church, the Romanesque St Saviour Basilica, the Tour de l'Horloge, the city ramparts and the Château de Dinan.
You can walk along the ramparts of the city to take in the amazing views and the 14th-century château, built in 1382 by John IV of Montfort. Or simply people-gaze on the Place Mercier, the commercial heart of town.
―Contribution by Faith Coates of xyuandbeyond.com
Places to see in the Côtes d'Armor
Ploumanach': This adorable fishing village along the Granite Coast boasts a spectacular stone lighthouse, an iconic sight of the village.
L'île de Bréhat: The way to see this postcard-perfect island is on foot or by renting a bike, because it is car-free, its pretty inlets with turquoise waters and dramatic − and photogenic − stone formations.
Moncontour: One of the "most beautiful villages in France", known as the plus beaux villages de France. Once made wealthy by the textile trade, some of the regal homes of the period remain − as do the town ramparts.
Tréguier: This historical bishopric is home to the Cathédrale Saint-Tugdual, one of Brittany's most beautiful, and its 15th-century Gothic cloister.
Cap Fréhel: Its plunging cliffs are home to many nesting birds, and its moors are among Europe's largest. Marshall your energy for the view from the lighthouse.
If you happen to be here in August, try to take in the Sea Shanty Festival, the Festival du Chant de Marin in Paimpol. It's all about boats and the sea, and each year it's dedicated to a different country or region of the world. 
Finistère (29)
The very shape of the Finistère − a bit of a snout sticking out into the ocean − means the sea is never far away, its smell and brine everywhere.
Like the other parts of Brittany, you'll find lovely medieval villages in the Finistère, like Locronan, for example, one of the most famous, or the charm of Daoualas Abbey.
But there's plenty more to be seen here, especially when it comes to nature.
Like the hilly Monts d'Arrée, where you can gambol around Hoelgoat's forest, which you might just think is Brocéliande's little sister.
And again, make a detour around by the Chemin des Douaniers on the Crozon Peninsula (GR 34) at the extreme western tip of Finistère for deserted white beaches, secluded creeks and majestic backdrops, and water so blue you might as well be in the Mediterranean.
Thatched houses of Kerasköet in Névez, in southern Finistère (Donatienne Guillaudeau / Tourisme Bretagne)
Places to see in the Finistère
Brest: A maritime center of which only the 15th-century castle and a few ramparts remain – the rest was destroyed during World War II and rebuilt. An interesting city for anyone keen on maritime affairs or military history.
Concarneau: Home of one of France's renowned walled towns, for lovers of ramparts and fortresses. The Ville Close is surrounded by ramparts (built by Vauban, who else?) and hosts a major Breton folk festival in August.
Douarnenez: Once France's greatest sardine ports, this is still very much a fishing town, with boats bringing in the daily catch. Across the bay you can see Tristan Island, mostly off-limits but accessible a few days a month when the tide recedes and a path appears (and yes, you can also go by boat). 
Landevennec: Its microclimate is almost Mediterranean and its abbey is still inhabited by Benedictine monks. An archeological dig is nearby, along with a museum which traces 13 centuries of Breton history.
Locronan: A delightful village that is also listed as one of France's most beautiful, and with reason, especially when all the flowers are out. A few centuries ago, the village held the sail-weaving monopoly of France, and all sails were made here. These days, it is often used as a backdrop for films or TV shows.

Pont-Aven: If you love the art of Paul Gauguin (and others), you may already know of this small small town, which still exhibits hundreds of paintings of the scenery which drew artists here in the 19th century to form what became known as the Ecole de Pont-Aven.
Roscoff: Granite houses and fishing boats will remind you of the pirate past of the town which once rivalled Saint-Malo. Today, it's also famous for its wellness centers or spas.
Finistère travel tips
In summer, things can get a little touristy, so set your course for one of the many small islands in the area: Ouessant and its lighthouse (and lighthouse museum), the oh-so-peaceful Sein, the virtually untouched Molène and the Glénans archipelago, renowned for its world-class sailing school and clear waters.
If you do want people around you, consider France's largest popular music festival, le Festival des Vielles Charrues in Carhaix, which is attended by three-quarters of a million festival-goers each year.
For something more Breton, the Cornouaille Festival in Quimper is where you should experience this Celtic extravaganza.
The history of Brittany (and what makes this land so special)

Brittany has been part of France for nearly 600 years, but sometimes you'd think it only happened yesterday. Some Bretons still find it difficult to accept.
Brittany had no desire to join France back in the 16th century and only did so when the heiress to the Duchy, Anne of Brittany, married King Charles VIII of France (and upon his death, as agreed before it, his cousin Louis XII). Under the marriage agreement, Brittany would retain some of its autonomy and customs, promises which were never kept.

Like many formerly independent regions of France, bringing Brittany into France didn't stomp out its culture, which survived even when challenged.
By the 20th century, Breton culture had begun to erode. The Breton language backpedaled, being alternately banned or ignored, even by its own people, who saw French as more modern and who craved education – which was all in French. France's centralizing push also contributed, hoping to make perfect little French people out of all its citizens.
The mid-20th century saw "great nationalisms" sweep the world, and France was no exception. The language – known as brezhoneg – was back in fashion, and people were proud to speak it.
Today, brezhoneg is in full revival and is the only language in France, along with Basque, that has not evolved from Latin, being closer to Cornish. In 2020, nearly 10,000 students were bilingual in brezhoneg at graduation.
As in other regions which were brought unwillingly into France, some activist groups advocate for Brittany's independence (Savoy and Corsica are other French examples).
Are you familiar with Astérix? He's a little comic book character, much loved by the French, who lives in a tiny Breton village in what was then called Armorique (Brittany under the Romans). The village is a holdout against the conquering Romans, and each time they clash, the little Bretons (or Gauls, as the Romans called them) would win. The comics are available in English and are both fun and intelligent, not to mention deeply embedded in France's culture.
Astérix apart, you get the sense in Brittany that each citizen is a finely shaped ambassador for the region, whisking out that Breton pride at every turn. And everywhere you go in France, you'll encounter a piece of Brittany, whether as stickers on cars, as discreet little flags, or in your plate whenever you eat a crêpe or a galette.
This regional identity has even extended to creating their own soft drink: the Breizh Cola.
Eating in Brittany
Of course, one of the best things to do in Bretagne, as it's called in French, is to eat. Many specialties have exported well, and you may be familiar with some of these dishes:
Craquelins: dry biscuits (first boiled, then baked) to eat with a sweet spread
Galette: what we know as a savory crêpe, made with buckwheat (and often filled with sausage)
Pommé: an apple- and cider-based marmalade
Seafood
Andouille de Guémené: a typical Breton pork delicacy but a bit of an acquired taste
Tome de Rhuys: made from raw cow's milk
Gâteau Breton: an addictive combination of eggs, flour, butter and sugar
Palet Breton: a sort of butter biscuit, for your afternoon coffee
Kouign-amann: a Breton pastry with a lot butter and sugar, crispy on the outside and soft on the inside
When to visit Brittany
The fact that it often rains here is no secret, so the best time to visit Brittany is in the summer, from June to September. There are more tourists during this time, of course, but more sunshine too.

Getting to Brittany
Brittany is easily accessible.
You can get here from Paris on the Atlantic TGV which takes you to Rennes (1.5 hours), Saint-Malo in under 3 hours, and Brest in under 4. 
You can also take the train to Rennes directly from Lyon without having to connect in Paris. Check out the various train schedules and prices here.
There are also flights to Brittany from neighbouring countries. Airports in Brittany France include Rennes, Brest, Lorient, Dinard and Quimper. Airports near Brittany include Nantes.
Getting around Brittany
Driving around Brittany
By far the best way to visit this region is to take a road trip through Brittany, simply because it is relatively rural and many of the places you'll want to see are not easy to reach. 
Driving in France can be a challenge, but Brittany roads are good and relatively uncrowded, so this is one region where a car would definitely be an asset.
I don't always drive my own car around France. When I rent, I use Discover Cars, which scours the web for the best deals from ALL car rental agencies.
Bus and train around Brittany
Brittany has an extensive public transportation network of trains and buses, and they go almost everywhere.
Unfortunately, some are seasonal, and others offer very limited transportation options, so major planning and research are involved.
Check out the excellent (but in French) BreizhGo public transport site, especially this map, which gives you a birds' eye view of all options throughout Brittany.
Take a tour in Brittany
While Brittany is perfect for a solo visit, if you're short on time or don't want to spend it organizing travel from place to place, consider taking something more organized.
This Brittany Walking Tour is a mixture of hiking along the GR 34 and of being transported to the perfect starting point. You'll see more than "just" Brittany because the tour ends in Mont Saint-Michel, which is technically in Normandy.
If you're feeling fit and and want to go biking in Brittany but don't want the hassle of organizing it all on your own, check out Cycling along the Emerald Coast, which will take you to many of the spots we've described here.
Did you enjoy this article? I'd love if you shared it!
Pin these and save for later!