Pages on this site may contain affiliate links, which bring in a small commission at no cost to you.
Are you fascinated by and want to know all about the haunted places in Paris?
Not everyone loves ghoulish places and stories. I didn't until I took my first ghost tour and surprised myself with the little chills and thrills I experienced – nothing scary, just a bit of the "what if" and the beyond.
We French are more known for logic and realism than for flights into the supernatural, but that doesn't mean we can't believe in the occasional bona fide ghost, especially if we're in Paris in autumn, the spooky season.
Since France's capital is so old and below it lie the remains of millions, what could be more natural than having their souls roaming around? Some experts of the supernatural in Paris even consider it the city with the most ghosts in the world!
Some of the most haunted places in Paris are linked to death and the afterlife, but a surprising number are not. Let's have a look at a few of the most "active". If you love spooky stories and ghostly tales, then settle down. You're about to be led into the shadows.
1. Haunted Catacombs of Paris 
The Paris Catacombs may well be the epicenter of ghostly and haunted Paris. I wasn't quite sure what to expect when I first visited – I suppose I thought the tunnels would be gloomy and depressing. How could they not be?
But I was wrong. Yes, of course there was a sense of something beyond my grasp, but it wasn't a negative feeling at all.
It WAS palpable, however.
You cannot wander around the final resting place of six million people and not expect to feel something in this area rife with legends.
Just make sure you book your tickets or tour ahead of time – these sell out quickly during the high season.
Speaking of legends...
Scary things to do in Paris? Visiting the Catacombs qualifies...
The usual frissons
Visitors often report seeing orbs and odd shadows along the tunnels of the Catacombs, with the sound of voices adding to the mood. In fact, after midnight, those voices will talk to you, enticing you further into the tunnels – where you can be lost forever.
Others report being followed or worse, being touched by someone they cannot see.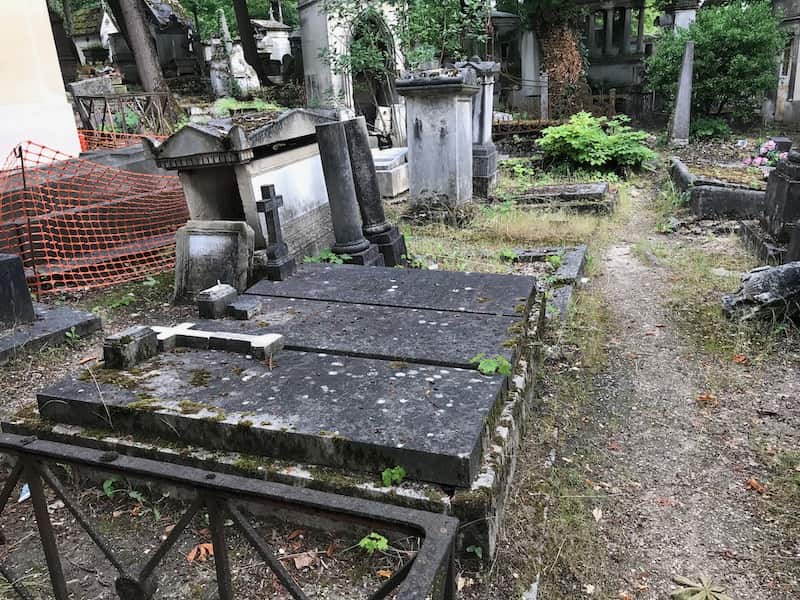 DO YOU WANT A SCARY TOUR OF PARIS? 👻
🎃 WITH AN EXPERT GUIDE TO UNVEIL THE CITY'S DARKEST SECRETS?
Philibert's Story
And then there's Philibert Aspairt, possibly the best-known of the Paris Catacombs ghosts and a doorman at the Val-de-Grâce hospital.
One story has him following a stairway he stumbled upon, only to get lost forever. (When you visit, by the way, DO stay on the path. I noticed the maintenance people had left a door open away from the main path and had to fight hard not to give in to my curiosity – but then I remembered Aspairt and just kept walking.)
Another story pegs him as having gone into the Catacombs intoxicated, with candle in hand, never to return.

What most do agree on is that Aspairt was found 11 years later, identified by his keychain. And now, he haunts the Catacombs each year on the day he disappeared, 3 November.
Or perhaps he's here every day.
As above, so below, and the story of the video camera
One more story... I read somewhere that the movie As Above, So Below, might have been inspired by the legend of the video camera footage. 
It would seem that in the late 20th century, a group walking through the Catacombs found a video camera on the ground – with footage. The person holding the video camera appeared lost and wandering through the tunnels.
The video ends suddenly when whoever is holding it drops it on the ground, but no one knows what happened afterwards. Did he get out? Was he found? Did he get lost forever, go mad and die?
➽ To get to the Catacombs, take the Métro to Denfert-Rocheau. The entrance is across the street, through a discreet modern entrance − you should be able to see the Catacombs' name and logo. 
💀
💀
2. Père Lachaise Cemetery
Just like the Catacombs, anything related to death or cemeteries is bound to rank high on the spook chart, although strolling through the Père Lachaise is anything but gloomy.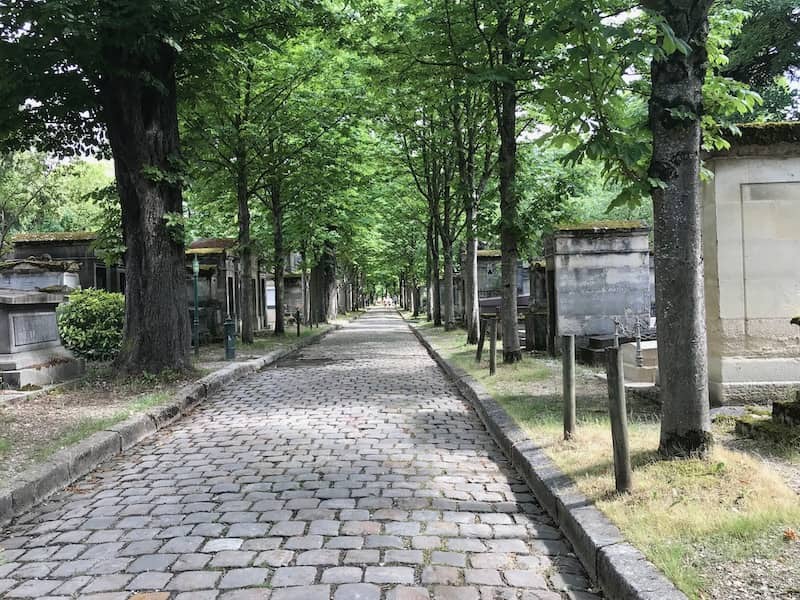 This lovely park is the city's largest cemetery and on a sunny day is filled with families, picnickers, and strollers, more serene than ghostly. Walking around the graves I felt a sense of peace, almost of connectedness.
What I did NOT feel was that I was in one of the most haunted places in Paris...
Yet the 300,000 people buried under 110 acres are bound to have some kind of influence on those of us walking around above. 
This is a highly cultured cemetery and if there are ghosts around, they'll likely be artistic or erudite – Edith Piaf, Chopin, Oscar Wilde and Jim Morrison are just a few of the luminaries buried here. (Here's a list with everyone.)
Speaking of Jim Morrison, some people claim to have seen him wandering around the area near his grave. Apparently a photo taken in 1997 shows an appearance by the Doors musician, a photo which has been "authenticated" and which some researchers say is "unexplainable".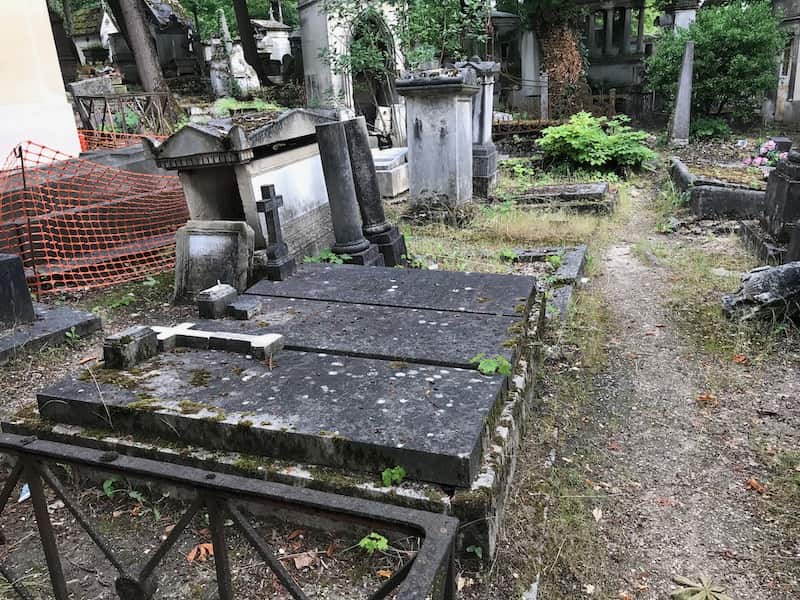 Most of the Pere Lachaise Cemetery is calm and serene, but there are a few unkempt corners... that definitely look a bit spooky
Another legend? Marcel Proust, the French novelist and essayist, has apparently been spotted searching for his lover (composer Reynaldo Hahn) at night. But since the composer was buried in another cemetery, Proust can well continue his fruitless search.

More?
The ghost of Adolphe Thiers, a 19th-century prime minister, may reach out to grab your clothes if you walk too close to his grave. 
Opened in 1802, this graveyard was named in honour of Père François de la Chaise, confessor to Louis XIV, and is definitely one of the places not to miss in Paris if you're a fan of the supernatural.
Other cemeteries where you might find yourself in ghostly company include the Cimetière de Montparnasse and the Cimetière de Montmartre.
➽ You can walk around Père Lachaise on your own (get off at the Philippe Auguste metro station) but unless you have a good map of the cemetery (I did not) or know exactly what you are looking for (I did not), you'll come across plenty of interesting graves but not necessarily the ones you want. You can save time finding all the important graves with this guided walking tour.
💀
3. Notre-Dame de Paris
Of course we will not be able to visit Notre-Dame again until 2024, when it will be restored after it was partly gutted by fire in 2019... but that doesn't stop us from exploring some of its ghostly stories and legends.
Of kings past
Notre-Dame Cathedral has been around for a long time: construction of this gothic behemoth began in 1163 on the ruins of two previous churches, so it stands to reason that some of that past might come back to haunt us.
A number of major historical events took place here, including the crowning of Henry VI of England as King of France in 1431 and of Napoleon Bonaparte as Emperor of France in 1804. Could some of these old souls still be roaming around the cathedral?
The two women of Notre-Dame
One of the more spooky Paris legends surrounding Notre-Dame involves two women who appear, walking along the cathedral's roof among the gargoyles, and disappear as soon as they're spotted – and who jumped off the roof and committed suicide.
It's a strange legend because no one seems to know who the women are, or why they killed themselves, and if indeed they did.
The devil and the ironworker
The front doors of Notre-Dame. Photo HutheMeow, CC BY-SA 4.0, via Wikimedia Commons
It was the mid-14th century and the cathedral was being prepared for its inauguration in 1345.
One of the best ironworkers in Paris, Biscornet, was asked to fashion the metal work for the cathedral's doors. But the job was huge and his tools inadequate: the doors would not be ready in time for the cathedral's opening.
Miraculously, on inauguration day, there they were, in all their splendour, adorned with their shiny fittings, so intricate and beautiful such extraordinary work had never been seen.
But there was a little problem: the doors could not be opened, no matter how hard anyone tried. 
The workers sought out Biscornet to ask him why the doors were stuck but when they found him, he was dead. He had hanged himself, leaving behind a note with instructions: sprinkle holy water on the doors. It was done, and they opened.
It has long been believed that the ironworker made a pact with the devil in building the doors – and that some of the designs on the door look like the number 666, the Number of the Beast. Without such a deal, how could Biscornet have finished the doors on time?
It is also believed that the ironworker occasionally appears at the cathedral, sitting in front of his doors.
💀
4. Opéra Garnier
This fantastic building may well have housed one of the most renowned ghosts of Paris. Perhaps it still does!
It is a building of unbelievable beauty, with its marble stairs and Chagall ceiling, an unlikely setting for French crime author Gaston Leroux's Phantom of the Opera. Walk up the stairs and you'll feel swept away into another century, but not necessarily into another dimension.
The stunning monumental stairway of the Palais Garnier. Photo by Isogood CC BY-SA 4.0 via Wikimedia Commons
As the story goes (a TRUE story, Leroux insisted to his dying day), a masked phantom has haunted the hallways of the Palais Garnier for more than a hundred years.

In the late 19th century, a fire burned the face of a pianist and killed his ballerina fiancée. Alone, disfigured, the pianist moved into the lower levels of the still unfinished building, residing there until his death. 
The legend took hold when a body was found in the opera basement in 1907. It probably belonged to someone killed during the short-lived Paris Commune of 1871, but the Phantom of the Opera made for a better story.
It would seem that after he died, strange things began to happen. A dancer was found dead, a spectator was killed by a falling chandelier (while sitting in Seat #13),  a machinist hanged, and a dancer killed herself falling off the stage. Would this not qualify as one of the more ghostly places in Paris?
Adding to these mysteries, a peculiar gentleman reportedly blackmailed opera officials, demanding that Box #5 (which still exists) be reserved for him every night.
These days the lake under the Palais Garnier is closed off and the nearest you can get is this grate (unless you're a Paris firefighter, in which case you may on occasion practice diving in the dark here. Photo FR CC BY-SA 4.0 via Wikimedia Commons
In another scary Paris story, an opera singer swears she saw the phantom in the building's cellar, near the underground lake (long believed to be natural but in fact an artificial cistern built by Garnier to stabilize the building). Legend has it that the opera's machine workers feed the fish in the lake – and that the phantom himself fed on the fish. Hmmm.
➽ To get here, take the Métro to Opéra.
💀
5. La Bastille prison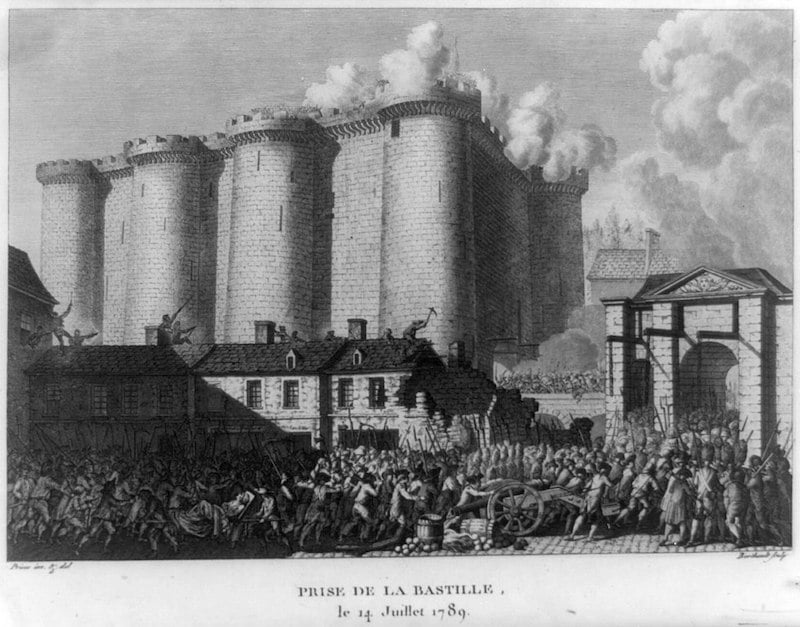 There isn't much left of the Bastille. Built in the 14th century as a fortress during the 100 Years' War, it eventually became the prison of choice where kings exiled inconvenient or irreverent individuals (and criminals, of course).
It has been home to some famous names: Voltaire, the Marquis de Sade, Montaigne, the Man in the Iron Mask, Count Bussy-Rabutin, and many more.
It was stormed during the French Revolution, an event well remembered when France celebrates Bastille Day on 14 July every year.
So much suffering and death are identified with the prison that it is not surprising to find plenty of ghost stories associated with it:

a leader during the Revolution, a certain Louis-Sebastien Mercier, saw king Louis XVI in a carriage at the Bastille – the king had been beheaded the previous year
an aristocrat's son (wearing a disguise) used to bring children and women prisoners toys and food; he was unmasked and banned by his aristocrat father but kept returning – until he was found and executed by invading revolutionaries; today, according to the tale, if children visit the Bastille and call his name, he'll make a ghostly (but friendly) appearance
➽ There's very little left of the Bastille Prison, but you can still catch a glimpse of a few remnants of the prison along the Boulevard Henri IV, on the Square Henri-Galli. 
6. Notre-Dame-de-Consolation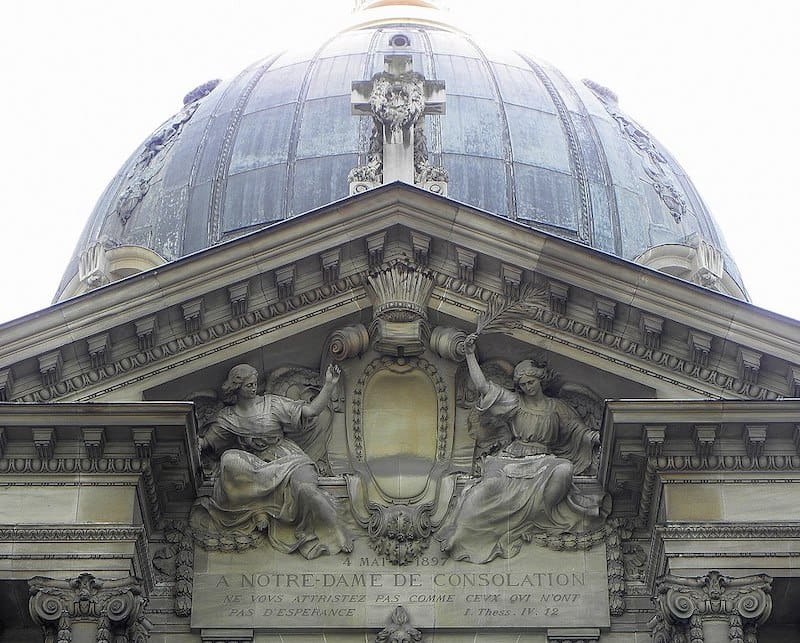 Chapel of Notre-Dame de la Consolation in Paris by GO69, CC BY-SA 3.0 via Wikimedia Commons
This chapel is one of the more intriguing haunted places to visit in Paris, mostly because of its history. 
The Bazar de la Charité, which sold art and antiques to wealthy Parisians to raise money for the poor, was held each year in different Parisian venues.
In 1897, the venue would be a huge hangar in the 8th arrondissement. The organizers decided it would be fun to make the fair look like a medieval street so they added tapestries, built make-believe wooden houses, laced the ceiling with tar paper...
The fair would also screen some of the very first films by the brothers Lumière. In those days, using the recently invented cinematograph required quite a bit of space for materials – you needed plenty to show movies in those days, including ether, lamps, and an oxygen tank.
On 4 May, right in the middle of the three-day bazar, the man in charge asked his assistant for some more light – but rather than open the curtain, the assistant lit a match. A fire broke out and panic followed. People scrambled to escape through tiny exits, and several were trampled to death. The bazar burned down and 125 people, mostly women, died.
Three years later, on the day of the fire, Paris inaugurated the Chapelle Notre-Dame-de-Consolation to commemorate the deaths. Since its opening, many visitors have reported strange apparitions and paranormal activities, including screams, cries, and sightings, making it one of the definitely spooky places in Paris. But, best to go see for yourself...
➽ Several Métro stops will get you there: Marceau, Franklin D Roosevelt, and Champs-Elysées
💀
7. Parc Montsouris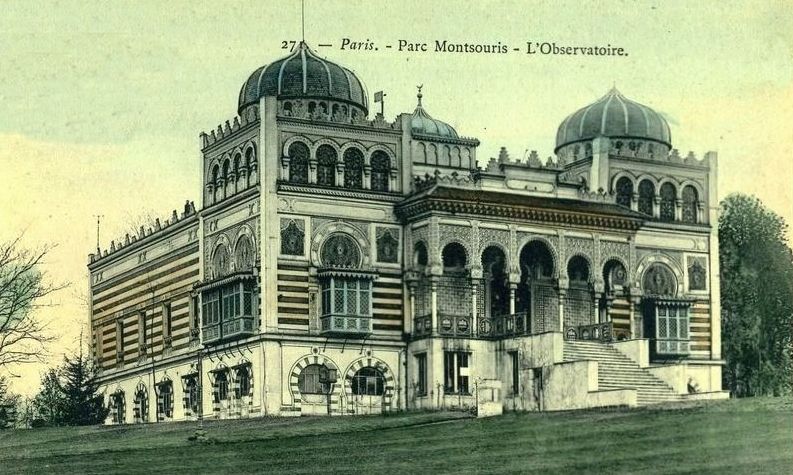 The Bardo Palace, once haunted, now gone
When we go to the Parc Montsouris, we think more of what to bring for a picnic lunch than whose ghosts we might spot. Yet this serene expanse of green has a reputation for being haunted. 
First, part of the Parc Montsouris was where the guillotine was originally tested. Just think of it – hundreds of headless ghosts floating across the grass. I'm not making this up: there have been plenty of reports of sightings of past guillotine victims.
A second legend surrounds the park: this is where a certain Issauré de Montsouris was murdered by bandits. He was apparently decapitated after which the rest of his body continued ambling around the park, especially around the area where the Bardo Palace would later be built. Not to belabour the point but in 1991, the Bardo Palace – the original was built to represent Tunisia in the 1867 Universal Exposition and was reproduced in the Parc Montsouris – was to have been renovated by the government... but went up in smoke before the work could even start.
More haunting? One of the historic entrances to the Paris Catacombs is situated under the water reservoir northeast of the park...
If nothing else, he left his name to the park.
➽ To get to the Parc Montsouris, take the RER B to Cité Universitaire.
💀
8. The gardens and palace of Versailles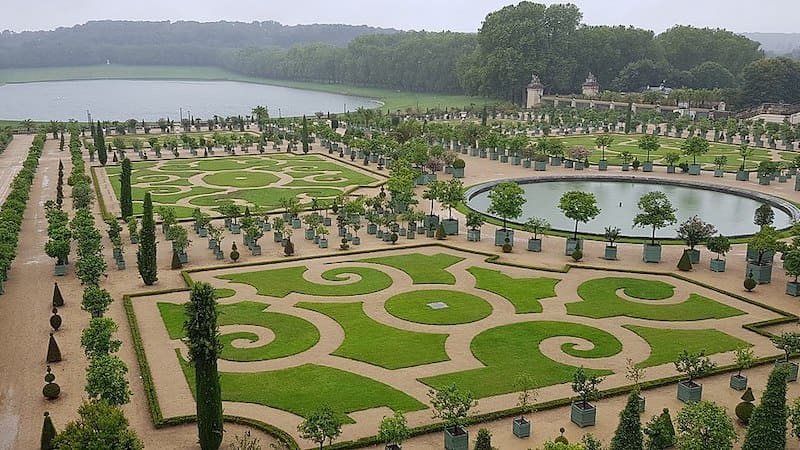 The gardens of Versailles... they may not look haunted but have been the backdrop to many sightings WikiRaphael CC BY-SA 4.0 via Wikimedia Commons
Now here's one I bet you didn't think was haunted! Its two most famous residents are Louis XIV and Marie-Antoinette (at different times, of course) and whenever we visit Versailles, it's because we want to witness the unbelievable opulence and lifestyles of those who built it (and let's not forget all the architects who had a hand in designing and decorating it).
Now, we all know how Marie-Antoinette, wife of Louis XVI, ended her days: she was beheaded during the French Revolution, when the monarchy was upended. When a famous person such as this dies such a violent death, you can expect the stories to follow quickly.
It is said that Marie-Antoinette still inhabits parts of Versailles, and that paranormal activities have occurred near her special living quarters, in this case, the Petit Trianon on the grounds of Versailles – things like a drop in temperature, the arrival of unexpected mist, or poltergeist sightings.
It seems that Louis XVI, Marie-Antoinette's husband, may also have been sighted, along with other personalities to visit the palace over the years, such as Napoleon Bonaparte, Charles de Gaulle, or Benjamin Franklin.
The Moberly–Jourdain adventure
One of the most famous "sightings" of Marie-Antoinette at the Petit Trianon may have taken place in 1901 when two English tourists, Charlotte Anne Moberly and Eleanor Jourdain, had a strange experience.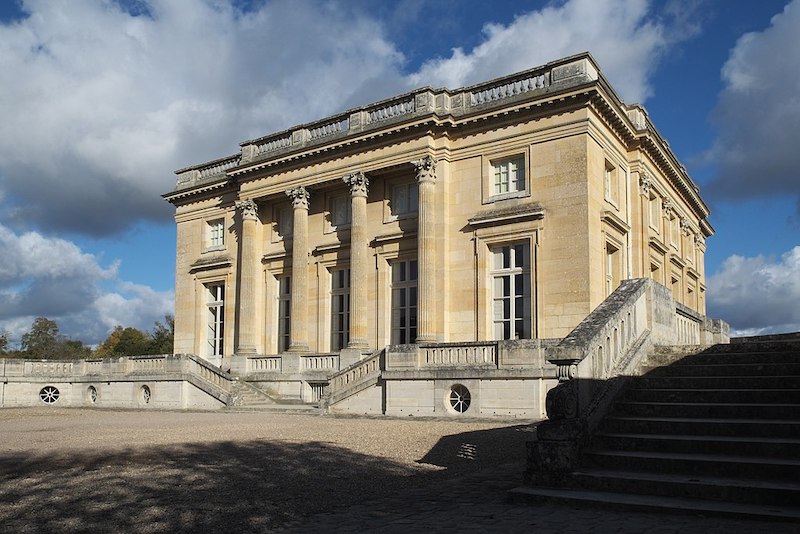 Le Petit Trianon, where the sighting was supposed to have taken place. Photo GFreihalter, CC BY-SA 3.0 via Wikimedia Commons
They suddenly came upon a party of people dressed in period costumes. One man had a pockmarked face, while a woman sat sketching. The two tourists reported a feeling of dread and negative energy. They were accosted by these costumed people and told they were going the wrong way, set right, and that was that. As they re-entered the palace grounds, their feelings of dread disappeared.

The women forgot the incident until they compared trip notes a few months later, feeling distinctly uneasy as they did so, especially when they realized some of the buildings and paths they had seen did not exist in 1901.
Being scholars, they did a bit of research and found the "costumes" they had seen were clothes from the 1790s. They also concluded that the woman sketching could have been Marie-Antoinette.
The two women's sighting took place not too far from here. Photo DiscoA340 CC BY-SA 4.0 via Wikimedia Commons
They never understood what had happened to them. Had they traveled back in time? Had they witnessed ghosts?

They gathered their information and eventually published a book, An Adventure (which you can buy on Amazon) under pseudonyms. Given the public reaction (with derision and disbelief), the decision to hide their true identities was probably a smart one. Investigations followed, concluding the stories may have been somewhat embellished.
I found this video on Youtube that walks you around some of Versailles' more haunted sections.

💀
9. Saint-Denis Basilica
Although it is a bit away from central Paris and not always easy to reach, this is by far my favorite "haunted" spot of the capital. With its 70 or so funeral monuments, this could easily be one of the more scary places in Paris.
But that's not all.
In addition to all the monuments and statues, the basilica also contains the tombs of 43 kings, 32 queens, and 10 servants. Saint-Denis is known as the cemetery of kings, because many of France's greatest monarchs – from Dagobert to François I to Louis XIV – are buried here (or at least part of them are – many graves were emptied during the French Revolution and the remains thrown into mass graves, but when the monarchy was briefly restored, efforts were made to gather the remnants and re-bury them here). 
It's almost a miracle that anyone managed to be buried here at all...
Apart from the ghostly nature of the basilica's regal inhabitants, the story of Saint-Denis himself is macabre enough to haunt any visitor.
The year was 250 CE, and Saint-Denis was the first bishop of Paris, sent from Italy to preach the new Christian faith. But paganism was still powerful and it would seem the local Roman authorities (this was still Lutetia, not yet Paris) felt threatened and ordered that his head be cut off. It promptly was, in Montmartre.
Rather than simply crumple and die, Saint-Denis – this is still according to legend – picks up his head and begins a 6km-walk through forested land, his head under his arm. Reaching his destination, he hands his head to a pious young woman, and promptly falls to the ground (I would have thought the woman would have done so, but...)
Denis was buried where he fell, the location was sanctified, and eventually, a basilica was built over his grave.
But the story actually gets worse. Before dying, Denis and his companions reportedly suffered severe torture, accused as they were of magic and sorcery. I won't itemize the tortures here but suffice it to say they endured whipping, burning, attack by wild animals and strung up on a cross, surviving all of this through faith and prayer.
Enough to make you shiver as you enter the underground crypts...
GETTING TO AND VISITING THE BASILIQUE SAINT-DENIS
You can take the Métro to Basilique Saint-Denis. The basilica is behind a seedy-looking shopping mall but there are signs you can follow and in daylight, it is perfectly safe.
You can also take a private guided tour of the basilica, which I recommend, for two reasons: first, because you might feel more comfortable if you're accompanied in this part of town, and second, because a guide will provide history that is essential to understanding this gothic masterpiece and its contents.
💀
More creepy things to do in Paris
Now these aren't necessarily haunted, but I felt I should mention them because when it comes to hair standing on end, they fit the description.
Manoir de Paris (particularly popular around Hallowe'en, when they organize a festival). This is a "haunted mansion" − Paris actors are involved and do their best to scare you! I won't say more.
Musée des Vampires (Vampire Museum) – this may well be the world's only vampire museum, run by Jacques Sirgent, well-known author and tour guide.
Musée Fragonard, NOT the one about perfumes! Quite scary and requires a strong stomach to see the preserved organs and limbs (and entire bodies) made with the "écorché" technique used to teach 18th-century medical students.
Take a Paris ghost tour or haunted Paris tour like the ones below.
Did you enjoy this article? I'd love if you shared it!