Pages on this site may contain affiliate links, which bring in a small commission at no cost to you.
Looking for a change from Paris? Here are some of the best hotels near Versailles Palace
Versailles Palace is France's most visited sight, and staying near the palace will inevitably make your visit easier (not to mention avoiding Paris traffic and congestion).
In case you don't have enough time to read this entire article, here are my top 3 hotel picks near Versailles:
#1 Budget Pick
⭐️ 8.5 / 10 ⭐️
Hotel La Residence du Berry
✔ Historic building
✔ Bar & billiard room
✔ Walk to Versailles Palace
#1 Mid-Range Pick
⭐️ 9.2 / 10 ⭐️
Hotel Le Louis Versailles
✔ Fantastic decor
✔ Fitness & wellness center
✔ Versailles Château Rive Gauche Station
#1 Luxury Pick
⭐️ 9.1 / 10 ⭐️
Waldorf Astoria Trianon Palace
✔ Luxurious decor
✔ Full-service spa and pool
✔ Right next to Versailles Chateau
10 Best hotels in Versailles, France
The Palace of Versailles is on most people's "must-see" list on a visit to Paris. At least once.
More than anything, it symbolizes the grandeur (some would say waste) of the days of the French monarchy.
From its ornate interiors to its intricately designed gardens, Versailles is one of the best examples of how human skill can be applied to extraordinary results.
It's absolutely worth the visit, at least once, and frankly, many times. Staying in a Versailles hotel will place you close to the palace, making your visits easier and removing the stress of getting there from Paris.
And for times when all those Paris hotels are full, Versailles is the perfect overflow destination, with the Eiffel Tower only 25 minutes away by public transportation (not to mention a price tag that is significantly lower).
Something to be aware of, and this applies to Versailles as much as it does to Paris and France in general: hotel rooms here are on the small side, and the more budget-friendly options often do not have air conditioning.

2 bis Avenue de Paris, Versailles
This modern 4-star hotel marries what I'd call contemporary design with touches of tradition. And it works. If you're keen on design, you'll love the contrast between the modern chandelier over the bar and the traditional chandeliers you'll find throughout the hotel and in many of its 152 rooms. 
If you've come to see Versailles Palace, you won't get much closer: you're literally around the corner from the equestrian statue of Louis XIV, which marks the palace's entrance. 
This is a spa hotel, so after a long day of hiking or biking the grounds of Versailles, you can enjoy the steam room or sauna, or, if you have any energy left, go a few rounds on the exercise equipment.
Why choose Le Louis Versailles Chateau?
✔︎ Beautifully decorated
✔︎ Fitness and wellness center
✔︎ Clarins beauty products
✔︎ Accessible rooms available
✔︎ Outdoor terrace, bar, and restaurant
✔︎ Located next to the Versailles Chateau Rive Gauche station
The hotel is very central, a leisurely 10-minute walk to Versailles Palace and Gardens, and only a 2-minute walk to the Versailles Château Rive Gauche Transit Station.
This proximity means you can get to the palace early, before the crowds, or hop the train for Paris and be downtown in less than half an hour.
If you happen to be driving, there is paid parking at the hotel.
🌟 Very Good 8.4/10 🌟
"The property is lovely, great location due to proximity to the Chateau Versailles as well as the town of Versailles but most of all - the staff was fabulous!" — Debra, USA
⭐️ BOOK YOUR STAY AT LE LOUIS VERSAILLES ⭐️

14 Rue d'Anjou, Versailles
The building that houses this hotel was originally built in 1727 as a private mansion for Sieur Louis Delalande, the keeper of the royal dishes (yes, this was an actual profession under the monarchy).
It has now been fully restored, although it has managed to maintain its sense of history through a few architectural details: the "trumeaux", or doorway pillars, as well as wood beams in some of the rooms. 
Right across from the hotel is the Café des Arts, a family-style bistrot that serves homemade traditional French dishes using high-quality products.
This independent hotel doesn't belong to a chain but is labeled "Logis de France", my favorite network in France. These hotel-restaurants are known for their good value, their welcome and their quality (this is the only hotel in Versailles that carries the Logis de France label).
For something completely different, head for the bar and its classic billiard room.
Why choose La Résidence du Berry?
✔︎ Charming historic hotel
✔︎ Short walk to the Palace of Versailles 
✔︎ Bar and billiards room
✔︎ Garden area
✔︎ Accessible rooms available
Located in the historic neighborhood of Saint Louis not far from the palace, Hotel La Residence du Berry is perfectly located in a part of town that is both central and historic.
This compact 38-room hotel is a couple of blocks behind the King's vegetable garden at Versailles. It is a short walk to the chateau's entrance gates, and 5 minutes from the Versailles Château Rive Gauche Transit Station. There's also paid parking nearby.
🌟 Very Good 8.3/10 🌟 
"Excellent for visiting the Chateau of Versailles, around 5 mins walk." – Susan, USA
"Hotel was lovely & clean." – Colleen, UK
⭐️ BOOK YOUR STAY AT LA RESIDENCE DU BERRY  ⭐️

1 Boulevard de la Reine, Versailles
If you're in the mood for a total 5-star splurge, this is it!
Originally built as a luxury hotel in 1910, the Waldorf Astoria sits on a magnificent 8-acre park that borders Versailles, right near the Queen's Gate.
It looks like a palace itself, not as grand as Versailles next door but, with its clipped hedges and carefully manicured lawns, it certainly belongs in the family. It's almost like a stay in Versailles Palace itself!
In fact, it is two hotels in one: the 5-star Trianon Palace, which I've just mentioned, and the 4-star Trianon Pavillion right next to it. Should you book at the Pavillion, you'll still have access to all the Trianon Palace's facilities, such as the Guerlain Spa and the Michelin-starred Gordon Ramsay restaurant.
Consider reserving a seat at the chef's table and watch the kitchen experts weave their culinary magic right in front of you. 

At certain times of the year, the price difference between the two is relatively small, so definitely take a look at both. Just know that some of the Palace rooms have a Versailles Palace Gardens view, while most hotel guests at the Pavillion will look onto the hotel's own garden.
Why choose the Waldorf Astoria Versailles Trianon Palace?
✔︎ Luxurious decor and beautiful surroundings
✔︎ Upscale dining
✔︎ Full-service spa and indoor pool
✔︎ Family rooms available and Kid's Club
✔︎ Ideal location next to the Palace of Versailles
If you're arriving by train, beware that the nearest station is the Versailles Château Rive Gauche Transit Station, about 25 minutes on foot, not ideal if you have luggage.
While there are often taxis available at the station when you exit, that's not always the case so best reserve one or book an Uber to get to the hotel.
🌟 Very Good 8.3/10 🌟
"The hotel is just beautiful, lots of original features." – Jonathan, UK
"The room was large and spacious. Breakfast had lots of variety" – Debbie, USA
Note: Some reviews mention that wifi is an additional cost
⭐️ BOOK YOUR STAY AT THE WALDORF ASTORIA ⭐️

18 rue Benjamin Franklin, Versailles
This modern boutique hotel is a perfect choice for a comfortable stay in Versailles. The hotel features modern rooms, whose contemporary colors and clean lines are a marked contrast with the ornateness of the palace.
Many hotels in France lack air conditioning so if you're visiting at the height of summer, this will be ideal for your stay.
Hotel Versailles Chantiers has some balcony rooms available, perfect for a morning coffee or to relax after a long day of sightseeing. Breakfast is also available on the 6th floor of the hotel which has a lovely balcony overlooking the city.
Why choose Hotel Versailles Chantiers?
✔︎ Located next to Versailles Chantiers train station
✔︎ Modern design
✔︎ Air-conditioned rooms
✔︎ Accessible rooms available

Hotel Versailles Chantiers is in the newer office and residential neighborhood of Versailles, the Chantiers. It is a 10-minute walk to the Versailles-Chantiers train station, and a 20-minute walk to the entrance of Versailles Palace. It's easier to hop one of the buses near the hotel. Most will leave you within 5-10 minutes of the Palace (you can't really get much closer on public transportation because the walk from the street to the Palace was designed for carriages, not pedestrians!)
The Chantiers train station allows for an easy connection to the center of Paris. You'll reach the Gare Montparnasse in under 20 minutes by train or the Eiffel Tower in 25 minutes with the RER C express commuter subway.
🌟 Very Good 8.2/10 🌟
"The hotel was very clean and modern." – Christopher, UK
"Well located close to the Versailles Chantiers train station." – Olivia, Belgium
⭐️ BOOK YOUR STAY AT HOTEL VERSAILLES CHANTIERS ⭐️

Don't forget to book your Versailles Palace tickets!

23 rue Royale, Versailles
Royal Hotel Versailles has 34 modern but smallish rooms. It has a warm, friendly atmosphere and is a great budget-friendly option in Versailles. 
For a longer stay in Versailles, consider their Standard Studio room, which is equipped with a small kitchenette, bed, desk, and a small table.
For those traveling with children, the Royal Hotel Versailles offers a family room that consists of one comfortable double bed and two twin beds in the same room. Traveling with kids can be expensive and this room is one of the best budget-friendly buys near the Palace. 
Why choose Royal Hotel Versailles?
✔︎ Budget-friendly
✔︎ Walking distance to the Palace of Versailles
✔︎ Family rooms available
✔︎ Studio room with kitchenette available
Royal Hotel Versailles is located in the St. Louis Quarter of Versailles, an historic neighborhood built under Louis XV to house the increasing number of officials and civil servants working at court.
It still has a small-town feel and although many streets are residential, it is also home to many picturesque cafés. Its main highlight is the lovely 18th-century Cathédrale Saint-Louis de Versailles. This is an artistic part of town, especially around the former market, whose stalls have been taken over by crafts and boutiques.
🌟 Very Good 8.4/10 🌟
"Beds wonderfully comfortable & great breakfast." – Karen, UK
"Perfect location near the palace." – Ronan, France
⭐️ BOOK YOUR STAY AT ROYAL HOTEL VERSAILLES ⭐️

7 rue Sainte-Anne, Versailles
If proximity to the palace is what you're looking for, the Hotel Le Versailles's 47 luxurious rooms will surround you with French history. It's opulent without being too ornate.
Some of the rooms are decorated with floor-to-ceiling murals that depict an aspect of Versailles or of French history in general, like Marie-Antoinette, or the Hall of Mirrors.
Another highlight of this hotel is its lovely lounge area and outdoor terrace, which is a great place for a nice glass of wine in the evenings.
Why choose Hotel Le Versailles?
✔︎ Located next to the Palace of Versailles
✔︎ Bar and outdoor terrace
✔︎ Family rooms available
✔︎ Private Parking
✔︎ Accessible rooms available
The location of Hotel Le Versailles is one of the best aspects of this hotel, as it is located just outside the palace. After a day exploring the palace and its extensive grounds, your feet will thank you for having to work this little to get you home. 
🌟 Very Good 8.1/10 🌟
"Excellent proximity to the Palace." – Susan, USA
"The view from the room was lovely." – James, UK
⭐️ BOOK YOUR STAY AT HOTEL LE VERSAILLES ⭐️

19 Rue Philippe De Dangeau, Rue Montbauron, Versailles
Mercure Versailles Chateau is a modern hotel with 60 rooms located in the heart of Montbauron, a residential district of Versailles where the original water tanks feeding the palace fountains was located. The area is cobblestoned and filled with atmosphere.
Many of the rooms have been recently renovated, and are quietly modern, without being jarring. For those traveling with pets, this hotel is a great pet-friendly option. The hotel also has a breakfast buffet that is available daily starting at 6:30 am. 

Why choose Mercure Versailles Chateau?
✔︎ Located near the train station
✔︎ Recently renovated rooms
✔︎ Private paid parking is available
✔︎ Pet-friendly
✔︎ Accessible rooms available
The Versailles Château Rive-Gauche Station is a good ten-minute walk, and the chateau itself a pleasant 15 minutes away.
There are also a variety of restaurants nearby.
🌟 Very Good 8.2/10 🌟
"Perfect location and modern design." – Michael, The Netherlands
"There are a lot of nice cafes just 2-3 min from the hotel. Private parking was a huge advantage." – Yulia, The Netherlands
⭐️ BOOK YOUR STAY AT MERCURE VERSAILLES CHATEAU ⭐️

16 rue Richaud, Versailles
Hotel Des Lys is a modern hotel with 39 simple but comfortable rooms.
It is convenient for both tourists and anyone traveling for business as it is in the center of Versailles and offers a private car park. Services also include a breakfast option with fresh produce.
Rather than banal still-life paintings on the walls, you'll find French historical figures here – quite fitting.
The hotel also offers a single-room option, which is perfect for solo travelers, and it allows pets.
Why choose Hotel Des Lys?
✔︎ Single room option for solo travelers
✔︎ Private parking available
✔︎ Accessible room option
✔︎ Family room option
✔︎ Pet-friendly
✔︎ Air-conditioning
Located in the antique dealers' district part of Versailles, the hotel is in a great neighborhood for exploring local shops, antique stores, and restaurants. Enjoy a nice stroll through the town of Versailles before heading to the Palace or taking the train to central Paris for the day.
🌟 Very Good 8.3/10 🌟
"A very friendly and comfortable stay, quite close to good restaurants and the heart of Versailles." – Douglas, UK
⭐️ BOOK YOUR STAY AT HOTEL DES LYS ⭐️

2 B rue de Fontenay, Versailles
A budget hotel with only 17 rooms, Hôtel d'Angleterre is a great choice for those looking for a simple, less expensive hotel that is within spitting distance of Versailles, a 5-minute walk from the Louis XIV equestrian statue.
The rooms are quaint and have a minimalistic design with a splash of bright colors, although some might need a bit of a spruce up. The hotel does have a meeting room and a small breakfast service available. The hotel prides itself on creating a warm and welcoming atmosphere, its strongest selling point along with price and proximity to the palace.

Why choose Hotel d'Angleterre?
✔︎ Located very close to the Palace of Versailles
✔︎ Budget-friendly
✔︎ Friendly helpful staff
✔︎ Breakfast available
Located on a quiet street, this hotel is a great place to escape for a comfortable rest after a day of exploring Versailles. You won't have to walk very far to get home.
It is also only a five-minute walk from the Versailles Chateau Rive Gauche station, to get into Paris easily. 
🌟 Very Good 8.5/10 🌟
"Lovely little hotel in a good location." – Rob, UK
"Perfect for an overnight stay to see Versailles." – Helen, The Netherlands
⭐️ BOOK YOUR STAY AT HOTEL D'ANGLETERRE ⭐️

This luxury VBRO is perfect if you're looking for a bright, professionally decorated apartment almost on the palace's doorstep. This two-bedroom apartment is ideal for groups or families and can sleep up to six people, two in each bedroom and two in a fold-out sofa.
The full-size kitchen let's you cook if you'd like to, and it has all the amenities – wifi, air-conditioning, and a washer.
Why choose this VRBO?
✔︎ Perfect for families
✔︎ Full kitchen and living room
✔︎ Washer available
✔︎ Located 50m from the Palace of Versailles
Located only 50m from the Palace of Versailles, this VBRO is in an ideal location to visit the palace and its beautiful gardens. This area of Versailles offers plenty of cafés and shops as well. The one caveat: it's on the third floor and there is no elevator.
But if you don't mind the climb and what really counts is self-catering combined with palace proximity, this is for you.
🌟 Very Good 8.5/10 🌟
"The location was amazing, literally a 1-minute walk to the palace." – Anna
"What a gem!! Everything was charming at this rental. Very clean with perfect amenities." – Melissa
⭐️ BOOK YOUR STAY AT THIS LUXURY VRBO ⭐️

Getting from Paris to Versailles
Versailles is located 12km outside of central Paris, but it is easy to access using public transportation. The best way to get to Versailles is to take the RER C train to Versailles Château Rive-Gauche station, and from there, walk for about ten minutes to the Palace.
Beware of the stop: you're looking for Versailles Château Rive-Gauche. The next stop, Versailles Chantiers, is further along. If you miss your stop, you can still get off at Versailles Chantiers but it'll take you an extra 20 minutes or so to walk to the Palace.
Another option to get to Versailles is by transfer service, taxi, or Uber. This may be a convenient option for those traveling with luggage to one of the places to stay near Versailles Palace. There may be taxis at the station but you may also have to call one if none is available.
Visiting Versailles Palace
Just southwest of Paris, Versailles is close enough to the capital to go back and forth on a daily basis. This is why so many visitors come for the day to visit the Palace. Increasingly, visitors are choosing to spend a night or two in Versailles and give the Palace a more thorough visit. There is so much to see in what was originally a modest hunting lodge by Louis XIII. He would have been shocked at his lodge's metamorphosis in the hands of Louis XIV, his son.
Today, the giant palace has 2300 rooms and 800 hectares of ornate gardens, not to mention fountains and canals, the famous Hall of Mirrors and the rooms full of period furniture, along with visits to the Grand and Petit Trianon, which was built by Louis XVI as his wife Marie Antoinette's Versailles estate. The gardens are quite huge, so bikes and golf carts are available for rental.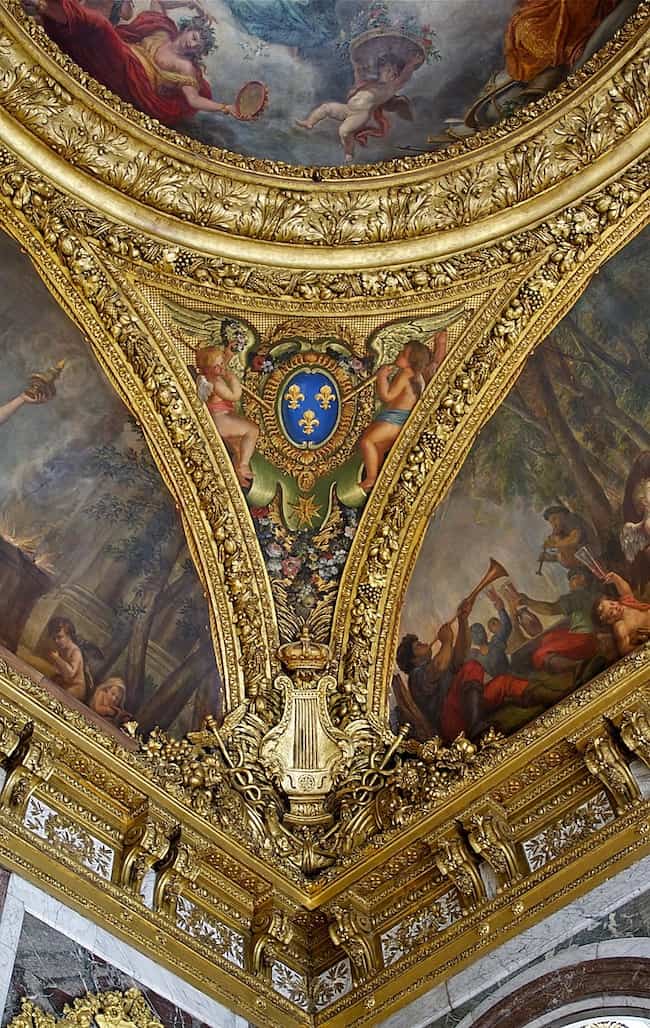 Salon de la Paix in Versailles, one of the many ornate rooms in the Palace
You can visit the palace on your own but the lines are long, so make sure you at the very least buy a skip-the-line ticket, or better yet, take one of the many daily tours of the Château de Versailles, like these below:
Still can't find a suitable hotel room near Versailles? Try the map!
FAQ: Versailles Palace hotels
Mostly, yes. You may find Paris bargains, depending on when you visit, and when it's really crowded, prices may be high in Versailles. But a straight comparison of similarly rated hotels will show Versailles prices tend to be significantly lower than those of Paris. 
You cannot stay overnight in the palace itself but the chateau has opened its own impossibly luxurious hotel on the grounds: Le Grand Contrôle, whose rooms start at € 2000 / USD 2160 a night. The most expensive is over € 15,000. But you do get your own butler and private evening palace visits...
Consider this: more people visit Versailles each year than the Eiffel Tower. So yes, a day trip is definitely worth it, or even better, come and spend the night and stay from opening to closing, from 9am to 6:30pm (the gardens are open earlier in the morning and close later in the evening).
At the very least, you'll need 5 hours if you plan to visit the palace itself, the Petit and Grand Trianon, the Queen's Hamlet and the gardens. It would be wiser to set aside a full day if at all possible or you may find yourself rushing.
Many people prefer to stay in Paris and take a day trip to visit the palace. However, that already eats into your day so increasingly, people are opting to spend a night or two in the town of Versailles itself, within walking distance of the Palace but also to discover someplace new.
Final thoughts about hotels near Versailles Palace
Paris is a dazzling city, but Versailles is one of its jewels. Staying at a hotel in Versailles is one way to make sure you see it all.
There isn't as much accommodation variety as there is in Paris, of course, but there are enough choices to fulfil anyone's requirements and budget. Given the cost of Paris hotels these days, accommodation near Versailles, France, is a viable option not everyone has discovered yet.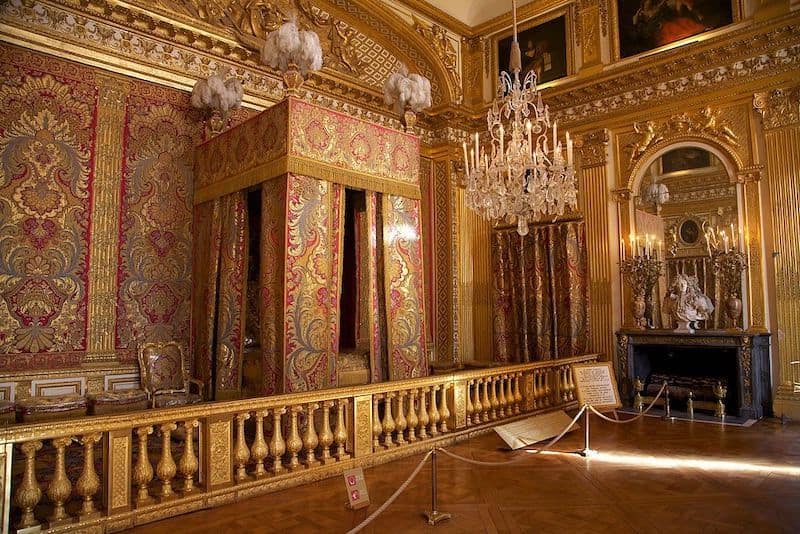 Did you enjoy this article? I'd love if you shared it!