Picture this − you're sitting behind your screen one night, with only days to go before your dream trip to France, scrambling to find the perfect place to stay in one of the world's most sought-after vacation destinations.
And you're thinking...
"Every property looks the same!"
Where are those cool Paris hotels you've heard so much about? 
Sometimes, finding and staying at unique hotels in the city is not as easy as it could be: unless you know where to look, you might walk right past all those trendy hotels Paris is known for.
Welcome to all the cool hotels Paris offers!
The 10 coolest hotels in Paris
There is no dearth of cool places to stay in Paris, from quirky hotels to high-end luxury estates or one-of-a-kind boutique properties.
If you're tired of cookie-cutter accommodations, here are ten remarkable hotels which absolutely stand out from the crowd.
OFF Paris Seine (13TH arrondissement)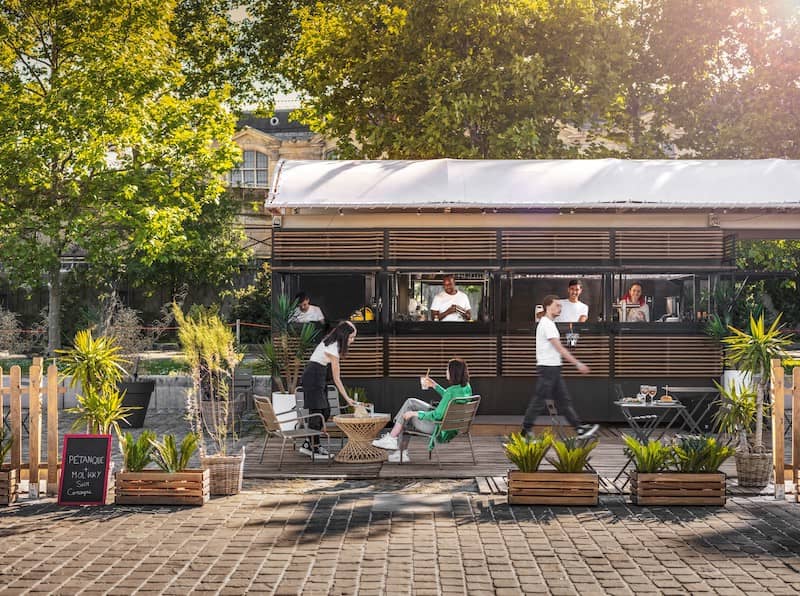 The French capital's first ever floating hotel/boat hybrid certainly qualifies as a unique hotel in Paris.  OFF Paris Seine is a one-of-a-kind take on hotel accommodation in Paris, right on the Quai d'Austerlitz.
The hotel is made up of two river barges which have been transformed into 54 rooms and four suites.
Each room is decorated with chic elements of wood, glass, copper, and brushed concrete, all blended into modern minimalism − very much a four-star hotel, but also very much a barge on the river. AND... you can control the colour of the lights in the shower. A detail, I know, but a fun one.
Regardless of the room you choose, you're guaranteed impressive views, either over the waterfront and docks, or the Seine. You may even feel you're on a cruise. If you love the water, you won't get any closer than this.
Book your room at Off Paris Seine!
NEARBY ➽ Gare d'Austerlitz, Notre-Dame, Jardin des Plantes (Métro: Austerlitz)
⧱  ⧱ ⧱ ⧱ ⧱ 
The Hôtel Fabric (11th)
From the banks of the Seine to a former textile factory, the number of hip hotels in Paris just grows. Located in the trendy Bastille area, the industrious (pardon the pun) owners of the Hôtel Fabric kept this former textile factory exterior mostly intact. 
On the other hand, they transformed the interior into something spacious, luxurious, and modern, with 33 rooms, including sprawling suites. Each is decorated with vintage furniture, colourful contemporary elements, and exposed brick walls.
If you're a foodie, you won't be far from a variety of bar and restaurant scenes. 
And by the way, it's an interesting play on words... Fabric could refer to its former textile role, while in French, fabrique means factory.
Book your room at Hôtel Fabric!
NEARBY ➽ Marais, Popincourt food market, Place d'Aligre flea market (Métro: Oberkampf)
⧱  ⧱ ⧱ ⧱ ⧱ 
Seven Hotel (5th)
Photos of the Seven Hotel are by Nicolas Anetson
The Seven Hotel is where you can leave the bustling 5th arrondissement behind you, and emerge into a world of supreme wellness. Step through the elegant Haussmann façade into a cocoon of care and pampering you won't find elsewhere nearby.
This is a collector's hotel, for those who love collections of things – books, objects, photos, with everything designed to provide that cultured, quiet moment.
Why Seven? Because beyond the rooms, it has seven suites, each dedicated (and decorated) in a style... related to the number seven.
This is a hotel, of course, but it's also a wellness spa – which here is called a Wellness Chapel, a homage to the peace and serenity not only of the place, but of the services. The hotel partnered with Holissence, provider of wellness experiences, from yoga to chakra realignment to meditation. Yes, you'll be in Paris, but you may not want to leave your hotel once you've checked in...
Book your room at Seven Hotel!
NEARBY ➽ Rue Mouffetard, Paris Mosque, Jardins du Luxembourg, Jardin des Plantes (RER: Port Royal)
⧱  ⧱ ⧱ ⧱ ⧱ 
Kube Hotel (18th)
Reminiscent of its main attraction, the Ice Kube Bar inside the Kube Hotel Paris, this 18th arrondissement property is a stone-cold stunner. If the name alludes to anything, it's the sub-zero temperature you'll experience within the on-site Ice Bar, expertly mimicking the Arctic.
The hotel's interior and rooms feature muted tones of cool colours. As for furniture, expect to find designer pieces, hanging bubble chairs, and a floating bed illuminated by blue lights.  

To add to the hotel's quirky features, the Ice Bar serves up a collection of (naturally) vodka-inspired drinks. From a counter carved out of 25 tons of ice, no less.
Book your room at Kube Ice Hotel!
NEARBY ➽ Gare du Nord, Bassin de la Villete (Métro: La Chapelle)
⧱  ⧱ ⧱ ⧱ ⧱ 
Vice Versa Hotel (15TH)
Living in sin might not sound like a good idea. Staying at the Vice Versa Hotel, however, is an excellent choice. Each floor, of which there are seven, represents one of the seven deadly sins.
Located in the 15th arrondissement of Paris, its quirky hotel rooms all feature decorations in keeping with one sin. Cupcake beds and pastel colours embody gluttony. Greed features papered banknotes everywhere, and wrath is coloured in red and black with revolvers.
The other sins? You'll have to go see for yourself in this modern four-star property  where tongue-in-cheek humour reigns supreme.
Book your room at Vice Versa Hotel!
NEARBY ➽ Petite Ceinture, Parc André Citroën (Métro: Porte de Versailles)
⧱  ⧱ ⧱ ⧱ ⧱ 
The Hôtel Edgar & achille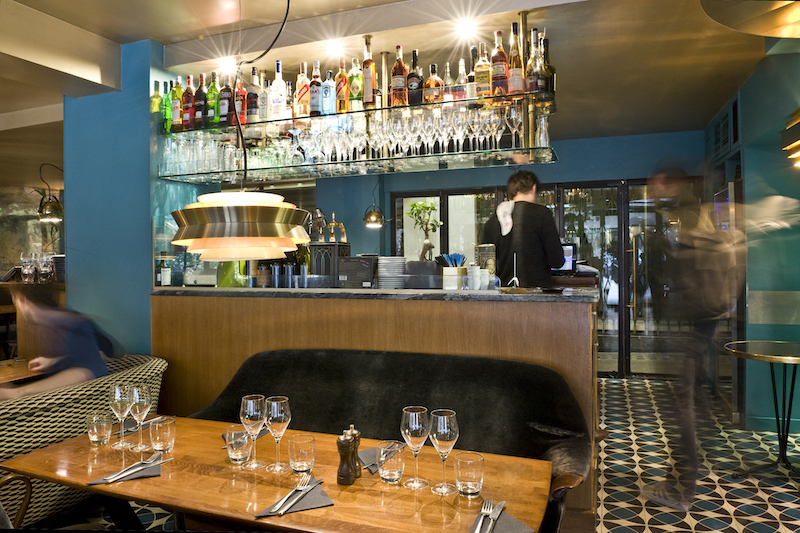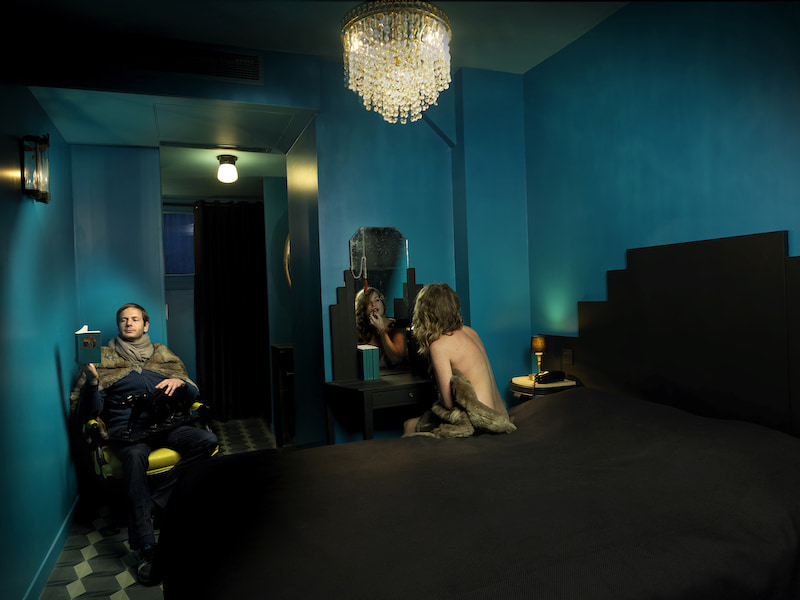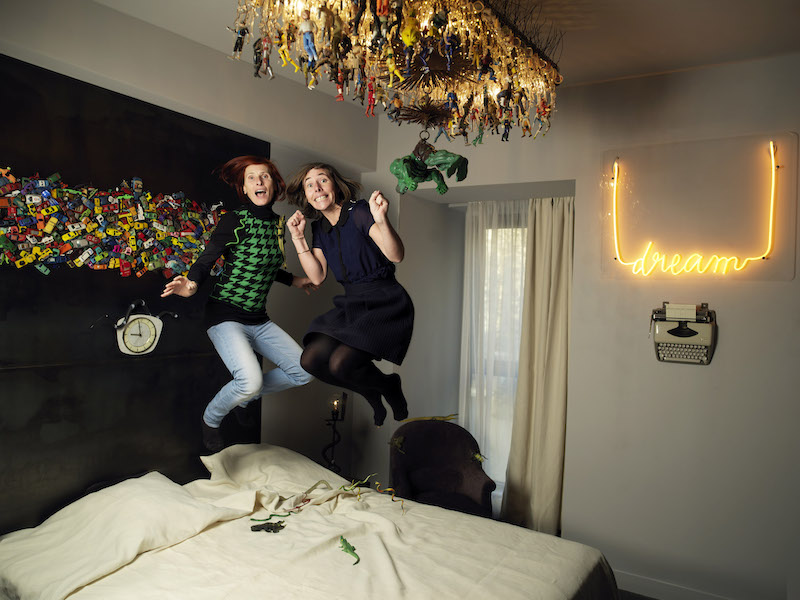 Photos: Thomas Millet
Truly a designer hotel in Paris, this renovated workshop takes vintage styling to the next level. What the owners did was recruit a panoply of stylists, designers, and even film set designers to achieve to make this accommodation unique. The result? Hôtel Edgar & Achille and its 13 individually styled rooms.
Each of these rooms radiates a different ambience — the Ma Nuit (or "my night") room with its dark blue shades, the Dream room with action figures paired with neon lights, and Ebène Rock, based on a photo lab. 
Step outside and you'll find a Parisian great, the Grand Rex Cinema, one of Europe's largest, where pop culture and art-deco mix.
Book your room at the Hotel Edgar!
NEARBY ➽ Grands Boulevards, Centre Pompidou, Musée des Arts et Métiers (Métro: Réaumur-Sébastopol)
⧱  ⧱ ⧱ ⧱ ⧱ 
Hotel 1K (3rd)
Located in the city's fashionable and hip Marais district, the Hotel 1K blends bold and bright styling with luxury. A 4-star contemporary hotel in Paris, the fusion of Mexican and South American influences makes it a standout.
Throughout the hotel, shades of white contrast with splashes of brightness. Each room is "fully connected" − in other words, you can wirelessly connect to and manage almost everything in your room from your mobile phone.
If that's not enough, you can feast on the hotel's Peruvian buffet breakfast, enjoy a prohibition-style speakeasy, or take part in the annual Day of the Dead celebrations. All contributing to it possibly being one of the most unusual best hotels in Paris, France.
Book your hotel room at 1K Paris!
NEARBY ➽ Musée Carnavalet, Place des Vosges (Métro: Filles du Calvaire)
⧱  ⧱ ⧱ ⧱ ⧱ 
Le Pigalle Hotel (9th)
If the artsy district of Pigalle had a physical embodiment in the form of a hotel… No, wait, it does. Le Pigalle Hotel highlights elements from the surrounding area, such as creativity and artistic vibes, into a property fit for any crowd.
This is a hotel for those of you who dislike hotels: you'll feel just like a friend dropped off the keys to his Paris apartment, its rooms filled with a mix of neoclassical and vintage furniture and suites that include turntables and tailor-made vinyl record collections.
It's a hotel about Pigalle, and the many photographs decorating the walls were taken by locals who love where they live.
Grab your Chai Latte or Aero Press, or settle into the basement lounge to enjoy its curated jukebox or monthly live music performances.
NEARBY ➽ Moulin Rouge, Montmartre (Métro: Pigalle)
⧱  ⧱ ⧱ ⧱ ⧱ 
The Hoxton (2nd)
A member of the Hoxton group, the largest iteration of its hotels, The Hoxton Paris, is located in the 2nd arrondissement. Housed within an 18th-century rowhouse, this is pure boutique bliss. 
The interior is a mix of classical elements with opulent and modern touches. Rooms create a calm and quiet atmosphere, each emulating traditional rustic French styling.
An uber-chic hotel in Paris, it's surrounded by some of the best places to dine, while attractions such as the Louvre are within walking distance.
Book your hotel room at The Hoxton!
NEARBY ➽ Central Paris (Métro: Bonne Nouvelle / Grands Boulevards)
⧱  ⧱ ⧱ ⧱ ⧱ 
Maison Souquet (9th)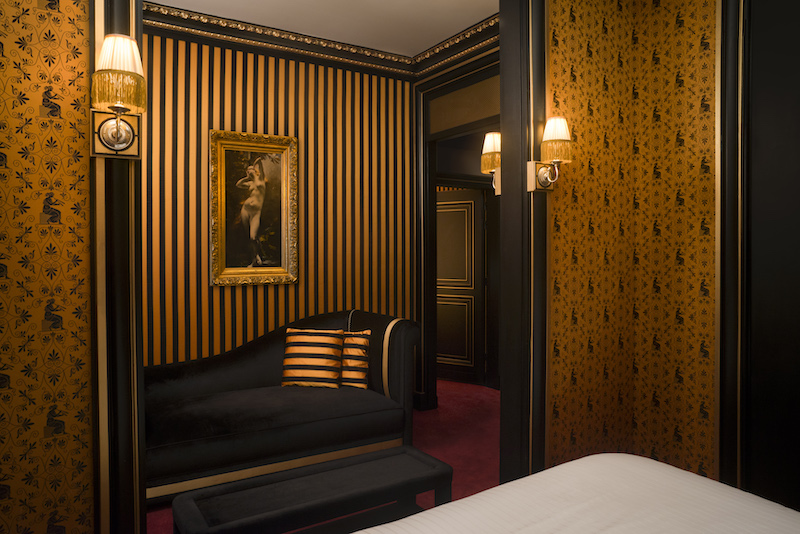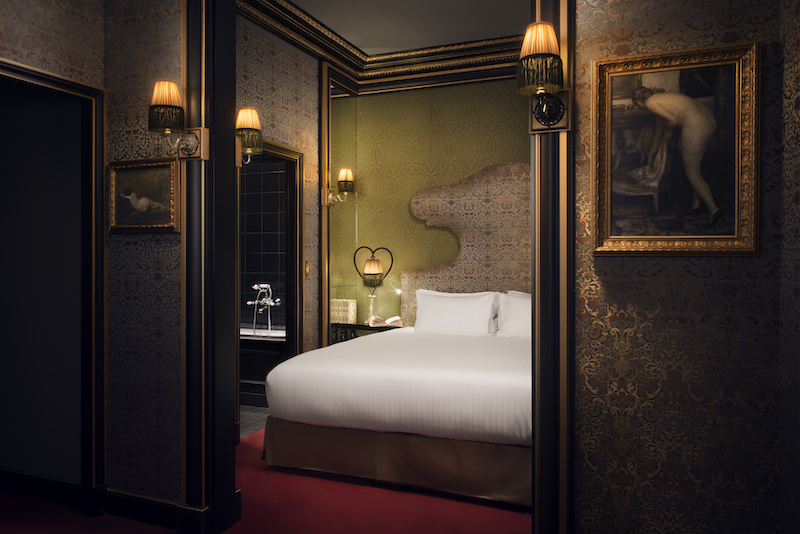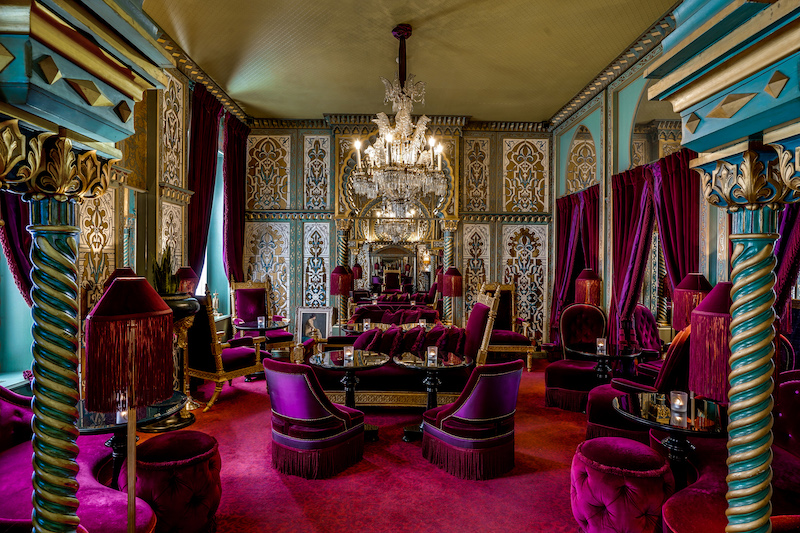 If you're one for nostalgia and would like to take a step back in time and experience a mostly forgotten side of the capital, the Maison Souquet finds its roots in the early 20th century. It sits a few meters from the iconic Moulin Rouge and is set within a former brothel – definitely one of the more unique hotels in Paris. 
Red lighting and muted colours bring the hotel to life, and each of its 20 rooms (including six suites and two apartments) is named after famous courtesans. Take a break from your room in one of the hotel's many lounges and listen to some live piano.
A testimony to the opulence expressed here is that the Maison Souquet is a member of the very select (and elite) Small Luxury Hotels of the World network.
Book your room at Maison Souquet!
NEARBY ➽ Montmartre (Métro: Blanche)
Stay at the top 10 cool hotels in Paris
These are among some of the most charming hotels in Paris, and staying in one of them will guarantee your stay in the capital is different from that of many other visitors.
You'll definitely find something far from the everyday among the most unique places to stay in Paris.
All that's left to do is confirm your booking, enjoy an unforgettable time in the city of lights, and make sure you avoid pickpockets in Paris!
-Header photo: By Benh LIEU SONG (Flickr) - Louvre Courtyard, Looking West, CC BY-SA
guidebooks to help you travel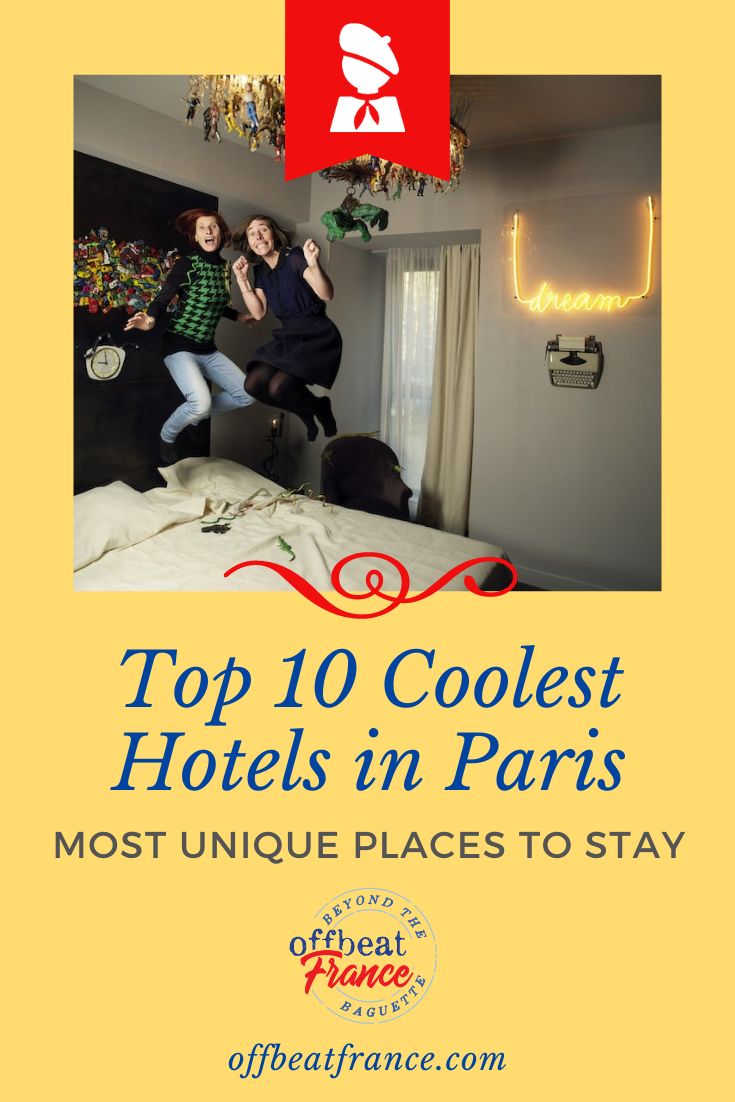 If you liked this, please share it on social media!