Yes, there are some dangerous areas in Paris – or areas less safe than others. But danger is relative: violent crime is still rare, especially in daytime. There's no reason to be scared - just cautious.
Is Paris safe? 

Generally speaking, Paris is a safe city but crime is on the rise, not just in Paris but in most major cities. Whatever politicians say, crime is not dropping, and a growing number of residents are beginning to feel the insecurity and avoiding so-called dangerous areas in Paris.
However, that doesn't mean you should quake each time you leave your hotel. 

Most violent crime involves drugs or gangs, and tends to be quite localized in certain suburbs or pockets of town – it rarely occurs where visitors go.
In tourist areas, there's little danger to you, but be forewarned, there are plenty of pickpockets. 
➽ IN A NUTSHELL...
The city center of Paris is pretty safe

Most crime in tourist areas targets your belongings, not you

Crowded areas and subways attract thieves

A few neighborhoods are fine in daytime but should be avoided at night
A few parts of Paris have a higher crime rate and should be avoided altogether
No ENTIRE arrondissement is unsafe, just small parts of a few

And below, you'll find specific details of where to go and what to avoid.
  NOTE: Pages on this site may contain affiliate links, which bring in a small commission at no cost to you.
No-go zones in Paris
No-go zones is a bit of a harsh phrase, but I use it here to signal the more unsafe areas in Paris, at least at certain times.
Paris is divided into 20 arrondissements, or districts. Of these, some are safer than others, but even those considered "sensitive urban areas" aren't dangerous in their entirety. 
Paris also has some 286 suburbs, or banlieues, some of which are not recommended for visitors. However, you'll have no reason to visit them, unless they have major tourist attractions – and are, consequently, safe during the day.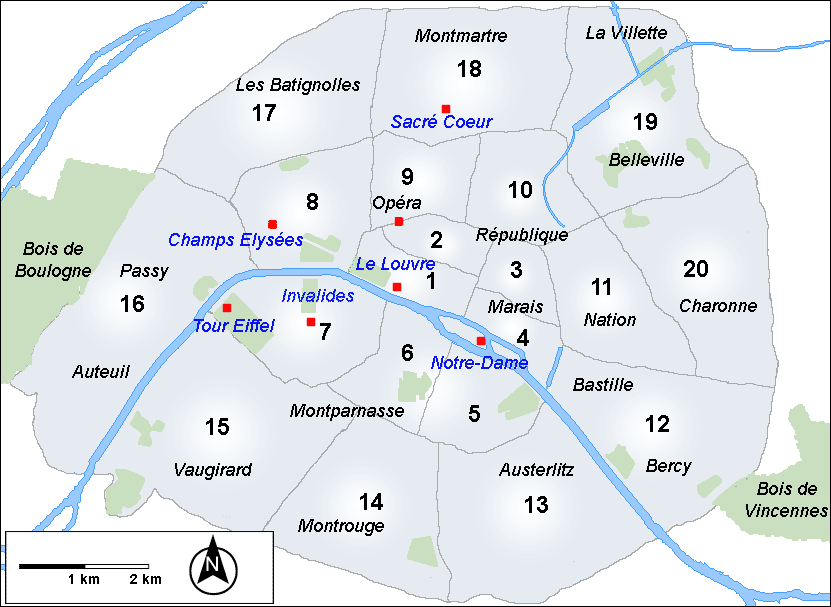 Map of Paris with its 20 arrondissements by Pline, CC BY-SA 3.0, via Wikimedia Commons
Safety is also a question of perception. Does Paris feel safe?
To me it mostly does, and I visit regularly (it's only three hours from my home in eastern France). BUT – I'm French, and speak French fluently, which does make a difference.
But to some of my non-French friends (and even a few French ones), there are neighborhoods to avoid, at least at night.

If you're from Tokyo or Abu Dhabi, two of the safest cities in the world, you might feel unsafe in some parts of Paris. But if you're from a megacity with a high crime rate,  you might consider Paris a haven of serenity.
Let me put it this way: to me, the USA can be a scary place. People can buy guns over the counter and CARRY them! There are many murders, and mass shooting are all too common. I perceive certain cities in the US as quite dangerous. Yet if you live there, you may scratch your head and wonder why I would worry.
So let's take a look at the reality on the ground. I won't try to whitewash it: Paris isn't dangerous for tourists, nor is the French capital a perfectly safe place where you can flash your cash and be otherwise carefree.
But if you're a foreigner, and you don't speak the language, and you don't know the city intimately, then what follows is probably worth knowing.
The 3 main neighborhoods a tourist should avoid in Paris
Most large tourist destinations attract scores of visitors, both tourists and those intent on preying on them. That said, no way should you deny yourself the joy of a visit just because parts of the city are less safe than others.
You just have to be aware of two things.
First, when you're in crowded tourist areas, notice your surroundings and be careful with your belongings.
And second, avoid the more sensitive areas of the city.
Like these.
1. 10th arrondissement
Train stations are often located in seedy areas, and Paris is no different, with the 10th district of Paris boasting not one, but two major stations: the Gare de l'Est and the Gare du Nord. Many major train lines start or finish here so there's every chance you'll be using them at some point.
In daytime, these areas are perfectly fine, and I've taken plenty of trains from here. But at night, drunks and people selling or high on drugs crawl out of the woodwork, and their acting out – including screaming or fighting – can make you uncomfortable.
There's no particular danger here, but the atmosphere is, let's say, not comfortable.
HOW TO PRONOUNCE...
Arrondissement (district) and banlieue (suburb on the outskirts of Paris)
2. 18th arrondissement

The 18th is one arrondissement you won't want to miss when you visit Paris: it's Montmartre! 
This is one of the most popular places for tourists and locals. It's an exciting area which was once dedicated to artists.
However, the 18th also happens to have one of the highest crime rates in Paris.

Below Montmartre, around the Place de Clichy and its neighboring streets, is the area known as Pigalle.
My mother would avoid it and warn me about it many years ago – it is, after all, a major red light district.
The former seediness remains, what with its erotic shops and sex shows, but it has become much tamer, with families gathering around park benches on traffic islands and young people pedaling by on bike lanes.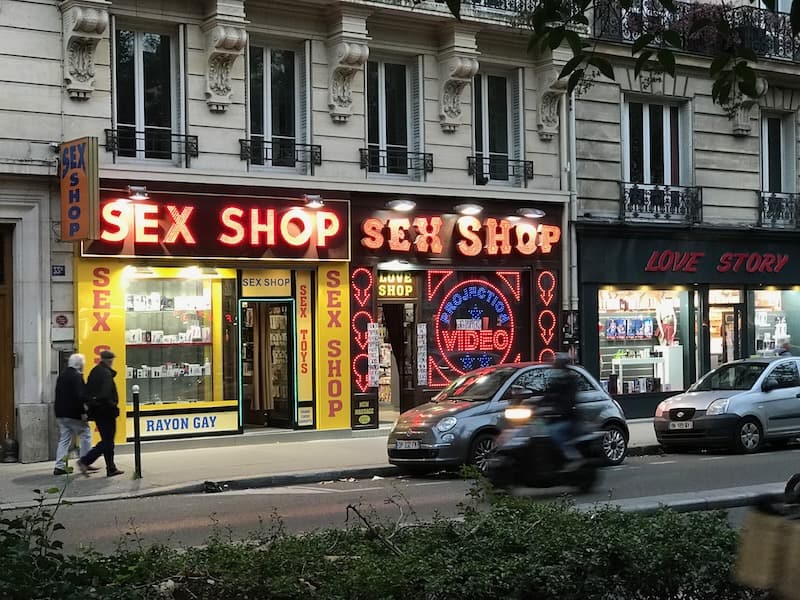 Area around Pigalle, in the evening
A lot of people warn against coming here but I'll have to go against the grain on this one: it has two of my favorite places in Paris, the Moulin Rouge cabaret, and the Bouillon Pigalle, part of the resurgence of the typical bouillon restaurants which once fed the working class of Paris (and where you can still get an excellent meal for a very decent price).

Just be aware that Pigalle is a red light district and as such, many establishments are designed to part you from your cash. There are plenty of stories of unsuspecting tourists whose exorbitant bar or club bills have required emergency assistance from friends and family.
In the arrondissement's northern part, however, it's a different story, and the closer you get to the ring road, the worse it gets. 
At night (and I've stayed in this part of town), stepping off the bus or emerging the Métro can be a little scary, especially if you're a woman on your own. Stay away from subway stations like Marx Dormoy, Porte de Clignancourt and Porte de la Chapelle, especially at night. 
This area is also home to some of Paris's largest migrant camps, which regularly get dismantled but reappear quickly.
Other neighborhoods you should avoid in this arrondissement are Barbès-Rochechouart and the Goutte d'Or, known for delinquency and trafficking, especially drugs.
Other than Montmartre, the other reason you might come here is to visit the fabulous Puces de Saint-Ouen, one of the best flea markets in the world. It's a good thing it operates in daytime, because this is not an area you'd wander around at night.
3. 19th arrondissement
Right next to the 18th is the 19th district, another arrondissement that is a safer place in daytime than at night.
During the day, it's highly diverse, with a mixture of residents from all corners of the world giving it a very global vibe. There are also lovely parks here, including one of my favorites, the Buttes-Chaumont.
Mouzaia has a leafy village-like vibe, cobblestones and all, and is home to the Grand Mosque of Paris, well worth visiting. 
In fact, one of my favorite pieces of architecture in Paris is the Rotonde de La Villette, by 18th-century neoclassical architect Claude Ledoux, who also built the most unlikely royal saline of Arc-et-Senans near the Jura Mountains.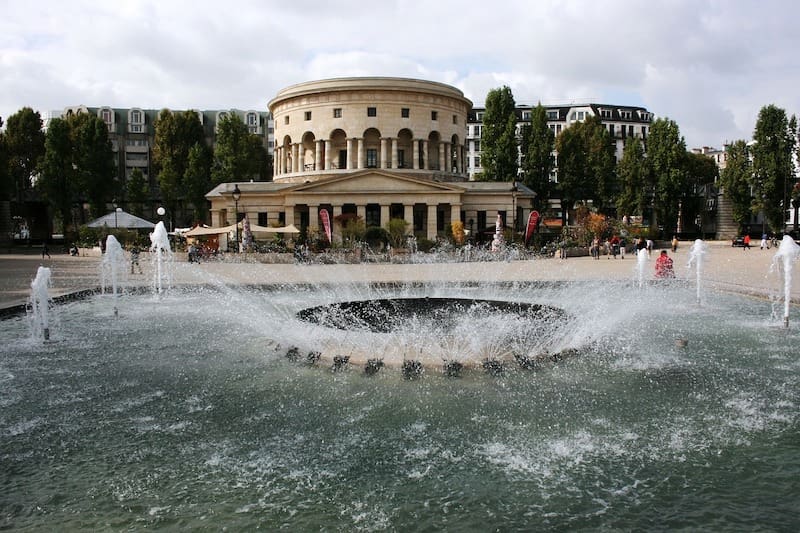 The Rotonde...
However, insecurity is on the rise around here so I'd be cautious and keep my wits about me, even during the day.
At night, however, I'd steer completely clear. This part of the arrondissement becomes a "most dangerous area", with more than its fair share of robberies and drug trafficking, especially around Stalingrad and Jean-Jaurès. 
Other areas that need a few precautions
1st arrondissement
The first district is the "main" tourist arrondissement of Paris, by and large a safe area: it is the one that houses the Louvre Museum and the Tuileries. You'll find plenty of tourists here, but your biggest challenge will be avoiding pickpockets and purse snatchers.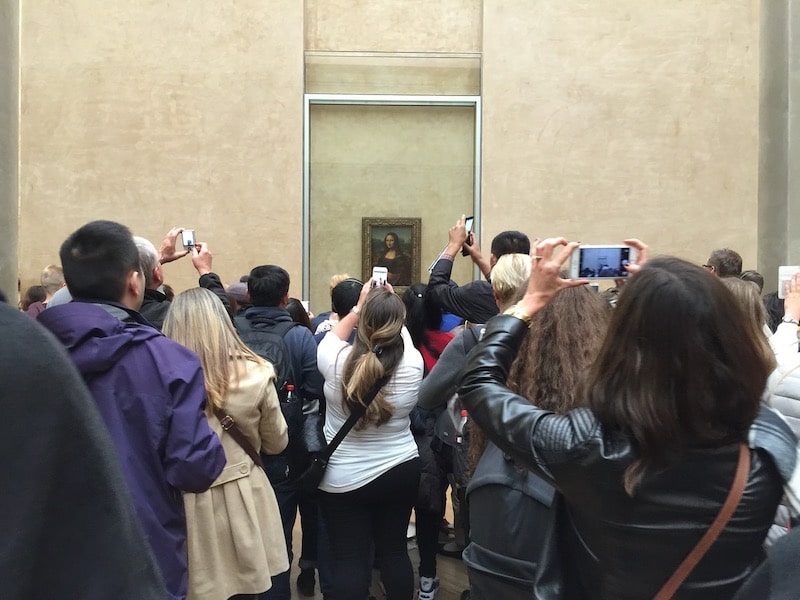 Situations like these, with crowds paying attention at anything but their belongings, are targeted by pickpockets on a daily basis
As far as physical safety, the area around the Centre Pompidou and Les Halles, the indoor shopping mall built on the city's former market is fine in daytime and there are plenty of excellent restaurants nearby and lots of crowds. However, on Saturday nights, Les Halles becomes a no-go area as young French people from the projects ride into town to hang out.

The Chatelêt-Les Halles metro station is also in this arrondissement and it is huge, possibly the largest underground station in the world, one with interminable corridors that can be downright spooky at night. I try to avoid it once commuters have gone home, but even in daytime, I'll keep an eye on my belongings.
Getting granular
A number of arrondissements in Paris are largely fine, but the occasional street or block or two should be avoided at night, or precautions taken.
The 20th arrondissement
Take the 20th, a mixed bag, with village-like corners mixed in with social housing and plenty of ethnic diversity. You'll have good reasons to come here: the Père Lachaise Cemetery, and street art in Belleville, also highly diverse (but slowly gentrifying).

Yet some travel guides and a number of visitors say it is one of the more dangerous districts in Paris. I have only visited Belleville during the day, and it's anything but dangerous, filled with ethnic eateries and lots of offbeat places.
It might be different at night but I can't confirm. There are some small streets in Belleville so I'd be cautious there at night, as I would on any deserted street, especially in the absence of people. But otherwise, I'm not convinced it's one of the "dangerous neighborhoods" in Paris.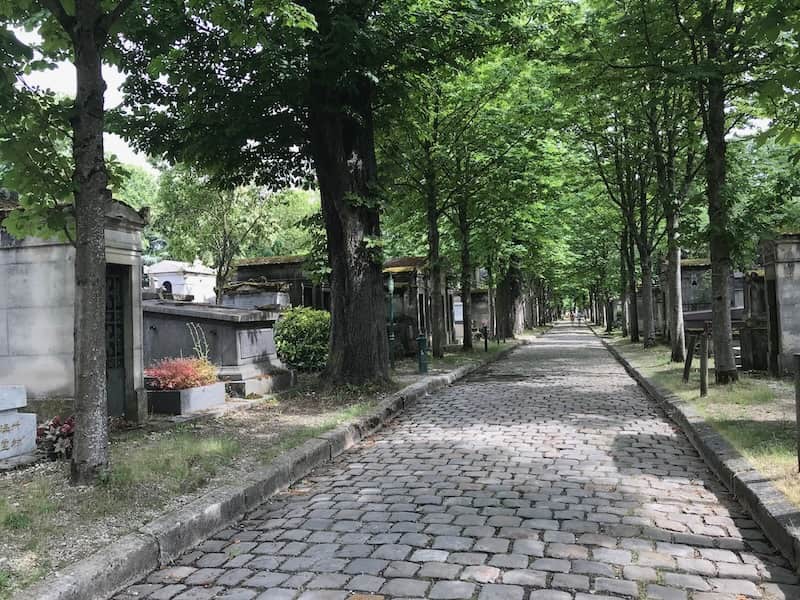 Père Lachaise cemetery, perfectly serene in the 20th arrondissement
The woods
Among the areas to avoid in Paris at night are two forests, the Bois de Boulogne in the chic 16th and the Bois de Vincennes in the 12th are pleasant in daytime but at night, sex workers inhabit the woods and the atmosphere is what you might call "chaud", or hot.
Stay away at night, and during the day, make sure you stick to areas where there are people around.
The Métro
As in any big city, the subway should be approached with caution at night. I've mentioned a few stations to avoid at night, and you can add Château-Rouge, Gare du Nord, Strasbourg St-Denis, Réaumur Sébastopol and Montparnasse Bienvenue to the list.
Frankly, at night, I avoid any subway station that starts with a "Porte" when I'm by myself…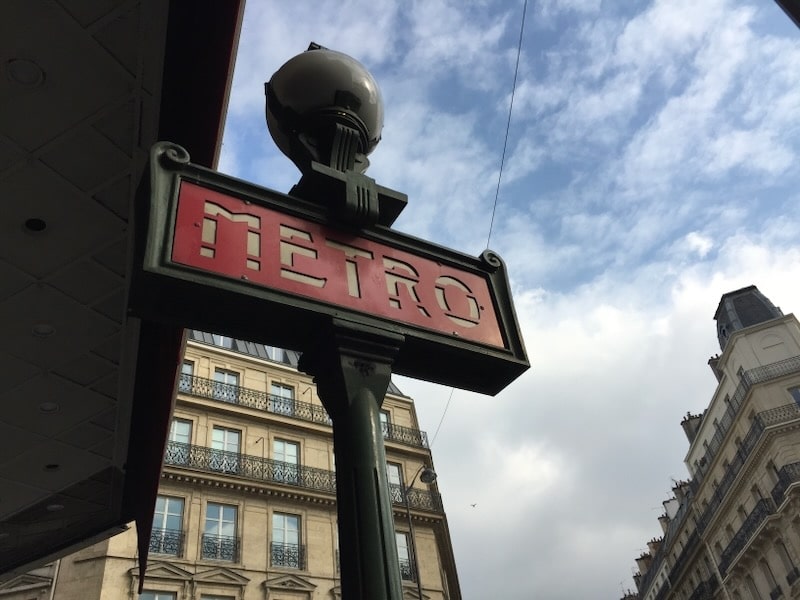 What kind of crime is there in the city centre?
One important thing to note about crime in Paris: it is not often violent. When things do turn bad, it's usually due to drug dealing or criminal gangs settling scores. Most times, violent crime doesn't take place around tourist sites.
While crime in the Paris region has been on the rise in recent years, including violent crime, it doesn't target tourists or tourist areas, or very rarely. 
As I've mentioned, the most common crime against tourists in the city of Paris is pickpocketing, especially at popular sites, like the Eiffel Tower or the Sacré-Coeur Basilica, or on popular public transportation lines, such as those arriving from Charles de Gaulle airport.
Pickpockets are often hard to spot, because they might be women, or children (this is common because minors are harder to prosecute), or groups dressed to look innoffensive. They tend to target your purses, wallets, cellphones or jewelry, hence the importance of leaving your valuables behind or using a reliable theftproof purse (I use a crossbody Pacsafe bag).
Another unsettling issue, especially if you're a woman, concerns sexual harassment on the street, which you might encounter where groups of young men gather, especially in the evening.
It rarely goes beyond words and whistles, but even these can be extremely disquieting if you're a foreigner, alone, and don't speak the language. 
In addition to crime, there is occasional social unrest in Paris, like the riots of June 2023, after a young man was shot dead by French police in the Parisian suburb of Nanterre. If riots do erupt during your stay, make sure you stay informed through your hotel staff or on social media. Riots tend to take place in the suburbs rather than in the heart of Paris, mostly because of the extensive police presence in the city center.
It's easy to worry about violence, especially when a terrorist attack takes place, but despite the increase in crime, violent acts against tourists in Paris remain the exception. 
Is Paris more dangerous than other cities?
No, it isn't.
According to the 2023 Global Peace Index, France as a country is 67th in terms of peace and security out of 193 countries. Not great, but better than average.
As for Paris, statistics vary depending on where you look. For example, Numbeo, which relies on people's reports, gives Paris a 57.43 crime index, considered moderate, and a 42.57 safety index, which is also average. These numbers are on a par with figures for France generally, placing Paris more or less in the middle. London, for example, has a slightly lower crime index (54.00) and a slightly higher safety scale (46.00).
More stats? According to Armormax (they sell armored cars), Paris ranks 15 out of 25 European cities for crime, but most of it is petty, as in pickpocketing.
In the World Population Review, Paris ranks 23rd on the list of 60 cities when it comes to safety, sandwiched between Brussels and Taipei.
The reason I point to all these statistics is that 1) they all differ slightly and 2) they all confirm the trend that Paris, on any safety scale, comes in as average.
Safety tips in Paris
While we've covered the main threats above, I'd like to highlight a few common dangers (and some common scams): 
When you book a place to stay, make sure you find out what it's like at night by reading reviews and doing research. A perfectly acceptable area in daytime can become scary at night.
Rather than hop on the bus or subway at night, especially if you're alone, opt for a taxi or Uber. And avoid walking alone at night unless you're in a crowded area. But that's just common sense...
This is obvious, but keep an eye on your belongings, whatever the time of day. Better yet, leave anything of value at home. No flashy jewelry, no wads of cash, and try to look like you know where you're going.
Use something safe to carry what you need. Some people use a backpack (carried on the front) but I prefer one of these cross-body anti-theft bags.
Avoid people who come up to you, especially if they're holding a clipboard. This is a favorite scam to catch your attention while someone else does the dirty deed. If you're asked for something, like a light or directions, simply say no thank you, smile, and keep walking.
I've mentioned this one before but it's not a good idea to use your cellphone in the metro, especially near the door. Snatching it through the open doors just before they close has become something of an art form, and there's nothing you can do once it's gone. You're headed away from the station and someone is the proud owner of your mobile phone…
FAQ: Dangerous places in Paris
By and large, yes. Certainly during the day, the greatest danger will come from pickpockets, especially on routes between the airport and central Paris, or at night, when people may be drunk or high and using stations as a second home.
Like pretty much any city in the world, daytime tends to be safer than nighttime. Some tourist areas, like Montmartre or Le Marais or the Latin Quarter, are bubbling with people day or night and I wouldn't give being there a second thought. Other neighborhoods may be fine during the day, but I'd stay away at night. So yes, Paris is safe at night – if you choose your neighborhood wisely.
No more and no less than other major cities in Europe. According to most crime statistics about the safest places, Paris weighs in at average or slightly above average in terms of safety.
The suburbs, or banlieues, are often unsafe. Inside the city core, the least safe areas are the northern parts of the 18th and 19th arrondissements, near the périphérique ring road, but not the entire districts.
At night, certainly. The Stalingrad neighborhood, or the Goutte-d'Or, for example.
Beware of pickpockets: petty theft is the most common crime in the city.
It depends where. If you're in crowded areas filled with tourists, like the Marais or Montmartre, then yes, walking at night is usually fine. In other parts of the city, be cautious at night, especially if you are on your own.
Some of the more crowded stations are fine at night, but as a rule, I avoid taking the subway on my own. A taxi or Uber would be a safer bet.
I would avoid many of the suburbs, the northern parts of the 18th and 19th arrondissements, and any parks and woods at night.
Recent statistics are harder to come by but in general, the best places and safest areas in Paris are the 7th (the most elegant), the 8th (Champs-Elysées), the 15th (highly residential, plenty of shops and restaurants), the 16th (Arc de Triomphe, well-to-do), and the 17th (less touristy but plenty of charm).
Should you worry about dangerous areas in Paris?
You cannot generalize about crime in Paris:
One part of Paris may be dangerous, compared with dozens of perfectly safe neighborhoods
A high number of crimes in a single area can skew the entire city's figures
The center of Paris is famous: whenever there's any violence here, you read about it everywhere and that ratchets up the fear factor
A lot goes into the definition of crime, and many statistics include damage done during strikes and social unrest
And finally, while crime rates may be somewhat high on paper, most crime in the City of Light is non-violent. Being held up at gunpoint or physically harmed in any way is exceedingly rare.
If you're coming from outside Europe, by the way, here's one statistic you should know: Europe is the safest region in the world. And if you want to compare the crime rate in Paris with that of other cities, use this handy calculator.
Did you enjoy this article? I'd love if you shared it!