This article is about the village of Flavigny Sur Ozerain in northern Burgundy, famous for a centuries-old candy factory, medieval streets and houses, and as the setting for the award-winning film, "Chocolat".
Where is Flavigny-sur-Ozerain, exactly?
It's a tiny village tucked away in a corner of the Cote d'Or department, sandwiched between Champagne and Northern Burgundy.
Perhaps you've sped by, on your way to Dijon about an hour's drive away, heading off to sample the delights of the Burgundy Wine Route, an area protected as a UNESCO World Heritage Site.
So yes, Flavigny is surrounded by famous places, but it also has quite a few of its own claims to fame.
Have you ever seen the movie 'Chocolat'? Starring Juliet Binoche, Judi Dench and Johnny Depp?
If so, you might remember the Church of Saint-Genest, or that scene with children playing with barrel hoops on the square, or the long shot of that picturesque village on a rocky outcrop.
Take away the 1950s clothes and what you have left is a medieval village − one of the most beautiful villages in France − which has hardly changed in centuries. 
As for the movie, it is considered one of the top 5 chocolate films of all time.
HOW TO PRONOUNCE IT: flav-een-YEE / soor / oh-zuh-RAH
For a place with barely more than 300 inhabitants, you'll find plenty of things to do in Flavigny sur Ozerain (it's called called Lansquenet in the film).
There's an ancient 8th-century abbey and crypt to explore, winding cobblestoned streets and thick ramparts, the setting for an award-winning film, and a candy factory which makes what are believed to be France's oldest candies. 
What more could you want?
The abbey and crypt at Flavigny, France
Back in the first century BC, Julius Caesar set up camp on the hill here, while at war with the Gauls in nearby Alésia. After his victory, this land was granted to one of his soldiers – Flavinius – who gave the village its name.

The original abbey in Flavigny-sur-Ozerain was built in the fifth century, destroyed, and then rebuilt in the eighth century. The monks began making aniseed candy, great for digestion, from the anise brought back from Asia.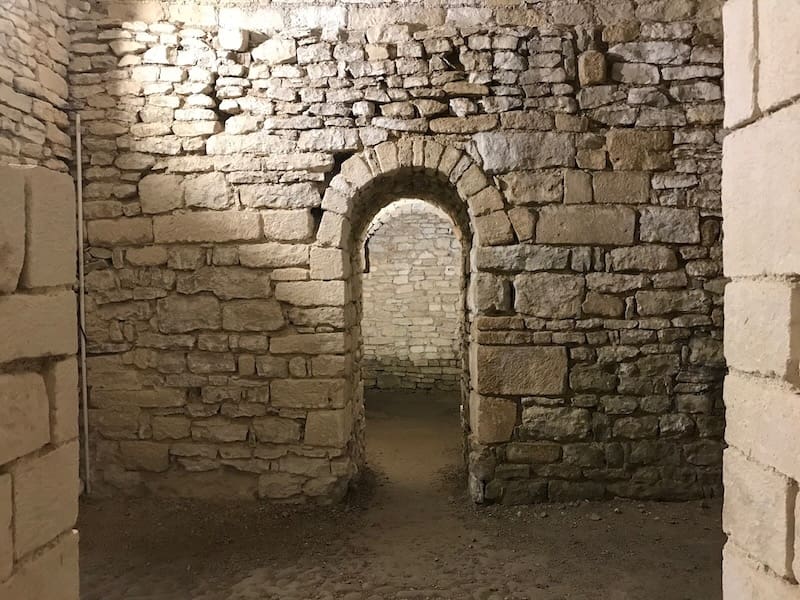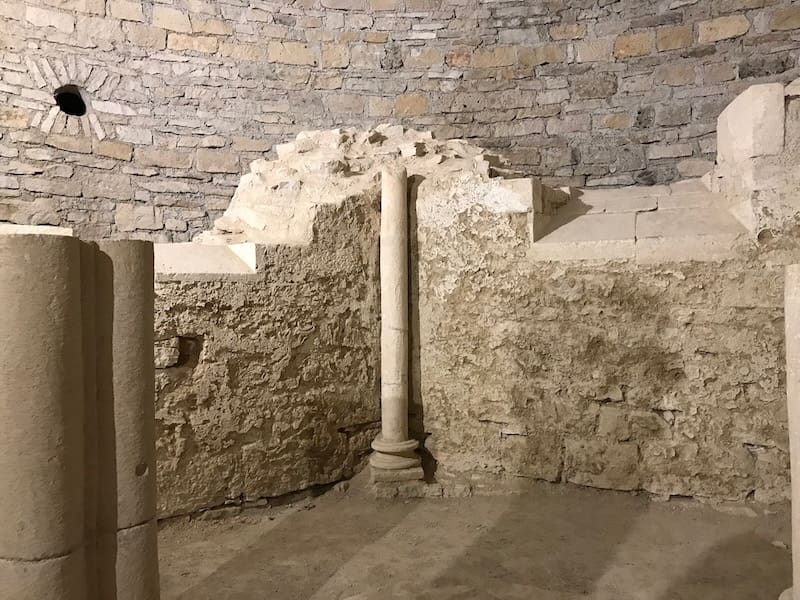 All that is left of the former monastic complex is a crypt, along with a small chapel that was uncovered recently behind the crypt. The chapel is dedicated to Sainte Reine, a young woman who died for her religious beliefs.

It was still early days for Christianity when a Roman officer, Olibrius, fell in love with Reine and asked her to convert and marry him. She refused.
He had her tortured but her wounds kept healing. Eventually, she was decapitated, and legend has it a river burst from the ground at the spot where her head fell. It would become a pilgrimage site and Reine would become a cult figure. Her relics are still kept in the village church.
The crypt is unusual because of its two levels. Its upper level contains a high altar and was reserved for monks, who were usually nobles and spent their time copying manuscripts. The lower level was for those who couldn't read and write and who worked the fields. The two floors kept the two groups from mixing.
The anis Flavigny sur Ozerain
The anise candies made by the monks in the abbey have been documented for centuries.
They were used as gifts to traveling monks during the Middle Ages; offered to Anne of Austria while she was on pilgrimage in the Luberon; regularly munched by her son Louis XIV; and offered as a gift to King George III during negotiations.

During the French Revolution, when the clergy was stripped of its powers, the monks were forced to leave the monastery – so they stopped making the candies. The monastery was turned into a quarry storage area, and the candy manufacture was taken over by villagers. 
A certain Jean Troubat founded the Anis de Flavigny in 1923, which is now managed by his granddaughter.
I'm not sure when I first discovered these tiny candies but it was sometime in childhood, and when I recently tasted the violet flavor, I was instantly transported to my grandmother's lap and all the sweet memories that went with that time.
It's fun to watch how these tiny candies are made, and almost unbelievable to find out that the powerful aniseed taste comes from one tiny little grain of anise, weighing in at 2mg, coated over and over again with sugar. 
Big copper drums keep turning, slowly adding sugar syrup to the grains. Water then evaporates with the heat and only the sugar is left. Care has to be taken not heat the mixture too much, though, or it might turn to caramel.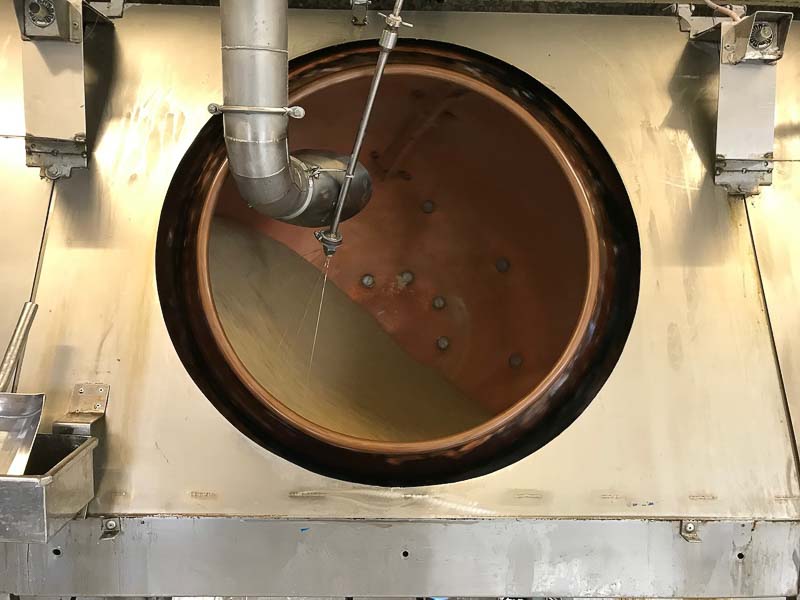 Add a bit of essential oil and you have Anis de Flavigny, in a variety of flavors – Americans prefer the violet flavor, apparently, and the Japanese like the rose. I like them all.
The flavors are prepared by master perfumers from the south of France, near Grasse, where so much perfume making is concentrated.
Once you've visited the factory, stop by the museum, which is filled with nostalgia – old posters, vintage advertisements, even a dispensing machine for something called Cigaros, a cigar-shaped candy container (top photo below).
Take the tour and watch the video for a bit of history. And if you won't be visiting for a while, at least order a few tins of Anis de Flavigny to get a taste of what to expect.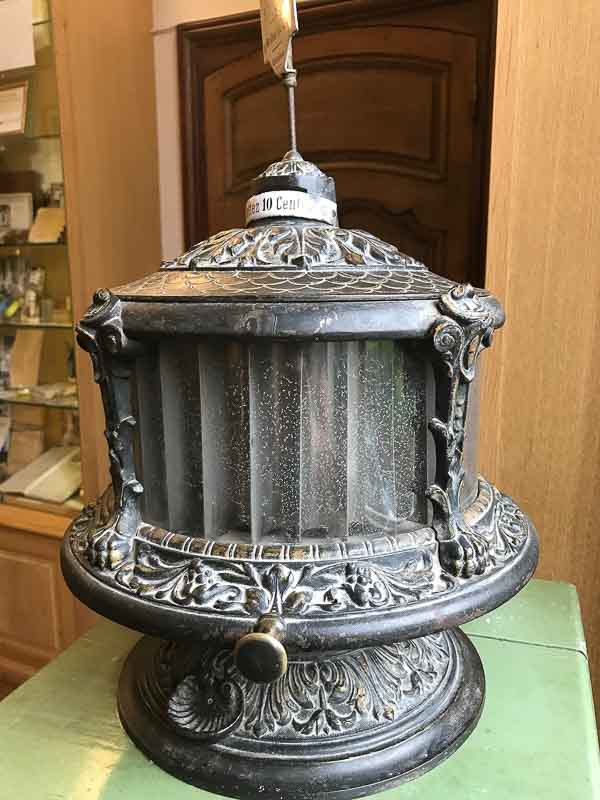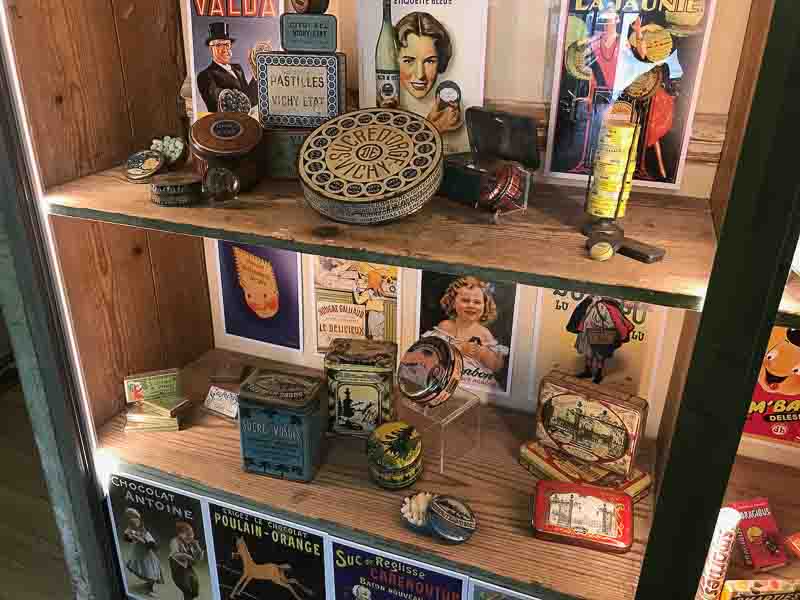 The streets and ramparts of Flavigny
One of the delightful things to do in Flavigny is to simply walk around. The village probably hasn't changed much in centuries and is still cluttered with ageing houses and cobblestone streets, with a stretch of ramparts to make it proud.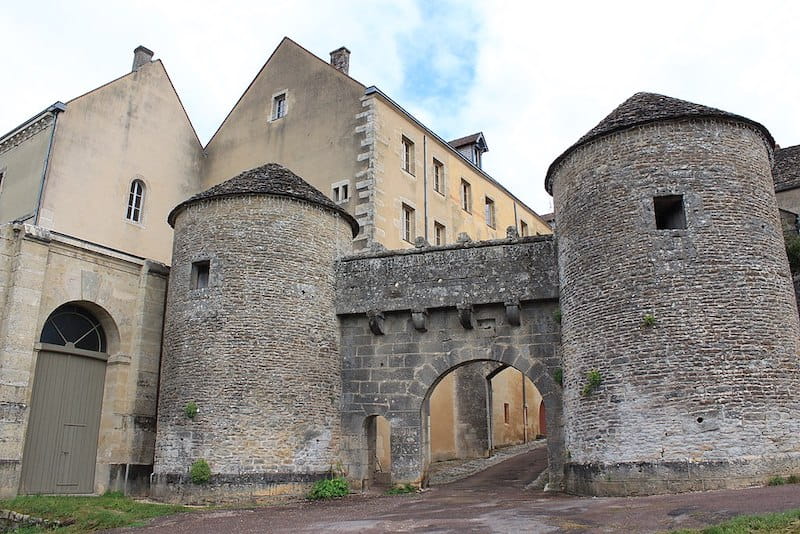 In recent years there has been a small amount of gentrification as people buy houses and renovate them, and a few craft shops and art galleries open.
So far, this hasn't changed the village, since many of the buyers tend to be artists themselves and while their creations might be whimsical, the houses have been restored to their original beauty.
The beauty of Flavigny-sur-Ozerain is its authenticity, so it's no wonder it was chosen as a movie location for chocolate! It is impossibly picturesque, gentrified or not.
"Chocolat" film location? That would be Flavigny sur Ozerain, France
Chocolat" is the charming story of a single mother who moves with her daughter to a typical traditional French village to open a chocolate shop. After a chilly reception, she wins them over, with much of the action taking place in the village and along the river.
Considering the movie won a Best Picture Academy Award, there is precious little in town pointing to this accolade.
There are no little souvenir shops selling likenesses of Johnny Depp or mugs with Judi Dench's picture on them or tea towels with delightful chocolates all over them. Nor does the local café serve Vianne Rocher's (the shop owner) hot chocolate with chili, and if you want to follow the "chocolat" trail, you'll have to do it on your own.
And that is part of the charm that is Flavigny sur Ozerain.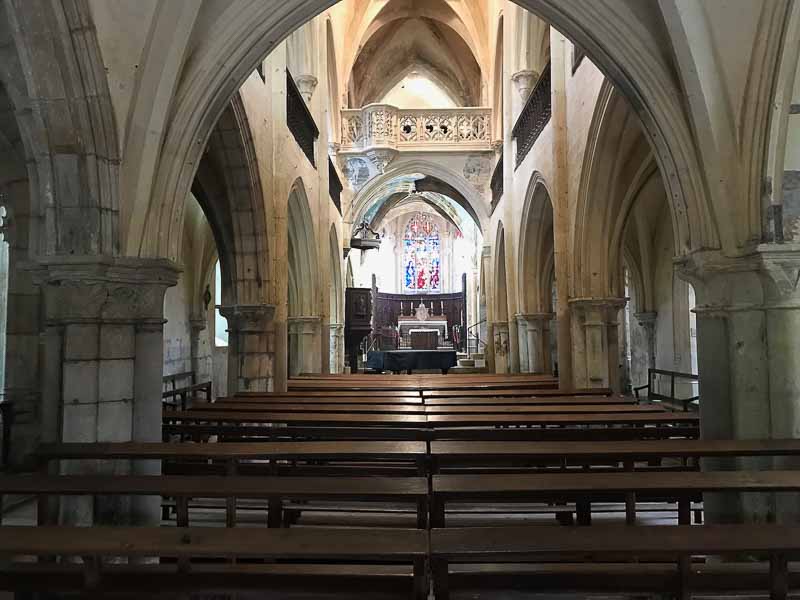 If you're a film location buff, watch Chocolat before you visit so you can uncover the sites of your favorite scenes.
Need a memory jog for the movie? Here's the trailer.
Best time to visit Flavigny sur Ozerain
Summer is a lovely time to walk through the cool medieval streets and visit the crypt, with spring and autumn also delightful.
There are two special times of the year that are also worth visiting, however.
The first is the Saint-Simon's Fair on the penultimate weekend of October, and the other is in December, when some 80 crèches or nativity scenes appear throughout the village. 
To visit the village, you can use this interactive map or download the app on the same page. 
Flavigny-sur-Ozerain also has several wonderful guesthouses, which you can reserve here.
And don't forget to check out the Côte d'Or tourism site (in French) for more on Flavigny but also on the rest of this superb area.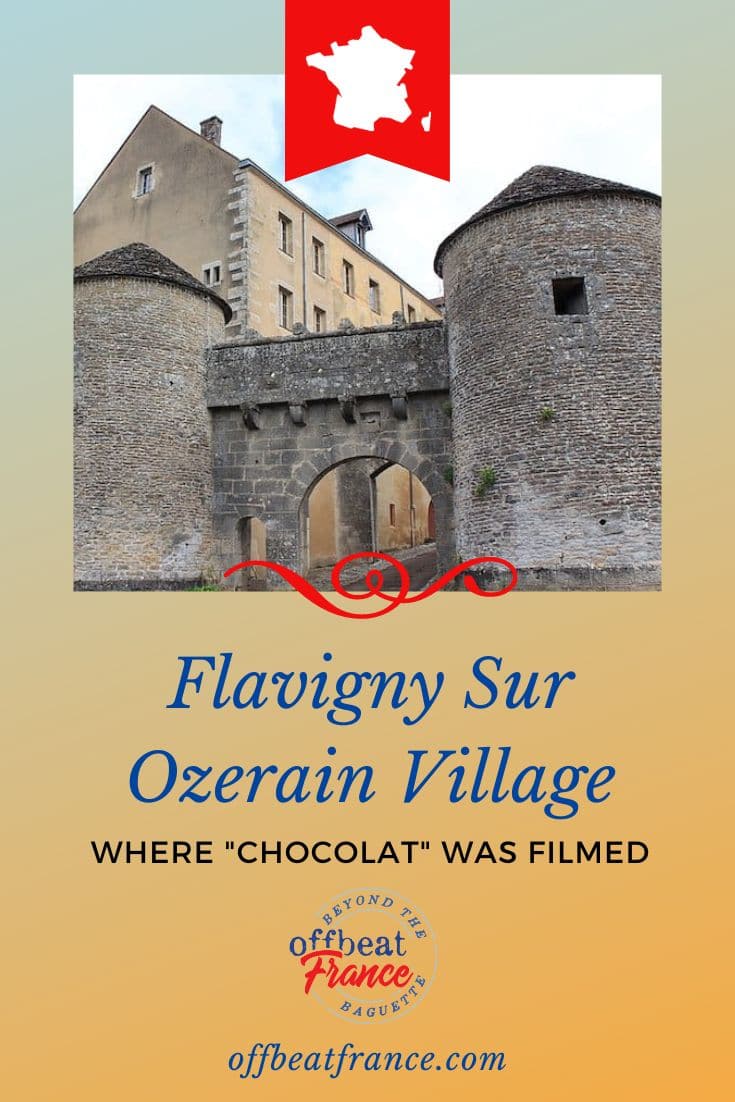 If you liked this, please share it on social media!