Pages on this site may contain affiliate links, which bring in a small commission at no cost to you.
After more than a year of living in lockdown at home in southeastern France, I was restless and hungry for culture. 
But Paris is an expensive city, and I wondered whether I could sample free things to do in Paris and still have fun, without missing out.
It was a challenge, and I gave myself time during the week to seek out those places in Paris that wouldn't cost a cent (other that getting there, but if you're that much of a purist, you could always walk instead of taking the bus...).

I looked at lists, read blog posts, and most suggested the same things (of course I've included those as well). But I wanted something different, a little quirky and unusual, so I set out to come up with a few ideas that I did NOT find on any other list.
I'm sure you'll be able to spot them right away, but meantime, here are the 8 best things you can do in Paris for free.
1. Gaze in awe as you admire Paris from the Seine
Paris is beautiful from every angle, but perhaps none so intimately linked to the city than its river, the Seine.
Artists have painted it, poets have declaimed it, and as visitors, we have marveled at the elegant houseboats lining its shores and the graceful bridges spanning its banks. Somehow, this flowing ribbon exemplifies the fluidity and artistry that both embraces and is embraced by this city.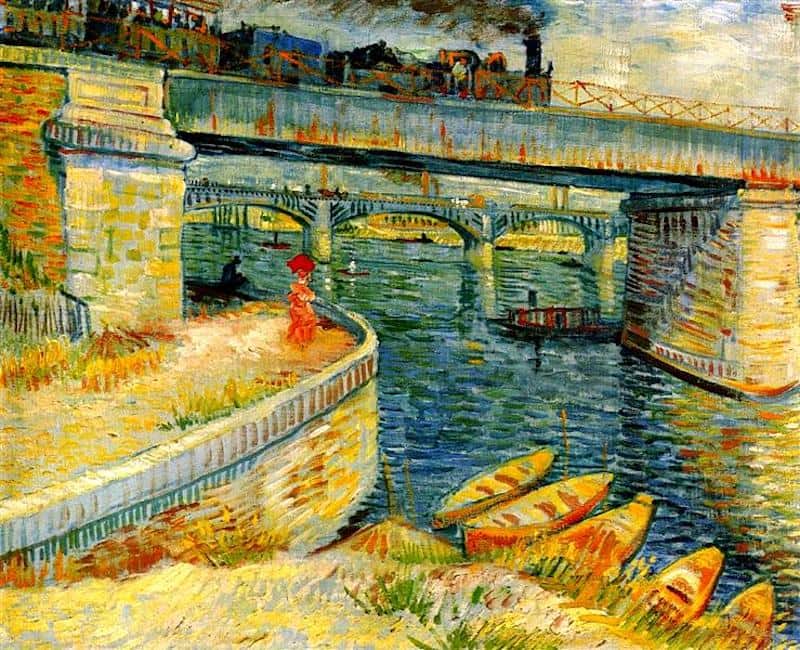 Bridges Across the Seine, by Vincent Van Gogh, one of thousands of paintings of this inimitable river
Like paintings, many poems have been written about the Seine. The most famous is perhaps Le Pont Mirabeau by Guillaume Apollinaire, the avant-garde 20th-century poet.
In sunny or moody weather, the Seine shines, magical, each bridge unfurling into the next one.
2. Rummage through the St Ouen Flea Market, the world's largest
This is one of my favourite Paris pastimes and for good reason: Saint-Ouen is one of the most fabulous flea markets in the country (you'll find other fabulous French flea markets here), the world, even. (And if you're not the gourmet restaurant type, you can splurge here, in one of the antique shops.)

If you love flea markets, you won't be able to resist the rows upon rows of every historical period under the sun - there's probably nothing you can't find here!
"Flea market" is perhaps a bit of a misnomer; while you'll find plenty of bric-a-brac here, the Puces de Saint-Ouen is filled with antiques and period pieces, even to make your head whirl at the beauty of it all.

The market is actually a dozen individual contiguous markets – toys, mirrors, jewellery, antiques, books, bizarre knick-knacks, this is just a sample of what you'll find here. If you'd like to know where to start and how to make the best use of your time, here's a great breakdown of the bits and pieces that make up this magnificent collection of shops.
It's all free and you'll feel like you've spent the morning in either a museum jumble sale or the prop room on a huge film set. Everything, from everywhere, from every period. And all that free window-shopping will instantly go down the drain if you spot a piece you can't possibly live without...
And if you happen to be around at Christmas, this is the time to explore those in Paris, which are among the best Christmas markets in France.
3. Hunt down the instagrammable Paris sights
Just because a place is popular with Instagrammers doesn't mean you should avoid it!
On the contrary, these Paris "must visit" places must have something going for them, or people wouldn't be trying so hard to nail the perfect picture.
So I set out to investigate some of these "instagrammable" places (it took me a while to accept this as an actual English word) and discovered delightful corners I wasn't familiar with, like this little red car in the courtyard of the trendy Merci shop in the Marais district.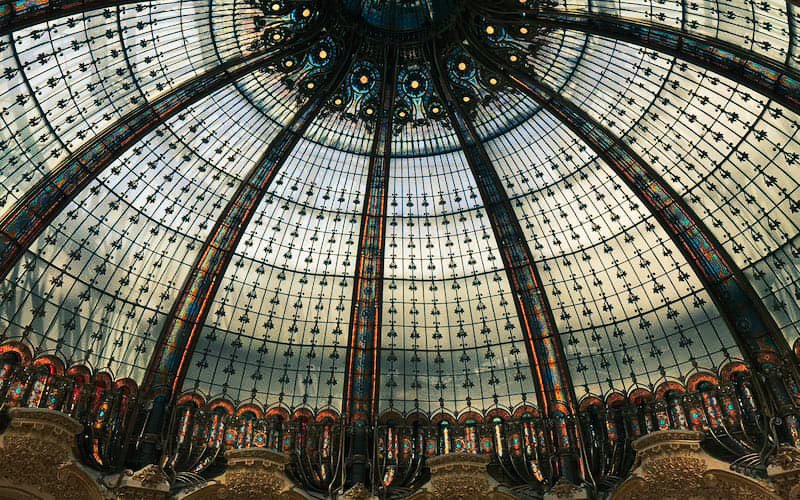 Part of the dome from inside the Galeries Lafayette
The view from the rooftop terrace of the Galeries Lafayette
This little café is probably among the most photographed sites in the city
Some of the views considered the best "instagrammable" ones are not free, like the clock at the Musée d'Orsay (you have to pay for entrance to the museum) so I'm not listing those.
Here's a small sample of what you can photograph for free – the number of superb sights is staggering. And while I can name the sights, you'll still have to roam around to find the perfect viewpoint for yourself.
Place du Tertre, Rue de l'Abreuvoir, and the Maison Rose (pink house) in Montmartre
Le Moulin Rouge, birthplace of the can-can
Shakespeare and Company bookstore
the bouquinistes (book sellers) along the Seine
Art Nouveau metro stations – there are still plenty
Chez Odette, the perfect instagrammable cafe – and oh, Le Consulat, of course
the medieval clock above the Conciergerie, a former prison where Marie-Antoinette spent her final days
Galeries Lafayette department store, both the dome from the inside and the view from the rooftop terrace
the carrousels below Sacré-Coeur and at Trocadéro, across from the Eiffel Tower
the views from just about any bridge in town
the "unmissables": the Eiffel Tower, the Arc de Triomphe, Place de la Concorde, Louvre pyramid...
and Paris at night, its iconic sights lit up beautifully (remember that if you photograph the Eiffel Tower twinkling lights, you can't publish it – it's copyrighted (find out more about the Eiffel Tower's secrets if you're curious)
So you see, there are immense possibilities. Grab your phone or camera, make a list, get a map, and start walking. And don't worry about the weather. I had rain during most of my visit and all it did was make my shots more moody and interesting.
4. Discover the little ceramic creatures on the wall

Yes, this might sound a bit cryptic, but this is definitely one of the unique things to do in Paris, especially if you like street art.
If you're old enough to remember the computer game Space Invaders, you may recall the funny little figures made with coloured pixels.
Well, clearly the "artist known as Invader" was equally impressed and began gracing buildings around the Marais, around Paris, around France and then the world with his little ceramic creatures.
But here comes the fun part. You can download an app called FlashInvaders. Whenever you see one, and you'll see them all over Paris, snap a picture and the app will log your discovery, comparing it with all the works in its database. Beware, though, there are imitators but the app knows that and will tell you so in no uncertain terms. The app's GPS confirms you've actually been to the artwork in person.
It's free, it's fun, and there's a rumour that whoever finds all his mosaics will win a huge prize. But since we don't know how many there are, or where they are, our chances are probably better with the lottery...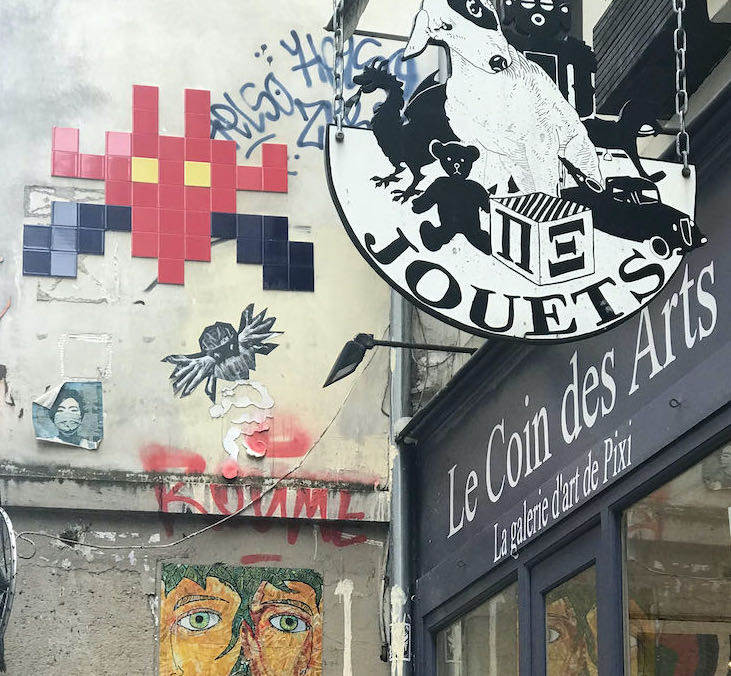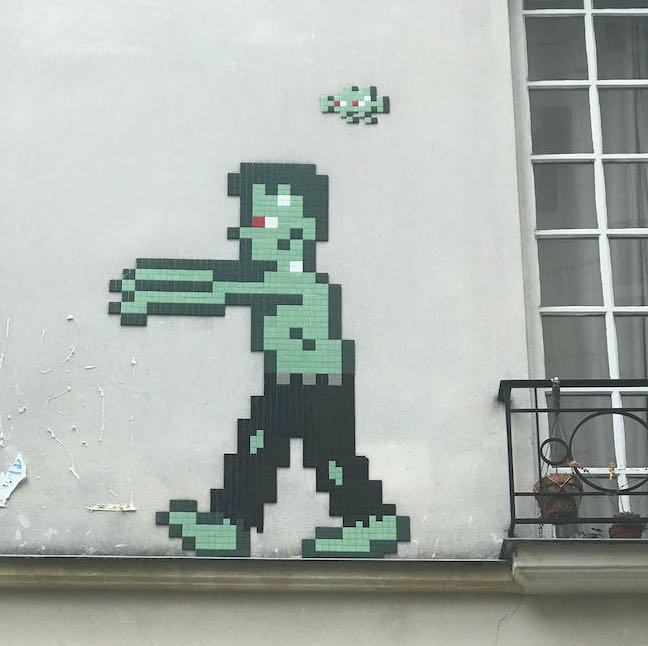 5. Take advantage of the free attractions in Paris
Of course there are plenty of free things to do in Paris, and the suggestions in this next section have been documented by countless sites and blog posts.
In French we call these les incontournables, the must-sees. So while you'll find these on every other list, I've added them here too. 

Free museums in Paris
Musée Carnavalet in the Marais, newly reopened and stunning (it's free but as is the case with most Paris museums, you'll have to reserve a slot online)
Maison Victor Hugo, a few minutes' walk away on the Place des Vosges
the fine arts Petit Palais
Musée de la Vie Romantique
... and here's a list of museums you can visit for free on the first Sunday of each month. It includes such must-sees as the Louvre, the Musée Rodin and the Musée d'Orsay
Paris churches and other places of worship
Most places of worship in the city are free, and many are worth visiting. Sadly, a major exception is the Sainte-Chapelle, whose unbelievable stained glass windows are worth paying for. But to stay within our mandate, I won't list it here. I will list a few stunning free ones though.
Sacré-Coeur Basilica, for its unusual Romano-Byzantine architecture
Saint-Sulpice (which you may recognize from the Da Vinci Code)
Saint-Jean Baptiste in Belleville, a Gothic edifice (especially now that Notre-Dame is closed)
The Grand Mosque of Paris
The Grande Synagogue de Paris
The onion-domed Saint Alexander Nevsky Cathedral
Frankly, if you see a place of worship on your strolls through Paris, simply walk in. Don't use your flash, make sure you're appropriately dressed, and stay quiet and respectful. You'll be welcomed.
Free events in Paris
These can't all be listed, since they change regularly, but you can keep track of the key ones on the Paris tourist office site. From Carnival to music festivals to heritage and garden days, you won't lack for things to do.
6. Find famous people buried in Paris
This, too, is on every list, although it may not be for everyone. I had intended to give these a miss, until... I got on bus 69 going the wrong way and ended up at the Père Lachaise Cemetery, one of the most famous cemeteries in Paris.
I thought I might simply walk through, quietly, under the shade of the trees lining the alleys, and I started looking at the names, out of curiosity and respect. Many I had never heard of before, Comby, Cugnet, Berthiaux, the remains of entire families housed together for eternity.
Père Lachaise, the most famous Paris cemetery
I didn't have a map, since I hadn't expected to come here, and the one posted at the entrance is a poor excuse for a plan, so I didn't see the most famous graves: Molière, Proust, Balza, Oscar Wilde, Edith Piaf, Chopin, Jim Morrison... and in retrospect I should have.

In fact, this is only one of the several Parisian cemeteries worth a visit. You could also see Montparnasse, Montmartre, Passy and more.
Take a quiet stroll and reflect on life, while admiring the beauty of the grounds and gravestones, or look for the history makers whose passing helps remind us of their lives and what they achieved. My visit was far more pleasant that I had expected from a Paris graveyard, and I regret not having the time to visit others (and maybe pay my respects at a few famous tombs).
7. Count the Statues of Liberty
Here's another little challenge (I love challenges and games, in case you had not noticed).
Of course you know that France gave the United States the Statue of Liberty as a gift.
You may also know that a second statue, a much smaller one, is also a present from France.
But did you know Paris has a total of six statues of liberty? Why not scour the city to find them all? Now in all fairness, not all of these are free, because two are in museums (both are museums you should see, by the way).
So if you want to stick to the totally free plan, you'll miss out on two. But four statues are better than none, no?
Here you go:
Île aux Cygnes, or Swan Island
Musée d'Orsay
Jardins du Luxembourg
Musée des Arts et Métiers (there are two)
Place Michel Debré (a micro-statue, not easy to spot!)
Think you can find them all? 
The Iles des Cygnes, as seen from the Grenelle bridge
8. Take the Wallace Fountain challenge

In a final challenge, this may be (along with the Invader challenge) the one I enjoyed the most: finding the 103 Wallace fountains in Paris. No, I did not find all the fountains, just a few. But with time, I would have made this one of my missions.
What's a Wallace fountain? It looks like this:
One of the classic Wallace fountains
Most of them look similar and the first few were built in 1872 by Sir Richard Wallace, a Briton living in Paris whose fountains would bring clean and free drinking water to the people of Paris. His motivations aren't clear but no matter: the result is a collection of dark green, cast iron sculptures (don't they remind you a bit of the wonderful subway entrances?) scattered throughout the city. You can read more about them here.
But what I'm really aiming for with this activity is to take up the challenge because yes, there is an "official" challenge. The Wallace fountain people have prepared a list of all the fountains in the city, along with guided walks breaking down Paris into neighbourhoods, to keep things simple. And it's completely free.
By now you should be feeling downright wealthy, and ready to really splurge without guilt. La Samaritaine, one of the iconic department stores in Paris, is now one of the "in" things to visit in Paris. Reopened during my stay (June 2021), it has now been  transformed into an upmarket emporium. That would be a good place to start...
—All photos by OffbeatFrance, except the Statue of Liberty
Did you enjoy this article? I'd love if you shared it!
You might also like these stories!
Shop this post on Amazon
Pin these and save for later!