What is the best mode of France travel and transportation? Should you drive? Take the train? Or bus? Let's see what's best.
Not only is France the most visited country in the world, but it is also the largest country in Western Europe: getting around requires a bit of planning and forethought.
France has excellent public transportation, from efficient trains and buses to cheap rideshares. Choose the right transportation for France, travel across this beautiful country efficiently, and you can expect a visit you won't forget.
Let's have a look at all the pros and cons of each transportation method, from cost to total time spent travelling, all of it key information that will help you when planning a trip to France.
  NOTE: Pages on this site may contain affiliate links, which bring in a small commission at no cost to you.
COMING TO FRANCE? THESE RESOURCES CAN HELP!
🏨 Accommodation - I rent hotels through booking.com
🚘 Car rentals - I use Discovercars, Europe's best car rental website
🚊 Train tickets - I book my train and bus tickets on Trainline
🚌 Day tours - I take day tours with Viator and GetYourGuide
Travel France by train

Within France, train travel is actually pleasurable, with a range of high-speed and local trains that serve many small towns and 231 cities across the country. It's certainly one of my favourite types of transportation in France.

Many train routes are unbelievably picturesque, weaving across mountains or along lakeshores through scenery you might not see otherwise. Taking the train in France is also efficient: there are good connections, trains are clean and modern (most, anyway) and the cost is reasonable.
If you're traveling from another European country, trains are among the easiest ways to travel to France, especially now, with the array of available European train passes.

Tips for train travel
Whether you intend to hop between the most beautiful cities in France or explore the more remote but gorgeous French villages, here are some essential tips for travelling by train.

You'll need to understand the ins and outs of how to travel France by train, from the likelihood of train strikes (high) to the location of railway stations.
France has a number of high-speed trains, the TGV, which are run by the national railway company, SNCF, or by a few private providers. These run between major cities, with smaller regional trains connecting towns in more rural areas. Beyond the city-to-city routes, you'll find local trains that serve smaller towns.
You can check your local France travel advisory or the SNCF to get information about travelling with your pet. Dogs and cats are allowed on all trains in France (except the Eurostar), with a few conditions.
There are no luggage restrictions when using the railway services.
One of the major advantages of train travel is the downtown location of most train stations, which save precious travel time.
Getting around France by car
Travelling France by car is possibly the most expensive way to get around the country – but also the one that will get you to the most places. 
Rental car prices went up after the Covid pandemic and haven't quite come down yet. Fuel is also increasingly expensive in the wake of Russia's invasion of Ukraine and the energy troubles that followed, although the government has tried to subsidize gas pump prices to some extent. Tolls, too, will add up quickly. The ViaMichelin online route planner is useful to calculate the costs of your tolls and gas.
Although this may be the most expensive option, it will also give you the most freedom. France's roads are also excellent, making it a pleasure to sit behind the wheel (as long as you avoid the holiday season traffic).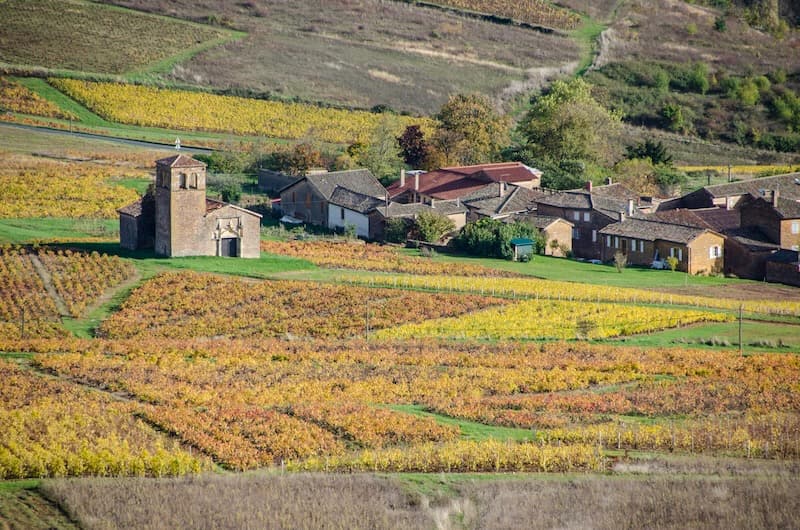 You can expect to see this kind of scenery when you travel across France by car ©OffbeatFrance/Anne Sterck
Tips for travelling by car in France
Consider this travel advice if you are planning on travelling across France by car:
Having a car is the best way to get to the most remote parts of France and access the country's unique things to see and do. If you don't have a car, you can easily rent a car in France.
Use Discover Cars to compare car rental prices and to get the best deals for France.
If you plan to rent a car, consider an agency located in a train station. This allows you to combine train and car travel, which can be a win-win.
Driving in France can be different from other countries, so learn as much as you can about our (sometimes strange) road rules and what to expect from other drivers.
Consider this: finding parking in popular cities such as Paris and Lyon can be very difficult, and some cities have blackout periods when only cars with certain pollution ratings are allowed to enter the city limits.
Travelling France by plane
Air travel, in my opinion, is probably the worst way to travel around France, with three exceptions. Here are the situations in which flying is the best way to travel in France.
Exception #1: When you're traveling cross-country 
This applies if you're traveling cross-country, from East to West or vice-versa, for example between the Alps and the Atlantic.

France is a highly centralized country and "all roads lead to Paris". So if you're trying to travel, say, from Lille to Marseille or Lyon to Bordeaux by land, you'll probably have to go through Paris. You may even have to change train stations within Paris.
Here's an example of what I mean.

Flying from Lyon to Bordeaux takes just over one hour. Add the messy airport formalities at each end and you're looking at, maybe, four hours.
The train, on the other hand, is a seven-hour journey, and at least one train change, if not two. In some cases, you may have to head north from Lyon all the way to Paris, and then head south again towards Bordeaux. I live near Lyon, and when I go to Bordeaux, I fly.

France has 34 airports suited for international travel, so you can access most of the main tourist destinations by plane.
Flying within France can be incredibly cheap if you use discount airlines and book well ahead of time, often far cheaper than the train. But you'll have to factor transport to and from the airport, which sometimes costs as much as the flight itself.
Exception #2: When you're traveling outside mainland France
Not every French destination is on the mainland.
Corsica is very close to the mainland, but the ferry takes 12 hours. This is fine if you're taking your car, but otherwise, the short flight takes an hour from Lyon and 1.5 hours from Paris.
You can always rent a car once you get to Corsica.
And then there are France's overseas territories, when flying is the only form of travel that makes any sense, with islands as far-flung as the Caribbean and the South Pacific.

Exception #3: When you want to avoid Paris
Whereas all roads may lead to Paris, many flights do not.
Take EasyJet, the discount airline. While many flights go to and from Paris, you can fly between many French cities directly, for example from Lille to Toulouse or Lyon to La Rochelle.
You can even go one step further and fly from one of the cities near a French border, like Geneva or Basel (Switzerland), which have flights into many cities in France.
France has a number of discount airlines that ply national and international routes. Photo by Bene Riobó, CC BY-SA 4.0 via Wikimedia Commons
It usually makes little sense to fly in France, outside those three exceptions.
Tips on plane travel in France
Here are some essential things to consider when flying in France:
Try to book your flights as far in advance as you can to get the best prices and most choices.
You'll usually be able to book the best deals on a Wednesday or Thursday.
Remember to reserve your ongoing transport: flights will only take you to large cities, but if you're going anywhere else, to a small town or a village, you'll have to continue your journey with other modes of transport.
France travel by bus
If you want to travel to more off-the-beaten-path regions, you may have to take the bus. Most regions are served by trains − but not all.
If you've ascertained there is no train where you're going, check the bus schedules. They take longer than the train, but they also go further, and travel at odd hours when trains might not be running.
For example, the mostly rural Ardèche region in central France has virtually no trains, so all transport between towns takes place on buses.
All bus companies can travel any route, so there is quite a lot of competition, which means plenty of choice and low prices.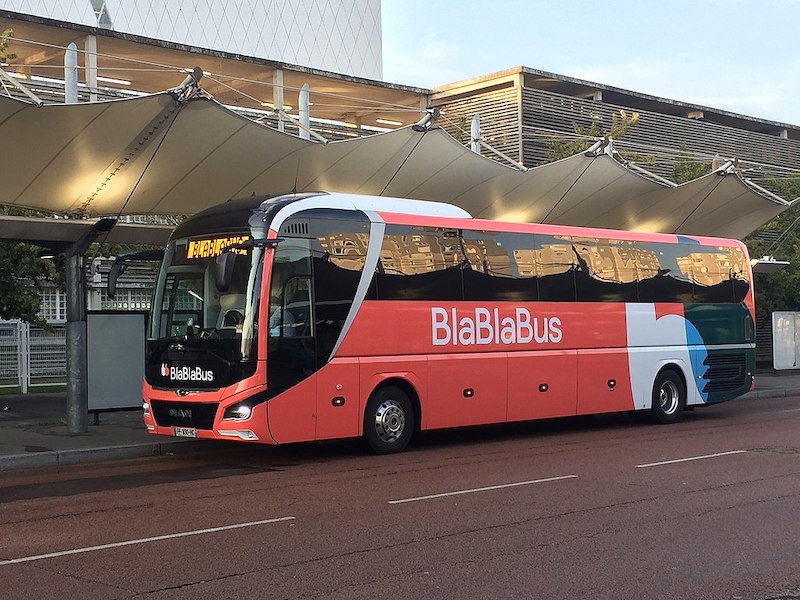 A number of bus companies crisscross France - BlaBlaBus and Flixbus are among the largest; via Wikimedia Commons
Tips for bus travel in France
Here are a few tips and information to help you enjoy those bus trips across France:
The best way to find buses is by using a site that aggregates tickets, like Trainline, which covers the two largest companies, Flixbus and BlaBlaBus. The other option is to download the bus companies' individual apps.
You are highly likely to get wifi on a bus travelling between cities but always double-check with the bus provider. That said, I have been on buses where the wifi signal was very weak and unstable... but that happens on trains as well.



Some bus companies allow small pets free of charge. However, Flixbus and BlaBlaBus allow only guide and assistance dogs onto their buses.
Using rideshares for France travel
When planes and trains are full, which often happens around school holiday periods, rideshares become popular (in fact, they're gaining popularity in France).
Think of it as taking a taxi but splitting the fare with another passenger.
The problem is finding someone going to your exact destination at the time and on the day you want, but this is relatively easier on the more frequented routes.
Ridesharing gives you a fantastic opportunity to get to know new people during your trip and find out about your destination if your driver happens to be a local. 

Tips for ridesharing 
Here are some essential tips to consider for ridesharing in France:
Ridesharing apps in France include Uber, of course, but also others such as Bolt, Heetch, FreeNow, Marcel, and MySam. Each is different – some are in Paris only, others work in cities across France, and yet others don't take your money but put you in touch with prospective ridesharers, with whom you negotiate the fee directly.
Keep an eye out for your driver's rating as a general safety precaution. If they speak English, this can help you gauge their services and make the trip enjoyable.
Keep safety in mind and make sure you tell someone which car you're going in, along with a licence plate number.
Like any other form of travel in France, there is always a chance of an accident, so make sure you have a reliable travel insurance. SafetyWing has good France coverage and is easy to apply for, even once you've started your trip.
Did you enjoy this article? I'd love if you shared it!