Pages on this site may contain affiliate links, which bring in a small commission at no cost to you.
Before we explore these unusual things to do in Lyon, I should come clean and admit I haven't always loved this city. 
Lyon was once a darker, dingier place, not the kind you'd visit for pleasure.
Its reputation of its inhabitants as cold and snooty confirmed itself as I tried to visit regularly a few decades ago. And though I avoided the city for a time, I finally decided to give Lyon a second chance − and what a chance that has turned out to be!
Lyon is no longer an inward-looking provincial town. It has blossomed into a world-class city and now threatens to overshadow many of its French counterparts. Including, at times, the capital.

Whether you're here for the food or the history or the art, Lyon will sneak up on you and next thing you know, you'll be going back again. And again.
Yes, visiting Lyon just might mean falling in love with the city.
1. Relive the eras of Lugdunum and Gallo-Roman Lyon in Fourvière
When you visit Lyon, to imagine it as Lugdunum, capital city of the Gauls. Founded in 43 BCE by one of Caesar's officers, it is strategically located at the confluence of two rivers, the Saône and the almighty Rhône.
First came the military to secure the site, and then the civilians who would build life around them – and the trappings of their everyday lives: amphiteaters, temples, baths, aqueducts...
It became a crossroads in every sense, even in religion, where all manner of beliefs coexisted, the most recent being Christianity.
Lyon was also a commercial crossroads, well positioned on the way from Rome to the north.
But the Roman Empire became decadent, the Barbarians pounded at the gates, and business – until then conducted on the city's hills – moved down below, which explains why you need to climb if you want to explore what's left of Rome.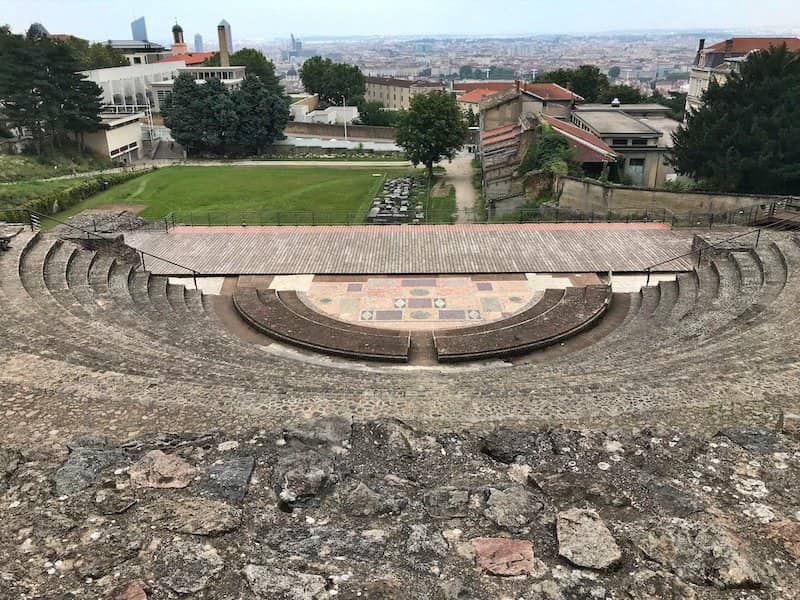 The smallest of the two Roman amphitheaters, among the most interesting places to visit in Lyon
How to visit Lugdunum
Most of the ruins on Fourvière are accessible via the funicular to Saint-Just: get off at Minimes and cross the street.
The site is open to the public: on the left, the smaller Odeon, which could hold 3000 people and was a venue for concerts and readings; on the right, the Grand Theater, with up 1o 10,000 seats, ideal for plays and dance performances

The theaters aren't the only

Roman sights still standing in Lyon


Spend a bit of time at the 

Gallo-Roman Museum

, right at the foot of the Grand Theater, to find out about daily life in Lugdunum



The Amphiteater of the Trois Gaules is in a different area, just take the C Metro and get off at Croix Paquet
2. Burrow along the traboules of Vieux Lyon
This is one of the unique things to do in Lyon, especially in the areas of Croix-Rousse and in the Old City, which is protected as a Unesco World Heritage Site.
Translated as Old Lyon or Lyon Old Town, this warren of medieval streets stretches inward from the west bank of the Saône to the lower reaches of Fourvière Hill. 
Cobblestones galore, the area is stuffed with eateries and shops (and excellent ice cream sellers) but on a hot summer day, it can feel like you've been pressed into a steamer. That's when the ice cream comes in handy.
In the evening, things cool off in Old Town Lyon, and during the off season, the area is a delight, with the occasional Lyon tourist or three and a lively eating scene.
A wonderful respite from the summer heat can be found in the 12th-century Cathédrale Saint-Jean, whose largely sober interior is set off by a whimsical astronomical clock which used to strike the hour several times a day (it was vandalized in 2013 and as of this writing was surrounded by scaffolding for repairs).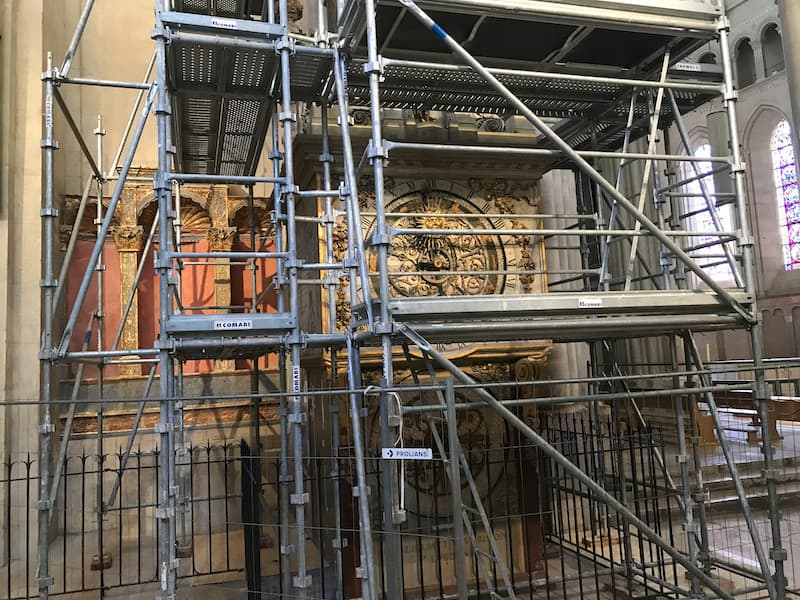 This astronomical clock, a bit incongruous in a Roman Catholic cathedral, is finally being repaired after years of not working
One of the top things to do in Lyon old town is to explore the so-called traboules, the city's secret passageways. They're not all in this part of town but the Vieux Lyon has some of the best. A few are actual passageways, others are inside patios, but all lead from one place to another, often from one street to the next.

Originally they were built to make it easier to carry water uphill from the riverside but were also used to keep bolts of silk dry as silk workers clambered down Croix-Rousse hill with them. Even more recently, Resistance fighters used them to hide from the Gestapo.
These days, few – fewer than 50 – of the original 500 remain open to the public.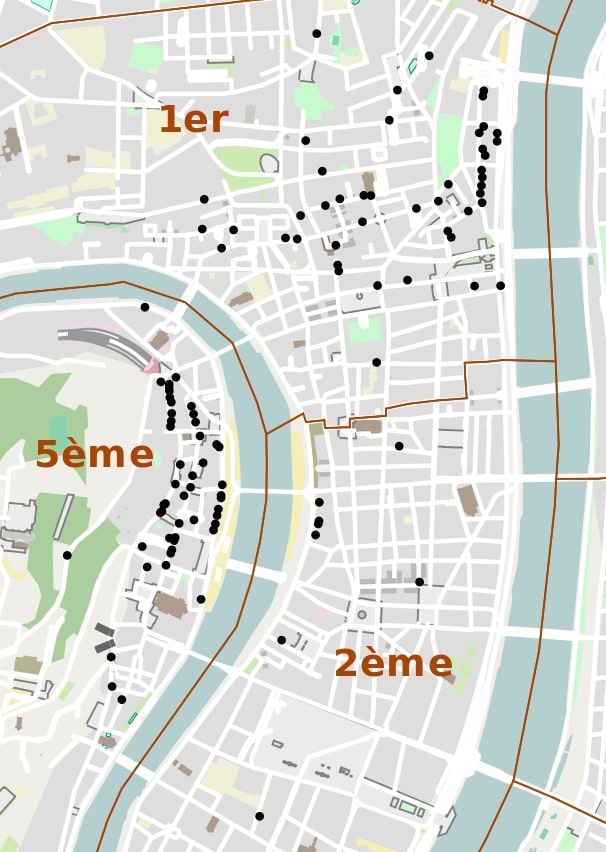 The black dots signal the traboules of the Vieux-Lyon; sadly, many of them are closed to the public
These are the traboules of Croix Rousse. Click map to access original Google Map.
Visiting the traboules
These traboules are among the most popular Lyon attractions:
Les Trois Maries, between 27 rue Saint-Jean and 6 rue des Trois Maries
La Longue Traboule, between 54 rue Saint-Jean and 27 rue du Boeuf.
The Lyonnais themselves use these all the time to get from one street to another. Most are surrounded by dwellings, so avoid making noise. This way, residents won't complain and the traboules will stay open!
3. Admire Lyon from Fourvière Basilica
One of the best places to visit in Lyon sits above the city, like a crown jewel atop Fourvière Hill: it is the Basilique Notre Dame de Fourvière, a spectacular structure, both inside and out.
As you walk off the funicular and look up, its blinding white façade a relatively new addition (1872) to the Lyon skyline. Its four towers stand for the cardinal virtues of Justice, Temperance, Fortitude and Prudence.
The building is an architectural oddity, as though its designer couldn't decide among Byzantine, Gothic and Romanesque. The result is eclectic but charming, with plenty to look at. Perhaps charming isn't the right word, but neither is serene. Go see it: it just works!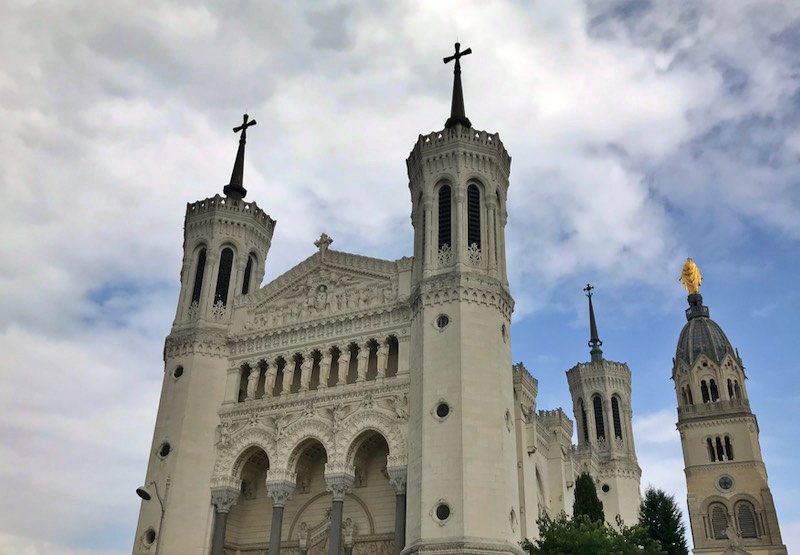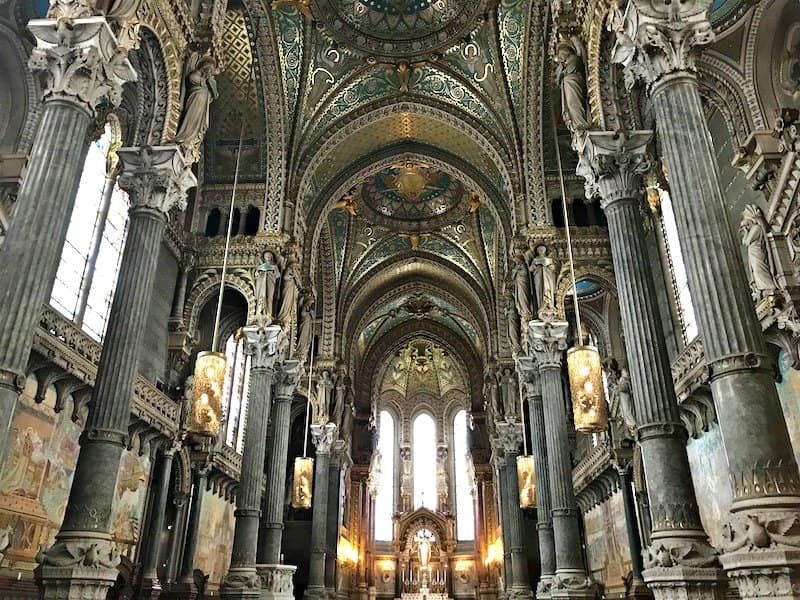 There are two superimposed churches. The first, or Upper Church, is spacious and intensively decorated, with plenty of mosaics, columns, stained glass windows and marble, a true feast for the eyes.

A monumental staircase leads below to the lower church, erroneously referred to as the crypt (it has windows, it isn't a crypt). It is different from the upper church, a bit cozier, but with stunning mosaics.
For an unbeatable view, take the Basilica's Rooftop Tour but beware of the 300+ steps you'll have to climb to get there. But if you're up to it, it's worth it. The tour is in French, but the view is universal. If you have a larger group, they can organize tours in English for you.

If you'd rather not risk slumping into a heap after the vertiginous climb and sights from above, the view from the side of the Basilica is equally stunning, albeit lower, with Lyon spread at your feet and, on a clear day, the Mont-Blanc visible in the distance.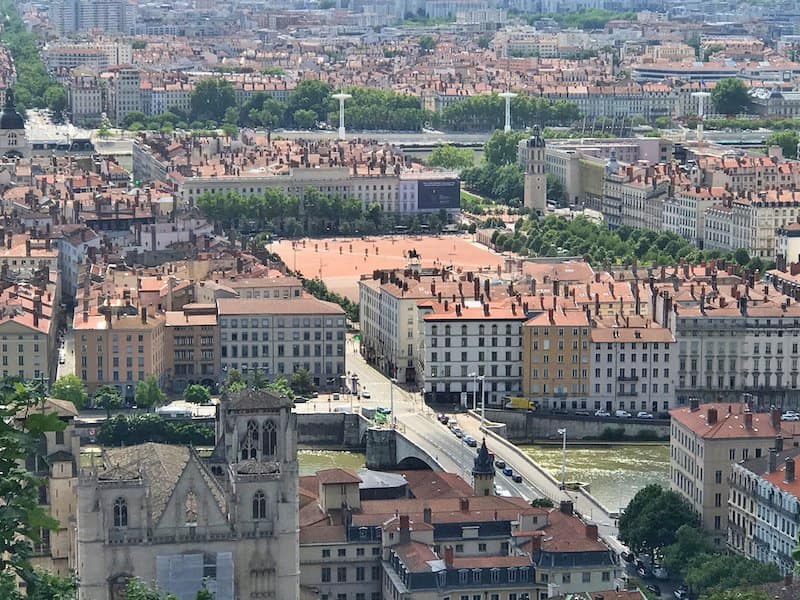 This is just a snippet of the view from the Basilica, with Place Bellecour in the distance. Taking the funicular to the top and admiring this view is one of the best things to do in Lyon
4. Investigate the capital of silk
You've probably heard it often enough: Lyon is the Capital of Silk. But what does that mean, exactly?
While today Lyon's prosperity is driven by newer industries, it was once highly dependent on silk. Its giant business fairs made it a commercial crossroads, attracting the continent's largest banks and propelling the development of industries like silk weaving and printing, leading to a Golden Age.
François I (Francis I) gave Lyon the silk monopoly, and Louis XIV made French silk indispensable by decreeing the cloth at his court must be made in France.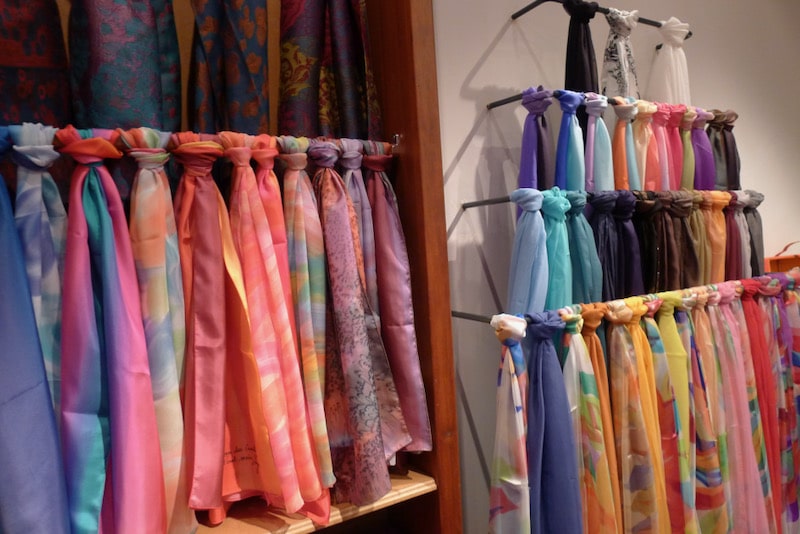 What is Lyon known for, other than food? Silk, of course. Plenty of small artisanal shops dot the city, and walking away empty-handed is a challenge
But silk temporarily fell on hard times during the French Revolution, only to be rescued by Napoleon. It went from strength to strength until the arrival of synthetic cloth in the 1880s. Slow to adapt, the silk trade disintegrated and left behind it some shops (that sell the most delightful silk scarves), a few workshops, a museum that retraces the history of silk, and an industry to restore ancient cloths.

But all is not said and done when it comes to silk in Lyon. Young designers are forging ahead with new uses for silk and putting their hand to the restoration of historical textiles, while houses of haute couture still order their silk from Lyon. Up on Croix-Rousse Hill, which the silk trade called home, silk still thrives.
In the footsteps of the silk trade
Demonstration at the Silk Museum - this is one of the fun things to do in Lyon in winter
5. Rave about Lyon's monumental murals
For many visitors, possibly the best things to see in Lyon are its 150 murals, extraordinary works of art that mostly take place above eye level. 
Must see in Lyon France: its giant murals
Among the best things to see in Lyon, one of the city's 150 murals. This is only a small portion of a single mural
If you like outdoor art, public art or naïve painting, this will be a special treat. There are many, and they're stunning! Some murals are so realistic you'll look twice, others are more imaginary but nonetheless stellar.

You'll find a few without looking for them, and look for others without finding them. If you want to see as many as possible, get an expert guide to take you around.
Some are in the center of town, by one of the rivers; others are high up on hills, in residential areas, or in the suburbs. What they have in common is the reaction of awe you'll have when you see them, and the double blink you'll unwittingly have when you wonder just how real they are. Have a look at some of the best murals here.
6. Discover Lyon's more unusual museums
Like any self-respecting significant city, Lyon has its top-class museums − history, fine arts museum (like the Musée des Beaux Arts), contemporary arts... but it also has some more offbeat and unusual museums anchored in the city's particular culture.
Museum of Printing, for font nerds or those fascinated by the history of books and printing
The fascinating Movies and Miniatures Museum, one miniaturist's passion project. Beyond the miniatures are the movie objects and decors he has collected over time, fitting in the city where the Lumière brothers invented the cinematograph and held the world's first public film screening
The final one I want to list is the newest one: the Musée des Confluences, named for the confluence of two rivers where it sits, the Rhône River and the Saône River (take this lovely one-hour cruise to see things from the water). It defies description and even after a lengthy visit I cannot really tell you what it's about − it just seems to cover everything! 
In the museum's own words: It "tells the story of mankind and the history of life. Unprecedented in the world of European museums, it sets up a dialogue between all the sciences to better understand the world." Just go.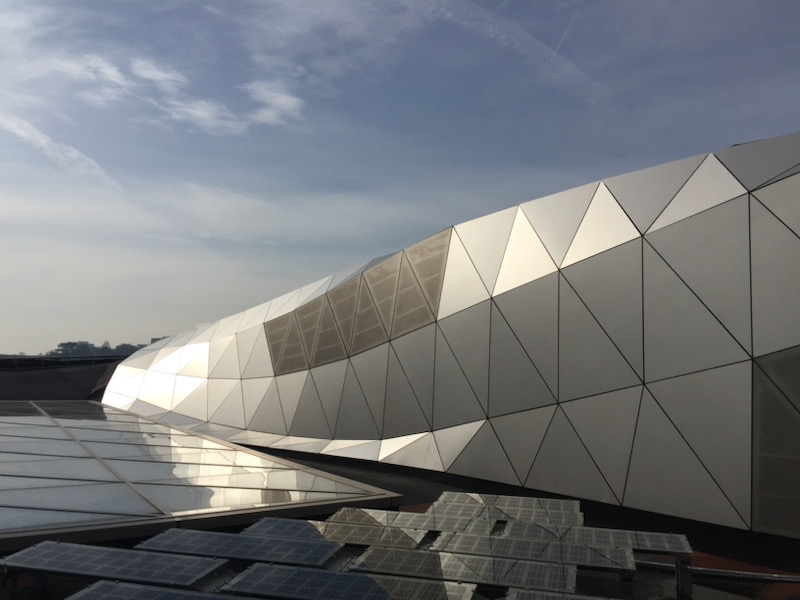 One of the top museums in Lyon France - and a great activity if you want to spend time indoors - the city's newest landmark museum, Confluences
Here's a comprehensive list of Lyon's museums. Many of these are included in the Lyon City Card (along with free public transportation).
7. Relish Lyon's gastronomical traditions
One of the best things to do in Lyon is to eat, of course!

Why do so many people call Lyon the capital of gastronomy?

Because Curnonsky, the famed "prince of gastronomes" (and France's most famous 20th-century gastronomy writer), said so.

Because of its highly authentic cuisine, born of local produce and hungry silk workers, often focused on pork and offal but also plentiful cheeses and luscious vegetables.
Because of its chefs. From the first "mothers", the women whose welcoming establishments (known as "bouchons") fed the city's silk workers, to the late Paul Bocuse, revolutionary proponent of Nouvelle Cuisine, voted chef of the century, and dubbed the Pope of French Cuisine, the chefs came to Lyon and continue to do so.
Because it does everything to promote not just Lyonnaise but French cuisine, from culinary institutes (like the Institut Paul Bocuse) and international competitions to the proliferation of markets and trade fairs.
It is said that Lyon is the gastronomical capital of France. It is also said that France is the gastronomical capital of the world...  You can taste Lyon's foods on your own, but if you want to sample as much as possible and don't have much time, take a food tour in Old Lyon and sample the specialties the city has to offer.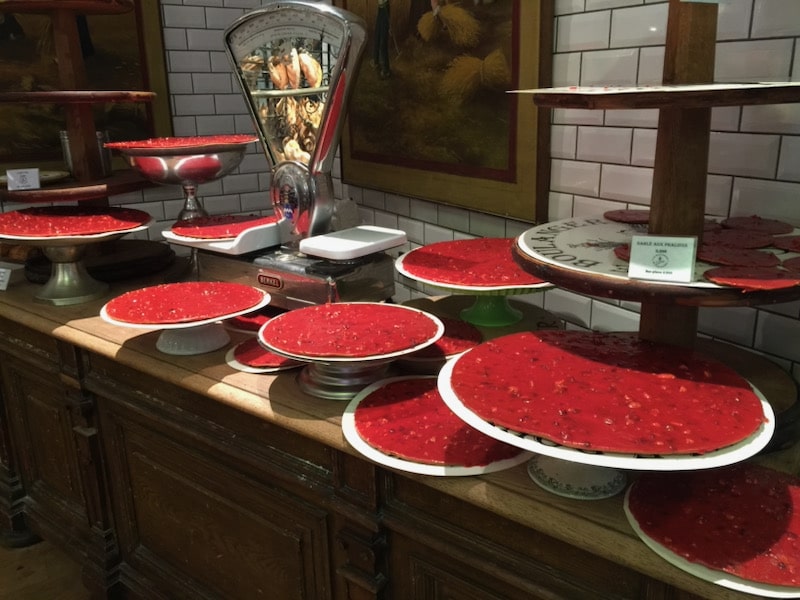 What to do in Lyon once you've seen everything? Eat, of course! And sample the praline tarts made locally
You must sample Lyon's bouchons
A bouchon, literally, means a cork. Not in Lyon though... here, a bouchon is a traditional eatery, serving typical Lyonnaise food, a remnant of the small establishments opened by (mostly) women during the 19th century to feed the many silk workers of the city.
Today, the authentic bouchons carry the label "Les Bouchons Lyonnais" so, while other restaurants may style themselves as such, they aren't the REAL THING unless they carry this official label. It guarantees the traditional recipes, the specificity of the products and cuisine, and the general ambience of the place. Here's the list, and each bouchon will carry the logo below.

What, by the way, can you expect to eat in a typical bouchon?
Well... here are a few specialities. Bear in mind that cuisine here is exceedingly rich, it will most probably involve meat (usually pork), and offal is high on many lists. And no, you don't have to try it if you don't like it.
As a meat-eater, you'll find something to make your mouth water on every menu. As a vegetarian, well, it'll be harder. (Although there is one vegan food tour in the silk-weaving neighborhood, Croix-Rousse – and we can expect more.)
And spend some time at Les Halles Lyon Paul Bocuse
I defy you – if you are a bona fide foodie – to spend anything less than a couple of hours here. Any promise to go in, stroll around, take a few photographs, sample a few goodies and leave will undoubtedly make you out to be lying.
The moment you walk into this exclusive, delightful, amazing Lyon food market, you won't want to leave.
It's not the decor (banal at best, dark-ish at worst), nor is it the aroma (too many things mixed together) nor even the choice (there is plenty, but it could use more).
No, what will keep you here is the exquisite perfection of everything you sample. The escargots? The fattest, creamiest you've ever tasted. The sea urchins and oysters? Fresher than anything you'll find outside the Baie d'Arcachon. The cheeses? A selection you'd have to scour France to find. Every single item you sample (or simply gaze longingly at) will be delectable.
Sit yourself down and eat (if you find a seat!) or buy what you need and head off to a nearby park for your own French picnic.
I thoroughly enjoyed taking a private tour of Les Halles, which pointed me in the right direction for my first visit. After that, I often returned on my own...
Fresh oysters at Les Halles Paul Bocuse in Lyon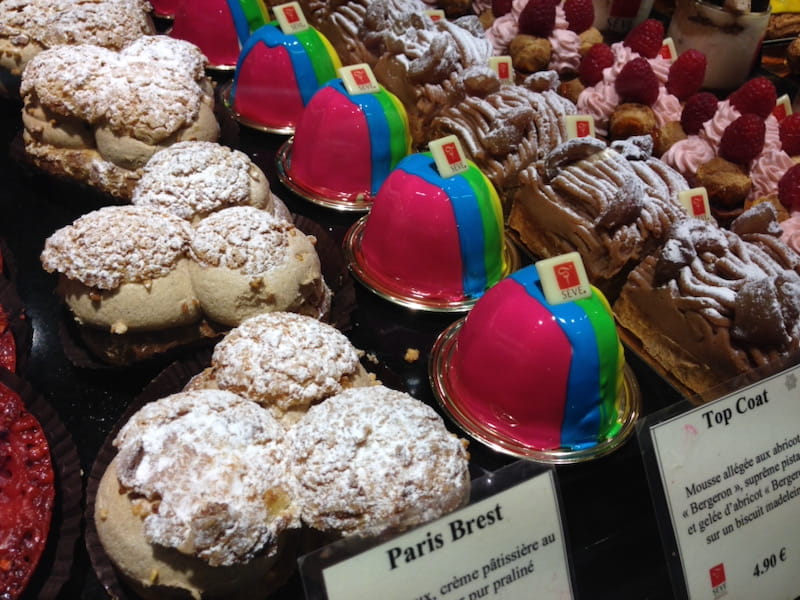 One of several patisseries at Les Halles Paul Bocuse. Visiting this indoor market is one of the top things to do in Lyon France for gastronomes
If that's not enough, here's more foodieliciousness 
Have you heard of the Lyon Street Food Festival? It has become a major headline event with the participation of some of the world's most starred chefs preparing... street food. Here's their Facebook page (it's in French, but Facebook allows you to translate): if your visiting dates can possibly coincide, you'll be in for a treat.
And if you're in the mood to eat but don't know what, head for the Food Traboule in the heart of the old town that will take you from local food across Europe and the world. You'll be spoiled for choice.
For your food "research" purposes
Where to stay in Lyon
Shop this post on Amazon
Pin these and save for later!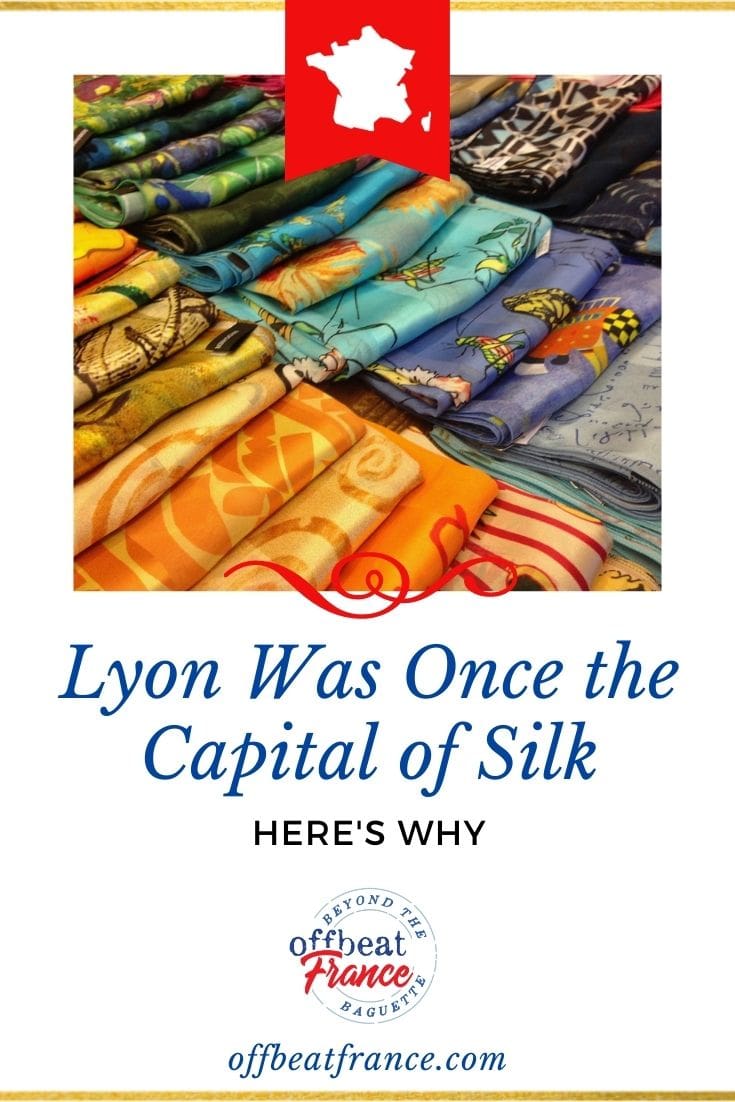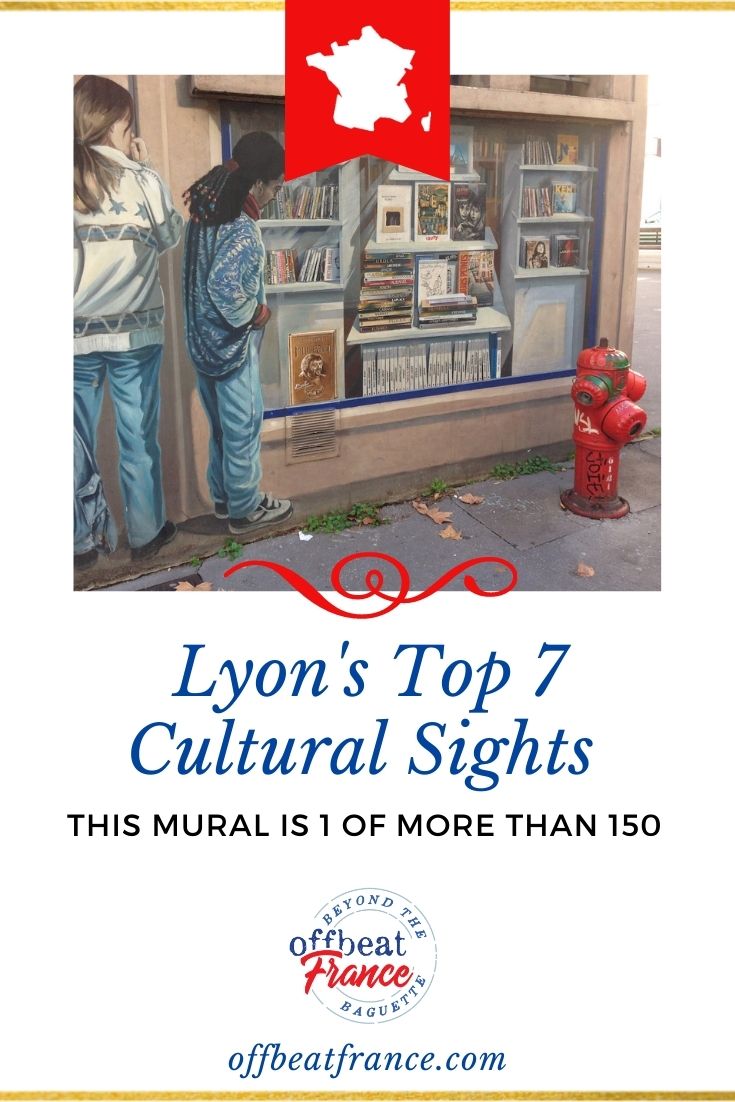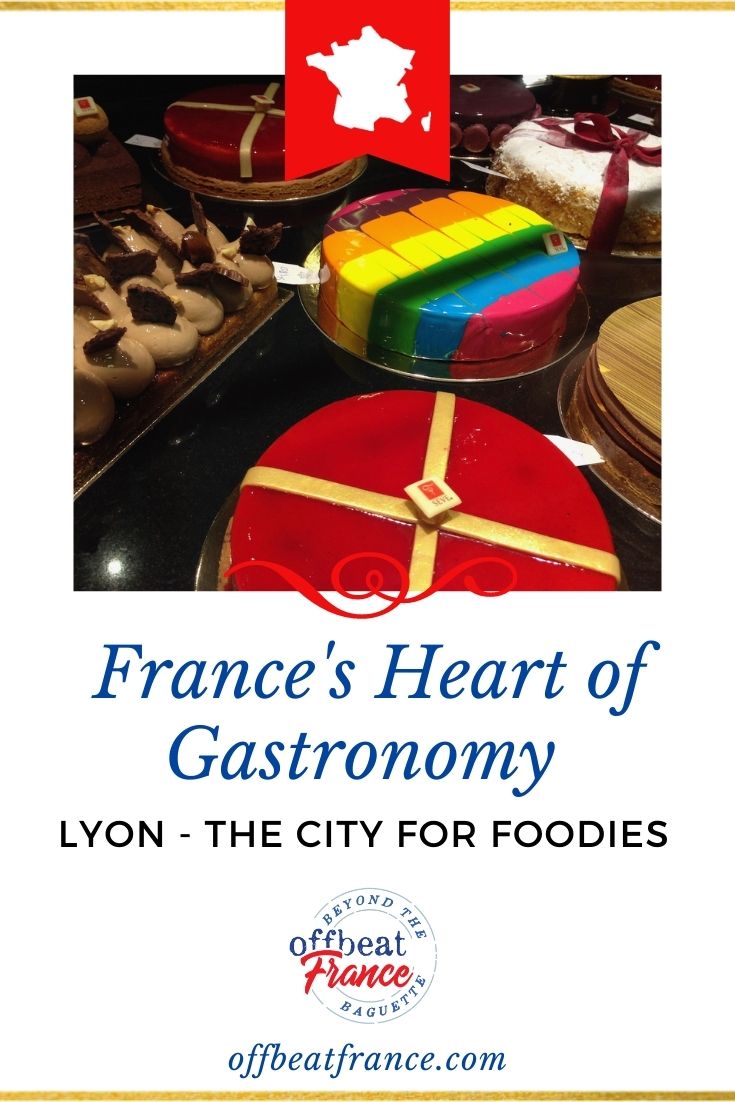 If you liked this, please share it on social media!